— Los Angeles Rams (@RamsNFL) March 7, 2020
Good morning! In yesterday's Ticker, Phil linked to the tweet shown above, in which the L.A. Rams teased the fact that they'll soon be changing their logo (which everyone already knew, of course). That tweet, which was posted on Saturday, set off an interesting chain of events that has given us the clearest sense yet of what the Rams may be up to in their forthcoming redesign.
Here's the deal: Unsurprisingly, there were several hundred responses to the Rams' tweet. So it was easy for people to miss this one, from a guy named Kenneth Castillo:
Then they put this up pic.twitter.com/wk6y7Noqf3

— Kenneth Castillo (@TicoKenitrin) March 7, 2020
A few people picked up on Castillo's tweet and responded to it, but it didn't go viral like some leaks tend to do. I might not have known about it myself — at least not right away — if not for Twitter-er @wutamclan7, who brought it to my attention on Saturday afternoon (and who also pointed out, "The colors might not be right. That style of hat is known as the Draft Night hat and done in 'Las Vegas neon lights' style").
I wanted to know more, so I got in touch with Castillo, who told me, "I know a guy who texted me the picture. He works at a Dick's Sporting goods in L.A. County and said they won't be on sale until early April."
I was busy for the rest of Saturday. But on Sunday I contacted a Rams representative and asked if they had any comment on the photo. While I was waiting for a response, another photo of the cap began circulating. This one was brought to my attention by reader Brad Belstock, who said he saw it on Reddit (click to enlarge):
Castillo, the guy who tweeted the first photo, tells me he also posted the second photo (to a Rams-centric Facebook group, not to Twitter). The cardboard background matched the setting of the first photo, and the neon-style "Time to Shine" side lettering matched up with photos of similarly styled Dolphins caps that had leaked a few weeks ago (click to enlarge):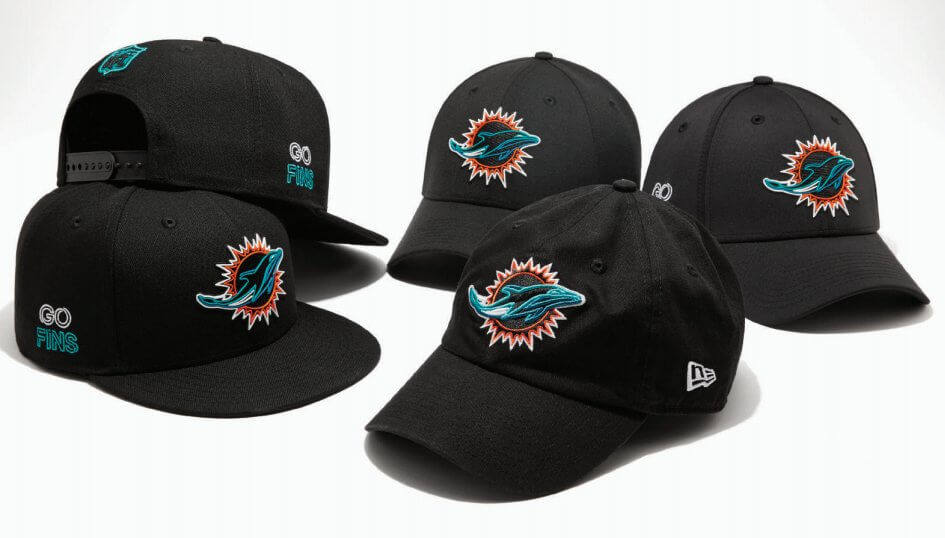 And here's the kicker: Castillo pointed out to me that the phrase "Time to Shine" has been trademarked by — sure enough — the Rams.
All of this seemed to argue in favor of the cap's legitimacy, but I still wanted to hear back from the Rams. Before that could happen, however, Yahoo Sports columnist Charles Robinson went ahead and confirmed the whole thing:
So this #Rams new logo hat that leaked on Reddit is legitimate. That's the new logo. Thoughts? pic.twitter.com/mTZMeseS2f

— Charles Robinson (@CharlesRobinson) March 8, 2020
Okay, so what are we to make of this? Some thoughts:
• As everyone and a half has already pointed out, this seems like it could just as easily be a Chargers logo as a Rams logo (although not a particularly good logo in either case). It's almost like someone said, "Hey, we're sharing a stadium, let's share a logo too!"
• Remember, the colors used on the cap are probably not the actual logo colors (just like the colors on the Dolphins cap don't reflect that logo's actual colors). Over on the SportsLogos.net message boards, there was lots of speculation regarding what the real color treatment might be. One of the people there, @FFWally, came up with a plausible-seeming rendition of how the real logo might look: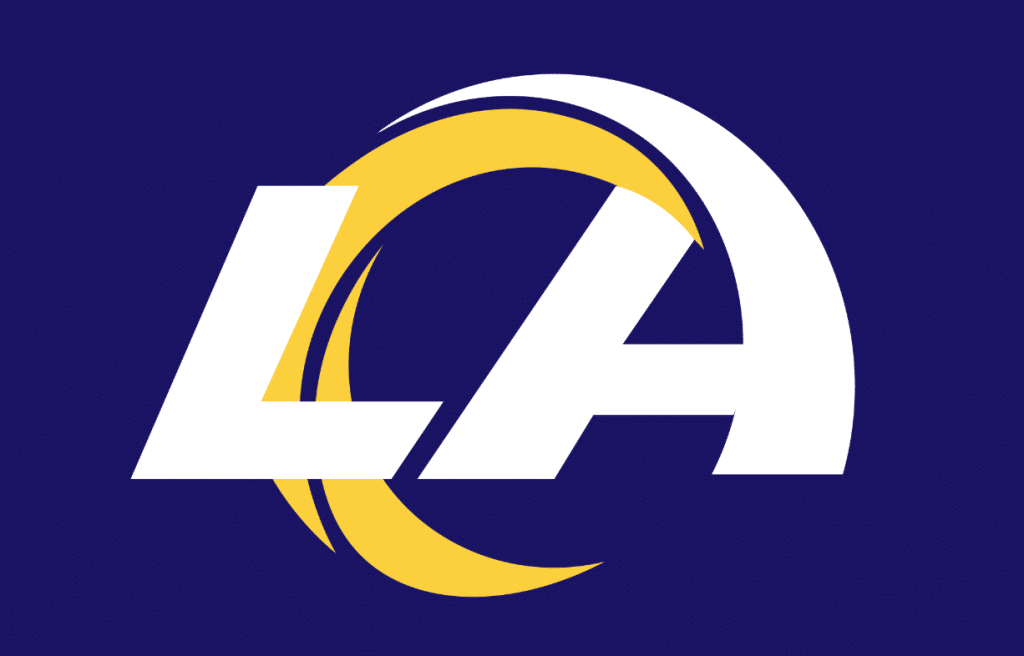 This concept has also been floating around, although I'm not sure where it originated: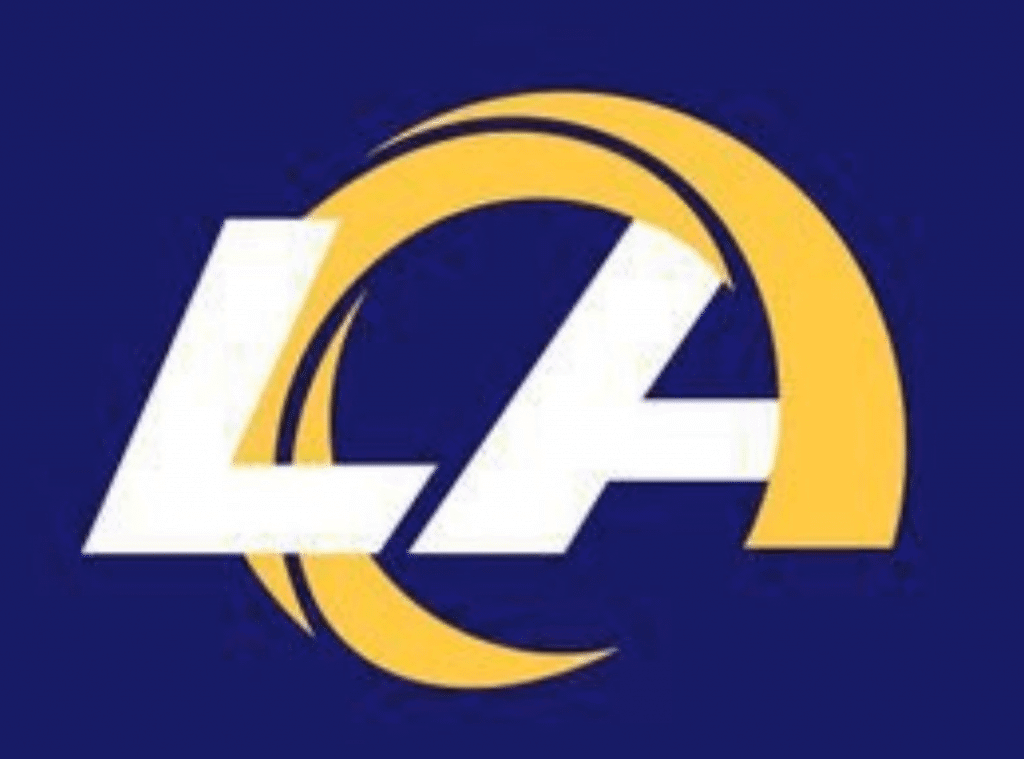 Update: That second concept appears to have be the work of SportsLogos.net user @Jeffrey.
The first one has a better treatment of the "LA" (but is arguably even more Chargers-esque); the second one has a better horn but has already been repeatedly mocked for looking like Donald Trump's hair.
In short: Not great. I get that the Rams want to emphasize Los Angeles in their new branding, but this does not bode well. It reminds me (and, I'm sure, many of you) of when the Chargers floated their own abortive "LA" logo, which they quickly scrapped after the response was so negative:
Who did it better — er, worse? pic.twitter.com/WXaYoM8MJd

— Paul Lukas (@UniWatch) March 8, 2020
• Why did they design the stadium to be shaped like the old logo if they're introducing a new logo? Maybe they're retaining the old logo in a diminished capacity.
• On the positive side, a primary logo matters less to the Rams than to most other NFL teams, because we know they're going to stick with rams' horns on their helmets. Compare that to, say, the Falcons — their new logo will presumably be on the sides of their helmet, so it will carry more weight. The Rams' new mark, by comparison, isn't that big a deal, at least yet. We'll have to wait and see how, if at all, it plays into the new uniform set.
• Of all the reactions I've seen so far, the funniest was from Twitter-er and Uni Watch reader David Bloomquist, who wins the award for creative Photoshoppery:
My @UniWatch inspired reaction to the #leaked #RamsLogo pic.twitter.com/q5OM6o7XE7

— HongKongHawk☝✌ (@dbloomy) March 9, 2020
Meanwhile: I did eventually hear back from the Rams yesterday. They said they have no comment at this time.
(Big thanks to @wutamclan7, Kenneth Castillo, Brad Belstock, @LesPantin, and reader/commenter James S. for their assistance with this post.)
• • • • •
• • • • •
Click to enlarge
Too good for the Ticker: Reader Ignacio Salazar, who specializes in Houston-related Ticker contributions, recently scored a sensational piece of Astros memorabilia: an original printing plate for the letterhead used by team chairman and Astrodome creator Judge Roy Hoffheinz.
Printing plate graphics are, by necessity, mirror-imaged. But we can flop the photo to create a more pleasing view:
How awesome is that? Ignacio found it on Craigslist. "The seller was asking for $125, but I offered $65 and he accepted," he says. "He told me got it from the original company that used it after they went out of business. It weighs two pounds and measures 6.5 x 2.25 inches."
So cool! And please, let's not have any jokes about Asterisks or cheating — let Ignacio enjoy this unique piece of history. Thanks.
• • • • •
• • • • •
Uni Watch Hit Parade: New York Giants chain crew honcho Tom Quinn, who I profiled for ESPN a while back, has musical tastes that mirror my own, and he recently tipped me off to an absolutely monster track called "Daily Routine," from a young Wisconsin band called Disq. It's the lead song on their new debut album, Collector. Nothing else on that album even approaches the level of "Daily Routine," but it doesn't matter — "Daily Routine" is so good that it justifies the band's existence all by itself. Most bands will never even have one song this good.
Like so many great songs, "Daily Routine" has an addictively hummable melody that seems intuitive and obvious. Like, how is it possible that nobody used this melody before? How is it possible that any other melodies even exist? Throw in some crunching guitars, a bit of well-deployed dissonance, a bit of piano plink-plunk on the third verse, some deadpan Pavement-style vocals, and you have an instant classic.
As a bonus, this is the rare song whose title is a self-fulfilling prophecy, because "Daily Routine" is definitely destined to become part of my daily routine. Tom, if you're reading this, thanks for the tip!
• • • • •
• • • • •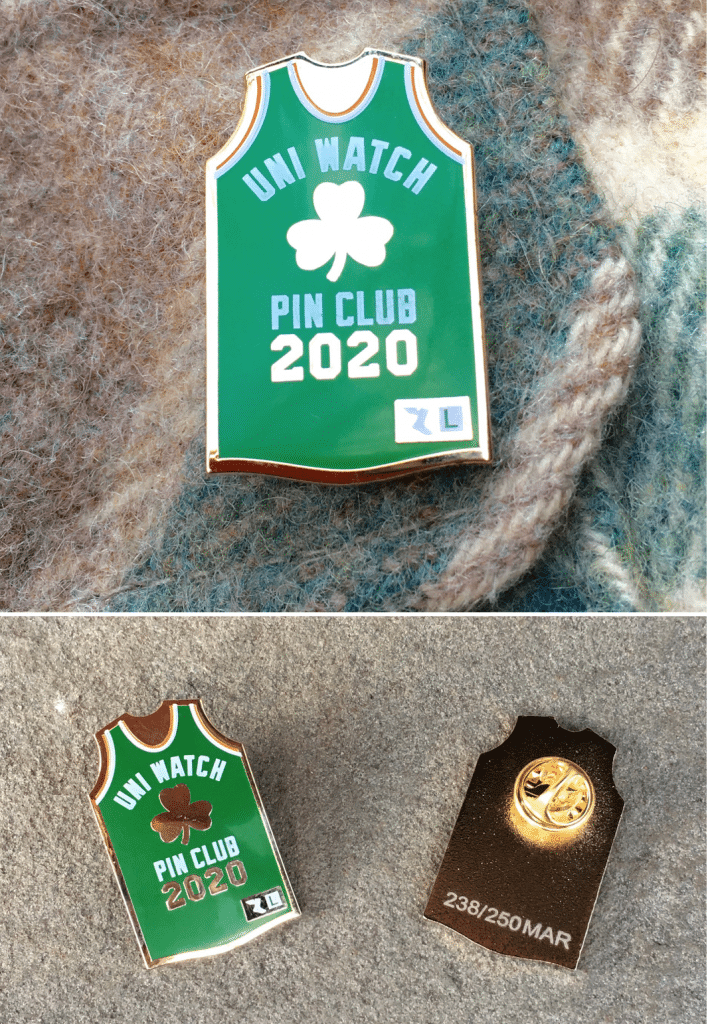 Pin Club reminder: In case you missed it last week, the March design for the Uni Watch Pin Club is now available. It features a basketball jersey (for March Madness) with a shamrock and orange/white trim (for St. Patrick's Day), along with a winged stirrup jock tag (for Uni Watch!). This one is a numbered edition of 250, and we've already sold more than half of them, so move fast!
If you need to get caught up, the January and February pins are still available until they sell out, and we also have our basic winged stirrup logo pin. And remember, card-carrying Uni Watch members get a 15% discount on these pins (and on everything else in the Uni Watch Shop).
My thanks, as always, for considering our products.
• • • • •
• • • • •
The Ticker
By Jamie Rathjen

Baseball News: The Royals' team dietician, Erika Sharp, wears a T-shirt that reads, "Plate Discipline" — get it? … Yesterday was International Women's Day, so the Giants posted some photos of MLB's first female coach, Alyssa Nakken, in uniform (thanks, Brinke). … Baldwin High in Hawaii wears gorgeous triple-striped stirrups.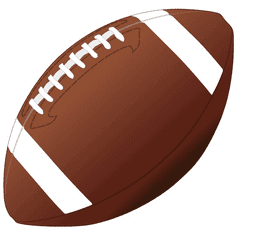 Football News: The XFL's Houston Roughnecks wore a new red/navy combo (from Wade Heidt). … Speaking of the XFL, in case you missed it over the weekend, they're considering the use of advertising patches.

Hockey News: Some junior hockey items from Wade Heidt: the WHL's Medicine Hat Tigers participated in the WHL Suits Up promotion by wearing orange jerseys with the vintage Hockey Night in Canada logo as a crest. … The WHL's Portland Winterhawks wore a new alternate uniform. … The OHL's Niagara IceDogs wore alternates designed by the winner of a student contest. … The WHL's Red Deer Rebels and Swift Current Broncos played a color-vs.-color game. … Harvard and RPI's series later this week in the ECAC tournament is to be played behind closed doors because of two coronavirus cases in New York's Capital District.

Basketball News: The Clippers usually cover up the Lakers' retired numbers and banners during their home games, but Kobe Bryant's retired numbers are uncovered (from Jakob Fox). … Hampton's men's team has been wearing blue uniforms with hard-to-read Old English-style chest lettering and NOBs at the Big South tournament (from multiple readers). … Hampton and their opponents, Winthrop, also wore two different versions of the conference logo patch (from Josh Hinton). … Another from Josh: Lafayette and Colgate played a color-vs.-color Patriot League semifinal. … Liberty's men's team wore throwbacks for yesterday's Atlantic Sun final (from @UncleFraz). … Players at Division III Yeshiva University, which is affiliated with Orthodox Judaism, wear yarmulkes during games, as you can see in an image used for this WaPo story. The story itself isn't uni-related, but is an interesting account of how Yeshiva successfully finished their first-round Division III tournament game before sundown Friday, as it was held behind closed doors at Johns Hopkins because of the coronavirus and delayed while their opponents waited for permission to play from school administrators (from Ethan Zanger). … A character on an episode of the Netflix show Narcos that takes place in the early '80s was shown wearing a hat with the Jumpman logo, which didn't exist until 1988 (from @EvilEmpireFan).

Soccer News: German team Bayern Munich wore their 120th-anniversary throwbacks yesterday (from @_bbbene). … In France, Marseille striker Dario Benedetto suffered a head wound Friday and instead of the usual gigantic bandage received a swimmer's cap. … Some recently-revealed national team kits debuted during women's invitational tournaments held this month, including both of the U.S.'s kits, Scotland, and Northern Ireland. Both U.S. shirts have odd broken accents down the sides. … U.S. fullback Crystal Dunn received a commemorative shirt for reaching 100 caps. … Italy's women's team seem to have promoted their mono-green third kit to first choice recently; it was only worn once by the men's team in October, but the women's team has worn it at least three times and the federation's Twitter feeds show that a number of Italy's youth and futsal teams of both genders appear to prefer green as well. … Some leagues, including the Premier League, English Football League, and France's Ligue 1 and Ligue 2, have banned prematch handshakes because of the coronavirus after Scotland did so for all leagues in the country last week. … In MLS, the Portland Timbers wore their white second kit at home, forcing Nashville SC to change as well. Announcer Jon Champion apparently said that Portland had to wear white a certain number of times this season. … Nashville midfielder Dax McCarty had the small and big Cs in his NOB switched (from multiple readers).. … In the USL Championship, Loudoun United goalie Collin Miller switched to No. 0 this season (from my brother Nate Rathjen). … USL Championship teams Sporting Kansas City II and Charlotte Independence played a light blue vs. royal blue matchup (from Ryan Cruz). … Here's the latest in the Chicago Fire's series of 12 patches for the 2020 season (from David Ziemba). … The website Museum of Jerseys is inviting readers to help pick the best Premier League kit of the 2019-20 season.

Grab Bag: Fans attending rugby sevens tournaments often dress up in costumes, so here's a selection that did at this weekend's Canada Sevens in Vancouver (from Wade Heidt). … Before the cricket Women's Twenty20 World Cup final, the names and numbers of two Australia players injured before and during the tournament, Ellyse Perry and Tayla Vlaeminck, were added to the sleeves of their team's training shirts. … The final, at the Melbourne Cricket Ground yesterday, also attempted to break the record for the largest crowd at a women's sporting event, which was set in soccer with 90,185 at the 1999 Women's World Cup final, and fell short but still set attendance records for women's cricket and Australian women's sports. … Australia's men's and women's field hockey teams both wore their indigenous-designed kits revealed last week. … For International Women's Day, The Telegraph republished a piece from January on equipment-related challenges faced by women in various sports. … Formula One's Bahrain Grand Prix, which is in two weeks, is to be held behind closed doors because of the coronavirus. … Southwest Airlines is the latest carrier whose employees have complained about rashes and other reactions from their uniforms (from Timmy Donahue).