For all photos, click to enlarge
[Editor's Note: Today we have another spectacular DIY project from the great Wafflebored. Enjoy! — Paul]
By Wafflebored
As a maker of custom sports jerseys, I sometimes get a little tired of making vintage replicas or jerseys that combine eras. They're fun to make, but often I would like to do something different, maybe draw in influences from the outside world or try to push the boundaries a bit in terms of what a sports jersey can be. The jersey you see here is the result of this thinking: It's a Canucks "V" jersey done from an Art Deco perspective.
The concept is simple: I love the Canucks (especially the V jersey), and I love Art Deco. And there may be more in common between those two things than you might think. Take the Canucks' "skate" logo, for example: The speed lines and movement show a definite Art Deco influence:
And while Vancouver, where I live, isn't particularly known for Art Deco, we do have a few nice examples of the Deco style, such as City Hall and the spectacular Marine Building. I've visited the Marine Building many times over the years, and while I didn't consciously decide to include its detailing on the jersey, there is no doubt that it was an influence:
Many of the the themes of the Art Deco movement have some parallels within the 1978 Canucks redesign. The bold embrace of the future certainly is one of the common elements, as there is no other way to explain the V jersey, especially compared to the more subdued and traditional blue/green look the Canucks previously wore.
I used old stock Canucks patches for the sleeves, and embellished them with sun rays, which look similar to the brass osprey doorway design from the Marine Building:
The V motif itself, of course, is also a common element of Art Deco design. After I finished the jersey I visited the Marine Building again to see if I could find an example of it to compare to the jersey. I found this:
One thing I've found over the years is if you stray too far from traditional jersey materials, your project can wind up not looking like an actual jersey. I decided to push this a bit, as I wanted the overall effect of the jersey to be very metallic, similar to those gilded relief pieces you often see in Art Deco architecture. While there are plenty of metallic-finish sports fabrics out there, I opted to use an orange lamé material that has a very pronounced chrome-like sheen. The gold parts of the V are a metallic gold satin fabric, a really nice cotton-backed material. For the details, I used old gold and black tackle twill.
The metallic fabrics do take it close to a more costume-like look. But the photos don't really do justice to the effect these materials provide, and I do think they were necessary to take the jersey away from a standard jersey look to something really ornate and unusual.
I love lace-up collars, and have added them to other V-style jerseys. I love the way they nestle into the V, plus in this case it felt appropriate for a vintage-inspired design. In addition, I designed a stand-up collar with added sun ray embellishments, as I thought an Art Deco jersey surely would have some kind of intricate collar design. I'm happy with the way it looks when worn:
Overall, this was a fun and challenging project. It didn't wind up quite as I envisioned it, mainly because I had to go through a lot of experimentation to get the Deco details to look correct. I went through a number of revisions to finally get a look that I was happy with. As usual, I went with a goalie's name and number on the back, in this case popular left-handed goalie Glen Hanlon, who did wear the V for the Canucks. (The name/number font I chose also reminds me of Art Deco revival, such as its use during the disco era, which is certainly appropriate for the disco-era V jerseys. The old Studio 54 logo reminds me of the font I picked.)
Finally, it's worth mentioning that we've just entered the '20s — 100 years since the decade of Art Deco's rise. I made this jersey around New Year's, and I noticed many people were referencing this decade as the new roaring '20s. Unintentional on my part, but the jersey would have been great to wear to a New Year's Eve party. As usual, though, I was in bed by 10:30pm.
• • • • •
• • • • •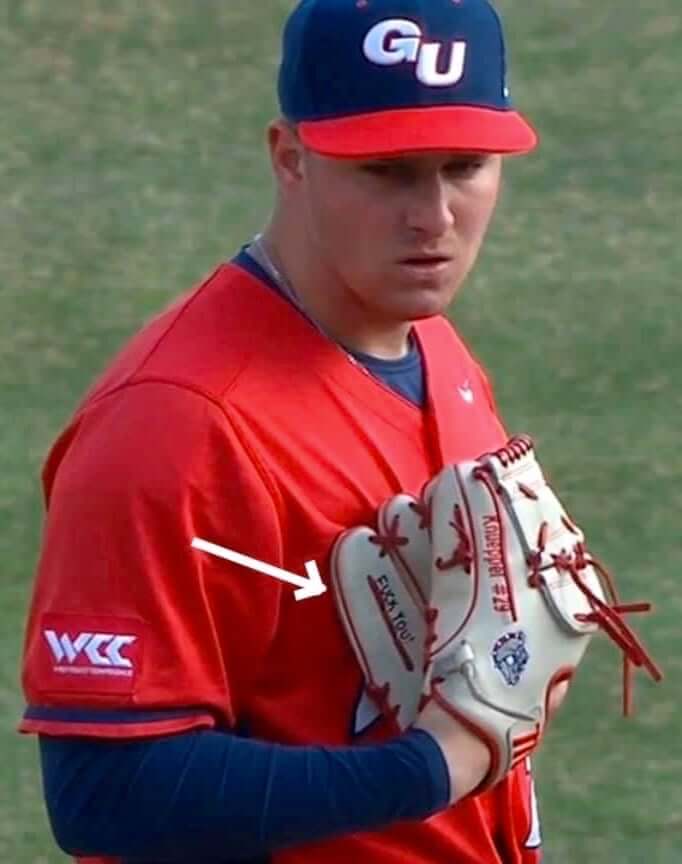 Click to enlarge
Somewhere, Billy Ripken is smiling: Gonzaga pitcher Keaton Knueppell had an interesting message inscribed on his glove yesterday. Quite the vulgar hurler!
It's worth noting that Knueppell's white glove is an apparent violation of the NCAA rulebook, which states, "The pitcher's glove may not be white or gray." But maybe his response to that objection is written right there on the glove!
(My thanks to the many readers who sent this one in.)
• • • • •
• • • • •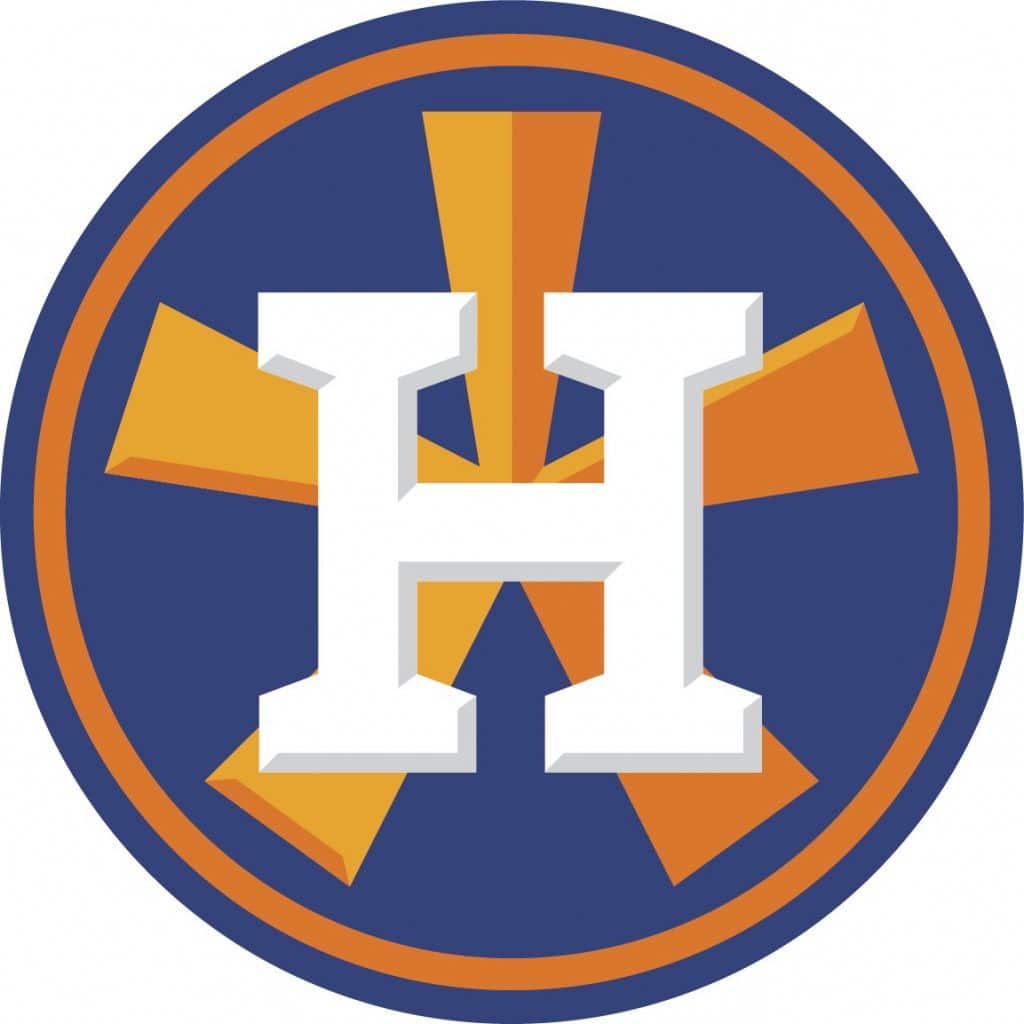 Calling all Astros fans: Another Little League chapter announced yesterday that it will no longer call any of its teams the Astros. This is at least the third Little League to do this, and I have a feeling there will be a lot more to come, as "Astros" becomes something of tainted word.
That raises a question I've been curious about: What's it like to be a 'Stros fan these days? Has the cheating scandal made you reconsider your fandom, or changed your feelings about any specific players? Have your happy memories of recent seasons become problematic? If you own Astros apparel, are you thinking twice about wearing it?
Just to be clear, I'm not saying you should be reconsidering your fandom or anything like that. But as I've written many times, sports loyalties are essentially very strong and completely irrational forms of brand loyalty — that's why we root for a uniform, no matter who's wearing it. Generally speaking, a team and its players, management, and ownership can often do almost anything and fans will still remain loyal. (As a Mets fan myself, I know this all too well.) But I'm wondering if the Astros have crossed into uncharted territory in that regard.
I know many of you out there are Astros fans. Would you care to tell us how you're feeling about all of this? Again, just to be clear, I don't think there's any right or wrong here regarding your feelings — I'm just curious (okay, nosy) to hear what those feelings are. Feel free to share your thoughts in today's comments, and thanks in advance.
• • • • •
• • • • •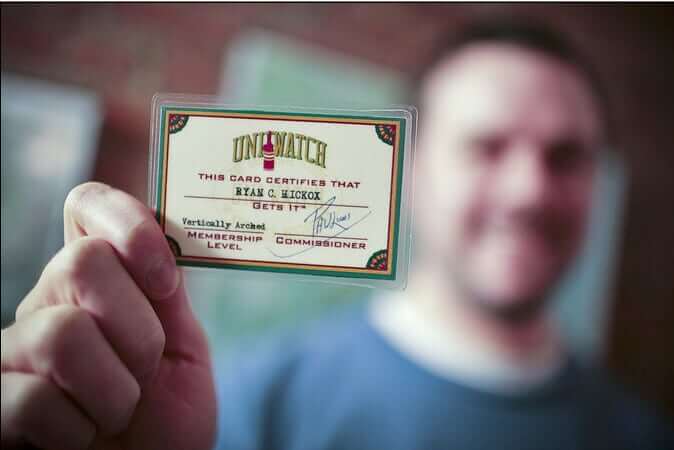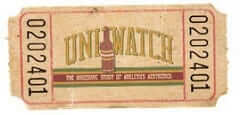 ITEM! Another membership raffle: Reader William Beebe recently won one of our raffles and has paid it forward by purchasing a membership for me to raffle off, so that's what we're going to do today.
This will be a one-day raffle. To enter, send an email to the raffle address by 8pm Eastern today. One entry per person. I'll announce the winner on Monday. My thanks to William for sponsoring this one.
• • • • •
• • • • •
Cap surgery tutorial: Lots of people have told me that they're interested in removing the maker's marks from their caps but would feel better about trying it if they could watch a video tutorial first. Reader Wes Muniz, who's performed successful surgery on a dozen of his caps, has now made such a video. Big thanks to him for sharing his expertise!
• • • • •
• • • • •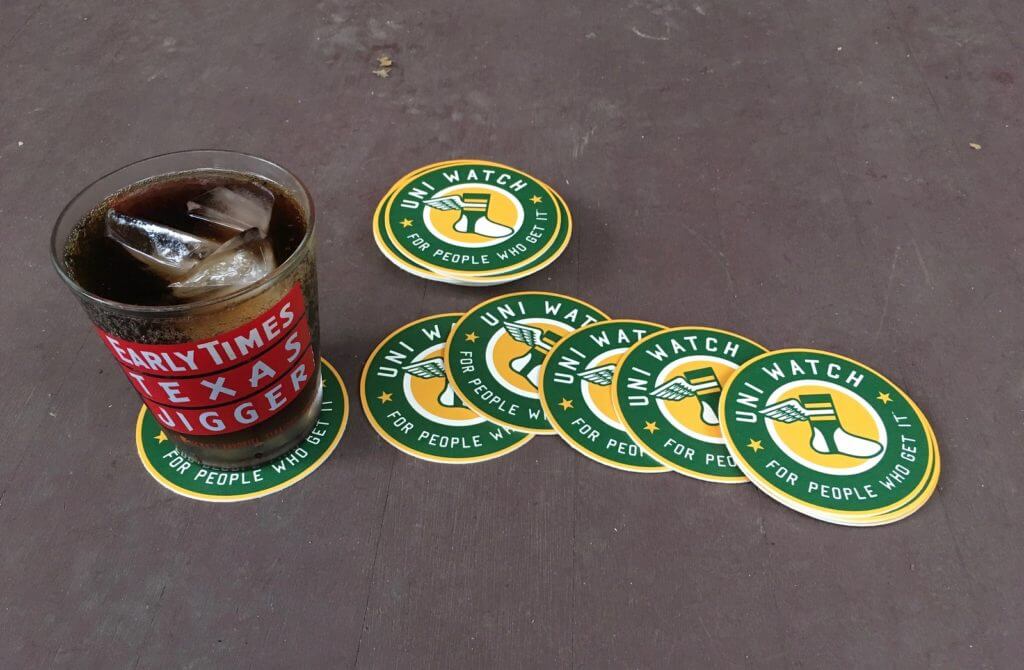 Click to enlarge
Coasters reminder: In case you missed it on Thursday, I have a small supply of these great-looking Uni Watch coasters. I'm selling them in groups of three coasters for $9 with free shipping. I sold through about half of them yesterday, so get 'em while they last!
• • • • •
• • • • •
The Ticker
By Anthony Emerson

Baseball News: Confirmed: The Nats are going with a matte helmet (from Johnny Garfield and @bignatsnut). … Rangers OF Joey Gallo posted a photo of himself in the team's new powder blue alternate jersey and white pants, a combination we hadn't previously seen (from Chris Mycoskie). … New Red Sox OF Alex Verdugo will wear No. 99 in honor of Manny Ramirez. Verdugo was originally assigned No. 12. Ramirez wore 99 with Verdugo's previous team, the Dodgers, but famously wore 24 with the Red Sox. … Dodgers OF Cody Bellinger now has a gold Rawlings logo on his glove because he won the Gold Glove last year (from Mike Chamernik). … Oh man, check out this gorgeous 1915 schedule for the Philadelphia A's and Philadelphia Phillies. "The pitcher depicted is the great Rube Waddell, who died a year earlier. Waddell last pitched for the A's in 1907 — never wore that uniform," tweets Alex Cheremeteff. … The Sioux Fall Sunfish, a new expansion team in the Expedition League which is a collegiate summer league, have unveiled their logo (from Kary Klismet). … Cal State Northridge wore 1970 throwbacks the other day, from when the university was San Fernando Valley State College (from Mike Cooperman).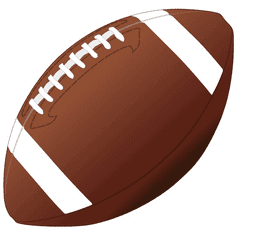 Pro Football News News: The Patriots have published an article on their uniform and logo history (from Jacob Ventura). … Hamilton Tiger-Cats CB Frankie Williams is changing his uni number from 37 to 1. The TiCats teased the change on Twitter earlier in the day (from Wade Heidt).

College Football News: In 1983, Nebraska State Senator Ernie Chambers wore a full Huskers uniform on the floor of the legislature to advocate for college players to earn a wage. Chambers's fellow State Senator Megan Hunt noticed our conversation on Twitter and chimed in to say that a player gave the uniform to Chambers for him to wear. Chambers hasn't worn a Huskers uniform on the floor again. Instead, he often opts for T-shirts, sweatshirts, and jeans on the floor of the legislature, instead of the more typical suit (from Brett Baker). … Jason Hillyer spotted this baseball cap designed to look like an Ohio State helmet — complete with Buckeye honor decals — at a Goodwill yesterday.

Hockey News: Also posted in the soccer section: The Kings had their LA Galaxy promotion last night, and wore these sweaters during pregame skate. Note the captain's armband for the alternate captain. The Kings had new Galaxy ST Javier "Chicharito" Hernández drop the opening puck, but it appeared some of his NOB lettering was peeling off his sweater (from Jakob Fox). … The AHL's Grand Rapids Griffins are wearing Jurassic Park-inspired sweaters for '90s night on Sunday. … The AHL's Lehigh Valley Phantoms are wearing 1980 Miracle on Ice-inspired sweaters next weekend. Note that they're keeping their usual black/orange color scheme; other teams have usually adopted Team USA's red, white, and blue color scheme (from Robert Caplette). … Bowling Green will wear some gorgeous throwbacks soon (from Matthew Daley). … Also posted in the NBA section: The NBL's Sudbury Five and OHL's Sudbury Wolves had a jersey swap on Wednesday night — the Wolves wore a hockey version of Five's jersey, and vice-versa. The teams will do it again tonight (from Wade Heidt). … Rare sight here: Photos of the Capitals' short-lived white pants.

NBA News: A Reddit user has published a scathing critique of the Rockets' uni advertiser, ROKiT (from Mike Chamernik and @_ynnhoJ). … Cross-posted from the hockey section: The NBL's Sudbury Five and OHL's Sudbury Wolves had a jersey swap on Wednesday night — the Wolves wore a hockey version of Five's jersey, and vice-versa. The teams will do it again tonight (from Wade Heidt). … New Rockets F Jeff Green will wear No. 32.

College Hoops News: Remember Paul's lede a few days ago about Jacksonville's throwbacks? … They wore those uniforms last night — you can see a bunch of game photos here. … Wichita State and USF went pink vs. green last night (from Nick Abbott). … Oregon and Arizona State men went green vs. yellow last night (from Josh Hinton). … South Dakota women wore pink-trimmed unis last night (from Kary Klismet). … Wake Forest gave away these nice replica 1995 ACC Champions T-shirts with a nice touch — no big ad on the back! Rare for giveaway shirts (from David Kilduff). … San Francisco's uniforms are missing a period.

Soccer News: Here's a depressing development: German side Borussia Dortmund is splitting their main shirt ad by competition. 1und1 is getting Bundesliga games, while in cup games the club will stick with current ad Evonik. Here's a look at BVB's Bundesliga kit with the new ad (from @ArztohneDr). … Spanish side Sevilla went ad-less during their UEFA Europa League match against CFR Cluj in Romania yesterday. Sevilla's shirt ad is for MarathonBet, but Romania does not prohibit gambling advertisements, as Cluj wore their betting ad during the match. … A Twitter user found this hilarious c. 1996 image of Marco Etcheverry in a training top with a normal-sized Umbro logo and a huge Umbro logo. Talk about logo creep (from Oleg Kvasha). … The Major Arena Soccer League's Dallas Sidekicks were forced to wear the defunct Stockton Rush's old kits for a match in southern California against the Ontario Fury after the Sidekicks had all of their equipment stolen out of their locker room (from @bryant_rf). … Cross-posted from the hockey section: The NHL's Los Angeles Kings had their LA Galaxy promotion last night, and wore these sweaters during pre-game skate. Note the captain's armband for the alternate captain. The Kings had new Galaxy ST Javier "Chicharito" Hernández drop the opening puck, but it appeared some of his NOB letters were peeling off his sweater (from Jakob Fox).

Grab Bag: K-Swiss is introducing an entire line of Breaking Bad-inspired sneakers (from @walbergLines). … The Verge has an article about the design process going into Microsoft's new icons (thanks, Brinke). … New York City's health department has introduced a new package design for NYC-themed condoms (from Timmy Donahue). … A house in Michigan completely covered in University of Michigan memorabilia is up for sale (from Jorge Cruz).
• • • • •
I know some of you have been having trouble with the site's mobile version. One of our plug-ins is acting up. We're aware of it and trying to fix it. Thanks for your patience. — Paul