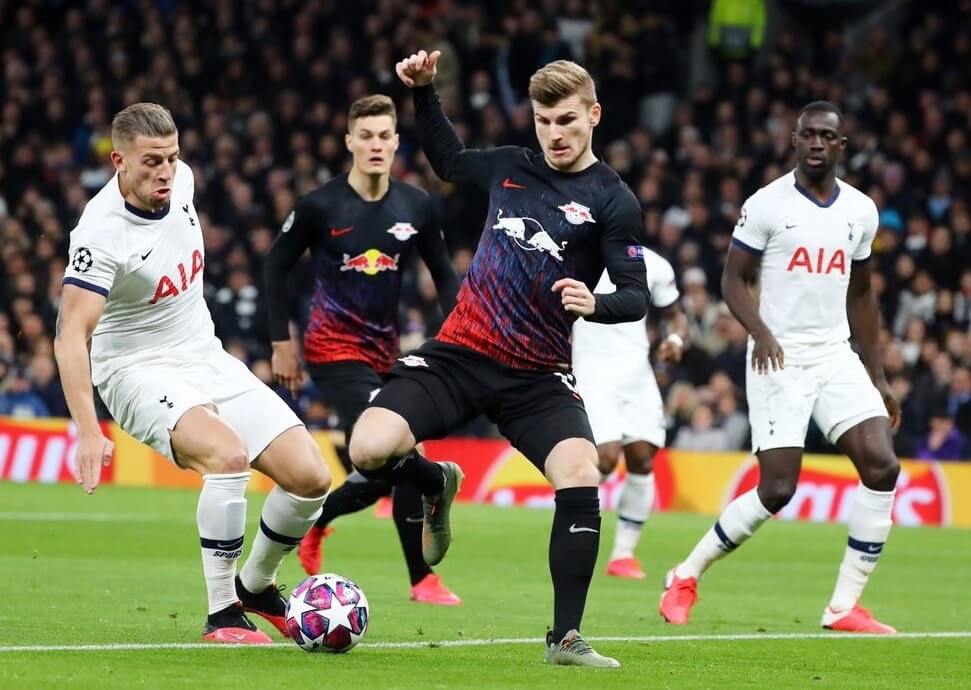 Click to enlarge
To all of the problems with uniform ads, we can now add this: Sometimes the ads don't match!
That was the case yesterday for German soccer team RB Leipzig in their UEFA Champions League match against Tottenham Hotspur. As you can see in the photo above, some players had a white Red Bull chest ad and others had yellow/red. You can see a good breakdown of who was wearing which version in this pregame video clip:
The RB Leipzig kits don't…match? pic.twitter.com/wlI8Cfdvxq

— Bleacher Report Live (@brlive) February 19, 2020
As you all know, I'm not a soccer guy. But the situation appears to have been this: The ad on this jersey is usually white, but the team decided to go with a flashier red/yellow version for this game. Unfortunately, a box of jerseys was lost during transit, so a few players had to wear the usual white-ad version instead of the new version. At least one player apparently changed to the new version at halftime.
I was a bit surprised by how big a deal this was on social media yesterday — people were going bonkers over it. I guess that makes sense, since the shirt ad is basically the visual equivalent, if not the emotional equivalent, of an MLB chest script or an NHL crest, but it still caught me off-guard. (Have I mentioned that I'm not a soccer guy?) So I asked our own Jamie Rathjen, who's very soccer-knowledgeable, for some perspective:
Me: How (in)frequently does this type of thing happen, and how big a deal is it typically considered to be? To put it in context, how would you compare it to, say, an MLB player with the team or city name misspelled on his jersey?
Jamie: This really wouldn't happen that often. There is a pretty famous example of a mix-up for Tottenham Hotspur (who, coincidentally, were the team playing against RB Leipzig today) in the 1987 FA Cup Final, where some players had ads on their shirt and some didn't, which is the only other time I can think of something like this ever happening.
If I had to compare it to, say, "Natinals," it's probably as big a deal as that was on the day it happened, but I don't know if this will be as memorable in five or 10 years as that has turned out to be, because it's not really an embarrassing screw-up.
Me: How big a deal is RB Leipzig? To me, they're just "one of those soccer teams I've occasionally heard of," but I have no idea how popular they are, how "important" they're considered to be, etc.
Jamie: This was in the knockout stages of the UEFA Champions League, which is the most prominent club competition in the world, so it automatically puts them in the spotlight. If this was a normal Bundesliga game, I don't think nearly as many people would have freaked out. The team itself has rapidly ascended to the top of the game in Germany because they're backed by Red Bull, but they've only existed as RBL for 10 years and played in the Bundesliga for four years, so they're not as immediately recognizable as some of their peers. I wouldn't call them popular, because of their short existence and because they don't play in a big city, though they do attract a lot of negative attention in Germany from fans of other teams because of their corporate background.
———
So there you go. Please join me in thanking Jamie for providing that context.
Meanwhile, in another UEFA Champions League situation involving soccer shirt ads, Valencia went ad-free yesterday against Italian side Atalanta, because Valencia's advertiser, Bwin, is a betting site, which would have run afoul of Italy's ban on betting ads (click second photo to enlarge):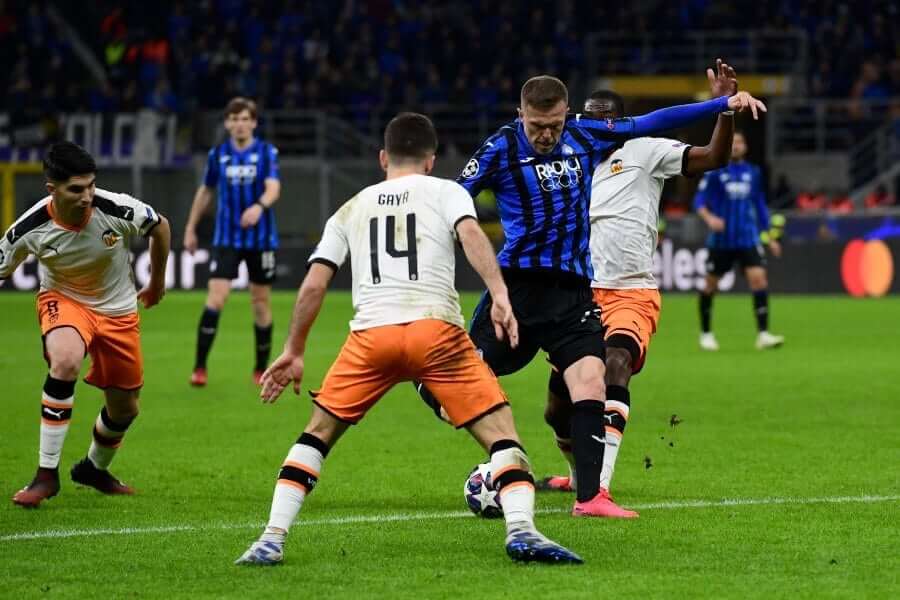 I'll tell you what: I may not know much about soccer, but I know what I like, and I really like that Valencia kit. The shoulder stripes, the collar, the shorts, the striped socks — spectacular! And hey, they didn't have to worry about whether their chest ads were a consistent color because they didn't have any chest ad to begin with. Nice!
• • • • •
• • • • •
• • • • •
• • • • •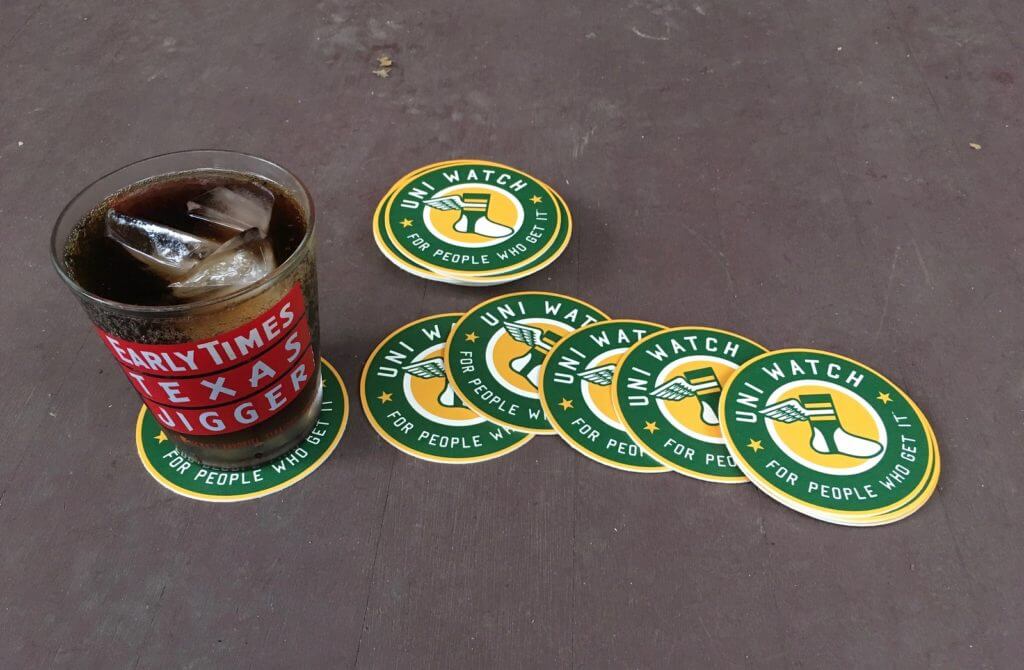 Click to enlarge
ITEM! Coasters redux: I was able to get another 50 of these great-looking Uni Watch coasters at a decent price. I'm going to sell them in groups of three coasters for $9 with free shipping. Get 'em while they last!
• • • • •
• • • • •
The Ticker
By Paul

'Skins Watch: Roddy Ross of the Western Hockey League's Seattle Thunderbirds has feathers painted onto his mask to honor his Cree heritage. Additional photos here (from Greg Franklin).
.

Working Class Wannabes™: According to this article, there's no secret about how the Alisal High School girls' hoops team in Monterey, Calif., has become so successful: The team "just goes out and plays blue collar basketball." … The hockey team at Georgetown Prep in Maryland uses the hashtag #bluecollarhockey. "This is especially remarkable in light of the school's tuition rates, which are higher than many American workers' salaries," notes Timmy Donahue. … Also from Timmy: This This astonishing video from the Duke baseball team begins with the words, "Blue collar is not a socioeconomic descriptor" and then explains how the term applies to this team. Of course, "blue collar" actually is a socioeconomic descriptor — unless you've turned it into a patronizing lifestyle hashtag. And as Timmy notes, "The average cost of attendance without financial aid at Duke is $78,608. I don't think it's fair to stereotype the players, but in looking at their roster, I see names of high schools I am familiar with and that I know have high tuition rates. Clearly the players could have received aid or scholarships, but Duke and 'blue collar' appear to be antonyms." … Paul DeJong of MLB's St. Louis Cardinals says St. Louis is a "working class city" and that the Cards "give people hope" because "we're out there every day trying to grind and push and win." The funniest/saddest thing about this is that the caption on that video says DeJong used the term "blue collar," which he actually didn't use — he said "working class." But "blue collar" has now become such a reflexive default cliché that I guess they put it in there out of habit (from Alex Dewitt). … The NHL's Colorado Avalanche and the Colorado Amateur Hockey Association have partnered for a "Hard Hat Heroes" program. "Essentially, they seem to be saying that those everyday, hard-working hockey fans out there who give selflessly to support the sport deserve recognition because they are like the grinders on a hockey team who do the small, thankless tasks to help the team win," says Kary Klismet. "I'm not sure who exactly is supposed to be wearing the hard hats in this situation, but maybe the Avs could come up with a way to honor committed hockey fans without the strained analogy." As a bonus, the program is sponsored advertised by a Japanese car company whose U.S. plants are non-unionized.

Baseball News: Here's a great shot of 1920s film star Clara Bow in a Hollywood Stars uni. That shot comes from an excellent article about Gilmore Field in L.A. (from Jon Solomonson). … New blue alternate jerseys for Penn State (from Jake Wallace). … New black alternates for Bryant & Stratton College (from Timmy Donahue). … It's a little hard to see, but Braves INF Charlie Culbertson, who took a pitch in the face last September, is now going double-C-flapped. As you may recall, Phillies OF Rhys Hoskins became MLB's first double-C-flapped player back in 2018. I can't recall anyone else doing it since then — anyone..? (From David Murphy.) … Reds 1B Joey Votto honored former MLBer Tony Fernández, who died earlier this week, by writing "RIP Tony — My Dad & I loved you" on his cap yesterday (from Jakob Fox and our own Alex Hider). … OF Justin Meekins, who plays for DIII school Salisbury, has had a hilarious progression of roster photos during his collegiate career (from Paul Friedmann). … Wright State has something I'm not sure I've ever seen before on a baseball diamond: sweatbacks (from Timmy Donahue). … Hmmm, looks like the Nats are moving to matte batting helmets. … New orange alternates for Florida (from Ryan Bohannon). … Tigers OF Daz Cameron wore cleats that mimic the pant-cuffs-over-the-shoes look yesterday (from Beau Parsons). … Utility man Brock Holt, who signed a free agent deal with the Brewers earlier this week after a seven-year stint in Boston, says, "I honestly never expected to wear any other uniform but a Red Sox uniform."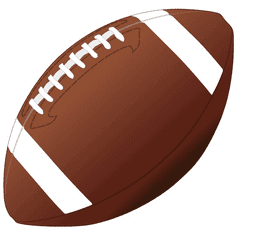 Football News: The Browns have given their practice fieldhouse a makeover (from Cory Robert). … Here's a nice look back at Wisconsin media guide covers (from David Petroff). … Did you know that Iowa used to have a squad of clowns who entertained fans on the sidelines? It's true! (From Kary Klismet.)

Hockey News: Hmmm, did the Hershey Bears really call themselves the Hershey Bars at one point? "They were originally the Bars (or B'ars), but that was deemed too commercial, so they became the Bears in 1936," explains Jerry Wolper. … A junior team called the Thunder Bay Fighting Walleye has changed its logo after a complaint from the ECHL's Toledo Walleye (from @The_Real_Kub). … Here's more info on the Syracuse Crunch's rainbow-themed Pride Night uniforms, which will be worn on Saturday. … Speaking of the Crunch, they will play the Utica Comets next winter in an outdoor matchup of upstate New York teams (from Wade Heidt). … "Dakota College at Bottineau recently announced the formation of a women's hockey team that will start competing in the 2020-21 school year," says Timmy Donahue. "Here are the first two signees in their new Ladyjacks uniforms." … The Maple Leafs will wear their St. Pats throwbacks on March 14 and 17 (from Gabriel Hurl). … Chipotle is offering a two-for-one deal on Friday for customers wearing hockey jerseys.

College Hoops News: Wichita State will wear very bright pink uniforms tonight (from Black Cripps). … Georgia Tech wore sneakers honoring the Tuskegee Airmen last night (from Jason Scherer). … Brutal matchup last night between South Dakota and North Dakota State, who went grey vs. black. … Georgia wore red at home last night, with Auburn wearing white on the road (from Josh Hinton). … Reprinted from last night's comments: In yesterday's lede, I said the 1970 Jacksonville squad was the only team I'd ever seen that wore its school name negatively arched underneath the chest number. But the 1971 Harvard team wore something similar but even more radical. Amazing! … Utah State G Sam Merrill was presented with a commemorative ball last night in honor of his 2,000th point (from Benji King). … Gorgeous color vs. color game last night between SMU and Tulane (from @Corneal_Univ).

Soccer News: New uniforms for Belarusian side Dinamo Minsk. "They wore Nike during the 2019 season, but the new uniforms appear to be made by Saller," says Ed Zelaski. … The Houston Dash, which was the only NWSL team not to have a shirt ad, no longer has that distinction. Additional photos here (from Ignacio Salazar and our own Jamie Rathjen). … Brazilian side Cruzeiro held a press conference to announce the re-signing of ST Marcelo Moreno and painted a jersey onto him instead of giving him a jersey (from Tim Abel). … Nashville's new MLS expansion franchise has agreed to terms with the city on a new stadium (from Kary Klismet).

Grab Bag: The high school in Boardman, Ohio, is raising money for new marching band uniforms. … Lots of bizarre outfits in this article about female arm wrestlers. … Toy maker Mattel has released five new Barbie dolls for the upcoming Summer Olympics (from James Gilbert). … New logo for condom maker Durex. … One observer thinks rugby needs to rethink its system of shirt advertising (from @stumpy7780). … A Swiss court has ruled that Jägermeister's logo isn't offensive to Christians. … The new episode of the great design podcast 99% Invisible is about the typeface Fraktur — colloquially known as the Nazi font. … New lacrosse uniforms for Transylvania (from Kyle Sutton). … Some very detailed photo analysis reveals that Britain's Prince Charles has been wearing the same two overcoats for over 30 years (from Kary Klismet). … A New Hampshire police chief took off his uniform and walked home in his underwear Tuesday night after his position was eliminated by the town board.