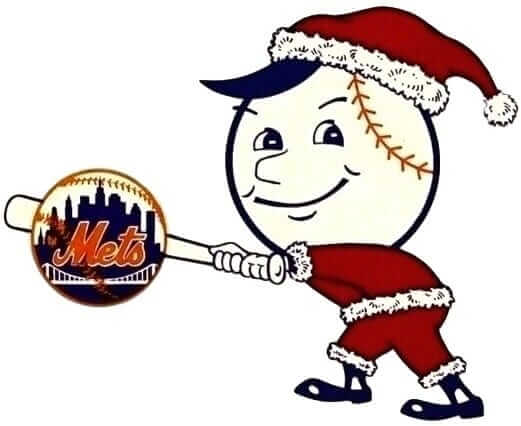 Merry Christmas from Uni Watch HQ, where "Mambo Santa Mambo" is on heavy rotation and the Irish cream is already flowing freely (as is the catnip, a goodly amount of which was in Uni Watch girl mascot Caitlin's stocking).
Meanwhile, Santa's left something extra under the tree this year for 42 lucky Uni Watch readers — the winners of our annual year-end raffle. Here are this year's winners and the prizes they've won (you can see photos of the prizes here):
1. Uni Watch membership card — Matthew Houk*
2. College football calendar — Christian Berumen**
3. College football calendar — Tanner Dabbs**
4. College football calendar — Beckett Sheeder**
5. Baseball card calendar — Denise Barrett
6. Baseball card calendar — Gerry Dincher
7. Baseball card calendar — Luke Lagattuta
8. Wafflebored hockey jersey — Wade Heidt
9. "I Like the High Ones" T-shirt — Liam J. Mullen
10. Chain-stitched number patches — Scott Steffes 
11. Uni Watch cycling jersey — Chad Smith
12. NFL helmet poster — Charles Drake
13. Jets tote bag — Corey Wrinn
14. Reds Alert T-shirt — Mark Fightmaster
15. Purple Amnesty Day shirt — Matthew Coseo
16. Purple Amnesty Day shirt — Lindsay Resnick
17. Padres cap — Brian Lambdin
18. Jets cap — Craig Nestel
19. Brandiose cap — Peter Stein
20. Purdue cap — Steve Jacobson
21. Uni Watch prototype ballcap — Mitch Nathanson
22. Uni Watch prototype pom hat — Patrick Barnett
23. Uni Watch prototype pom hat — John-Peter Struzzieri
24. Rangers All-Star jersey — Rick Cuzzetto
25. Jeff "Squirrel" McNeil T-shirt — Daniel Shlian
26. Jets mini-helmet — Chris Devlin
27. Jets T-shirt — Jason Rutman
28. Portland Timbers jersey — Ian McLarty
29. Portland Timbers jersey — José Cantú
30. Vancouver Warriors jersey — Josue Rodriguez
31. eMLS Cup jersey — Jason Buenning
32. Oxford Pennant T-shirt — Caleb Weaver
33. Oxford Pennant T-shirt — Taylor Pellerin
34. Gridiron Icon T-shirt — Charles Quinlan
35. Hot Dog Guy baseball card — Peter Fahey
36. Jets unveiling press pass — William Beebe
37. Padres unveiling press pass — Reid Ostrom
38. Puppy Bowl press pass — Andres Diaz
39. Baseball Card Vandals book —Russell Koch
40. History of the Sens Jersey book — Dan Klein
41. Japanese baseball uni book — Scott Turner
42. Minnesota Gophers mug — Susan Freeman

*Let me know what you want for your membership card.
**Let me know which one of these calendars you want.
A few of these items have already mailed out; I hope to get the rest of them shipped by the end of this week, so you winners should watch your mailboxes!
However you're spending the day, I hope it's a good one. If you're traveling, travel safe. If you're working today, thanks for shouldering the load while the rest of us get to enjoy the day off. Also, I know Christmas can be stressful and/or sad for some people — if that's you, hang in there and please accept a virtual hug of support from me.
As for me, the Tugboat Captain and I will open the presents we got each other and then spend a few hours making a dessert and side dish that we'll bring to our friend Garth's pad for his annual Christmas party, where we'll see a bunch of our best friends.
That's it for today. I leave you with some groovy Christmas tunes to enjoy. Ho-ho-ho! — Paul