Click to enlarge, if you dare
In case you were wondering how your favorite MLB team's home jersey will look with the Nike maker's mark on the chest next season, here's a view of all 30 home whites. Additional info and individual jersey photo downloads are available here.
Let's shift into FAQ mode:
Wait a minute — wasn't Under Armour supposed to be MLB's new uniform supplier?
That was the original plan announced in 2016. But Under Armour, which has had significant business problems in recent years, withdrew from the deal in May of 2018. At the time, it was reported that Nike would be swapped in for Under Armour, although that didn't become official until January of this year.
So is every team getting new uniform designs?
No. Whenever Nike takes over a league's uniform contract, people seem to mistakenly believe that the whole league will get a makeover. But when Nike got the NFL contract in 2012, most NFL teams retained their existing uniform designs. Ditto for the NBA in 2017. And ditto for MLB in 2020. A few teams are getting new uniform designs, and most are sticking with their existing designs — just like any other year.
Okay, but at least the fabric and tailoring templates must be new, right?
Nope. These 2020 jerseys have the exact same tailoring and fabric as Majestic's 2019 jerseys. The only difference is the removal of the Majestic sleeve logo, the addition of the Nike chest logo, and the corresponding change to the jock tag. Everything else is the same.
Will there be tailoring and/or fabric changes in 2021?
Possibly, although I'm hearing that the template and fabric will likely carry over to 2021 as well.
What about 2022?
We'll see.
Looking at the photos, it seems like the Yankees jersey is the only one that doesn't have those mesh side panels. How come?
That's a carryover from their Majestic jerseys (the Yankees were the only team that didn't have the side panels in recent years). Like I said, nothing is changing from 2019.
I hate that Nike logo on the chest.
Probably not as much as I do.
Why can't they put it on the sleeve, like Majestic did? Why does Nike always have to push things too far?
Nike didn't unilaterally decide to put their logo on the chest. They put it there because MLB decided to sell that space for the maker's mark at a higher price, and Nike was willing to pay that higher price for added exposure. (MLB had originally struck that same deal as part of the contract that Under Armour backed out of.) So don't blame Nike for purchasing something that was available for sale; blame MLB for selling it in the first place. Say what you want about the NFL, but at least they haven't sold that space.
I don't understand all the fuss about the Nike logo on the chest. What's the big deal?
If you don't care about the logo on the chest, that's fine. We'll have to agree to disagree.
This is the first step in the move toward ad patches, isn't it?
That's been the speculation since July, but we'll see.
Why do the photos show the Brewers' 50th-anniversary patch but not the Twins' 60th-season patch?
Good question. Several 2020 commemorative patches seem to have been omitted from these photos, including the Dodgers' All-Star Game patch and the Rangers' stadium-inaugural patch. Seems like they were just inconsistent with the photo shoot.
Why are they showing the home jerseys but not the road or alternate jerseys?
At least one team hasn't yet unveiled its new road uniform, and at least two teams haven't yet unveiled their new alternates. Stay tuned.
• • • • •
• • • • •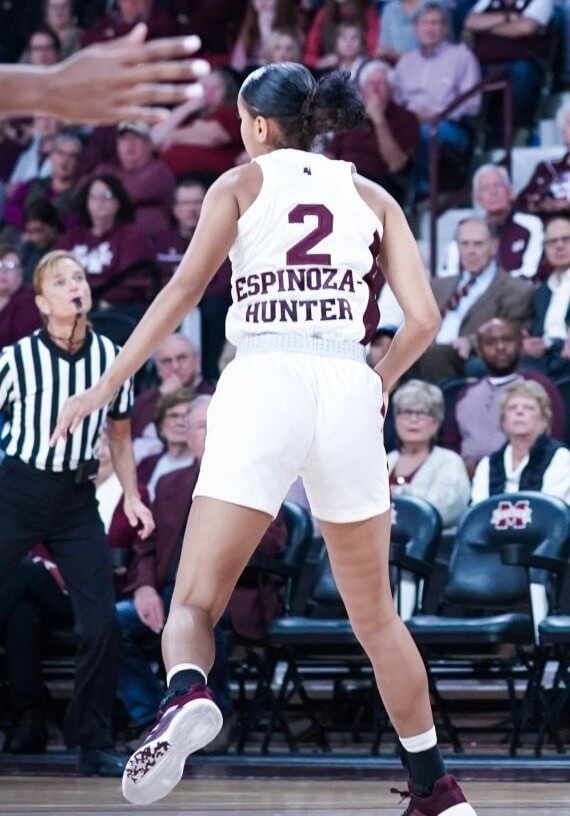 Click to enlarge
Yowza: There are double-decker NOBs and there are NOBs positioned below the uni number, but Mississippi State guard Andra Espinoza-Hunter has the rare combination of the two. It looks particularly unwieldy because State uses such massive NOB lettering, so even the team's single-decker NOBs look clunky. Weird typography choice.
(My thanks to @TheVeaze for this one.)
• • • • •
• • • • •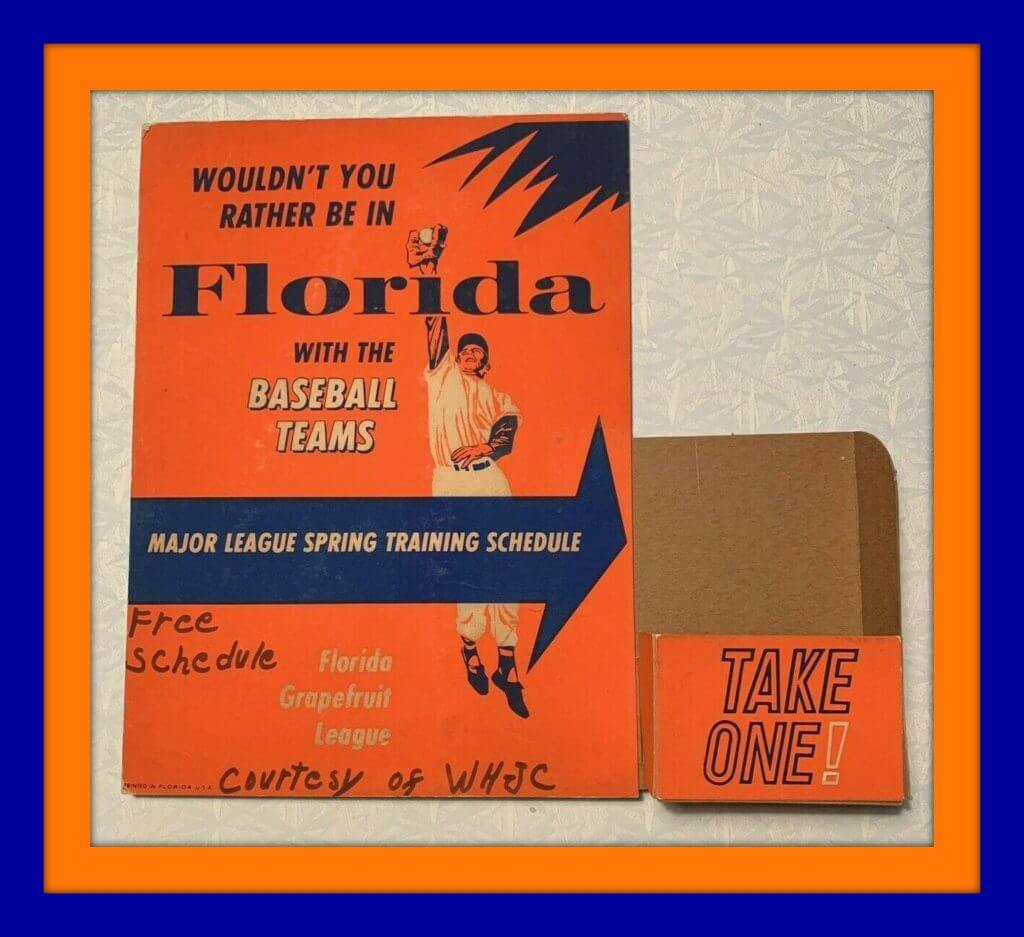 Click to enlarge
Collector's Corner
By Brinke Guthrie
Follow @brinkeguthrie
"Wouldn't You Rather Be in Florida With the Baseball Teams?" Well, of course, who wouldn't? This 1960s display stand held Grapefruit League spring training schedules for vacationers to take on their way south, I guess. I particularly like how someone wrote "Courtesy of WHJC" and "Free schedule." The seller notes that "WHJC" is in Matewan, W.V.. It is now a Southern Gospel station.
Now for the rest of this week's picks:
• This record album is called The Fat Lady Sings for the Bullets and has highlights of the 1977-78 World Champion Washington Bullets. Still sealed in its packaging! Nice plaid sports coat on coach Dick Motta, too.
• Check out this cool 1970s Phoenix Suns switchplate.
• This 1967 Dallas Cowboys football gear set from Rawlings comes with the helmet, shoulder pads, No. 17 jersey for Dandy Don Meredith, and a pair of plain white pants. What, no blue-green?
• One more from the NFL Sears Shop — this lined parka for the St. Louis Football Cardinals.
• Staying with Sears but moving on over to the sporting goods department, this 1960s Ted Williams Major League Baseball is stamped, "Genuine Horsehide!"
• Yes, there were actually ashtrays with sports logos on them, like this one for the New Orleans Jazz.
• This 1970s sticker advertises Schaefer Stadium, the former home of the New England Patriots. I never knew back then that Schaefer stood for the beer (an early example of naming rights), just like I didn't realize Rich Stadium in Buffalo was named for a food company or that Ericsson Stadium in Charlotte was for a cell phones company.
• This lot of four Sportoys buggies represents the AFC Central of the 1970s; Steelers, Browns, Bengals and Oilers.
• Here's another lot of 1970s NFL gumball helmets, this time with built-in pencil sharpeners.
• This 1960s "Sports Waving Ball Car Decoration" is basically a suction cup with a baseball attached to it. This one has the word "Cincinnati" in red. No Reds logo, though.
Got an item to include on Collector's Corner? DM your submissions to us on the Uni Watch Facebook page. Open 24/7/365!
• • • • •
• • • • •
Click to enlarge
Almost gone: As of last night, there were only two Uni Watch mini-helmets remaining (which, if you want, can be autographed by me and/or by Phil). We will not offer these again — when they're gone, they're gone. So if you want one, move fast. Mini-helmets are now SOLD OUT.
While we're at it: White gumball helmets are now sold out (but green ones are still available).
• • • • •
• • • • •
Click to enlarge
Looking ahead: Check out this gorgeous jersey made by DIY genius Wafflebored! He's generously donating it to this year's year-end reader-appreciation raffle, which will be taking place either this Friday or, more likely, next Tuesday. Stay tuned!
• • • • •
• • • • •
The Ticker
By Alex Hider

Baseball News: The Nats used the signing of P Stephen Strasburg to introduce a 2019 World Champs logo yesterday. No word yet on whether this will be worn on the field (thanks to all who shared). … The Lakewood BlueClaws, the Phillies' Class A affiliate, have unveiled a 20th-season logo (from Kevin Clark). … The Savannah Bananas of the Coastal Plain League capitalized on the viral news story about the duct-taped banana art installation with an excellent tweet (from @mikeobs).

NFL News: The Eagles wore their mono-black alternates last night. In addition, at one point backup QB Josh McCown was preparing to enter the game as a receiver, which had helmet implications: ""I was ready to go," McCown said. "We had the helmet ready to go. The equipment guys were all over it. Had the radio-less helmet because you can't have two green dots on the field at the same time." And no, that wouldn't violate the one-shell rule — it's one of the exceptions that the rule allows for (from @ThatRodneyGuy). … In that same game, Giants QB Eli Manning didn't have the NFL100 logo on his jersey last night (thanks to all who shared). … You've heard of non-basketball teams wearing the jumpman logo, but how about a football player wearing a baseball player logo? That's Pats WR Julian Edelman did on Sunday, as he wore baseball-themed cleats for the Israel Baseball Association (from Blake Fox). … The Browns made some slight field design alterations on Sunday, adding orange outlines to numbers and adding brown outline stripes to the 20- and 50-yard lines (from Dylan). … It appears the space between the numerals on Titans WR AJ Brown's jersey has gotten wider as the season has gone on (from Jacob Turner). … The lobby of the Buccaneers' training facility has all sorts of uni- and logo-related displays, including prototype designs and lots of interesting background info. Kevin Brown took these photos of the displays (and apologizes for the glare). … Lots of players do postgame jersey swaps, but Ravens QB Lamar Jackson swapped a purple jersey that he didn't wear following Sunday's game. The Ravens wore white on Sunday against Buffalo, not purple. He did the same thing the previous week against the 49ers when Baltimore wore black (from Ray Bergman). … In 1995, Vikings RB Robert Smith lost one of his shoes during a long TD run against the Steelers. He ran the last 45 yards with only one cleat and even managed to break a few tackles (from Mike Chamernik). … Remember how some of the Chiefs' gear got lost in transit and made it to Foxboro shortly before Sunday's game against the Pats? As people scrambled to resolve the situation, at one point it looked like the Chiefs might end up wearing helmets from a Massachusetts high school team that uses red shells and a very Chiefs-like logo (from Jason Tierney).

College Football News: Reader Scott Cummings points out that two of Ohio State's best players — DE Chase Young and RB J.K Dobbins — both wear No. 2. That raises an interesting question: Are they the most successful pair of teammates to wear the same number throughout a season? … Speaking of the Buckeyes, it appears Ohio State will once again wear throwbacks in the College Football Playoff (from Ben Teaford). … The honorary captain during Georgia Tech's coin toss ceremony at a game earlier this season was wearing a strange jersey. Rex Henry thinks it looks like a generic jersey Adidas put together right after they took over the Jackets' apparel contract. … Glenn Riley mocked up a Mardi Gras-themed alternate for LSU. … The ACC Tracker has been updated to reflect the ACC Championship game. … Cork Gaines and Brian Cox found all of the edits the Old Dominion graphics team made to a photo of new coach Ricky Rahne to get him into an ODU shirt.

Hockey News: Sportsnet went longform for a story about Marco Argentino, who has become a legend through the years for creating custom hockey equipment for the NHL's star players (from Neil Vendetti). … A youth hockey program in Columbus, Ind., uses the Flames' logo (from @PureLipschitz).

NBA News: Check out this awesome poster celebrating the 1978 Washington Bullets' NBA Finals championship in Mike Rosenberg's DC office. … The Wisconsin Herd, the Bucks' D League affiliate, wore ugly Christmas sweater jerseys during a recent game (from D. Hempel).

College Hoops News: Rutgers will wear throwback uniforms on Wednesday against Wisconsin (from @RutgersRivals). … Throwbacks also in the works for Colorado State (from @youngreid71). … Navy's women's team will retire Courtney Davidson's No. 21 next month (from Will Ricks).

Soccer News: Here are a few notes from Josh Hinton: China's 2020 away kits have leaked; Australia has unveiled its third new crest in three years. For more kit news, head over to Josh's Twitter feed. … New home shirt and logo for Japanese side Shimizu S-Pulse (from Ed Zelaski).

Grab Bag: Have you noticed that legacy sportswear brand Champion is making a bit of a comeback? Reader Max Weintraub passed along some photos of a retro-styled Champion display he spotted at the William & Mary bookstore. …. New cycling uniforms for the pro cycling team formerly known as Bahrain–Merida (from Craig Ackers). … The International Team in golf's Presidents Cup has a new team shield (from Luke Gabel).
• • • • •
Raffle results: The winner of yesterday's membership raffle is Amy Marantino. Congrats to her, and my continued thanks to David Cline for sponsoring so many of these recent raffles. — Paul