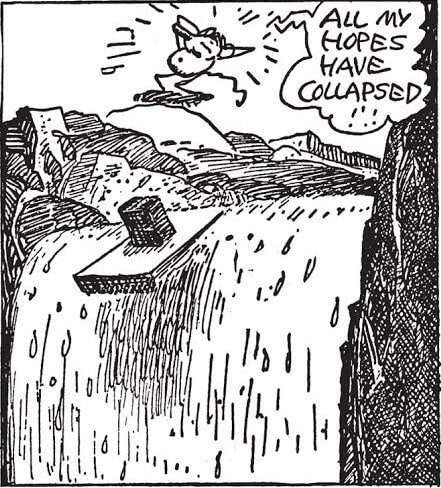 Seriously depressing news yesterday, as Sports Business Journal's Terry Lefton — a very reliable reporter — broke the story that MLB uniforms will likely have advertising patches within three years. That's in addition to the Nike maker's mark being added to the chest next season.
Lefton says chatter about MLB adding ad patches "was the buzz among the marketing cognoscenti at last week's MLB All-Star Game," and he got one MLB exec — business and sales EVP Noah Garden — to talk about it on the record. The money quote from Garden: "We're examining the [advertising] patch, but clearly we have things to work through first. I'd say it's inevitable down the road, but certainly not immediate. This is something that requires a fairly long runway. There are lots of things to take into consideration, but I think we will get there."
"Inevitable," of course, is the word that NBA commish and self-fulfilling prophet Adam Silver used repeatedly when floating trial balloons about ad patches on NBA uniforms. Ugh.
Some additional takeaways from Lefton's article:
• A chest placement is currently viewed as more likely — or at least more lucrative — than a sleeve placement. (The article does not mention potential cap or helmet ads, so it's not clear if those might also be in the works.)
• Several MLB teams have already contacted marketing agencies to discussing pricing.
• MLB is interested in going this route because the NBA's uni ad program has been viewed as a success (which, in case you had any doubts, should make it clear that NBA uni ads are definitely here to stay).
• The players' union would have to approve uni advertising, but it's assumed that they'd happily do so (just as the NBA union did) because they'll get a cut of the revenue.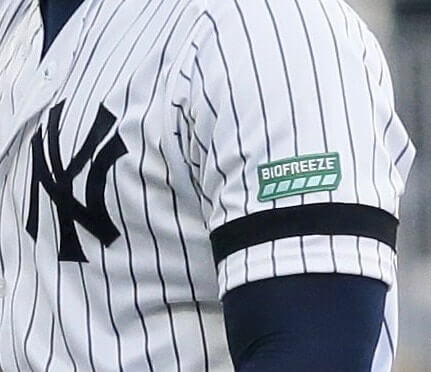 • Some industry insiders think more traditional teams like the Yankees, Red Sox, and Cubs may opt to skip uniform ads. Of course, some observers thought the same thing about the Celtics, who turned out to be one of the earliest adopters in the NBA ad program. (And yes, the Yankees and Red Sox already wore ads this year for their games in London, but that wasn't their choice. Those ads were imposed on them by MLB.)
So is this really going to happen? Yes, I think it is. Maybe it'll take a year or two longer than the 2022 start date they're currently projecting, but it seems clear that they want to do it, and the NBA has provided a handy blueprint for them, so the logistical hurdles and emotional barriers will both be much lower for MLB than they were for the NBA. Is there anything we can do about it? No, I don't think so. I mean, you can stop buying jerseys or whatever (I've always been in favor of that anyway), but they'll go ahead with this plan regardless.
Simply put: We've lost. This is the world we live in now. We can still critique it or call bullshit on it, but we can no longer forestall it.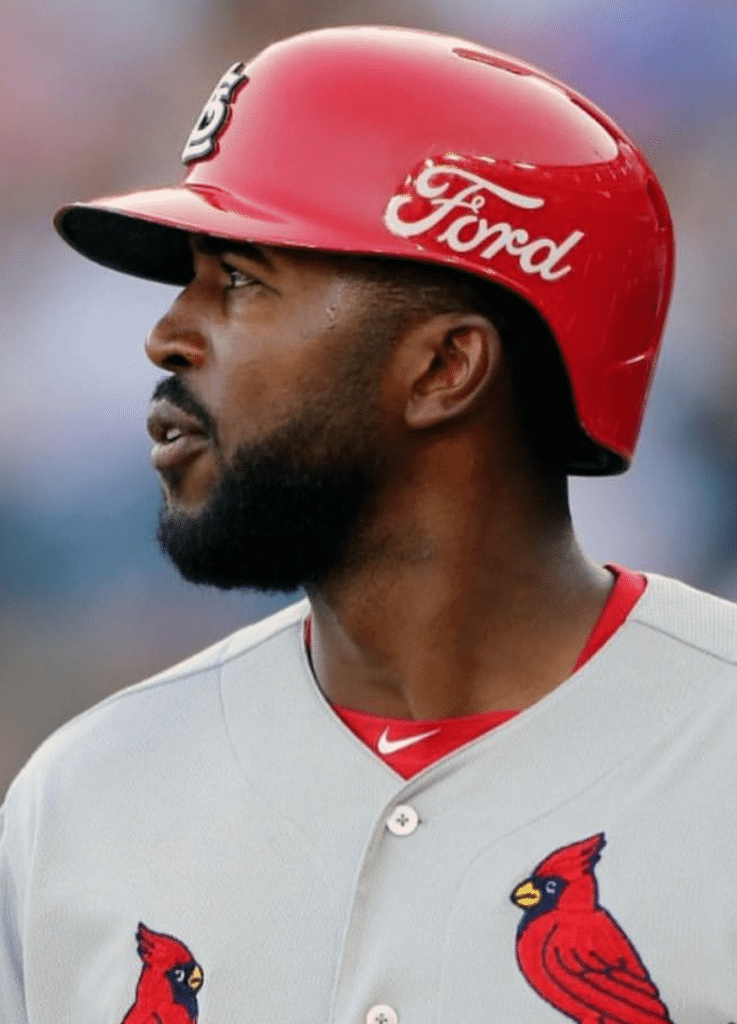 Interestingly, MLB commish Rob Manfred isn't mentioned at all in Lefton's article, but this news is very much in keeping with Manfred's approach to uniforms. During his tenure, MLB has added the MLB logo to the back of the pants; added the New Era maker's mark to caps; added the MLB logo and the Stance maker's mark to socks; expanded uni ads to include all non-USA/Canada games (they had previously been used only for games in Japan but not for other non-USA/Canada games); expanded the use of holiday uniforms; added the Players Weekend uniforms; added separate caps for the All-Star Game; and struck a deal that will result in the Nike maker's mark appearing on jersey chests next season. Toss in yesterday's news about ad patches and it's clear that Manfred and his executive staff view the uniform as a canvas for non-team branding and as an orange to be squeezed for every last revenue drop, not as a form of team expression or heritage.
That's seriously depressing — not just for MLB and for the uni-verse, but also in terms of the implications for the spread of corporate culture and advertising throughout ever more nooks and crannies of our world. Baseball may not drive cultural dialogue like it once did (one big difference between the NBA's uni ad program and MLB's prospective uni ad program is that the NBA is a league on the rise, while MLB is clearly on the decline, at least from a business perspective), but having ads on baseball uniforms will definitely help validate the notion that any surface is a potential vehicle for advertising. Sigh.
But as disappointing as Manfred may be, I think the lion's share of the credit here — or the blame — goes to Silver, the NBA commissioner. He was pushing for his league to add uni ads even before he took over for David Stern, and he made it happen. If you view that in conjunction with his aggressive push for legalized sports gambling, I think it's clear that Silver is the most influential and consequential sports executive of our time — for better or worse.
And what does this mean for the other two Big Four leagues? So far neither the NFL nor the NHL has shown any public inclination to go this route, but I'm sure they've been watching and studying the NBA's experiment, just like the MLB people have been. It's one thing if there's just one outlier sport or league — but once there are two such leagues, they're no longer outliers. In short, this development can't bode well for the future of ad-free uniforms in North America.
Someone on Twitter asked me yesterday if this might be the perfect juncture to start selling a Uni Watch seam ripper, so people can remove the ad patches (or maker's marks, or whatever) from their jerseys. I'm all in favor of that — in fact, I've wanted to offer such a product for quite a while — but I haven't been able to find a vendor that offers custom seam rippers. If anyone knows of such a vendor, I'm all ears. Thanks.
• • • • •
• • • • •
4 batters 1k #relief @FlatgroundApp @NLB_Rays pic.twitter.com/DACNcbItAD

— BrodyHill22 (@Hill22Brody) July 15, 2019
Surely you jest(er): The video in the tweet embedded above is only six seconds long, but check out the pitcher, catcher, and second baseman. They appear to be wearing a two-tone harlequin-style uniform, like a court jester's outfit. It reminds me of the football uniform worn by Atlantic High School in Florida back in 2012, which caused a big stir at the time.
The baseball team in the video is apparently a travel team, but I haven't been able to figure out anything else about them or their uniform manufacturer. If anyone knows more, do tell.
(My thanks to Andrew Felder for bringing this one to my attention.)
• • • • •
• • • • •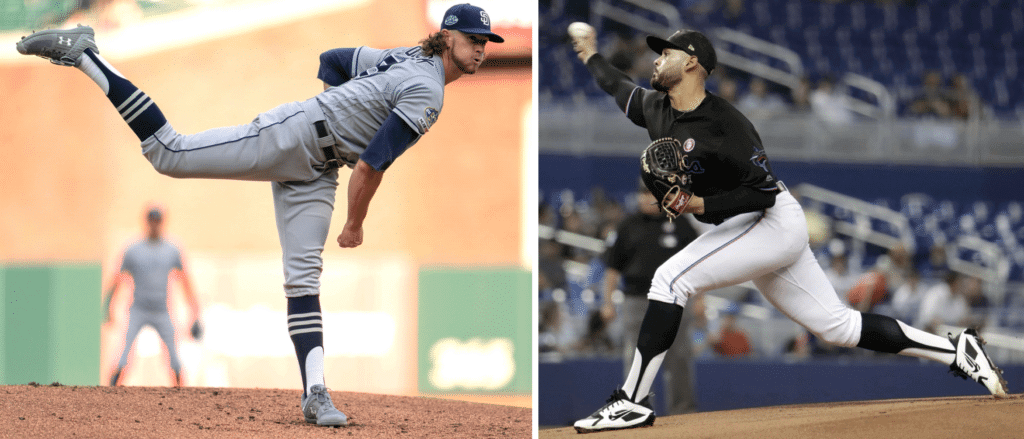 The baseball gods are not with us: The Marlins are the worst team in the National League and have miserable uniforms. The Padres are a middling team with a losing record and have long had the most characterless uniforms in the league.
Despite this, I've had this week's Marlins/Padres series, which kicks off tonight in Miami, circled on my calendar for months, because I was hoping for a stirrups showdown between hosiery heroes Chris Paddack of the Padres and Pablo López of the Marlins. How great would it be if they faced off in the same game?
Alas, fate has not cooperated, because López has been on the IL for nearly a month. I was hoping that he'd return to action in time for the series, but no such luck. Paddack will start for the Padres tonight against Marlins right-hander Jordan Yamamoto, who typically goes high-cuffed but not with stirrups. Dang.
• • • • •
• • • • •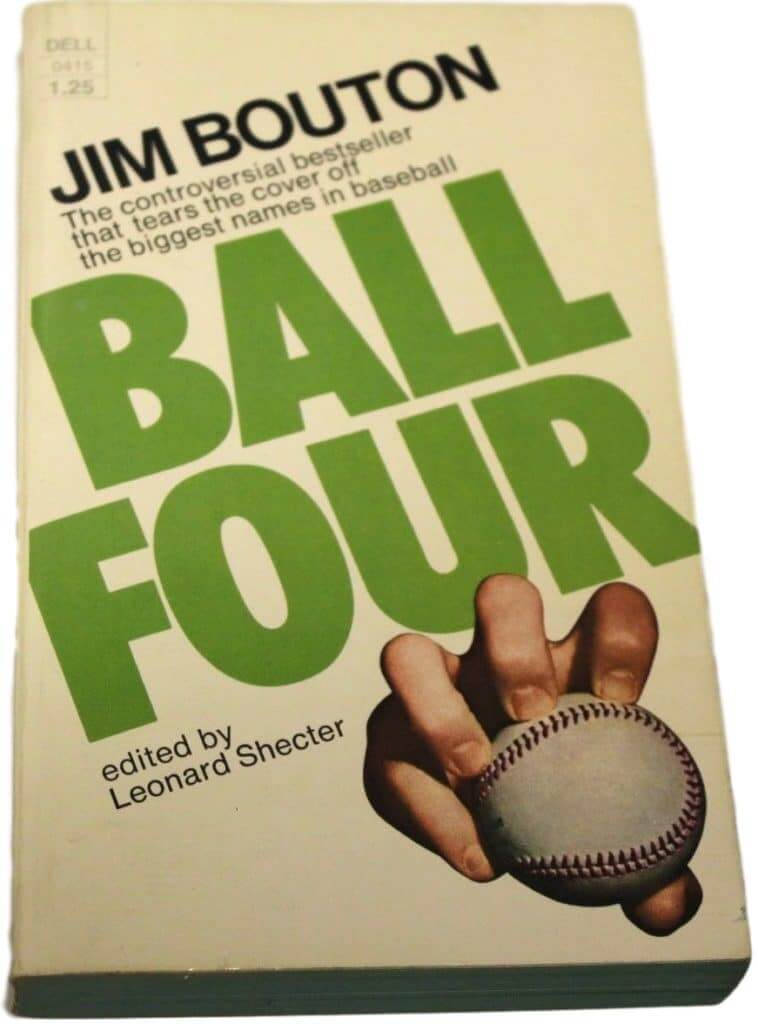 Bouton/Ball Four reminder: In case you missed the announcement on Monday, I'll be participating in a tribute to Jim Bouton and his seminal 1970 book, Ball Four (which changed my life and so many others), this Thursday evening, 7:30pm, at Le Poisson Rouge in Manhattan. Other participants will include the great Jay Jaffe of FanGraphs; Villanova professor and longtime baseball author Mitchell Nathanson, who's working on a Bouton biography (and who tells me he's a big Uni Watch fan); and Field of Schemes honcho Neil deMause (who, like myself, is an alum of the Village Voice sports section and has also been my editor for the recent pieces on collectors that I've written for Gothamist). There may be other writers added to the bill later this week.
We'll each be talking about what what made Bouton and Ball Four so special to us and reading a few of our favorite passages from the book. Doors open at 7pm. Admission is free. It would be great to see a bunch of Uni Watch readers there — please join us!
• • • • •
• • • • •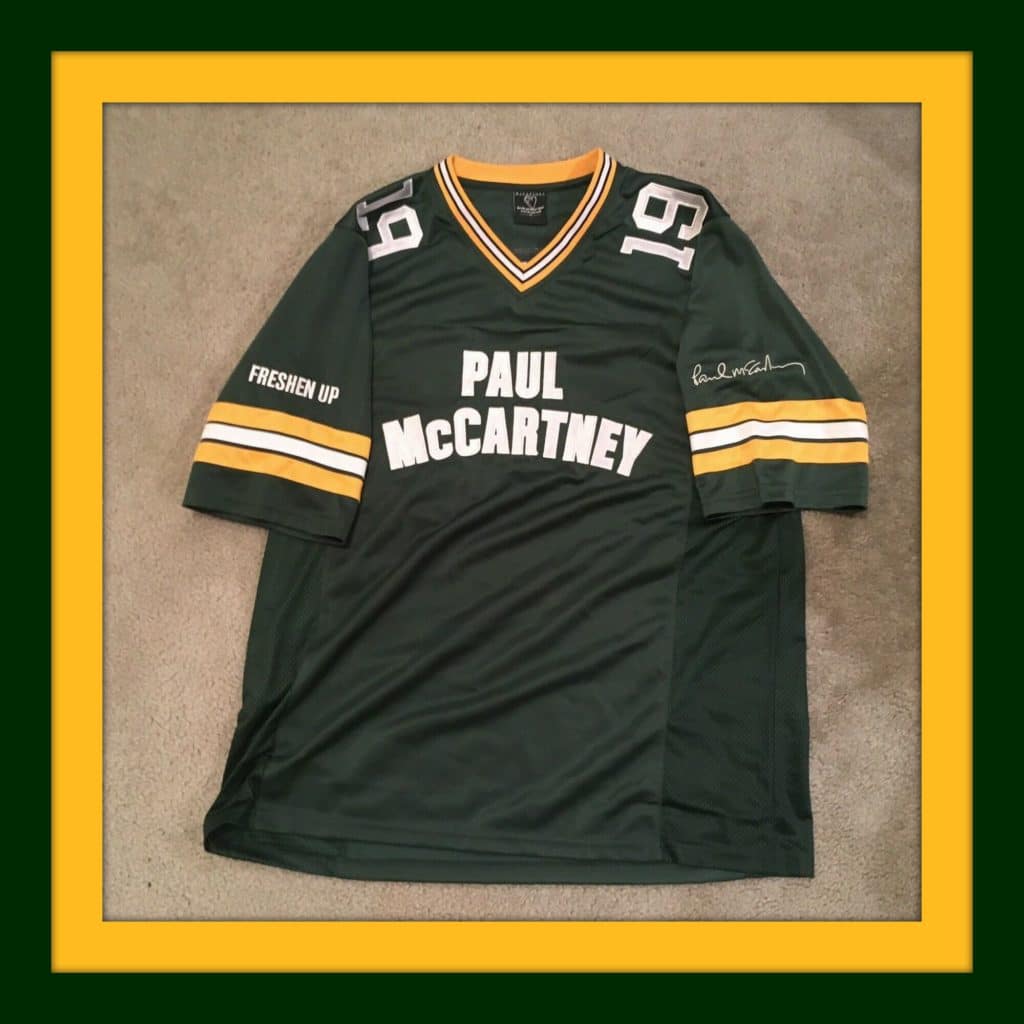 Click to enlarge
Collector's Corner
By Brinke Guthrie
Last Saturday night I was perusing Twitter, Instagram and Facebook, looking for clips and reactions to the Paul McCartney show at Dodger Stadium, the final stop on his "Freshen Up" tour. Somehow, I discovered that his merch team had created jerseys for selected tour stops. They look like authentic MLB jerseys judging from the Majestic sleeve logo and hang tag. (And they're priced like them, too.) Anyway, these Packers-style jerseys were for sale when he played on the Frozen Tundra on June 8 — looks just like a Pack jersey, but no Nike or NFL logos/tags. How Fab is that?
Now for the rest of this week's picks:
• One more Pack-related item: this nice 1970s Packers blanket/throw rug.
• Even back when Reebok was an NFL supplier, BFBS was creeping ever so subtly into the 49ers scheme, as this 1990s sideline parka suggests.
• This is a group of five 1970s Islanders or Canadiens NHL player cardboard stand-up figures– each about a foot tall.
• Here's a package of Mets "Quickstick" stickers (the seller says 1960s or early 1970s), and they were originally just 29 cents! You get a pennant and five Mets logos.
• The Doctor Is Always In, proclaims this 1980s Julius Erving/Dr. J Converse promo poster.
• Here's an auction for an ABA New Orleans Buccaneers jacket. The listing says "1970s," but the team was a charter member of the ABA in the late 1960s before moving to Memphis in 1970.
• Had a few of these way back when for the Cowboys and Bengals: This is a set of 14 1970s NFL plastic helmet drink coasters. (They were also for "wall decor.")
• Calling all Denver Nuggets fans — this bicycle tag is still in its original packaging. The auction listing says "1970s," but they didn't use this look until 1981.
• I've always liked this San Francisco Giants jersey look. This size XL fan replica jersey is made by Sand-Knit Medalist. Judging from that font, it's a 1983-1993 item.
• This 1970s Vikings gumball helmet is still sealed in its original iHOP plastic bag. (Just 24 cents! Collect all 26 teams!) Here's another 1970s gumball helmet, this one for the Steelers. Seems to be a bit of a DIY sticker on the side there. And finally, here are custom helmet buggies for the Chargers and the Jets.
Seen an item on eBay that would be good for Collector's Corner? Send any submissions here.
• • • • •
• • • • •
Uni-versary patch reminder: I'm still sitting on a ton of these Uni Watch 20th-anniversary embroidered patches (which, quite honestly, haven't been selling at anything close to the rate I had hoped for). The patch was made for us by Stitches, the same shop that does all the sewing for the Mets, Yankees, and Islanders. It measures four inches across and is suitable for sewing onto a jersey or jacket, or just for displaying.
The price is $9.99, plus $1 for shipping (or $2 for shipping outside the USA). To order, send payment to me via Venmo (use @Paul-Lukas-2 as the payee), Zelle (plukas64@gmail.com), or Cash App (plukas64@gmail.com). If you want to use Apple Pay or a paper check, or if you're outside the USA and can only use PayPal, shoot me a note and I'll fill you in.
Once you send payment, be sure to send me your shipping address so I can send the patch on its way to you. Thanks!
• • • • •
• • • • •
The Ticker
By Alex Hider

Baseball News: Pirates OF Bryan Reynolds's helmet fell off while he was legging out a double last night, but he somehow was able to with non-personalized "Los Angeles" bats. … Reader Mike Nachreiner stopped by the Mets Hall of Fame at Citi Field and noticed that Mr. Met was wearing his stirrups backward. … Speaking of the Mets, Gene Frey found a photo of himself as a toddler in 1962 wearing a Mets cap with an unusual logo. … The Johnson City Cardinals and the Elizabethtown Twins played a red-on-red Rookie Ball Appalachian League matchup last night (from Nicholas Badders). … Lots of high hosiery last night between the Tennessee Smokies and the Mobile BayBears of the Double-A Southern League (from Adam Ingle). … Check out the uniforms for the 1930 Denver White Elephants, the city's first semi-pro team. Some of the players from that team went on to play in the Negro Leagues (from Kary Klismet). … Eric K. Eickmeyer's daughter played in a softball game Sunday in which both teams wore the same uniform. …  Owen Siebring notes that in a 2008 Dana College (Nebraska) softball game, infielders and outfielders were wearing different jerseys.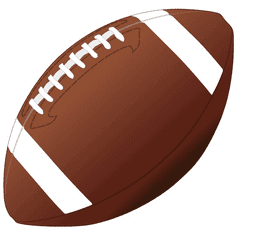 Football News: The Backstreet Boys played a concert in Ottawa last night, and at one point the entire band took the stage in personalized Ottawa Redblacks jerseys (from @GriffinTSmith and Wade Heidt). … The Indiana High School Football Digest appears to be using the old BCS logo (from @GriffinTSmith).

NFL News: We've posted before about the Steelers-themed rollercoaster at Pittsburgh's Kennywood amusement park, but the ride is now open for business. The best detail — the cars on the train are numbered in the same way as the front of the Steelers' helmets are (from Daniel Gipson).

College Football News: This season, Arkansas is returning to a natural playing surface for the first time since 2009 (from @OldPlaying).

Hockey News: Leafs RW William Nylander is switching his uni number from 29 to 88 — the number he wore while in the Swedish Hockey League. In a nice gesture, he's said he'll cover the fee for fans who want to change the numbers on their own retail jerseys (from Wade Heidt and Bill Kramer).

NBA News: It's a little hard to make out, but the court design at the Warriors' new arena has "San Francisco" painted has been released (and for some reason is being modeled by NBA star James Harden). … Manchester United unveiled their new away kits last week (from Lucan Denfield). … There are a lot of teams in England that wear red and white striped jerseys. As a result, manufacturers have had to get creative to make the jerseys unique (from Denis Hurley). … FC Cincinnati is expected to release new renderings for its planned soccer-specific stadium tomorrow (from Kary Kilsmet). … For a roundup of more kit unveilings from smaller clubs and leagues, check out the Twitter feeds from Josh Hinton and Ed Zelaski.

Grab Bag: The Dallas Morning News is holding a bracket-style tournament vote to determine the best high school logo in Texas (from Jeff Meyers). … Cody Duschka re-imagined the teams of Australia's National Rugby League as hockey teams. You can follow his Facebook page here.