By Phil Hecken and the SMUW Crew
Follow @PhilHecken

On a day that may be remembered for things greater than football, yesterday gave us one of the games that makes college football so damn great: the annual USC/UCLA rivalry game, in which both teams wear their home uniforms. It hasn't always been this way, but for the better part of the last decade, we have been treated to a color vs. color uni matchup that is truly a sight for sore eyes.
Some college color vs. color games are better than others, and, like the Rose Bowl (where the game is played every other year), the USC/UCLA uni matchup is the granddaddy of them all. It doesn't get any better than this. It's especially delicious when you have a gorgeous, sunny SoCal day, making the uni matchup even tastier. It's the rivalry game that gets us even more pumped for next weekend's rivalry games.
But UCLA/USC isn't the only game in town — even if it's the best looking one — so I'll now turn the rest of this over to TJ, who'll bring you the…
• • •
Sunday Morning Uni Watch
By Terry Duroncelet, Jr.
Alright, the rest of my portion of SMUW is going to be short, since it was super-slow, but this is something that I want to talk about, so if you're not interested in hearing the ramblings of someone who will be on this planet for the long haul (I'm 28, for context), then just skip this and look for the word PERSNICKETY, but if you're willing to listen, then please read on.
Harvard and Yale played yesterday in The Game (Ohio State and Michigan fans DNI [that means 'Do Not Interact']), and it seemed to be going as normal. Then, climate change protesters made their way to the field during halftime. I won't go into the specifics, because there's plenty of links and talk on Twitter that do that far more eloquently than I ever could, but… I'm in full support of this. I don't care if anyone here says "KEEP POLITICS OUT OF SPORTS!!!1!" … I don't care if I get smoked in the comments … I don't care if I get 2,456 emails saying that my weekly findings will never be read by X person ever again, because this is bigger than any football game ever will be, regardless if it's college or pro.
We're talking about the very real problems that plague and face our planet TODAY. And we need to get our collective shit together TODAY. It's easy to fall to the hands of the Tragedy of Commons. "Oh, X number of schools are enabling this behavior, and they're huge, so there's nothing I can do." … and that thinking spreads like a virus, and it goes from one person thinking it, to SEVERAL. MILLIONS. THAT'S when we get into real trouble. "Oh, but change is hard. Things aren't going to get better overnight." … that is what a certain Fearless Leader would refer to as a nonargument, a way to dismiss the conversation without engaging it. We KNOW the road to real change is going to be difficult, and not an overnight process. Neither was going from the brick phone that you needed a messenger bag to lug around to the best in smartphone technology that Samsung can offer (iPhone fans DNI), neither was any stadium that you have fond memories of, neither was anything that you and I enjoy and take for granted every day of our lives.
Your phone, your computer, your car, the advancements in medicine, everything around us took time to get to where we are. Everything that we enjoy is the direct result of desiring change, desiring something BETTER… and we're all the more thankful for it. So I'm willing to fight for change, I'm willing to play some long ball, if it means that the futures of the generations after us aren't left up a creek without a paddle. I know some of you aren't partial to heavy music, but I'm reminded of a song by Being As An Ocean called "Death's Great Black Wing Scrapes the Air" (lyrics here). It's a powerful song that melds well with yesterday's events. Sometimes, it's necessary to get into trouble in order to see real change. Sometimes, you gotta take the scorn in order for future generations to not have to go the same things that we are currently going through as we speak. So please… at least consider the message that the protesters from yesterday delivered. I don't want to go out knowing that this planet is going to burn prematurely, and I chose to sit around and do nothing. Let's work to build a better future.
PERSNICKETY.
From Saturday:
• Sour cream and Velveeta: together in holy matrimony at last. On the real, I loved Baylor's uniforms from Saturday. That being said, this is an example of two great uniforms that DON'T go together, which is rare, but here we are. Also: I don't think this is what they meant by "Getting in their pants" (h/t to Al Gruwell).
• Here's a game that had the potential to be one of the Top 10 nicest-looking games of the year IMO, but fell just a little bit short. First thing's first: Tennessee wore their seldom-seen orange pants, and even though I love colored pants with white jerseys, I'm almost kind of glad that they don't use them that much, because when they do break them out, it's really something special. As for Mizzou, they've been killing it with the helmets this year, and last night's game was no exception. So where does this game fall short? The pants that Mizzou chose to wear. The gold/black/black just looks unbalanced, and I wish they wore gold pants instead. I mean, the game still looked alright, but not really Top 10 material in my book.
• ♫It don't matter if you're Black or White♫ … except when your school colors are blue and grey.
• Nameplate malfunction for Ohio State Runningback J.K. Dobbins (h/t to Beau Parsons).
• Battlin' Kath-licks; Notre Dame wore their pseudo-mesh numbered retros against Boston College.
• Ralphie V has retired. Reason being is because as she's matured over the 12 years she's ran in Boulder, she's actually gotten faster, and poses a risk to her handlers. Rumors that she played the leading role in the upcoming Sonic movie are almost entirely untrue. Anywho, Colorado wore a 'V' decal in honor of her.
• I see you, West Virginia. I like.
• I see you, Tulane. I don't like.
• S&S helmet stripes for New Mexico State.
• It's Real Miami Vice Hours.
That'll do it for Week 13. Next week should be a big one, and while I can't promise that protesters will storm Ann Arbor, but one thing I can promise you: I shall see you next week.
• • •
Thanks TJ! Great intro. Interestingly, TJ and I (in e-mails) and Jimmer Vilk (via the Twitter) were discussing the Harvard-Yale happenings yesterday right as and after they were happening. I don't normally share personal e-mails, but Terry actually said this to me in one of his:
Funny enough, I literally saw a Facebook post on a friend's timeline yesterday on why getting in trouble is necessary for real change.
To which I responded with one of my favorite quotes from my favorite Congressman, the great John Lewis:
I think we're going to have generations for years to come that will be prepared to get in trouble, good trouble, necessary trouble. And lead us to higher heights. It's a struggle that doesn't last one day, one week, one month, one year. It is the struggle of a lifetime, or maybe many lifetimes.
Terry added the article which contains the context for this quote in his introduction.
Aight, enough of the non-uni stuff.
OK, now for the rest of your Sunday Morning Uni Watch…
Memal's 5 & 1
Following in the footsteps of the original "5 & 1," Jim Vilk, Catherine Ryan after him, and finally Joe Ringham, for 2019 we have a new "5 & 1" (five good looking and one stinker) uni-vs-uni matchups — Michael "Memal" Malinowski. Like Joe, Catherine & Jim, Memal will pick HIS 5 best looking/1 awful matchup, and occasionally have some honorable mentions (both good and bad). You may agree and you may disagree — these are, after all, just opinions and everyone has one. Feel free to let him know what you think in the comments section.
Here's Memal
• • •
The ESPN article on the theft of the Stanford Axe got me in the right mindset to take in all the rivalry games Saturday, of which four made the top 5 and were played in historic venues boasting phenomenal atmospheres. It was a weekend for true college football fans and helped to set the scene as we go down the stretch to the end of the regular season.
++++++++++++++++++
Honorable mention Colorado State @ Wyoming
++++++++++++++++++
5. Harvard @ Yale

In a game that will be remembered more for the halftime protest than the thrilling double OT victory, the Bulldogs sported their home blues against the Crimson in crimson/white/tan. This was a fun entry into this historic rivalry that riveted me and anyone else who managed to get back to it when the second half finally kicked off.
++++++++++++++++++
4. Akron @ Miami

This game probably flew under everyone's radar, but the little uni details merited it's inclusion on the list this week. The Zips went with blue script "Akron" logos on gold helmets and kept the rest of the uni simple with white jerseys and gold pants. The RedHawks went red/red/white, had two different helmet logos, one of which was a white script "Miami" logo, and numbers on the other side. The subtle helmet fade from red to white was nicely done by Miami too.
++++++++++++++++++
3. Cal @ Stanford

The Axe was on the line in Palo Alto and the Golden Bears went blue/white/gold for the first time this season, which might be their best look. The Cardinal looked resplendent in their regular home white/cardinal/white, a good move considering some teams facing a down year would use a big rivalry game to break out some hideous alternates to pump up the team. Stanford lost the axe, but won my admiration for their good choice!
++++++++++++++++++
2. UCLA @ USC

I love that since 2008 these teams continue to play this game as a color on color contest. Like #5 on this list, I have no rooting interest in this game, but I tune in year after year to watch these rivals play their hearts out in either the Coliseum or the Rose Bowl in their great home uni sets. I also love that these teams have similar uniform patterns(shoulder stripes/gold pants), but the golds are just a few shades different and the Bruin's true blue makes a great contrast to the cardinal of the Trojans.
++++++++++++++++++
1. Penn State at Ohio State

The biggest game of the day was played early on wet field in Columbus between two teams wearing their standard and instantly recognizable home/away uniform sets. The atmosphere in the Horseshoe matched the stakes of the contest and the game didn't disappoint as the Buckeyes overcome a tough third quarter to win the Big Ten East. All of those factors pushed this game to the top of the list this week!
++++++++++++++++++
And because someone has to be the sacrificial lamb…
&1 Eastern Michigan @ Northern Illinois

Our worst of the week came Tuesday night in Dekalb, IL when the Eagles and Huskies decided they did not care if you knew who was who on the field! Northern Illinois went mono-black with red numbers so dark that unless the light hit them just right you couldn't read them. The opposite was true for Eastern Michigan, whose numbers disappeared when hit square on by the spotlights! I didn't watch this game live, but would have probably enjoyed listening to the announcers do the best they can to keep the players straight.
• • •
Thanks Memal! You can follow Memal on the Twitter and let him know what you think of his choices or make a 5 & 1 suggestion of your own!
NCAA Uni Tracking
Uni Watch will again track the uniform combinations worn by the "Power 5" conferences. All of the 2018 trackers are back!
We've got Rex Henry (tracking the ACC), Dennis Bolt (tracking the PAC-12), Kyle Acker (tracking the Big XII), and Ethan Dimitroff (tracking the B1G AND the SEC). Rex, Dennis, and Kyle and are all returning from 2015, and Ethan is back after joining the NCAA Uni Tracking a couple seasons ago. Ethan continues his dual role of tracking both the B1G and the SEC.
Here are the Uni Trackers for the Power 5 Conferences:
+ + + + + + + + + +
Rex is up first today (ACC):
• • •
ACC

More Here.
Follow Rex on Twitter here.
And (new for 2019!) — check out Rex' Weekly Update.
• • •
And now, here's Dennis with the PAC-12:
PAC-12

More here.
Follow Dennis on Twitter here.
• • •
And here is Ethan, with the SEC:
SEC

And be sure to check out Ethan's WVU Mountaineer Tracker.
Follow Ethan on Twitter here.
• • •
And here is Kyle with the Big XII:
Big XII

Follow Kyle on Twitter here.
• • •
And here's Ethan with the B1G:
B1G

Welcome to the 2019 Oregon Ducks Uni Tracker. This little project was originally begun way back in 2008-09 by Michael Princip, who retired after several seasons, whereupon the project was continued by Tim E. O'Brien. He, too, retired from the tracking, but the project has been ably kept up by the man who also tracks the Pac12, Dennis Bolt.
Here's this week's Uniform Combo for the Ducks (you can click to enlarge):
You can read about this uniform, and MUCH MORE, by checking out the Duck Tracker here!
Thanks Dennis!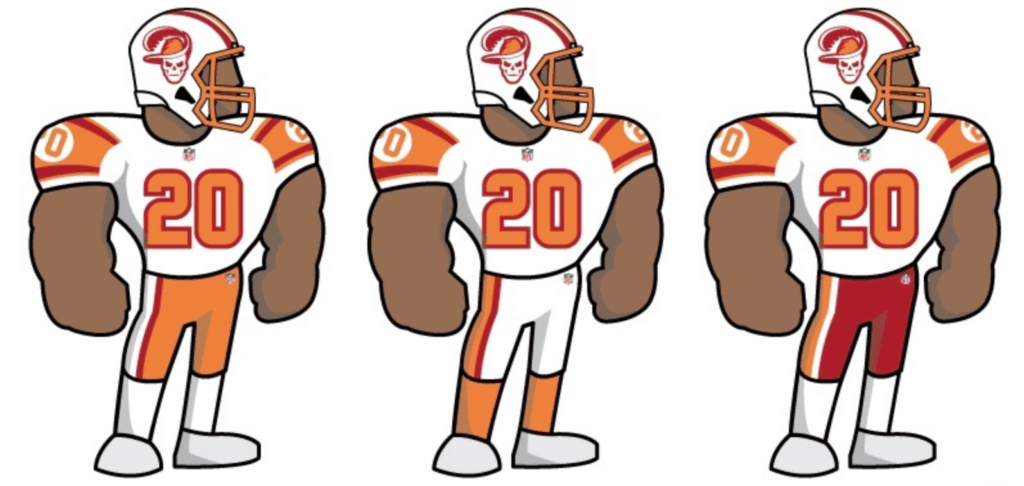 And now a few quick words from Paul: Hi there. In case you missed it on Thursday, the results of our "Redesign the Buccaneers" contest are now available on InsideHook. The response has been very, very positive, so check it out — I think you'll like what you see.
While we're at it: Uni Watch seam rippers are back in stock (well, at least some colors). And don't look now, but it's getting to be time for our ugly sweater shirt.
I think that's it. Handing the baton back to Phil now!
Uni Watch News Ticker
By Phil

Baseball News: It may be offseason for baseball, but that doesn't mean we can't dream of Cape Cod League baseball (beautiful mug, from Joe). … Pacific Rim correspondent Jeremy Brahm sends this tweet which shows what look like some pretty fugly uniforms coming for the Hanshin Tigers. … Also from Jeremy Brahm, here's a look at the 70th anniversary logo for the Hiroshima Toyo Carp. … Still more from Jeremy: he found maybe the best baseball happy birthday card ever in Nagoya.

NFL News: You know how players trade jerseys after games? Ever wonder what some of them do with them once they're traded? OBJ has a massive framed collection.
.

College Football News: The spectacular Blaise D'Sylva once again continues his awesome countdown of compiling the helmets of every NCAA FBS & Ivy League team, yesterday posting the helmets of Boise State.
.

Hockey News: The author of this article argues that, "The 90's were a bad time for NHL jerseys, including the St. Louis Blues" (who recently revived their 90s alternate). … Check out this AMAZING suit jacket Darren Pang wore for last night's St. Louis Blues game (from Al N. Kreit).

NBA News: Apologies if this has already been reported — with all the recent NBA unveilings, I may have missed one — but I don't think we've yet seen the Toronto Raptors "Ovo" jerseys. … Someone has gone to the trouble of ranking all the new City alternate NBA jerseys.

College Hoops News: ULM is the "Warhawks." According to the team, "The historical and local origin of our mascot dates back to WWII. The P-40 Warhawk airplane was flown by northeast Louisiana's General Claire Chennault and the Curtis P-40 Warhawks. A first look at our alternate P-40 Warhawk uniforms" (from Chris Mycoskie). Here's another look. … Interesting observation from James Gilbert: "College game in Hornets' arena using a college/high school court with three, 3-pt lines (none from the NBA) and two block/charge lines under the basket." … Memphis (State) was rocking throwback unis yesterday (from Josh Hinton). … Jakob Fox asks, "two of the first three item's for Syracuse on Nike's website are script items. Wonder if there will be any script uniforms in the near future for @Cuse." … When you cannot improve on a Twitter quote, you just quote it: "Hampton has THE WORST font on their jerseys. Who thought this was a good idea?" (from Craig Choate).

Soccer News: Here's a look at yesterday's PL kit matchups, along with one today and one tomorrow (from Josh Hinton). And as always, be sure to check Josh's twitter feed for all your kit news and needs.
.

Grab Bag: Dolphins fan and major sports memorabilia collector Bill Hetrick has found his dad's old Soap Box Derby helmet from the 1940's. Awesome. … Louisiana Tech has unveiled renderings of its new baseball, softball, and soccer stadiums to replace facilities damaged by a tornado back in April. Submitter Kary Klismet notes to "Scroll to the bottom of the story for photos." … You never know what you'll find: Jim Vilk says "I went to the store for some milk. I came back with a new @terrypluto book. And milk." Mrs. V would have killed you if you didn't bring home that book.
And Finally…
A couple words from Memal:
One last thing, I thought I'd share this shot of me and the mayor of Pittsburgh. I have my Uni Watch press pin on the side of my hat and got to help throw the switch for Pittsburgh light up night because we donated our 42′ blue spruce to the city.
I thought, Wouldn't that be a great photo to share with the uni-verse? Paul is always sharing how folks sport their pins. I just caught the mayor before he had to run back to his office and discovered the photo was way too blurry!!! A little disappointment to what otherwise was a perfect night.

Hope you have a great Thanksgiving!
Thanks Memal. Sucks about the blurry photo, but nice job donating your tree!
I join you in wishing a Happy Thanksgiving to All Uni Watch Readers!
Peace,
Phil