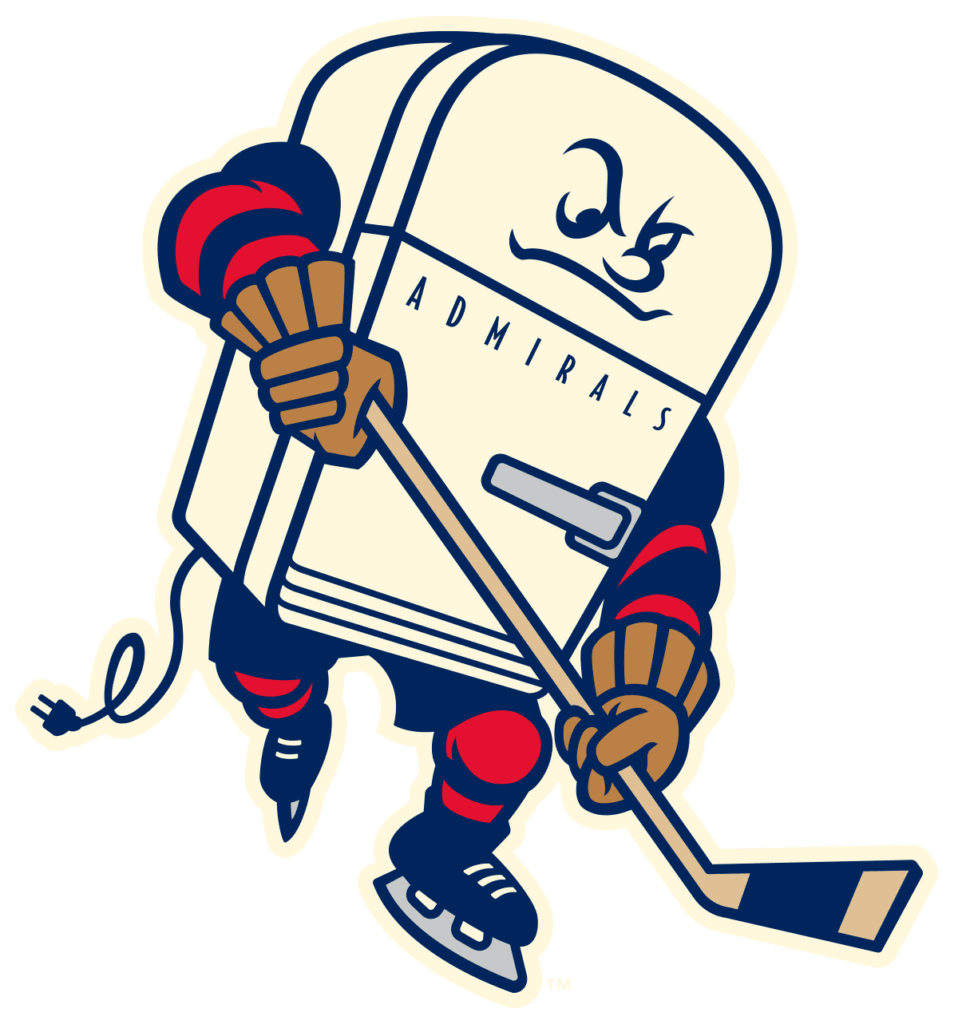 Click to enlarge
It's not often that I have occasion to write about minor league hockey. But the AHL's Milwaukee Admirals — that's the top affiliate of the Nashville Predators — yesterday released a new 50th-season logo that's definitely worth discussing. I love it, but I'm also conflicted about it.
Why do I love it? Because it's completely awesome, obviously. I didn't realize until now that I needed an anthropomorphized old-fashioned refrigerator in my life, but I suddenly can't comprehend how I lived this long without one. The cord trailing behind — with a two-prong plug, natch — is a particularly nice touch.
So why am I also conflicted about it? Because of this explanation from the Admirals' website:
[B]ack in 1970 the team was purchased by local businessman Erwin Merar. He owned an appliance store and his best-selling line, especially refrigerators, was the Admiral. He figured if he was going to buy a hockey team, at least he could get some publicity for it, and thus, the Milwaukee Admirals were born.
A similar story appears in this 2011 obituary for Merar:
"He actually re-named them the 'Admirals' because he owned the Admiral Appliance distributorship in the state of Wisconsin," said [former Admirals player and coach Phil] Wittliff. "A lot of people think it's because of the nautical theme, but in reality it's because Erv Merar had the Admiral Appliance distributorship."
In other words, the Admirals' team name was essentially an ad for an appliance brand. I had no idea. The team has always used nautically themed visuals, so it never occurred to me that that the team name might have stood for something else.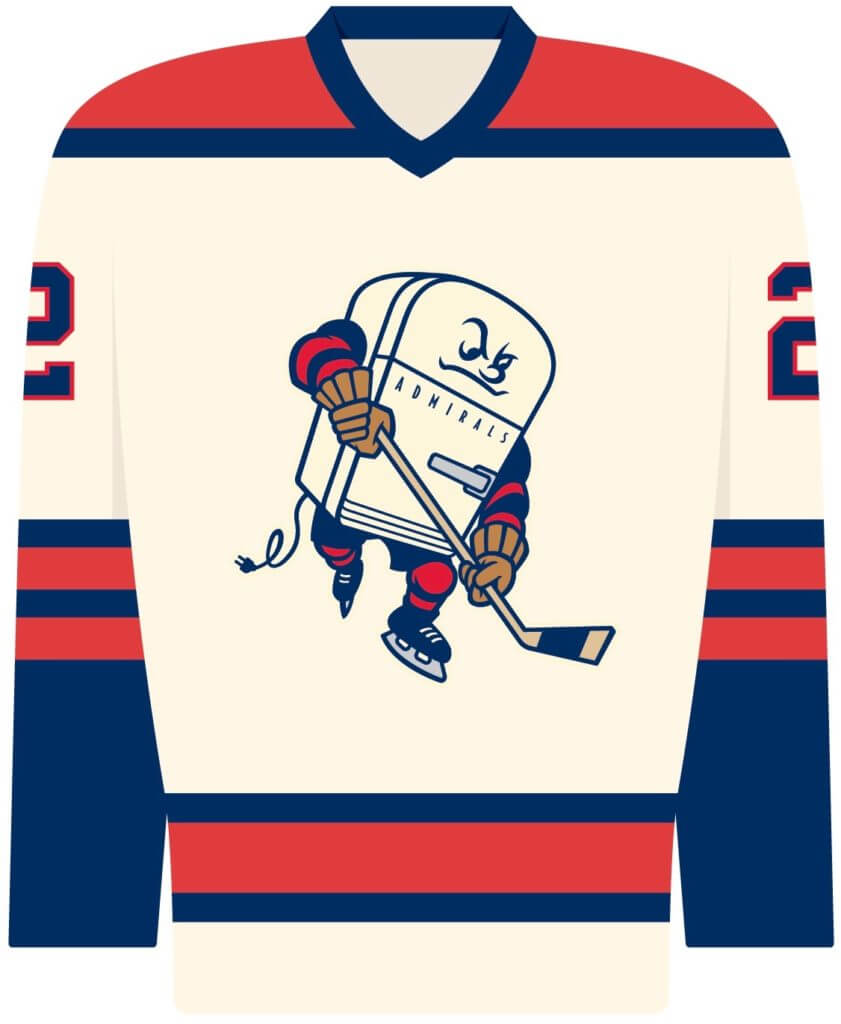 So that's why the team commissioned the refrigerator mascot logo — as a nod to the origin of the team's name. They're jokingly referring to it as the "historically accurate" logo, since it's a more accurate portrayal of the original meaning behind the team name. They plan to use it as their jersey crest on April 4 (and I sure hope they give out fridge magnets of the logo character that night!).
I confess that I find it a little disappointing to learn that this awesome logo basically glorifies an early example of team branding commingling with advertising. Still, 1970 was a more innocent time, and the logo captures the spirit of that era nicely. I still love it, although the backstory is a bit of a downer.
After the logo came out yesterday, I had a quick email exchange with Admirals communications VP Charlie Larson, as follows:
Uni Watch: Who created the logo design?
Charlie Larson: The mark and jersey design were created by Dan Simon, owner of Studio Simon. He created our current logo as well. We've been throwing this idea around for a few years and figured since we were celebrating our 50th season, it was the perfect time.
UW: Since Admiral is still an active brand (now owned by Whirlpool and sold exclusively at Home Depot), did you have to work with them in any way for clearances, permission, etc.? Are you doing any promotions with them?
CL: We didn't consult with them on this project, but we would definitely be up for collaboration if they were interested.
UW: Does the fridge mascot character have a name?
CL: Not yet. We're going to start a naming contest on social media next week.
Meanwhile, here's something interesting: The Admirals, like many minor league hockey teams, wear ad patches on their jerseys. Because the Admirals are owned by a group connected to the Milwaukee Brewers, for many years they've worn the Brewers' ball-in-glove logo as their jersey ad patch (creating a rare cross-sport situation), and this year they've also added a 50th-season patch: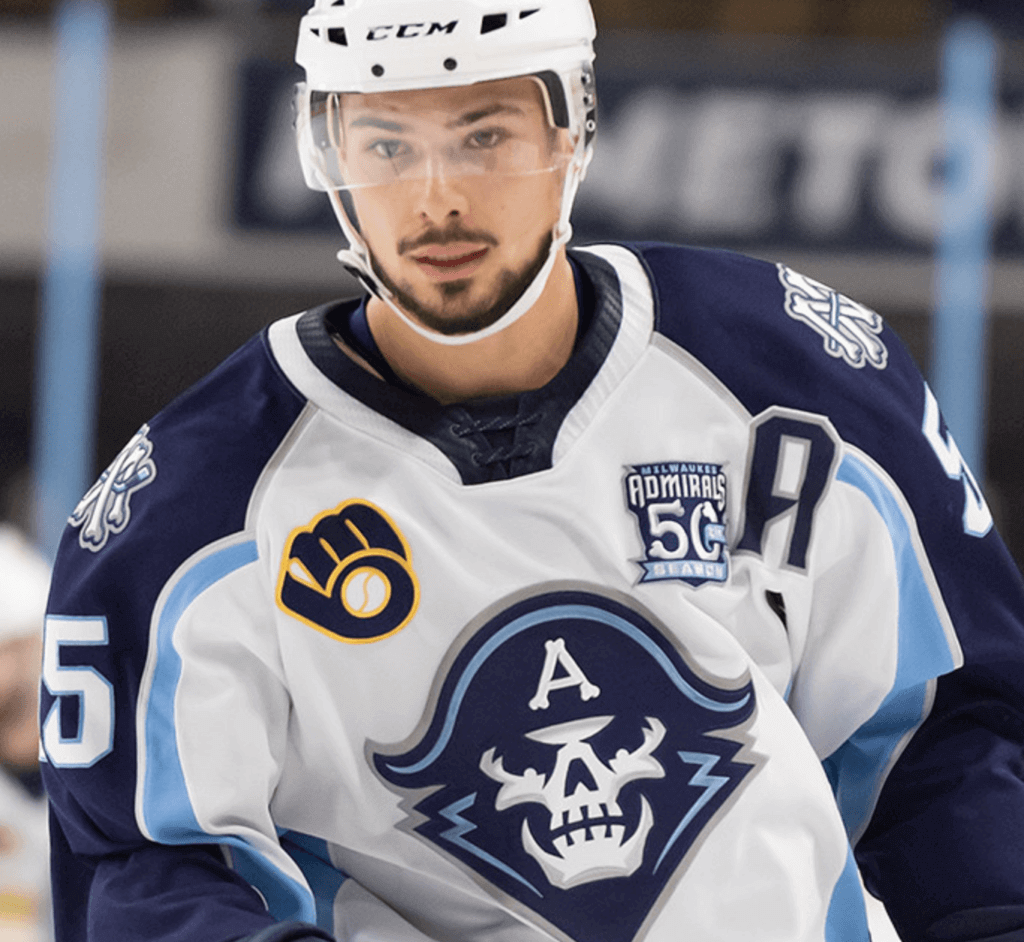 But! Larson tells me that this weekend the Admirals will replace the BiG patch with the Brewers' newly released 50th-anniversary logo. "So we'll have two 50th-year patches, which has got to be a first in pro sports," says Larson. Okay, so one of them is for an anniversary and the other is for an ordinal (if you need to brush up on the distinction between those two things, look here), but it's still a pretty nifty trick.
(Big thanks to Andrew Wagner for hooking me up with Charlie Larson.)
• • • • •
• • • • •
More NBA alternates: Yesterday was another busy day in the NBA uni-verse. Here's a quick rundown:
• The Celtics released their Gaelic-style uniform, confirming earlier leaks (additional photos here):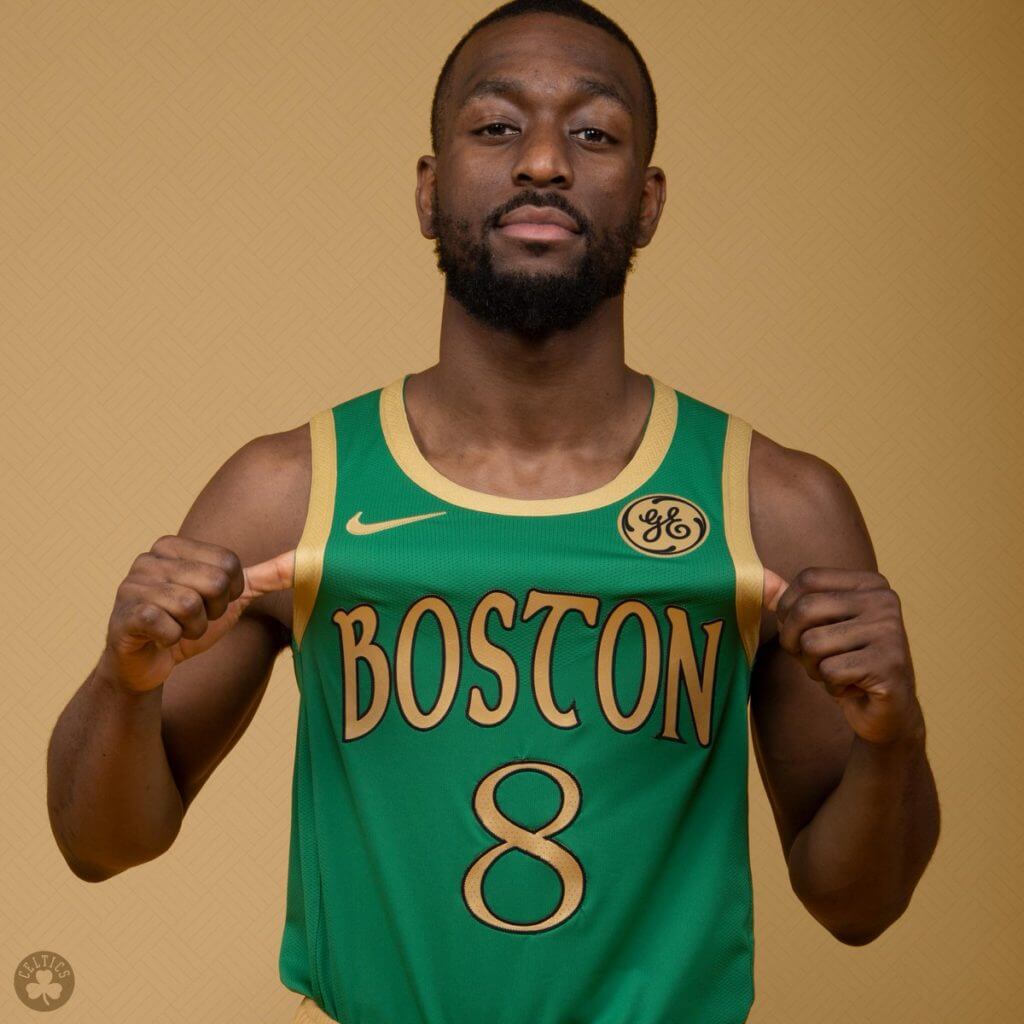 • The Hornets will apparently have a GFGS version of their "cha-cha" alternate:
Gray CHAs for EVERYONE 😂!

Miles just leaked the City jerseys on his IG story. pic.twitter.com/vhEyMbmUwT

— Bring Back the Buzz (@BringBackTheBuz) November 21, 2019
• We knew the Nets were going to do a white version of last year's Biggie Smalls-themed design. We didn't know, however, that it would have "Bed-Stuy" on the chest (which I guess means this is a Neighborhood design, not a City design):
– ℎ | ℎ

Introducing our 2019-20 City Edition threads pic.twitter.com/9UTp9IMgb4

— Brooklyn Nets (@BrooklynNets) November 22, 2019
Of course, the Nets don't actually play in Bed-Stuy, but why let facts get in the way of a uniform design merch dump?
• The Cavs released a strange hybrid/mash-up design, similar to the old CavFanatic series. This one's so goofy, I actually like it quite a bit (here are some additional photos and the matching court design):
• Remember the Pacers' racing-themed blue alternate from last season? They're doing a white version of it this time around (additional info and uni schedule here):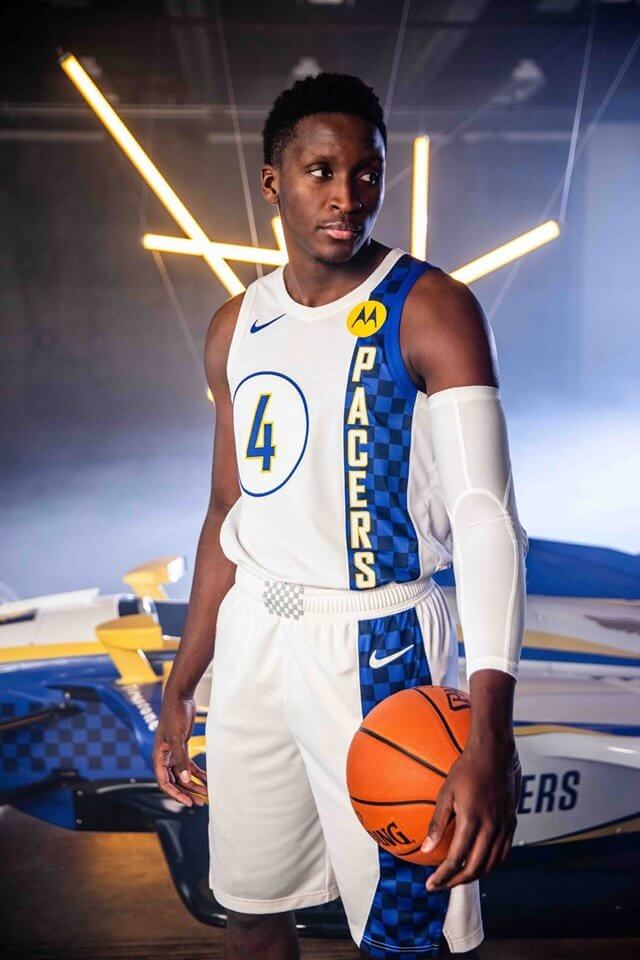 If we could have a Cavs/Pacers game with those last two uniforms facing off against each other, I might actually watch that!
• • • • •
• • • • •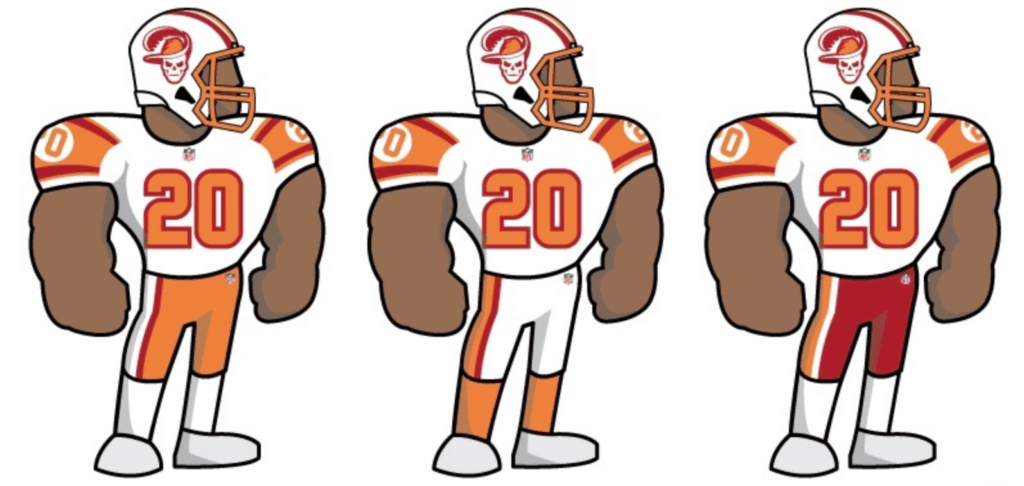 Contest results reminder: In case you missed it on Thursday, the results of our "Redesign the Buccaneers" contest are now available on InsideHook. The response has been very, very positive, so check it out — I think you'll like what you see.
• • • • •
• • • • •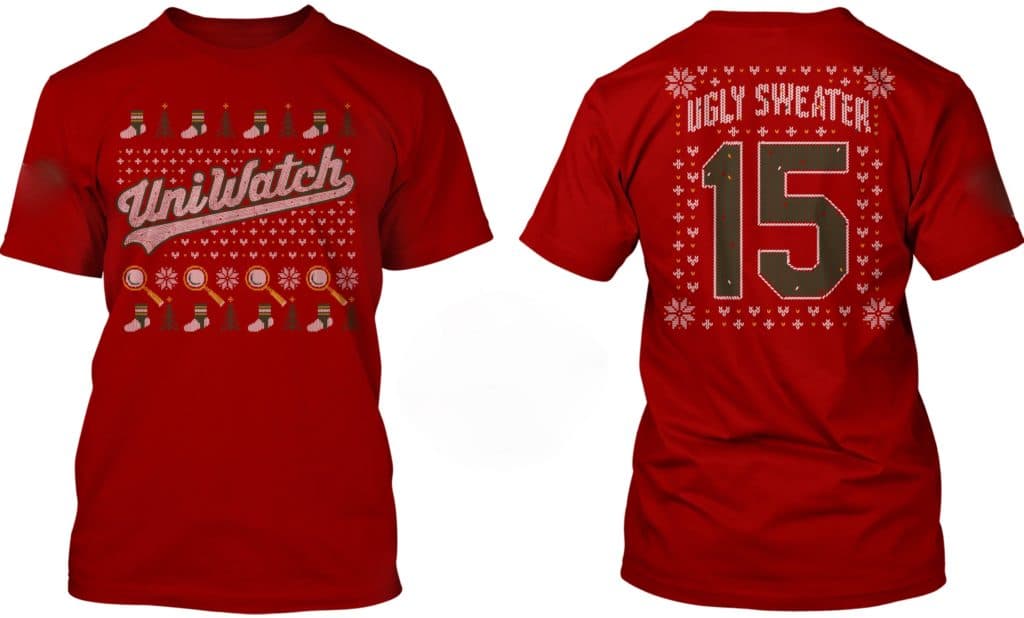 Click to enlarge
'Tis the season: With the winter holidays fast approaching, it might be time to break out the ol' Uni Watch ugly sweater shirt. If you don't already have one, it's available in long-sleeved and sweatshirt versions, too. Details here.
• • • • •
• • • • •
The Ticker
By Anthony Matthew Emerson

Baseball News: Here's a great piece on the designer of the Brewers' original ball-in-glove logo (from Don Schauf). … The Auckland Tuatara, the only Kiwi team on the Australian Baseball League, have added an "RC" memorial patch for former Twins prospect Ryan Costello, who was due to play for the Tuatara before suddenly passing away earlier this week (from Samuel C. Williams). … Robert Edward Auctions currently is currently taking bids on a c. 1870 carte-de-viste of the Grecian Base Ball Club. What's notable is that the uniforms have each player's position on the front, right below the "GB" abbreviation. The pitcher also has a sash reading "CAPTAIИ" (from David Brown).

NFL News: The Ravens will wear their Color Rash unis on Sunday (from Andrew Cosentino). … The Bears posted a neat video on Twitter showing the equipment team converting the team's orange wishbone-C helmt logo to white for this weekend's throwback game. They also added a "GSH" memorial decal (from Jamie Uthe). … Steelers LB Robert Spillane wears No. 41 in honor of his grandfather (from Jerry Wolper). … The Los Angeles Times has an article about the Rams' equipment managers (from Matt Shevin). … Former Vikings K Fred Cox, who invented the Nerf football, has died. … In a real profile in cowardice, Nike and Washington both declined to explain why the team's controversial name didn't appear on any of its G.I. Joevember sideline gear, even though the answer is fairly obvious (from Anthony Nuccio).

College Football News: Following years of court delays and construction, a house in Iowa designed to look like Kinnick Stadium has now been completed (from Kary Klismet, who took some pics of it during a visit). … Virginia is going blue-blue-white against Liberty tomorrow (thanks, Jamie). … Louisville is going mono-red tomorrow, their 11th different combo this season (from M. Brinston Berry).

Hockey News: Awesome new pads for Blue Jackets G Elvis Merzlikins (from Kevin Pedigo). … The AHL's Rockford IceHogs are wearing purple "Hockey Fights Cancer" sweaters on Nov. 29 (from Ethan McDougall).

College Hoops News: ESPN has an interesting article about how different college basketball teams use different brands of balls, what difference that makes, and whether it should change (thanks, Jamie). … St. Bonaventure is going with throwbacks against Canisius. … Marshall men's wore purple socks and wristbands in honor of F Mike Beyers's stepbrother Peyton, who died last week (from M. Brinston Berry).

Soccer News: The Chicago Fire officially launched their long-rumored new crest was unveiled yesterday, and their new kits have leaked as well (from many readers). … Bundesliga side Eintracht Frankfurt are wearing diversity kits this weekend, featuring the flags of the 14 different nations represented in their squad (from @ajzthisisdumbjr). … Taylor Fritz of Team USA at the Davis Cup wore a USMNT jersey during a match (from Josh Hinton).

Grab Bag: The city of Dayton, Ohio, is accepting submissions for a new flag (from Patrick O'Neill). … Speaking of municipal flags, Salt Lake City's new mayor is inheriting something of a longstanding flag problem (from Brice Wallace).
• • • • •
By the time most of you read this, I'll be on my way to Virginia — my annual visit to that oyster roast I attend each year. Have a great weekend and I'll see you back here next week. — Paul