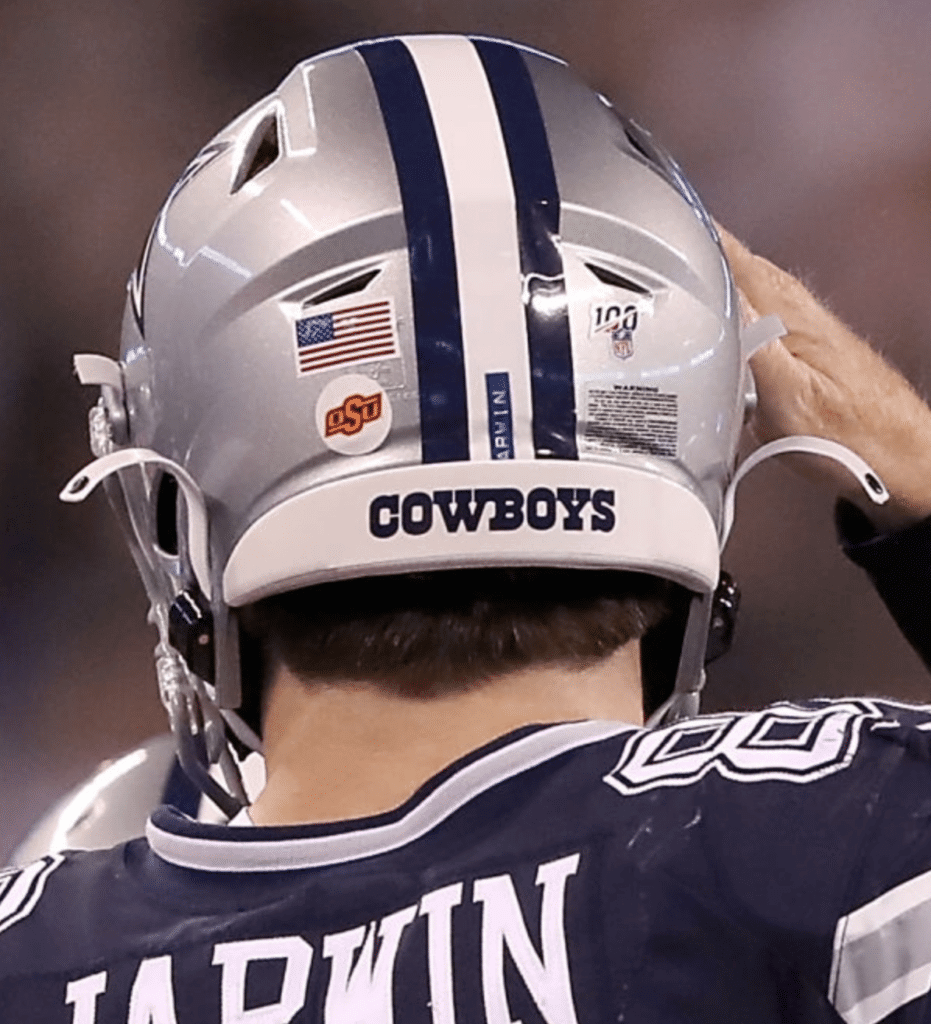 For all photos in this section, click to enlarge
I came home last night from the movies (more on that in a bit) to learn that a surprise development was unfolding on Monday Night Football, as players on the Giants and Cowboys were celebrating the 150th anniversary of the first college football game (the actual anniversary date is tomorrow) by wearing helmet decals featuring the logos of their alma maters.
Whatever you like this or dislike it (I'm agnostic), it's odd that the NFL did it for only one game instead of all weekend long. That might be because it wasn't even the NFL's idea: According to this article that came out a few hours before the game, "ESPN is dedicating this Monday Night Football matchup between the Cowboys and Giants to honor the collegiate game and its history. Every player on the field will be wearing a decal on their helmet to represent their college or university." So apparently it was ESPN's idea (although the league no doubt gave their blessing).
Here are some of the college logos that were on display: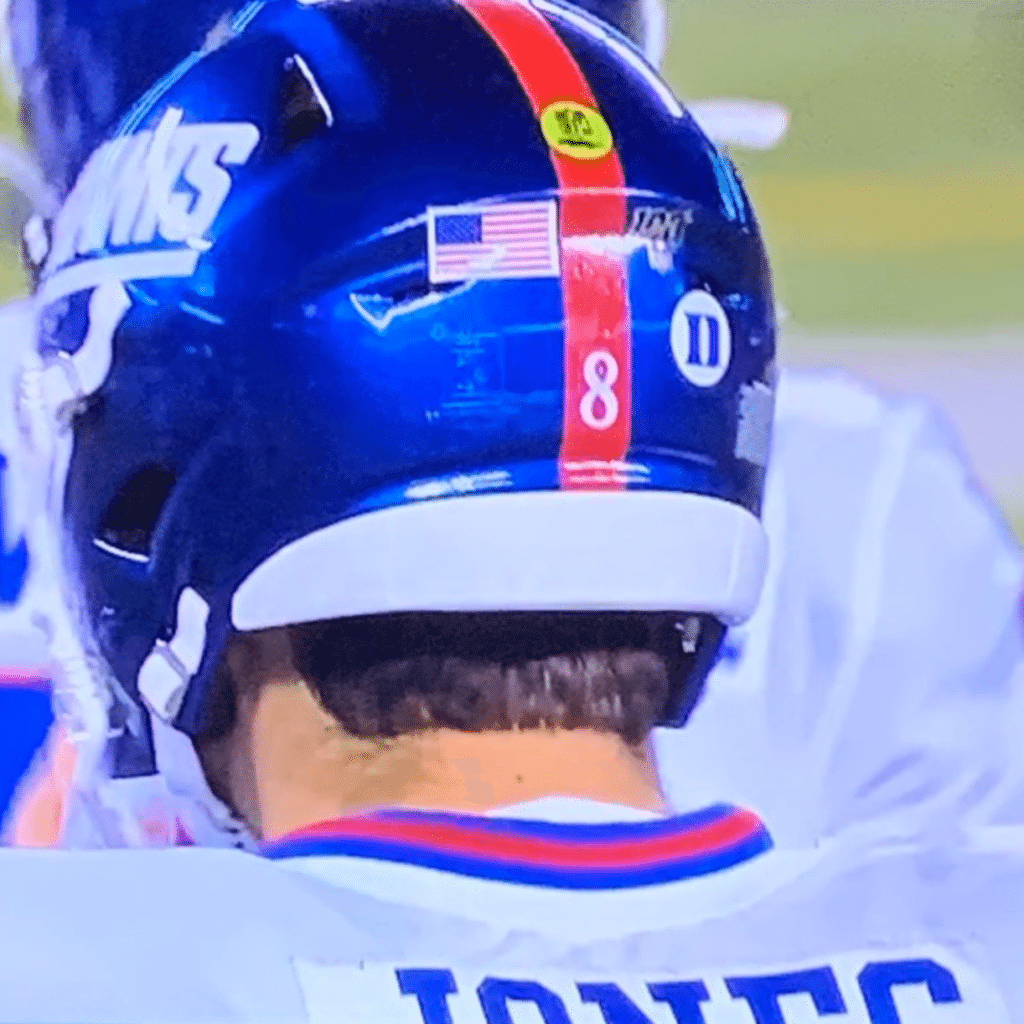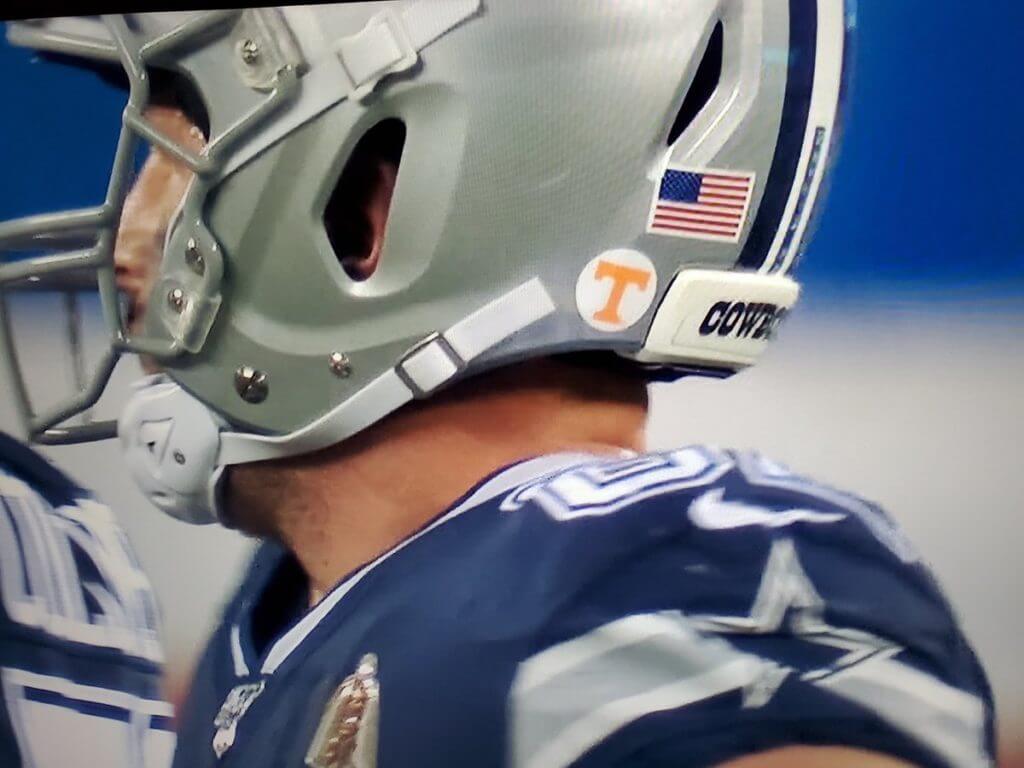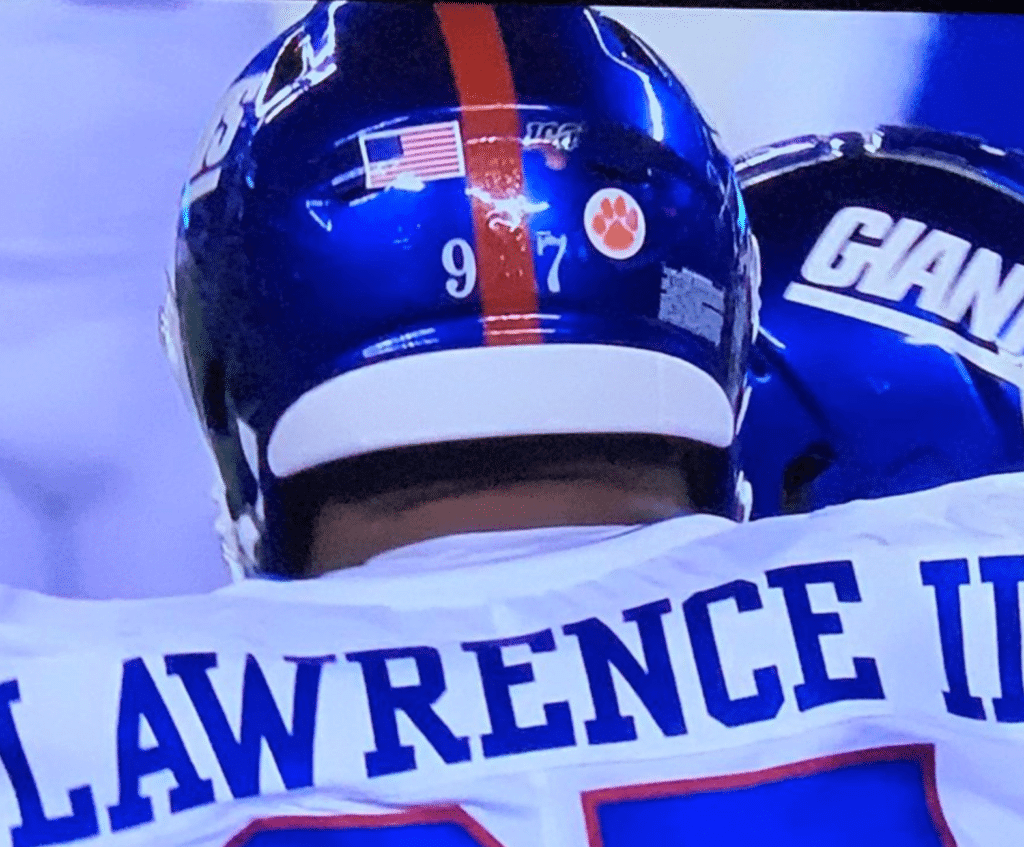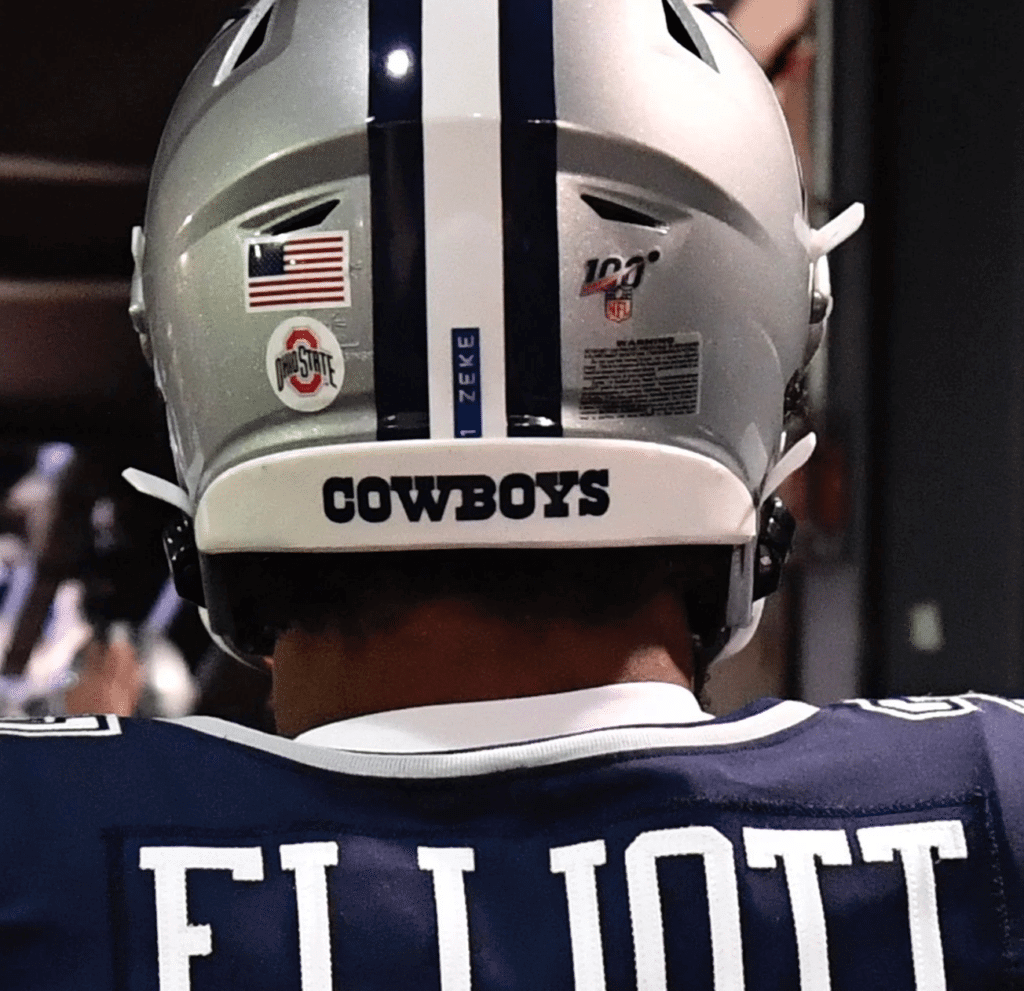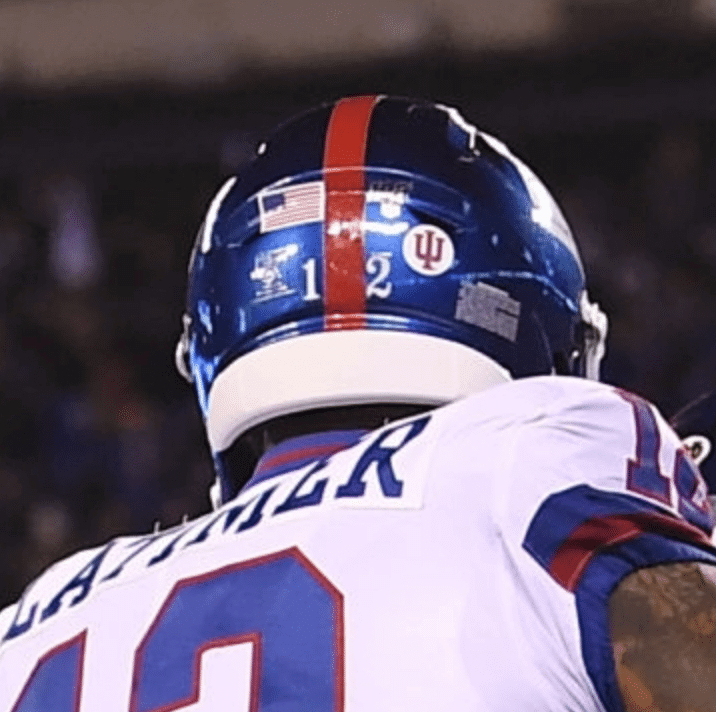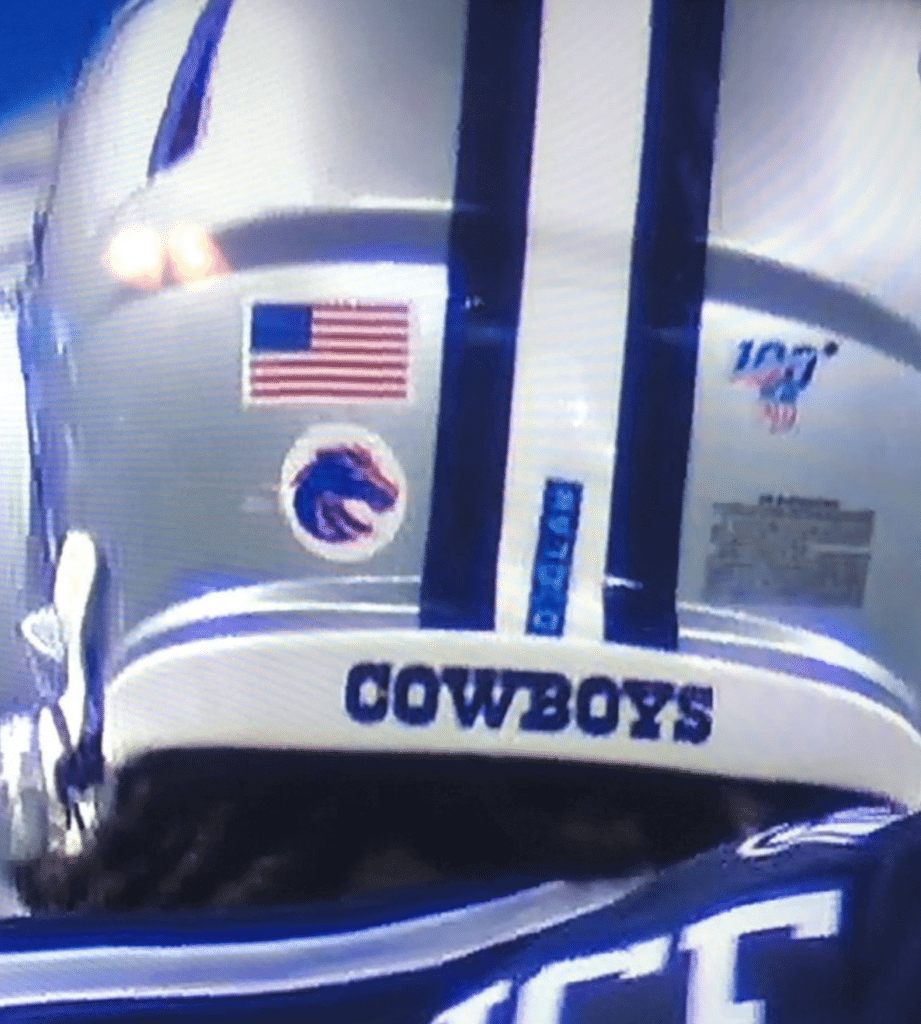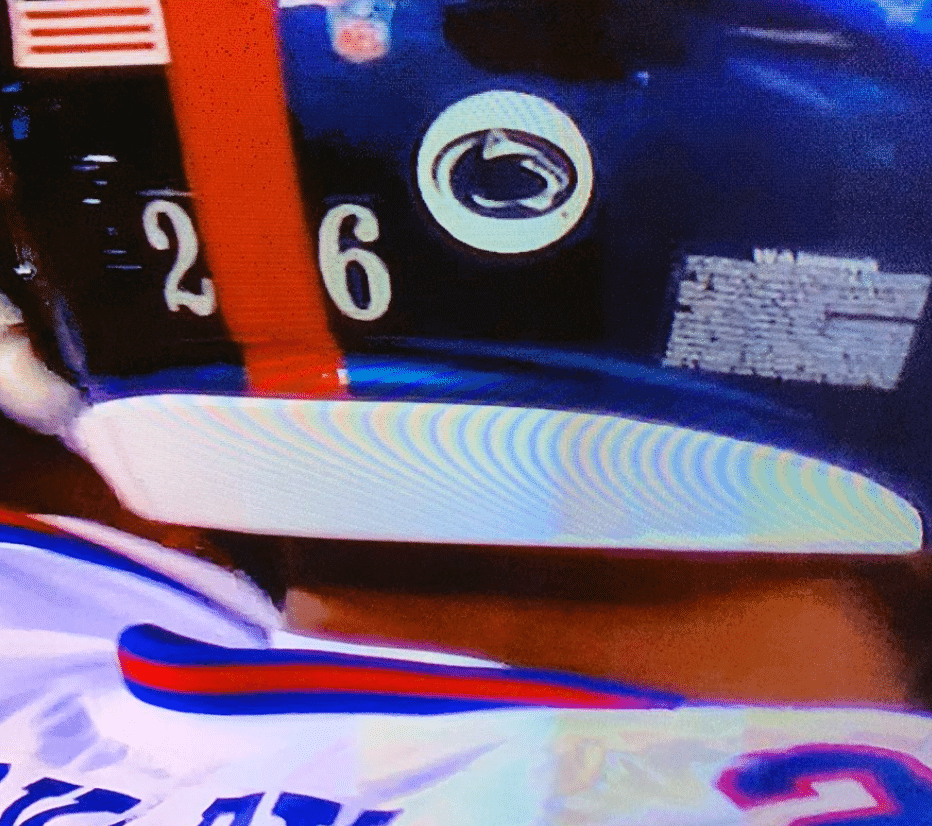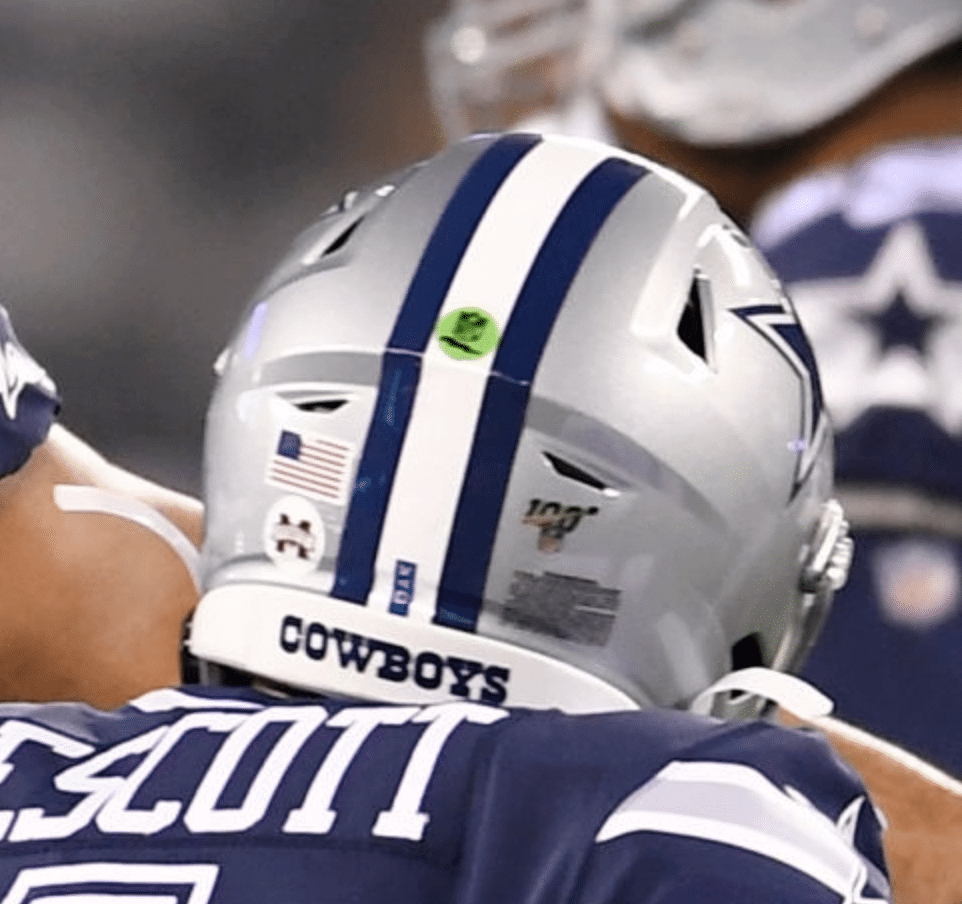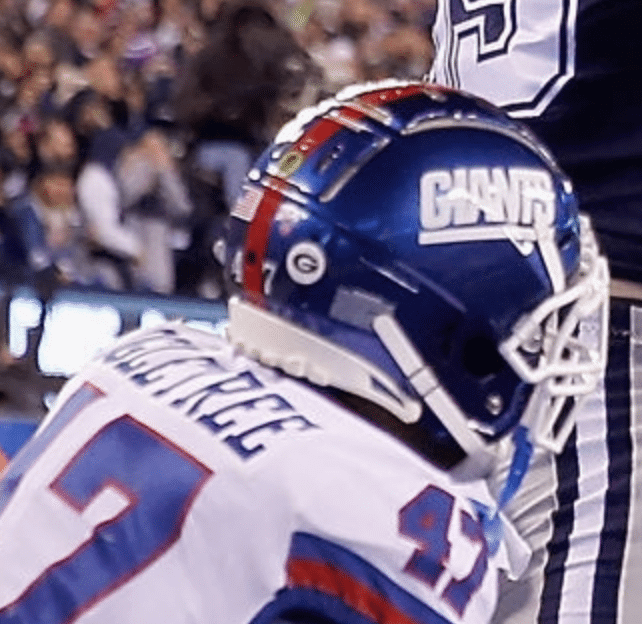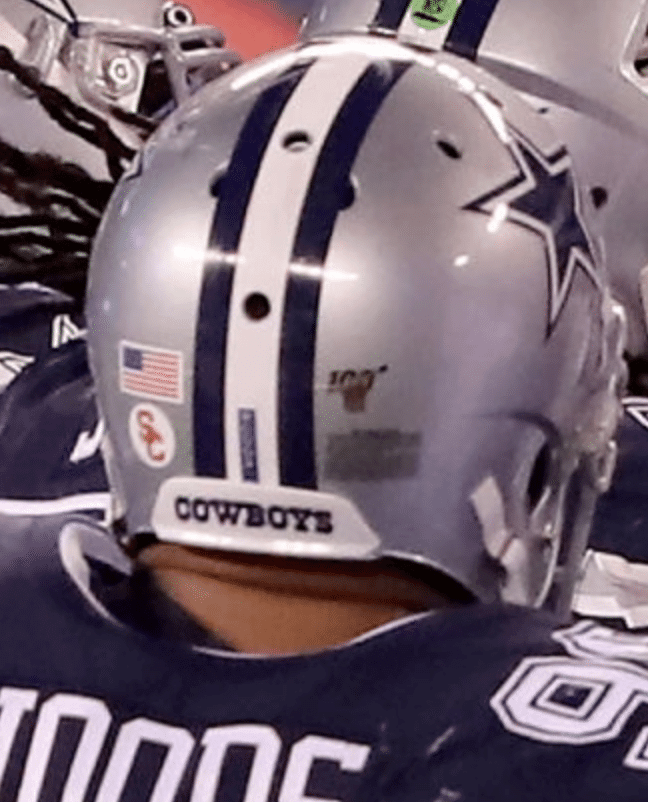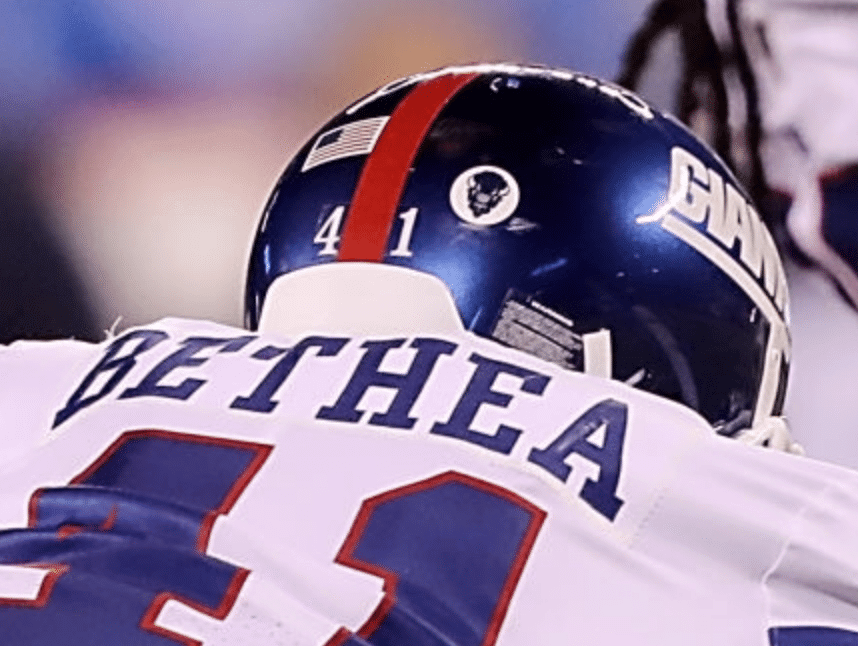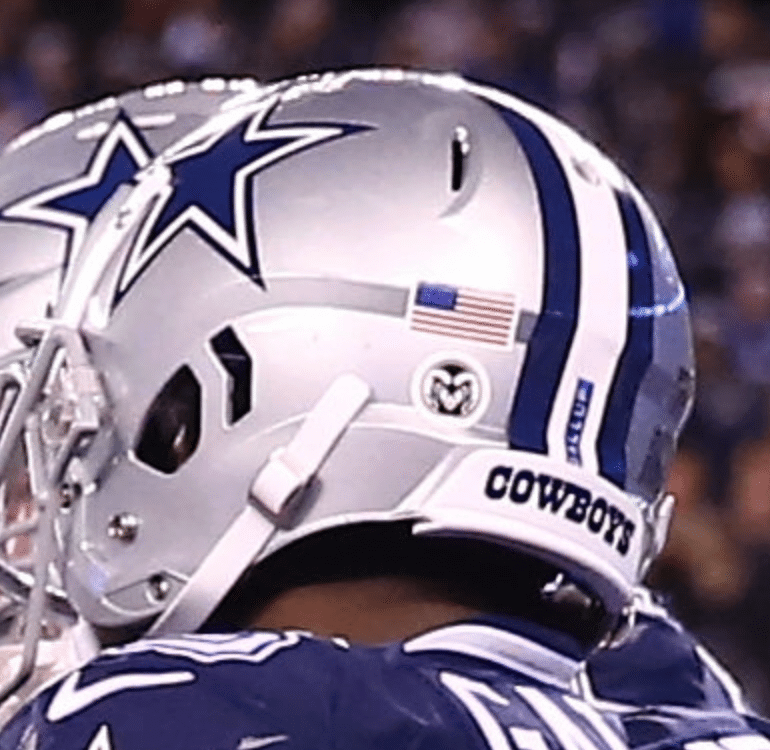 Special college football helmet stickers tonight in honor the 150th Anniversary for the @Giants & @dallascowboys #uniswag pic.twitter.com/nVt6tNYOcJ

— UNISWAG (@UNISWAG) November 5, 2019
Interestingly, Giants defensive lineman Leonard Williams, who attended USC, wore the CFB150 logo. I'm pretty sure nobody else had it: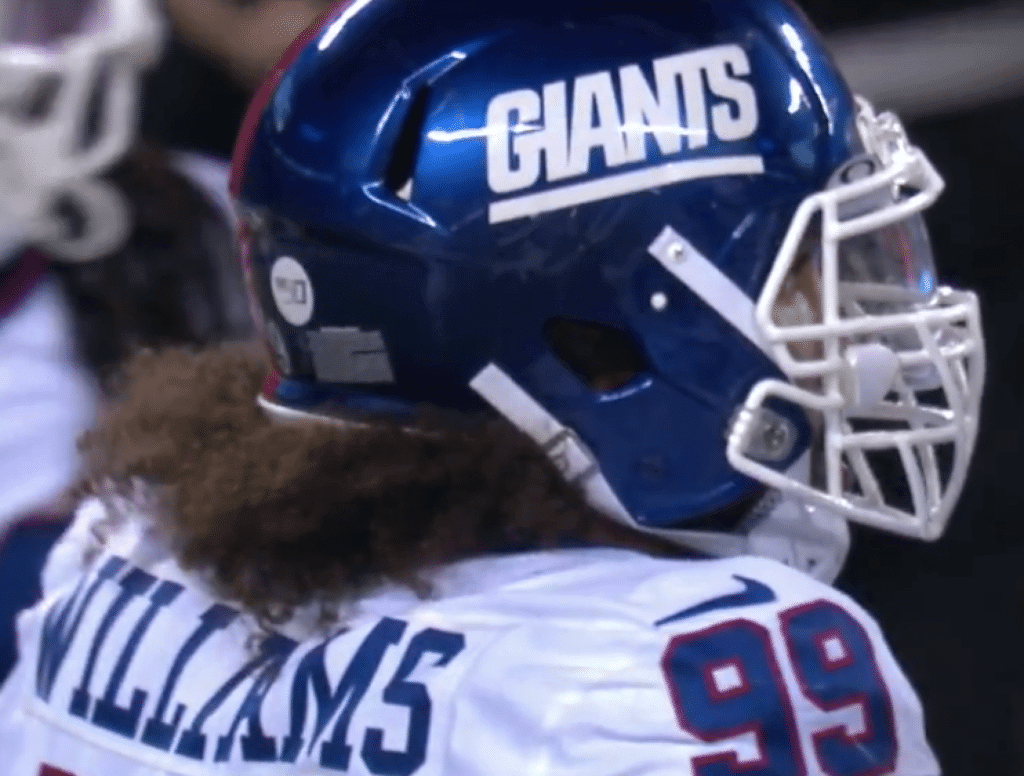 Williams was traded to the Giants from the Jets only a week ago, so maybe all the individual school logos had already been ordered by then.
Now, a lot of media outlets will probably be mentioning something about these helmet decals, but I bet none of them will mention what I'm about to tell you: This promotion reminded me of another Cowboys/Giants Monday Night Football game from 13 years ago — Oct. 23, 2006, to be exact — when Dallas wide receiver Terry Glenn, who played college ball at Ohio State, wore a buckeye merit decal on his Cowboys helmet: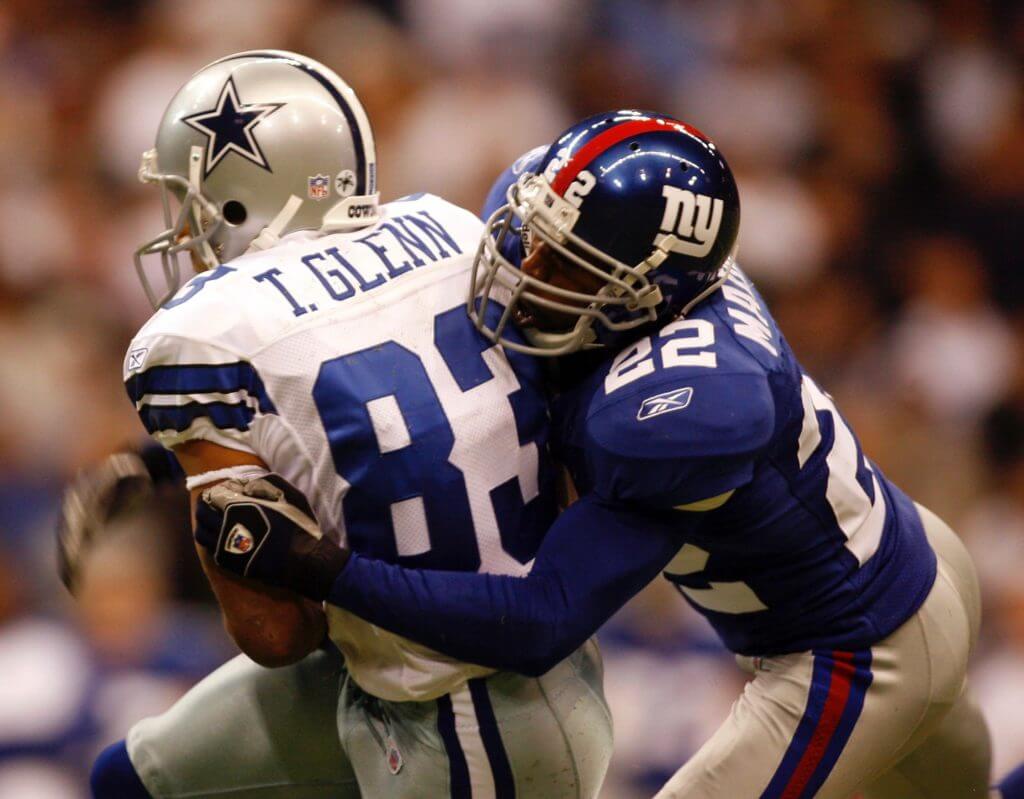 Another example of NFL players honoring their alma mater came in the 49ers' glory days, when running backs and Nebraska alums Roger Craig and Tom Rathman wore "Huskers" on their nose bumpers: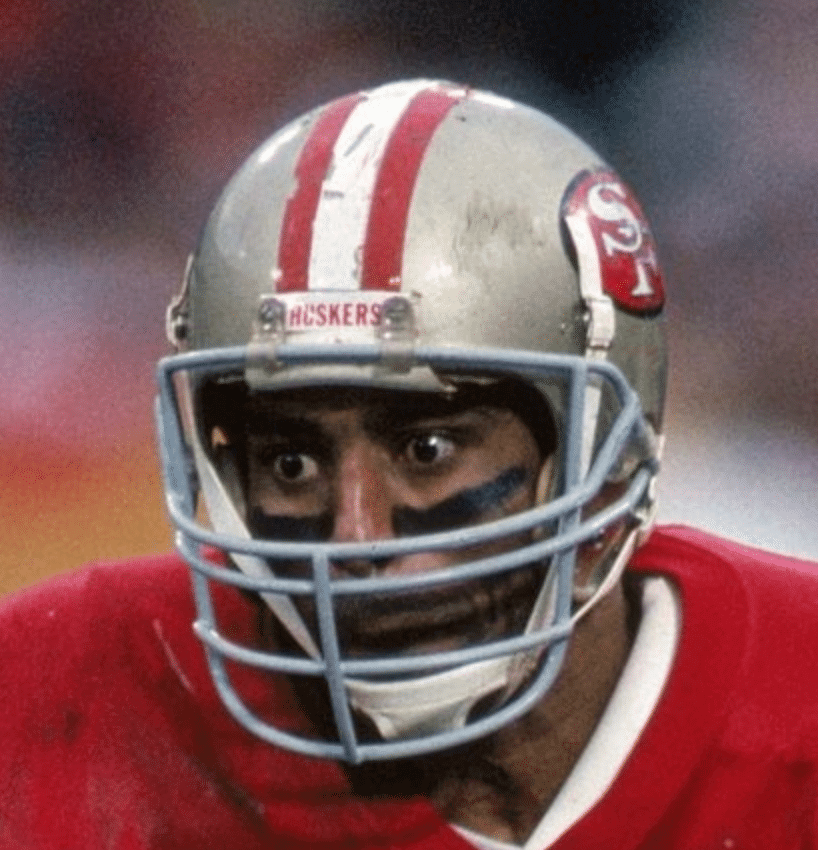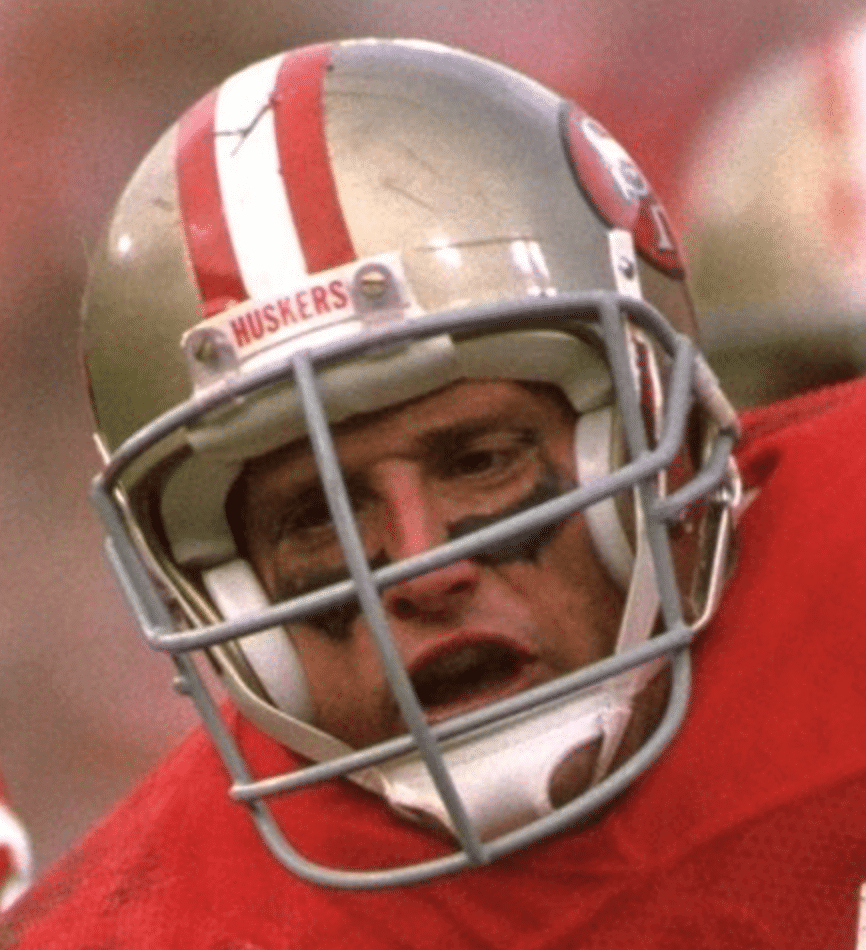 Does anyone have any other examples of NFLers saluting their colleges on their helmets?
• • • • •
• • • • •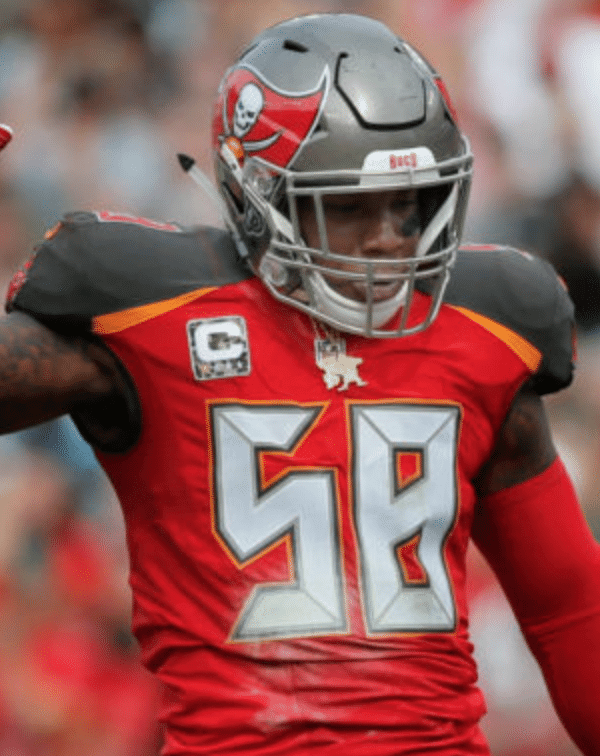 ITEM! New design contest: Everyone knows the Bucs are a mess, so let's do something about it. The latest Uni Watch design contest is to Redesign the Buccaneers!
Here are the guidelines:
• Your entry must include a primary logo, full home and road uniforms (helmet, jersey, pants, socks), and up to two alternate, Color Rush, or throwback uniforms. If you like, you can also include secondary logos and a field design, but those aren't required.
• You can maintain some of the team's current elements (the helmet design, say, or the color scheme), draw upon the team's visual history, or start from scratch and change everything. Up to you.
• Your designs can be created in any digital or analog medium (Illustrator, Photoshop, crayon, whatever) and can be submitted in any standard digital format (JPG, PDF, TIFF, etc.). You can also create a video presentation, upload it to YouTube, and submit the YouTube link as your entry.
• The files you submit should be named after yourself (JohnDoe.jpg, for example). If you're submitting multiple files, please either number them (JohnDoe1.jpg, JohnDoe2.jpg, etc.) or use some other designation (JohnDoe-HomeUni.jpg, JohnDoe-logo.jpg, etc.). Files that don't follow this format will not be considered.
• In keeping with longstanding Uni Watch chromatic policy, entries with even a hint of purple will not be considered.
• Email your entry to Uni Watch HQ. If you have more than one concept, feel free to enter as many times as you like.
• Deadline: Submit all entries by Friday, Nov. 15. The best entries will be showcased in my next piece for InsideHook (the same venue that published my 2019 NBA Season Preview). Good luck!
• • • • •
• • • • •
Click to enlarge
Collector's Corner
By Brinke Guthrie
Follow @brinkeguthrie
Starting off this week with these Packers paper drink coasters. They include the name "Sneezer's" — that's a place where Vince Lombardi hung out. More on Sneezer's here. [As an aside, the low-angled single-bar facemasks shown on the coasters remind me of Super Bowl I here Max McGee. — PL]
Now for the rest of this week's picks:
• Here's an item I've never seen before: an NFL/AFL logo seat cushion. The seller says it might be from one of the first Supes, and comes with a white poncho. (Here's a similar version for the Boston Patriots. )
• From reader Will Scheibler, a 1963 CFL Eskimos/Roughriders game program with great-looking team bobbleheads on the cover. Note: if interested, it's up today in the early afternoon.
• I have no clue as to how a 1970s Toronto Maple Leafs Pow-R-Puck works. It says it shows you "how hard you shoot." Oh, and…Kids! Win A Family Trip To Meet The Leafs!
• Check out this vintage NFL hand warmer! The seller says 1972 but has to be late 1960s due to the Washington helmet shown on the box.
• See the helmets on this 1971 IHOP NFL helmets placemat? Loved that look — the same ones that graced the set for the old weekly Brookshier/Summerall NFL highlights show. 
• Another IHOP item, this time for the Milwaukee Brewers: a milk glass with the ball/glove logo.
• And another Brewers item! This is a seat cushion for those hard County Stadium bleachers, sponsored by Koss headphones. The seat cushion says simply, "Major League Baseball in Wisconsin." 
• This set of 1960s football publications includes A Family Guide to Football and the very helpful How to Watch Pro Football on TV.
• This is an 8″ x 10″ reprint of some of the old AFL team logos. Well, except for the Jets, who are represented only by a green football.
• A favorite look of mine — the classic varsity jacket. This San Francisco 49ers model is made by Chalk Line. Unknown whether those sleeves are real or fake leather.
• Look at these cool-looking Chicago Cubs Reebok sneakers!
NOTE: New process here: Got an item to include on Collector's Corner? DM your submissions on the Uni Watch Facebook page.
• • • • •
• • • • •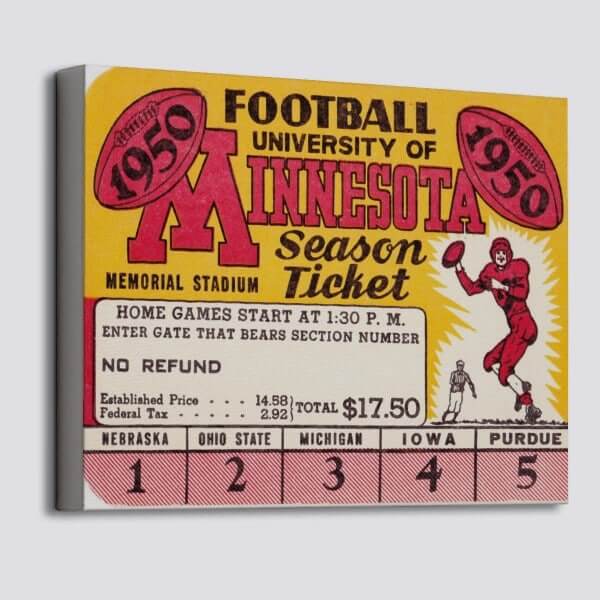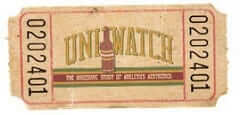 Raffle reminder: In case you missed it on Monday, the folks at our longtime advertiser Vintage Brand are generously running another raffle. The lucky winner will get to choose any product from the VB website (like the 1950 Minnesota season ticket canvas shown above).
To enter this raffle, send an email to the raffle address by 7pm Eastern tomorrow, Nov. 6. One entry per person. I'll announce the winner on Thursday.
• • • • •
• • • • •
Membership update: Sometimes, out of the blue, we'll get a bunch of new membership orders for the same design motif, with no apparent reason for it. That's currently the situation for the Mariners' original TATC design, which three people have recently ordered — including Tim Storck, whose card is shown at right. The other two are coming soon!
Tim's card is one of eight new designs that have been added to the membership gallery. I hope to have the printed/laminated versions of these cards ready to ship out within about a week. (As I recently mentioned, our longtime print shop has shut down, but I'm currently in the process of choosing a new one and expect to have the choice finalized within a few days. Then we'll be ready to roll again.)
Ordering a membership card is a good way to support Uni Watch (which, frankly, could use your support these days). And remember, a Uni Watch membership card entitles you to a 15% discount on any of the merchandise in our Teespring shop and our Naming Wrongs shop. (If you're an existing member and would like to have the discount code, email me and I'll hook you up.) As always, you can sign up for your own custom-designed card here, you can see all the cards we've designed so far here (more than 2,300 of them!), and you can see how we produce the cards here.
• • • • •
• • • • •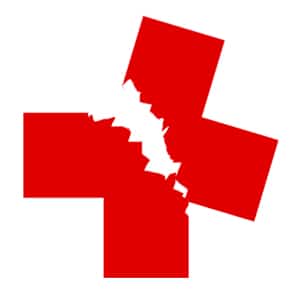 My latest experience in how our health care system is broken: I've been a freelancer for most of the the past 23 years, so during that time I've always purchased my own health insurance. While circumstances have sometimes forced me to change plans from year to year (which is a whole separate problem for another day), I have always maintained the same plan within a given calendar year.
That changed in August of this year, when Sports Illustrated hired me. The gig came with full benefits, including health insurance. Hooray! So for the first time in over two decades, I changed insurance plans within the year — I dropped the plan I'd been paying for myself and went on the SI-provided plan.
And that's how I learned about what I've begun referring to as "insurance deductible double jeopardy." I had already met the $600 calendar-year deductible on the first plan, but the new plan came with a new $1,000 deductible, and I started back at $0 for that one (just in time for my September bike crash, how wonderful!). What a crock of bullshit.
I gather people who change jobs at any point other than New Year's Day go through this all the time, but it was a new experience for me — and something I'd admittedly never thought about before — because I'd always been self-employed. It's yet another example of what so many of us have been saying for ages: It is completely absurd for health insurance to be tied to employment.
As it turned out, SI laid me off after only seven weeks. By law, I was eligible to keep the SI plan and pay for it myself via COBRA. Or I could have gone to the New York State marketplace and shopped for a cheaper plan — but then I'd have yet another new 2019 deductible. Triple jeopardy!
So I'm keeping the SI/COBRA plan through the end of this year. It costs the same as the plan I had started the year with — about $700 a month — although that price will go up in 2020. They're supposed to tell us the new price in a few weeks. Depending on the numbers, I'll either keep the SI/COBRA plan for 2020 or choose a different plan on the NYS marketplace. If I keep the SI/COBRA plan for next year, I could also opt to keep it for the first four months of 2021 (COBRA benefits, by law, last 18 months) — but then I'd definitely have to switch to a new plan for the rest of 2021 and be back in the double jeopardy situation with a new deductible for the rest of that year, which I certainly don't want. So even if I keep the SI/COBRA plan, I won't be able to keep it for the full extent provided for by law.
It is infuriating to be stuck in such an obviously dysfunctional system, and embarrassing that the rest of the developed world has figured this out while our nation continues to lag behind. Health insurance is a basic necessity, not an employment perk. SINGLE PAYER NOW.
• • • • •
• • • • •
The Ticker
By Alex Hider

Baseball News: The Mets introduced new manager Carlos Beltrán in a Majestic jersey but without the MLB 150 patch (from Joe and Drew Goldfarb). … The buses in the Nationals' championship parade were rented from a company in Philadelphia, and they were wrapped in Nats banners before traveling to the parade site. Gotta rub salt in Philly's wounds while you have the chance, I guess (from Mike Rosenberg). … This piece recounts the challenges of the A's and Raiders sharing the Oakland Coliseum, most notably how stadium personnel were able to remove the pitching mound when converting the field from baseball to football (from Patrick O'Neill). … A jersey worn by Babe Ruth during his only year as the Dodgers' first base coach is up for auction (from Jonas Feit). … The street markers at Colonial Williamsburg mark North, South, East, and West, and the West symbol looks an awful lot like a certain World Champ's logo (from Max Weintraub). … The Rookie Ball Missoula Osprey have rebranded and are now the Missoula PaddleHeads (thanks to all who shared).

NFL News: Reader Josephy Bailey notes that the Broncos use era-appropriate helmets next to the names on their Ring of Fame. … The Panthers have worn six uniform combinations in their first eight games (from Panthers Uniform Tracker). … Two separate cards from the same Topps 2015 set have Cowboys OL Zack Martin's first name spelled differently and listed at different positions (from Justin Wages). … Two separate Ohio high school volleyball teams are poaching the Eagles' logo (from Mike Miller). … Cross-listed from the baseball section: This piece recounts the challenges of the A's and Raiders both playing at the Oakland Coliseum, most notably how stadium personnel were able to remove the pitching mound when converting the field from baseball to football (from Patrick O'Neill). … Cowboys TE Jason Witten's Walter Payton Man of the Year patch appeared to be coming loose last night (from Mike Lindquist).

College Football News: Georgia Tech's Living History Program shared some great 100-year-old video of the first time the Jackets ever played Pitt (from Michael Rich). … Harvard included a 100th-anniversary patch commemorating its Rose Bowl win on its end zone pylons this weekend (from Cassian Wykes). … ESPN commissioned Marvel-themed programs for some of college football's greatest games of all time (from Ignacio Salazar).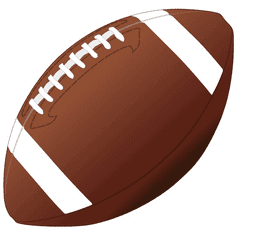 Other Football News: What if candy brands had football teams? It might look like this (from Dan Kennedy). … The CFL's Hamilton Tiger-Cats will wear mono-black and are encouraging fans to wear black when they host CFL Eastern Final on Nov. 17 (from Wade Heidt).

Hockey News: The San Antonio Rampage will wear a different jersey in each period — including two throwbacks — to celebrate 25 years of hockey in the city (thanks to all who shared). … The Calgary Hitmen wore uniforms for Bret "The Hitman" Hart night on Sunday, and the on-ice version held a nice surprise: socks with flames (from Wade Heidt). … It appears a manufacturer switchover has changed the shade of the Toledo Walleye's light blue jerseys (from Mark Kunz). … The Ontario Reign, a Kings' AHL affiliate, will wear jerseys inspired by '90s Kings throwbacks on Nov. 15 (from Jakob Fox). … The name of the new Seattle NHL team will be announced prior to the All-Star Game (from Mike Chamernik).

NBA News: The Wizards will unveil their "City" alternates on Nov. 20 (from @cesarcu52). … We have more looks of the Hawks' new "Peachtree" uniforms and court. … New Magic SG B.J. Johnson will wear No. 13 (from Etienne Catalan). … So much for color: Last night's Pelicans/Nets game was white vs. grey on a grey court (from Andrew Cosentino). … A Warriors fan called his local TV news show's "On Your Side" hotline when he sent a giant Steph Curry banner to Fanatics to get it autographed by Curry and then never heard back from Fanatics. Our own Brinke Guthrie, who works at that TV station, handled the fan's complaint and helped to resolve the situation. … Speaking of the Warriors, they wore their San Francisco throwbacks last night (from Mike Sgroi).

College Hoops News: New uniforms for Florida Atlantic, including beneath-the-numbers NOBs (from Jake Elman). … Here's a time-lapse video of Utah Valley University preparing its arena for basketball season (from Ben Schroeder). … Arkansas has added a state outline logo to its shorts waistbands (from Bryson Butler). … Ole Miss is returning to a script wordmark on their home whites this season. In recent years, they've worn a block "Rebels" wordmark on their home whites (from Matt Barnthouse). … Syracuse has added a "Cuse" mark to its practice jerseys.

Soccer News: Like the rest of English football, Stoke City wore Remembrance Day poppies this week. But Stoke wore their poppies above the team crest, instead of in the center of the jersey. "Stoke are the only team so far this year that has done that," says our own Jamie Rathjen. In addition, Stoke's Irish winger James McClean chose not to wear a poppy. … Speaking of the poppy, here's one of many opinion pieces about poppies in English soccer (from Mark Coale). … Fans have joked that the Canadian Premier League championship trophy looks like a microwave tray (from Wade Heidt). … In Belarus, Dynamo Brest wore a throwback uniform against Shakhter Soligorsk — but because Dynamo don't wear Adidas, the shirts and shorts had four stripes (from Ed Żelaski). … For more soccer news, check out Josh Hinton's Kit Watch Twitter feed.

Grab Bag: I — and many of my fellow Cincinnatians — still call it Riverfront Coliseum (from Bill Fenbers). … Long Beach State has dropped 49ers as a team name and will instead be "the Beach" for all sports except baseball (from Griffin T. Smith). … Check out this jacket worn by Ohio State President Michael Drake — a plaid pattern inspired by the football helmet/jersey stripe (from Jason Hillyer). … Ever wonder what zoologists wear to work every day? Wonder no more (also from Jason Hillyer). … Contestants in this year's Jeopardy! Tournament of Champions are wearing purple ribbons for pancreatic cancer awareness. Of course, host Alex Trebek is currently battling pancreatic cancer (from our own Jamie Rathjen). … PBS has a new logo (from Jerry Nitzh). … New logo for Facebook, too.
• • • • •
[adrotate group="2″]
• • • • •

What Paul did last night: The Tugboat Captain has grad school on Monday nights, and I didn't feel like watching the Giants lose again, so I biked over to a nearby-ish theater and watched The Lighthouse, the new American Gothic movie featuring Robert Pattinson and Willem Dafoe slowly losing their minds as they tend to an isolated lighthouse in the 1890s. I fucking loved it.
The trailer, shown above, doesn't do justice to how gorgeous (and spooky) the movie is. Shot in black-and-white, it feels old and creaky, and you can almost taste the salty air. Great performances by both leads, spectacular lighting, dramatic music that actually works — first-rate! Highly recommended.
Then I biked home and learned that the Giants and Cowboys were wearing all those college decals, so I had to scrap the lede I had planned for today and spend the next few hours working on the lede that ended up running. In case you didn't realize: Uni Watch is hard work!