How ya feelin' about these Celtics jerseys? 🧐

(🎥: IG/eneskanter11) pic.twitter.com/wssiqNdBEu

— theScore (@theScore) October 28, 2019
Is a leak really a leak when it comes from a player? That's what happened yesterday, as Celtics center Enis Kanter apparently revealed the team's latest alternate jersey on his Instagram story.
The color seems to shift back and forth in that video, ranging from green to something teal-ish, presumably due to the lighting. That led some observers to do a bit of on-the-spot color correction:
I'm gonna guess there was some weird lighting and the Celtics alt is supposed to look more like this color-corrected image.

Doesn't do anything for the dumb font, though. pic.twitter.com/tDoGM5SzOA

— Ben Watanabe (@BenjeeBallgame) October 28, 2019
The color notwithstanding, the typography reminds me of that dopey Notre Dame Shamrock Series uniform from a few years back:
Yes, we get it — you're Irish. I assume there'll be a replica Blarney Stone at center court, corned beef at the concession stands, the Pogues on the sound system, and free Lucky Charms for all, wheee!
It's tempting to say the Celtics should be above this sort of nonsense, except, well, you know.
• • • • •
• • • • •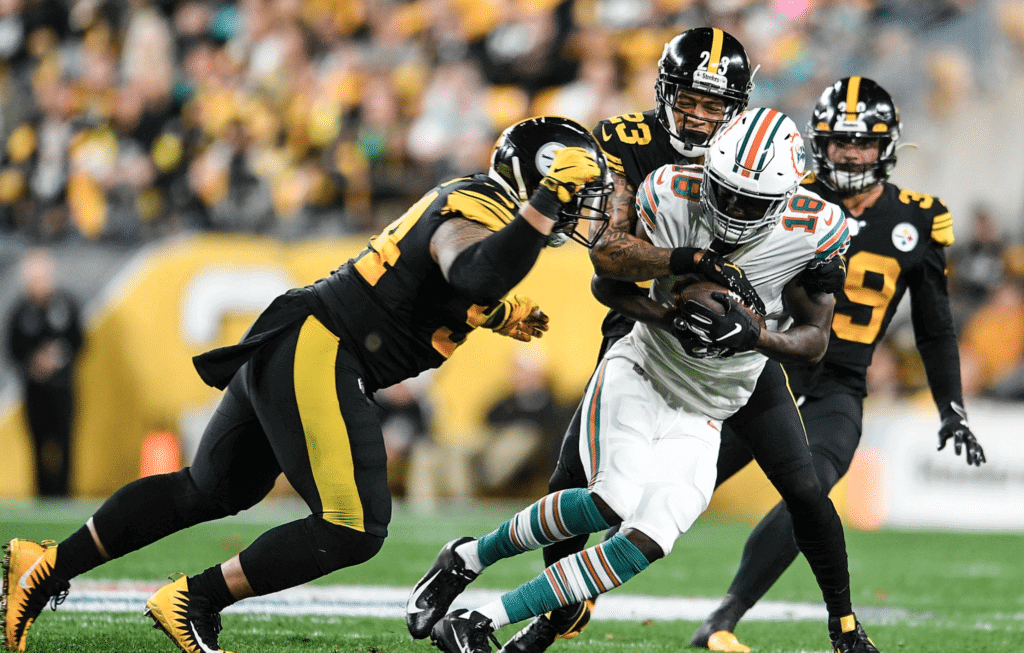 Click to enlarge
What might have been: Unusual game last night in Pittsburgh, as the Steelers wore their mono-black alternates and the Dolphins wore their throwbacks. Lots of additional photos here.
It's surprising that Miami would wear the throwbacks on the road (teams usually save that for the home fans, although I guess the Dolphins wanted to showcase the retro look on national TV), and disappointing that the Steelers didn't go with their own throwbacks, which would have created a nice 1970s vibe. I mean, the NFL is supposedly celebrating its history this season, isn't it? Much like the Packers' last two games (when they faced the teams they played in the Super Bowls I and II but didn't wear the right uniforms to match those historic games), this should have been an easy lay-up and instead goes down as a missed opportunity.
• • • • •
• • • • •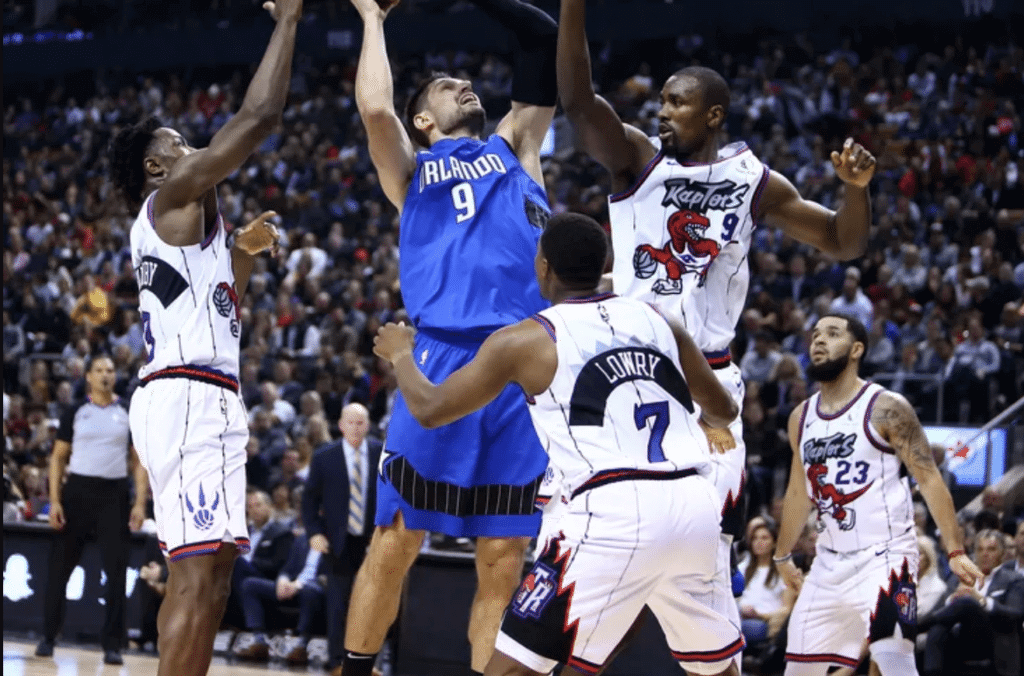 Click to enlarge
Raptors turn back the clock: We're going to be seeing a lot of 1990s throwbacks in the NBA this season, and the Raptors did their part last night by debuting their new white inaugural throwbacks.
Here's a closer look at the front design: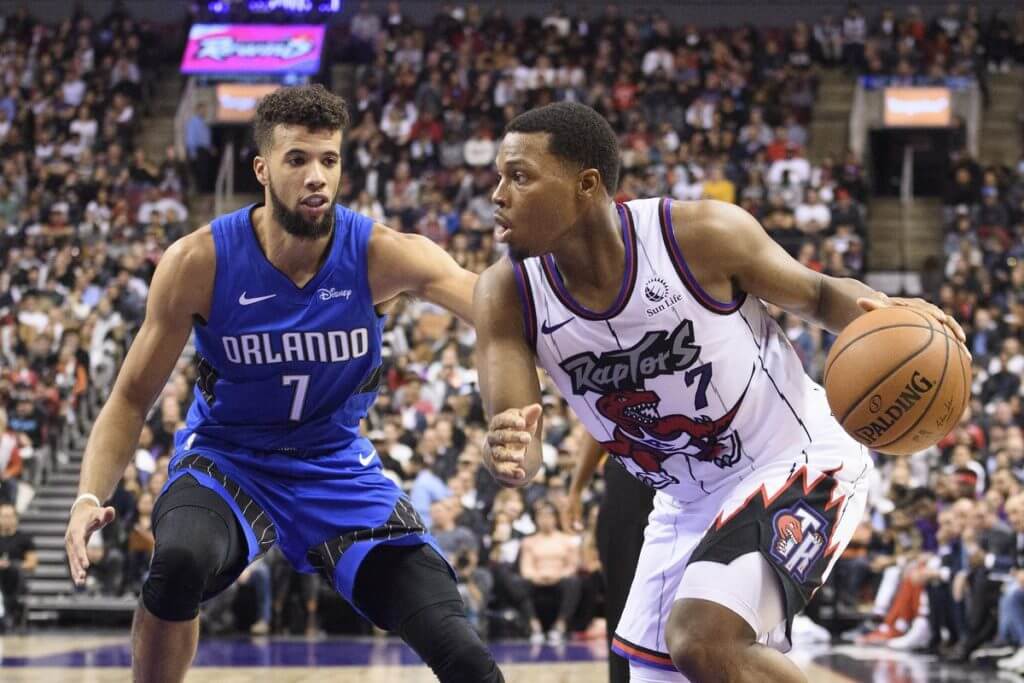 Toronto also had a throwback court for the occasion:
33 years young & still got that hangtime @Klow7 | #WeTheNorth pic.twitter.com/BJizV2WM4Z

— Toronto Raptors (@Raptors) October 29, 2019
This that different latitude. #WeTheNorth pic.twitter.com/FMvDTmBITi

— Toronto Raptors (@Raptors) October 29, 2019
• • • • •
• • • • •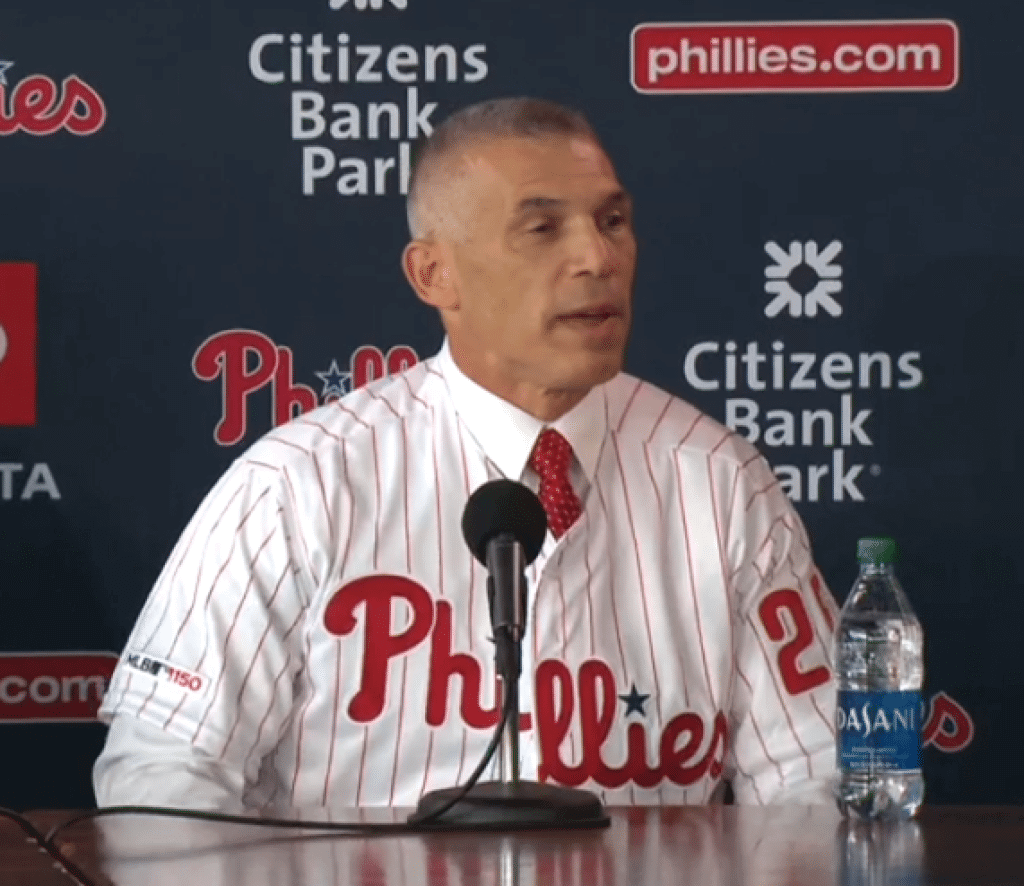 Oops: Not a good start for new Phillies skipper Joe Girardi, who mis-buttoned his jersey at his introductory press conference.
Several other uni-related notes from this photo:
• Remember last week's entry about managers who wear jerseys at their intro pressers that they'll never wear on the field? It's interesting that the Phillies gave Girardi a jersey with the MLB 150 patch, since he'll never wear that in his managerial capacity (and the two World Series teams aren't even wearing it).
• When Girardi began managing the Yankees, he chose to wear No. 27, symbolizing his desire to lead the Yanks to their 27th championship. And after winning a title in 2009, he changed his number to 28. Since the Phillies have won two championships, some people were wondering if Girardi would want to wear No. 3 (which would create a conflict with his star player). Nope: He's going with No. 25, which is the number he wore in the late 1990s with the Yankees as a player.
(Thanks to Kevin Malarkey for the image at the top of this section.)
• • • • •
• • • • •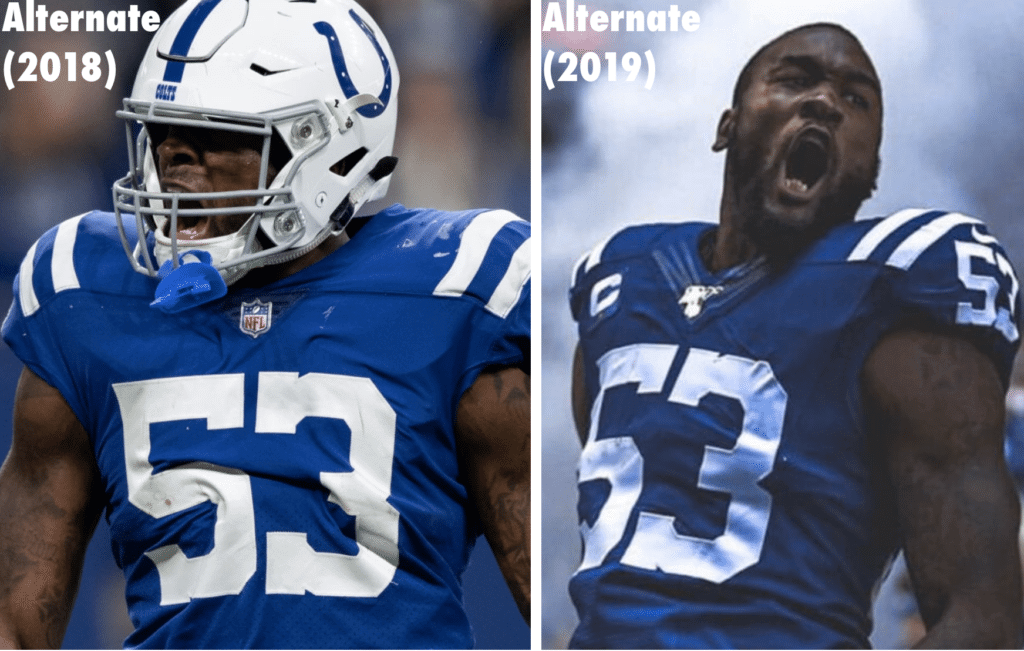 Colts update: Remember how I said yesterday that I'd ask the Colts why they changed their Color Rash jerseys from the new Nike template to the old Flywire template, but I didn't expect to hear back from them because it was too esoteric of a question?
Shame on me for doubting the professionalism of Colts spokesguy Matt Conti, who emailed me yesterday to say, "I wish I had a great answer for you, but it really came down to a team preference."
Not the most satisfying response, I'll admit, but at least they got back to me! (I suppose I could follow up by asking why they prefer the older template, but I think I'd really be pushing my luck there.)
• • • • •
• • • • •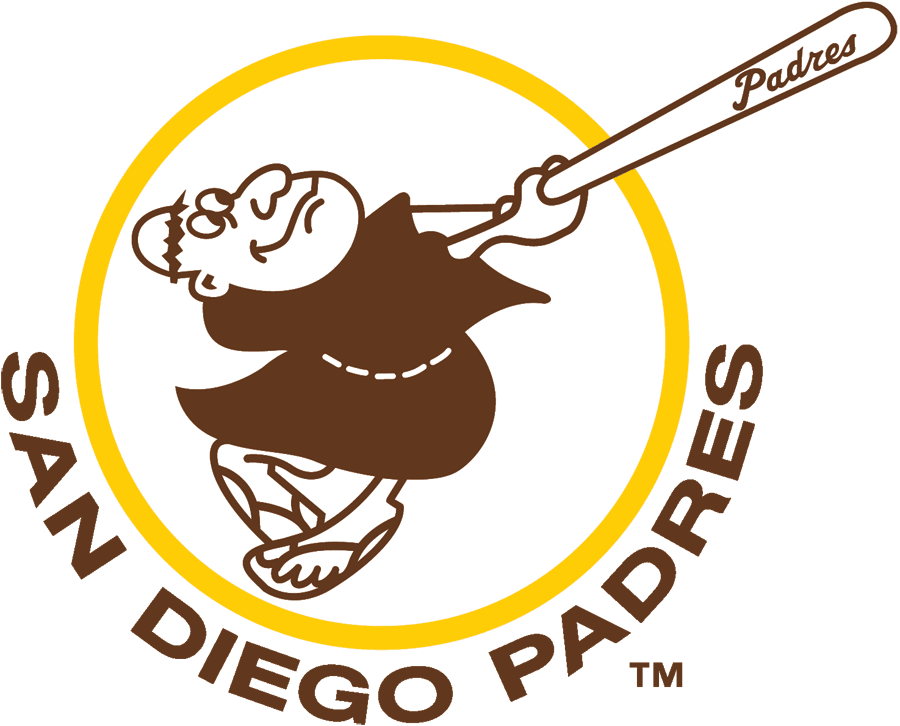 Padres begin teasing new identity: With the Padres' new uniforms set to be unveiled on Nov. 9, some hints about the new look are starting to emerge.
Yesterday people noticed a small but discernible change to the "SD" logo in the team's Twitter avatar. Twitter-er @cook17 helpfully created an animation that shows the subtleties of the situation:
Here is the difference between the old and new Padres avatar. (Dark one is the new one) pic.twitter.com/6a5p3qSQXe

— cook (@COOK17) October 28, 2019
Okay, so it's not earthshaking. But it's a fun step in the unveiling countdown.
Speaking of which: Remember, I'll be in San Diego for that unveiling (thanks again to everyone who made that possible by contributing to my travel fund), and then we'll have a Uni Watch party the following day — Sunday, Nov. 10, starting at 4pm — at the Wonderland Ocean Pub. They have amazing ocean views, but sunset will be at 4:51pm, so plan accordingly!
While we're at it: If you're going to be at the party (or even if you're not!), you can make the scene in style in one of our new brown Uni Watch T-shirts, available in cotton white wing, cotton gold wing, or sublimated poly with contrasting collar/cuffs and a custom sleeve patch. Here's a closer look at that one (click to enlarge):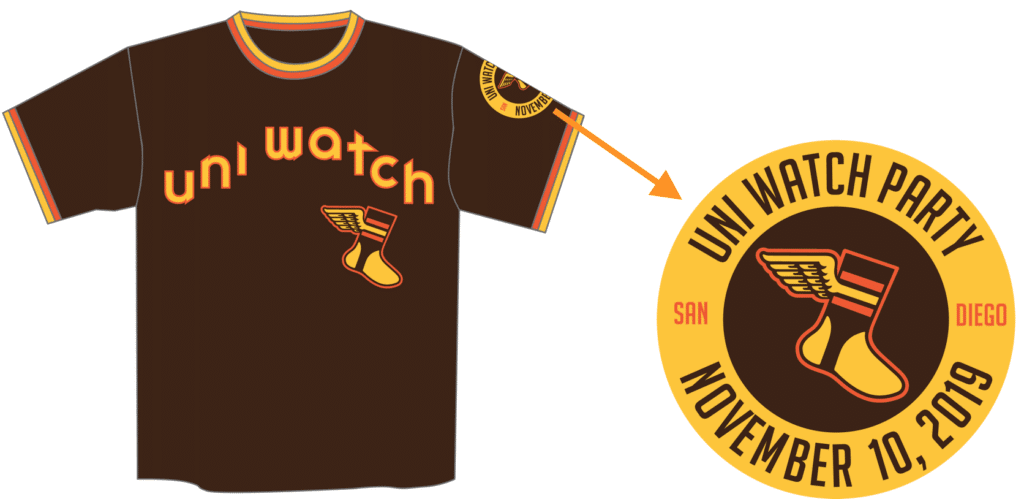 All of these items — and many other fine products — are available in the Uni Watch Teespring Shop.
• • • • •
• • • • •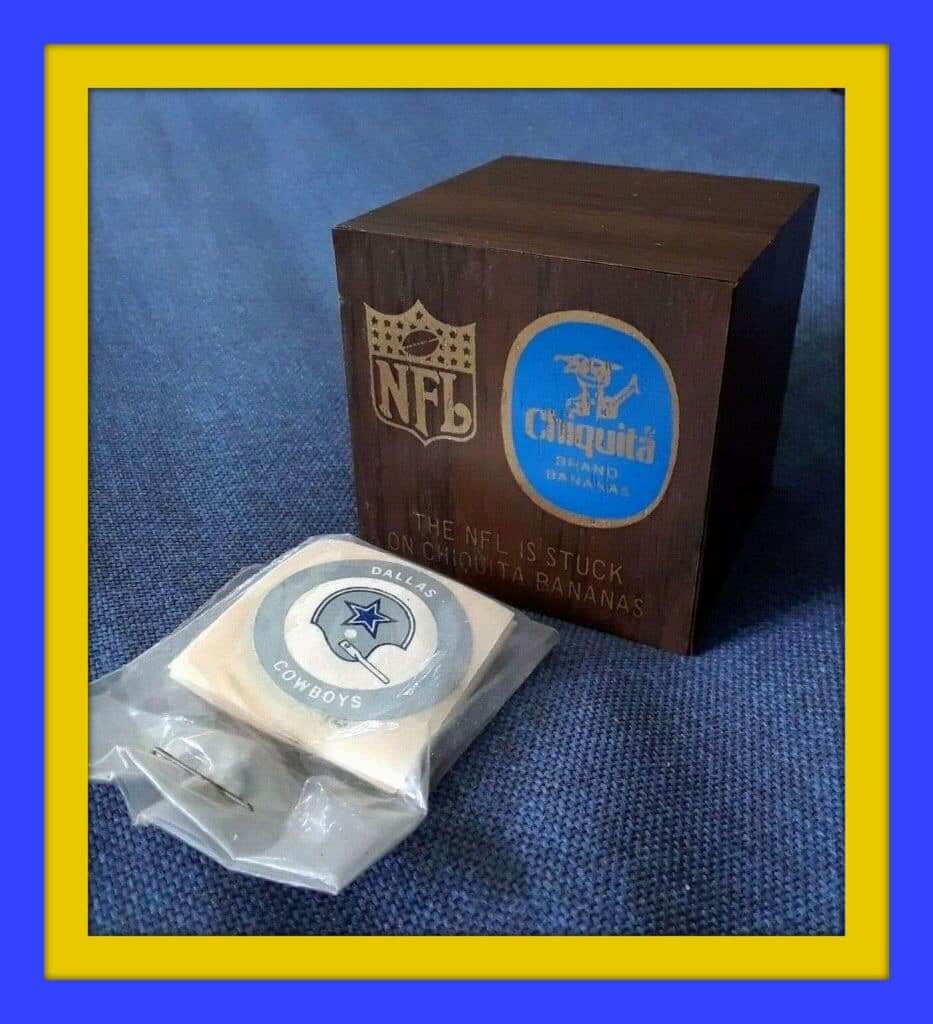 Click to enlarge
Collector's Corner
By Brinke Guthrie
Follow @brinkeguthrie
Wow — this is a Chiquita/NFL wooden puzzle kind of thing, complete with a set of the helmet stickers. I'd sure like to have it, but it's a bit cost-prohibitive. 
The interesting thing is, the seller's listing mentions that his dad worked on this promotion. He says:
I think this came out before or during the collaboration between Chiquita and the NFL. The stickers are cut individually to be inserted inside the Chinese puzzle box. The supermarket promotional stickers are all grouped together on a single folding sheet. There is also a similar set of stickers in the NFL promotional Chiquita football package.

My father's papers are in New York. Perhaps he has something about this, as he developed all the promotions. He worked at an ad agency called Trans World Display in NYC. Chiquita was one of his clients. Aside from the NFL stuff, they designed dozens of other promotions, including banana walkie-talkies, Chiquita tents, kites, boats, T-shirts, etc.
Interesting! I've only seen this item once before. In fact, we listed it in Collector's Corner on Oct. 29, 2013 — exactly six years ago today!
Now for the rest of this week's picks:
• Halloween is but two days away, so how about this Pittsburgh Steelers Terrible Towel — Halloween Edition. Non-Steelers fans may not know the history of the TT, which was created by Steelers announcer. (And if you want to get a jump on the year-end holidays, there's also a Christmas version.)
• This Tampa Bay Bucs decoupage plaque is just the kinda thing you'd see sold in Florida gas stations.
• Here's another 1970s wooden plaque, this one for the Dallas Cowboys.
• We've run this one before, but this 1970s NFL IHOP placemat is so cool, it's worth the repeat.
• The Reds put "New Riverfront Stadium" on their early-1970s ticket envelopes.
 
• This can of 1970s Phil Esposito Boot Wax shows some age, (notice the Bruins' "B" is blanked out) and the seller assumes the wax "is not usable at this point." Man, Espo put his name on everything back then!
• Here's a nice-looking 1970s Buffalo Bills thermal cup with their classic "Standing Buffalo" logo.
• Flower Power for this 1970s Cleveland Cavaliers key ring.
• You've probably seen helmet lamps for NFL teams, but have you ever seen one for the NFL Alumni Association? I hadn't until now!
• This auction is just for the boxes for mid-1960s NFL gumball helmet kits. Oddly, it includes a helmet for the Saints, who didn't come into existence until 1967, but also includes the Browns' phantom "CB" logo, which the team considered but ultimately discarded in 1965. Maybe the gumball folks kept using the "CB" logo for the Browns just so they'd have something to put on there.
• Here we have a 1970s NFL helmet bank that says, uh, "NFL Helmet Bank" on the side. Just so you know what it is.
Got an item to include on Collector's Corner? Send any submissions to uniwatchcollectorscorner@gmail.com.
• • • • •
• • • • •
Click to enlarge
IMPORTANT (and sad!) membership news: Yesterday afternoon I biked over to pick up our latest batch of membership card sheets from Rolling Press, the Brooklyn print shop been printing the sheets for us over the past decade or so. The owner, Eugene, handed me printouts and then said, "This is the last job we'll be doing for you, because we're closing the shop." (It turns out that journalism isn't the only industry that's been decimated by the internet.)
This was terrible, terrible news. The Rolling Press folks are consummate professionals who were always incredibly friendly and patient. I'm sure I was one of their smallest customers (running off a few sheets of membership cards every two or three weeks is not the kind of gig that keeps a business afloat), but they always treated me like a valued customer and were always happy to see me when I stopped by to pick up the latest batch of sheets. Their demise feels like a death in the Uni Watch family. Sigh.
So now I need a new place to get the cards printed. As I see it, I have a few options:
1. I could find a shop in my neighborhood (or at least within biking distance). When I moved to the new Uni Watch HQ last year, I tried a local print shop for another project, and the results were poor (plus the shop owner was insane), so that's out. But there are a few other nearby-ish shops, so I'll try them. I'm not optimistic, though — I've learned over the years that printing two or three sheets of something every couple of weeks, with a wide range of colors that have to be Just Right, is the sort of high-maintenance, low-volume, low-revenue job that makes most printers roll their eyes. But we'll see.
2. If I can't find a good shop within biking distance, I could find a good shop that's farther away. And frankly, once it's beyond biking distance, I don't care if it's in the Bronx or in Wyoming — it's all the same to me, because I'll be emailing the files to the shop and the shop will be shipping the printouts back to me in the mail.
So that raises a question: Do any of you out there run or work at a good print shop? Would you like to have a new, somewhat nitpicky customer who wants fairly fast turnarounds on a low-volume, low-revenue project? Would you like to plaster an "Official Printer of the Uni Watch Membership Program" sign in your shop window and on your website, so your customers can ask what the hell Uni Watch is? If the answer to all these questions is yes, let's talk.
3. I could buy a good ink-jet printer and print the cards myself at home. The Rolling Press people actually recommended that I go this route, but it makes me itchy. For one thing, ink-jet paper is only printable on one side, so I'd have to print the fronts and backs of the cards separately and then put them together when laminating them, which sounds dicey. Also, bringing a new hunk of technology into my small NYC apartment is not my fondest dream (or, I'm sure, the Tugboat Captain's), and I've noticed over the years that technology tends to break down at critical moments, and that I'm usually ill-equipped to fix it. In short: I'm not ruling out this option completely, but my general sense of things is that I'd rather not be in charge of the printing.
4. I don't actually see a fourth option. But if there's something I'm overlooking, let me know.
Whichever one of these options I end up pursuing, there will almost certainly be a bit of a delay in the membership program. We currently have about two dozen orders in the queue (the result of the huge spike in enrollments that has come in the wake of the latest unpleastantness — thank you!). If one of those orders is yours, don't worry — Scott Turner will still design your card, and it will still be added to the membership card gallery. But it might take a little bit longer than usual for me to get it printed, laminated, and mailed to you. Thanks for your patience.
• • • • •
• • • • •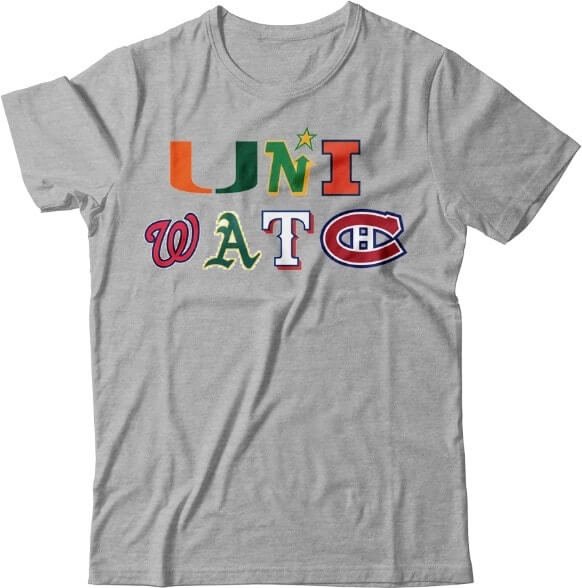 Hypothetical reminder: In case you missed it on Monday, I'm wondering — just hypothetically, mind you — how many people would have been interested in a T-shirt based on that Uni Watch ransom note design that I showed on the site last week.
Of course, these are all trademarked logos, so this mock-up is just for "What if?" illustrative purposes. I probably can't produce the actual shirt. Still, it would be fun to know how many people would have been interested — you know, just hypothetically — if such a shirt were possible in real life.
So: If you would have been hypothetically interested in this shirt, shoot me a note. Thanks.
Speaking of reminders, only a few days left to order yourself a Uni Watch Cycling Jersey with your choice of number and NOB. Full details here.
• • • • •
• • • • •
The Ticker
By Alex Hider

Baseball News:  The Brewers' new ball-in-glove logo — apparently the first concrete sign of a new redesign — has leaked. … A good sign for the Nats? Alex Burbidge notes that each of the last three teams to win the World Series clinched the championship while wearing softball tops. The Nats, of course, have been sticking with navy for most of the postseason. … Here's a good article about MLB's authentication process (WaPo link) for game-used memorabilia (from Tom Turner).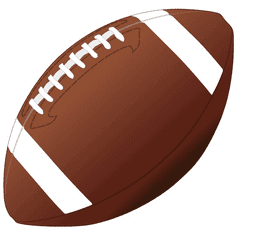 Football News: Former 49ers DT Spice Adams wore a custom jersey to Sunday's game with a NOB commemorating his iconic laugh (from Tyler Hicks). … An NCAA rule mandates that the 50-yard-line must be painted over the midfield logo (scroll through that whole thread to get the full scoop). However, a lot of schools tend to ignore that rule. Two notable rule-followers were Michigan and Ohio State — both of which painted their midfield logos over the 50 this weekend (from Zak). … It appears Utah State will be wearing black this weekend against BYU (from @akaggie). … Colorado State will wear their Colorado flag-themed alternates on Saturday (from several readers). … Arizona will apparently wear throwbacks this weekend to honor former coach Dick Tomey (from Rocky De La Rosa).

Hockey News: The Belleville Senators of the AHL will wear camo jerseys for military appreciation night on Nov. 21 (from David Foot). … Speaking of the AHL, the Ontario Reign will wear purple sweaters on Saturday for Hockey Fights Cancer night (from Jakob Fox).

Basketball News: Kentucky G Immanuel Quickley wore a large black belt while on the sidelines during the Wildcats' exhibition game Sunday night. It turns out it was a "vibrating belt" that was supposed to "keep him loose" while on the sideline (from Josh Hinton).

Soccer News: Celtic FC Women of the Scottish Women's Premier League have a new shorts advertiser (from Ed Żelaski). … LOTS of notes from Josh Hinton: It appears new alternate jerseys for Liga MX's Club America have leaked; an Arsenal fan wore a team-branded bathrobe to a game this weekend; La Liga has canceled the full use of the newly released winter ball due to poor visibility issues. It will only be used when absolutely necessary — when there is heavy rain or snow on the pitch; AC Milan's new third jersey will reportedly have a green houndstooth pattern; French club PSG's 2020-2021 home, away and third jerseys have reportedly leaked; Man City will reportedly have a mosaic sublimation on their 2020-2021 home kit.

Grab Bag: Ever wonder where the New York Marathon winners' wreaths come from? Apparently, they come from a Long Island backyard, and are grown by the wife of a former marathon winner (NYT link). … Here are the Rugby World Cup winners' medals (from Jeremy Brahm). … The Buffalo History Museum has a great collection of local sports unis through the years (from Mark Palczewski). … The country of Montenegro is holding an open design contest to pick its "country brand" (from James Gilbert). … Also from James: Check out this 1979 ad for a North Carolina Tar Heels van. … And one more from James: Here's the new logo for the Paralympics.
• • • • •
Tonight's World Series game may turn out to be the last MLB game of the year. Which means it may also be the last time we'll see an MLB game without a maker's mark on the front of the jersey (and if tonight isn't the last time, tomorrow night will be). Dang. — Paul