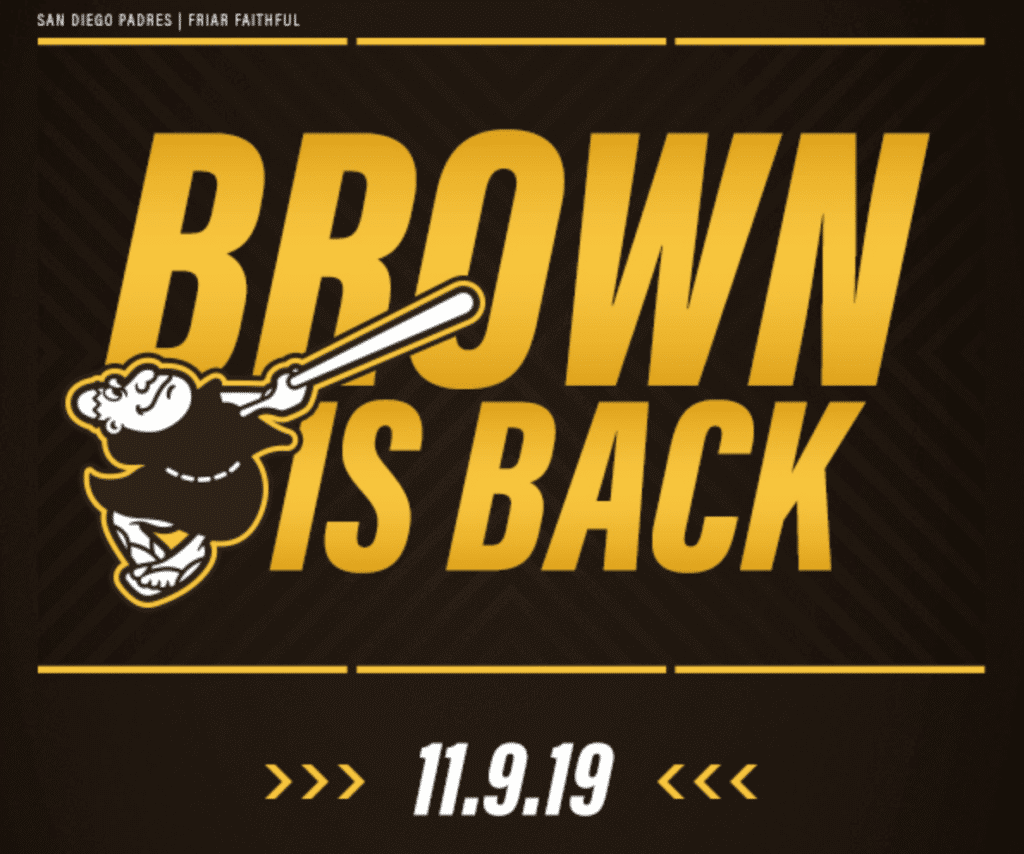 Last week I mentioned that the Padres had invited me to the unveiling of their new brown uniforms on Nov. 9, and I asked if any editors would like to send me to San Diego so I could cover the event for them. I had a few nibbles, but nothing came of them. So today, instead of asking editors, I'm asking all of you: Wanna send me to San Diego?
That's right — I'm asking you, the Uni Watch comm-uni-ty, if you'd like to cover my expenses so I can cover this unveiling.
I feel a little funny asking for this. But with the journalism industry continuing its death spiral, and with my having lost two jobs already this year (so far!), maybe crowd-funding is the best way to bankroll the next chapter of my career. I'm certainly willing to give it a try for this San Diego event.
So how much cash do I need? Here's a rough budget:
• Round-trip airfare: $400ish*
• Hotel (two nights): $270**
• Cab to/from JFK: $110
• Local transportation in San Diego: $100
• Meals, incidentals: $100
TOTAL = $980. Let's round it up to an even $1,000.
*The airfares tend to change daily, so this number is approximate
**I could lower this number by staying only one night, but I want to spend an extra day in San Diego to lay the groundwork for some additional Uni Watch stories. Also, flying coast-to-coast on back-to-back days is exhausting, so I'd prefer to have a buffer day.
So here's what I'm thinking:
• I want this to be a comm-uni-ty-based project. So for people who want to contribute to my travel fund, I'm setting a hard limit of $50 per person (and it's fine to contribute less than that). Instead of having one or two sugar daddies shouldering most of the load, I'd rather spread the costs among a larger group of people, which I think will help make this feel more like a shared project that we all have a stake in.
• I have a plus-one for this event. So if I can raise enough cash to make the trip, I will raffle off my plus-one spot, and the raffle winner can join me at the unveiling. Seems like a good way to give back to the comm-uni-ty.
• If the donations fall short of the full amount, I'll refund everyone's donations and chalk it up to a failed experiment.
You probably have some questions. Allow me to anticipate some of them:
Are you so broke that you can't afford a quick trip to San Diego?
No, I'm not broke. But I just lost my SI gig and can't justify dropping a thousand bucks to write a blog entry. Moreover, journalists can't be expected to just hop on a plane at their own expense every time there's a story to cover. I was hoping a magazine or website would hire me for this one (in part so they'd pay my travel expenses and also so they'd pay me for the resulting article), but that didn't work out, so here we are.
That's quite a sense of entitlement you have, expecting your readers to pay your freight!
I don't entirely disagree with this sentiment. Like I said, I feel a bit funny asking. But as I just explained, it's neither personally nor professionally viable for me to do this on my own, and no publication has stepped up, so I'm asking you folks instead. I agree it's a bit unorthodox, but I think it's a worthwhile experiment.
The Padres invited you, so why not see if they'll pay to fly you out?
Even if they wanted to do that (which I don't think they do), I can't accept that kind of freebie from the team whose event I'd be covering, because that would be a blatant conflict of interest. I know, I know — journalistic ethics are so inconvenient!
I can save you some money by letting you crash at my house in San Diego, so you won't have to stay at a hotel!
I appreciate the offer, truly, but staying at someone's house becomes a sort of social obligation. I'd have to be "on" all the time, have to make small talk, etc. I'd rather have some privacy, some space to decompress on my own, some time to sit down and work if I need to. Thanks for understanding.
Instead of donating cash, I'd consider donating frequent flier miles or hotel points. Can we do that?
Yes, we can talk about that. Contact me.
Generally speaking, I'm willing to help support the work that you do. But my resources are limited — is this trip really the best use of those resources? What exactly will I be getting if I help send you to San Diego?
Those are totally fair questions. A few thoughts:
• The unveiling is taking place on a Saturday. If I don't go to cover it in person, Phil will write about it for his Sunday entry that weekend. But if you send me to San Diego, I will take over that Sunday's lede and present a detailed review of the uniforms, the event, the scene, and so on.
• Honestly, it's not often that I feel the need to attend an unveiling in person. I can usually do just as good a job (and so can Phil) by watching the live stream, looking at internet photos, and so on. But the Padres going back to brown feels like a big deal. Fans (including many people reading this) have been clamoring for it for ages. I feel like I should be there, and I'd like to think that you'd want me to be there too.
• I don't think I've ever covered an unveiling event in person for the blog. In the past, I've always covered such things for ESPN or SI, so I had to do it in a way that made sense for those platforms. But covering an unveiling for the blog will give me the freedom to go into a bit more depth, maybe provide things I haven't provided before (a video interview with a team official or a player, say), and so on. Basically, if you send me to this event, I'll do my best to give you your money's worth.
Of course, if you don't care about the Padres (or about baseball, or about over-hyped unveiling events), you might not see a good reason to contribute. I can absolutely respect that point of view. I'm just askin'! The choice is ultimately up to you, and I'll respect the comm-uni-ty's wishes.
Will the raffle to be your plus-one be limited to people who contribute toward your expenses?
No, it will be open to anyone. For one thing, I can only do "No purchase required" raffles (anything else would be the equivalent of selling raffle tickets, which would mean I'd be promoting gambling, which would get me in trouble!). Also, I like the idea of making the plus-one available to anyone, regardless of financial means. I would prefer that only true Padres fans enter the raffle, because they're the ones who should be at the unveiling, but of course there's no way for me to enforce that rule, so the raffle will be open to all.
If you go to San Diego, will you have a Uni Watch party/gathering while you're there?
If my schedule allows, yes. It would probably be on the evening of Sunday, Nov. 10.
———
I think that's everything. So! If you'd like to donate to the Uni Watch San Diego Unveiling Fund, please send your contributions via Venmo (use @Paul-Lukas-2 as the payee), Zelle (plukas64@gmail.com; please include your email address in the "Memo" field, in case I need to refund your contribution), Cash App (plukas64@gmail.com), or Apple Pay (email me to get the number). Remember, donations are capped at $50 per person. If we hit the funding target, I'll post an update here in this paragraph, and I'll run the plus-one raffle either next week or the week after.
Update: Barely two hours after I posted this morning's entry, the goal has been already been met! No more donations, please. I'll buy the plane ticket and book the hotel later today, and I'll raffle off the plus-one either next week or the week after. THANK YOU for making this such a successful experiment!
(As an aside: While I'm not happy about having lost my job, it continues to look like I may have dodged a bullet leaving SI, at least judging by the latest devastating article about their new owners. What a shitshow.)
• • • • •
• • • • •

ITEM! NBA Preview update: The NBA regular season tips off next Tuesday, which means it's almost time for my annual NBA Season Preview. I'm happy to announce that it will appear on InsideHook, a men's lifestyle site much like GQ or Esquire.
I've written for this type of publication before, but not in a Uni Watch capacity, so this is a different sort of venue for one of my season previews. As it happens, InsideHook did a nice profile of me back in May, so we were on each other's radars. After the latest unpleasantness, they got in touch and proposed a partnership, and I've been impressed what I've seen and heard in our initial interactions. I'm also intrigued by the possibilities, since it could bring Uni Watch to whole new audience.
Anyway: Bottom line is that the NBA Preview will be out on Monday, whoop-whoop!
• • • • •
• • • • •
ITEM! Cycling jersey redux: If you missed out on the Uni Watch Cycling Jersey, which we offered for a two-week window in late August (and which looks mighty sharp on the people who purchased it), you're in luck — we're taking another round of orders from now through Nov. 1.
Just like before, you can choose your number and NOB for a custom look. The finished product should be ready to ship in early December — just in time for the holidays.
Again, the cycling jersey is available here. You know what to do.
(My continued thanks to Nathan Haas of Adelph Wear for making this product possible.)
• • • • •
• • • • •
Click to enlarge
"My son, it's all left up to you": What have we here? It's a jacket owned by Seattle-based Uni Watch reader Jason Massman, with our chain-stitched logo on the front and a 20th-anniversary patch on the sleeve. He had them sewn on by a local dry cleaner and then Scotchguarded them himself to protect against the wet Seattle weather.
Even better, the patches are obscuring some corporate logo creep. The chest patch, says Jason, is covering an Amazon logo, while the sleeve patch is covering "a maker's mark of undetermined origin." Nice.
If you want to get a chain-stitched patch like the one on the chest of Jason's jacket, here's how to order one. As for the anniversary patch, I've finally run out of those — sold out!
• • • • •
• • • • •
Press pin registry reminder: In case you missed it on Wednesday, I've created a spreadsheet registry for the Uni Watch press pins. The pins were produced in a numbered edition of 200, so the registry allows people to see who got which pin number, and also allows people to trade if they want (so if you're a fan of a particular number, you can try to trade with the person who has that numbered pin).
For additional details, look here.
(Big thanks to those of you who've been entering your info on the registry page, which is filling in nicely).
• • • • •
• • • • •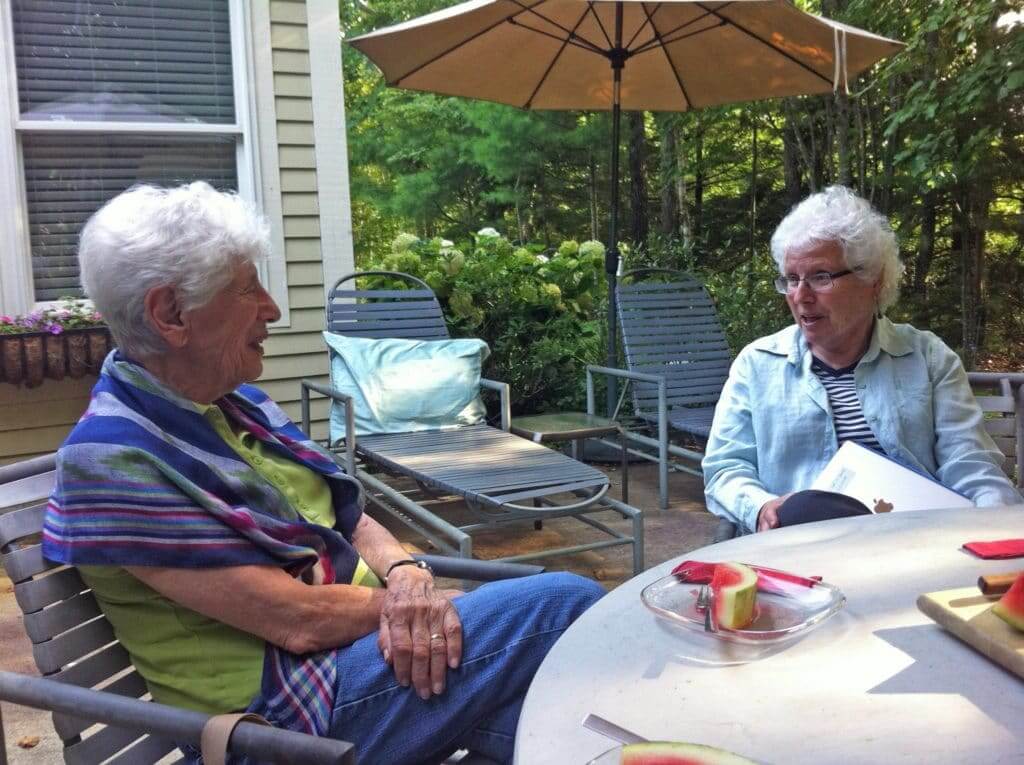 Being old is hard: My mother and her friend Marcia met while walking to first grade in 1930. They quickly became best friends and remained that way for nearly nine decades. When I was growing up, Marcia and her husband were a big presence in our family's life — lots of dinners, weekends, etc. I didn't always enjoy those times (it was hard being the only kid around a bunch of grown-ups, and Marcia and her husband didn't have a TV, drank skim milk, etc. — like that), but I was always impressed by the special friendship between Mom and Marcia, and how far back it went.
For the past 20 years or so, Marcia has lived in Maine. She and Mom could no longer travel on their own, so in 2014 I drove Mom up to Maine so they could see each other for what we all realized would probably be the last time, although nobody said that out loud. It was a great visit. That's Mom on the left and Marcia on the right in the photo shown above. They were both 90 years old at the time. In the years since, they've continued to talk on the phone at least once a week.
Yesterday Mom got a call from Marcia's daughter, informing her that Marcia had passed away. It's a big blow to Mom, who's lost so many friends over the years. Oddly, it also feels like a blow to me — not because I was particularly close to Marcia myself, but because it feels like an omnipresent element in the culture of our family has been stripped away. R.I.P.
• • • • •
• • • • •
The Ticker
By Anthony Matthew Emerson

Baseball News: The Washington Post's score bug for last night's ALCS game featured a very out-of-date Astros logo (from Joel Mendelson). … Also posted in the pro football section: the first renderings of how the Ballpark in Arlington will be reconfigured for XFL football have been released (from James Gilbert). … The CPL's Savannah Bananas are having a public vote on which of three fan-designed uniforms the team will wear (from Jameson Adams and Kyle Dawson). … The Nashua Silver Knights of the FCBL have unveiled their 10th-season logo (from John Cerone).

Pro Football News: Broncos QB Joe Flacco didn't have the NFL 100 patch on his jersey during last night's game against Kansas City (from many, many readers). … Washington has been practicing in helmets with grey facemasks and no stripes, meaning they'll be wearing throwbacks this weekend (from Stu Ellis, Jr.). … The Ravens have implied that they'll wear all-white for Sunday's game against the Seahawks (from Andrew Cosentino). … Also from Andrew: Recently acquired Ravens CB Marcus Peters will wear No. 30. … Cross-posted from the baseball section: The first renderings of how the Ballpark in Arlington will be reconfigured for XFL football have been released (from James Gilbert).

College and High School Football News: Both Duke and Virginia are replacing their regular helmet logos with the CFB150 logo for tomorrow's game. Duke will also be going BFBS (thanks to Jamie and everyone else who sent this in). … Head coach James Franklin has explained why Penn State doesn't wear white at home for their "whiteout" games: because the NCAA rules won't allow it without a typically NCAA bureaucratic process (from William F. Yurasko). … Florida will go orange-white-white tomorrow. … Utah will go red-black-red tomorrow (from Aron LoCoco and @B_Kenny1). … Louisville is going red-red-white this weekend (from M. Brinston Berry). … UNLV is going red-white-black tomorrow. … New Mexico is going grey-white-white at Wyoming. … UNC is going mono-white (from James Gilbert and Andrew Cosentino). …  Air Force will be wearing these awesome "C-17" unis tomorrow against Hawaii (from Kade Witten and Chad Lehman). … The following are also all from Chad: Rutgers is wearing their long-sleeved unis this weekend. … West Virginia is going white-white-grey. … White-red-white for Texas Tech. … Boise State is going blue-white-orange against BYU. … Northwestern is wearing their graphite, Gothic-lettered unis tonight. … South Carolina are wearing their throwback unis with standard helmet, so the helmet and pants stripes don't match (from @willchitty4). … Even the jersey worn by Georgia's mascot pooch, Uga, has a CFB150 patch (from @BoilerUniforms). … Grand Prairie, Texas, fallen officer AJ Castaneda will be honored by Arlington Martin High's football team, for which Castaneda played. Arlington Martin will wear special uniforms and coaches will wear corresponding polos on the sidelines. The jerseys will be auctioned off to support Castaneda's special-needs son's education (from Chris Mycoskie).

Hockey News: Here's a nice video of the United Center ice getting painted for the Blackhawks (from Jeff Wilk, who still calls it Chicago Stadium). … The AHL's Stockton Heat has unveiled their new third sweater (from Jack Wade). … A Devils fan was spotted wearing a post-divorce NOB.

College Hoops News: New unis for Alabama men (from Austin Perry). … New unis for Northern Kentucky men (from Bill Mason). … New court for Washington State (from Brett Craycraft).

Soccer News: EFL Championship side Leeds United have unveiled their centenary shirt, and it's a beauty (from Ed Żelaski). … The latest episode great design podcast 99 Percent Invisible has a detailed look at how FIFA's backpass rule changed the face of soccer. … Tottenham Hotspur's stadium has been illuminated pink for breast cancer awareness (thanks, Jamie). …

Grab Bag: NASA has unveiled the prototypes for the "next generation of spacesuit" (from Billy Theo and Chris Dougherty). … New uniforms for Italian men's club volleyball team Modena Volley (from Jeremy Brahm).
• • • • •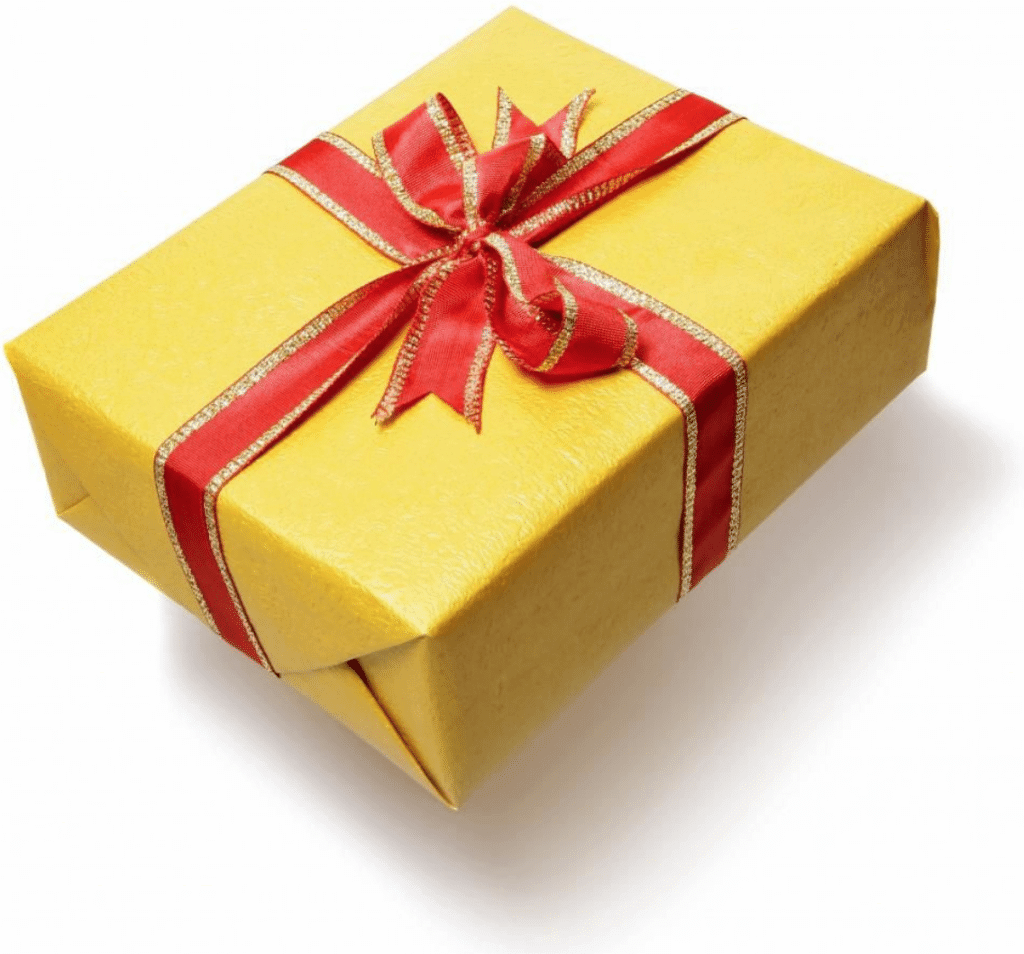 One last thing: I'm about to start working on my annual Uni Watch Holiday Gift Guide. If you know of a good uni- or logo-themed product or company — or if you produce such a product or run such a company yourself — please let me know. Thanks in advance, and have a great weekend. — Paul