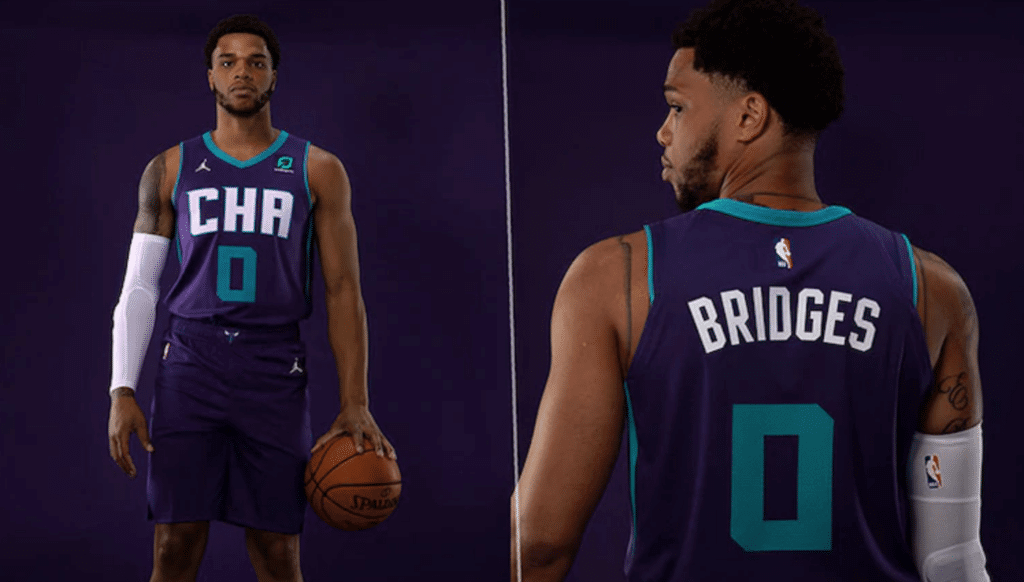 Click to enlarge
Happy October! NBA teams are holding their preseason Media Day events, and several of them have used those events to unveil their new "Statement" alternates. I had photos of the Magic's new alternate yesterday, and today we have two more teams to consider.
Let's start with the Hornets, whose new alternate is shown above. In this case, I'd say the "statement" is something along the lines of, "We're pretty damn lazy," since the design is just a slight variation on the team's existing purple uniform.
The use of "CHA" on the chest feels tired and rote. CHA isn't even Charlotte's official airport code — it's Chattanooga's! (Charlotte's is CLT.) The team's party line is that the three letters are "the league's official designation for Charlotte."
On the plus side, there's this: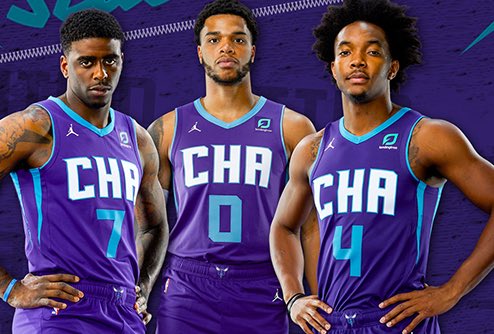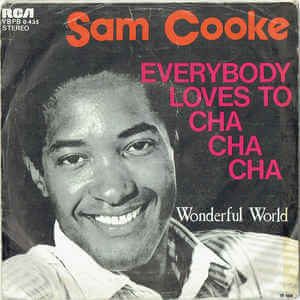 I'll say this much: If this uniform results in the Hornets playing a lot of Sam Cooke at their arena, that will justify the uni's existence right there.
There's some additional info here.
Next up are the Mavericks, who've chosen to release their new alternate via an embarrassing video that attempts to compare the new design to a bespoke suit ordered at a tailor's shop. Try not to laugh too hard:
As with most of the Mavs' attire, this is nothing to complain about and nothing to get excited about. What is it about this franchise that keeps resulting in such boring, characterless designs? They're like the Padres of the NBA.
• • • • •
• • • • •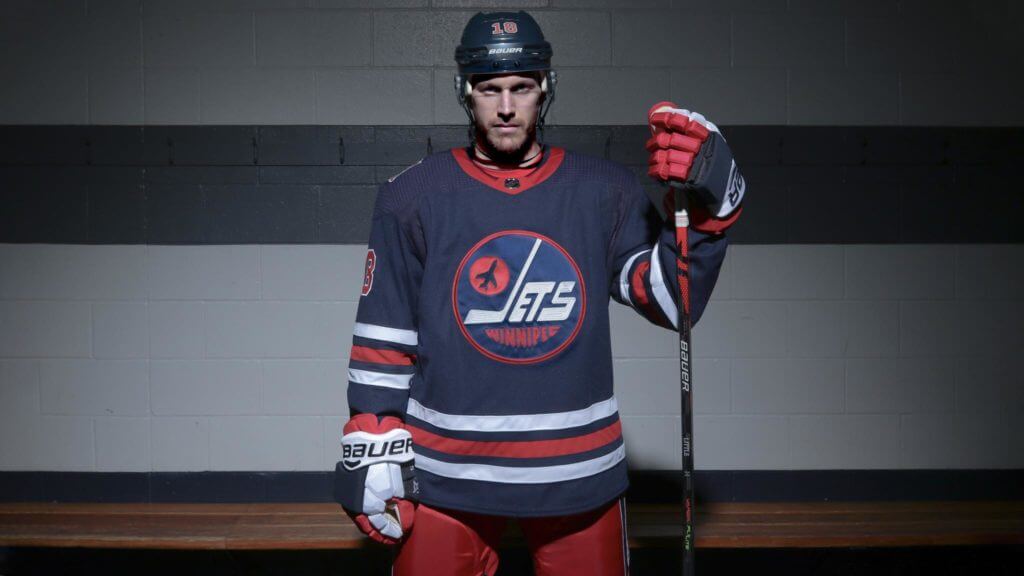 NHL Season Preview reminder: In case you missed it on Monday, the annual Uni Watch NHL Season Preview, with all of the new uniforms, logos, and center ice designs for 2019-20 (including the Jets' Heritage Classic throwback, shown above), is now available for your enjoyment.
• • • • •
• • • • •
Annals of Illiteracy, continued: What's worse than an apostrophe catastrophe? How about the Sacramento Kings' new 35th-season logo (which you can click to enlarge, by the way), which has two apostrophe catastrophes!
It doesn't help that the logo is utterly uninspired. "Proud Past, Proud Future" — did they have the intern write that or what? It's not yet clear whether this will be worn as a patch. NBA uni/logo hawk Conrad Burry spotted it on this page.
As bad as this is, it doesn't approach the NBA record for apostrophe futility, which was set by the Lakers back around 2012 (click to enlarge):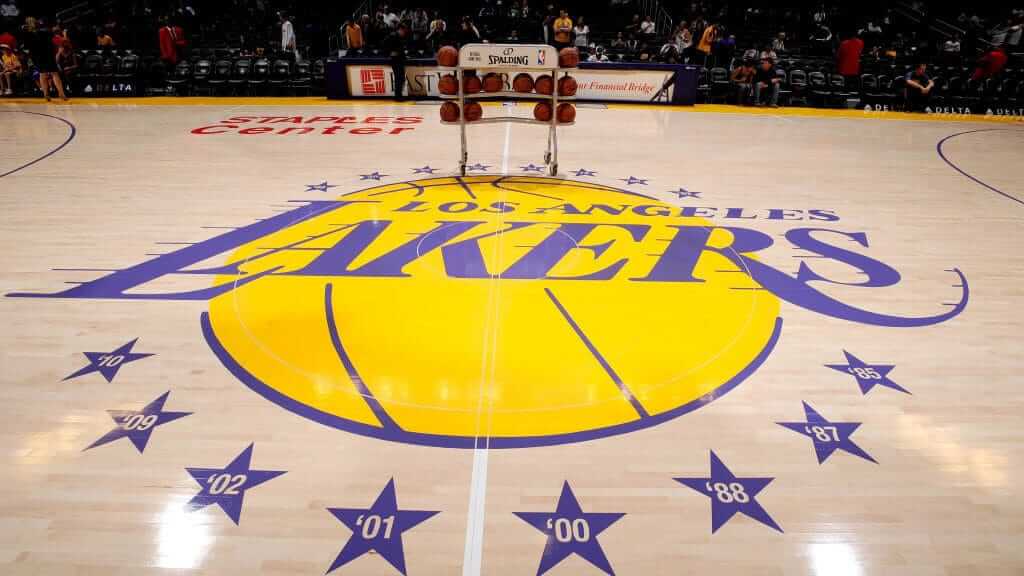 Fortunately, they later fixed it. That seems unlikely to happen with the Kings' logo, since it's only going to be used for one season. Sigh.
• • • • •
• • • • •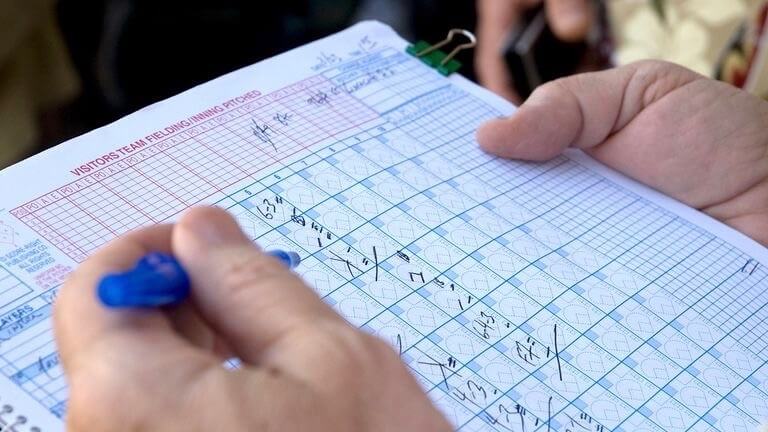 Official scorer update: In scoring decision reversals for this season.
Reader Aaron Wiens was particularly intrigued by that page. " I spent a whole afternoon looking over it," he says. "I ran a spreadsheet to see which teams' scorekeepers had the most changes made (home team) and which team had the most changes made during the season (both home and away). I started to see if I could tell which team 'complained' the most, but as you stated, it was difficult sometimes to say who benefited from a scoring change (i.e., changing hit to error would hurt the fielder and the batter but help the pitcher, and vice versa)."
Intriguing! If you want to see Aaron's spreadsheet, I've uploaded it here.
• • • • •
• • • • •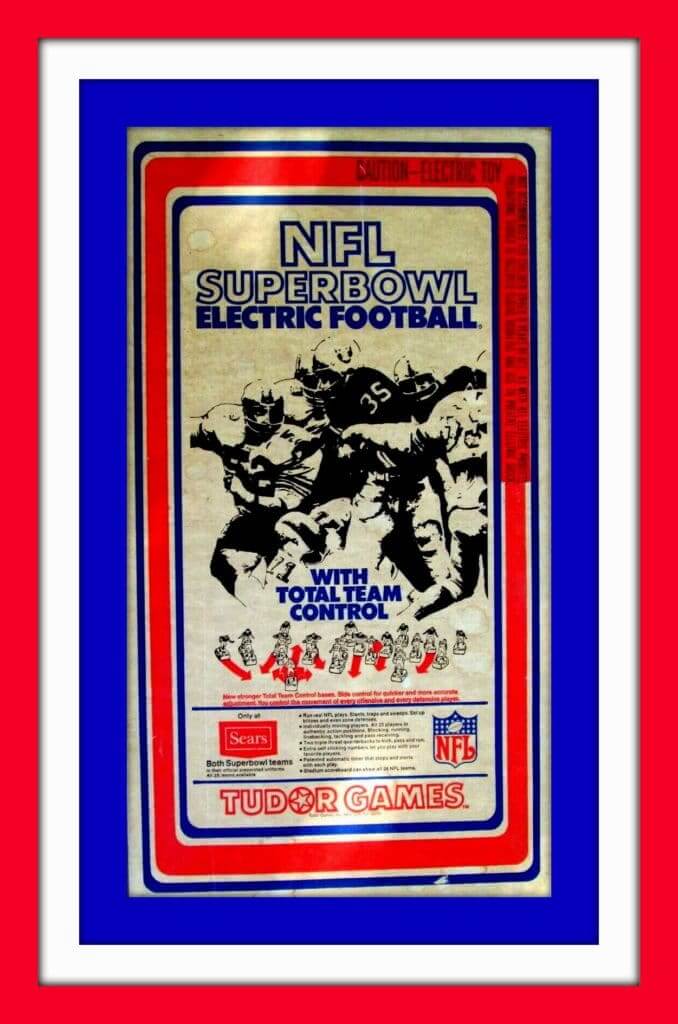 Collector's Corner
By Brinke Guthrie
Follow @brinkeguthrie    
No doubt that's the late Oakland Rayduhz running back Hewritt Dixon on the cover of this NFL Superbowl Electric Football game (with Total Team Control!). I love the breathless ad copy on the box. "Run real NFL plays. Slants, traps, and sweeps. Set up blitzes and even zone defenses!" Who were they trying to kid? Every time you'd turn on the game, all 22 guys would immediately head to one corner of the end zone and crash into one another! I never turned the thing on because the buzz was deafening; I'd just move the players around manually — worked for me!  (Of course, here is the definitive website for such things; Earl Shore's The Unforgettable Buzz.)
 
Now for the rest of this week's picks:
• Speaking of the Super Bowl (two words, despite what Tudor printed on their box), Len Dawson led the Chiefs to a huge win in Super Bowl IV, and while I don't think he went to Disneyland to celebrate, I do know he ended up as a puzzle in a can. With the indignity of a blank helmet, no less!
• Twenty-six teams (not 25, as the seller states) are shown on this 1970s MLB beach towel.
• Some terrific photos in this 1940s MLB scrapbook. [Love this one. One of the most intriguing CC items in ages! — PL]
• A few scratches toward the top of the buffalo's head on this vintage red Buffalo Bills helmet plaque, but otherwise it's in nice shape.
• Ever seen one of these? This is a scale-model kit of Wrigley Field, made of "pre-cut paper parts." It's a "precise replica of America's favorite ballpark."
• Here's an entire set of 28 NFL ice cream cup helmets. (Seller says it'll cost ya extra if you want the display board.)
• You could also get NFL cups from Slurpee. Here's a set of 24, including the Giants' "disco" logo.
• Has to be a New York Met as the featured player on this 1980s kids' sleeping bag, complete with all then-current MLB team logos.
• The seller of this Vikings T shirt says it's 1970s, but the hang tag suggests it's more recent (that's the mass market "Team NFL" tag, I believe). Always liked that Vikings font. I had some Sears (natch) pajamas with those logos. 
•  This jacket was created for a former member of the Steelers. Naturally, it's black and yellow with "NFL Alumni — Pittsburgh Steelers" on the front. And here's another Steelers jacket, this one a yellow youth size rain jacket.
•  Mobil Gas was your sponsor for this 1970s NFL Pat Patriot glass.
Got an item to include on Collector's Corner? Send any submissions to uniwatchcollectorscorner@gmail.com.
• • • • •
• • • • •
Show and tell: One of the nice things about getting rid of your old stuff, as I did with a lot of my collectibles when I moved last summer, is that it makes room for new stuff.
Case in point: I've always loved mid-century retail sales displays, and I used to have a ton of them scattered around the old Uni Watch HQ, but I sold off most of them when moving to the new digs. But I just scored this great door latch display on eBay, and I love everything about it. The lettering, the very satisfying action on the handle, the even more satisfying action on the latch — all first-rate. And only 15 bucks! An excellent acquisition.
And get this: They still make it!
• • • • •
• • • • •
The Ticker
By Paul

Baseball News: The Mets are being sued by a fan who claims to have been nearly blinded by a T-shirt cannon (from Shannon Shark). … After Sunday's season finale, Red Sox INF/OF Brock Holt gave away all of his bats to fans outside Fenway Park (from ,@ohhhsourry). … With the regular season now completed, here's a list of MLB teams that assigned the same uni number to three different players in 2019. … The Rangers wore blue jerseys on Sunday, but SS Elvis Andrus and OF Shin-Soo Choo changed to white jerseys after the game for a ceremony saluting the Ballpark at Arlington's all-time greatest players. As you can see there, the players all wore period-appropriate white jerseys (from Chris Mycoskie). … There's a guy in Philadelphia who got a Phillie Phanatic tattoo on his belly, and the tattoo artist made creative if somewhat disturbing use of his navel (from Jeffrey Jacobs).

NFL News: A couple got married the other day while wearing Eagles jerseys. … Saints LB Demario Davis was fined $7K for wearing a "Man of God" headband on the field two Sundays ago — a violation of the league's policy against wearing personal messages. … Here's a video showing how the 49ers made the Terrell Owens statue for the Niners Hall of Fame (from Logan Irons). … Pearl Jam's Eddie Vedder reportedly used this Steelers-themed guitar pick. The problem, of course, is that it should be blank on one side.

College and High School Football News: Blackout game this Saturday for Ohio State (thanks, Phil). … Newport Harbor High in California has really small TV numbers. … Kansas State going with a new look this week: white helmets and white pants. "Not Snyder's program anymore," says RD Cramer.

Hockey News: Get ready to hear a lot of Green Day this hockey season. Boooo — the NHL should've inked a deal with the Zambonis instead! … The new AHL franchise in Palm Springs has a very basic placeholder logo (from many readers). … New white unis for the Ottawa 67s. Here are the old ones for comparison (from Wade Heidt). … The Blues have released photos and info for their championship rings (from Alan Kreit). … Speaking of the Blues: St. Louis police officers who worked during the Blues' Stanley Cup run will wear Blues/Cup-themed badges throughout the 2019-20 season, which seems like a very inappropriate use of a private business's logo. On the plus side, at least there's no Enterprise logo (from many readers). … Lots of specialty uniforms on tap this season for the AHL's Milwaukee Admirals (from Dylan Dooley). … New jerseys uniforms for the NWHL's Connecticut Whale. … More hints that the Seattle NHL team's colors may be red and black (from Ted Taylor).

Basketball News: One of Magic Johnson's Dream Team jerseys is up for auction. … As usual, you can keep up with the latest news in NBA uni numbers by following Etienne Catalan's Twitter feed. … Here is the Jazz's 2019-20 jersey schedule uniform schedule (thanks, Phil). … Ditto for the Thunder. … And here are the throwback uni dates for each team that has throwbacks in its wardrobe. … Looks like the Spurs are back to using the Spur logo on their shorts. They had been using the circular "SA" logo (good spot by Roger Barajas). … New uniforms for UMass.

Soccer News: Toulouse has a blackout shirt to honor the 10th anniversary of the death of Brice Taton. "Brice was mudered by Partizan Belgrade fans while supporting Toulouse in a Europa League match," explains Ed Zelaski. … As usual, you can keep up with lots of other news by following Josh Hinton's Twitter feed.

Grab Bag: As of today, the U.S. Navy's "blueberry" camouflage uniform is being mothballed. … Seattle fans have voted on the greatest sports uniform in the city's history, and I have to say that I agree with their choice (thanks, Phil). … Oooh, check out some of the great posters at the Sports Museum in Gothenburg, Sweden. … This weekend will mark the launch of the new International Swim League, the first professional swimming league. Here are the teams and their logos (from Steve Hartsock). … Here's rugby union player Ardie Savea explaining why he wears goggles on the field.
• • • • •
[adrotate group="2″]
• • • • •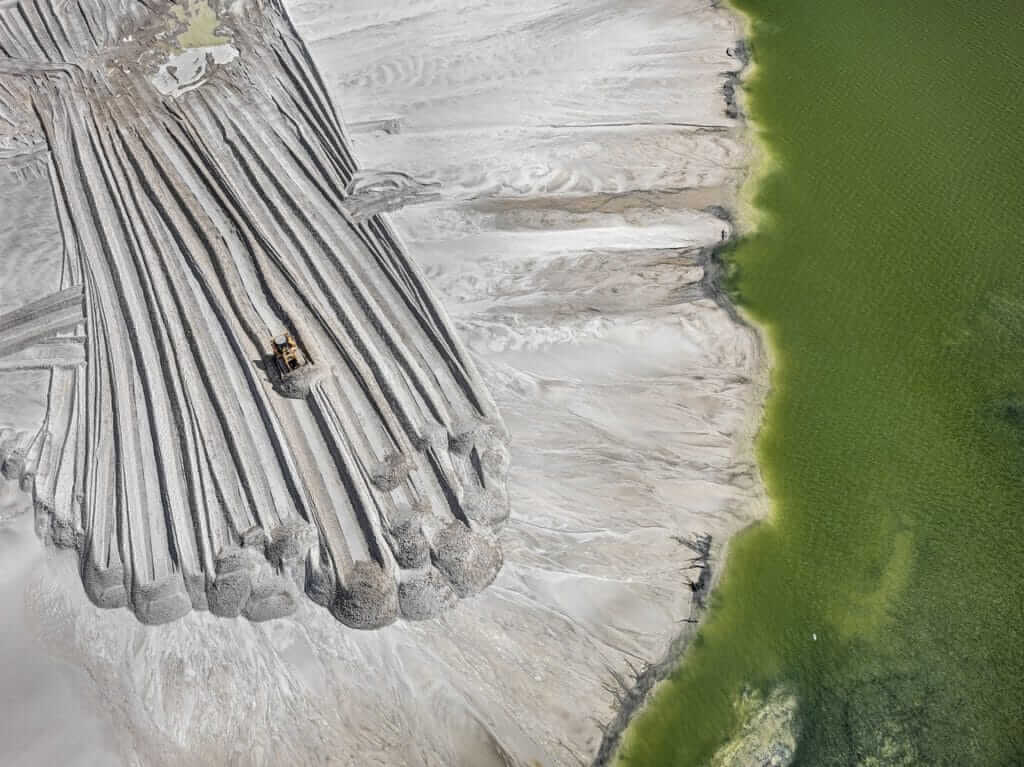 Click to enlarge

What Paul did last night: The Tugboat Captain has grad school on Monday nights, there are no more Mets games, and PBS's country music series is finished, so last night I went to Manhattan to see Anthropocene: The Human Epoch, an awkwardly titled but visually stunning documentary about how humans have reshaped the surface of the Earth.
There's incredible footage of coal mines, lithium evaporation ponds, marble quarries, rail tunnels, landfills, and a lot more — jaw-dropping stuff.
Whether you view all of this as a disturbingly unsustainable assault on the planet, a proper use of the resources God put here for us to use, or something in between, it's a super-powerful movie. Recommended! Here's the trailer: