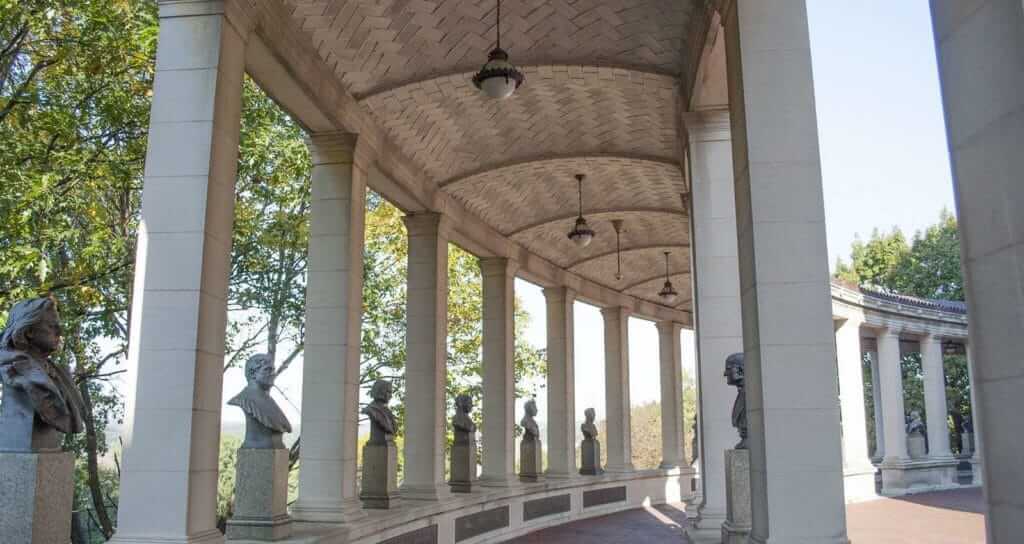 For all phtoos, click to enlarge
In 1973, when I was nine years old, my family drove upstate to check out the Baseball Hall of Fame. It was my first of many visits to Cooperstown, and also my first visit to any kind of Hall of Fame.
Since then, I've been to many Halls of Fame — Pro Football, Hockey, U.S. Hockey, Boxing, Softball, Tennis, Freshwater Fishing, Rock & Roll, Rhode Island Music, and probably a bunch of that I'm forgetting. And that's just scratching the surface on all the Halls that are out there.
We tend to take the existence of all these Halls of Fame for granted. Creating a Hall for a given sport or profession just seems like a natural thing to do, right? (As you may recall, I even toyed recently with the idea of creating a Uni Watch Hall of Fame.) But every phenomenon had to start somewhere. In the case of Halls of Fame, at least in America, they started in the Bronx more than 100 years ago, with the Hall of Fame for Great Americans, which was dedicated in 1901 on what was then the Bronx campus of NYU. In 1973, the city acquired the campus and turned it into Bronx Community College, where the Hall — essentially a colonnade lined with busts of the inductees and accompanying plaques — still exists.
The Hall is largely forgotten today, but it was a big deal at one time. It was designed by the architect Stanford White (himself arguably Hall-worthy) and was the first pantheon of its type in the United States. In The Wizard of Oz, when the Munchkins sing to Dorothy, "We will glorify your name, you will be a bust, be a bust, be a bust, in the Hall of Fame," this is almost certainly the Hall they were referring to, because it was America's only Hall of Fame of any note at the time the movie was being made. (By the time the movie was released in August of 1939, the Baseball Hall of Fame had opened a few months earlier.)
A friend and I visited the Hall nearly 20 years ago, but I hadn't been back since then, and the Tugboat Captain had never been there. So when we heard that the Bronx Borough Historian — an octogenarian named Lloyd Ultan — would be leading a tour of the Hall last Saturday, we grabbed our friend Jay and headed up there.
That's Lloyd. Not a great tour guide, honestly, but he was useful for filling in some historical details, especially because the Hall doesn't provide much background info on its members. Each bust is accompanied by a plaque that includes a quotation from (or occasionally about) the inductee, but you're apparently supposed to know what the inductee was famous for. This is fine for inductees like Abraham Lincoln and Susan B. Anthony, but it might be nice to have some more context for "famous" honorees like Louis Agassiz (a biologist) and Maria Mitchell (an astronomer).
Oddly, Alexander Hamilton's bust has a very Roman feel to it. Lloyd explained that it was a copy of a bust done in the 1790s (several of the Hall's busts are copies) by an Italian sculptor named Giuseppe Ceracchi who favored the Neoclassic style and convinced Hamilton to sit for him. According to Lloyd, this is the only depiction of Hamilton that was done from life, so it's the supposedly the most accurate record of what he actually looked like: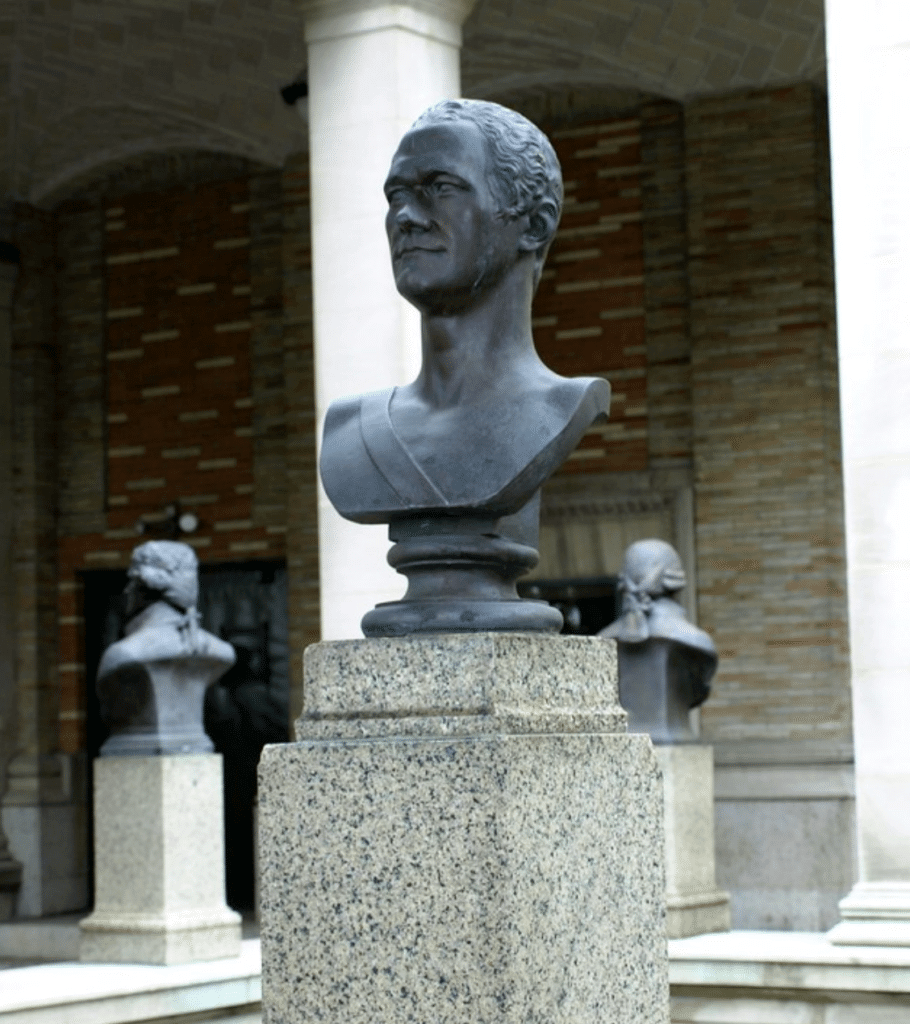 As you'd expect for an institution that opened in the early 1900s, the roster leans heavily toward white men. There's a smattering of women, but only two African-Americans (George Washington Carver and Booker T. Washington). Interestingly, there are no athletes, although Babe Ruth and Lou Gehrig are among those who were nominated but not inducted.
In 2017, after the neo-Nazi rallies in Charlottesville, Va., New York Gov. Andrew Cuomo had the busts and plaques for Confederate generals Robert E. Lee and Stonewall Jackson removed. The now-empty pedestals that their busts stood upon are still there, at least for now:
It's not clear if those two empty spaces will ever be filled. Money and interest dried up about 50 years ago, so no new busts have been added since 1970, and there have been no new inductees since 1976. (Busts for the three inductees from that year have never been executed.) Still, the Hall remains — not quite a museum, maybe more of a museum piece. Definitely worth checking out.
———
Afterward, we walked about 20 minutes to a West African restaurant, where we had fish stew, fried turkey tails (!), braised goat, fried yucca, and spicy rice. Then it was down to my favorite Bronx bar, Glacken's, where, as usual, there was a pretty intense dominoes scene:
While we were there, I saw this guy wearing a T-shirt for a Pennsylvania kielbasa shop, with a clever baseball-style chest script that I really liked:
And then we headed home. All in all, a very good day. Sometimes I really fucking love New York.
• • • • •
• • • • •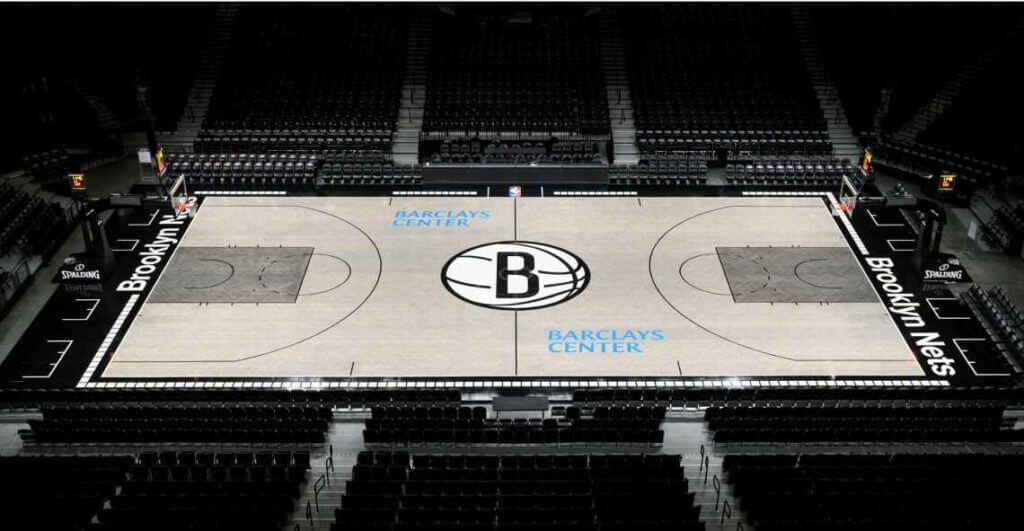 Click to enlarge
Meanwhile, back in Brooklyn…: The Nets yesterday unveiled what is believed to be the first grey court design in NBA history. My former ESPN colleague Zach Lowe, who is an absolute nut about court designs, has a great article with the full backstory on how the design was developed. Highly recommended.
Zach's story also includes this previously undisclosed tidbit:
The court will be a little splashier on nights when Brooklyn wears The Notorious B.I.G.-inspired city edition jerseys with multicolored trim meant to mimic the legendary rapper's Coogi sweaters. (Those jerseys will be white this season, the team says. They were black last season.)
So that's a bit of uni news to add to the NBA hopper.
• • • • •
• • • • •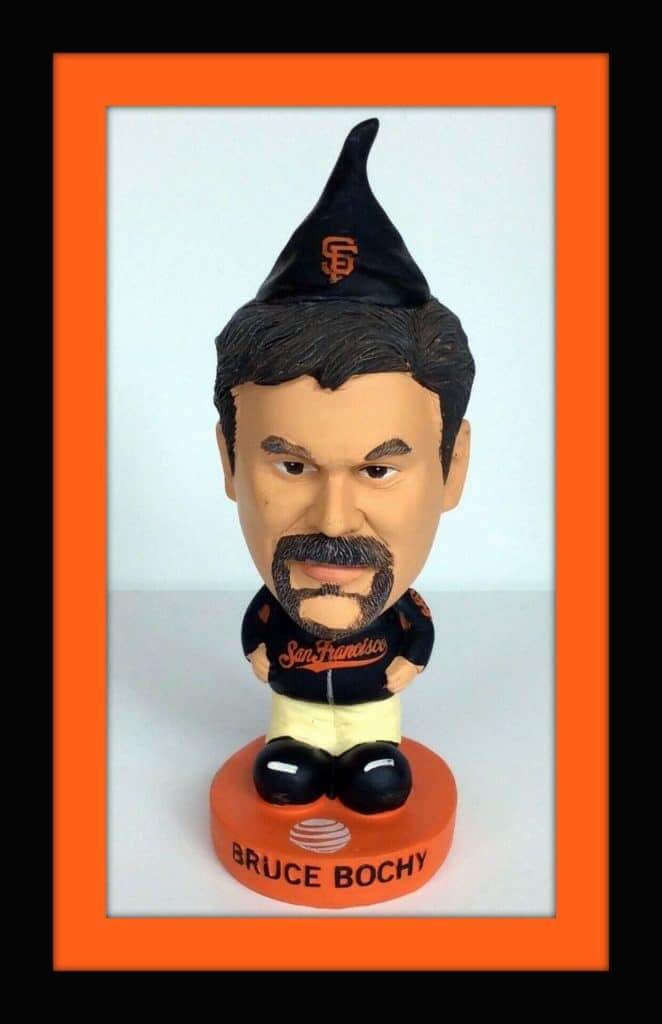 Collector's Corner
By Brinke Guthrie
This week on Collector's Corner, we salute the man who guided the San Francisco Giants to three World Series titles in a five-year span. Bruce Bochy is retiring this Sunday as manager of the Giants, and he punched his ticket to Cooperstown with those wins. He recently logged his 2,000th victory as a MLB manager, making him just the 11th guy to do that (and all the others are in the Hall, so there you go). Got to meet him in April 2018 at the New Balance store on Market Street in San Francisco, where he signed my Bochy gnome. You can bid on your own Bochy gnome here (plus here's another great bobble of him standing on the dugout railing). A class act and wonderful guy. He will be missed.
Here are the rest of this week's picks:
• This 1970s Patriots bumper sticker says "It's Miller Time in Boston."
• An eBay seller has lots of vintage NFL tube socks up for auction: Broncos, Rams, Bears and Browns among the teams available.
• Here's a terrific-looking 1970s LA Rams helmet buggy, still on the card!
• Paul has been referencing gumball helmets lately. I'll bet this batch from 1965 is the first generation of those. Seven teams included in this set.
• Bud Light was the sponsor of this 1970s Kansas City Kings thermal mug.
• Interestingly, this 1970s NFL insulated lunch bag/Thermos set is rendered in white with black logos only, no red/white/blue motif.
• Check out the helmet logos on this 1970s NFL pencil case.
• "Barrel Sportswear" was the maker of this 1970s Steelers sweater.
• I thought for a second this 1970s NFL lamp with the familiar Cowboys enamel badge might've been a DIY, but the lamp includes the period-appropriate "Officially Licensed Product" logo. And speaking of the Cowboys, this 1970s serving tray looks to be in perfect shape. The seller says it has a slight bend in it but I couldn't tell from the photos.
• I've always liked that "Baseball" logo that MLB used back in the day. Here it is on a Balfour pin.
• And from reader Will Scheibler, check out this football-shaped bar of soap.
Got an item to include on Collector's Corner? Send any submissions to uniwatchcollectorscorner@gmail.com.
• • • • •
• • • • •
Click to enlarge
Gumball helmet update: We were briefly sold out of white gumball helmets yesterday. But thanks to a very generous benefactor (he knows who he is), we now have some white shells back in stock. Info on how you can order, along with the current inventory numbers, can be found here.
And in case you missed it last week, here's how I made the gumball helmets. Enjoy.
• • • • •
• • • • •
The Ticker
By Alex Hider

Baseball News: I'm not sure if we've shared this before, but the Nats have a uniform schedule published on their website (from Neal D.). … Everyone traveling with the Giants for their final plane ride of the season received a commemorative Bruce Bochy cap — in his infamous 8-1/8 size (from Josh Claywell). … Agent Scott Boras is angry with MLB for not doing anything about wet bases, which have injured two of his clients. … University of Wisconsin researchers say they've developed a baseball cap that promotes hair growth in balding men via electrical pulses (from Brennan Casey).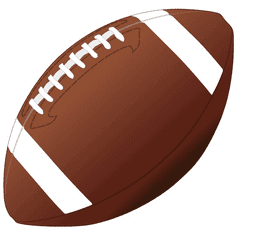 Football News: Reader Chris Spisak spotted a Los Angeles Avengers Arena Football League jacket in a rerun episode of Murder, She Wrote. … Tony found these photos of some handsome classic old-school football uniforms at a bar in Menominee, Mich. … Pats LB Elandon Roberts has the words "Dark Grind" printed on his shoes. Here's why (from Peter Clark).

College Football News: Wisconsin will wear their fauxbacks this weekend, and they will include the College Football 150 patch (from Scott Hurley). … With Oklahoma's schedule shifting to conference play, they're rolling out their crimson end zones at their stadium (from Sam McKinley). … NCAA D-III Alfred University will wear black alternates on Sept. 28 (from Larry).

Hockey News: The Hurricanes have published their 2019-20 uniform schedule (thanks to all who shared). … We have another potential leak of the Bruins' reported new third jersey (from @MattyP763). … The Calgary Hitmen of the Western Hockey League have a new 25th-anniversary uniform (from Wade Heidt). … The Islanders broke ground at their new Belmont Park arena yesterday, and the ceremony included Isles shovels with hockey stick handles (from @OlegKvasha). … Speaking of the Islanders' new arena, speculative photos did not include the trapezoid lines on the ice behind the net (from Chris Ryan). … Check out this photo Robbie Robertson of '60s rock group The Band in a Maple Leafs jersey (from Paul Friedmann). … New alternate uniforms for the AHL's Colorado Eagles.

Basketball News: For the latest in NBA uniform number changes, check out Etienne Catalan's Twitter page. … New uniforms for Illinois State (from Tod Meisner).

Soccer News: Liverpool and New Balance are heading to court over a kit contract dispute (from many readers). … It appears Boeing now has a Manchester City-branded plane (from @BCmeansBigCity). … North Carolina is naming the field at its soccer/lacrosse stadium for women's soccer coach Anson Dorrance, and the new signage isn't quite consistent with the rest of the school's branding (from James Gilbert).

Grab Bag: In the Rugby World Cup match between Wales and Georgia, George North of Wales suffered a significant jersey tear (from our own Anthony Emerson). … The Irish Rugby Football Union has helped develop a Google Chrome extension that automatically adjusts hue and saturations to allow colorblind fans to see the color green (from James Coatsworth). … Penn State lacrosse has unveiled its 2019 Big Ten Championship rings (from María Canales). … Here's a good piece about neon signs in Seattle — how they may be in danger, and home some businesses are sticking by them (from Kenny Ocker). … Avert your eyes — a listicle full of apostrophe catastrophes (from @walbergLines). … Yahoo! has a new logo (from Mike Chamernik and Matt Krantweiss). … Southwest Airlines has a plane painted with a Maryland flag pattern (from Andrew Cosentino).
• • • • •
I'd like to say thank you to the many, many readers who sent supportive words yesterday about my bike accident — and even bigger thanks to those who said they'd make an effort to start using the "Dutch Reach" method for opening a car door. It can really make a difference in cyclists' lives.
I'm happy to report that the swelling in my arm has gone way down, I have an appointment to get my stitches removed on Thursday, and I went on my usual bike ride in Prospect Park yesterday. The bike and I both felt fine. — Paul