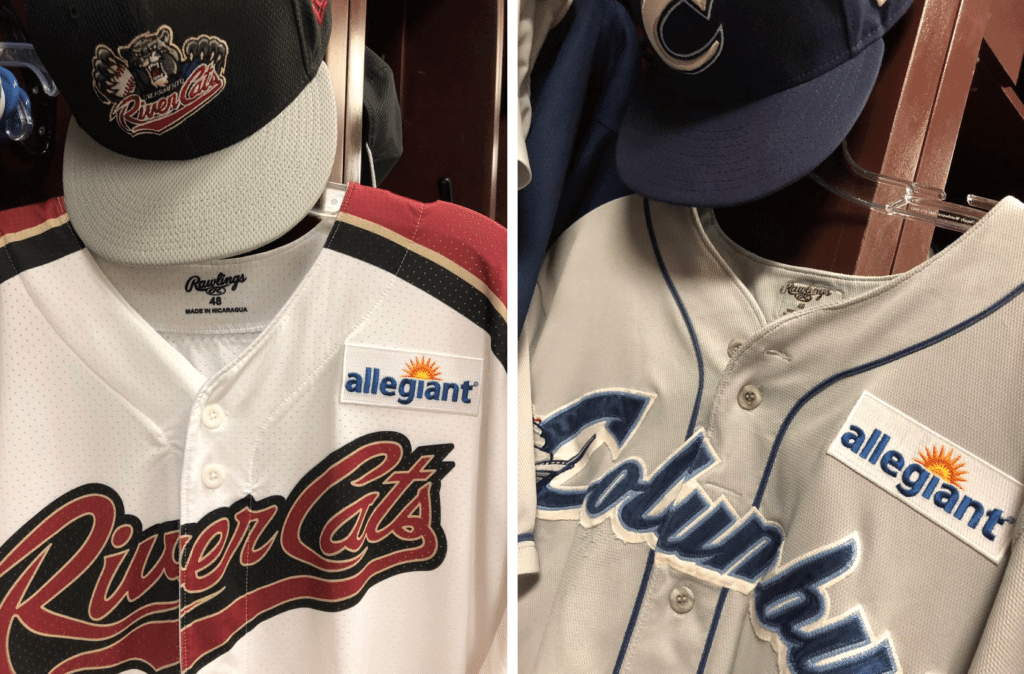 Click to enlarge
Distressing news yesterday from Minor League Baseball, which announced that the two teams competing in tonight's Triple-A Championship Game — the Columbus Clippers and the Sacramento River Cats — will be wearing advertising patches on their jerseys.
Man, does that look like shit or what? I considered giving it the Mr. Yuk treatment, but I decided it was worthwhile to show just how awful the ad really looks.
To put this in some perspective, it was only last year that I wrote about how the Triple-A Syracuse Chiefs saluted the Brannock Device by becoming the Syracuse Devices for one game. As I wrote at the time, they had wanted to be the Syracuse Brannock Devices but weren't allowed to do that because "that's a commercial trademark and would violate MiLB's rules against advertising on a uniform."
I guess those rules have been revised just a tad.
Of course, MiLB's press release doesn't refer to the ad patches as ad patches. In fact, the word "advertising" doesn't appear in the release. Instead, the ad patches are described as a "Historic On-Field Jersey Partnership." Here's the money quote, from Pacific Coast League prexy Branch Rickey (grandson of that other Branch Rickey): "[W]e are interested in the possibility of this leading to future on-field jersey sponsorships."
You don't say.
As has been previously reported, MLB is considering the addition of uniform ads, with a potential 2022 start date. This appears to be the first blow to soften people up for that eventuality.
As you may recall, the NBA eased into the world of uniform advertising by using it in the All-Star Game for two seasons before instituting it in the regular season. I suspect MLB will take a similar route, with uni ads appearing in the 2020 or 2021 MLB All-Star Game. (Just to be clear, I have no inside info on that. Just thinking out loud about what seems like the next logical step.)
It's amazing what people are capable of when their shame gland has been removed.
(My thanks to Bob Andrews, who was the first to let me know about this.)
• • • • •
• • • • •
Fortunately, I was watching the country music documentary on PBS: Tough game to watch last night in the Meadhowlands, in more ways than one. The less said about it the better, but there were a few uni-notable tidbits:
• The Jets went with ugly black end zones, to go along wtih their ugly black uniforms:
Black jerseys tonight for #Jets. Black end zones. pic.twitter.com/76IdRAyOZR

— Connor Hughes (@Connor_J_Hughes) September 16, 2019
• Lots of people pointed out that both teams wore their city names across their chests. When's the last time that happened in an NFL game? Has it ever happened in an NFL game?
• The refs made Browns wideout Odell Beckham Jr. leave the game in the first quarter due to what was reported to be an illegal visor. but there seems to be some confusion regarding the specifics of the illegality. Many reports indicated that officials said the visor was tinted. Now, it's true that Beckham wore a tinted visor (and a purple compression sleeve, and his treasured very expensive watch) during pregame activities. But he didn't wear that in the game. In fact, he was definitely wearing a clear visor, not tinted, while making the one-handed catch just before the officials sent him off the field.
Here's video of that play. Still looks clear to me (with some reflection from the stadium lights):
YOU KNEW OBJ WOULD DO THIS IN NEW YORK

(via @thecheckdown)pic.twitter.com/5ADCjlYZ2r

— Bleacher Report (@BleacherReport) September 17, 2019
People on social media speculated that he was sent off because that clear visor didn't have Oakley maker's marks. But when he returned with a new visor, that one didn't have the logo creep either.
So the specifics of the illegality are unclear, at least to me. But whatever — enough OBJ. Let us never speak of him again (until, you know, his next soap opera).
• • • • •
• • • • •
Can't un-see it (unless you already saw it): Phil tells me the whole world already knew about this, but I didn't know about it, and the large number of people tweeting it at me suggests that lots of other people didn't know either. So I'm just gonna leave this here:
If you turn the Chicago bulls logo upside down it's a robot having sex with a crab pic.twitter.com/KGfsqyr3Ml

— Deniz Camp @ SDCC (@MDesaad) September 14, 2019
• • • • •
• • • • •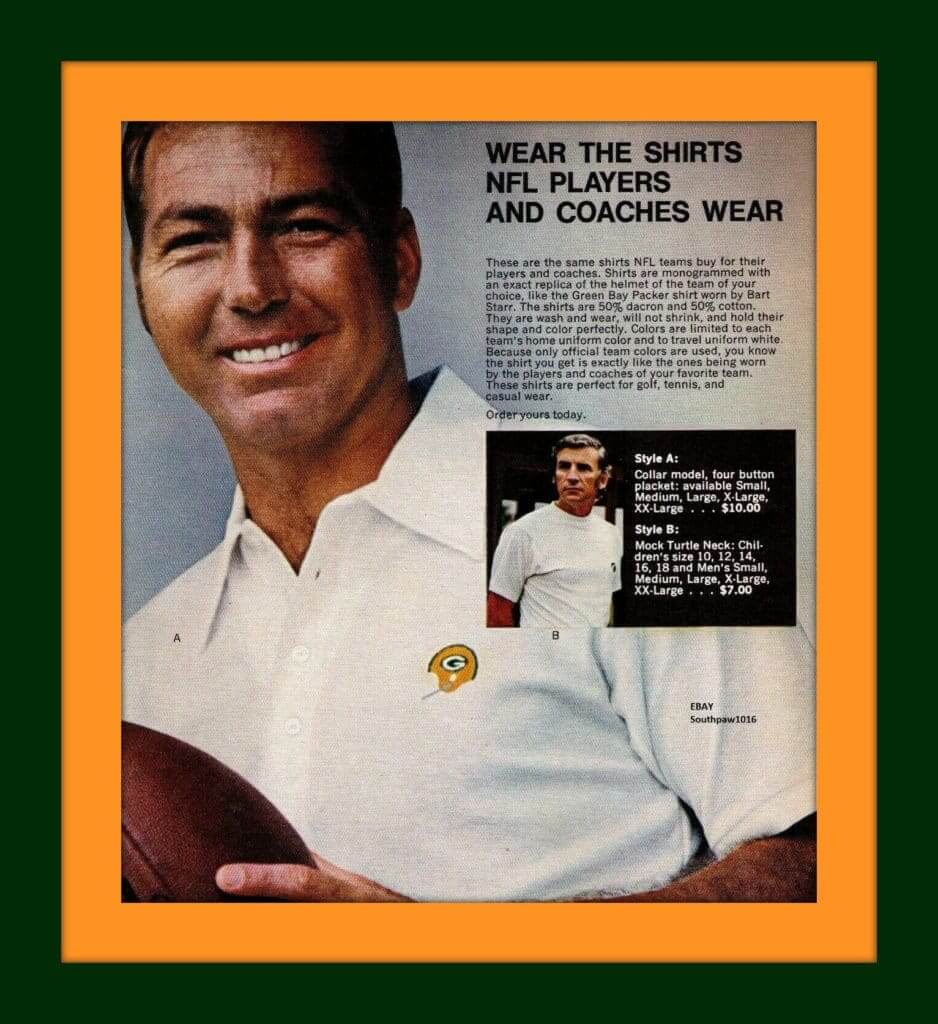 Click to enlarge
Collector's Corner
By Brinke Guthrie
The Packers held a  ceremony two days ago to honor their late, great quarterback Bart Starr, who passed away earlier this year. Bart was the, uh, star of this print ad for NFL polo shirts. "The same polo shirts NFL teams buy for their players and coaches!" Another salvo: "Because only official team colors are used, you know the shirt you get is exactly like the ones being worn by the players and coaches of your favorite team." Well, that settles that.
Now for the rest of this week's picks:
• Notice this late-1970s Rawlings Seahawks helmet for kids. They wrapped the decal striping around the back, something they didn't initially do for the on-field helmets (which always bothered me).
• Ah, this sign brings back memories of Riverfront Coliseum in Cincinnati: With a 1970s interior done up in classic Brady Bunch brown and orange as I recall, it was the home for the WHA Cincinnati Stingers, as immortalized on this neon sign.
• This 1960s glass has a football player on it and says "Cowboys," but no team logo or uniform detailing to suggest it's a team item. The seller mentioned "Cornell Green" in the auction headline, and Mr. Green did indeed wear No. 34, but that's a stretch.
• This 1970s baseball glove has the Cincinnati Reds "running man" logo on the wrist strap.  
• Here's a 1970s photo of Jarry Park in Montreal, original home of the Expos. Look how small that stadium was! When the Expos started play in 1969, capacity was 28,500. 
• The "SF" decal on this 1970s Niners helmet plaque is a bit faded, but otherwise this is in good shape. 
• Had this! A 1971-1972 Pro Football Hall of Fame appointment planner. Didn't have too many appointments when I was 11, but I loved the cover art and the inside photos, and that's all that mattered.
• Back in the day, cartoonist Jim Davis used to market the heck out of his Garfield cartoon cat. (I had a Garfield Bengals Christmas ornament from Big Lots.) Here Garfield shows up on this Vikings mug as a "fan-atic."
• One more for the Vikes — this 1970s garbage can decorated with the Vikes helmet. One of the few I've seen on eBay that's not consumed by rust.
• Tom Brady is deservedly The Man in New England, but once upon a time (1975-1990), that title belonged to Steve Grogan. His No. 14 is shown on this Sears Patriots jersey. Grogan performed the rare feat of playing in the NFL for 15 years, all with one team, the Pats.
Got an item to include on Collector's Corner? Send any submissions to uniwatchcollectorscorner@gmail.com!
• • • • •
• • • • •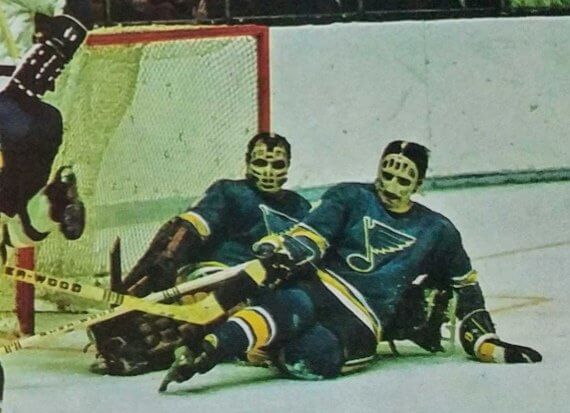 Click to slightly enlarge
Who was that masked man were those masked men?: I have a feeling we may have seen this before, but once more won't hurt: Check out the amazing double-mask action in this 1970 Blues photo!
Here's another shot: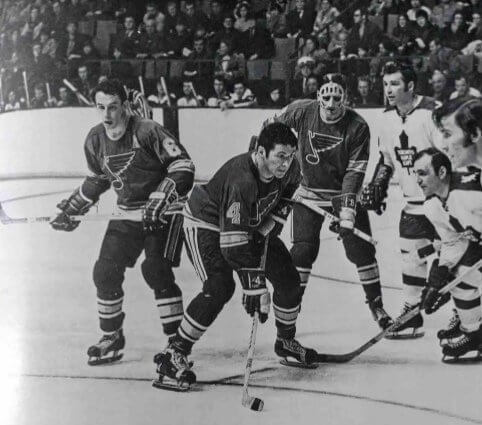 In the first photo, the masked non-goalie's glove has No. 8, indicating that it would be defenseman Barclay Plager. But according to this newspaper article, it was actually his brother Bob, who was rehabbing a broken nose. Either way, it's unusual to see an NHL player wearing a goalie-style mask!
(My thanks to Jerry Wolper for bringing the first photo to my attention, and to @Casual_Mats and Tom Hawthorn for the second photo and the newspaper article.)
• • • • •
• • • • •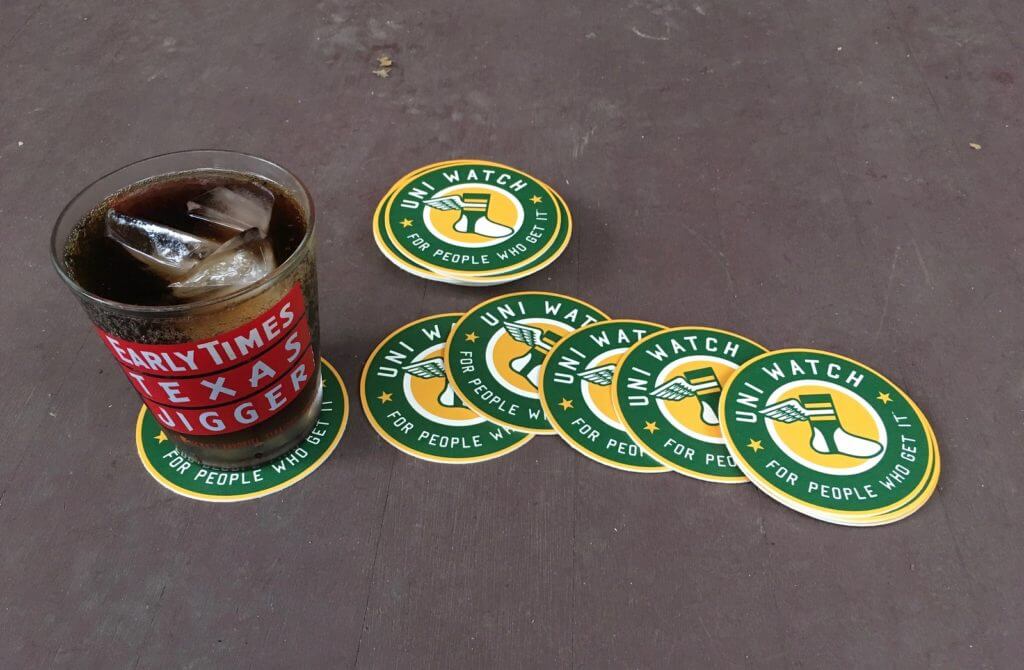 Click to enlarge
ITEM! Uni Watch coasters: A coaster manufacturer was offering an introductory deal, so I thought sure, why not? The UPS man brought them yesterday just as I was sitting down on the front porch with a Diet Coke. They look great!
I only have a few dozen of these. I'm going to sell them in groups of three — three coasters for 10 bucks, including shipping. For non-USA orders, it'll be three coasters for 12 bucks. One order per person — no hoarding!
To order, send me the appropriate amount via Venmo (use @Paul-Lukas-2 as the payee) or Zelle (plukas64@gmail.com). If you want to use Apple Pay or a paper check or well-concealed cash, or if you're not in the USA and can only use PayPal, get in touch and I'll give you the appropriate info.
After paying, email me with your shipping info. Thanks.
• • • • •
• • • • •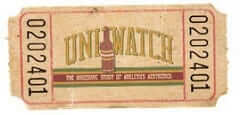 ITEM! Stirrup raffle: An anonymous reader has 10 pairs of old stirrups and has generously offered to raffle them off to Uni Watch readers. You can see all 10 pairs here. Note that each pair is numbered.
To enter this raffle, Send an email to the raffle address by 10pm Eastern this Thursday, Sept. 19. In the body of the email, please indicate (a) your name and shipping address and (b) your preferred stirrup choices, in order of preference, by number. If you're only interested in one pair, just list that pair's number; if you want to list more than one, you can do that too, all the way up to 10 choices. I'll do my best to accommodate all the winners' preferences.
One email per person. I'll announce the winners on Friday. Please join me in thanking our anonymous benefactor!
• • • • •
• • • • •
The Ticker
By Alex Hider

Baseball News: The A's celebrated Mexican Independence Day by wearing Atléticos jerseys. Note that the Majestic maker's mark was white on white. Also: No MLB 150 patches (from Jakob Fox and Samuel Lam). … That game also featured very visible evidence of Sunday's Raiders game (from Ramon Meza). … Speaking of which, here's a good article on what it takes to convert the stadium from football to baseball (from @brianspeaksnow). … Mets 1B Pete Alonso's cap appeared to be squatchee-free last night. … Back in 1969, when the Japanese team now known as the Chiba Lotte Marines was called the Tokyo Orions, Pepsi wanted to name them the Pepsi Orions (from Jeremy Brahm). … Did you know that bluegrass music pioneer Bill Monroe once had a barnstorming baseball team? It's true. Too bad the uniforms weren't better, eh? Additional info here (from Max Weintraub).

NFL News: It appears the Chiefs may have an old-school field paint scheme at Arrowhead this weekend (from Ryan Smith). … Bojangles is using blue and black boxes as part of a Panthers tailgate special (from Joel). … Joseph Bailey was watching old Browns/Niners highlights on YouTube and noticed the end zones — in San Francisco — included the Browns nickname and Brownie the Elf. He says he thinks the game was in 1970. … A new Baltimore restaurant's dress code bans all sports jerseys except Ravens and Orioles jerseys on game days (from Carrie Klein). … One on of the segments hosted by Randy Moss on Monday Night Countdown last night, the accompanying graphic showed him in a modern Vikings jersey that he never wore in his career (from Caleb Pardick).

College Football News: Oklahoma coach Lincoln Riley must have something against collared shirts. He hasn't worn one yet this season (from Sam McKinley). … Weber State's pants have a big ol' logo on their butt (from Brice Wallace).

Hockey News: If this retail listing is to be believed, the Bruins will have a new alternate sweater this season — and it appears to be brown and gold (from Kenny Saidah). … The Estevan Bruins of the Saskatchewan Junior Hockey League are responding to criticism of their all-white (and I mean all-white) away jerseys (from @BootedBlog). … We have our first on-ice look at the Sabres' 50th-season patch (from James Trexler). … An old Zamboni with Hartford Whalers graphics recently ended up in a Hartford scrap metal yard.

Basketball News: The Nets are having a jersey giveaway that will include not only the basic front-chest ad patch but an additional ad on the back (from Christophe Davy). … Speaking of the Nets — could these be their new "Statement" jerseys? (From Etienne Catalan) … Wizards new G/F C.J. Miles will wear No. 34 (also from Etienne Catalan). … New floor for Stony Brook (from Alex Peck).

Soccer News: Spurs F Harry Kane wears white tape on his ring finger during games (from Josh Hinton). … Also from Josh: Women's club CD Tacon, who will be rebranded to become Real Madrid, removed the Real Madrid printing/numbers after their humiliating 1-9 loss against rivals Barcelona. … Scottish team Stranraer has a new third kit (from our own Jamie Rathjen). … USL League One's Forward Madison FC and NPSL's Milwaukee Torrent have a new rivalry logo for the  "Astonishingly Shiny Cup Of All Cups" (from Scott Rogers). … One more from Josh Hinton: We've all seen the basketball floor to hockey rink time-lapse. But have you seen a baseball field to soccer field time-lapse?

Grab Bag: This piece offers great behind-the-scenes tennis insights from the US Open. Apparently Justin Gimelstob was one of the "sweatiest" players of all time (from Brinke). … Fun project from Hunter Hook: Collegiate logo mascots stripped of all their hair. … Harvard Business Review has a new study about which logos are most effective (from Mike Chamernik). … "I just read a new book called One Way Ticket: Nine Lives on Two Wheels, by former cyclist Jonathan Vaughters," says Bernie Langer. "After he retired from cycling, he founded a new team, which has been known in various iterations as Slipstream, Garmin, Cannondale, and now EF Education First. Despite all the name changes, the team is known for the argyle motif on its kits, and the book has a very interesting backstory on that. It's a bit to read, but it's worth it."