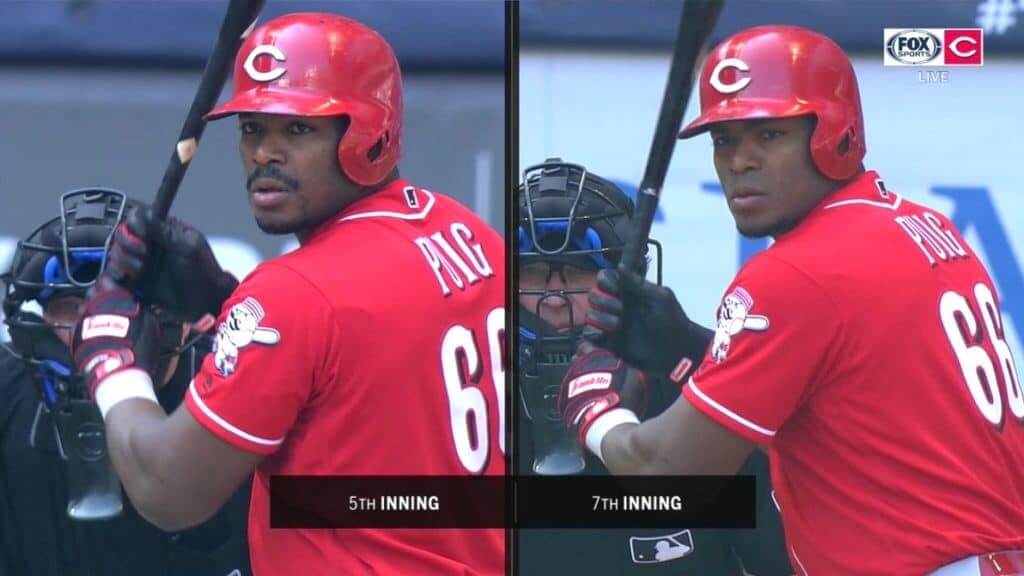 Screen shot by Sonny Lee Smith; click to enlarge
The in-game shave — a superstition that tends to go through cycles of popularity every now and then — appears to be in vogue once again. Last Friday, Blue Jays catcher Danny Jansen shaved his 'stache during the game. And yesterday, as you can see in the screen shot above, it was Reds outfielder Yasiel Puig's turn.
The last time there was a spate of mid-game shaving was in 2006. That season, at least three players retreated into the clubhouse and grabbed their razors during a game, beginning with A's catcher Jason Kendall on April 6:

Next up, on June 27, was Dodgers catcher Russell Martin:

And then on Sept. 4, Yankees DH Jason Giambi got rid of his whiskers: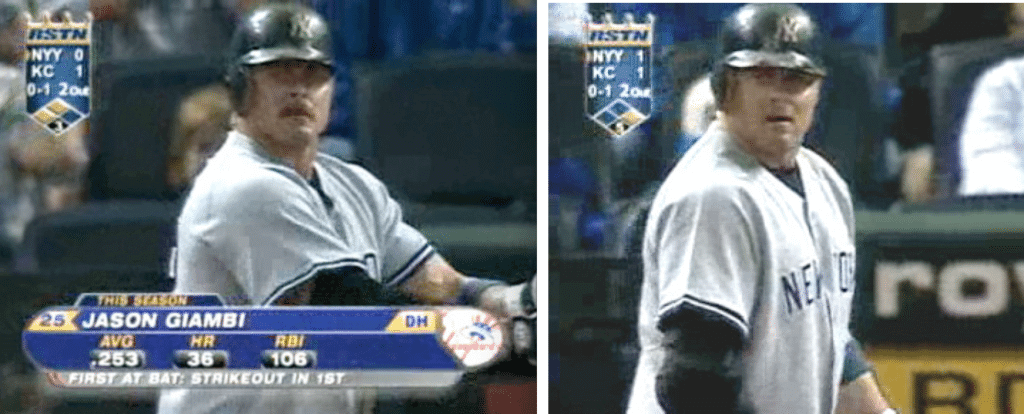 There are other examples. During Game Six of the 1986 World Series (aka the Bill Buckner game), Red Sox pitcher Roger Clemens had plenty of stubble and a shadow of sideburns during the game but later on — after leaving the game but while the game was still in progress — appeared clean-shaven in the dugout (click to enlarge):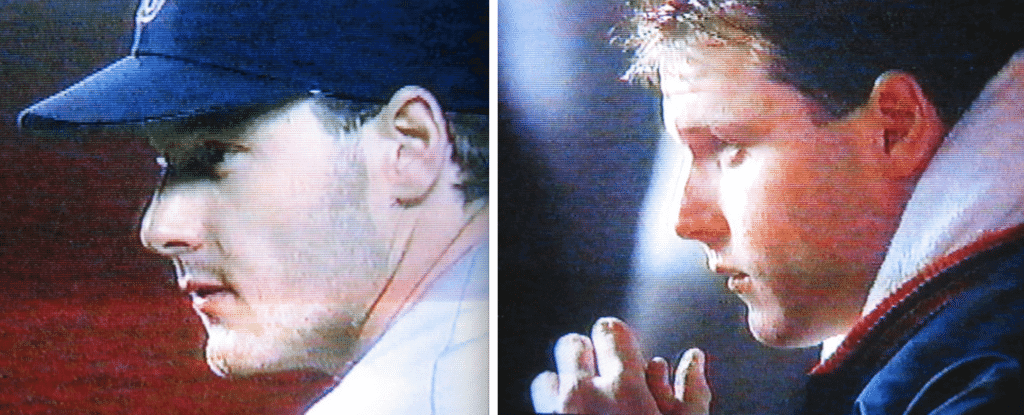 Of course, all of those earlier examples took place before the advent of social media. I suspect the current trend will go semi-viral for bit and then play itself out relatively quickly.
Update: Reader Matt Porges informs me that Yankees infielder Gleyber Torres also did a midgame shave the other day, so the current fad is definitely a thing: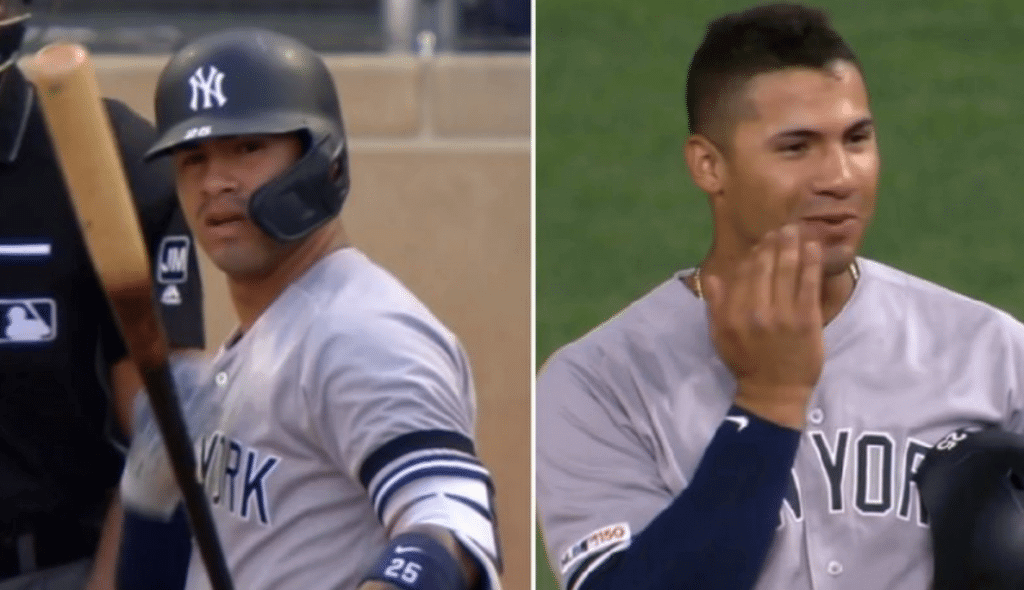 "He actually made a shaving gesture after getting on base after the shave," says Matt!
• • • • •
• • • • •
For all photos, click to enlarge
Lapel pin reminder: In case you missed it on Wednesday, we're now offering the Uni Watch winged stirrup logo as a sharp-looking enamel lapel pin. Full details here.
• • • • •
• • • • •
IMPORTANT plate reminder: Remember, I'm taking pre-orders on the Uni Watch 20th-Anniversary Plate up through the end of this week. We'll probably have a very small supply of additional plates available, but not many. So if you want to get in on this one, move fast. Full details here.
• • • • •
• • • • •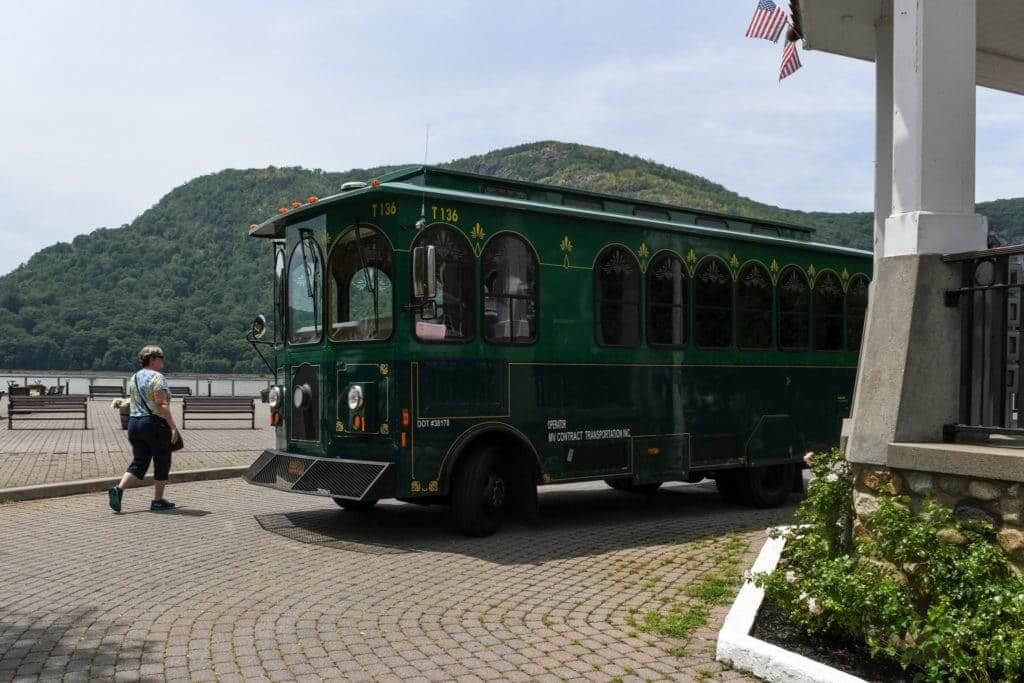 And nobody's even dodging them: Yesterday's New York Times had an article about how you can see lots of art and history in the Hudson Valley by riding "an adorable green trolley with bells and brass rails" (shown above).
Green-Wood Cemetery here in Brooklyn, just a short distance from Uni Watch HQ, also offers trolley tours. And if you've ever been to Cooperstown, you may have noticed that there's a trolley there as well.
Or at least that's what they call these vehicles — trolleys. But of course they are not actually trolleys. They are buses dressed up to look like trolleys.
Lots of towns/cities have these faux trolleys, so we take them for granted. But when you stop and think about it, it's really weird to dress up one form of transportation in a costume to resemble another form of transportation.
Yeah, trolleys are supposedly "nostalgic" or "quaint" or something like that. But outside of San Franciscans, most people who are alive today have never even seen a real trolley, so it's an odd form of nostalgia to be peddling.
When and where did the faux trolley trend start? Who manufactures these things? Would tourism really collapse if they reverted to being, you know, buses?
One other thought: Like most forms of "quaint" tourism marketing, this one is peddling a very white-oriented version of nostalgia. In the non-nostalgic real world, black people weren't always welcome on trolleys, so they may see something very different — something not quaint at all — when they see a faux trolley.
• • • • •
• • • • •
The Ticker
By Paul

'Skins Watch: A high school in Idaho has decided to stop calling its teams the Redskins at the urging of the Shoshone-Bannock and Nez Perce tribes. "Idaho still has two schools whose teams are called the Savages," says Brett Thomas. "Hopefully those will be next." (Also from David Augusto.)

Baseball News: The Astros have revealed the first plaques for their team Hall of Fame (from Ignacio Salazar). … Gasparilla-themed jerseys this Saturday for the Tampa Tarpons. … Not sure if we've seen this before, but here's the 2019 Postseason logo. … Since 2016, the Single-A Aberdeen IronBirds have had a "Blue Lives Matter" patch on the back of their jerseys as a memorial for two local sheriff's deputies who were killed in the line of duty, which has gone largely unnoticed until now. The team insists that it's not political — a pretty disingenuous position, given that Blue Lives Matter was conceived specifically to be a political counterweight to Black Lives Matter. Seems like there must be a better, smarter way to honor the two local officers.

NFL News: Here's why No. 7 is important to new Washington QB Dwayne Haskins (WaPo link) (from William Yurasko). … Remember the 1930s throwbacks that the Steelers wore in 1994? There's a supposedly game-issued jersey from that uniform available on eBay.

College Football News: West Texas A&M will open its new stadium on Sept. 7. You can see renderings of it here and here (from Kary Klismet). … Hmmm, does Ole Miss have a light blue jersey in the works? (From @bk_owens.) … Georgia fans want the team to wear black jerseys against Notre Dame on Sept. 21.

Hockey News: Reader Jeff Wilk found this newly posted video featuring lots of 1964 Blackhawks footage. It includes some shots of then-coach Billy Reay wearing a team cardigan and baseball cap, along with several glimpses of some primitive helmets and other headgear. Good stuff.

NBA News: Here's one observer's rankings of every Thunder uniform (from Sam Scovill). … Pelicans rookie Zion Williamson's shoe deal with Jordan/Nike will reportedly be the richest ever for a first-year player. … For yesterday's NBA jersey number updates, check out Etienne Catalan's Twitter feed.

Soccer News: Watford FC received over 4,000 entries in a design contest to create the team's new logo. Here are some of the best submissions (from @pfangmeyer). … For a roundup of yesterday's kit unveilings, check out the Twitter feeds from Josh Hinton and Ed Zelaski.

Grab Bag: Here are the staff and volunteer uniforms for the 2020 Tokyo Olympics (from Kary Klismet). … Speaking of the Tokyo Olympics, the medals are being made from old cellphones and other electronics (from Rogelio, Orozco). … Marvel fans don't like the logo for the new Loki streaming series. … Gross: A British woman ended up with an Adidas wordmark sunburn on her leg (from @cttrace). … Pro golfer Justin Thomas will wear the shoes designed by 14-year-old cancer survivor at the WGC-FedEx St. Jude Invitational (from Griffin Smith). … At an appearance on Tuesday, President Trump spoke in front of an incorrect presidential seal/logo, which had apparently been tweaked to mock him by including a Russian symbol and a bunch of golf clubs. … Check this out: a tattoo that resembles cross-stitching! Now they need to do likewise for chain-stitching (from Manzell Blakely). … New rugby league uniforms for Great Britain & Irish Lions (from Josh Gardner).