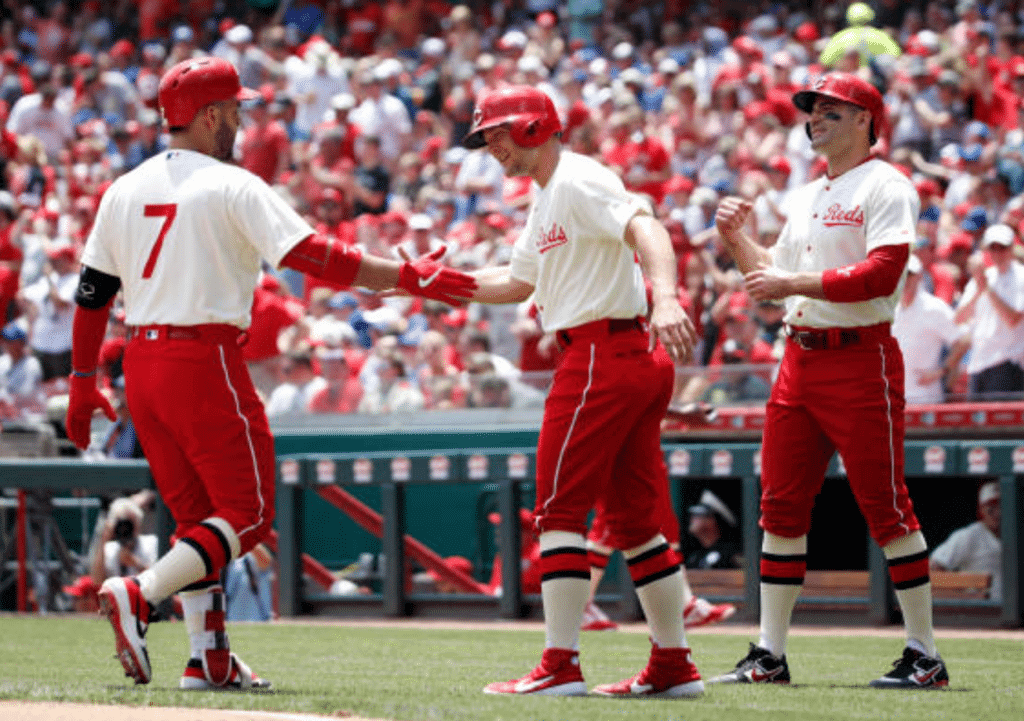 The Reds had their latest 150th-anniversary throwback game yesterday, and it was the one I was most excited about, as they turned back to the clock to 1936 and broke out the red pants. They did not disappoint — I love this look.
The team's website provides the backstory on this unusual uni:
One of the most unique uniforms ever worn by the Reds was the style that was known as the "Palm Beach" by the uniform's manufacturer, Cincinnati-based Goldsmith & Sons. This uniform was an attempt to offer players a lighter-weight alternative to the heavily flannel jerseys that were the norm at the time. The open-weave fabric construct of the Palm Beach was designed to make the uniforms more breathable during the hot Cincinnati summers.
And here's some of the reaction that these uniforms generated back in 1936.
There were some interesting details that you wouldn't have guessed from looking at the Okkonen mock-up, including red jersey buttons and cream stirrups worn over white sannies (for all of these, you can click to enlarge):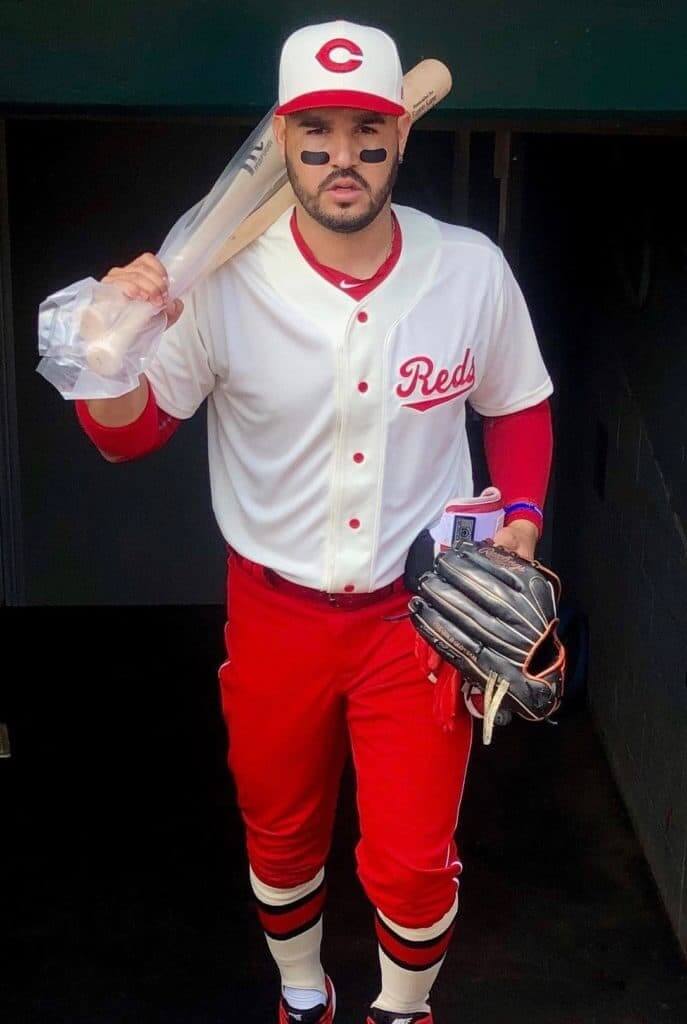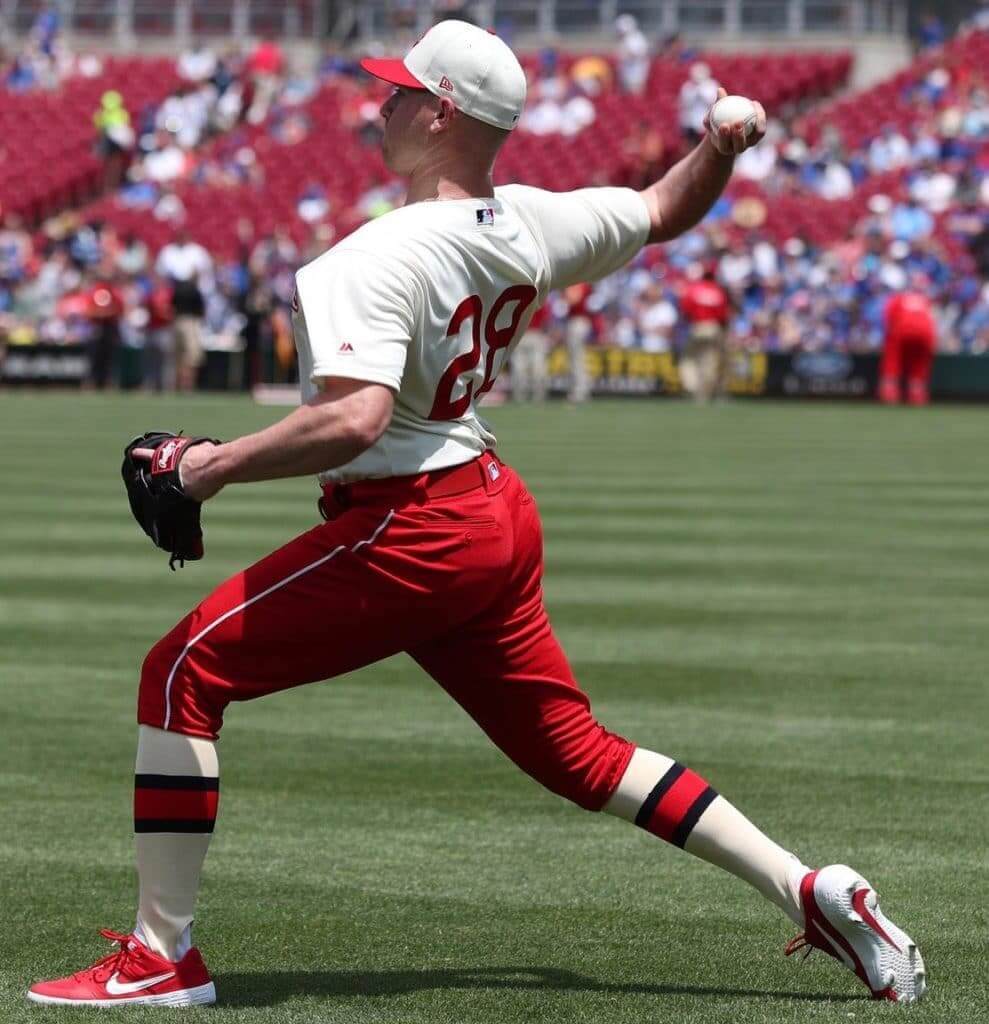 I suspect the stirrups and sannies were the same color back in the day, but they probably couldn't get cream sannies for yesterday's game — hence the slight hosiery mismatch. (The could have gone with true white stirrups, of course, but then the stirrups wouldn't have matched the cream jerseys.)
Here are two short highlight clips showing how the uniforms looked in action:
Lookin' like Saint Nicholas.#BornToBaseball pic.twitter.com/Mm4JtOtBHB

— Cincinnati Reds (@Reds) June 30, 2019
Numbers on that Geno 💣:

🔴 457 feet
🔴 112.2 mph exit velocity
🔴 26º launch angle#BornToBaseball pic.twitter.com/T45Whn9SE5

— Cincinnati Reds (@Reds) June 30, 2019
You can see lots of additional game photos here.
I wouldn't want to see this look on the field every day, but it would make an awesome Sunday throwback. Of all the retro designs that the Reds are wearing this season, this is the one I hope they bring back as a full-fledged alternate, not just an anniversary one-off.
If you're thinking you may have seen red baseball pants before but can't quite remember where, you may be thinking of the World Baseball Classic, where Cuba has often worn red pants and even gone mono-red: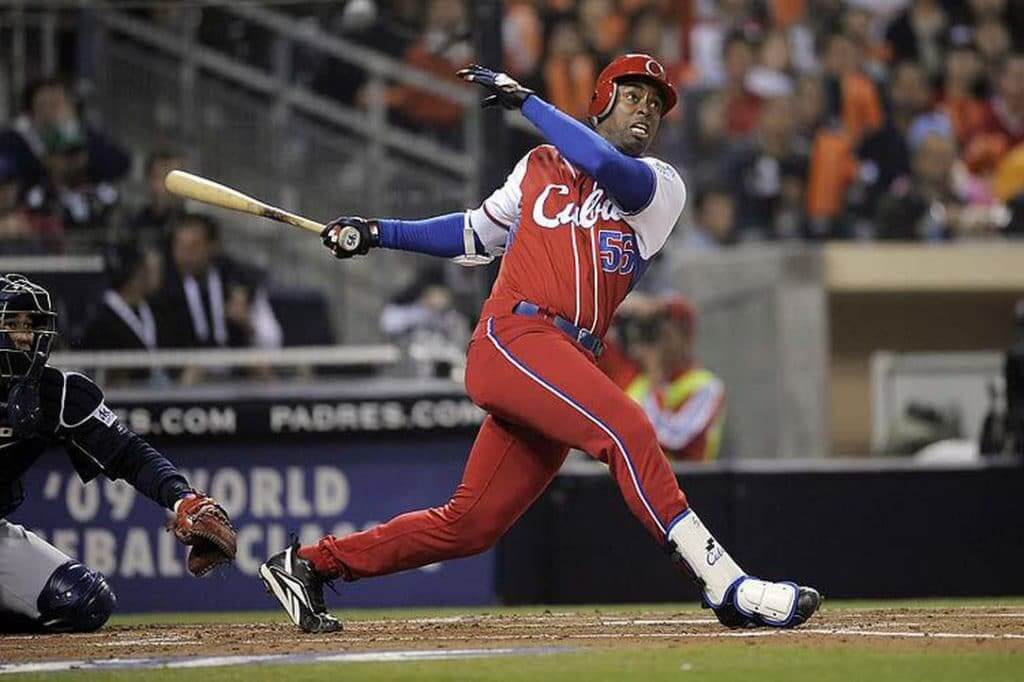 Next up on the Reds' throwback carousel: this 1939 design, which they'll wear this Saturday, July 6, against Cleveland. That's the same day the Nationals and Royals will be wearing throwbacks, so it'll be a very retro-styled day on the diamond.
(With thanks to Tyler Nees for the 1936 quotes.)
• • • • •
• • • • •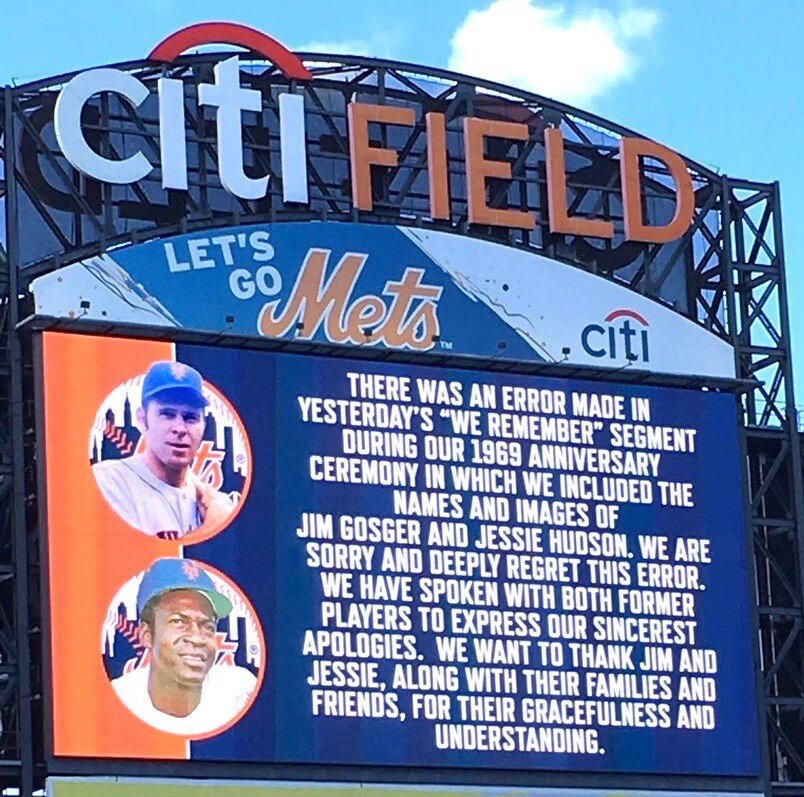 Click to enlarge
The most Mets thing ever: The Mets have been dealing with all sorts of dysfunction and disarray lately, but they really topped themselves when they held a 50th-anniversary reunion of their 1969 championship team prior to Saturday's game.
Most of the living members of the '69 squad were on hand, and there was a nice scoreboard salute to the '69ers who had since passed away. Just one problem: Two of the players who were listed as deceased — outfielder Jim Gosger and pitcher Jesse Hudson — are still very much alive.
It's hard to imagine how anyone — even the Mets — could be this incompetent. Major League Baseball players have their birth and death dates tracked more closely than any other segment of the population I can think of. An eight-year-old with no knowledge of the '69 Mets — or even no knowledge of baseball — would have been able to determine that Gosger and Hudson are still among the living.
But wait, it gets better: Prior to Sunday's game, the Mets posted an apology on their scoreboard (shown above) — and misspelled Hudson's first name. (Also, the operative word in the last sentence should not be "gracefulness" but "graciousness," or even just "grace" — as in, "Gosger and Hudson showed grace despite the Mets' disgrace.")
You can't make this shit up. If it were in a movie script, the studio would say, "You have to trim that back — it's not believable."
And for good measure, the replica jersey that the Mets gave away to fans on Saturday had an upside-down apostrophe (click to enlarge):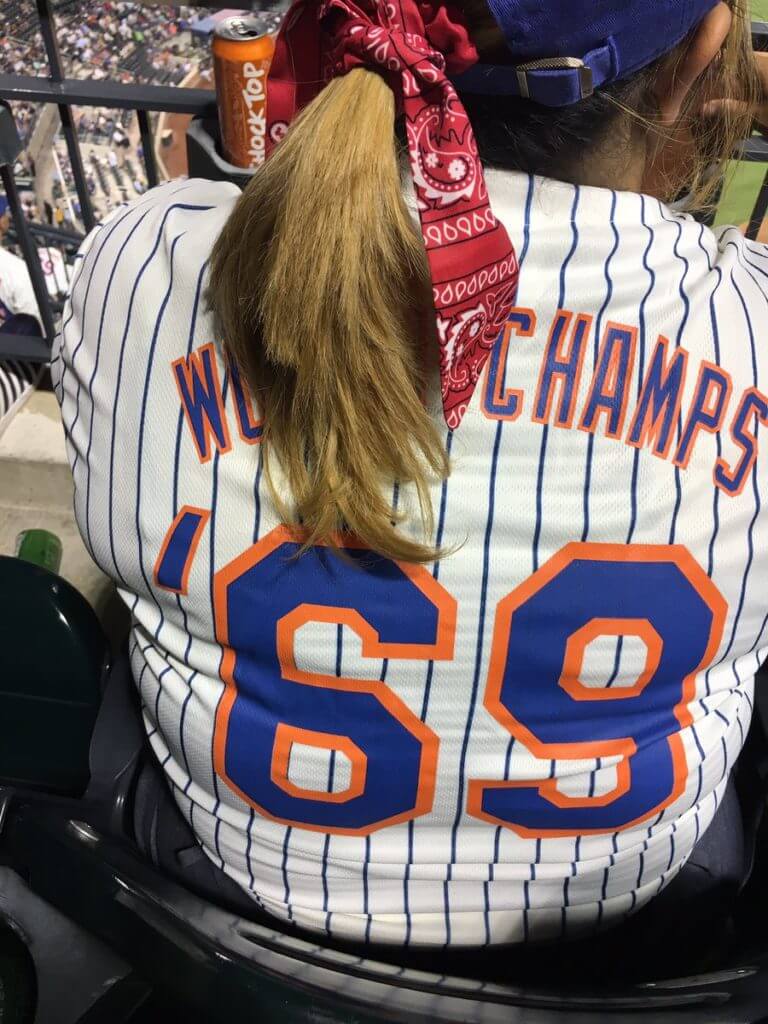 They're still my team. But man, they make it really, really hard.
(My thanks to Alan Kreit for both of the photos in this section.)
• • • • •
• • • • •

Bengals contest reminder: In case you missed it last week, I'm teaming up with Sports Illustrated for a Bengals-redesign contest. Full details here.
• • • • •
• • • • •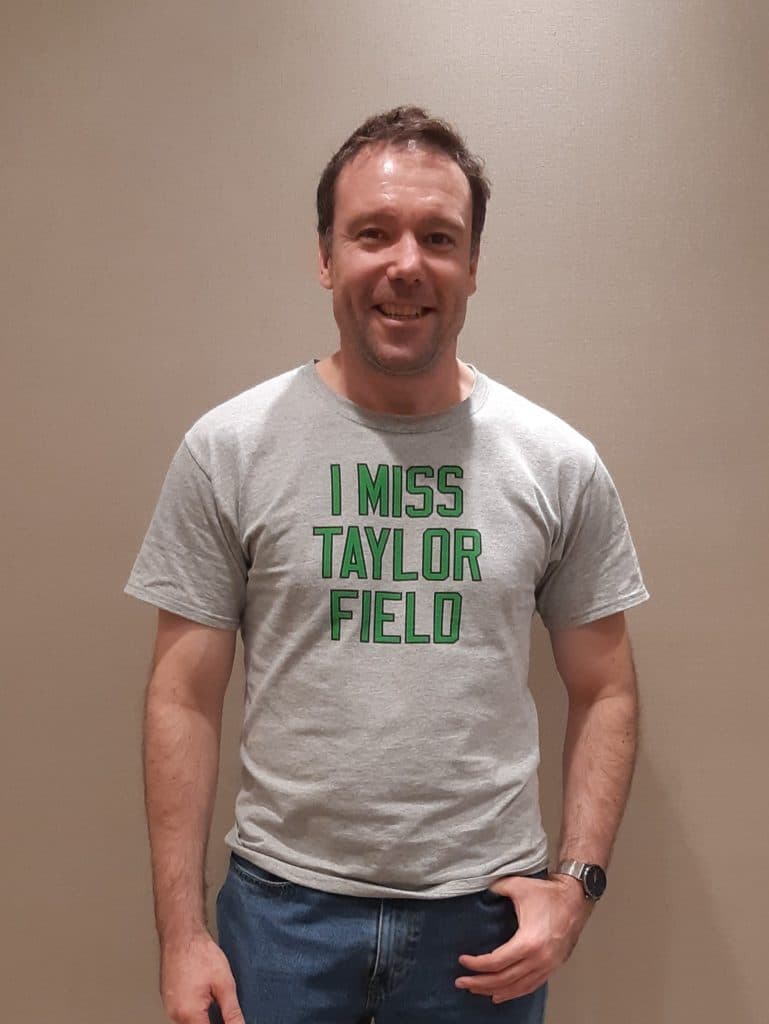 Click to enlarge
Meet the Contributors: Welcome to the latest installment of "Meet the Contributors," as I continue to spotlight readers whose names may be familiar to you from their Ticker contributions.
Today we're saluting reader/contributor Wade Heidt, who tends to specialize in Canada-related Ticker items — junior hockey, box lacrosse, curling, and, especially, the CFL. Naturally, he has a Canucks-themed membership card. I'll pass the mic to him now:
I am 43 years old and live in Vancouver, British Columbia. I work as a home insurance agent.

I can't exactly remember how I learned about Uni Watch. I discovered the website in the early part of this decade and have been pretty much a daily reader since then. The first few years I just followed as a reader. The first time I made a contribution was when I participated in in Power Ranking the Canadian Cities, organized by Mike Engle in August 2015, and I've been a regular Ticker contributor and frequent comment poster since 2016.

I can identify when uni watching really started for me: Growing up in Regina, Saskatchewan, I went to my first Canadian Football League game in 1984 at the age of eight. I became a huge fan of the league, and the Saskatchewan Roughriders were (and still are) my team. The next season, the Roughriders underwent a uniform redesign in time for their 75th anniversary. I was dazzled by the new set — the wraparound helmet logo done up in silver, the shiny new silver pants. I liked this exciting process of giving us a new visual identity yet still having the look of the team I loved. I was hooked at that point.

I fell into specializing in Canadian Ticker items because, well, I am Canadian! It is just what I know. I have a high level of uniform expertise based on the sports I have followed closely for many years, which other readers may not be as well-versed in. I enjoy being the go-to guy for this specialty — for me, it's important to represent and spead the word regarding these Canadian uniform changes that might otherwise go unnoticed.
Thanks, Wade. Your contributions are very much appreciated — keep 'em coming. And happy Canada Day to you and your fellow Canadians!
• • • • •
• • • • •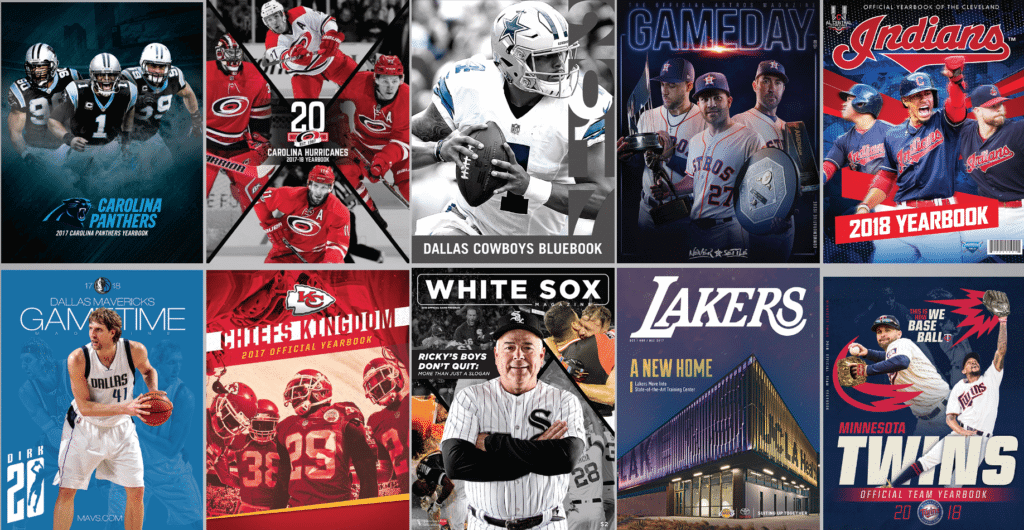 Click to enlarge
Job opportunity: Are you an New York-based editor with prepress and/or book publishing experience? If so, Professional Sports Publications, which produces game programs and yearbooks like the ones shown above, has a job opening that could be right for you. Good luck!
• • • • •
• • • • •
The Ticker
By Jamie Rathjen

Baseball News: The Marlins are wearing throwbacks July 26-28 (from Mike Chamernik). … Somebody at yesterday's Yankees/Red Sox game at London Stadium was wearing a fusion of both teams' hats. It is essentially a baseball version of the infamous half-and-half scarf seen at soccer games (from many readers).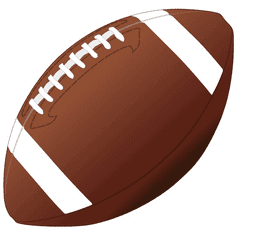 Football News: The Chiefs posted a style guide for their 60th-anniversary logo (from DrSoup_MD). … The Seattle XFL franchise has trademarked five potential names. … A black Kentucky helmet has been floating around stores in the state. Note that the 2015 black helmet mentioned in the article does not appear to have ever surfaced (from Josh Hinton). … Reader Johnny Garfield sent us a picture of a double-striped Canadian football, held by Edmonton's Rollie Miles in 1952. The CFL didn't exist yet; in that year the current West Division minus the BC Lions formed the Western Interprovincial Football Union. … Steve Hoyle sent us his NFL standings board from 1972 — the teams are in order of division standings.

Basketball News: Reader Steve Hoyle sent us this picture of Bullets PG Kevin Porter — from the 1973-74 season, the team's only one as the Capital Bullets — where he appears to be wearing the away jersey and the home shorts.

Soccer News: New shirts or kits for German teams Eintracht Frankfurt, 1. FC Magdeburg (both from Ed Żelaski), and FC Ingolstadt 04 (from Josh Hinton) as well as French teams Paris Saint-Germain and Auxerre (also from Josh) and Scottish Championship team Arbroath. … The next two are also from Josh: Manchester City striker Sergio Agüero posted a picture of himself in next season's second kit, which hasn't been released yet. … The NPSL's Detroit City switched from maroon to white at home, reportedly because their opponents, Toledo Villa, only brought a black kit. … Multiple readers told us that Mexico's shirts have two different number styles — the current Adidas font for goalies and a new one for everyone else — at the CONCACAF Gold Cup. Note that the new font is different from the one that Adidas recently gave to Argentina. … Teams that wore rainbow numbers this weekend included Vancouver and Seattle (from Wade Heidt). The NWSL's Houston Dash and Orlando Pride did as well. … Mexican team Club América will also have rainbow numbers on Wednesday in a friendly against Argentine team Boca Juniors in Harrison, N.J. "It may seem like a small thing, but Club América is owned by Mexico's biggest television network which doesn't have a great history of respect towards the LGBTIQAP+ community," says Sinuhé Guevara. … Preseason kit shenanigans from Scotland: Dundee United wore a white and black effort from Macron that they swear is not the first or second kit for next season, while Heart of Midlothian's sky blue second shirt from 2017-18 also reappeared. … Two more from Ed Żelaski: New kits for Hertha Berlin and Köln.

Grab Bag: India's controversial orange clash shirts worn yesterday at the Cricket World Cup ended up being dark blue on the front and orange on the back. The tournament is the first requiring all teams to have two shirts, except hosts England, which means India wore something other than their usual shade of blue for the first time in one-day cricket (from Moe Khan). … The field hockey Pro League finals in Amsterdam featured a double color change in the women's third-place playoff, as Germany and Argentina — who normally look like their soccer counterparts — wore black and pink, respectively.
• • • • •
Saturday was a very special day, with uni-versary parties taking place around the country and around the world. Phil had some coverage in yesterday's post, and I'll have a lot more tomorrow. See you back here then. — Paul