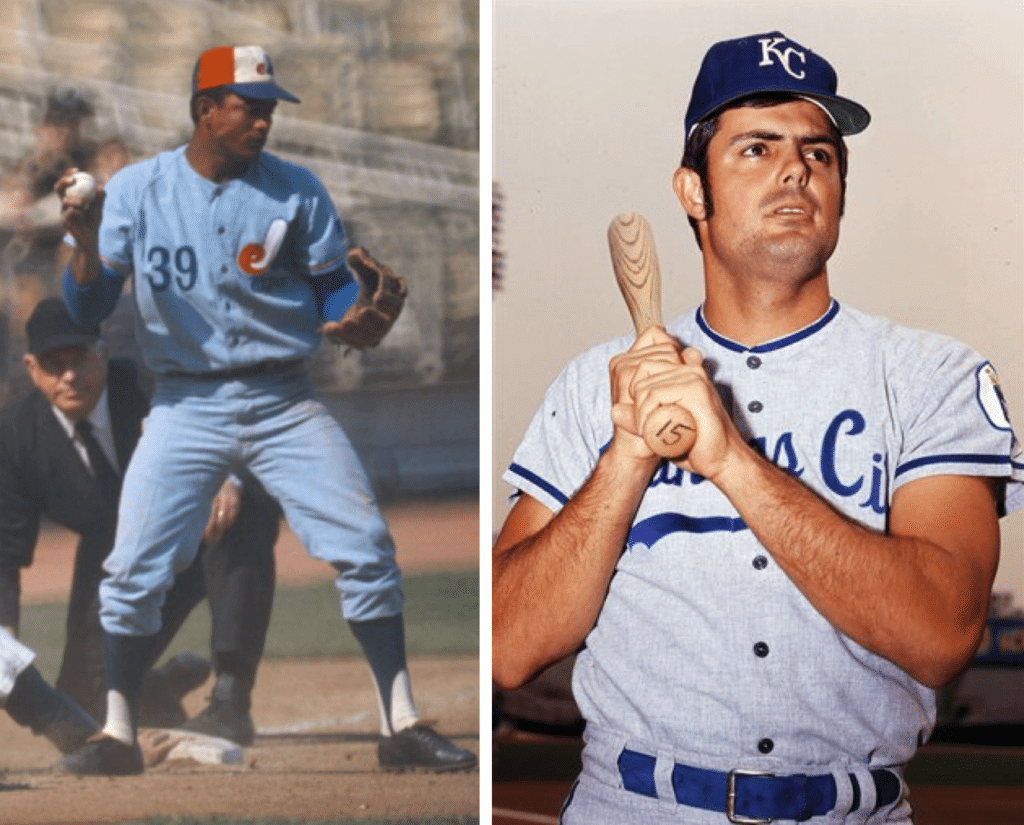 Click to enlarge
A big surprise emerged yesterday out of DC, where the Nationals announced that they will honor their franchise's previous incarnation by wearing 1969 Expos road throwbacks for a game against the Royals on July 6. The news was first reported by The Washington Post.
The throwback threads, which will include the 1969 MLB centennial sleeve patch, can be seen in this video:
E X P O S

7.6.2019

🎟️ // https://t.co/oi7p3eaHSV pic.twitter.com/mcn8Ovbr7k

— Washington Nationals (@Nationals) June 26, 2019
This will be the first time the Nats have worn Expos uniforms since the franchise relocated from Montreal to DC in 2005 (although they have worn Senators throwbacks on several occasions). A few notes, all gleaned from that WaPo article:
• Although the game will be in DC, the Nats will wear the Expos' 1969 powder blue road unis, "because the Expos' away uniforms are more striking than their original home whites."
• The Royals will wear 1969 road throwbacks (as worn by Lou Piniella in the photo shown above), so this game will be road uni vs. road uni.
• The Nats will embrace the 1969 theme with period music. They'll also offer Montreal-themed foods like poutine and smoked meat.
• Former 'Spos star Vlad Guerrero will be on hand, and the Nats will recognize employees whose ties to the franchise date back to Montreal.
I've heard from people in Montreal and in DC who are unhappy about this move, but I'm fine with it. More than fine, in fact — there are lots of younger fans who probably don't even realize that the Nats used to be the Expos, so it'll be a good history lesson. And anything that gets those 'Spos unis back on the field is A-OK with me.
(Big thanks to Phil, who came up with the ingenious term "'Spobacks.")
• • • • •
• • • • •

ITEM! The design contest you've been waiting for: I haven't done a Uni Watch team-redesign contest since I left ESPN. But I'm announcing a new one today that will run on Sports Illustrated's website, and it's a doozy: Redesign the Bengals!
I've wanted to do a Bengals contest for years and years. I mean, few teams are more in need of a makeover, and there are lots of fun possibilities, right? I practically begged ESPN to let me do this, but for some reason they only wanted to let me do contests for teams that had recently announced plans to get new uniforms, and the Bengals haven't had new unis since 2004 (the year I joined ESPN, as it happens), so I was never able to do it.
Happily, SI was happy to partner with me for this project. You can see the full contest announcement, including the deadline and all of the rules and particulars, here.
• • • • •
• • • • •
Click to enlarge
I'm not usually a sneakerhead, but…: Look at this sensational vintage metal sign for Top-Notch sneakers, made by Beacon Falls Rubber Footwear. Spotted it for sale on eBay — it'd look great at Uni Watch HQ, but it's a little too pricey for me.
I'd never heard of Beacon Falls Rubber Footwear before, so I did a bit of Googling and found this gorgeous ad from 1952 (click to enlarge):
Hmmm, this may be a company worth investigating further.
• • • • •
• • • • •
ITEM! Rare summer appearance by Uni Watch cookie monster: As longtime readers are aware, one of the nicest Uni Watch rituals is the annual baking of uni-themed cookies by reader Elena Elms. She sends me a box of these treats every December — and only in December.
So imagine my surprise yesterday when I was working in my outdoor home office (let me tell you, having a front porch is by far the best thing that's ever happened to my work-at-home routine) and saw the mailman walk up with a package from Elena. Surely she wouldn't be sending me cookies during the summer, would she?
She sure would (click to enlarge):
How great is that? It's like the Uni Watch merch shop reproduced in edible form!
Elena enclosed a card, which read in part, "Since I couldn't make it to this weekend's celebration, I'm sending cookies in my place. I don't normally mail them in summer, due to the effects of heat and humidity, so I hope they survive the trip." They did!
Isn't that nice of Elena? And there are more cookies than the ones shown in the photo. I couldn't resist eating one or two, but I'll bring the rest of them to our Brooklyn gathering this Saturday.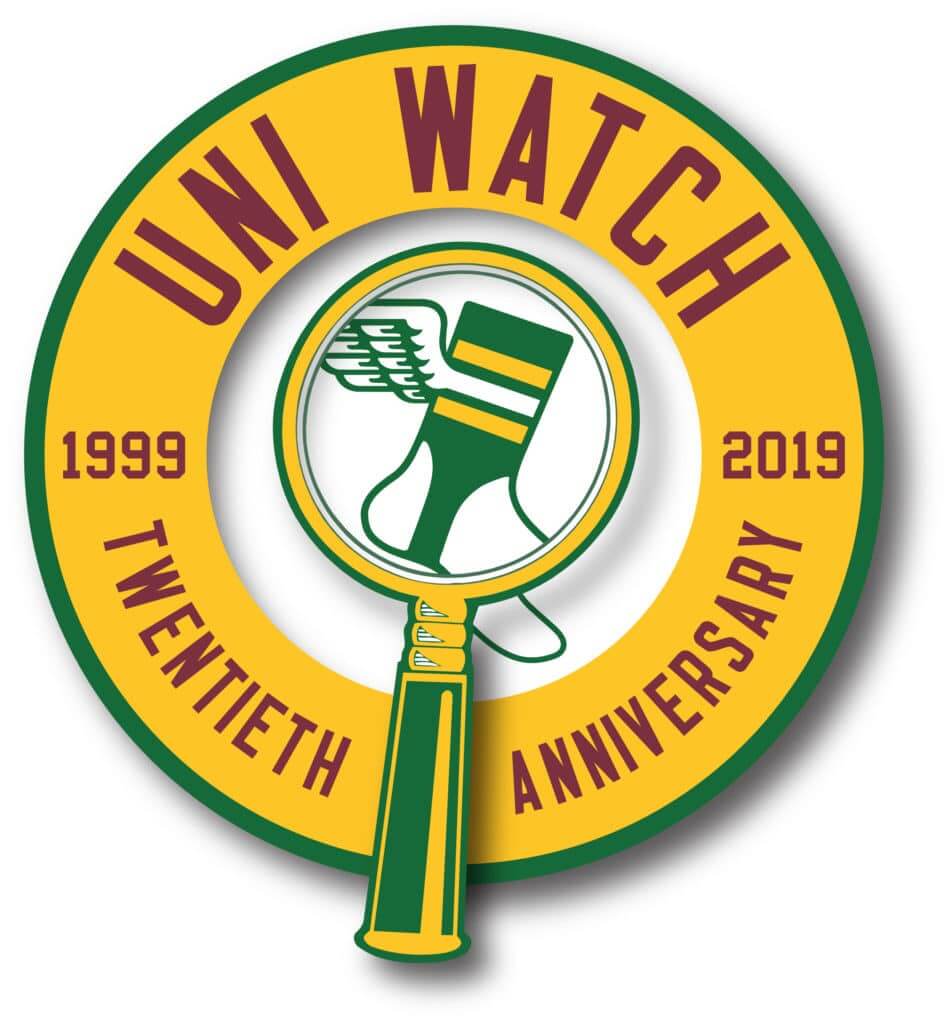 Speaking of Saturday's gatherings, I'm super-happy to see that there is now a party scheduled in the town with the most Uni Watch name ever — Uniopolis, Ohio. (Well, the party is actually in a nearby town, because Uniopolis doesn't have a bar, but still.) In addition, new gatherings have just been added for Richmond and Denver!
Here are the updated map and spreadsheet showing all of the currently planned gatherings. If you want to organize or attend a party this Saturday in your city (it's not too late!), contact party coordinator JohnMark Fisher.
Oh, and the Paris party will take place today! Have fun, Parisians, and remember to post your party photos to social media with the hashtag #UniWatch20.
• • • • •
• • • • •
Skateboard reminder: In case you missed it earlier this week, I have two cool skateboard items that I'm looking to sell. I'll put the proceeds toward the shipping costs for this year's year-end raffle.
First, I have a New York Rangers skateboard made by Aluminati (click to enlarge):
And there's also an NBA/Warriors "The City" throwback skateboard deck (i.e., a board with no wheels), also made by Aluminati. This one is still in its plastic wrap:
The Rangers skateboard retails for $130, and the Warriors deck goes for $60. I would strongly prefer to sell them together as a set, because I only have one box that can fit them. I'm thinking $120 plus shipping let's make it $100 plus shipping. If you want just one of them but not both, we can talk about that, but I'd reeaally prefer to sell them as a set. Interested? Shoot me a note. Thanks.
• • • • •
• • • • •
The Ticker
By Paul

'Skins Watch: The Ottawa Senators' arena is located on ancestral territory that once belonged the Algonquin Anishinaabe people — a fact that will now be acknowledged at every Sens home game (from Jerry Wolper). … The school board in Manchester, Conn., has voted to change the local high school's team name from Indians to Red Hawks (from John Dankosky). … Another Connecticut school board, this one in the town of Killingly, has voted to let a local Native American tribe decide if the town's high school teams should continue being called the Redmen. Tribe members have previously said they favor changing the name (from Alan Duda).

Baseball News: Here's how Mets P Noah Syndergaard looked in a Brooklyn Cyclones uni for a rehab start the other day. … Oh, for fuck's sake: I still call it Independence Day. … Lots of unusual Reds-related memorabilia, like a washing machine from the team's clubhouse, is up for auction here (from Cincy's own David Sonny). … 1990s throwbacks tomorrow for the Astros. … The Durham Bulls have partnered with the NHL's Carolina Hurricanes to create hockey-themed "Bunch of Jerks" uniforms, which will be worn on Aug. 23 (from Casey Hart). … Dodgers OF Alex Verdugo wears No. 27 but used to wear No. 61. He has necklaces with pendants for both numbers (from Jakob Fox). … The U.S. Patent and Trademark Office in Alexandria, Va., has a display on counterfeiting that includes some knockoff Angels caps. … Four new specialty jerseys on tap this season for the Tri-City ValleyCats. … Blue vs. blue last night at Wrigley. That's the second day in a row that the Cubs have worn their blue alts at home, after not having done so for about a decade. … The Mets called up P Chris Mazza yesterday. Here's hoping he brings his hosiery heroics with him to the bigs.

NFL News: Check out the all-white officials' uniforms in this video from the 1936 NFL championship game. Interesting facemask about six seconds in, too (from Jerry Wolper).
.

College Football News: New midfield logo for the Coast Guard Academy (from Joe Kelly). … Indiana, which went NNOB last year, is apparently bringing back the NOBs (from @bhaggard89). … New field for Valparaiso (from Joel Mathwig). … A Notre Dame blogger has offered a theory about this year's ND alternate uni design. … Looks like Troy will be using its crossed-swords logo to mark the kickoff spot on the field.

Hockey News: The Canucks' practice uniforms have been updated with the new stick-in-rink logo (from Wade Heidt). … New uni number assignments for the Canadiens: Nick Suzuki will wear No. 14 and Cole Caufield will wear No. 36 (from Mike Engle). … Cross-listed from the baseball section: MiLB's Durham Bulls have partnered with the NHL's Carolina Hurricanes to create hockey-themed "Bunch of Jerks" uniforms, which the Bulls will wear on Aug. 23 (from Casey Hart). … Kings prospect Jaret Anderson-Dolan has a very unwieldy NOB. … Looks like Maple Leafs RW Mitchell Marner has have a winking smiley face written on the palm of his right glove (good catch by Tanner Emeterio).

College Hoops News: New floor design in the works for Austin Peay (from AG Harris).
.

Soccer News: Oh, good: MLS will now allow gambling and liquor sponsors advertisers on jerseys and for naming rights (from Kary Klismet). … The daily download from Josh Hinton: New kits for Real Madrid, Fulham FC, Milton Keynes, and Darmstadt. … USWNT jerseys are popular with young boys. … New kits for Morecambe FC (from @TexasTrevor). … D.C. United wore pride kits last night. Here's how they looked in action (from our own Jamie Rathjen and Jacob Bogage). … Adidas is reportedly pressuring Manchester United to keep MF Paul Pogba, which seems like a serious case of the tail wagging the dog, no? (From Brent Kivell.) … The rest of these are from Ed Zelaski: New logo and colors for the Polish Ekstraklasa, the top men's league in Poland. … New corporate name for the Scottish Challenge Cup. … New kits for Dunfermline, De Graafschap, Lausanne-Sport, and Hearts.

Grab Bag: Here's a pretty hilarious article about how to fix all the bird-based team logos in the Big Four leagues. Recommended! (From many, many readers.) … This Tokyo Olympics logo concept is way better than the real thing (from Denver Gregg). … Buying, selling, and trading collectible sneakers has become a huge business (NYT link) (from Tom Turner). … Interesting article about whether police officers should be able to march in Pride parades while in uniform (NYT link). … The ultimate fusion of Cincinnati foods: chili with goetta (from Frank Bitzer). … Here's a really good in-depth discussion of Northland Community & Technical College's new branding, including its sports program (from Jason Hillyer). … Also from Jason: Here's a ranking of the neckties worn by the male candidates in last night's presidential candidates' debate. … Parents of a five-year-old boy who recently died of cancer, and who had dreamed of joining the Army when he grew up, are asking service members to attend his funeral in uniform. … Can't un-see it: The logo for the Xbox subsidiary Rare looks like a stylized "R" but is actually a golden roll of toilet paper. … New logo for the town of Mead, Colo. … It's been a long time since I've said this, but it's still true: Hamilton Nolan is really, really good. … Possible leak of a Rugby World Cup alternate jersey for Argentina (from Eric Bangeman). … Members of India's opposition political party don't like the national cricket team's new orange jerseys because that color is commonly associated with the ruling party. … Here's a ranking of 2020 presidential campaign logos (WaPo link) (from many readers). … A high school student caused nearly $700,000 in damage when he hung his JROTC uniform on his hotel room's sprinkler head, thereby activating the sprinkler and flooding 10 rooms. … With golf's U.S. Senior Open taking place at Notre Dame this year, players found customized Notre Dame jerseys waiting for them in their lockers today (rare non-UNC item from James Gilbert).