Click to enlarge
The 1996-97 season marked the NBA's 50th anniversary. As you can see in the photo shown above, they marked the occasion by using a gold NBA logo on the players' uniforms, and the refs wore a 50th-anniversary patch.
Here's a better look at the anniversary patch, which players wore on their warm-ups (click to enlarge):
Don't look now, but the NBA's 75th-anniversary season — 2021-22 — will soon be upon us, and they apparently have more elaborate uni-related plans this time around. That revelation came in yesterday's installment of the Locked on Rockets Podcast, in which podcaster Ben Dubose interviewed Rockets marketing exec Ken Sheirr. At about the 3:55 mark, they began discussing the Rockets' new uniform set, which led to this exchange:
Ben Dubose (podcaster): What's the lead time with Nike that's required to actually do this?
Ken Sheirr (marketing exec): For a full — like a primary identity change, it's basically two years. I mean, you need to start — two years in advance of the rollout season, you have to be starting the process. You need to be a year and a half out, final, at a minimum.
The reality is right now, we're already talking about 2021-22 for some special uniforms. Just preliminary discussions, but they really, really require some serious quality-control lead time and design time.
Dubose: This would be considered a secondary, right, so it moves a little bit quicker..?
Sheirr: Uhh, in theory, yeah. It all depends on how many changes you're making. As it relates to what I'm referring to, uh, they've got sort of a — and I can't really reveal much — but they have a program in place that has some similarities across the league. But then you have — there's a process for — is it right that in '21-22 they're celebrating 75 years?
Dubose [basically going along with it but clearly not sure]: I think that sounds right.
Sheirr: So, there are some things with their 75th anniversary of the NBA that they're wanting to, uh, they're wanting to celebrate, and it's going to tie through, across the league, through their — I don't know whether it's their City or their Earned, I don't remember which one it is. I think it's the Earned jersey, which is that one that, you know, the teams that make the playoffs have 'em. Get that extra uniform..?
Dubose: Yup.
Sheirr: Point being, they're asking for stuff on it. We're having to respond to some questionnaires now, to get it rolling.
———
So it sounds like every NBA team — or maybe just playoff teams from the previous season? — will have some sort of anniversary uniform for the 2021-22 season. That's still more than two years away, but it's something to keep an eye on.
That podcast episode includes lots of additional chatter about the Rockets' new set. You can listen to it here.
(Big thanks to Brian Hoss for bringing this podcast to my attention.)
• • • • •
• • • • •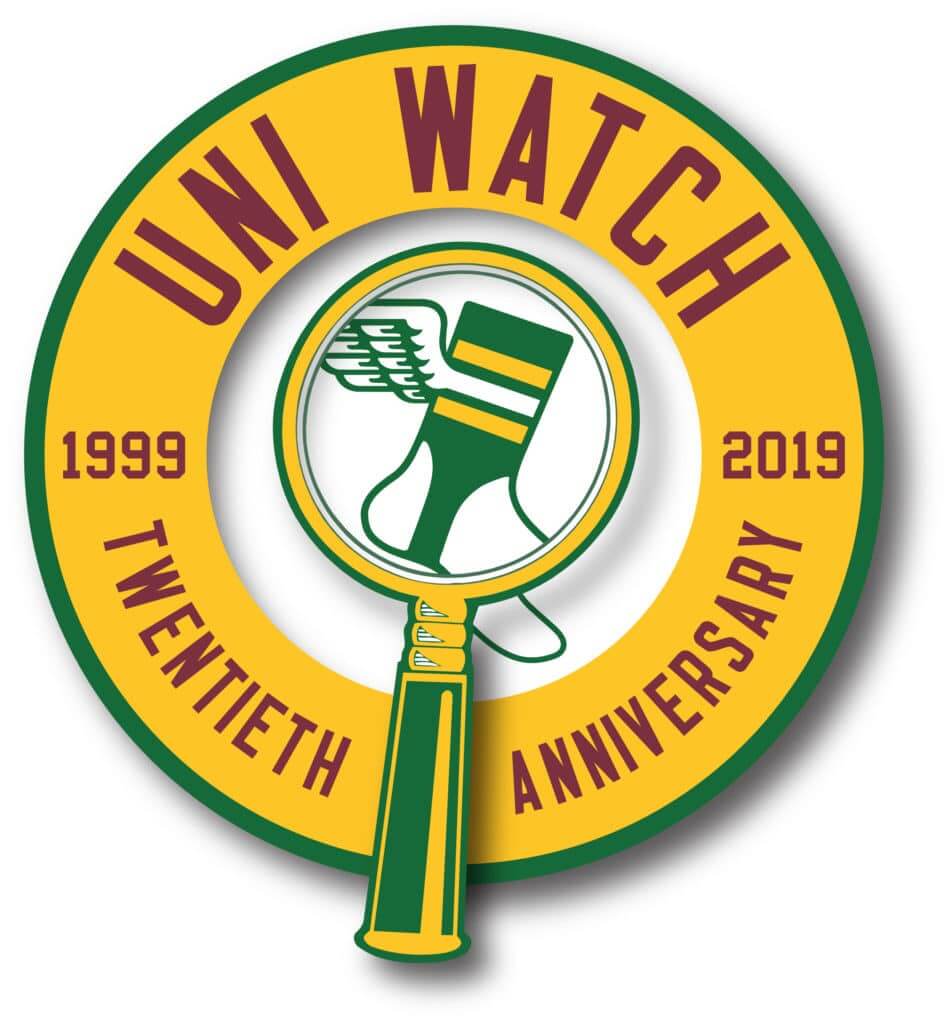 IMPORTANT uni-versary update: In yesterday's entry, I suggested that people attending this Saturday's satellite uni-versary parties can post party photos to social media using a specific hashtag. The hashtag I initially suggested included a hyphen, but then reader Mike Engle let me know that hashtags cannot include hyphens, so I changed the suggested hashtag to #UniWatch20. In case anyone saw the hyphenated version I initially suggested, please don't use that one. Use #UniWatch20 instead.
Also: I heard from people yesterday who are hoping to make last-minute party arrangements for Denver and San Diego. As always, if you want to organize or attend a party this Saturday in your city, contact party coordinator JohnMark Fisher. Here are the map and spreadsheet showing all of the currently planned gatherings.
• • • • •
• • • • •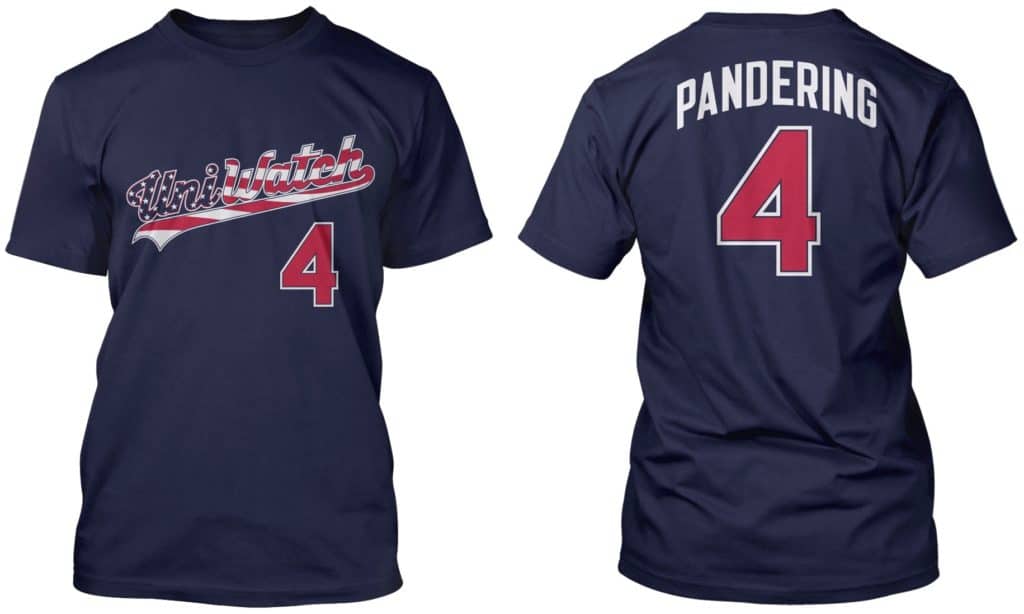 Click to enlarge
Stars/stripes reminder: If you want one of our Uni Watch stars/stripes shirts in time for Independence Day, you can still get one by ordering today with rush shipping. This design is also available as a tank top.
• • • • •
• • • • •
The Ticker
By Lloyd Alaban

Baseball News: The Cubs wore their blue alternates at home for the first in almost a decade last night (from multiple readers). … The Dodgers will extend the netting at Dodger Stadium after another fan got hit by a baseball recently. … Here's what goes into setting up the stadium in London (paywalled) for this weekend's Yankees/Red Sox series (from @soxteacher). … Stranger Things actor David Harbour wore a custom Phillies jersey at the club's batting practice yesterday (from Michael Barkaan). … Speaking of Stranger Things, actors Joe Keery and Shawn Levy received custom-NOB'd Red Sox jerseys with upside-down numbers, which is a reference to the show (from Jordan Mayblum). … Cardinals P Jack Flaherty wore some unique cleats last night (from Stephen Falter). … Here are US women's soccer players Sam Mewis and Alyssa Naeher wearing custom Red Sox jerseys with NOBs, which of course are nonexistent on regular Red Sox home whites. Both Mewis and Naeher are from New England (from our own Jamie Rathjen). … Remember how Royals OF Alex Gordon lost the "S" on his KC Monarchs throwback jersey on Sunday? MLB is auctioning off that uniform. The winning bidder will have the option for another "S" to be put on the jersey or can choose to take it as is (from Trent Guyer). … The Mets have launched a new "heritage" site with lots of old photos, old ticket stubs, etc. On first glance, looks pretty good. … The West Michigan Whitecaps, Single-A affiliate of the Tigers, wore Negro League throwbacks last night. Some of the game-worn jerseys are up for auction.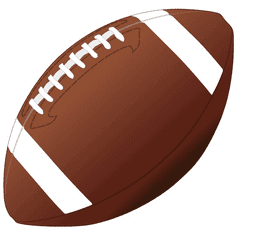 Football News:  New helmets for Edinboro University (from Joshua Gleason). … Josh Vice's dad is closing his grocery store after 20 years. He found a bunch of Nebraska football helmets and jerseys in the deli while cleaning up. … Saints QB Drew Brees welcomed newly drafted New Orleans Pelicans F Zion Williamson to the city with a framed jersey on which Brees wrote, "Passing the torch to you!" (from multiple readers). … A couple got married at Lincoln Financial Field, the home of the Eagles. Both the groom and bride received custom Eagles jerseys, with the bride receiving a number with a leading zero (from Sam McKinley). … The CFL's Saskatchewan Roughriders have a new logo for their home opener (from Wade Heidt).

Hockey News: NHL Draft No. 1 overall pick C Jack Hughes will wear No. 86 with the Devils (from Neil Vendetti). … The Calgary Hitmen of the Western Hockey League (named after that Hitman, a founding owner) have revealed their 25th-anniversary logo (from Wade Heidt). … Also from Wade: The Medicine Hat Tigers, also from the WHL, revealed their 50th-anniversary logo. … A seven-year-old Flyers fan wanted a prosthetic leg with the face of Gritty, the Flyers' mascot, on it. So Gritty surprised him by delivering it himself (from @mikeobs).

Basketball News: Yesterday's Ticker had a possible leak of a new Thunder alternate uniform. SportsLogos.net now says the leak is legit. Full details here. … The Spurs have issued uniform numbers for incoming rookies SF Keldon Johnson (No. 3) and PF Luka Samanic (No. 19) (from Etienne Catalan and Zane Goggins). … Also from Etienne: Blazers SG Anfernee Simons will switch from No. 24 to No. 1 so that new Blazer SG/SF Kent Bazemore can keep his No. 24 that he wore with his previous club, the Hawks. … The Warriors had a photo shoot for their rookies, and they were still wearing uniforms with the team's old logo and font (from @KINGDavidVI). … Cross-listed from the football section: New Orleans Saints QB Drew Brees welcomed Pelicans SF/PF Zion Williamson to the city with a framed jersey on which Brees wrote, "Passing the torch to you!" (from multiple readers). … MAFEX, a Japanese toy company, is releasing a Michael Jordan action figure next year, but with one small mistake: The figure is holding a basketball with the signature of Adam Silver, who didn't become the NBA commissioner until 2014, long after Jordan retired (from Adam Spangler), … The Los Angeles Sparks of the WNBA have updated their secondary logo (from Jimmy, who didn't give his last name).

Soccer News: New away kit for Inter Milan (from @clash_kit, aka Josh Hinton). … Also from @clash_kit: New shirts for Sevilla FC. … Russian club Zenit's home shirt has leaked (from Ed Zelaski). … Also from Ed: Ukrainian club FC Metalist 1925 Kharviv looks like they're using the Michigan "M" logo in their crest. … This gallery of pictures from Sunday's Women's World Cup match between France and Brazil shows France's wonderfully spotted shirts and socks, and photos six and eight show Brazil F Marta wearing bright red lipstick (from Ewan Williams). … ESPN roundtable talk show Pardon the Interruption used the US and France men's national team crests when discussing the US/France Women's World Cup match. Here's the appropriate women's US crest (which has three stars in reference to the team's three WWC victories) and the France women's crest (from Josh Mauldin). … Cross-listed from the baseball section: Here are US women's national team MF Sam Mewis and GK Alyssa Naeher wearing custom Boston Red Sox jerseys with NOBs, which of course are nonexistent on regular Red Sox home whites. Both Mewis and Naeher are from New England (from our own Jamie Rathjen). … English side Watford FC is holding a "very informal" crest design contest (from James Gilbert). … New Pride kits for San Francisco City FC of USL League Two (from Joachim S.). … An apartment maintenance company's uniforms is borrowing liberally from the shirts from Italian side SSC Napoli (from Pete Stein).

Grab Bag: The Houston Sports Hall of Fame released photos of the rings for its newest inductees: golfer Jack Burke, boxer George Foreman, race car driver AJ Foyt, and former Houston Oilers QB Dan Pastorini (from Ignacio Salazar). … The Indiana State Museum is holding an exhibit about how color affects our perception of clothing styles (from Derek Linn). … Chase Bank has released its new employee uniforms designed by fashion icon Jason Wu. …  Reader Joseph Bailey spotted this mash-up of Wisconsin team logos in Orlando, Fla., of all places. … The North Carolina Department of Transportation's newest ferry, the MV Rodanthe, has NC State's mascot painted on it (from James Gilbert). … Old Navy has come up with a pretty convoluted explanation for why purple is a patriotic color (from @Wyatt_Beltz). … New kits for Leinster Rugby (from Charlie Kranz).
• • • • •
Tomorrow: We'll have a new design contest — and it's gonna be a doozy. See you then. — Paul