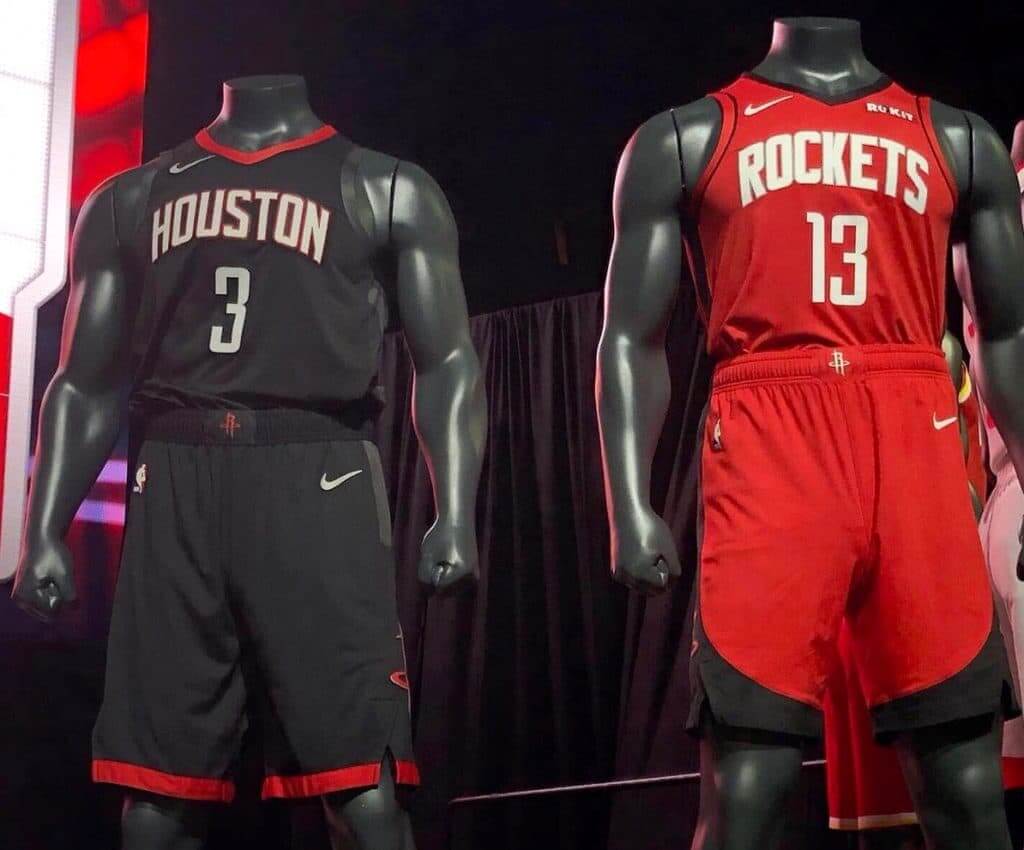 Click to enlarge
Happy summer solstice! Let's hear it for the Houston Rockets, who last night unveiled a new set of full uniforms, not just jerseys — although they did so using a set headless mannequins with clenched fists, which is sort of the mannequin version of a cartoon mascot with clenched teeth. Sigh.
Here's a shot that provides better views of the side panels and the shorts (click to enlarge):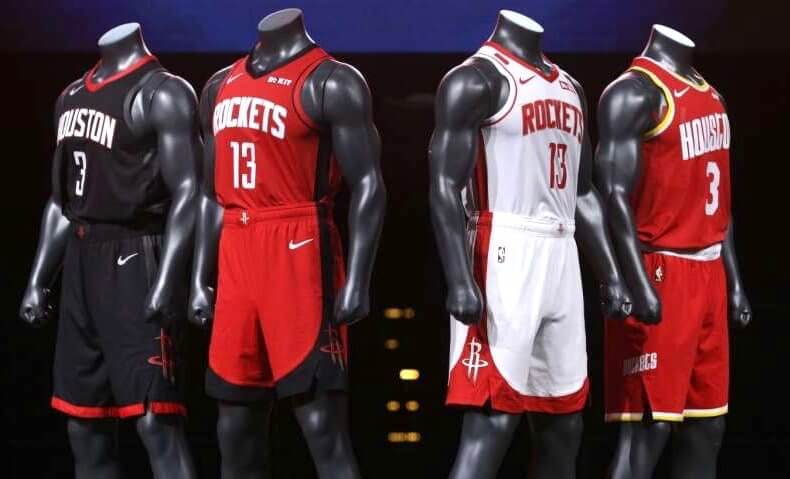 The black alternate is a carryover from their last set, so nothing new there (it's still awful). The throwback, which is the design they wore from 1986-95, isn't bad. It will be worn only for the coming season.
As for the new primary whites and reds, they've taken the font from the black alternate and used it as their new primary typeface — an upgrade. But the shorts still have the same logo, which was based on the old font, so that makes no sense.
Also, the armhole trim feels superfluous and the use of black on the red uniform is a huge mistake.
Overall: Meh. I hated their old set, so on some level this fairly traditional set can't help but be an improvement, but it feels pretty rote, no? Here's hoping they wear the throwback a lot!
Also worth noting: This unveiling of advertising-patched uniforms was itself advertised. Unfuckingbelievable:
• • • • •

• • • • •
Click to enlarge
Two-state Two-city solution: ESPN's Jaff Passan broke the news yesterday that the Rays have received permission from MLB to explore a plan under which they'd split their season between Florida and Montreal. The plan has no timetable and a lot of potential obstacles, so I wouldn't plan any Montreal road trips just yet, but that didn't stop some folks from whipping up some potential design concepts.
The one on the left, by MLB.com writer Mike Petriello, is straightforward enough — an Expos logo with some Rays fauxback accenting. As for the one on the right, by Twitter-er Danny Noll, that an Expos cap with an X-ray machine on the crown, so the team would be called the ExRays. Get it?
And then there's this:
Thoughts on these Expos/Rays crossover logos? 🤔🤔 pic.twitter.com/lTpHYTv8EH

— TSN (@TSN_Sports) June 20, 2019
And then SportsLogos.net's Chris Creamer did this: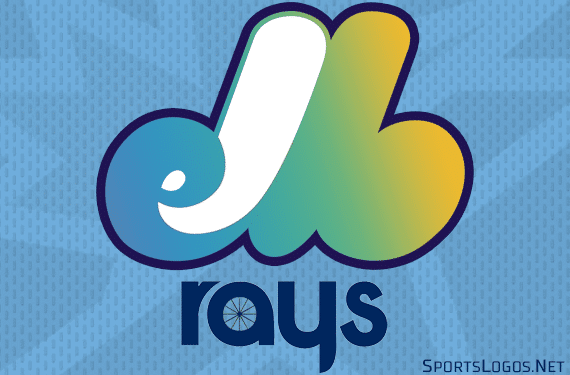 Maybe we'll do a contest for this one — stand by.
Meanwhile, how many top-level pro teams have been split between two cities? I can think of only two teams that split their home games between two cities and had both of those cities as part of their team names: the Kansas City-Omaha Kings (forerunner of today's Sacramento Kings, don'tcha know), who played under that name from 1972-75, and the New Orleans/Oklahoma City Hornets (today's New Orleans Pelicans), who in 2005-06 and 2006-07 played most of their games in OKC but had a few games in NOLA.
As for other teams that played in multiple cities but didn't have multi-city team names:
• For many years, the Packers played two home games per season — that's 25 percent of their home schedule — in Milwaukee.
• In 2003 and '04, the Expos played 22 games per season in San Juan.
• In the 1960s, the Warriors played most of their home games in San Francisco but also played some games in Oakland and in San Jose. During the 1971-72 season (their first with the "Golden State" moniker), they played six games in San Diego.
• In the late 1960s and early '70s, the ABA's Carolina Cougars were conceived as a regional franchise (hence the state-based team name) and split their home games between Greensboro, Charlotte, Raleigh, and Winston-Salem.
• Another ABA team, the Miami Floridians, became simply the Floridians in 1970 and rotated their homes games among Miami, Tampa, Jacksonville, and West Palm Beach.
I figure I'm probably missing a few examples. Anyone..? (And let's please omit teams that had to play one or two games in a different stadium or arena due to bad weather or unexpected stadium repairs. What we're looking for here are teams that went the multi-city route for at least a full season, not just a couple of games. Thanks.)
• • • • •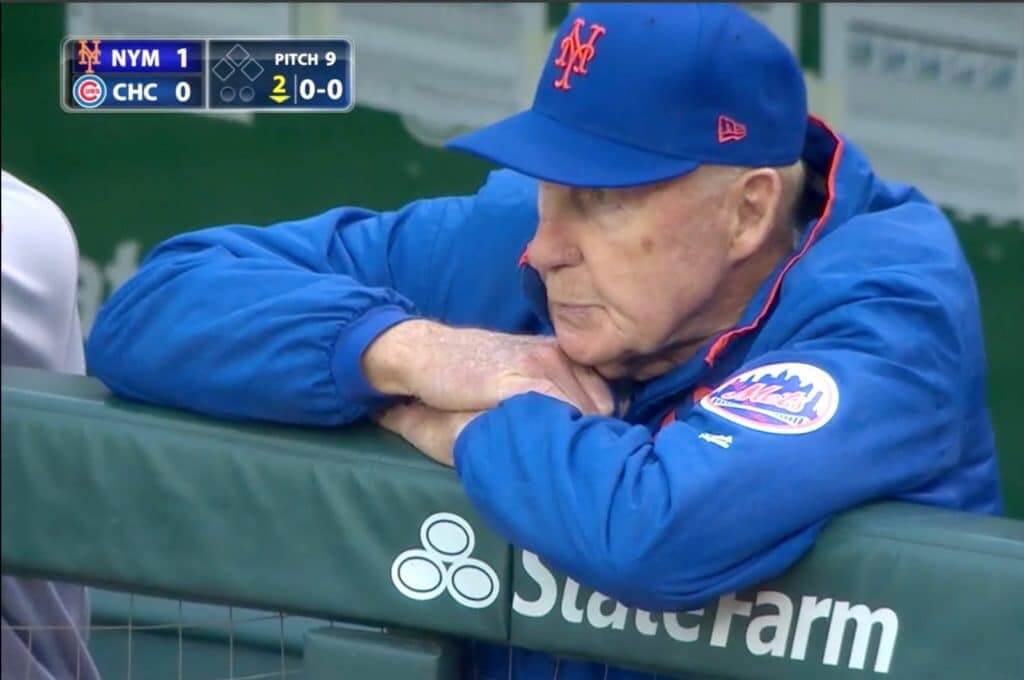 • • • • •
Old-school: Phil Regan (shown above during last night's Mets/Cubs game) was named yesterday as the Mets' new interim pitching coach. He is 82 years old. While I'm not 100% positive, I strongly suspect this makes him the oldest coach — and therefore the oldest man in uniform — currently working in the big leagues. And that raises the question: Who is the oldest person ever to wear a big league uniform?
Red Schoendienst was a "coaching advisor" for the Cardinals up until his death last year at the age of 95, and he still suited up in uniform from time to time. The latest shots of him in uniform that I could find are from spring training of 2016, when he would have been 93. Note that he was still wearing stirrups! (Okay, two-in-ones, but still.)
Similarly, the Angels continued to list Jimmie Reese as a coach until his death in 1994 at the age of 92, although it's not clear to me how active he was or how long he kept suiting up. The latest photo of him in uniform that I could find is this one, from 1987, when he was 85.
But Schoendienst and, I think, Reese had largely ceremonial coaching roles, while the 82-year-old Regan is now the Mets' full-time pitching coach. Is he the oldest to suit up in a full-time capacity? I'm not sure. Anyone..?
The oldest manager to suit up in uniform is Jack McKeon, who was 80 when he skippered the Marlins for the latter half of the 2011 season. (And of course the oldest manager, period, was Connie Mack, but he famously declined to wear a uniform, so he's not relevant to this discussion.)
Getting back to Regan, here's a nice bit of trivia: When he made his big league pitching debut for the Tigers in 1960, his manager was Jimmy Dykes — who was born in 1896!
And just to be clear, I'm not ridiculing or critiquing Regan over his age. Hell, he threw BP when he was 80!
• • • • •
• • • • •
The Ticker
By Anthony Emerson

Baseball News: Cardinals C Yadier Molina had a little trouble with his batting helmet logo during last night's game. Fortunately, repairs were made immediately (from many, many, many readers). … Rockies IF Ryan McMahon Gets It™ (also from many readers, but not as many as the Yadi thing). … The first Worcester Red Sox jersey has been given to former Boston Celtics player Paul Pierce, of all people. At least he's a Boston guy, I guess. … The Omaha Storm Chasers, Triple-A affiliate of the Royals, were the Omaha Sizzle last night (from Alex Manners). … The inaugural Rocket City Trash Pandas unis — for the 2020 season — have been revealed. They're currently the Mobile BayBears, Double-A affiliate of the Angels. The unis are pretty good, apart from the camo (another one from many readers). … The Kane County Cougars, Single-A affiliate of the D-backs, are becoming the Kane County Atomic Pork Chops for select home games for the remainder of the season (from Steve Johnston and Chris Bentz). … Lots of Michigan players wear those cheat-sheet play-calling thingies on their belts (from Kary Klimset). … Dodgers OF Joc Pederson played some first base last in last night's game and used teammate Cody Bellinger's mitt. … And so it has come to this: Cubs C Willson Contreras's necklaces got tangled up in his jersey buttons last night and he actually needed assistance to disentangle them. … Speaking of the Cubs, P Adbert Alzolay made his MLB debut last night and wore No. 73, making him the first 73 in team history.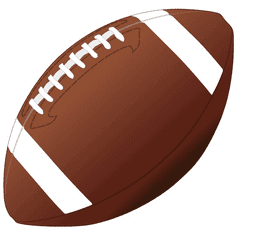 Football News: Whoa, check out the gorgeous two-tone sleeves on the 1975 Southern Miss home uni! (From @footballfuntime.) … Here's how the CFB 150 patch looks on a UGA jersey (from Trent Thacker and @TannerDabbs). … WMU's field is completely flooded. Bring your swimming trunks! (From Caleb Jenkins.) … It looks like Ohio State puts little buckeye marks on their footballs (from Brian Cox).

Hockey News: This Sabres cap featuring the team's new 50th-anniversary logo also has all of the team's primary logos throughout the franchise's history in the interior lining (from @TeebzHBIC). … One of the NHL's new rule changes for 2019-20 has new guidelines for players whose helmets fall off..

Basketball News: The Pacers' top pick in last night's draft, Goga Bitadze, is from the Republic of Georgia, so he wore a bow tie with a design based on the Georgian flag (from Robert Baker). … Cross-posted from the baseball section: The first Worcester Red Sox jersey has been given to former Celtics star Paul Pierce, of all people. At least he's a Boston guy, I guess. … Old Dominion's arena is getting a corporate-advertised name.

Soccer News: Let's start with Josh Hinton's daily contribution: Boca Juniors home kit has been leaked. … Another Buenos team, River Plate, has had their fourth kit leaked. … English fourth-tier side Bradford City have released their home kit (also from Gabriel Hurl). … Scottish side Motherwell has revealed their new kits. … German second-tier side Erzgebirge Aue has released their new home kit. …  Going further down the German football pyramid, 3.Liga team Sonnenhof Großaspach has released their new kits. … New alternate kits for Detroit City (from Ryan Keberly). … This promo image for yesterday's USA-Sweden World Cup match definitely had Carli Lloyd's upper half and Ali Krieger's bottom half photoshopped together (from @HeyShelbyG). … The following are all from Ed Żelaski: Red Star Belgrade are asking their fans how to place the three champions stars above their crest. … New kits, and a new kit manufacturer, for St. Johnstone. … New kits for AEK Athens. … Unsurprisingly, Nike and Adidas top the list of the biggest kit manufacturers in European pro football. Other good information in that article, like the manufacturer breakdown for the six biggest European leagues (from @mikeDfromCT).

Grab Bag: Anyone in and around NYC should check out this newly opened poster museum on W. 23rd Street (from Adam Herbst). … In the most Silicon Valley story ever, Facebook's new cryptocurrency project has been accused of cribbing the logo of a banking app start-up. Both used the same San Francisco design firm, natch (from Edward Hahn). … Here's a great video from one of the MythBusters dudes about how the Smithsonian replicated Neil Armstrong's Apollo 11 suit as closely as possible (from James Gilbert).