Photo from The Indianapolis Star; click to enlarge
Hooo-ah — now that's a uniform, am I right? The vertically arched chest lettering, double numbers (which look particularly odd on the guy wearing No. 10 — or is it No. 1010?), the endearingly clunky wording of "Indianapolis Star All Stars" (note the lack of a hyphen). Even the trainer or coach or whoever he is at lower-left has a cool shirt! The only thing better would be a color version.
These are the Indiana All Stars (they seem to have been consistent over the years about the unhyphenated style), a group of 12 Indiana high school seniors who play each year against a similar team comprised of Kentucky players. The game has been sponsored by The Indianapolis Star newspaper since the late 1930s.
"The seniors play one game in Kentucky and and one game in Indy over the course of a week," says Star sports editor Matt Glenesk, who filled me in on the details after I was intrigued by the photo and asked him about it. "There are also two games between the states' top juniors, and a game between Indiana's seniors and juniors, which is usually the most competitive of the games." (This year's games were just played — there's some news coverage here and here.)
The Star recently published a gallery of old Indiana All-Star photos. The one shown at the top of today's page is definitely the juiciest of the bunch, but many of the others are also really nice.
The most interesting thing is seeing all the different ways they tried to work stars into the Star's all-star designs. For example, here's a 1965 uni with three stars across the top of the jersey (all pics from The Indianapolis Star; click to enlarge):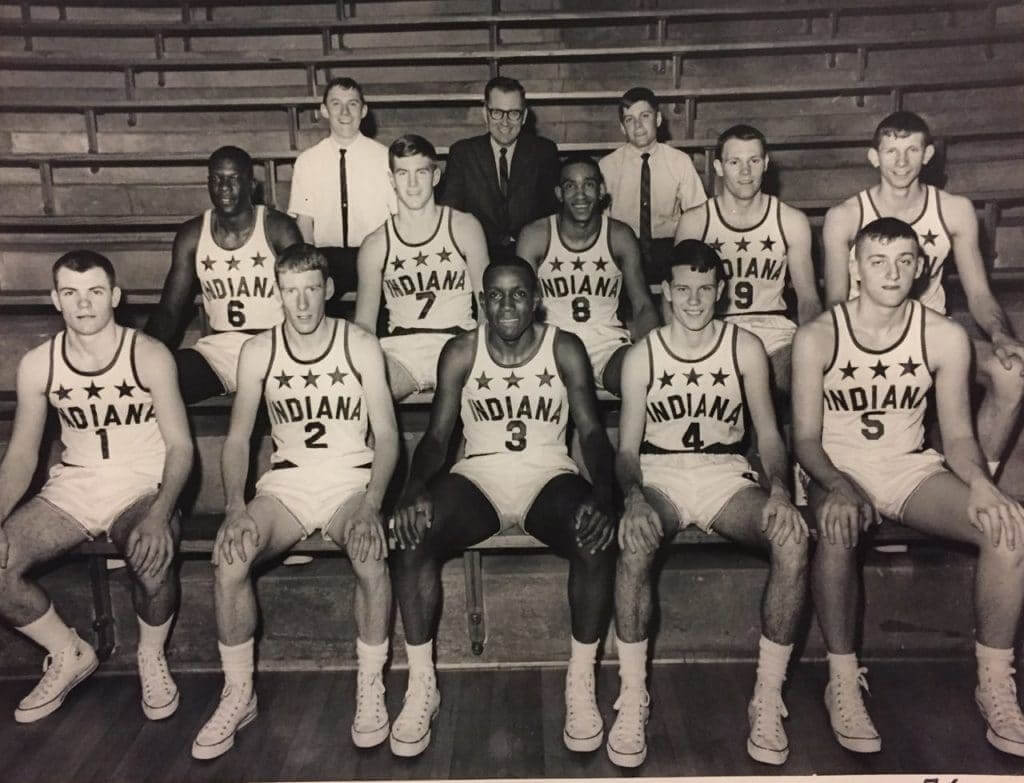 And here's a 1956 uni with the stars in between the lettering and the uni number (along with a view of a Kentucky player wearing the same design):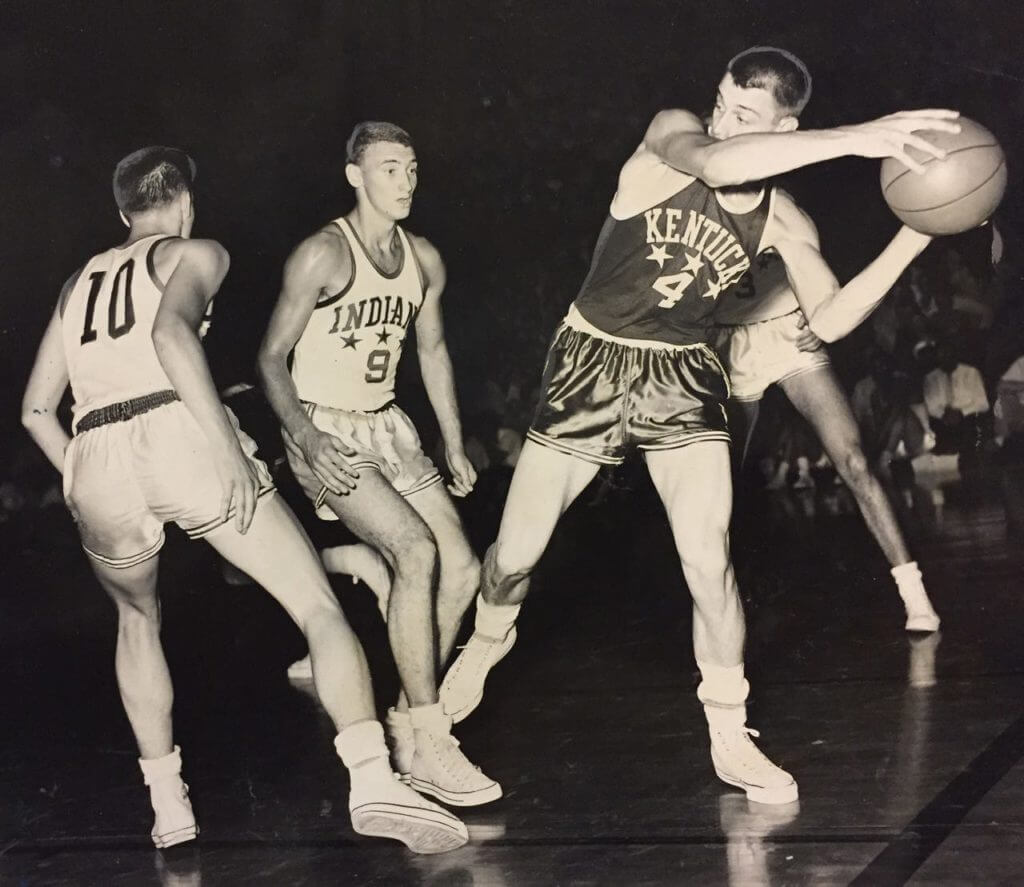 That last design also appears to have been used a few times without numbers, which looks really weird: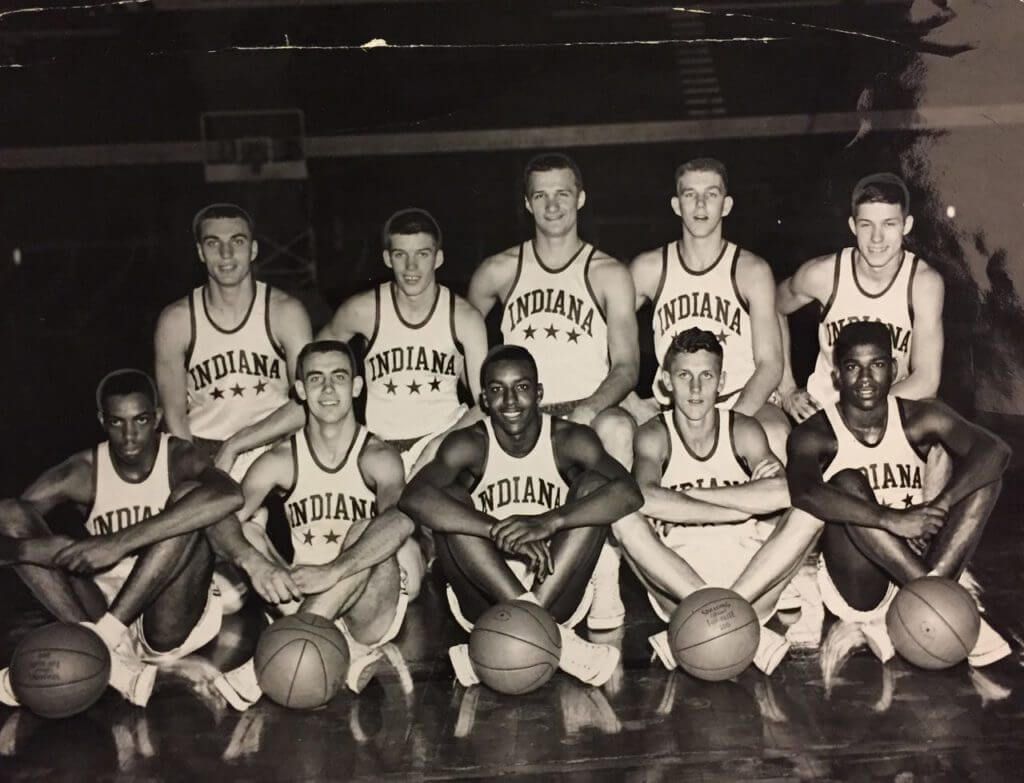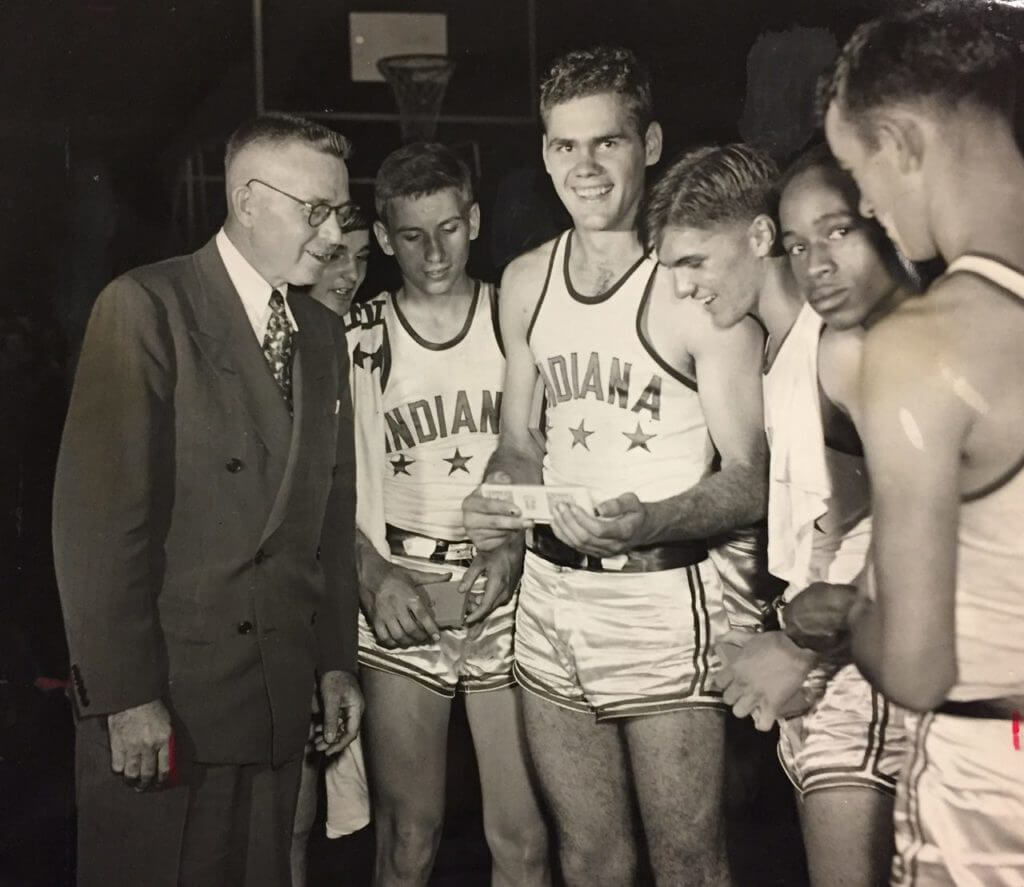 Reader/commenter Scott points out that there are also some shots that show the players wearing their first names on the front of their jerseys (!), as seen in these views of Tom and Dick (what, no Harry?):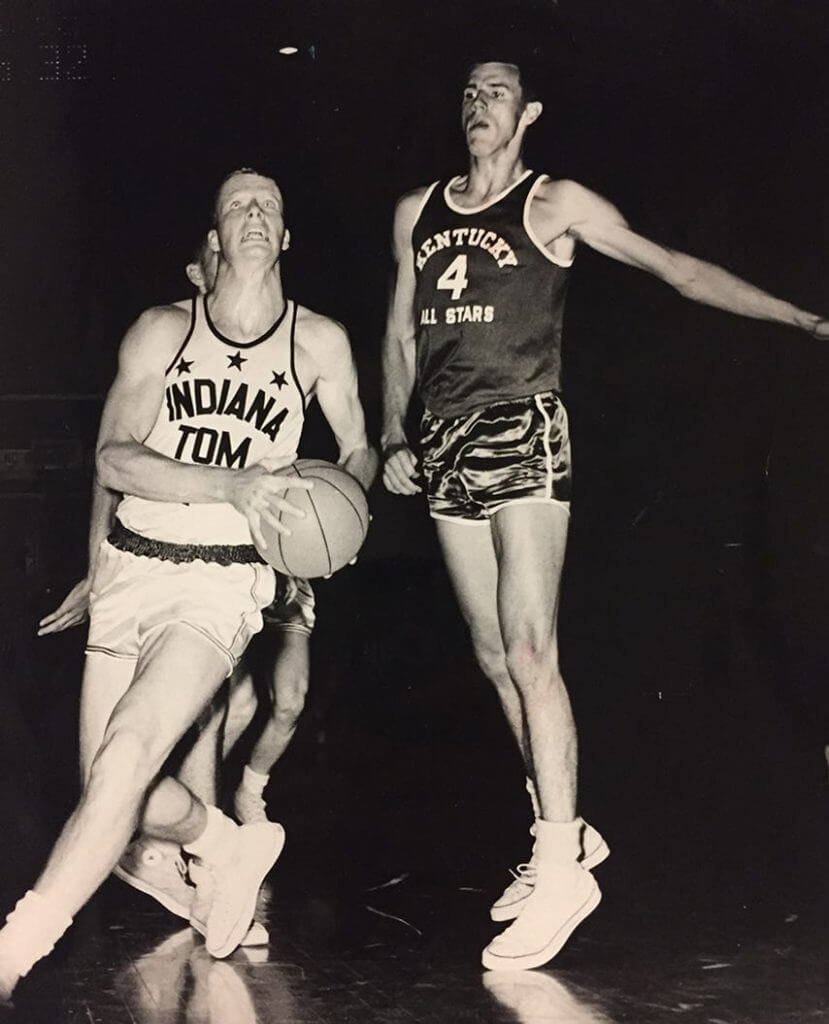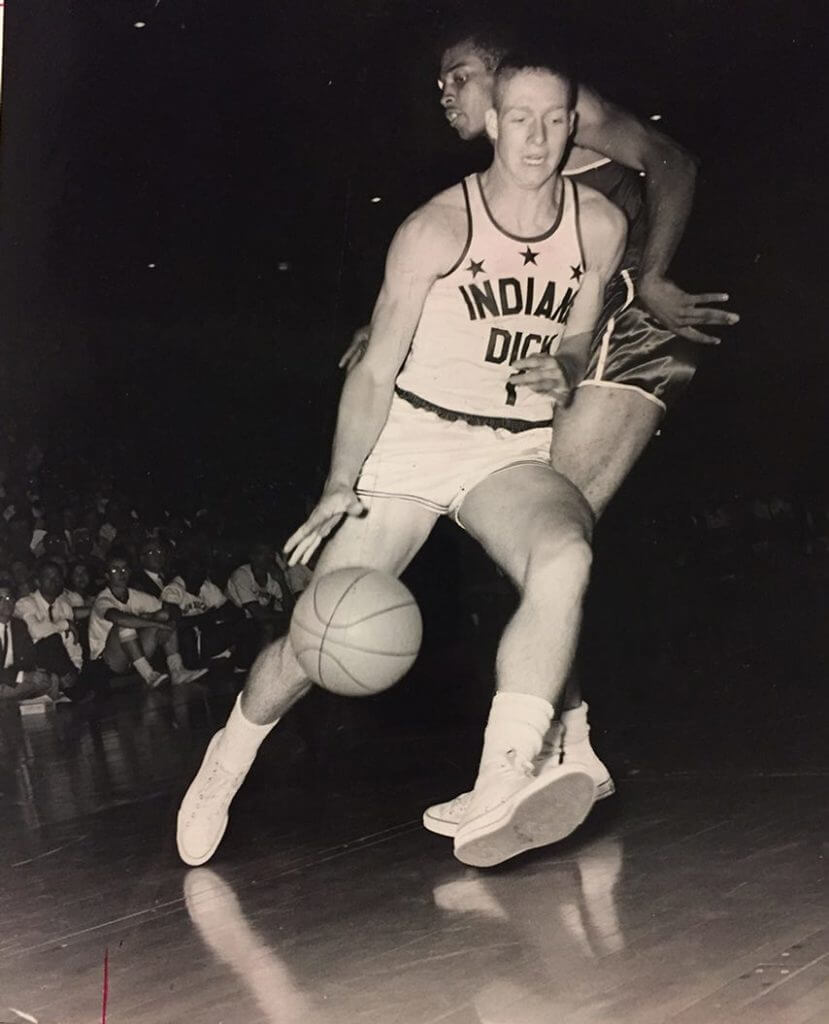 There are also some really sweet shooting/warm-up shirts. Check these out: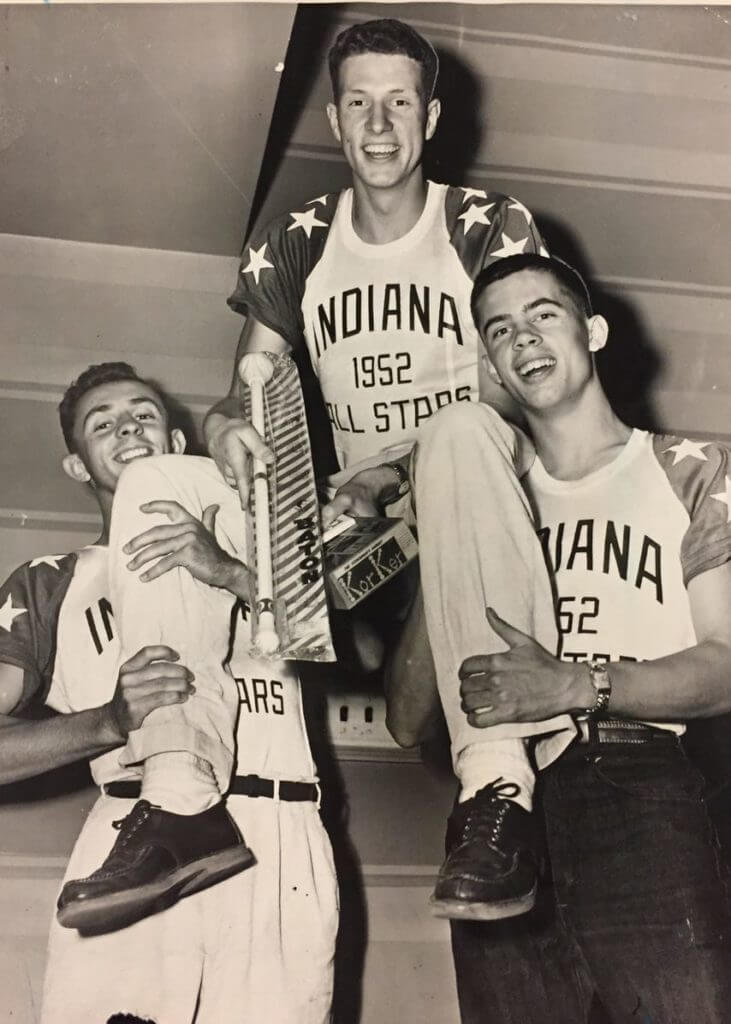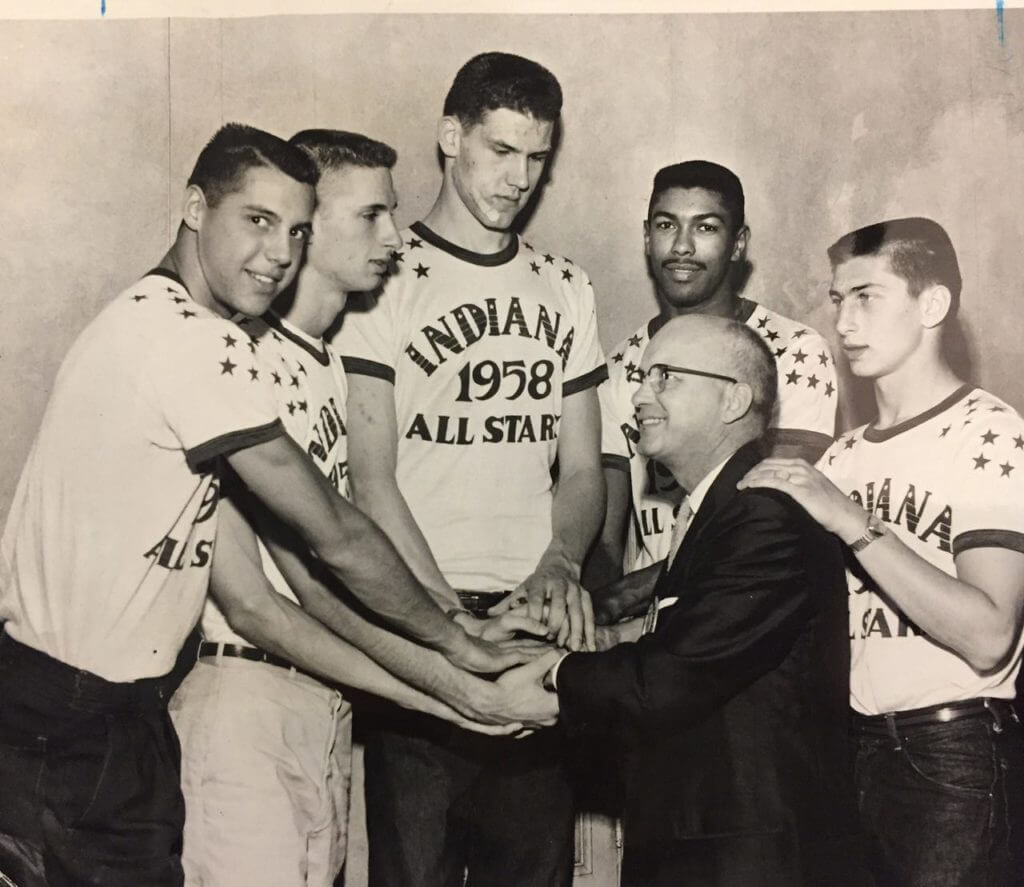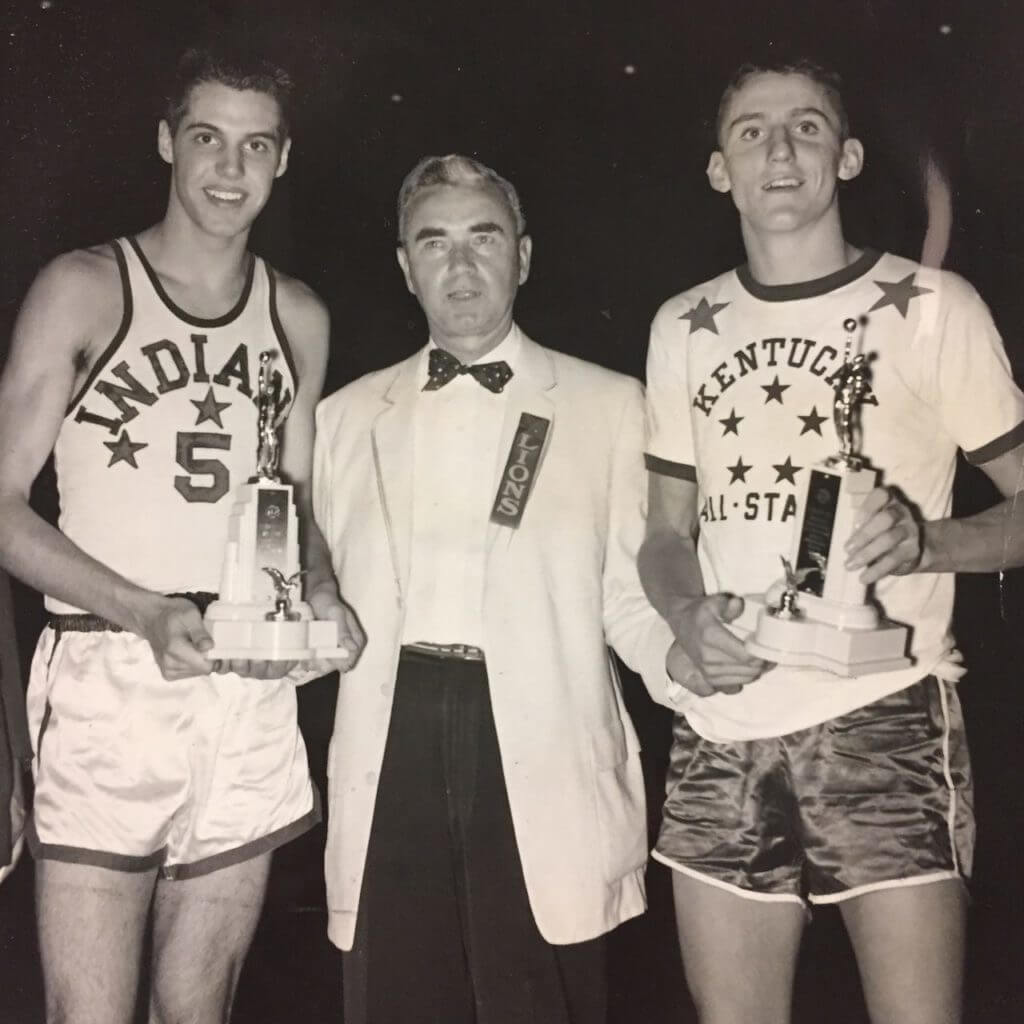 Good stuff, right? You can check out the entire 46-photo gallery here.
(My thanks to Michael Dean for bringing the photo gallery to my attention, and to IndyStar sports editor Matt Glenesk for giving me more info about the All Stars.)
• • • • •
• • • • •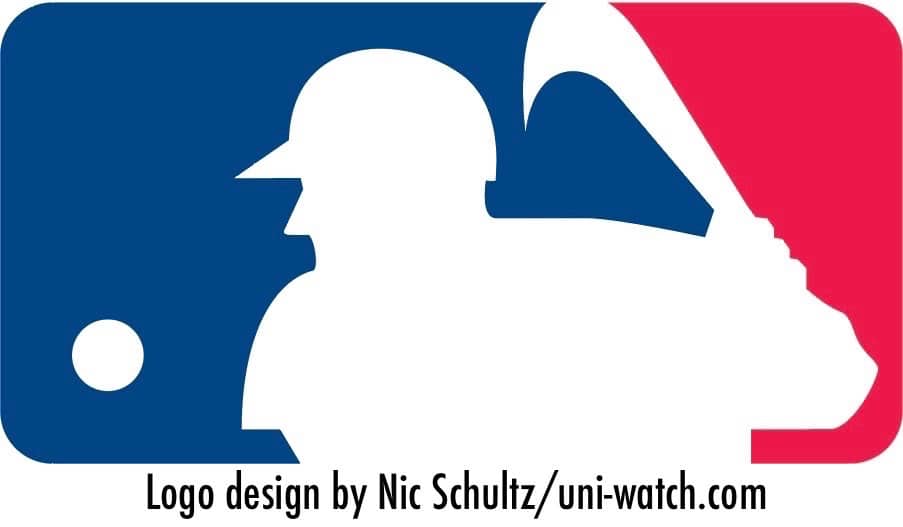 MLB/Nike update: In the wake of yesterday's Uni Watch exclusive about Nike's 2020 MLB uniforms, a trusted sourced followed up with a bunch of good information:
• Uniforms will be the exact same Flex Base template players have worn the past few seasons. Everything will be manufactured in the same way. Because Nike got in the game relatively late after Under Armour bowed out, Nike (in conjunction with MLB) took the path of least resistance by keeping the old Majestic uniform template for two more years.

• The only differences will be the Nike logo embroidered on the front of the jersey (and Nike tagging on the shirt tail and inside the neckline).

• Nike will be looking to create their own MLB uniform template for the 2022 season.

• The Nike logo on the pants will be above the rear pocket, same as Majestic's logo, not on the front (for now).
Another source told me more or less the same thing a few hours later.
I count just about all of this as good news (except for the front-facing maker's mark, obviously).
• • • • •
• • • • •
Click to enlarge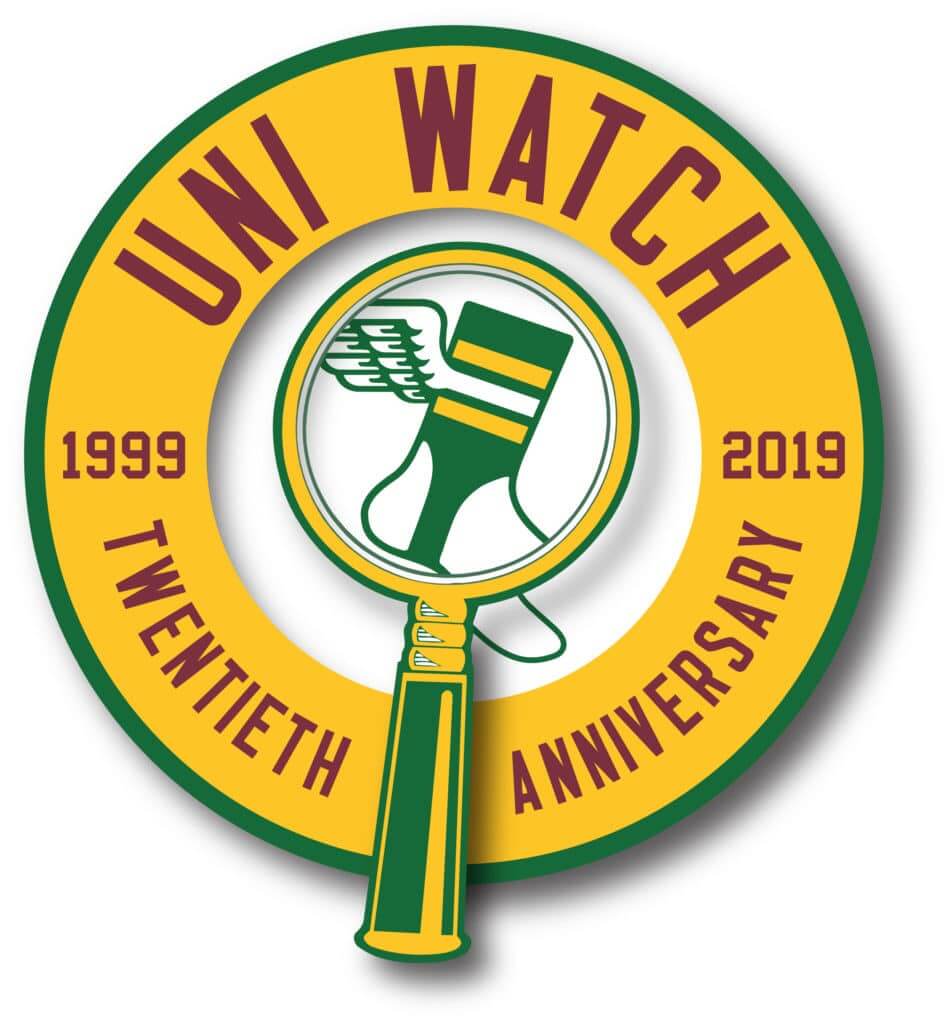 Uni-versary update: The number of Uni Watch 20th-anniversary parties that will be taking place later this month continues to grown, as you can see on the map above. You can see the full interactive map here, and the spreadsheet of various parties is here. Remember, if you want to organize or attend a gathering in your city, contact party coordinator JohnMark Fisher. (Note that we currently have no parties taking place west of Des Moines. Come on, Mountain and Pacific Time residents — step up!)
Also: Due to a Teespring technical glitch, our anniversary-logo stickers were temporarily unavailable, but now they're available once again. I make almost no money on these (literally less than a dollar apiece), so this isn't a hard sell, but stickers are fun, right? Buy a few and slap 'em on your car, your laptop, your cat, whatever.
Meanwhile, I hope by now most of you are aware of our awesome "Turn Ahead the Clock Shirt," which celebrates the dual 20th anniversaries of Uni Watch and MLB's infamous 1999 TATC program (and yes, I do make some coin on these). You can order it here.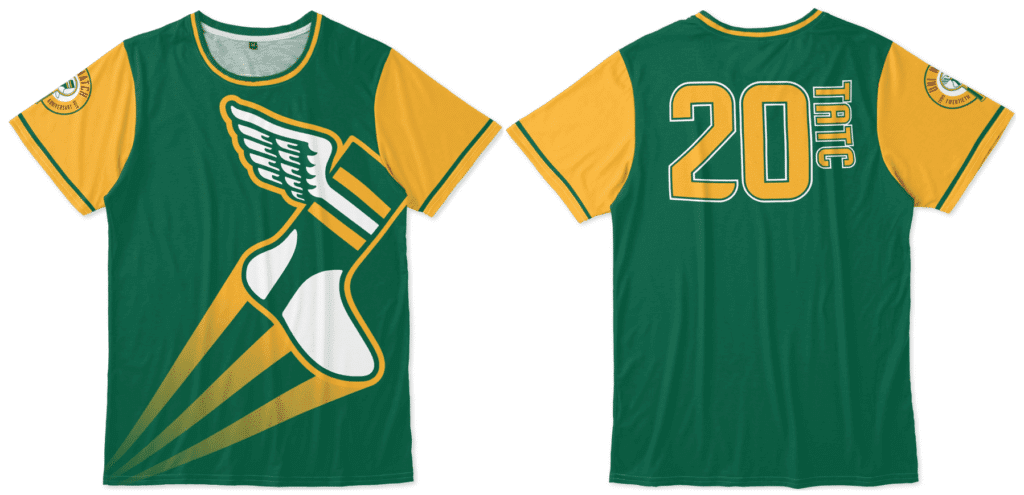 We have other anniversary items — and, of course, non-anniversary items — in the Uni Watch Teespring shop. My thanks, as always, for considering our products.
And while we're at it, don't forget that 'tis the season for our stars and stripes shirt and our Canada Day shirt. Thanks.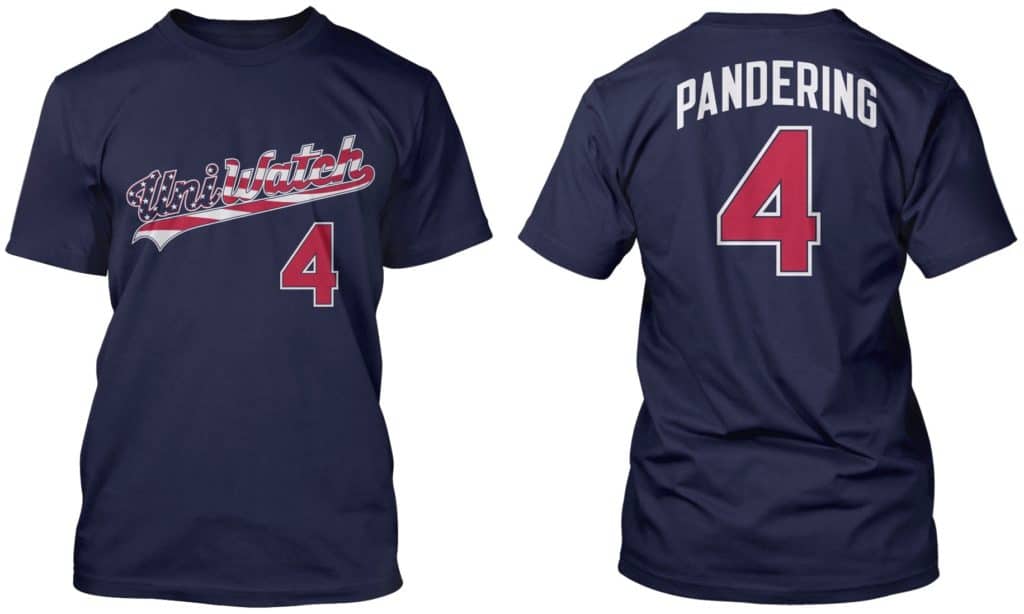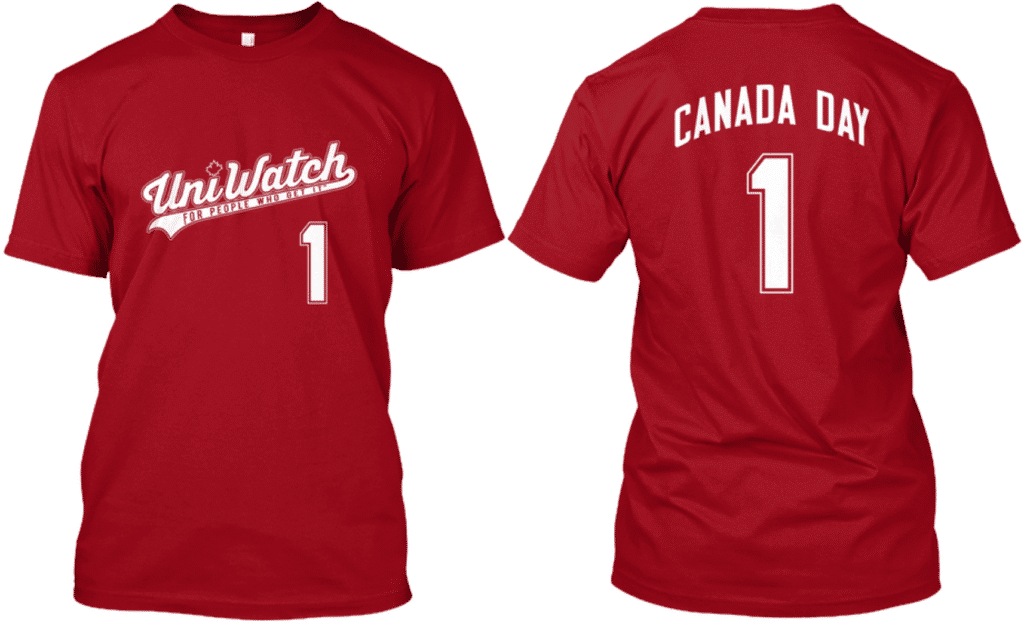 • • • • •
• • • • •
The Ticker
By Anthony Emerson

Baseball News: The Coors Field out-of-town scoreboard recently incorrectly listed Mets 1B Dominic Smith as the Mets' starting pitcher (from @UntillTheNight). … Rainbow/pride mound logo for the Blue Jays last night (from Jorge Cruz). … Also posted in the NFL section: Apparently Peyton Manning is a Cubs fan (from Bob Gassel). … The Hartford Yard Goats, Double-A affiliates of the Rockies, have unveiled their stars-and-stripes caps (from @00obscuredviews). … The Down East Wood Ducks, Advanced-A affiliates of the Rangers, are wearing Kinston Collard Greens uniforms this weekend. Here's a look at the full uni (from Ben Zajdel and Brett Swartz). … We had this earlier in the week, but it's worth repeating: The Wisconsin Timber Rattlers, Single-A affiliates of the Brewers, are renaming themselves as the "Wisconsin Udder Tuggers" for their "Salute to Cows" night. Gotta love minor league ball (from David Lassen). … Have you ever seen Nolan Ryan-branded infield conditioner before? (From Ignacio Salazar.)

NFL News: The Bears will unveil their new throwback uniform, which will almost certainly be this 1936 design, at a team-centennial celebration tonight. The event is scheduled to run from 8:30 to 11 Eastern, with the unveiling segment likely to take place in the latter part of that time slot. … The Panthers are still using their old logo on parts of their facilities (from Mark Omlor). … Cross-listed from the baseball section: Apparently Peyton Manning is a Chicago Cubs fan (from Bob Gassel). … Also posted in the hockey section: Patriots WR Julian Edelman was wearing Boston Bruins C Charlie Coyle's jersey during training camp yesterday (from Jakob Fox).

Hockey News: Here's a great look at the special mask Bruins D Zdeno Chara wore during last night's game to protect his broken jaw (from Alan Kreit). … During practice, the Blues goalies Jordan Binnington and Jake Allen wear devices that cut off the bottom of their vision to focus their eyes on the puck (from Ryan Walters). … The forthcoming Seattle NHL team has introduced a new website with a sort of salmon-inspired color scheme. Is this a hint, or a red herring? (From Jimmy Wong and Michael Alper.) … Ugh: In this article advocating for a shorter NHL regular season, the writer proposes adding corporate advertisements to team unis to make up for lost revenue from shortening the season (from Craig Stoltz). … Cross-listed from the NFL section: New England Patriots WR Julian Edelman was wearing Bruins C Charlie Coyle's jersey during camp yesterday (from Jakob Fox).

NBA News: The Rockets released a new secondary logo and will unveil new uniforms on June 20 (from Ignacio Salazar and Elan Tavor).

Soccer News: Here's a great article (NYT link) on how members of the U.S. Women's Team are coming out with their own fashion and activewear lines, and what it means for women's sports in general. … Manchester City's home, away, third, and 125th-anniversary kits have all been leaked (from Josh Hinton). … Aston Villa has a new shirt advertiser (from Josh Hinton and Ed Żelaski). … North Carolina FC Youth has new kits (from James Gilbert). … FC Cincinnati will have a rainbow captain's armband to coincide with the city's LGBTQ Pride festival (from @labflyer).

Grab Bag: The homeowners association in Jeremy Kendrick's Texas neighborhood allows residents to support local teams by painting team logos on the curbs in front of their homes. "It helps in identifying and avoiding Dallas fans," he says.  … Former Interior Secretary Ryan Zinke has been found to have violated the Hatch Act, which prohibits executive branch employees from engaging in certain forms of political activity, when he posted a photo of himself wearing MAGA socks. … Here's a great article about the artistry of fruit stickers (from Kevin Zdancewicz). … Louisville's new Muhammad Ali International Airport logo has been revealed (from @LouAVille502).
• • • • •
Our latest raffle winner is Kevin McLaughlin, who's won himself an item of his choice from the Vintage Brand site. Congrats to him and thanks to Vintage Brand. We'll have more raffles next week.