Saturday was Photo Day in Colorado, so fans got to pose with Rockies players before the game. Reader Tim Cox — shown above with his wife, Joy, and Rockies outfielder Charlie Blackmon — decided to wear his new Uni Watch 2019 Purple Amnesty Day shirt for the occasion. Looks like it fit right in!
Tim sent along some very entertaining info with that photo, so I'll pass the purple baton to him:
Several people either commented knowingly about the shirt or asked about its significance. At a local watering hole, where we passed the time between the photo session and the game, a young guy came up to me and said "Awesome shirt! I had to decide whether to order one of those or get my Rockies-themed membership card, and went with the card on Purple Abstinence Day." He quickly corrected himself, but not before my wife quipped, "You mean 'Amnesty' — every other day is Purple Abstinence Day at Uni Watch."

During the photo hour, Rockies assistant hitting coach and former big league outfielder Jeff Salazar asked about Uni Watch. I gave him the 30-second version, which admittedly fails to capture some of the nuance, and he asked, "Why does the guy hate purple?" I took the easy way out and told him you call it "the Celine Dion of colors." His response: "My wife LOVES Celine Dion!"

I also had a brief encounter with Julian Valentin, a guy I've known for a while who works in communications for the team. He commented on the shirt, and when I asked if he was familiar with Uni Watch (felt a little like an Amway moment for me — "Ask Me About Uni Watch"), he said, "Yeah, it's a great site."
This is all too funny (especially the Celine Dion bit). And I love Tim's Amway line — maybe we should have "Ask Me About Uni Watch" buttons or shirts or something (longtime readers may recall that the New Girl — the woman I dated before the Tugboat Captain — collected such buttons). Also, looks like we have a new slogan: "Uni Watch: Where It's (Almost) Always Purple Abstinence Day."
Incidentally, I'm hoping to have something really big for next year's Purp Walk. Way too soon to share any details, and a lot of pieces will have to fall into place for it to work, but it could be epic! Stay tuned.
• • • • •
• • • • •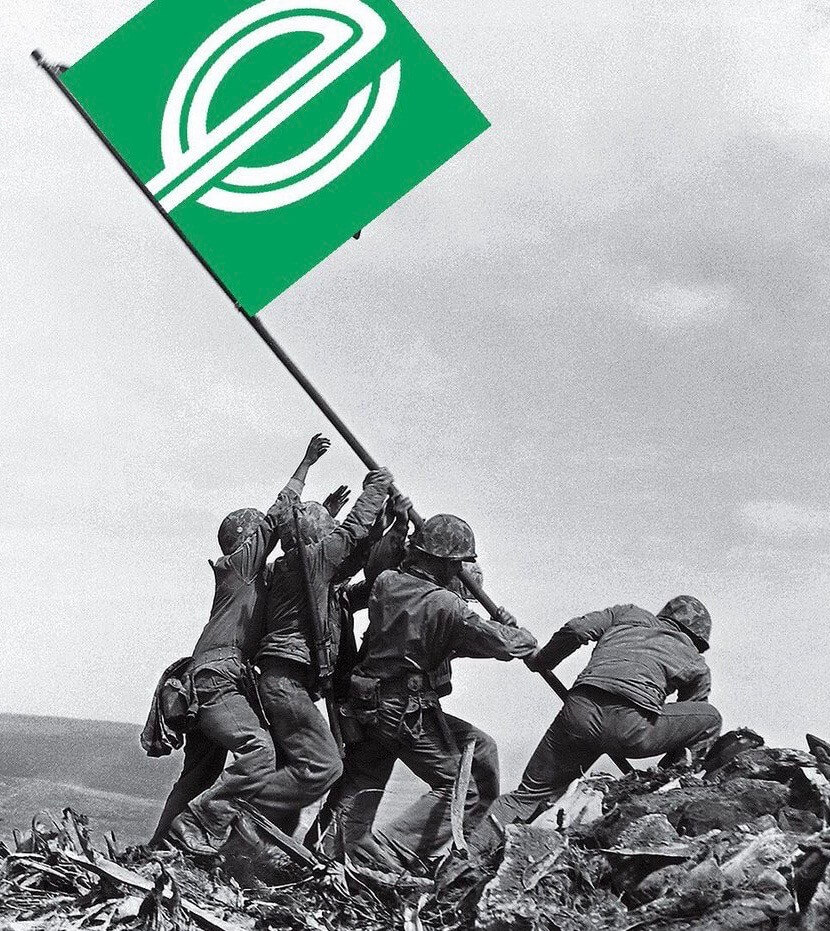 #NoAnthemAds update: The Blues apparently got the message. After yesterday's Uni Watch entry publicly shamed them for including an Enterprise Rent-A-Car advertisement as part of the color guard during the singing of the national anthem prior to Saturday night's Stanley Cup game, they scrapped the ad flag for last night's anthem. The team flag that had also been part of the earlier color guard display was likewise scrapped. (Now we just have to get rid of color guards at sporting events altogether, but one thing at a time.)
To the many of you who responded in kind when I first tweeted about this on Sunday, well done. And to those who said, "It sucks but that's just the way things are now, get used to it," this is a good reminder that sometimes you can push back successfully, and sometimes the higher-ups really do respond.
Meanwhile, the military podcast Zero Blog Thirty will apparently be discussing the ad-clad color guard in their latest episode today. Judging by that preview, it should be entertaining.
Possibly the best thing to come out of this — aside from the Blues beating a hasty retreat — is the Iwo Jima-esque image shown at the top of this section. It was created by @TomHeartsTanks and brought to my attention by Trevor Wilson Patterson. My thanks to both of them.
• • • • •
• • • • •
Catch Around the Block: More than two months ago, on March 26, I was one of about 50 people who gathered in Brooklyn to celebrate the start of the baseball season by throwing a ball all the way around a single city block. We did it (twice, in fact), and it was a blast.
The guy who organized all of this was the artist and TV commercial director Mac Premo (who I became friends with after I wrote about his double play machine last year). He was documenting the whole project on video — much of which he shot while scooting around the block on a skateboard, which was really something to see — and said he'd have the whole thing edited and ready to go in a couple of days. As it turned out, it took him more than two months, but now it's finally done.
The video is fun (you can see me catching the ball at the 0:36 mark), but it doesn't capture the giddy spirit of the day, which was amazing. Mac is a very charismatic guy, and his enthusiasm is infectious, so he's good at getting people on board for his projects — even if they involve doing crazy shit like having dozens of people throwing a ball around in the middle of Brooklyn traffic.
Many people, myself included, showed up wearing jerseys; for those who didn't, Mac had a bunch of Ebbets Field Flannels jerseys on hand. Before fanning out around the block, we all warmed up by tossing a few balls around in front of Mac's studio. Here's Mac catching a ball thrown by his dad, who wore an Angels halo-topped cap and a Padres jersey (click to enlarge):
I took a bunch of additional photos, which you can see here.
The only thing I feel bad about is that a Uni Watch reader showed up and introduced himself to me. We chatted a bit — really nice guy. I didn't write down his name because I figured I'd remember it. But because of the delay with the video, so much time has gone by that I no longer recall this guy's name. Anyway, we posed for a nice photo (click to enlarge):
If that guy is out there and sees this, please shoot me a note so I can identify you properly. Thanks!
• • • • •
• • • • •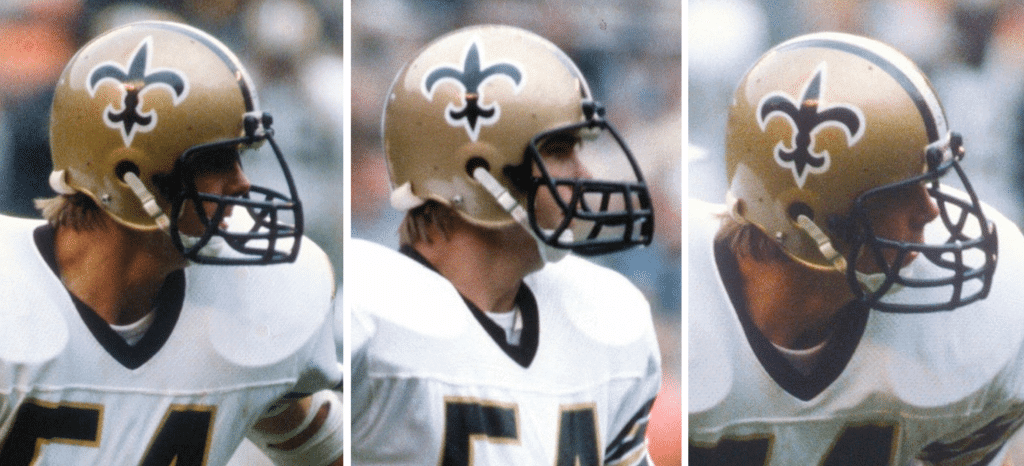 Click to enlarge
Mystery mask: Check out the very unusual facemask worn by former Saints linebacker Pat Hughes. It projects so far out from his face! These shots are all from a Oct. 28, 1979, game against Washington. Anyone know more..?
(Props to @1970sNFL for finding these photos and to @MJM5477 for bringing them to my attention.)
• • • • •
• • • • •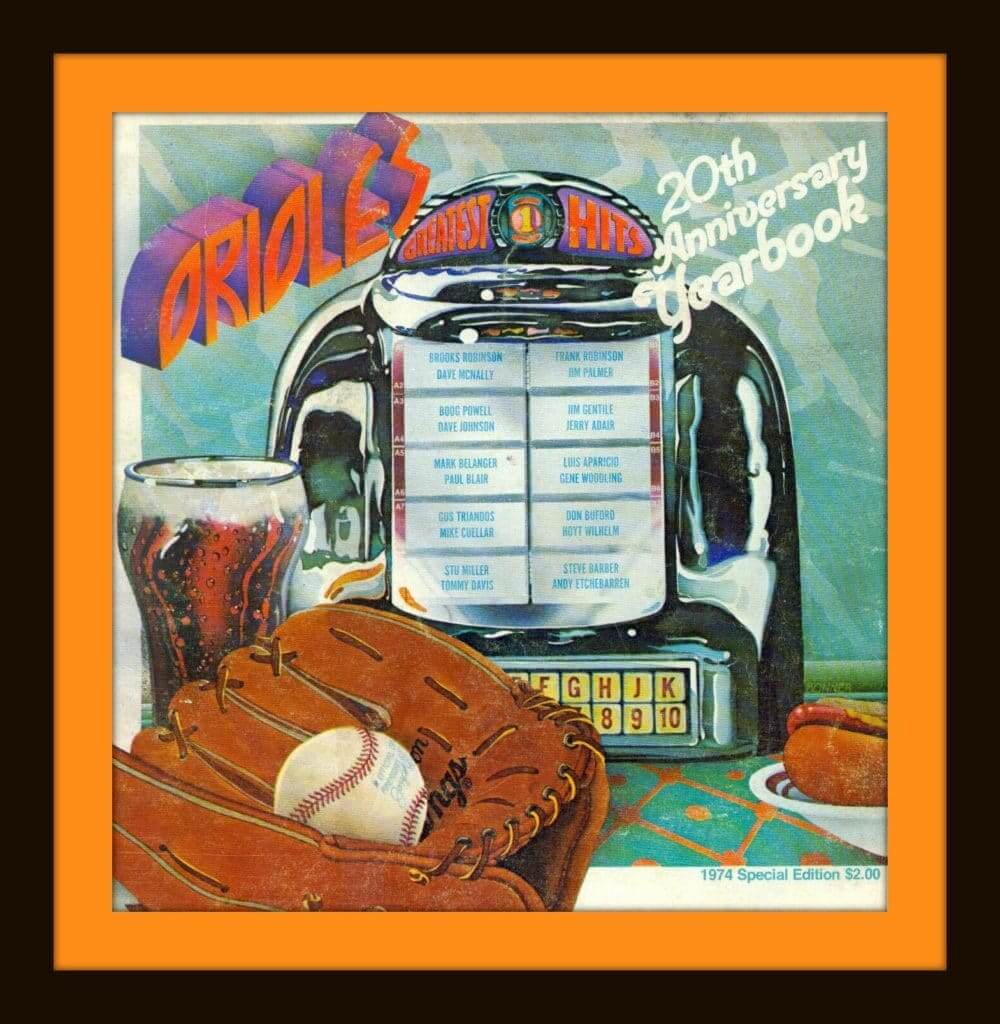 Click to enlarge
Collector's Corner
By Brinke Guthrie
Terrific artwork for the cover of this 1974 Orioles yearbook, right? It instantly reminded me of the movie American Graffiti, as well as 1976's Best of the Doobies and Foreigner's Records from 1982.
Now for the rest of this week's picks:
• This 1960s Washington Senators glass mug has powder blue colors, even though that wasn't really a Sens color.
• While this Sears Chicago Bears helmet plaque is genuine — check the label on the rear — the "C" on the helmet is not.
• You can get a good idea of how the halo looked on this 1960s California Angels baseball cap from the photos the seller provided.
• One more from Sears: This Baltimore Colts kid's bathrobe looks to be early-1980s (they moved from Baltimore in 1984).
• I like the batter silhouette as shown on two of the four designs in this lot of New York Mets pins.
• Maybe this was just made up by someone, but I don't recall the Pirates ever using the mascot shown on this "travel decal sticker" as part of their visual program.
• I think the drawing of the batter was just thrown on this 1960s Oakland A's pennant. Not a part of their visual identity either.
• Here's a lot of 1970s Sportoys helmet buggies for four AFC East teams: the Colts, Jets, Pats, and Bills. And I finally found one for the Niners, but the condition doesn't warrant the seller's asking price.
• Got a pair of matching 1970s AFC/NFL thermal cups, from the International House of Pancakes. Also check out this 1974 iHOP NFL placemat (which we've previously featured here but it's still cool).
• Also previously featured but worth an encore: this pair of 1970s red canvas sneakers with MLB logos about the outsole.
Seen an item on eBay that would be good for Collector's Corner? Send any submissions here.
• • • • •
• • • • •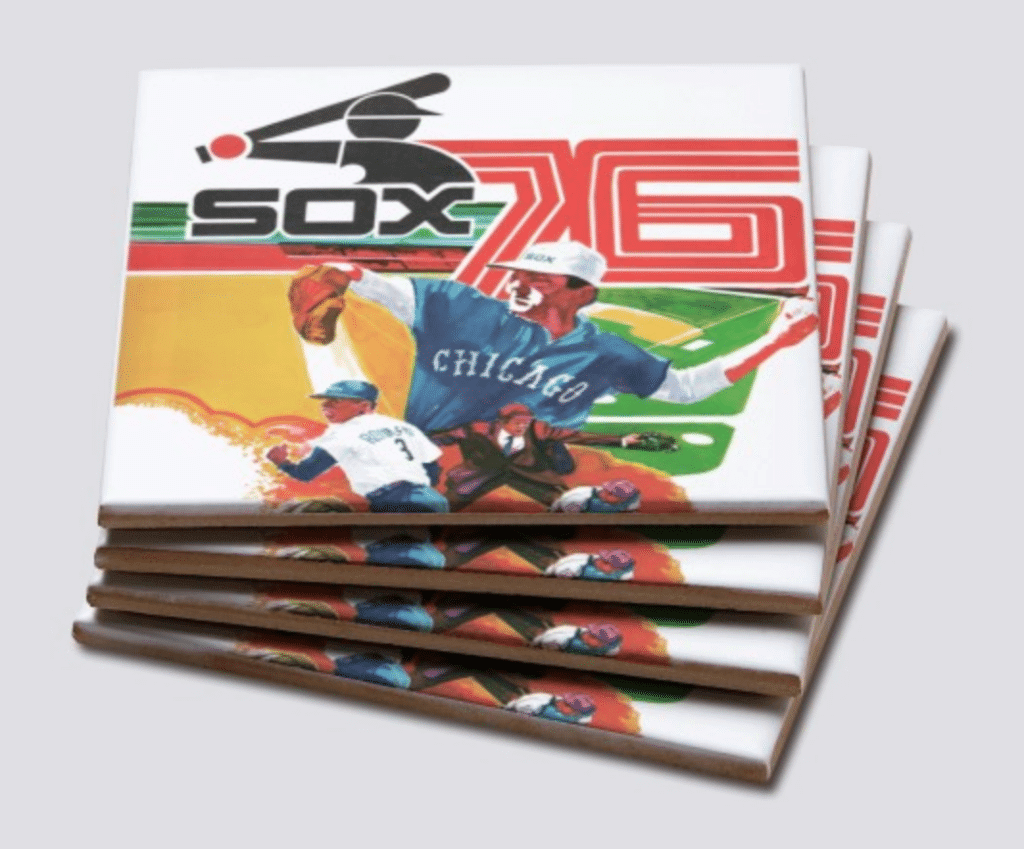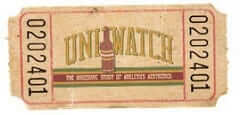 Raffle reminder: In case you missed it on Monday, our longtime advertiser Vintage Brand is running another raffle. The lucky winner will be able to choose any item from the Vintage Brand website (like the groovy White Sox coaster set shown above).
To enter, send an email to the raffle address by this Thursday, June 6, 7pm Eastern. One entry per person. I'll announce the winner on Friday.
In addition, Vintage Brand is currently running a site-wide 20% sale. No need to enter any discount code — when you get to the checkout page, you'll automatically get 20% off. Not bad!
• • • • •
• • • • •
Membership update: We don't usually like to design membership cards in a vertical orientation, but every not-so-often it becomes necessary. That was the case with Zach Barnes's new card, which he ordered on Purple Amnesty Day, because he asked for it to be based on the Coyotes' infamous alternate jersey, whose only purple elements are down at the bottom of the desert landscape on the lower part of the jersey. If we had done it horizontally, showing that much of the lower jersey would have forced us to make the uni number and NOB really small, so instead we opted for the vertical format.
We faced a similar issue with the card request from Alec Jokubaitis, who wanted another infamous design from another Arizona-based team: the Diamondbacks' TATC jersey. As you can see, rendering the NOB in the proper stacked format forced us to make the uni number fairly small. Orienting the card vertically would have solved that problem, but it would have short-changed the wraparound snake design, which is really the whole point of the jersey, so we kept it horizontal.
These two cards are among several new designs — all featuring purple! — that have been added to the membership card gallery (which is now up to 2,200 cards!).
Ordering a membership card is a good way to support Uni Watch (which, quite frankly, could use your support these days). And remember, a Uni Watch membership card entitles you to a 15% discount on any of the merchandise in our Teespring shop and our Naming Wrongs shop. (If you're an existing member and would like to have the discount code, email me.) As always, you can sign up for your own custom-designed card here, you can see all the cards we've designed so far here, and you can see how we produce the cards here.
• • • • •
• • • • •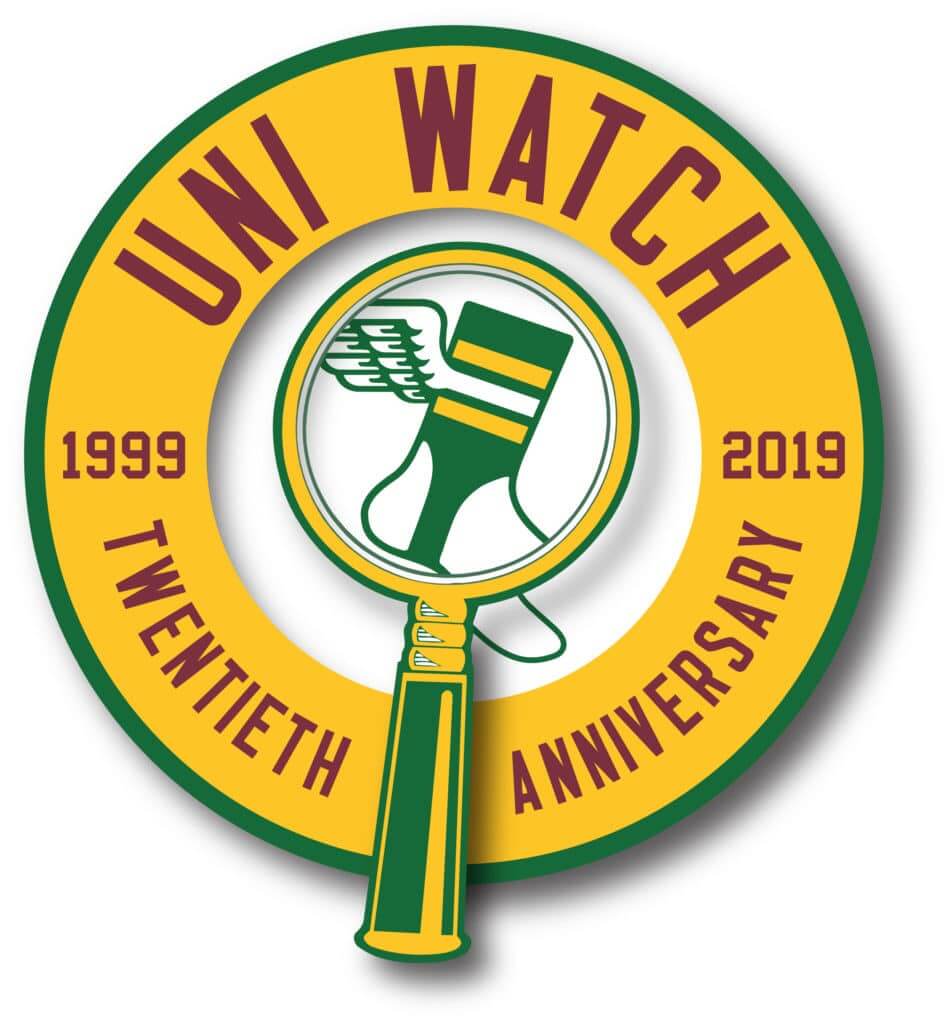 Uni-versary reminders: In case you haven't seen it already, here's the spreadsheet showing all the Uni Watch 20th-anniversary gatherings that have been set up so far, along with a list of cities where readers have expressed interest in attending a gathering, although no organizer has yet stepped up. If you want to host or attend such a gather, contact party coordinator JohnMark Fisher.
Meanwhile, I hope by now most of you are aware of our awesome "Turn Ahead the Clock Shirt," which celebrates the dual 20th anniversaries of Uni Watch and MLB's infamous 1999 TATC program. You can order it here.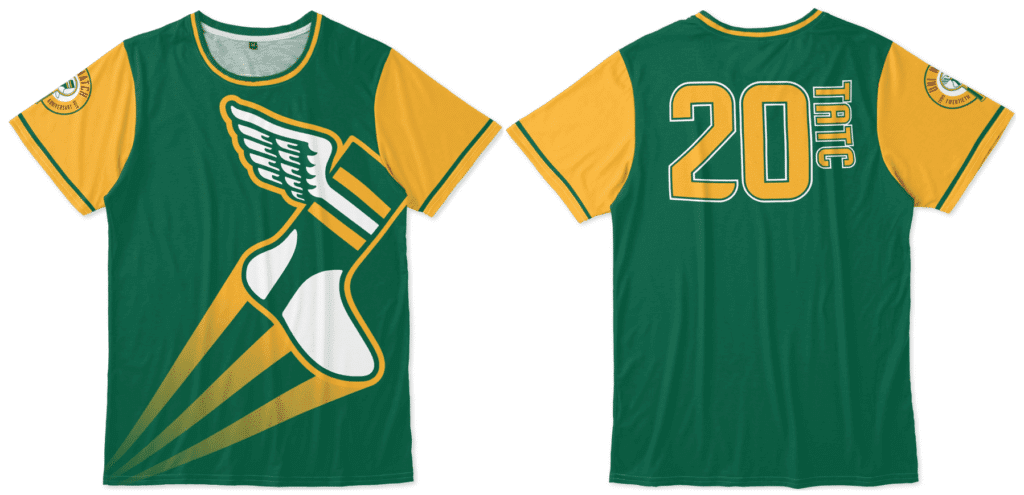 • • • • •
• • • • •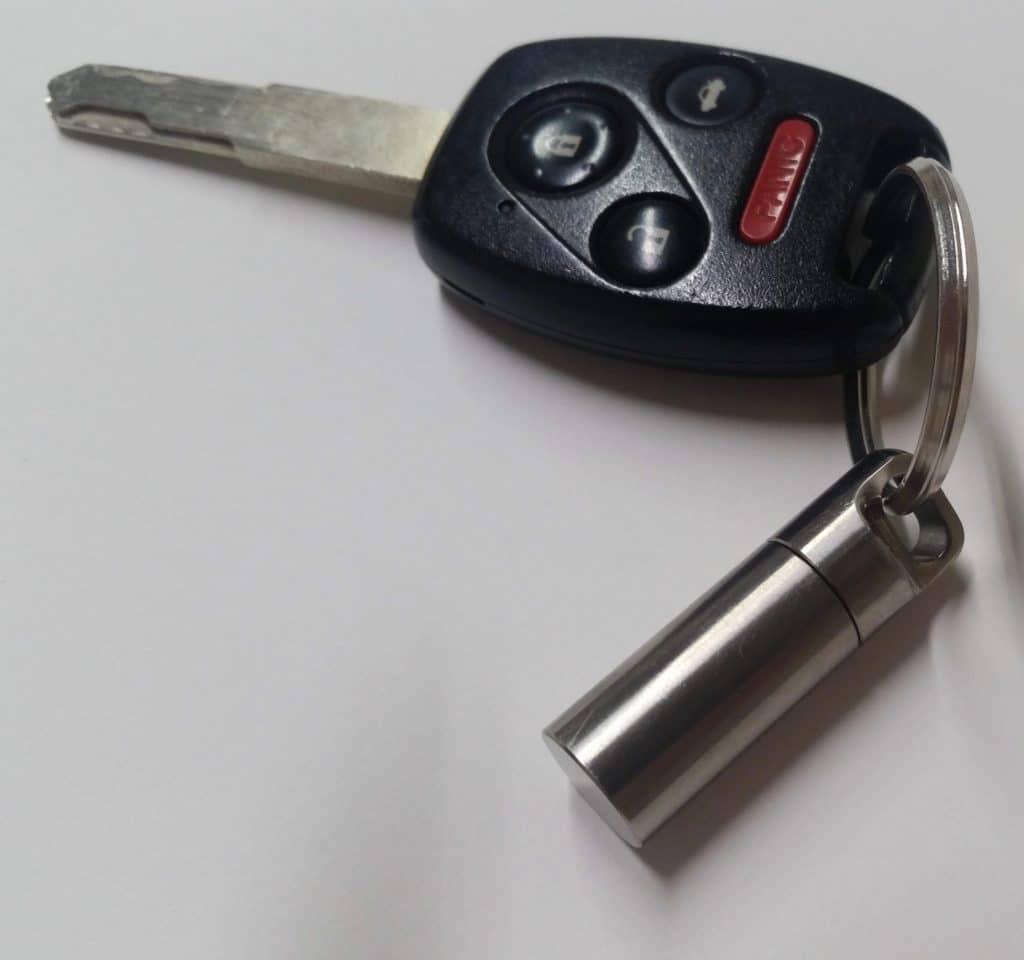 KRC update: The latest installment of Key Ring Chroicles is a short but powerful entry about a woman who keeps a titanium pill container on her key ring. Check it out here.
• • • • •
• • • • •
The Ticker
By Paul

'Skins Watch: Light-middleweight boxer Jarrett Hurd had the 'Skins logo on his trunks for a bout last month. Don't think I've ever seen a fighter wear a pro sports team's logo like that before (from @GuyDeBordsGhost). … A Philadelphia neighborhood is reconsidering its logo design, which features a Native American figure in an area-inappropriate headdress. … The Brooklin Lacrosse Club of Major Series Lacrosse — which as you may recall recently stopped calling itself the Redmen — has new uniforms to go with its new identity (from Wade Heidt).

Baseball News: Star Wars uniforms this Saturday for the Sussex County Miners of the CanAm League (from John Cerone). … Latest one-game MiLB makeover: The Wisconsin Timber Rattlers will become the Udder Tuggers on June 20 (from Brian Kerhin and John Okray). … Jewish Heritage Night upcoming for the Brooklyn Cyclones, complete with a Hebrew-lettered jersey. It translates to "Cyclonim" (the "-im" suffix indicating plural in Hebrew), so it's grammatically correct! (From @UntilTheNight.) … Here's a new one: The Akron Rubber Ducks will rename themselves after an insanely huge ice cream sundae sold at their ballpark on June 14. … Credence Clearwater Revival-themed jerseys upcoming for the Stockton Ports (from Mike Chamernik). … The Orioles will give away this Maryland flag-themed jersey on June 29 (from Andrew Cosentino). … Brewers players have been saluting broadcaster Bob Uecker by wearing "Air Uecker" apparel. … Didn't realize that Heisman Trophy winner Kyler Murray had been part of the pants-over-the-knee brigade during his baseball days at Oklahoma (from @Webbdingus). … In a related item, reader Steve Tilders had a front-row seat behind home plate at a recent Rockies/D-backs game and got several up-close-and-personal shots of D-backs players wearing their pants disturbingly high. Click on those thumbnails if you dare. … Michigan had multiple coaches wearing No. 23 last night (from Don Schafer).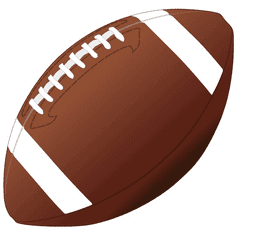 NFL News: Looks like the Rams' new stadium will be shaped like their logo (from Luke Buckley). … Fred Gaudelli, executive producer of NBC's Sunday Night Football telecast, thinks the NFL should scrap the Rash. Key passage: "I think the NFL should flush the Color Rush uniforms. My gut says this is an age thing and your preference reflects your age. Regardless, there is tremendous equity in the uniform of an NFL team. When you turn on a game you know exactly who's playing. At least that's how it was for about 95 NFL seasons. The 49ers never wore black, so why now? Maybe some 10-year-old boy loves it. Me, not so much" (from Gil Neumann). … Check out this old St. Louis Cardinals team portrait. Look at the logos below the photo — odd to see that white outline on the cardinal's face (from Pro Football Journal). … You have to look closely to see it, but it appears that Bucs DL Ndamukong Suh was still wearing his old Rams gloves for this photo shoot (from many readers). … Here's an extreme close-up of the NFL 100 collar logo on a Saints jersey (from Blake Parker). … New York Mets fans, upset by the news that Patriots QB Tom Brady has filed a trademark application for the term "Tom Terrific" — a term that Mets fans believe should be applied only to Tom Seaver — are planning some sort of idiotic rally today where they plan to burn Brady jerseys. Yeah, that'll show him. … UNC's new stadium surface will be AstroTurf (from James Gilbert).

NBA News: NBA team owners may be backing away from the title "owner," instead using terms like CEO or chairman, due to concerns raised about racial insensitivity. The linked article misspells the word "feudal" and "futile" in a key quote (from Tom Turner). … GE spent all that money on a Celtics ad patch and they wouldn't even show it on The Bachelorette. Ditto for the maker's mark. You have to admit, it looks better that way. … Raptors F Kawhi Leonard is suing Nike over the rights to his "Klaw" logo (from Brian Smith).

Soccer News: The daily download from Josh Hinton: New leaks for PSG, Barcelona, Manchester City, and Real Madrid; legit releases for Cameroon's women's team, Botswana, Walsall, Venezuela, and Shrewsbury Town; new shirt sponsors advertisers for Blackpool and Wolverhampton; how to tell the difference between authentic and replica shirts for the top five Adidas-outfitted teams; and a Champions League ball design. Phew! … The president of the Angolan Football Federation stated that they chose Lacatoni over Nike, Puma, and Adidas because Lacatoni was the only company that listened to the federation's design ideas (from Mike D). … New home kit for Oxford Uinted (from Ed Zelaski).

Grab Bag: Here's a breakdown of what both fighters wore in last Saturday's heavyweight title bout as Andy Ruiz Jr. upset Anthony Joshua. That's from a blog called Styles Make Fights that looks at boxing attire. Hadn't known about that one before (big thanks to @GuyDeBordsGhost). … Organizers of this year's Sacramento Pride parade will not allow local police officers to participate in the parade while in uniform. … Presidential candidate Pete Buttigieg's "uniform" is to roll up his sleeves. … Here's the backstory on the redesign of The Philadelphia Inquirer's logo. … A Florida corrections officer was charged for DUI while in uniform. … New logo for the Philly sports talk station 94 WIP (from @PhillyPartTwo). … " The Brampton Excelsiors of Major Series Lacrosse have a long history, dating back to 1883," says Wade Heidt. "The team had been community-owned but was struggling to make ends meet, so last year it was sold to Joe Norton, owner of Detroit-based Bug Juice Co. Now they've traded in their old look for new uniforms are a walking billboard for Bug Juice." … New logo for the rugby union side Glasgow Warriors. "Very unpopular with fans," says Josh Gardner. "Feels very Brandiose." … The son of a fallen Louisville police officer was given a teddy bear made from her uniform. … Now-dethroned Jeopardy! champion James Holzhauer wore a purple ribbon in what turned out to be his final appearance on the show. Although no explanation was given, purple is the color of support for victims of pancreatic cancer, which has afflicted Jeopardy! host Alex Trebek.