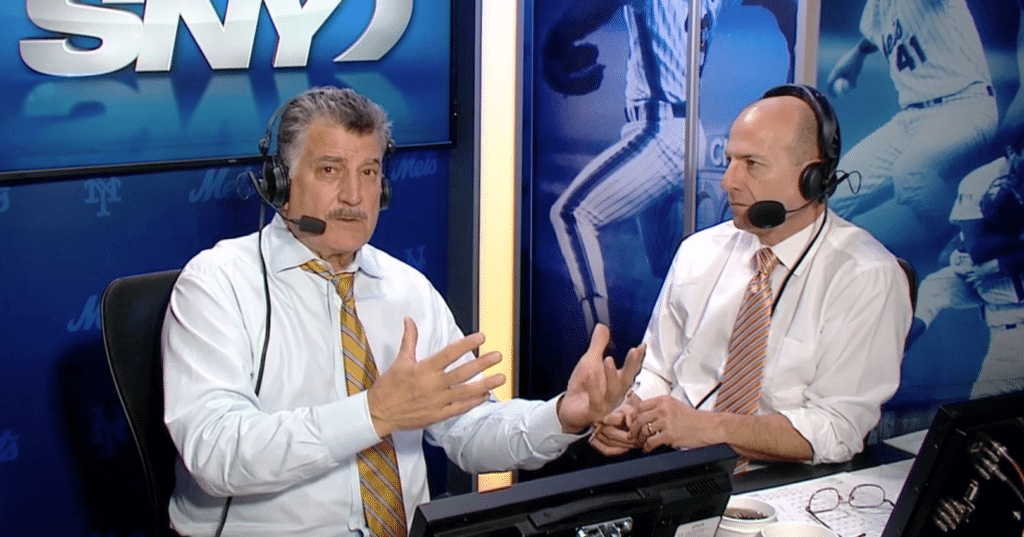 Mets TV analyst and former MLB All-Star Keith Hernandez (above left) offered some illuminating insights into his footwear and stirrup habits during SNY's broadcast of Monday night's Mets/Nats game. I was watching it while it happened but didn't have enough time to transcribe all of it for Tuesday's post, which is why I'm running it today.
It began with Mets third baseman J.D. Davis at the plate during the bottom of the third inning. For some reason the camera showed a shot of Davis's orange shoes, which led to the following exchange between Hernandez and Mets play-by-play man Gary Cohen:
Keith Hernandez [referring to Davis's footwear]: Hmmm, a little Adidas! That was my shoe company, Gar. I wore Adidas shoes. You know why I wore them? They had a narrow — they were a narrow shoe, where I felt Nike was a little bit wider shoe, and I liked my shoe to really fit me like a glove, tight. And that's why I had Adidas shoes. I mean, that's — shoes are very important! You know, they're part of your, uh, success!

Gary Cohen: So it wasn't about style, about stripes over swooshes.

Hernandez: No. And everybody was doing Nike then. That was the big — and Nike wanted me to wear their shoe, and I tried 'em on and I said, "Nuh-uh."

Cohen: Back in your day, did they give you lots of shoes?

Hernandez: Well, I tell you what, when I came up in '74, no.
At this point Davis hit a ball in play and then there was a pickoff attempt, so Hernandez and Cohen actually discussed, you know, what was happening on the field. But then the director showed an old photo of Hernandez's lower-leg stylings, from his time with the Cardinals: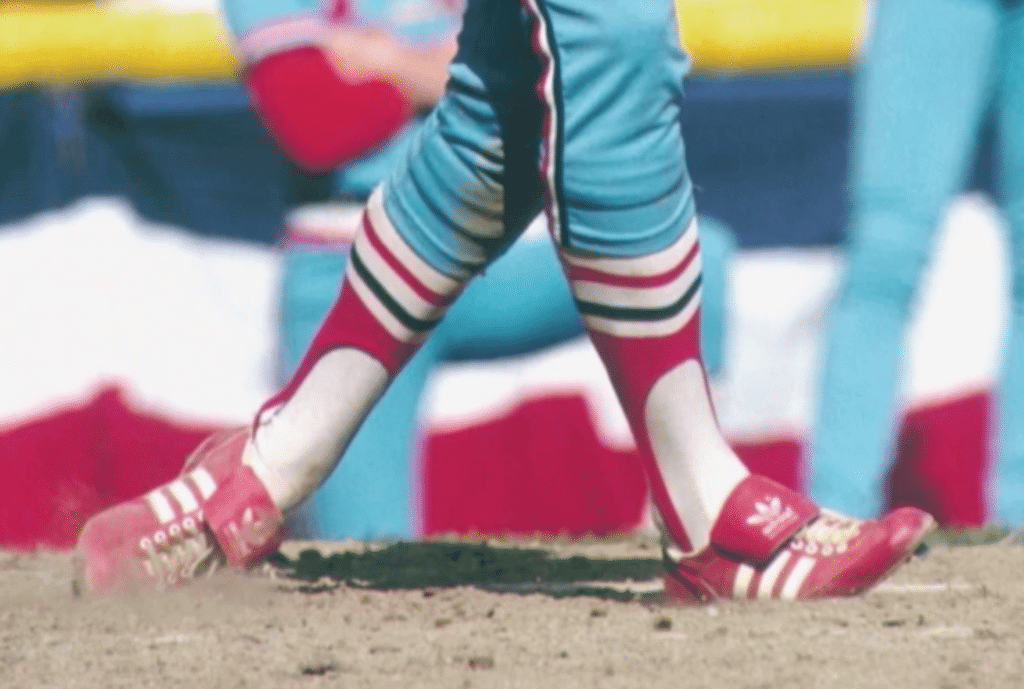 That started the discussion anew:
Cohen: There, there are the Keith Hernandez spikes, back in the day!

Hernandez: Yep, look at that. Look at the stirrups, look at the stripes. [The screen now shows a similar lower-leg photo from Hernandez's tenure with the Mets.] And the same thing with the Mets, but the Mets only had the solid socks.

Cohen: Did you ever wear anything but black shoes with the Mets?

Hernandez: No no no, not — I'll get to that. When I came up in '74, shoes that matched the color of the uniform were not in vogue. Everybody wore black. And then it started coming in, and ownership, the old owners, fought it. They wanted everyone to be uniform in their shoes, not a different company. And Marvin Miller and the [players'] union stepped in and said, "You're infringing on the rights of the player to make, you know, money on a shoe company." Then the colors came in. But back in my day, you had the colors of the team…

Cohen: Like you had the red shoes for the Cardinals.

Hernandez: Right. But in the beginning, some of the young kids had black, because they didn't have a shoe contract. So Brooks Shoes came in. They weren't a very well-constructed shoe, but they gave you all of them for free, and I wore those for a while, because I didn't have a shoe contract with the Cardinals when I was young. But they were red. And they would fall apart in a heartbeat. But they would give you unlimited. And then I finally signed with Adidas and I was extremely happy.

Cohen: I'm glad it all ended well for you.

Hernandez: I don't know if Brooks Shoes are even in business anymore. I don't think they are.

Cohen: So once you got your shoe contract with Adidas, did you get as many shoes as…

Hernandez: I got all I needed. I went through around four pair a year.

Cohen: Did you get, like, extras for family and friends?

Hernandez: No, I didn't. I was very selfish. [Cohen cracks up at this.]
At this point the director posted another lower-leg photo of Hernandez as a Met: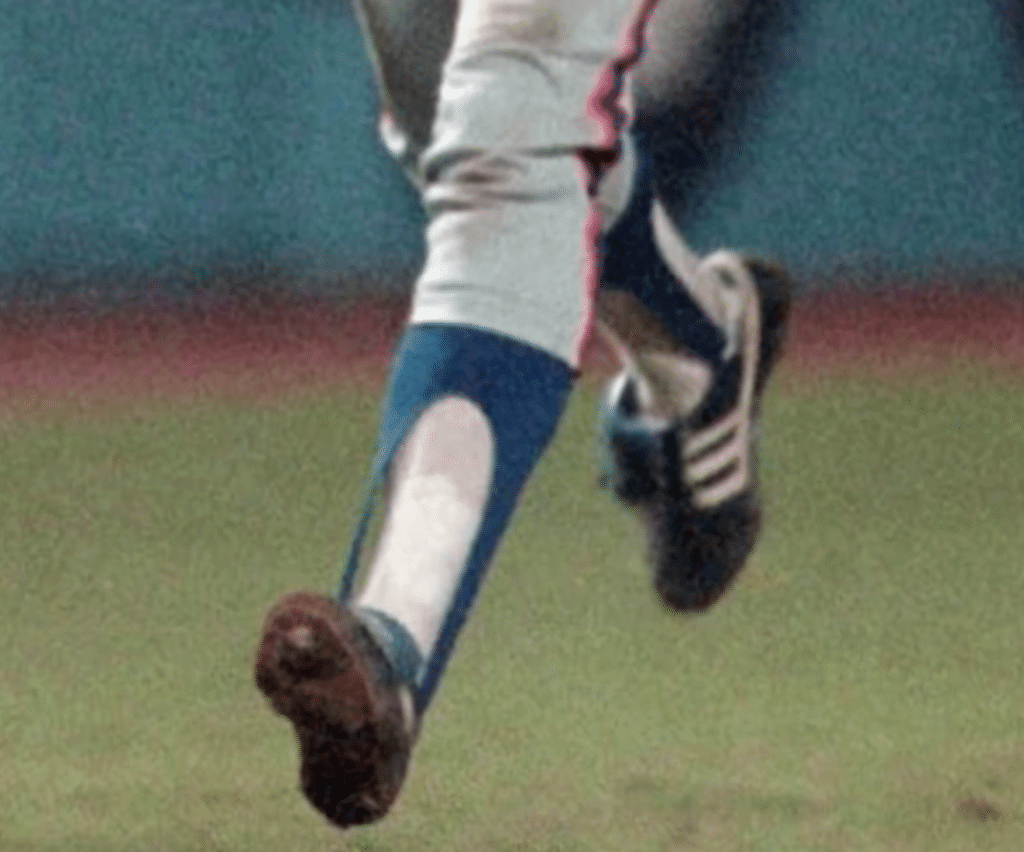 That shifted the discussion from shoes to stirrups, as follows:
Cohen: Those are the most uncomfortable things, those stirrups, aren't they?

Hernandez: I loved them!

Cohen: Really?

Hernandez [referring to the white area visible under his sanitary sock]: I always taped my left ankle, my bad ankle.

Cohen: But — under your feet, didn't it bother you, having that stirrup under there?

Hernandez: Noooo! Not at all. You why, Gary? I always cut — the seam was under the stirrup, so it would be right in the middle of your — the seam would come underneath and the seam would be right in the middle [i.e., right against the sole of your foot — PL]. I would always cut that and then get a white elastic band the same width as the stirrup and have them sewn in, so [shifting to jazz-like voice here] you can get the stretch. But you couldn't have too much, because you couldn't have white showing, coming out of your shoe, because it's — you've gotta be blue. You know, it's very important how you wear your uniform.

Cohen: So you had elastic under your foot, rather than the actual stirrups?

Hernandez: Yes. And no seam, either.
There's a decent amount to unpack here. One thing at a time:
1. Until now, I had never heard of Brooks Shoes. There's a company by that name that makes running shoes, but it's not clear, at least to me, if that's the same company Hernandez was referring to. I tried to find early photos of Hernandez from his pre-Adidas days, so we could see what his Brooks footwear looked like, but no luck. Anyone know more about this company?
2. Interesting to see how Hernandez called out the white ankle tape showing through his left sanitary sock. Sure enough, you can see it in other photos of him. Now it's going to be one of those "can't un-see it" things, at least for me.
3. Faaaaascinating to hear that Hernandez was having elastic sewn into his stirrups in the 1980s. We've often talked about how Frank Robinson and other players had extra fabric sewn into their stirrups in the late 1960s, but those players used the same fabric as the rest of the stirrup, while Hernandez used white elastic, and only on the sole area. There was a time, of course, when all stirrups had elastic on the bottom. I have several pairs of those antique stirrups, and Hernandez is right about them being more comfortable because you don't have to deal with the center seam at the bottom of the loop.
• • • • •
• • • • •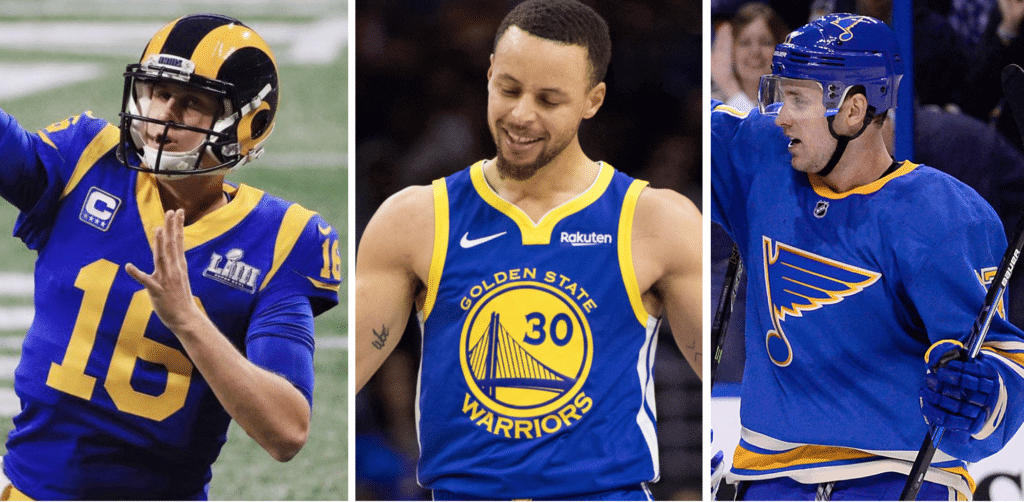 Color quandary: With the Warriors slated to appear in the NBA Finals and the Blues advancing last night to the Stanley Cup Final(s), all three of the Big Four championship matchups this calendar year have featured one team that wears royal blue and yellow.
I was thinking about which MLB teams could keep the streak alive in this year's World Series, when it hit me: Not a single MLB team currently uses royal and yellow. The Rays come close, but they use navy and Columbia blue, not royal. The Royals also come close, but they use gold, not yellow. I suppose we could count the Brewers' throwback alternates, assuming they actually wore them in the World Series.
Royal/yellow is such a natural color pairing. Seems odd that no MLB team is using it, no?
(Thanks to RJ Ochoa for first pointing out the Rams/Warriors/Blues color commonality, and to @ThatRodneyGuy for bringing Ochoa's observation to my attention.)
• • • • •
• • • • •
Membership update: Eight new designs, most of them purple, have been added to the membership card gallery, as we continue to work our way through all of the Purp Walk orders. That includes Jason Hodlofski's card, shown at right, which is based on this year's Purp Walk shirt — a brilliant request. (Two other new enrollees also requested this design; we'll get to those soon.)
This year's Purp Walk is now over, but ordering a membership card is still a good way to support Uni Watch (which, quite frankly, could use your support these days). And remember, a Uni Watch membership card entitles you to a 15% discount on any of the merchandise in our Teespring shop and our Naming Wrongs shop. (If you're an existing member and would like to have the discount code, email me.) As always, you can sign up for your own custom-designed card here, you can see all the cards we've designed so far here, and you can see how we produce the cards here.
• • • • •
• • • • •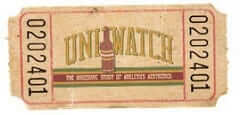 ITEM! Deluxe one-day raffle package: Longtime reader/contributor Eric Bangeman has generously purchased a Uni Watch Trifecta for me to raffle off for a lucky reader: a Uni Watch Classic Cap; a Uni Watch membership card; and any coffee mug or screen-printed short-sleeve T-shirt from the Uni Watch Teespring shop or the Naming Wrongs shop. (Sorry, this offer does not include our sublimated Tequila Sunrise Deluxe shirt, nor does it include any long-sleeve tees or hoodies.)
That's a pretty good haul, right? To enter, send an email to the raffle address by 11pm Eastern tonight. One entry per person. I'll announce the winner tomorrow.
Super-duper thanks to Eric for sponsoring this raffle!
• • • • •
• • • • •
Click to enlarge
Reading the (green) tea leaves: Reader Ryan Rogozinski has found the perfect tea to go with his Uni Watch tequila sunrise mug and T-shirt. How great is that? Nice photo shoot, Ryan!
• • • • •
• • • • •
The Ticker
By Lloyd Alaban

Baseball News: Red ribbons for the Giants last night for their annual "Until There's a Cure" AIDS-awareness promotion (from our own Brinke Guthrie). … A Cubs White Sox Bears Bulls Fire Blackhawks Chicago sports fan showed up in a lot of Chicago sports merchandise at Monday's Cubs game (from Anthony Zogas). … Just imagine if that Chicago Sports Guy joined up with this Twins Vikings Timberwolves Wild Minnesota sports fan at Monday's Twins/Angels game (from Sean Thesing). … Philadelphia held citywide elections yesterday and gave out Bryce Harper-themed "I voted" stickers (from Michael Barkaan). … Speaking of the Phils: This grocery store incorrectly labeled these Nats nuts as Phillies nuts (from @Section247Pod). … The Pirates are hosting several college nights with different university-themed caps (from Tyler Johnson). … Not just color vs. color but road uni vs. road uni for Missouri and Ole Miss yesterday (from Chris Howell). … Here's the new outfield wall of Yogi Berra Stadium, home to minor league team New Jersey Jackals (from John Cerone). … Also from John: Here's what the Sussex Miners will be wearing for Game of Thrones Night later this month. … John Moore was watching the Sioux City Explorers take on the Gary Southshore Railcats of the American Association, a league not affiliated with MLB. But that didn't stop the grounds crew from painting the MLB Opening Series logo behind home plate. … The Mahoning Valley Scrappers, Single-A affiliate of the Indians, will become the Peppers in Oil for one game this summer (from Drake Jesse). … Here's some background on the beef between former White Sox teammates 3B Todd Frazier and OF Adam Eaton, which included, among other things, a ripped jersey (from our own Phil Hecken). … @JBeck132 found this duo of Angels and Anaheim Ducks banners featuring the logo evolution of both franchises. … Here's a cap featuring Nebraska's mascot, Herbie Husker, playing baseball (from @eshuman34). … Twins P Michael Pineda mistakenly wore the team's home cap on the road last night.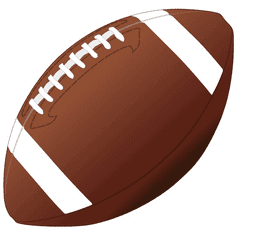 Football News: The Bills have issued No. 32 for the first time since RB OJ Simpson wore it in 1977 (from multiple readers). … Starting with photo No. 2 in this gallery, it looks like the Vikings are using the old Nikelace template for their rookie picture day (from Rob Hedburg). … Rams CB Aqib Talib wore a Kansas Jayhawks hoodie underneath his practice jersey (from Jakob Fox). … Steelers QB Josh Dobbs wore a Schutt F7 helmet at yesterday's team practice. Previously, he went with a Riddell Revolution Speed (from Bronson Black). …  The Iowa Barnstormers of the Indoor Football League will be wearing military appreciation uniforms this Friday (from Taylor Burck).

Hockey News: Google referred to games one and two of the upcoming Stanley Cup Final as "legs," a term that's normally used for soccer tournaments (from our own Griffin Smith). … Cross-listed from the baseball section: @JBeck132 found this duo of Ducks and Anaheim Angels banners featuring the logo evolution of both franchises. … With the Blues set to meet the Bruins in the Stanley Cup Final(s), here's a gorgeous program cover from when they previously met in the finals in 1970 (from Mike Malnicof). … The new FHL team in Columbus will be called the River Dragons. That tweet also shows their new team logo.

Basketball News: Can anyone figure out what's going on in this photo? It appears that there are three different uniforms on the court at the same time (from Scott Dean).

Soccer News: The new-ish thing for Adidas-outfitted national teams is when they get a new coach, the coach gets a shirt with his name on the front at the introduction. So here's the new Scotland men's national coach, Steve Clarke, with such a shirt (from our own Jamie Rathjen). … Also from Jamie: Here are Sunderland's new kits. … Possible leak of Portuguese top-flight club Benfica's second shirt (from Josh Hinton and Mike D.). … Tennis player Simona Halep was practicing for this month's French Open while wearing a MF Gheorghe Hagi shirt. Both Halep and Hagi are from Romania (from our own Brinke Guthrie).

Grab Bag: We Ticked an item yesterday showing all of the Cricket World Cup uniforms. Here's a closer look at the England men's kit (from Martin Bentley). … Cross-listed from the soccer section: Tennis player Simona Halep was practicing for this month's French Open while wearing a MF Gheorghe Hagi shirt. Both Halep and Hagi are from Romania (from our own Brinke Guthrie). … The Victoria Shamrocks of the Western Lacrosse Association are celebrating their 70th season with this logo (from Wade Heidt). … Here's a look at an awesome-looking IndyCar helmet from driver Oriol Servia (from David Craske). … Here are some of the wackiest costumes from Sunday's Bay to Breakers, an annual 12K footrace held in San Francisco. … There's a growing debate over whether the Massachusetts state flag should be redesigned because it celebrates colonial imperialism over Native Americans (from Phil). … A one-man factory (WaPo link) is keeping lacrosse alive on a New York Native American reservation (from Tom Turner). … Someone on YouTube has taken old F1 races and put the current scoring graphics with it. It also has current races and went a little backwards with the graphics as well in other videos (from Jeremy Brahm). … Nike, Adidas, and other shoe brands told President Trump this week that proposed tariffs on China imports would have a "catastrophic" effect on Americans.