[Editor's Note: Today we have a guest entry from long-lost Uni Watch alum Bryan Redemske, who was this website's weekend editor back in 2008, in the pre-Phil days. Enjoy. — PL]
By Bryan Redemske
Can a box of old baseball caps bring a father and son closer together? Quite possibly, if my son and I are any indication.
I grew up in the 1980s in north-central Iowa, miles and miles from anything of note — and certainly nowhere near any sort of outlet that would sell "cool" MLB gear. Getting a team cap in something other than mesh with a snapback was no easy feat in those days, and I spent the bulk of my childhood baseball fandom on the lookout for a fitted Cubs hat. I finally got one in 1994, by which time I had almost finished high school.
My collection took off from there. When the MLB alternate hat craze began to proliferate, I was always ready with my $20 to snap up another one. Why? I think it was due to the (relative) newness of the thing. "Oh, you have the Mariners' alternate cap? Cool!" I enjoyed having a whole bunch of different teams, although I did set some limits: The natural rivals of the Cubs (Cardinals, Mets, Giants), plus a couple of others, were no-gos. Everything else? Go nuts.
Because I'm a hoarder (I'm working on it), I still have all of those caps. For a while now they've stashed away in a box, which turned up when our family recently moved to a new house and we were sifting through various belongings, deciding what to keep and what to toss.
When we got to the box of baseball caps, my wife, Chris, said, "Is this box really filled with hats? Are there any you can get rid of?" while my son, Jack, said, "IS THIS BOX REALLY FILLED WITH HATS!?!?!"
And that's how I unwittingly helped Jack launch his own hat collection. He went through the box and took the following: Astros, Mariners, Diamondbacks and, somehow, the Moscow Red Devils: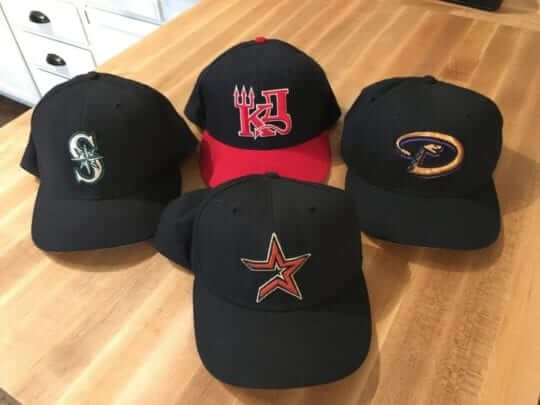 Jack is 11, and as I've watched how he's expanded his collection from there, it's provided an interesting look at what "the kids today" are into.
Jack's likes:
• Caps with patches on the sides. The 2018 Independence Day caps rate high because of this, as do those from the playoffs.
• Most alternate caps that share the "normal" color scheme. Think Orioles and Mariners.
• Caps with patches and alternate color schemes and other doodads, like the 2018 All-Star caps. He actually has three of those (Rockies, Royals, and Cubs), because they're "pretty cool."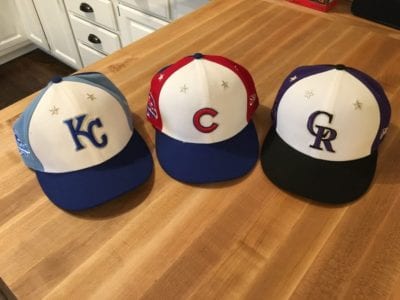 • The raised MLB logo on the back of caps, which he prefers over the older flat logo.
Jack's dislikes:
•  Caps that don't have team colors, like camouflage, Mother's Day, or Father's Day.
• The entirety of the current Diamondbacks look.
• Flat bills. "They hurt my head. But I don't care if other players wear them."
• Players Weekend caps. "I don't like the logos and the colors aren't right. The only good one is the Yankees, because it's just grey and navy."
He doesn't have any particular feelings about the New Era logo on the side, maybe because he's grown up seeing logo creep on everything.
When it comes to Jack's personal on-field style, he's a lot like any other kid. He likes long pants and white accessories; he thinks Nike gear is cool. I'd like it better if he had shorter pants and taller socks or stirrups, but whatever makes him happy and comfortable is fine. (also, dig the left-handed catcher in this shot!):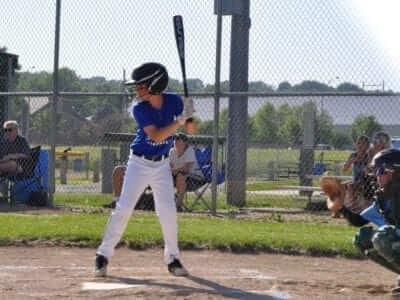 It's been fascinating watching Jack explore his developing tastes. He wore my old Astros hat for Halloween, along with the correct 2003 road jersey. (Why the Astros? Because he wears Cubs stuff all the time, and it wouldn't really be a costume if he wore his regular clothes.) But he had to pair the road jersey with white pants, because that's all he had. He was concerned that it wasn't right to wear white pants with a road jersey, but I assured him it would be okay.
He wears some of my other hats now and then, which is fun for me. It's good to see them being used — and if Jack's wearing them, my wife can't bug me to throw them away.
As for me, I got myself a new hat for Christmas: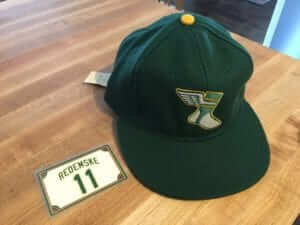 ———
Paul here. Nice story, Bryan — thanks for sharing! (I'd also like to point out that Bryan was predestined to be involved with Uni Watch because he attended college at Northern Iowa — UNI.)
• • • • •
[adrotate group="2″]
• • • • •
Culinary Corner: Tomorrow is the first Saturday of May, which means it's time for the Kentucky Derby. And that means I'll be making the dish I always make for the Derby: a derby pie, which is a lot like a pecan pie but made with walnuts and chocolate chips.
Technically speaking, you're not supposed to use the term "derby pie," because that's a registered trademark of some annoying people in Kentucky who insist that they own the name and love to send their lawyers after anyone who thinks otherwise. (They even sued their own chocolate chip supplier, Nestlé, for printing a "Tollhouse Derby Pie" recipe on the chip package.) So you'll often see wink-wink names like Triple Crown pie, race day pie, winner's circle pie, thoroughbred pie (which sounds kinda gross), and so on. But screw all of that — derby pie belongs to the people, and I intend to keep calling it that.
Derby pie is also really easy to make. Here's how to do it:
1. If you know how to make pie crust, make some dough and position it in a 9-inch pie pan; if you don't know how or just can't be bothered, get yourself a frozen 9-inch pie shell.
2. Set your oven to 350º. While it's heating up, get a big mixing bowl and beat together four eggs, a cup of light corn syrup, 3/4 cup of light brown sugar, and 1/3 cup of melted butter. Then add 3 tablespoons of decent bourbon (or maybe a smidge more than that, if you're so inclined), a tablespoon of vanilla extract, a tablespoon of flour, 6 ounces of chocolate chips, and a cup of chopped walnuts.
3. Mix all of that together, pour it into the pie dough or frozen shell, and pop it into the oven for an hour. It'll puff up high like a soufflé, but it'll settle back down while it cools, which you should allow it to do for an hour or so. This up/down motion usually results in some cracks in the top of the pie, which used to annoy me, but now I've grown to like it: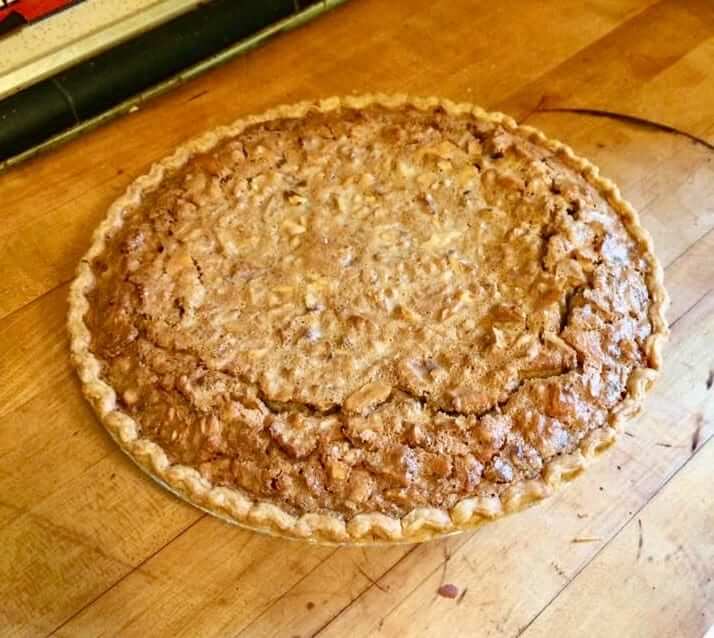 For reasons that aren't entirely clear to me, the chocolate chips always sink to the bottom (I guess they're less buoyant than the walnuts), resulting in a nice two-tone effect: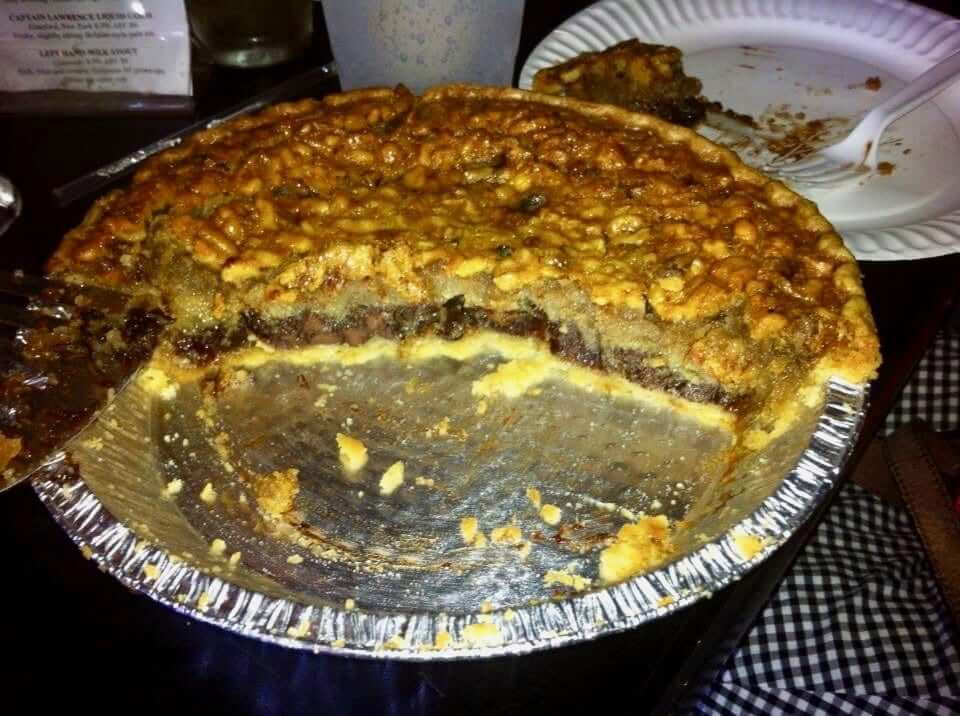 It's traditional to serve each slice with a dollop of whipped cream, although I don't bother with that — the pie is rich enough on its own. Less traditional and even less necessary, but nonetheless delicious, is this bourbon sauce, which is pretty much the bomb.
Trust me, there won't be any leftovers.
• • • • •
[adrotate group="2″]
• • • • •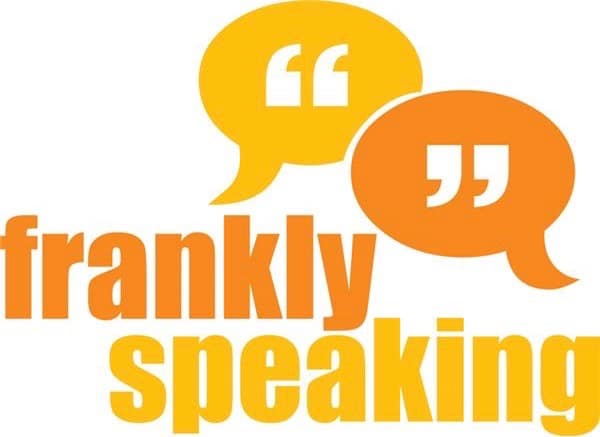 Just between us: Lots and lots of you told me how much you enjoyed yesterday's interview with Hal the Hot Dog Guy. I also heard from a goodly number of people who liked Wednesday's post about NFL's "Duluth Eskimos" trademark application and the ensuing clusterfuck. I don't mind admitting that I'm pretty proud of both of those entries myself, so it's very gratifying to see that you folks liked them as much as I did.
As you know, I no longer have the full-time backing of ESPN, or of any other media employer. So if you appreciate content like this, please consider supporting Uni Watch by ordering a membership card, buying a cap or some other type of merchandise, or making a donation.
Many of you have already generously provided your support in various ways — thanks so much. Obviously, no need to double up. But if you haven't supported Uni Watch in the past, now would be a good time. Thanks for your consideration.
• • • • •
• • • • •
The Ticker
By Anthony Emerson, making his Friday Ticker debut

Baseball News: Cubs SS Addison Russell had been playing for Triple-A Iowa on a rehab assignment, and thus was allowed to use his single-earflapped MLB helmet. But he's now been optioned to Iowa, so he's now officially on the minor league roster, which means he now has to wear a double-flapped Iowa helmet (from Benjamin Kurt). … Fox Sports North had a neat little segment on the Twins' equipment managers (from @cttrace). … A fan sitting behind home plate at Nationals Park during last night's Nats/Cards game had some Expos/Nats crossover gear. I've never seen anything like that before, and neither has Jonathan Karberg. Has anyone else? … Here are the cap patches the Astros will wear for their upcoming Mexico Series games (from Ignacio Salazar). … The ownership group of the Triple-A Pawtucket Red Sox has trademarked three possible team names ahead of the team's move to Worcester, Mass. (from @jeffisrael25). … The Single-A Greensboro Grasshoppers are having a "Pirates Night" on Saturday and are wearing Pirates-inspired unis (from Scott M. Trembly). … Next season's Boise State unis have been revealed (thanks, Paul). … Union Brewing has come out with a beer honoring Hall of Famer Eddie Murray, with a pretty awesome can (from John Falardeau). … You may recall that Red Sox P David Price stopped removing the squatchee from his cap during last year's postseason. But he's once again squatchee-free in 2019.

NFL/CFL News: Here's how the New Era logo looks on the Winnipeg Blue Bombers' practice jerseys (from Wade Heidt). … The Giants have announced their rookies' uni numbers, with QB Daniel Jones being handed No. 8 (thanks, Phil). … New facemask for Browns DE Myles Garrett (from Erin Ford).

Hockey News: Reader Kevin Vautour was going through some old photos and found some of Canadiens players Al Langlois and Phil Goyette with red sleeve numbers, as opposed to the Habs' traditional blue. Kevin can find no other evidence of any Canadiens players wearing red sleeve numbers. Can anyone else?

Basketball News: The Trail Blazers credited their game two win over the Nuggets to ailing coach Jon Yim's "bowtie Wednesday" (from Mike Chamernik). … Brad Eenhuis noticed that the wordmark on Northwestern's 1988-89 men's basketball unis extended onto the side panels. … The 3-on-3 BIG3 league, whose new season begins in June, will now have uniform sponsors advertising. Here's a closer look at the patch (from Phil).

Soccer News: Barcelona posted a graphic on Twitter depicting the number of goals Lionel Messi scored in each kit (from many readers). … Here are all the kits for the forthcoming FIFA Women's World Cup (thanks, Phil). … The following are all from Josh Hinton: Next season's kits for West Bromwich Albion have been released. … Next season's Bournemouth kits have been revealed, and they're stunning. … Celtic's keeper kit has been released. … French side Angers SCO 2019-20 kits have been released. … Minnesota United's Jan Gregus's shot in training sailed into the parking lot, striking and damaging his car. … New kits for Brazilian side Vasco da Gama (from Ed Żelaski). … Also from Ed: New shirt for Greenville FC. … New training kits for Liverpool (from Moe Khan).

Grab Bag: Golfers at the Wells Fargo Championship in Charlotte, N.C., wore green ribbons honoring the UNC Charlotte shooting victims. … A British police officer constable completed the London Marathon in full riot gear to raise awareness for mental health (from Richard Hindle). … New indigenous Aussie football guernseys for Collingwood (from Jeremy Brahm).
• • • • •
Our latest raffle winner is Chris Edwards, who's won himself a free item of his choice from the Vintage Brand website. Congrats to him, and thanks to Vintage Brand for making this raffle possible. — Paul