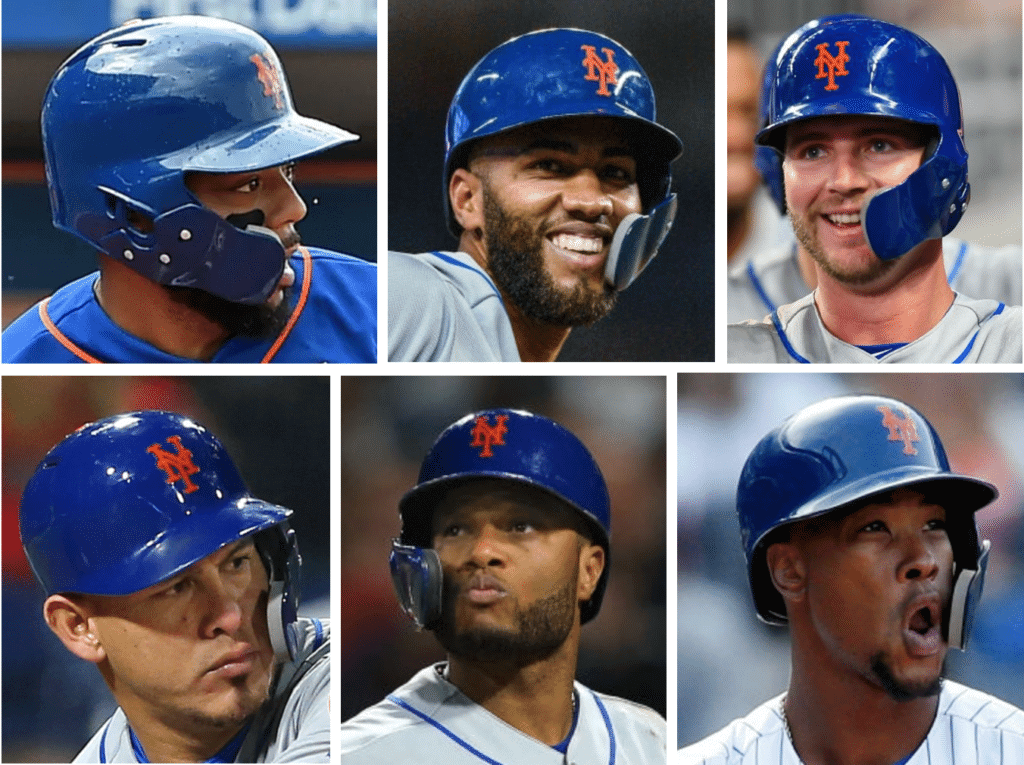 Last year, just as the MLB season was getting started, I wrote an ESPN piece in which I said that the C-Flap faceguard extension was "poised for a breakout season," which turned to be correct. I also said C-flapped players "might soon outnumber non-flappers."
It looks like I was right about that as well. I just didn't expect it to happen so quickly.
Case in point: The Mets, who are the easiest team for me to chart because I follow them on a daily basis, currently have 13 position players on their 25-man roster. Of those 13 non-pitchers, six of them — almost half — wear either the C-Flap or the similar Rawlings Mach flap. Those six players, shown above, clockwise from top left) are first baseman Dom Smith, shortstop Amed Rosario, first baseman Pete Alonso, outfielder Keon Broxton, second baseman Robinson Canó, and catcher Wilson Ramos.
As you can see from that player rundown, the trend cuts across all types of position players. All generations, too — these players range from rookies (Alonso) to established veterans (Ramos and Canó). Five of those six players — all but Smith — were in the starting lineup for yesterday's game against the Brewers, so five of the eight non-pitcher slots in the Mets' batting order were flapped.
The trend is even more stark on some other teams. The Dodgers, for example, currently have 12 position players (which seems like a crazy way to build a roster, but that's another topic for another day), eight of whom — two-thirds of them — wear the flap. Again, the trend is not limited to younger players.
This suggests to me that we have now reached a tipping point and that the flapped look will soon — perhaps very soon — become more the rule than the exception. Just as we charted the last players not to wear a helmet (Bob Montgomery) and not to wear an earflap (Tim Raines), we will likely see the ranks of the C-Flapless dwindle into the single digits soon enough.
It's pretty remarkable how quickly this has happened. It was only three or four years ago that you could count all of the players who'd ever worn a C-Flap on two hands, and less than three years ago that it was unheard of for a player to go flapped unless he'd already been hit in the face by a pitch. As I wrote in that ESPN piece last year, the tide began to turn in June 2016, when Cardinals catcher Yadier Molina began wearing the flap proactively, as a precaution, even though he wasn't rehabbing a facial injury.
I used to enjoy seeing a player wearing the flap (or any kind of faceguard), just because it looked weird. It was one of those things I liked keeping track of. And I never had to worry too much about the aesthetics of it because most players would only wear the flap for a few weeks or months anyway — nobody wore it permanently.
But all that has changed. The flap is now becoming a fixture in the game and a full-time part of baseball's visual culture. And frankly, I'm a bit conflicted about that. By covering a big portion of the player's face, the flap puts a bit of an emotional barrier between player and fan. The players seem a bit more like interchangeable automatons, less like distinct personalities. I especially dislike the look of the flapped helmets on baserunners. And really, there's no reason to wear them on the bases, although I understand why the players don't swap them out once they reach base (you'd need to have separate non-flapped helmets for all the flapped players, and it would just slow the game down).
This emotional distancing is the same thing that happened when helmets became mandatory in hockey. You could no longer see the player's hair (or lack of hair, as the case might be), and it definitely made the game less visually interesting and the players a bit harder to connect with, at least for me.
Now, hockey helmets have obviously been a good thing for player safety, and I'm certainly not suggesting that we should go back to the helmet-free or even helmet-optional days. I'm just saying that this gain in terms of safety has had a corresponding loss in terms of the game's visual culture. I suspect we may soon be saying the same thing about the C-Flap.
Update: By crazy coincidence, Craig MacTavish, who was the last NHL player not to wear a helmet, retired 22 years ago today!
(My thanks to @MistaMaxG for the Dodgers flap count and to Erik Spoonmore for the MacTavish item.)
• • • • •
• • • • •
Just another day at Uni Watch HQ: On Friday I did a phone interview for the Reds Alert Podcast. We were talking a lot about the 15 throwback designs the Reds will be wearing this season, so I had my laptop open so I could see the various designs while discussing them. While I was chatting, Uni Watch girl mascot Caitlin hopped up on me and began obsessively kneading my belly, as is her not-infrequent habit. The Tugboat Captain, sitting nearby, alertly documented the absurdity.
I didn't think I could look any sillier than I already did with my fingerless gloves, my white socks, my unkempt hair, and all the rest, but Caitlin was pretty much the cherry on top. Next time you hear me on a podcast or on the radio, imagine this scene.
• • • • •
• • • • •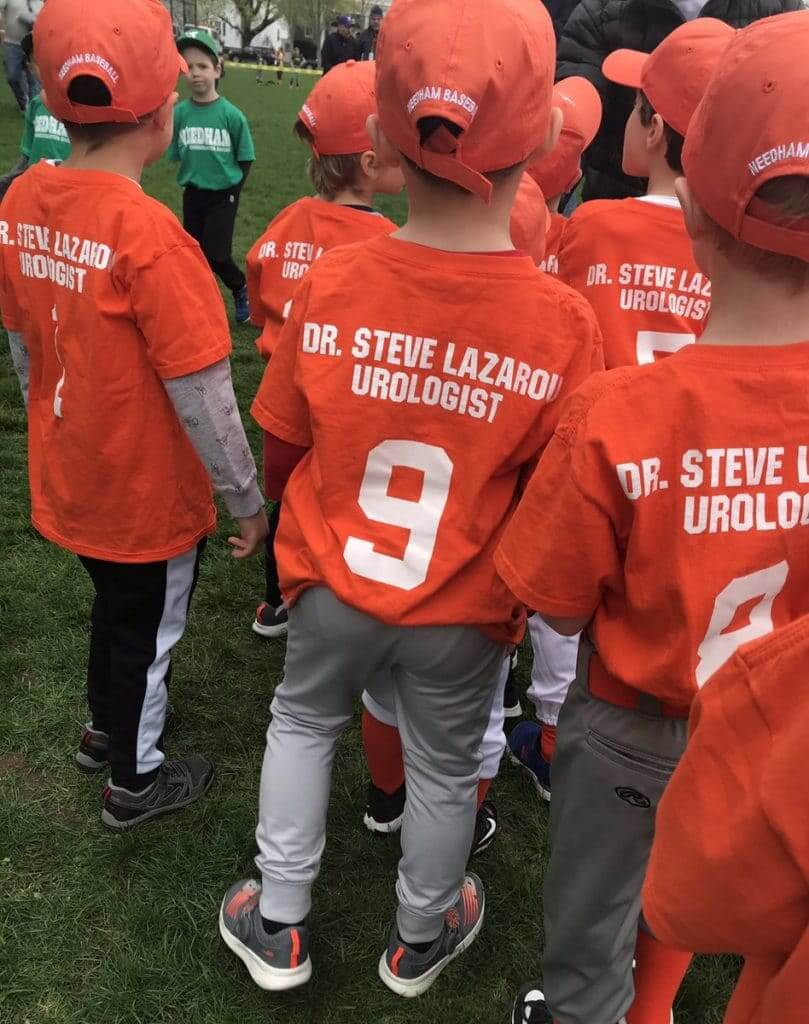 Click to enlarge
Even better than Chico's Bail Bonds: David Wade, a TV news anchor for Boston's CBS affiliate, tweeted yesterday that his son's Little League team has an unusual sponsor. It's nice that Dr. Lazarou wants to support community youth athletics, of course, but this must have led to some awkward discussions between the players and their parents, no?
(Big thanks to Joe Giza for bringing this one to my attention.)
• • • • •
• • • • •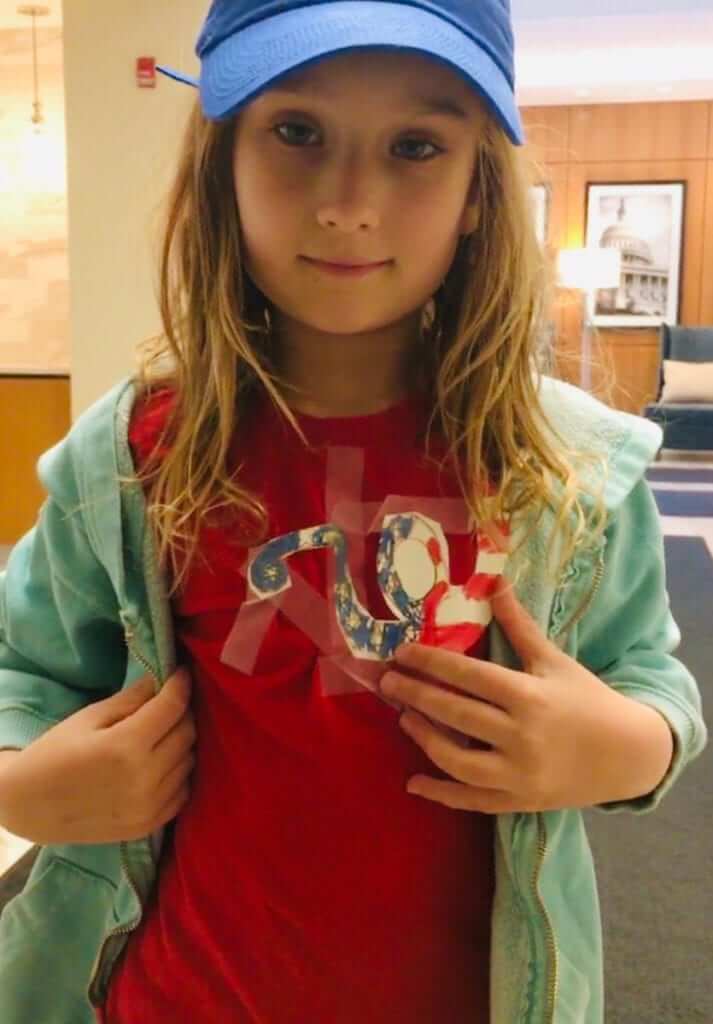 Click to enlarge
Best DIY ever: Meet Zaya, the six-year-old daughter of longtime Uni Watch reader Matthew Algeo. "She's just getting into sports," says Matthew. "We live in Arlington, Va., so, unfortunately, she is becoming a Nats fan. I feel like I should intervene, but she's got to find her own way, I suppose."
As you can see, Zaya wanted to have a Nats T-shirt, so she made one herself by drawing a stars/stripes Nats logo and taping it to one of her shirts. It's hard for me to express how much I love this (especially all the tape!). DIY FTW!!
• • • • •
• • • • •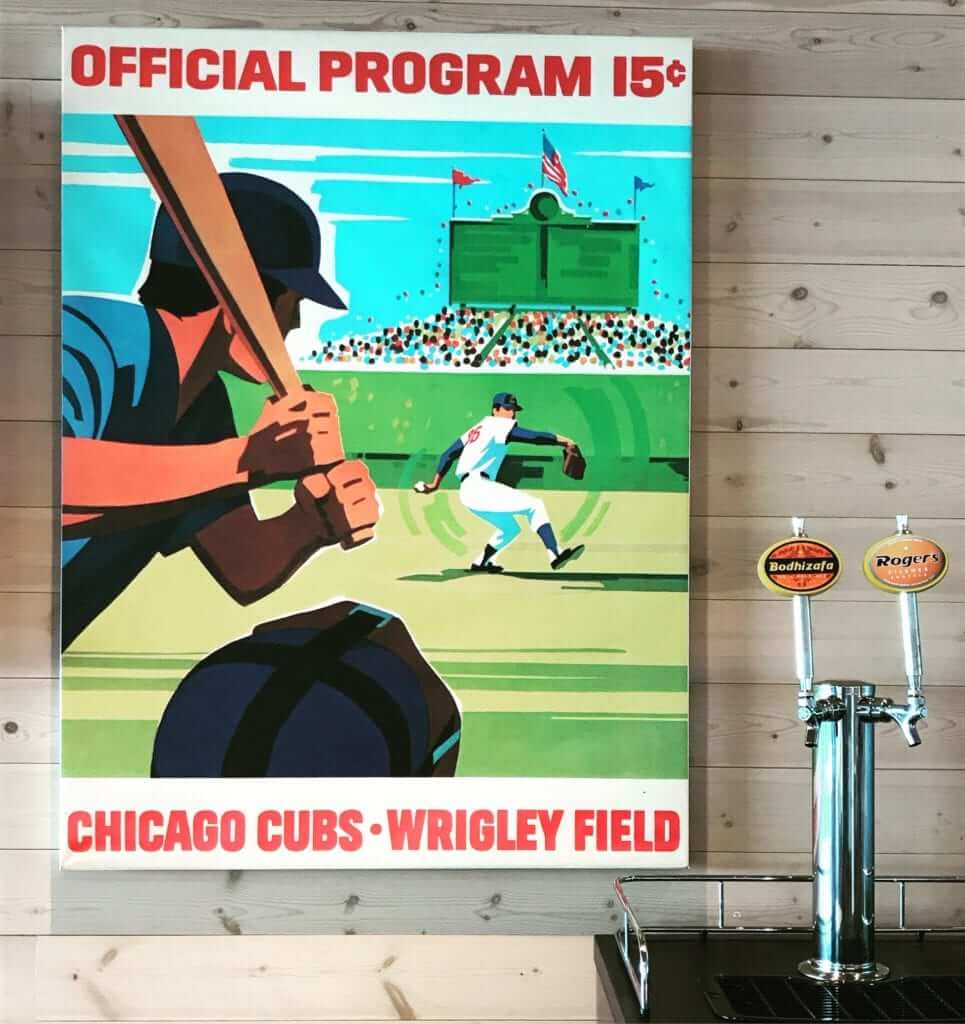 Click to enlarge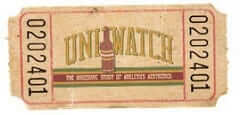 ITEM! New raffle: Our friends at longtime Uni Watch advertiser Vintage Brand are once again letting me run a raffle for a lucky Uni Watch reader. The winner will be able to choose any item from the Vintage Brand website (including the canvas print of a Cubs program cover shown above).
To enter, send an email to the raffle address by this Thursday, May 2, 7pm ET. One entry per person. I'll announce the winner on Friday.
Speaking of raffles, our three latest winners are Kelly Keenoy, Aaron Peskin, and John Schandler, each of whom has won himself a Hebrew Nationals cap (and, I'm told, some bonus surprise goodies). Congrats to them, and big thanks to Conagra for providing the prizes.
• • • • •
• • • • •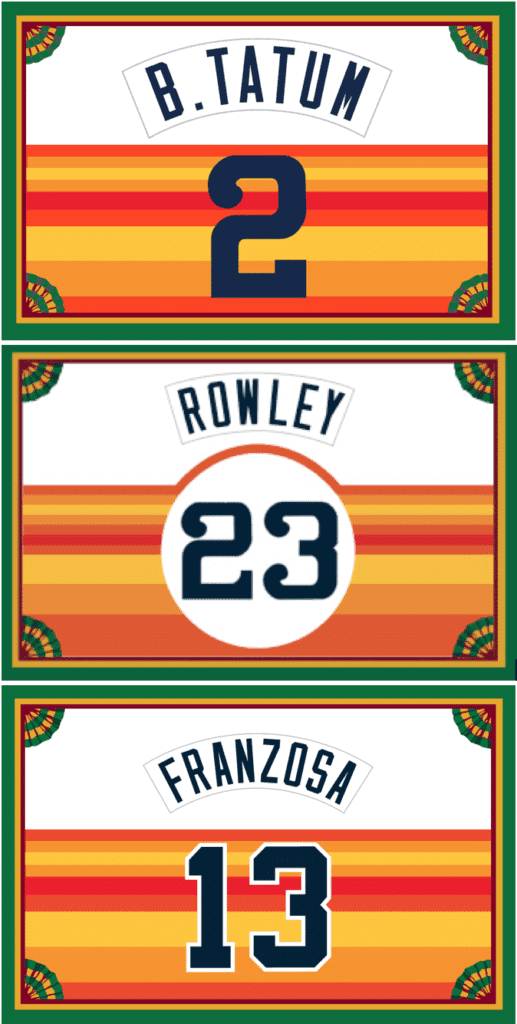 Membership update: When someone orders a Uni Watch membership card and asks for an Astros tequila sunrise design treatment, I always point out to them that the 'Stros had three different rear-jersey designs during the rainbow era and ask them to specify which version they want. They usually choose the 1977-81 style (bottom-right, Mike Franzosa's card), although a few people have chosen the 1975 "bullseye" style (center-right, Ethan Rowley's card). Until now, though, I don't think we've ever had a membership enrollee who's chosen the 1976 style (top-right) — that's Byron Tatum's card, which he recently ordered. It's one of several new designs that have been added to the membership card gallery.
Ordering a membership card is a good way to support Uni Watch (which, quite frankly, could use your support these days). And remember, a Uni Watch membership card entitles you to a 15% discount on any of the merchandise in our Teespring shop and our Naming Wrongs shop. (If you're an existing member and would like to have the discount code, email me.) As always, you can sign up for your own custom-designed card here, you can see all the cards we've designed so far here, and you can see how we produce the cards here.
• • • • •
• • • • •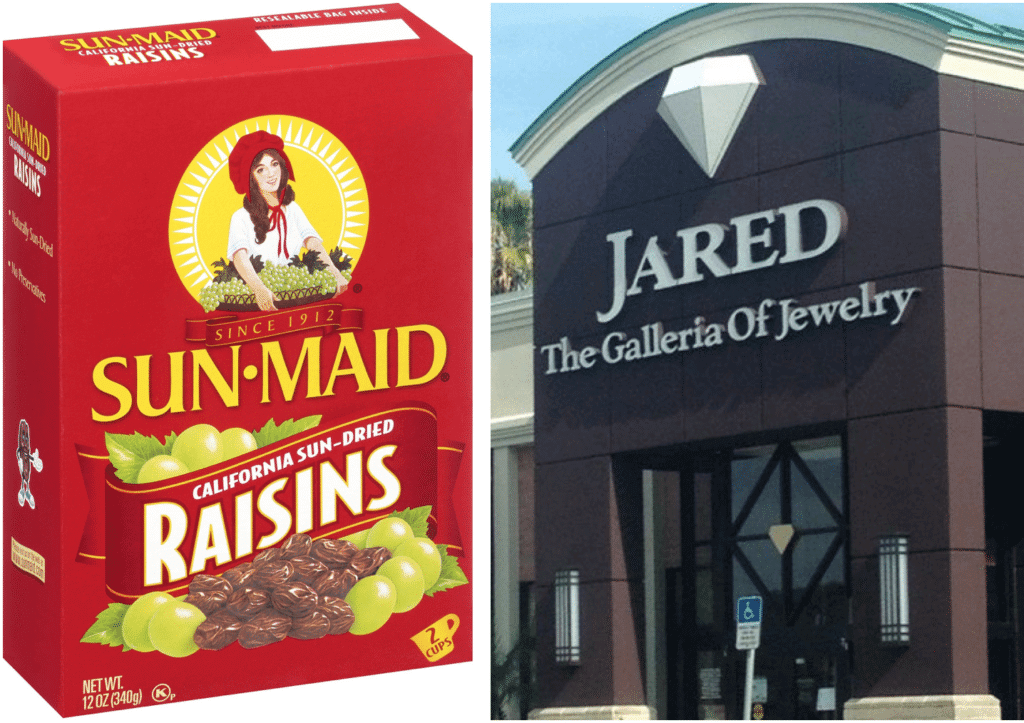 Recommended reading: The New York Times published two really good pieces of business journalism over the weekend. The first one is about how the raisin industry is an insular, bizarrely eccentric world unto itself, with little fiefdoms, petty grievances, threats of violence against people who make waves, and so on. Fascinating, entertaining stuff. Check it out here.
The other story is about how Sterling Jewelers Inc., the company that owns jewelry chains like Jared, Kay, Zale's, and others, has treated its female employees like garbage for many years and mostly gotten away with it. So it's a labor/workplace story, but it's also a story about the jewelry biz and the art of selling. I was particularly riveted by this passage:
The [jewelry] saleswomen watched the men seep into their stores on Monday mornings after they saw a Kay Jewelers commercial aired during the Sunday football game that made their blood run cold. … The men would run to the mall, reminded that there was always an anniversary coming up; they had always screwed something up and needed to apologize; Valentine's Day comes every freaking year.

Once the men were in there, they couldn't have escaped if they tried. Sterling had trained its staff obsessively. The salespeople were given gemology and diamontology courses. … And maybe one of those guys would start looking at the jewelry, but he'd realize that he had no clue about what a woman would like because he was just a dumb man, and so he would ask the [saleswoman] what he should buy, maybe that solitaire? "Sure," the saleswoman would say, "that's nice." But why would you buy a single-stone diamond when you could buy a three-stone diamond? "When one diamond is not enough," goes the sales copy, "use three to tell your story." "Uh, what's my story?" the guy would ask. "You and me and us is three," she would say. "Or heart and soul and time. Or today and tomorrow and always." It's a story, she would explain. The guy would nod. Yes. Now he had a thing to give and a thing to say. Done.
Storytelling. Sound familiar?
Generally speaking, I've never much cared about the aspirational-fantasy aspect of consumerism. More specifically, I've never had to deal with the bling-industrial complex because I have zero interest in diamonds or gold (although I do like silver) and no woman I've ever dated has cared about them either. All of which is a long way of saying that this article was a big eye-opener for me. It was written by the great Taffy Brodesser-Akner. She's made her mark as the media world's foremost celebrity profiler (I've previously recommended her piece on Tonya Harding), but this jewelry piece breaks new ground for her. It's a major piece of investigative journalism that she worked on for two years. It's long but worth sticking with — you can check it out here.
• • • • •
• • • • •
The Ticker
By Jamie Rathjen

Baseball News: The White Sox once had a logo straight out of heraldry on their letterhead (from Matt Sammon). … D-backs INF Ketel Marte wore the wrong hat yesterday (from multiple readers). … Phillies OF Bryce Harper gave the Phillie Phanatic a birthday present: Phanatic-themed sneakers like the ones Harper wore on Opening Day (thanks, Brinke). … In another picture from the Harper/Phanatic encounter, we can see that Harper has been wearing a belt with his old No. 34 on it (from Bob Novotny). … Reader Mike Chaldu tells us that Nogales (Ariz.) HS has an interesting number-on-logo treatment. … Two white-on-white games from yesterday: Georgia State/Louisiana-Monroe softball (from Will Owens) and New Jersey high schools Gloucester Catholic and St. Augustine Prep (from Nicholas Huba). … Here are some pictures from the first African pre-qualifying tournament for the Olympics, including Burkina Faso, Ghana, and Nigeria in uniform (from Eric Abneri).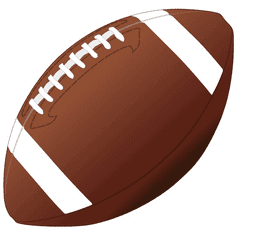 Football News: The 49ers traded LB Dekoda Watson on Saturday, leaving his former No. 97 open for second-overall draft pick Nick Bosa. Bosa wore the number at Ohio State, where his brother Joey did as well, and his dad wore it for the Dolphins (thanks, Brinke).

Hockey News: In last night's Sharks/Avs playoff game, Sharks D Brent Burns scored a goal after taking a shot that knocked the blade off of one of Avs C Alexander Kerfoot's skates (from Mike Chamernik).

Basketball News: Pictures of the court and uniforms for the Timberwolves' new NBA 2K League team, T-Wolves Gaming, are hanging in offices at the team's arena (from @ezbutton11). … TNT showed a No. 10 jersey to promote tonight's 76ers/Raptors game. That number was last worn for Toronto by DeMar DeRozan, who was traded to San Antonio last summer (from Mike Chamernik).

Soccer News: Scottish team Celtic wore black armbands with No. 5 on them for former center-back and manager Billy McNeill, who passed away last week. Current manager Neil Lennon suggested that the team should retire No. 5 as well. … Other teams that wore black armbands included Aberdeen, Aston Villa, and Leeds United; the first two were also managed by McNeill. … The New York Red Bulls did their annual autism-awareness promotion with blue numbers this weekend (from Brian Henke). … Both teams participating in the Coupe de France final, Paris Saint-Germain and Stade Rennais, wore a French Football Federation-provided number font with NOBs below the number. … Saturday's Chicago Red Stars/Reign FC game in the NWSL was postponed because of snow, but not before an orange version of the league's ball appeared for surely the first time ever. … New kits for National Premier Soccer League team Georgia Revolution and English League One's Plymouth Argyle. … Here are some concepts for the NPSL's Detroit City (from Ryan Keberly).

Grab Bag: Canadian cyclist Michael Woods (at the far right) was wearing one leg warmer at the end of Liège-Bastogne-Liège yesterday. It's unclear, because of the vagaries of the sport's TV coverage, whether he was wearing a second one at some point (from Matt Dowell). … The NLL's Saskatchewan Rush wore alternates for the last game of the season (from Wade Heidt). … The ACC women's lacrosse championship between North Carolina and Boston College was color vs. color (from James Gilbert). … Multiple readers sent us the new logo for Bunker Hill (Mass.) Community College, which replaced its former relatively generic bulldog logo with a much cuter version. … Reader Paul Deaver sent us the insignia for the WWII and Cold War-era Citizens Defense Corps, which had many different derivatives of the original insignia representing all the roles available. … The Gotham typeface is currently everywhere in the design world (from Adam Vitcavage).
• • • • •
• • • • •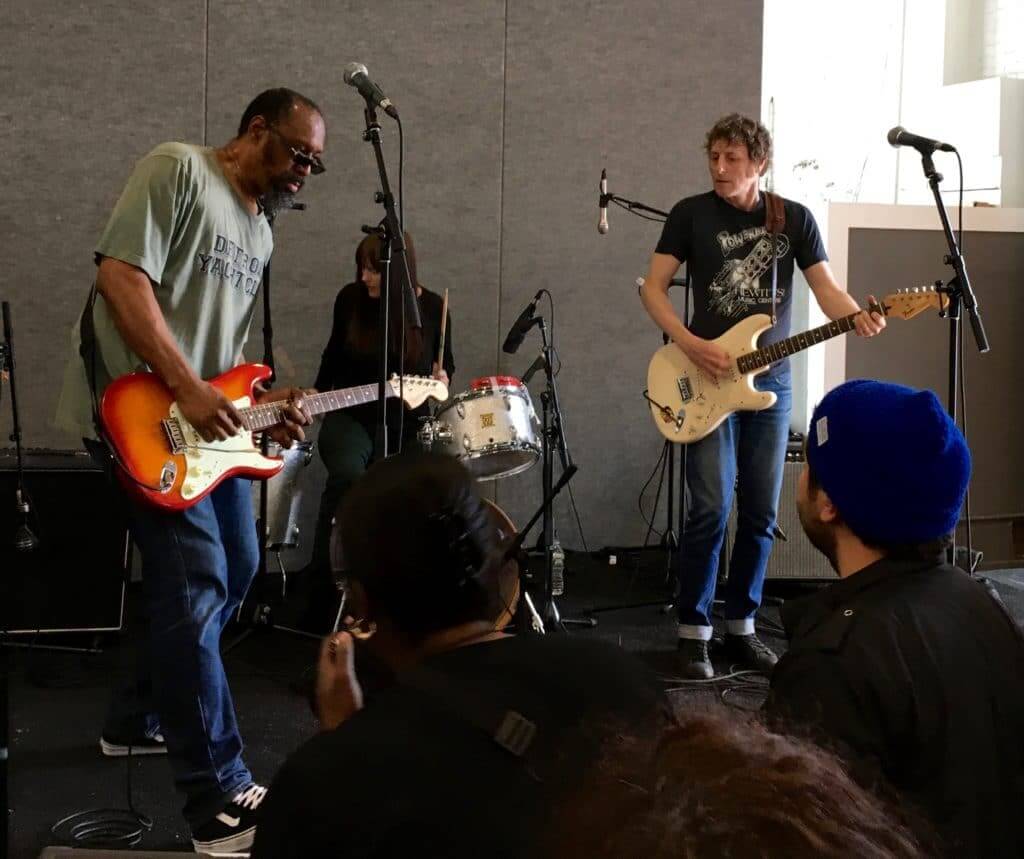 What Paul did last night on Saturday: I almost never buy records anymore, but I still go to the WFMU Record Fair every year — in part because I know I'll see a bunch of my friends there, in part because I enjoy the scene, and in part because they always have some good live bands on hand.
At this year's edition, which took place this past weekend, the live acts included two notable Memphis bands: the Oblivians (who were good, although I've never loved them as much as some folks do) and the ever-awesome Gories (pictured above), who've been one of my favorite live bands for many, many years. Always a treat to see them.
In between bands, I was approached separately by two Uni Watch readers — Tom Dunphy and John Flaherty — who recognized me and wanted to say hi. Guys, it was great meeting both you, and I really appreciate your generous donations. You're the best!