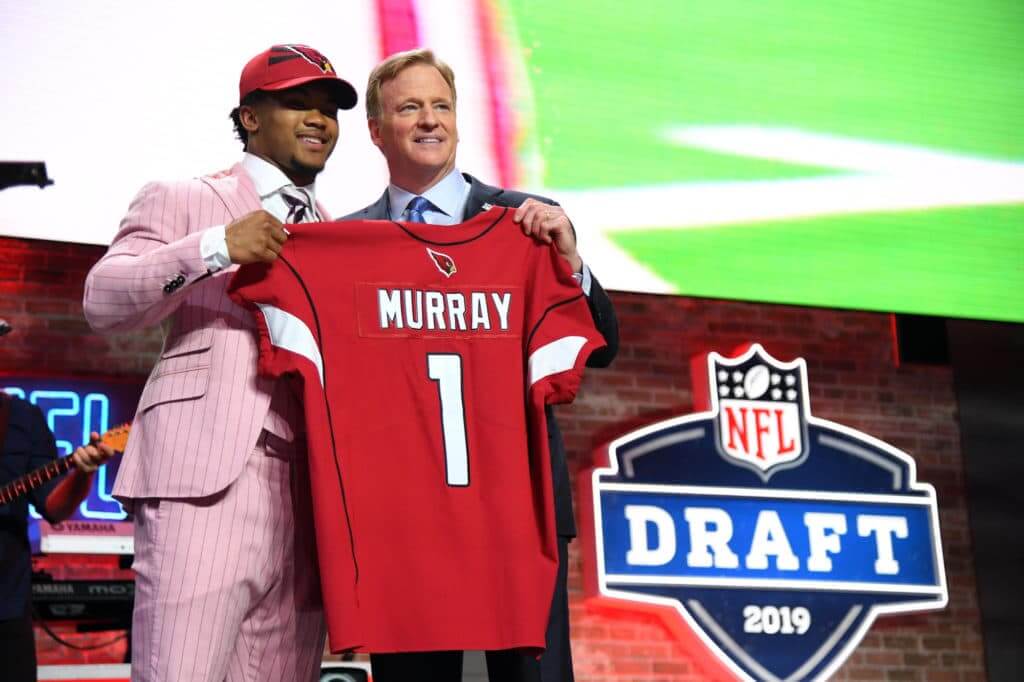 I'm right about a lot of things — the viability of a media project about uniforms, the non-viability of the AAF, the loathsomeness of purple — but I'm also wrong about a lot of things. Sometimes very wrong, spectacularly wrong.
I remember, for example, when bottled water started becoming readily available. I was in high school at the time, and I thought, "This is never going to work. Who's going to pay for bottled water? You can get water for free from the faucet!" Uh, right.
Similarly, I remember when sports bars started appearing. "Who needs a special bar just to watch sports?" I thought. "You go down to your local bar, they have the ballgame on the TV — boom, there's your sports bar!" Well, we all know how that turned out.
And when the NFL Draft started being televised, I thought to myself, "Who the hell would watch that?"
About half the country, as it turns out. I confess that I still don't understand the appeal, but whatever — there were some uni-related developments. One at a time:
• The Bills used draft day to quietly unveil their new 60th-season logo (as always, I wish they'd wait until next season and celebrated the anniversary, not the ordinal):
@UniWatch @PhilHecken A look at the Bills' 60th anniversary logo at the end of this video (it's been added to their website banner as well). Haven't seen it before; I wonder if it will be worn as a jersey patch? 🤔 pic.twitter.com/EkuuVV1ABp

— Matt Glasz (@MattGlasz) April 25, 2019
it's not yet clear, at least to me, if this logo will be worn as a jersey patch. Photos of the Bills' top draft pick last night, Ed Oliver, only showed the back of his jersey.
• After the Jets — you know, the team that just held a big unveiling event for their new logo and uniforms — chose Alabama defensive end Quinnen Williams, he tweeted an ad of himself wearing a cap with the team's outdated/obsolete logo:
Fresh faced and ready to #TakeFlight with #JetsNation ✈️
Shave by #Braun. @BraunUS #DesignedForWhatMatters #Ad pic.twitter.com/UcxI4kxl8o

— Quinnen Williams (@QuinnenWilliams) April 26, 2019
• ESPN showed a graphic with the Titans' old white helmet instead of their current navy helmet — a particularly egregious error when you consider that the draft was held in Nashville: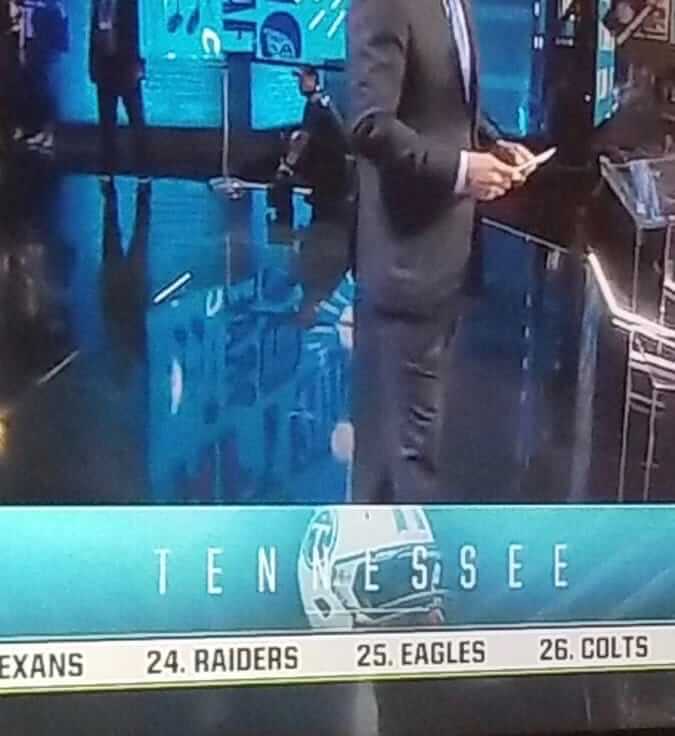 • Kentucky linebacker Josh Allen, who was drafted by the Jaguars, wore a suit with a custom lining that honored his son.
• Speaking of Allen, a giant poster of him had to be removed from the side of a building near the draft because the NFL didn't grant permission for its logo to appear on the poster.
• ESPN reportedly had a policy that it would not show draftees at their homes or at parties if sponsorship advertising logos were visible on-camera. Good.
• Here's the annual obligatory story about how the onstage draft jerseys get lettered up so quickly.
• Although it doesn't apply to the upcoming season, Rams COO Kevin Demoff gave some hints about the team's upcoming 2020 redesign.
• And then there's this, from reader Michael Stoudt:
My wife and I attended the Buccaneers' draft party at Raymond James Stadium. (We're actually Eagles fans, but we love Bruce Arians, the Bucs' head coach.) I was wearing a Uni Watch T-shirt, and we were walking the concourse when this guy Kevin saw me and shouted, "Uni Watch! I love it! I read him every day! I even wrote to him that this is my uniform. Could I get a picture with a fellow Uni Watcher?" So we took this photo: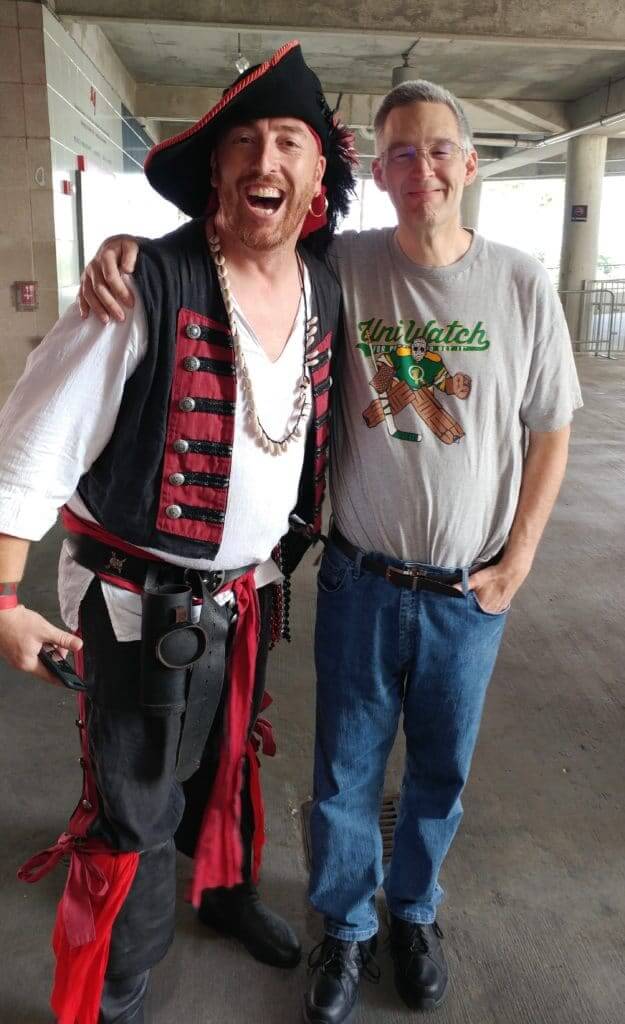 I thought it neat, because I really wasn't expecting anything. But it's nice that Uni Watch is well known.
Indeed! Thanks for sharing that, Michael. And Kevin, if you're reading this, thanks for the support!
(My thanks to Josh Hinton, Brian Petree, Josh P., our own Yianni Varonis, and Phil for their contributions to this section.)
• • • • •
• • • • •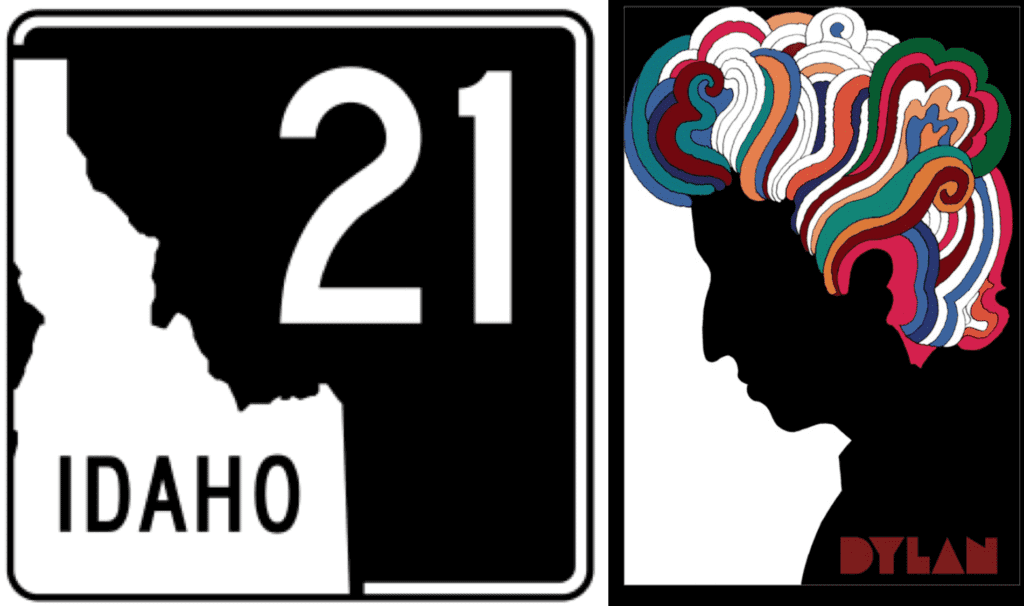 Odd couple: Someone on Twitter the other day said that the negative space on the Idaho state highway sign forms a silhouette that looks like "sad Nixon." I'd never really noticed the face-profile silhouette before (admittedly, it's been more than 20 years since I've been in Idaho), but once he pointed it out, it occurred to me that it looks a lot like the great graphic designer Milton Glaser's famous poster of Bob Dylan!
(My thanks to Ted Bloss for bringing the "sad Nixon" tweet to my attention.)
• • • • •
• • • • •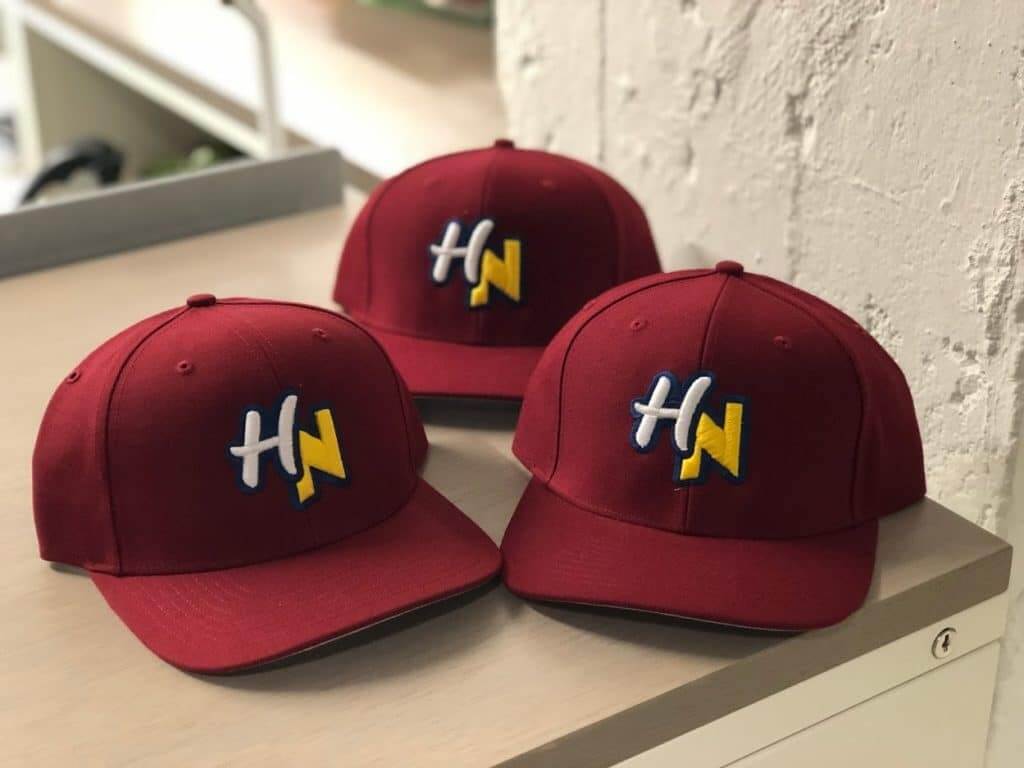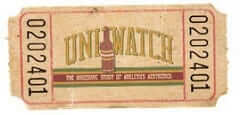 ITEM! Hebrew National cap raffle: Remember my recent post about the all-Jewish softball team called the Hebrew Nationals? Several of you asked if the the team's "HN" caps were available for purchase. I asked the folks at Conagra (Hebrew National's parent company) about that, and they said they don't want to sell the caps, but they do have three extras that they're letting me raffle off.
The caps are adjustable, so one size fits all. To enter, send an email with your shipping address to the raffle in-box by 7pm Eastern on Sunday. One entry per person. I'll announce the three winners on Monday.
My continued thanks to the Conagra crew, who've been wonderful in every aspect of this story.
• • • • •
• • • • •
Hoodie reminder: In case you missed it on Thursday, I announced the launch of our spectacular new Uni Watch Tequila Sunrise Deluxe Hoodie. Check this out (for all pics, you can click to enlarge):
The stripes inside the hood are a nice touch, right? And there's another fun detail lurking inside of the pocket: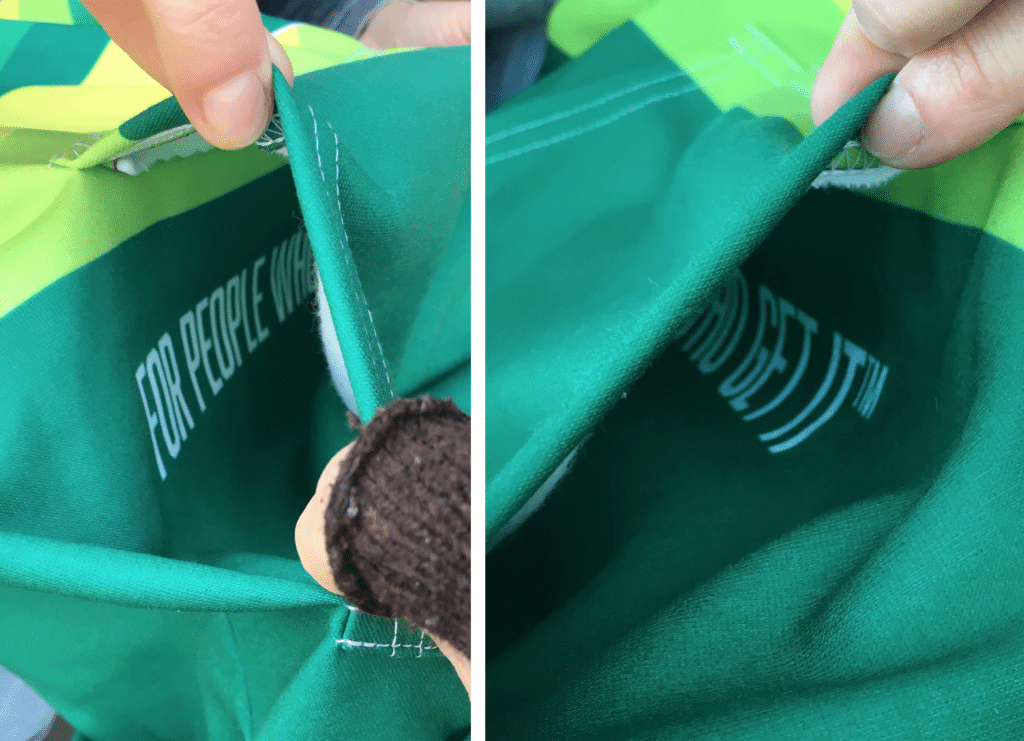 Okay, so that doesn't really mean anything in the grand scheme of things, but it's a nice little Easter egg. My Teespring contact, Jimmy Nutini Jr,, gets credit for that one.
Here's how it looks from the back:
As for the fabric: It's 100% polyester (that's the nature of the beast when doing sublimation), so it's not as plush as a cotton hoodie. But it's not bad — it feels properly substantial, like a hoodie should, and the interior is a bit fleece-y. All in all, very comfortable:
As with all sublimated products, this one will cost ya — the price is $47.99. That's all because of the wholesale unit price, not due to any gouging at my end (my cut for this item is the same as for a normal screen-printed T-shirt).
But I honestly think it's a pretty sweet item. You can order it here.
And that leads us to….
• • • • •
• • • • •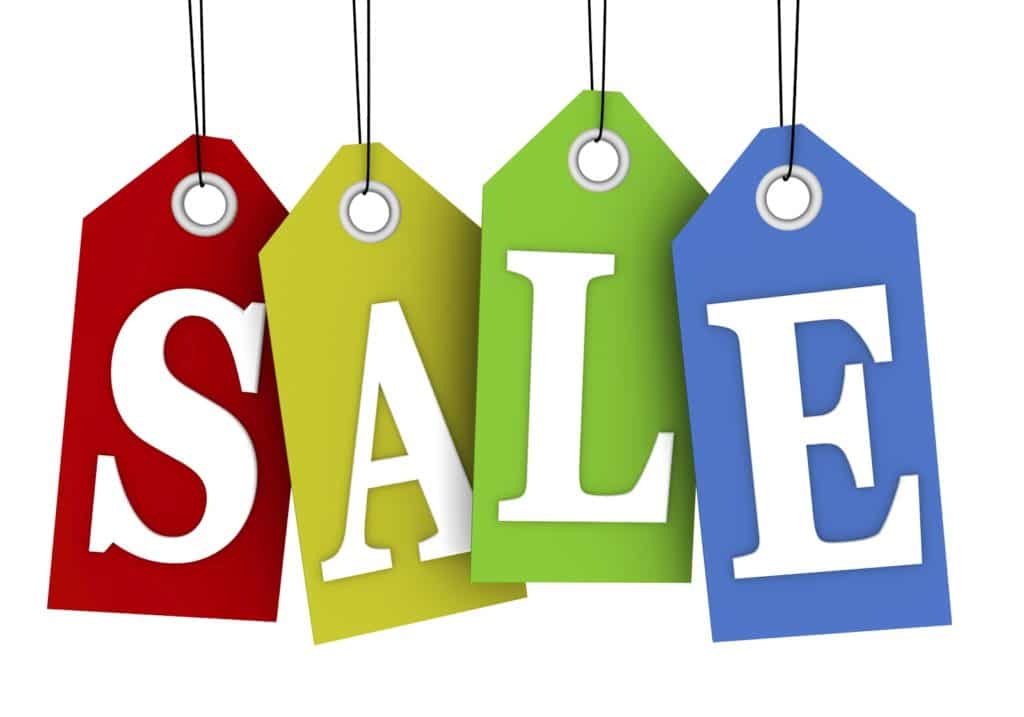 Teespring sale reminder: In case you missed it on Thursday, Teespring, which hosts our Uni Watch shop and the Naming Wrongs shop, is running a limited-time sale. From now through noon Eastern on Saturday, you can get 10% off any of our products by using the checkout code TSPRING10. Uni Watch will make the same profit on each item, and Teespring will cover the difference.
This discount applies to everything in both shops, including the hoodie described above, our popular Goodywear-inspired T-shirt, our tequila sunrise deluxe sublimated shirt, all of our coffee mugs, the full slate of Naming Wrongs shirts, and more.
My thanks, as always, for considering our products.
• • • • •
• • • • •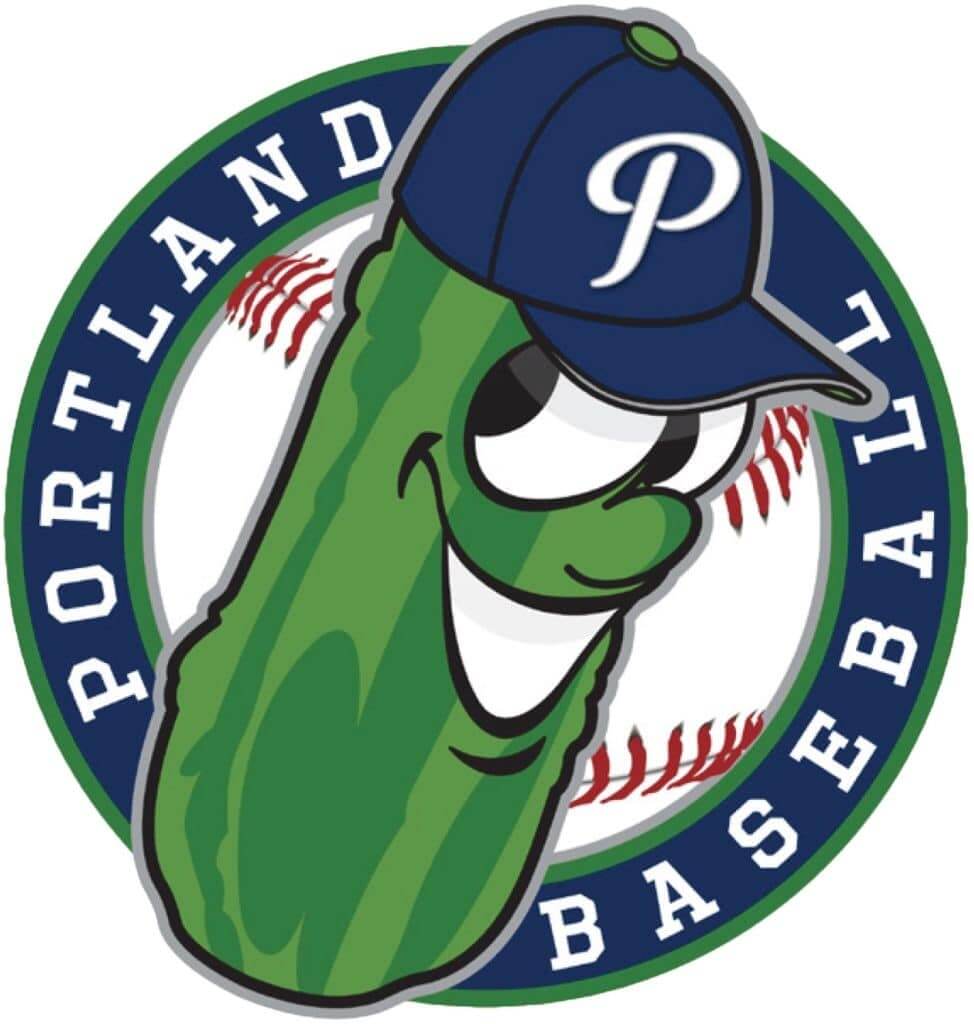 Design contest reminder: In case you missed it on Monday, Uni Watch is teaming up with the Portland Pickles — that's a college wood bat summer team — for a contest to design the Pickles' "Future Baseball Night" jersey, which will be worn on July 4. There's a $150 cash prize for the winning designer, along with a free futuristic jersey.
Entry deadline is Friday, May 3. Full details on the contest rules and entry requirements, along with the full scoop on what "Future Baseball Night" will entail, can be found here.
• • • • •
• • • • •
The Ticker
By Yianni Varonis

Baseball News: A few items from Phil: Miami introduced new jerseys made from ocean plastic, and the Indianapolis Indians unveiled a new alternate that was likely inspired by the NBA's "city edition" uniforms (also from Michael Grace and Jarrod Campbell). … The Dodgers will celebrate the 30th anniversary of the TV show Seinfeld by giving certain fans a commemorative baseball that reads: "30 years of nothing, now that's something" (from multiple readers). … New Blue Jays call-up 3B Vladimir Guerrero Jr. will wear the same No. 27 that his father wore throughout his big league career (from Gabriel Hurl). … The Reds have copied a Braves promotion by challenging fans to race a team representative who, in Cincinnati, wears a classic uniform. … The West Virginia Power have new Charleston Wheelers throwback jerseys. Unfortunately, neither the pants nor the caps match (from Joshua Exline). … The Binghamton Rumble Ponies will wear "Peanuts"-themed jerseys tomorrow, modeled after Charlie Brown's famous yellow shirt (from Justin Grimes). … The Ohama Storm Chasers played last night as the Omaha Sizzle.

NFL News: It was announced last evening that Chiefs QB Patrick Mahomes will grace the cover of Madden NFL 20. That also provides our first look at how the NFL 100 logo will look on the collar of a Chiefs jersey.

Hockey News: Golden Knights owner Bill Foley said it's highly likely that the team will wear an alternate uniform next season (from Phil and multiple readers). … Maple Leafs F Patrick Marleau will reportedly try to transition to a one-piece stick in order to help improve his game (from @jehawks).

Soccer News: The new home, away, and third kits of Scottish club Rangers probably leaked (from Ed Zelaski). … Also from Ed: Polish club Wisła Kraków was forced to play multiple underage players as the result of injury, necessitating that the team replace the betting advertisement from those players' shirts with a generic slogan. … German club Borussia Mönchengladbach's new home kit may have been leaked (from Josh Hinton). … The Canadian Premier League has revealed the inaugural home and away kits of each of its seven founding clubs (from Andy Rawlings). … Chelsea's new away kit has leaked (from Josh Hinton). … Also from Josh: Here are this weekend's Premier League uni matchups. … Starting next season, the name of Tottenham Hotspur's women's team will change from "Spurs Ladies" to "Tottenham Hotspur Women" (from our own Jamie Rathjen).

Grab Bag: From Phil: Here's how Fanatics "is taking over sports apparel one league at a time." … Tennis pro Naomi Osaka played her first tournament after signing with Nike, and interestingly, she's allowed to wear ad patches, unlike other Nike athletes (from our own Brinke Guthrie). … Joe Biden's new campaign logo has already led to a lot of criticism on various fronts. … We're way late on this, but Geico is now advertising on the tail of all NLL jerseys. Additional info here. … United Airlines will feature its first new design in a decade by scrapping the gold from the exterior of its planes in favor of blue. … Here's the backstory on the origins of the Ferrari logo. … IKEA has made a very subtle update to its logo. … A high school administrator in Texas was suspended for forcing a black student to cover a shaved hair design with permanent marker. … E-sports has given rise to its own apparel style (NYT link) (from Tom Turner). … Have you noticed that the Marvel Cinematic Universe is filled with logo-free caps? (From Jason Hillyer.)
• • • • •
[adrotate group="2″]
• • • • •

What Paul did last night: One of the great things about my current neighborhood is that it's extremely diverse, with lots of Pakistanis, Yemenis, Orthodox Jews, and more. There's also a Mormon church, and we'll sometimes see their missionaries around the 'hood, wearing their nametags that identify them as Brother James or Sister Janet or whatever.
Anyway: Last night the Tugboat Captain and I met after work at a nearby-ish bar. After a few drinks, some super-excellent jerk pork, and watching that Jeopardy! guy win again, we went to the bus stop to catch a ride home. There were two young women already waiting at the bus stop, and they started chatting with us. Turns out they were Mormon missionaries — one from Oregon and one from the Congo! They'd been in Brooklyn for just a few weeks.
Unfortunately, I've already forgotten their names, but we chatted with them for the whole ride home. Fascinating stuff. And it was the Congolese woman's birthday! How weird it must be to have spent it so far from home, in a place so very different from home.
Sometimes I really fucking love New York.
• • • • •
Today we wish a fond farewell to Yianni Varonis, who is contributing his final Ticker to the site today before moving on to greener pastures on Capitol Hill, where he's about to become the Communications Director for U.S. Rep. Zoe Lofgren of California. Yianni came on board as a Ticker assistant last fall and was a quick study, producing excellent work for our Friday entries. He'll be missed!
Beginning next week, Anthony Emerson, who for the past couple of years has been producing the Tickers that appear on Saturdays, will add Friday Tickers to his portfolio. Congrats to him on the increased role on the site, and bon voyage to Yianni. — Paul