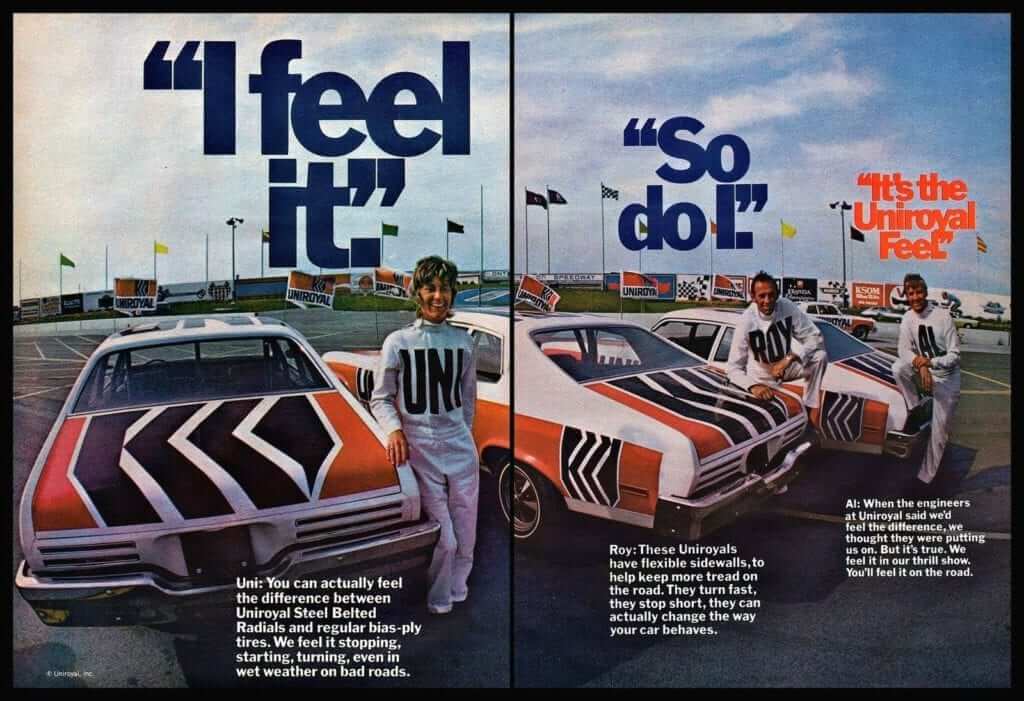 For most photos in this section, you can click to enlarge
What have we here? It's a 1970s print ad for Uniroyal Tires, featuring three spokescharacters named Uni (!), Roy, and Al posing with matching cars.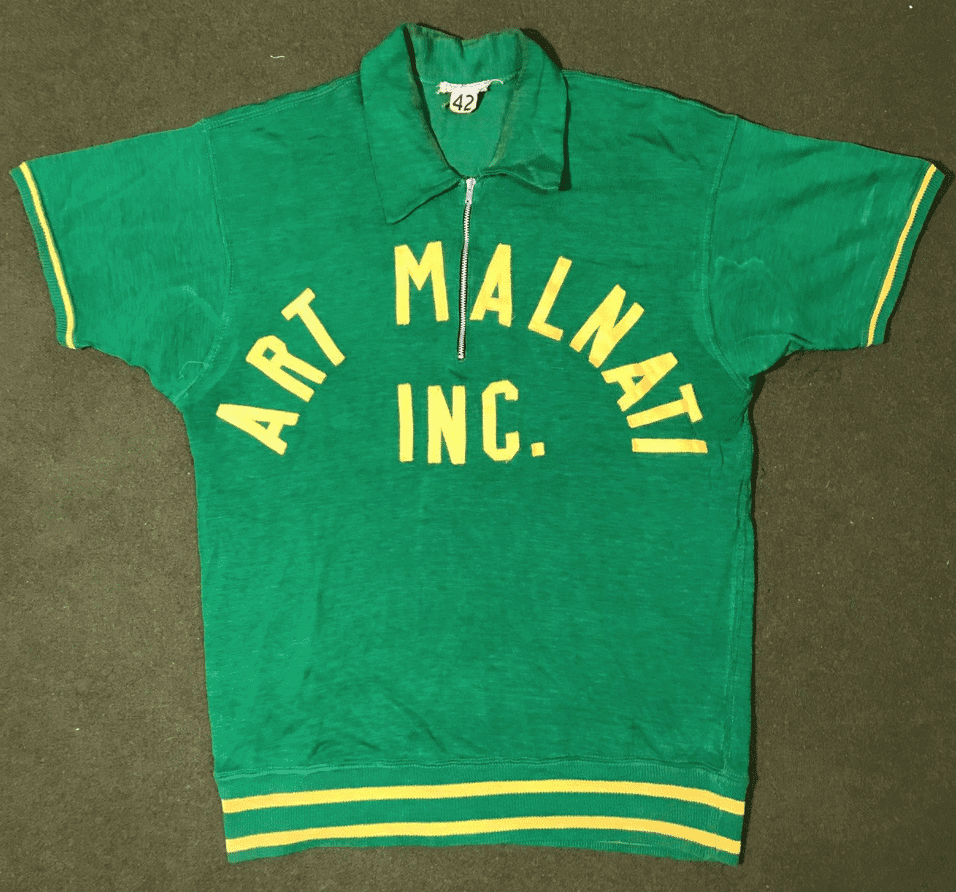 How did I learn about this ad campaign? The wheels started turning a few months ago, when I spotted a gorgeous 1950s Durene warmup top on Etsy (shown at right). It looked like it was made for me — my size, my favorite colors, not terribly expensive. But this was right after ESPN told me they wouldn't be renewing my contract, so I was being careful about expenditures and couldn't quite bring myself to pull the trigger on the purchase.
I bookmarked the Etsy listing and checked in on it from time to time, just to see if anyone else had purchased it. During that time period, two Uni Watch readers actually sent the listing to me, saying, "This looks like something you'd like!"
I finally gave in and bought the jersey last month as a birthday present to myself, but the seller was traveling for a few weeks, so I didn't receive the item until last Friday. And man, was it worth the wait:
As you can see, it's a highly saturated emerald green with sewn-on tackle twill lettering. On the back is a tremendous screened graphic:
Great interior tagging, too:
I posted some photos of the jersey on Twitter yesterday, and that's when Twitter-er @BeautyOfAGame informed me that U.S. Royal Tires was the old name for the more familiar Uniroyal Tires. At the 1964 World's Fair, there was a tire-shaped U.S. Royal Ferris wheel: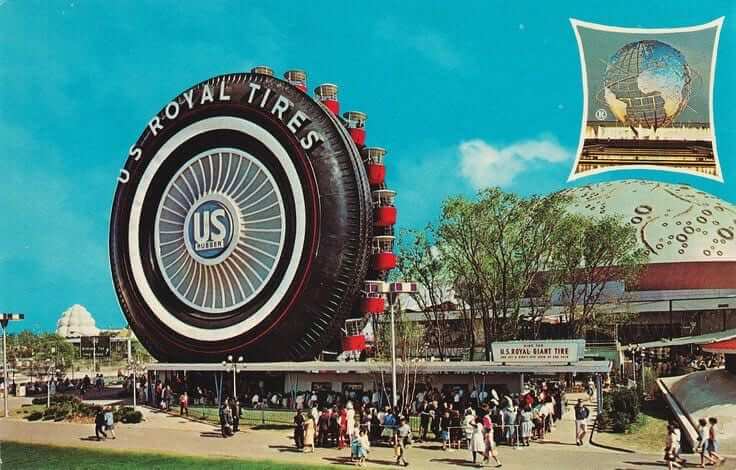 The name eventually changed to Uniroyal, and that's how Uni, Roy, and Al were created. They were featured in lots of ads. Here's another one: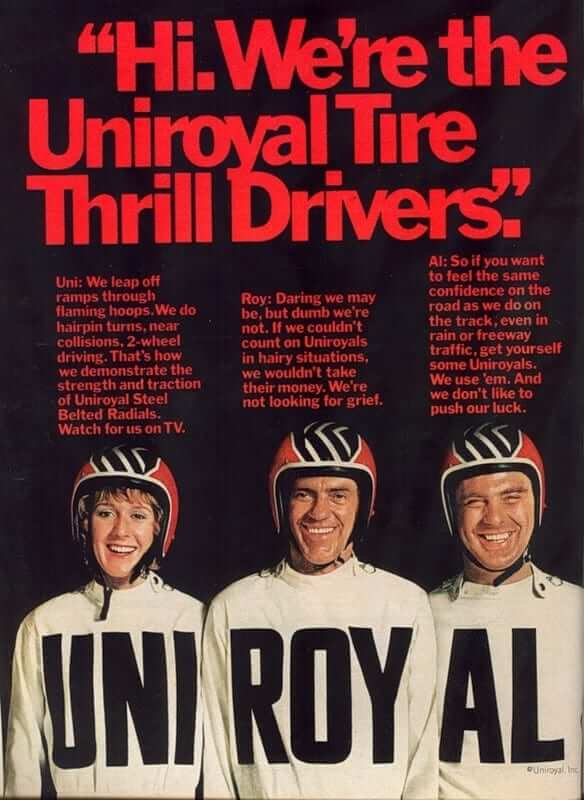 With the matching helmets, you get a much better sense of them wearing uniforms, right?
Uni, Roy, and Al also appeared in TV commercials. Here one from 1973:
They also apparently made live appearances. This Nashville Speedway ad that ran in the June 22, 1974, edition of The Nashville Tennessean says, "Extra Added Attraction: Uni, Roy, and Al in the Uniroyal Tire Thrill Show":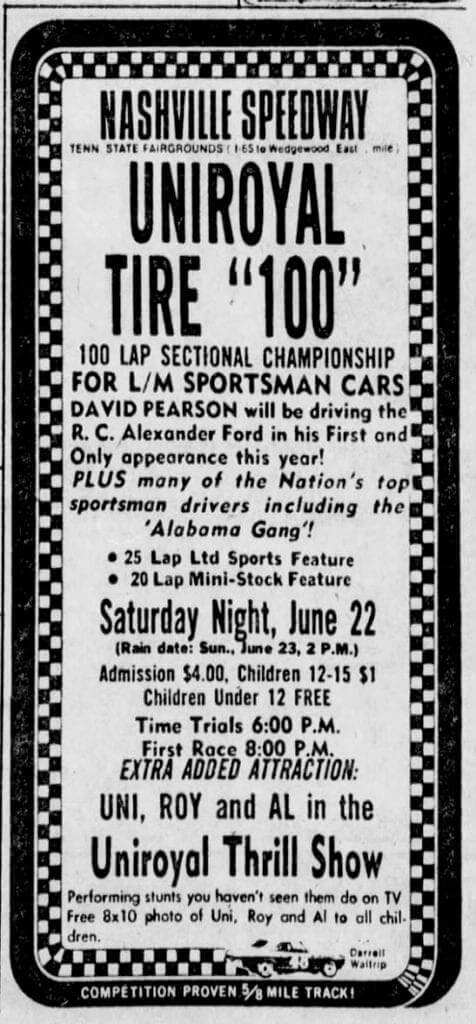 The woman who played Uni was named Kaye Kaiser. There are original press photos of her in her Uni outfit — sometimes by herself, sometimes with Roy and Al (autographed!) — floating around the internet. I also found this Chicago Tribune article about her from 1975, indicating that she wasn't just an actor but had "her own all-girl thrill driving show," described as "an aggregation of hell-crazed ladies who tour the racetracks and fairgrounds of America, performing the kind of stunts you would expect from Steve McQueen or Evel Knievel":
Okay, that's enough about Uni, Roy, and Al. I'm also interested in the name on the front of my green jersey — Art Malnati. Who was he?
As it turns out, Art Malnati is second from the left in this photo from Dec. 17, 1959: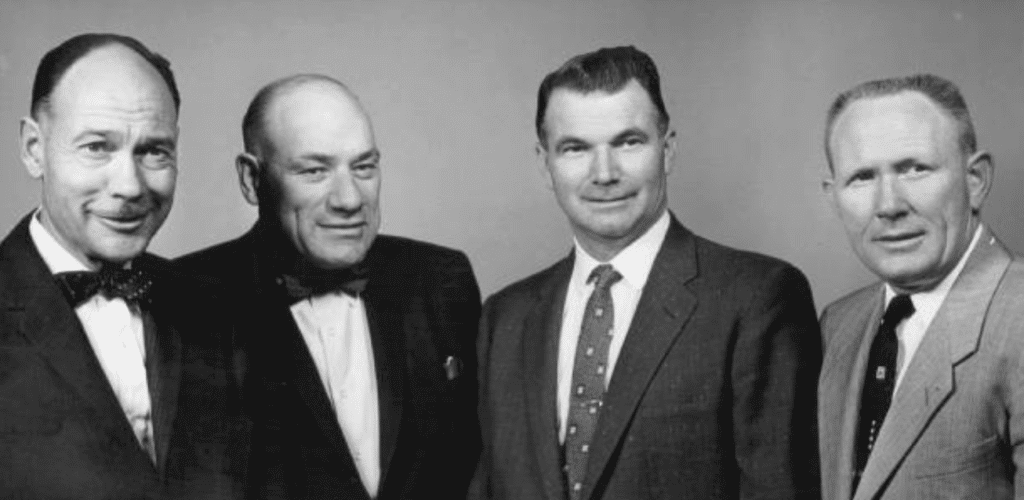 The caption reads, "The Denver Area Tire Dealers Assn. have installed these principal officers for 1960. From left: Harry Leisenring, president; Art Malnati, vice president; David B. Sala, secretary; and Neef Burroughs, treasurer."
Al also ran this ad in the Jan. 3, 1946, edition of The Denver Catholic Register: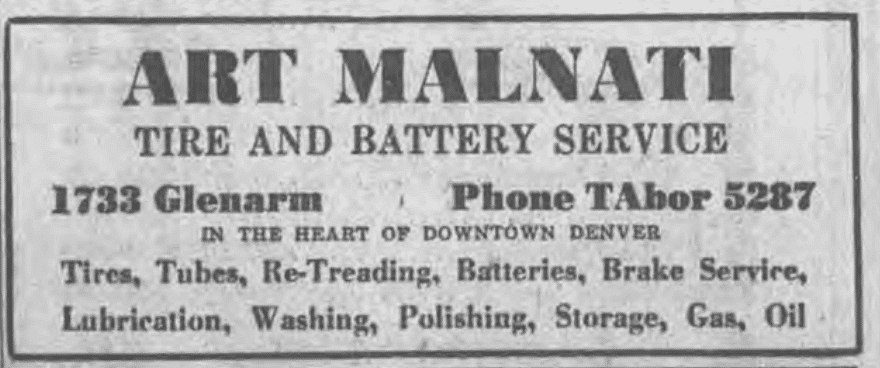 So ol' Art was clearly a tire guy, which explains the U.S. Royal Tires graphic on the back of the jersey.
That leaves us with Stu Beresford, the sporting goods shop on the interior tag. I couldn't find anything about the shop, but here's a 1933 news item indicating that former Colorado University athlete Stu Beresford had been appointed head basketball coach at the New Mexico School of Mines. He must have returned to Colorado at some point, because he was a 1978 inductee into the Colorado High School Coaches Association Hall of Fame.
Nice jersey, nice backstory. I'm excited to wear it out and about!
(Huge thanks to @BeautyOfAGame and longtime reader Denver Gregg for their research assistance on this piece.)
• • • • •
• • • • •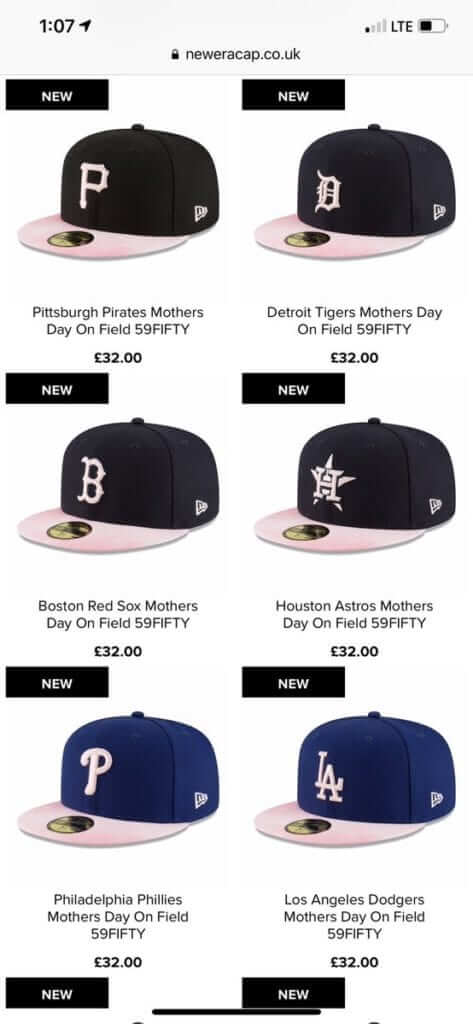 First sighting of MLB Ma's Day caps: Reader Jeremy Etzler found this year's MLB Mother's Day caps on New Era's UK site yesterday. Pretty brutal, as usual.
I have reason to believe that the full unveiling of the MLB holiday uniforms may be today. If so, we'll have a full rundown tomorrow.
• • • • •
• • • • •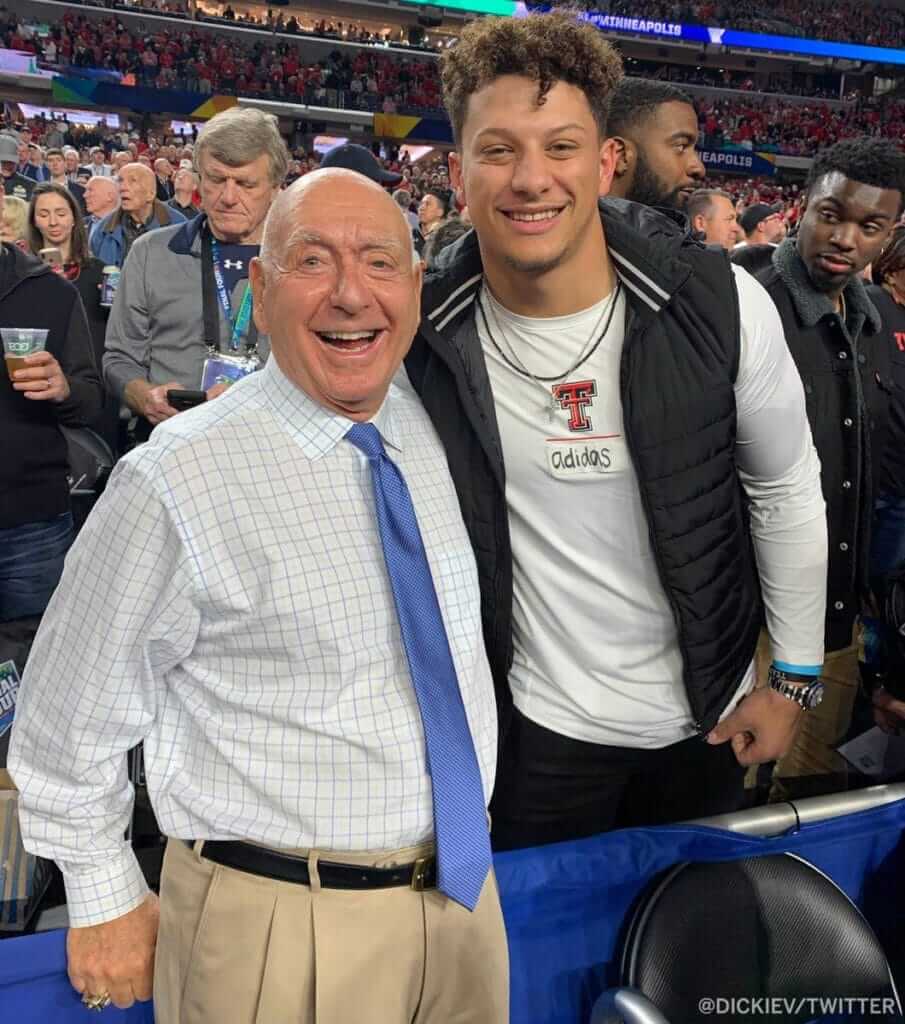 Oh, for fuck's sake: Kansas City Chiefs quarterback and reigning NFL MVP Patrick Mahomes showed up at last night's NCAA title game to cheer for his alma mater, Texas Tech. But he couldn't wear a Tech shirt without reminding the world that corporate douchebaggery is the tail that wags the sports world's dog. Sigh.
• • • • •
• • • • •
Click to enlarge
Collector's Corner
By Brinke Guthrie
When I sit down to do Collector's Corner each week, I try to lead off with an item with some visual pop. I think this one definitely qualifies! This Red Sox game program is from September of 1970, and wow does that artwork ever leap off the page. And if the cover art doesn't get you, how about this ad found inside the program (click to enlarge):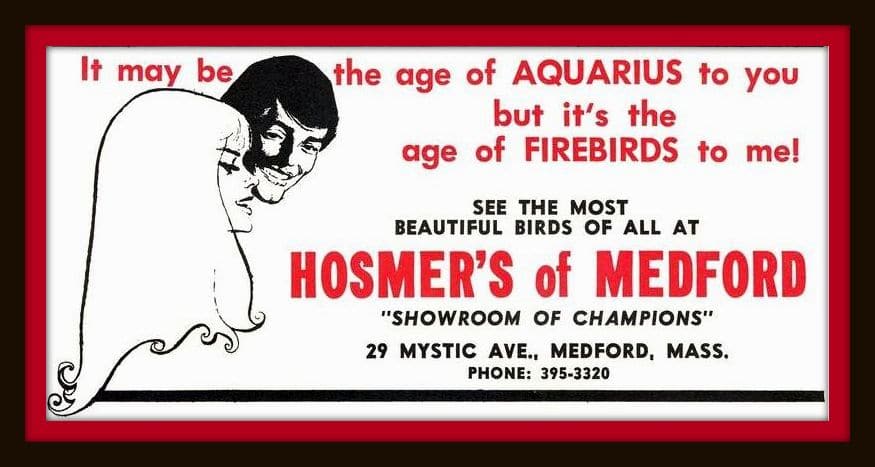 "It may be the age of Aquarius to you, but it's the age of Firebirds to me!" I do hope the boss took the ad copywriter out for the best steak in Boston after that one.
Now for the rest of this week's picks:
• Check out this 1970s Hartford Whalers knit ski cap! (Or would "toque" be appropriate here?)
• More absolute killer MLB game program artwork here, this time for the 1970 Minnesota Twins. Absolute magic. (Yes, "killer" as in "Killebrew.")
• One more 1970 game program for you: This was for the National League Championship Series "on the Riverfront" at the then-four-month-old Riverfront Stadium in Cincinnati, as the Pirates visited the Reds.
• With this 1970s handheld Tudor Electric Football game, it was you against the computer. Try to get around or through the computerized defense! Yes, kids, that's what video games looked like back then. (For more on electric football, check out the highly-recommended Unforgettable Buzz website.)
• This 1970s Cleveland Browns serving tray has a few nicks but is otherwise in good shape.
• One auction, two sets of 1970s MLB mini-pennants (both AL and NL).
• For your next NFL-themed party, make sure you have this 1986 NFL football-shaped ice cube tray at the ready.
• The NFL shield is embossed on the buttons of this 1970s Steelers kids' rain jacket.
• This 1970s NFL smoked glass features all 28 then-current teams.
• Here's another NFL glass, this time sponsored by Dr. Pepper. Since the glass includes the striped Bengals helmet, it's no older than from the early 1980s.
Seen an item on eBay that would be good for Collector's Corner? Send any submissions here.
• • • • •
• • • • •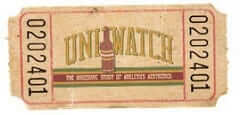 ITEM! Yet another membership raffle: We running another one-day raffle for a free Uni Watch membership card. This one was purchased and donated by longtime reader Judy Adams — thanks, Judy!
To enter, send an email to the raffle address by 10pm Eastern tonight. One entry per person. I'll announce the winner tomorrow.
Speaking of membership raffles: The winner of our previous raffle was Jim Ellwanger. He asked for his card to be based on the Rays' powder blue fauxbacks. That card, shown at right, is one of several that have been added to the membership card gallery.
Ordering a membership card is a good way to support Uni Watch (which, quite frankly, could use your support these days). And remember, a Uni Watch membership card entitles you to a 15% discount on any of the merchandise in our Teespring shop and our Naming Wrongs shop. (If you're an existing member and would like to have the discount code, email me.) As always, you can sign up for your own custom-designed card here, you can see all the cards we've designed so far here, and you can see how we produce the cards here.
• • • • •
• • • • •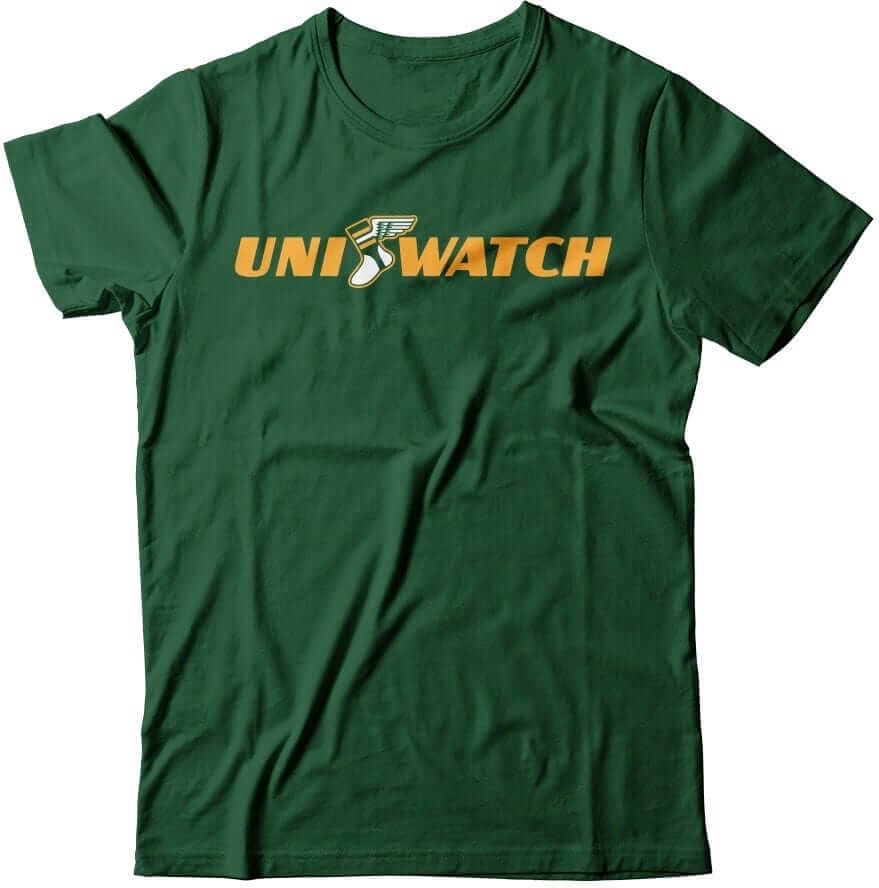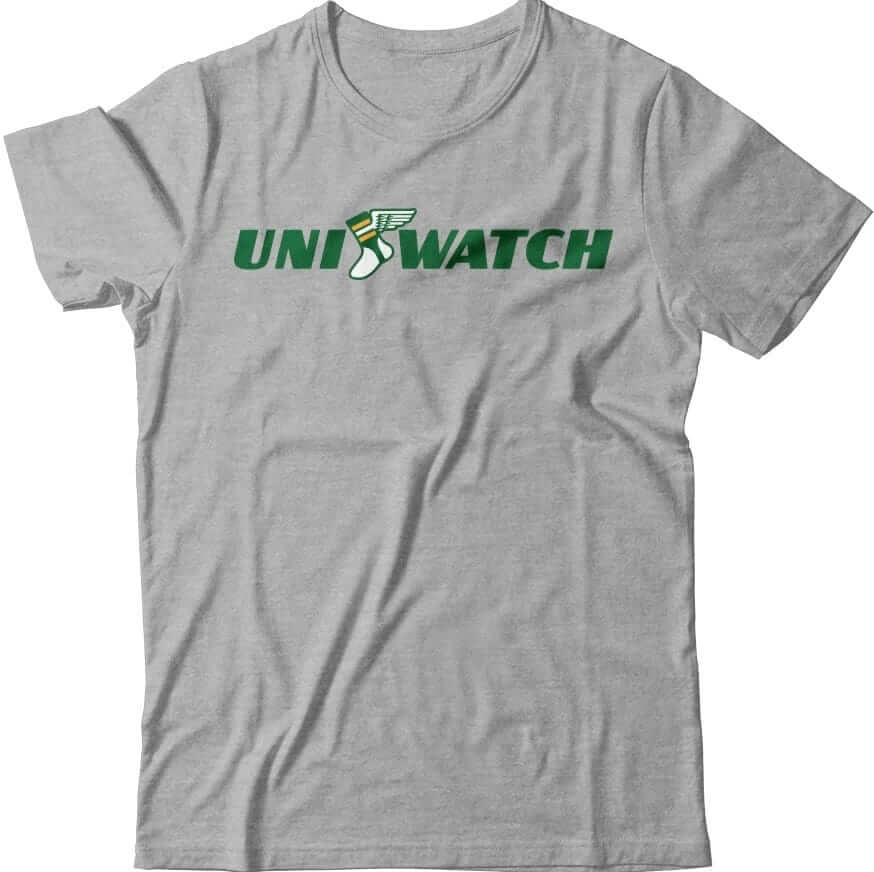 Click to enlarge
T-shirt reminder: In case you missed it on Monday, we have a new pair of T-shirts, rendered in the classic Goodyear type font called Wingfoot Sans, and featuring our own winged stirrup instead of Goodyear's winged foot.
Here's where you can order the green one and the grey one.
• • • • •
• • • • •
Three decades on: How long is a belt supposed to last? I bought this belt at the Gap in 1989 (I only know the date because I remember where I was living at the time). I haven't worn it every day since then, but I've certainly worn it most days. One of the holes tore through a few days ago, so that's the end of it.
Thirty years — not bad!
• • • • •
• • • • •
The Ticker
By Alex Hider

Baseball News: The Red Sox will wear gold-trimmed uniforms for their home opener today (from Phil). … The Cubs put up a completely tone-deaf sign on their press box yesterday that included a "no women admitted" tag. After a reporter tweeted a photo of the sign, it was replaced within minutes (from Mike Chamernik and Jerry). … Also from Mike: On Sunday, Reds broadcaster Chris Welsh accused Pirates P Chris Archer of having pine tar on his jersey to doctor the baseball. …  Phillies OF Bryce Harper has been wearing a red QALO wedding band on the field this year (from @kinslerkin). … Astros manager A.J. Hinch was wearing a spring training cap during pregame comments the other day (from @TalsHillMMP). … A new feature at Wrigley this year: The figures on the restroom signs have Cubs circle-Cs for heads! (From Dylan). … Speaking of the Cubs, 2B Ben Zobrist stopped by the Chicago Wolves of the AHL and donned a custom sweater (from @TeebzHBIC). … This week's issue of The New Yorker has a gorgeous baseball-themed cover (from Adam Vitcavage). …  While there was probably some issue with licensing the New Era logo, I'm going to pretend that the folks at Hawaii Five-O "get it™️" (from Eric Griffin). … New renderings of Wichita's new baseball stadium have been released. A Triple-A affiliate of the Marlins will begin playing there next year (from Michael MPH). … The "A" in Brewers P Chase Anderson's NOB was missing its interior cut-out last night (from Rick Ho and Chris, who didn't give his last name). … Phillies 1B Rhys Hoskins hit two dingers last night and said it was because of his Mickey Mouse socks. … The Mariners will wear Seattle Pilots throwbacks on June 22.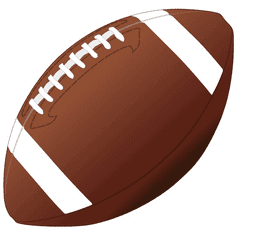 Football News: The Arena Football League unveiled new uniforms for all six of its teams on Monday (thanks to all who shared). … New Jets RB Le'Veon Bell doesn't have a number assignment yet, but Patrick Sesty found a photo from this weekend of Bell wearing a sweatshirt with No. 26. … Ravens S Marlon Humphrey gave up his No. 29 for new S Earl Thomas, and later tweeted that he wants the first to be No. 00. Of course, he wouldn't be the first, or even the second, so he has a bit of NFL history to brush up on (from Andrew Cosentino). … As part of the NFL's 100th anniversary, eight picks in the upcoming NFL Draft will be announced from eight cities that hosted one of the NFL's original teams (from Jim Vilk). … Joe Ramos found this pink NFL alumni sweater at an antique store in  Seekonk, Massachusetts over the weekend. He thinks it was made sometime in the 1990s. … Cleveland.com ranked the NFL's five worst uniforms and did not give the Browns a hometown boost (from Phil). … Daniel Torres created a Texans/Oilers helmet mashup concept.

Hockey News: Wrestlemania was in the New York metro area on Sunday, so WWE's Stephanie McMahon wore a custom Rangers shirt with her FNOB and the team's Liberty logo on the sleeve (from Greg). … Yesterday was the 23rd anniversary of the Coyotes' team name and inaugural logo being unveiled (from Jerry Wolper).

NBA News: The WNBA has a new logo, which is nice. What's not nice is that every team will wear the same corporate advertising logo on their jersey starting in 2020 (thanks to all who shared). … The Cavs' embarrasingly named arena will soon have an even more embarrassing name, but I'm still calling it the Gund (from Jim Vilk and @Believeland1994).

Soccer News: Manchester United's third jersey for next season has reportedly leaked (from Josh Hinton). … Also from Josh: This is the ball that will be used next season in the Eredivisie, the top league in the Netherlands. … The Washington Spirit of the NWSL will retire No. 15 for  Joanna Lohman on June 22. Per our own Jamie Rathjen, her number will be the first to be retired in league history. … Here's a sight you don't see every day: a coffin at a soccer game (from Max Weintraub). … David Beckham's Instagram story from the other day may have given a sneak peek of Inter Miami CF's new uniforms — albeit, in Lego form (from Tyler Good). … Supporters for North Carolina FC of the USL are selling this pride scarf, proceeds of which will go to supporting NCFC's MF Austin da Luz's "Playing For Pride" campaign (from James Gilbert). … Matt Estreich found what I'm assuming is a MLS jersey template at a thrift store.

Grab Bag: Here's what pro golfers Phil Mickelson and Justin Thomas will be wearing this week during The Masters (from Griffin Smith). … Some think that Pitt's new panther secondary logo looks like the automaker Jaguar's logo — Jaguar's. Of course it's not the first time a sports logo has been confused with Jaguar's (from @NotFakeC_OB). … NHRA driver Leah Pritchett's car had a big portrait of her advertiser, "Papa" John Schnatter, the former CEO of the pizza chain bearing his name. Of course, he's no longer associated with Papa John's, having been ousted after series of controversial statements, but I guess he can still use the nickname (from Jorge Pa). … Cross-listed from the hockey section: Wrestlemania was in New York on Sunday, so WWE's Stephanie McMahon wore a custom Rangers shirt with her FNOB and the team's Liberty logo on the sleeve (from Greg). … Every year, Texas burger chain Whataburger holds the WhataGames, sort of an Olympics for fry cooks. At the event, the company had a popup shop that sold clothing with the company's familiar orange and white candy stripes — which drew buyers from around the state of Texas (from John Cerone). … Brad Eenhuis found a couple of gems at thrift store in Marion, Iowa this weekend — a varsity sweater and a full Little League baseball uniform. … A new Scottish rugby competition starting later this year, called Super6, revealed its logo (from Eric Bangeman). … As we've Ticked several times in recent weeks, the New Zealand rugby union team the Crusaders is considering a name change in the wake of the recent terrorist attack on a NZ mosque. Here's an interesting discussion of what some possible alternate names might be (from Tom Norman).
• • • • •
Big congrats to our own Anthony Emerson, who produces the Tickers that appear on Saturdays. He was just accepted into the Stonecoast Writers' Conference, one of the country's foremost creative writing programs. Nicely done, Anthony!
Congrats also to our own Jamie Rathjen, who produces the Tickers that appear on Mondays. He's a proud UVa alum who's feeling just a wee bit prouder today. — Paul