[Editor's Note: Today we have a guest post from Brad Eenhuis, who's hit upon an interesting new DIY project category. Enjoy. — PL]
By Brad Eenhuis
Recently I've been turned on to these DIY fleece tie blankets. They don't require any sewing and are very easy to make (there are good tutorials here and here). You just need two identically sized pieces of fleece and some scissors.
Basically, you align the two pieces, cut strips of fringe along all four edges, and then tie all the top fringe strips to their corresponding bottom strips. Presto — a fleece blanket! You can also personalize them. A few years ago I cut out an Iowa tigerhawk logo and sewed it onto one of the pieces of fleece fabric: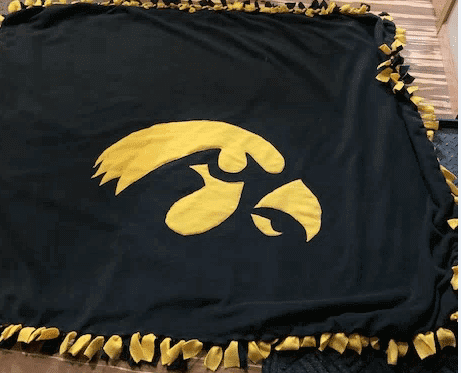 My daughter recently got into blanket-making at her after-school program, so in 2017 the two of us made a blanket for my fiancé, Lori. Lori had played basketball in college, so we used her school colors — Columbia blue and white — for the two pieces of fabric, and then we sewed her jersey number onto the blanket: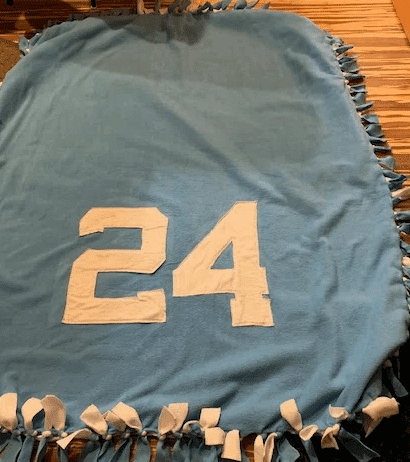 This got me thinking some more about different ways to approach this. While I'm not a Celtics fan, I've always loved their
retired number banners
, with the numbers appearing on a grid. My brother-in-law is a big Celtics fan, so I thought it would be cool to give him a fleece blanket patterned after the these banners as a Christmas gift.   
My take on this was that I wanted to honor
his
favorite players, not just the guys who have their numbers retired, because I figure we all have favorite players who never made it to the all-time-great category. So months and months ago, I sent him a text and asked him to name his 10 favorite Celtics. (It's not out of the ordinary for the two of us to text about stuff like that, so it didn't really throw up any red flags.) He provided his list of 10 players, which I then wrote down,
along with their uniform numbers
. Then I looked at an actual banner and realized they only had eight players per banner, so two names would need to be cut! A month before Christmas, I asked him to "just narrow it to your top eight," which he eventually did, although I had to bug him about it several times.  
I purchased the fleece — one sheet of white and one sheet of green, plus extra green for the numbers and the grid — and started on the grid by cutting long strips of fabric and sewing them on individually. I was worried they wouldn't be straight, but it turned out fairly well: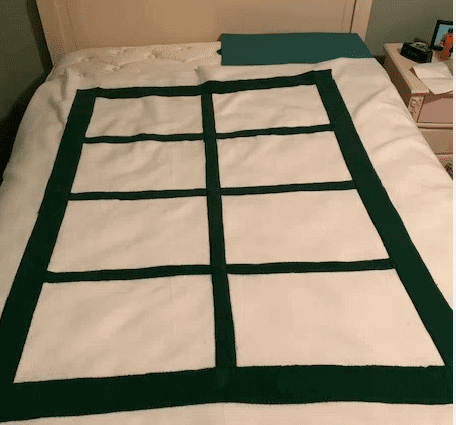 Then it was time for the numerals. I was a surprised that the numbers on the real banners are in Helvetica, instead of the Celtics' number font, but whatever. I printed out the numbers, cut them out to create paper patterns, traced those onto green fleece, and then cut those out as well: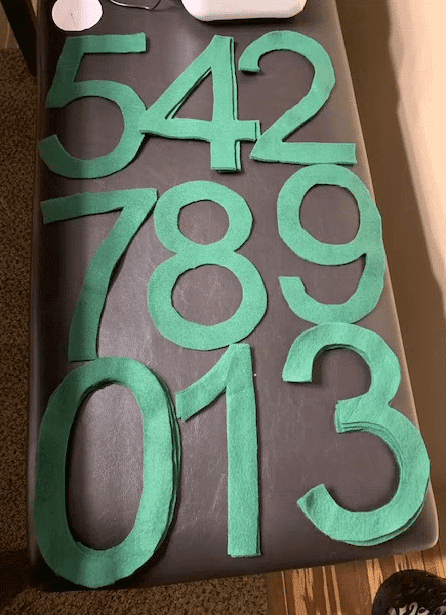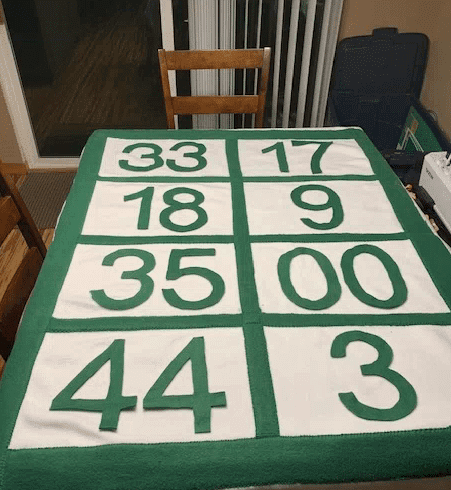 At this point, he hadn't yet responded with his top eight, so I mocked up what I thought he would say, just to get an idea of how it would look. I didn't sew anything down — I just put them in their proper positions:
 

Of course I guessed wrong, so I had to change up a couple of the numbers. Got them all sewed down. It didn't look perfect, by any means, but I always say it's the imperfections that really make something like this: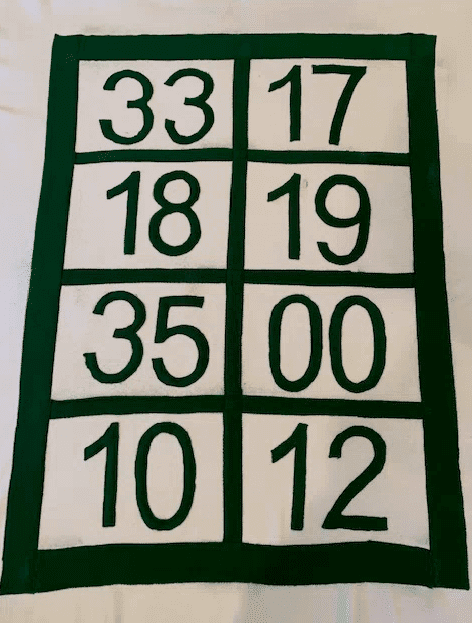 The last step was to tie the front to the back, I enlisted the help of my daughter, as the tying can wear on your fingers!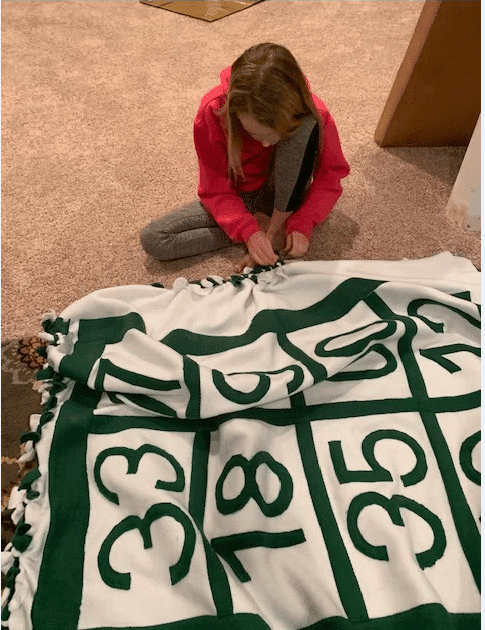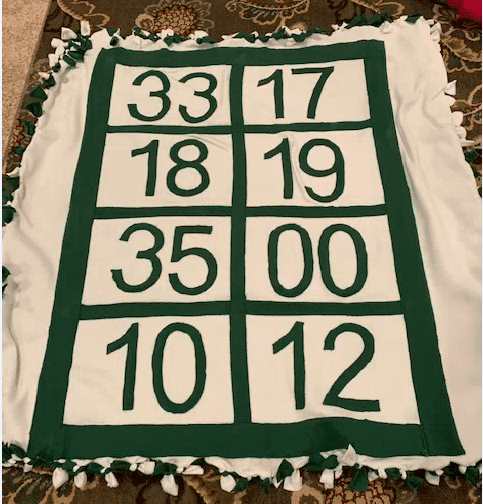 ———
Paul here. Very nice stuff! Big thanks to Brad for sharing this with us.
• • • • •
• • • • •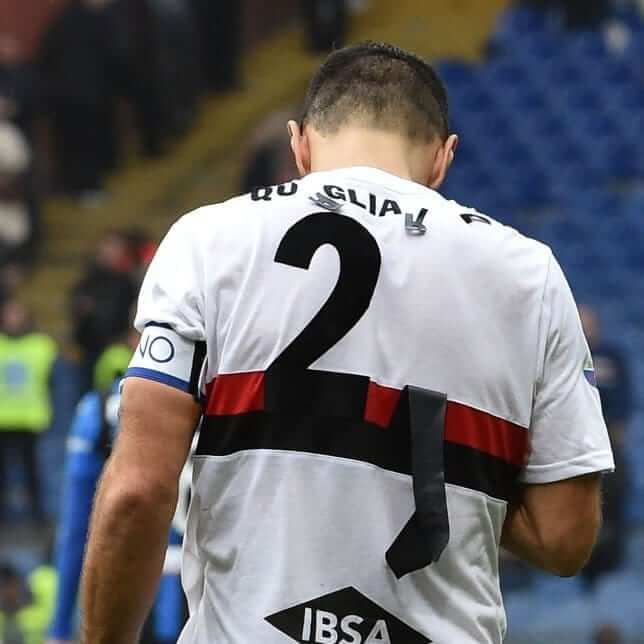 Just a slight quality-control issue: It's one thing for a numeral or letter to come loose on a jersey, but it's something else when virtually everything comes loose. That was the situation yesterday for Fabio Quagliarella a forward on the Italian soccer side Sampdoria. (The uniform was apparently a throwback or retro design.) I don't usually like to use "fail" as a noun, as in "jersey fail," but the term does seem appropriate in this case.
(My thanks to Anthony Nuccio and Mike D. for bringing this one to my attention.)
• • • • •
• • • • •
Click to enlarge
The weirdest promo item I've ever received: The FedEx guy showed up with a package on Friday. Inside, packed very snugly and securely, was a houseplant in an MLS ball planter. Who FedExes a houseplant? Crazy.
The funny part is that natural light is pretty bad here at the new Uni Watch HQ (you may have noticed that I've been taking most of my photos, including the one of the houseplant, outside on the porch), so plants tend to do very poorly here. But the plant they sent is a pothos, which we've found is the one variety that the apartment can't kill. We have several of them around the place, and we're happy to have another. Thanks, MLS!
• • • • •
• • • • •
Membership update: Most of our membership cards are based on jerseys or, occasionally, football helmets. But two of our most recent requests were based on jackets.
R. Scott Rogers's latest card (it's something like his fifth one, dating back to 2007!) is based on his curling team's jacket, complete with the logo of the Madison Curling Club. And Joseph Gustafson's card is based on the Detroit Pistons' old warmup jackets, which had the players' first names on the front.
These two cards are among several that have been added to the membership card gallery, and I expect to be adding a bunch more in the next couple of days. (We had a slight pause while card designer Scott M.X. Turner, who lives in New Orleans, was busy enjoying Mardi Gras.)
Ordering a membership card is a good way to support Uni Watch (which, quite frankly, could use your support these days). And remember, a Uni Watch membership card entitles you to a 15% discount on any of the merchandise in our Teespring shop and our Naming Wrongs shop. (If you're an existing member and would like to have the discount code, email me.) As always, you can sign up for your own custom-designed card here, you can see all the cards we've designed so far here, and you can see how we produce the cards here.
• • • • •
• • • • •
The Ticker
By Jamie Rathjen

Baseball News: Stirrups were spotted on Marlins minor-league P Tommy Eveld. … SportsLogos.net did an overview of all the spring training caps and team variations of the spring training logo (from Tom Turner). … Iowa wore mono-black yesterday. … Ole Miss softball wears really nice powder blue Sunday alternates (from multiple readers). … Florida Atlantic had a Twitter poll to choose their combo to be worn on Wednesday (from Noah Goldberg). … Because Virginia has baseball uniforms made by Rawlings and softball uniforms made by Nike, they have slightly different versions of the script "Virginia," especially in the V and the G.

NFL News: The TV show Family Guy had a scene that showed several characters sitting at a table while decked out in Patriots gear, complete with a rather minimalist interpretation of the team's Flying Elvis logo (from Griffin Smith).

Hockey News: The Capitals wore what were at first glance standard St. Patrick's Day warm-up jerseys, but the numbers had a pattern of tiny recycling symbols as part of an environment-related promotion. … Former Rangers center Ron Duguay participated in a skiing competition wearing his No. 10 jersey (from Alan Kreit). .. The AHL's Wilkes-Barre/Scranton Penguins wore superhero-themed jerseys Saturday (from @thatPAguy). … Here's a place where you might not expect to see the Florida Panthers' logo: on a dry cleaner's hanger.

Basketball News: The Chicago Tribune sports section ranked Big Ten basketball uniforms based on "letters and numbers," "accents," and "overall impact". … North Dakota State and Oral Roberts went color-vs.-color at the Summit League tournament (from David Brown). … Nebraska wore throwbacks yesterday. … Nameplates are rare in basketball, but Canisius apparently uses them. … Here's a look at all of the Final Four logos, dating back to 1957 (from James Gilbert).

Soccer News: Germany's women revealed their World Cup shirts; the first shirt is based on that worn at Euro 1989, while the second shirt is maroon. … Spain's women revealed one shirt as well. … Reprinted from yesterday's comments: New USL League One team Forward Madison weren't satisfied with their shirt designs from Hummel, so they gave a staffer four days to come up with something better, and I would agree she succeeded (from R. Scott Rogers). … The women's team at Scottish club Motherwell now has its own advertiser. … Drou Goff of the MASL's Orlando SeaWolves goes FNOB.

Grab Bag: This article ponders how a new California elementary school, which writer/submitter David Taub's children would theoretically attend, should choose its nickname and mascot. … BC Place in Vancouver hosted this weekend's Canada Sevens, part of the World Rugby Sevens Series, and the stadium's outside lights were lit up to form the flags of the participating countries; you can also see all the teams' kits in that picture (from Wade Heidt). … Also from Wade: the NLL's Colorado Mammoth wore their state-flag alternates; we'd only seen the jerseys before. … The women's team at Australian Football League club Carlton wore orange socks to bring awareness to violence against women (from Graham Clayton). … Pakistan's cricket board is upset that India wore camouflage caps for a One Day International against Australia on Friday, given the current political tensions between the countries (from Sam Heddle). … New logo for Conference Carolinas, a Division II conference that also participates in Division I for men's volleyball (from Jim Vilk). … A YouTube channel tries to explain why 3D logos came into and fell out of favor rather quickly, arguing that Apple's iOS, which suddenly changed from 3D to 2D app icons in 2013, was responsible (from Mike Chamernik).