I got a note last night from reader Rich Friedman, as follows:
Has anyone ever looked into why the chest script and the NOBs on the Pitt Panthers' black basketball uniforms are virtually unreadable?

I am the mop guy for the Miami Hurricanes basketball team, so I have arguably the best seat in the house, and I couldn't really make out the NOBs [in Tuesday night's Pitt/Miami game], even when these guys were right in front of me. I thought maybe they are made of some sort of super-reflective material that shows up perfect on TV, but I spoke with my niece and she said it was no better on TV.
I confess that Pitt's blackout uniforms had somehow escaped my consciousness, so I looked at a few photos to see what Rich was referring to. And sure enough: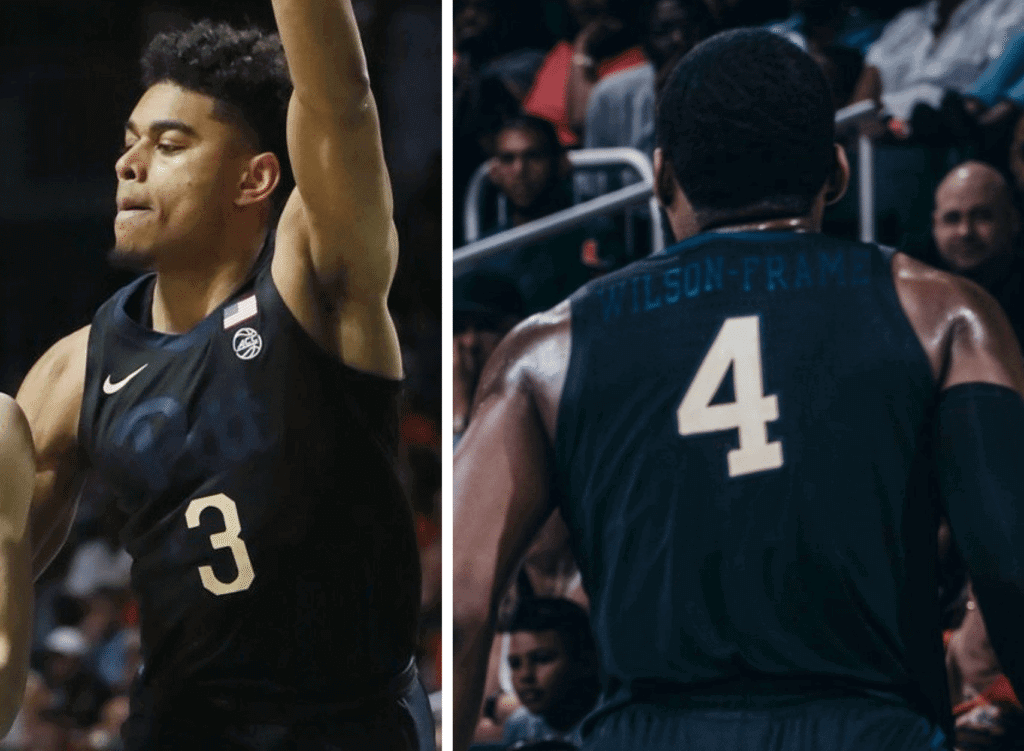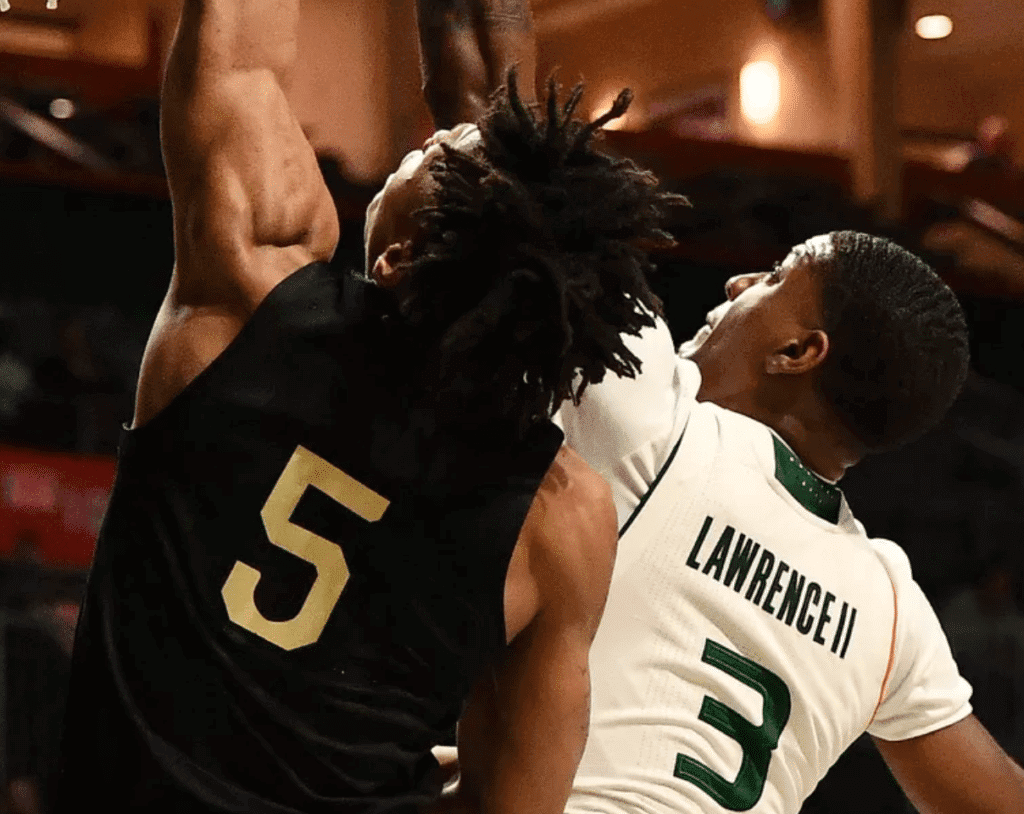 That's pretty ridiculous right there. It's one thing if Oregon does it (which, of course, they have), but Pitt?
Some quick research reveals that Pitt has had this uniform for two years now and I just hadn't noticed (or maybe I'd instinctively blocked them out of my mind). In fact, they used to be even worse, because they were sweatbacks. Anyway, that school-wide royal-and-yellow makeover can't come soon enough.
My cluelessness notwithstanding, the best part of this is that Pitt has a guard named Sidy N'Dir, whose barely legible blackout NOB looks like "Noir" — perfect: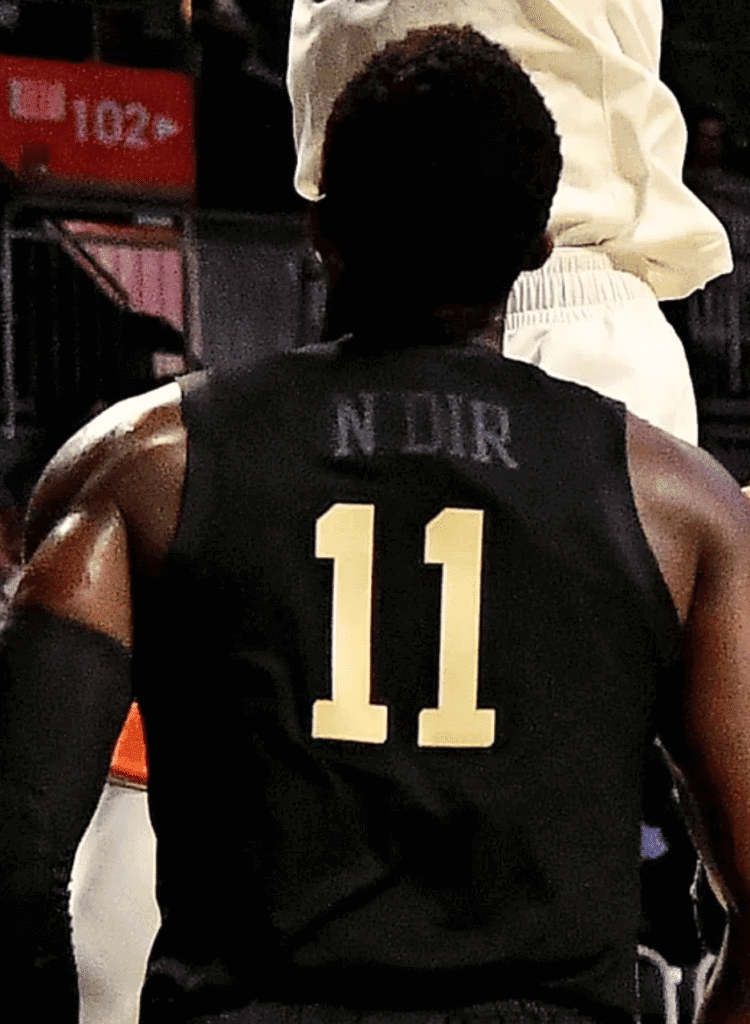 Meanwhile: Rich is the mop guy! That's a job that for some reason has always intrigued me. He provided a photo of himself at work: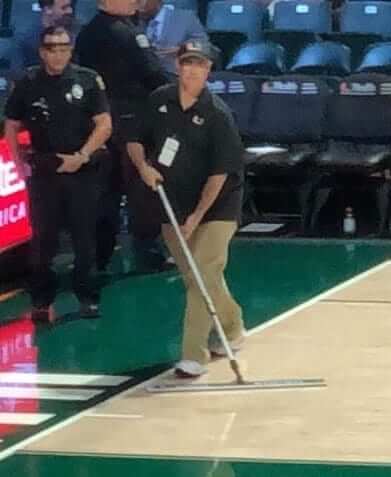 I bet Rich has a lot of good stories to tell. I've asked him if he'd like to share some of them — "Tales of the Mop Guy," or something like that. He said he'd be happy to talk, so I'll be following up with him when both of our schedules allow. Stay tuned.
• • • • •
• • • • •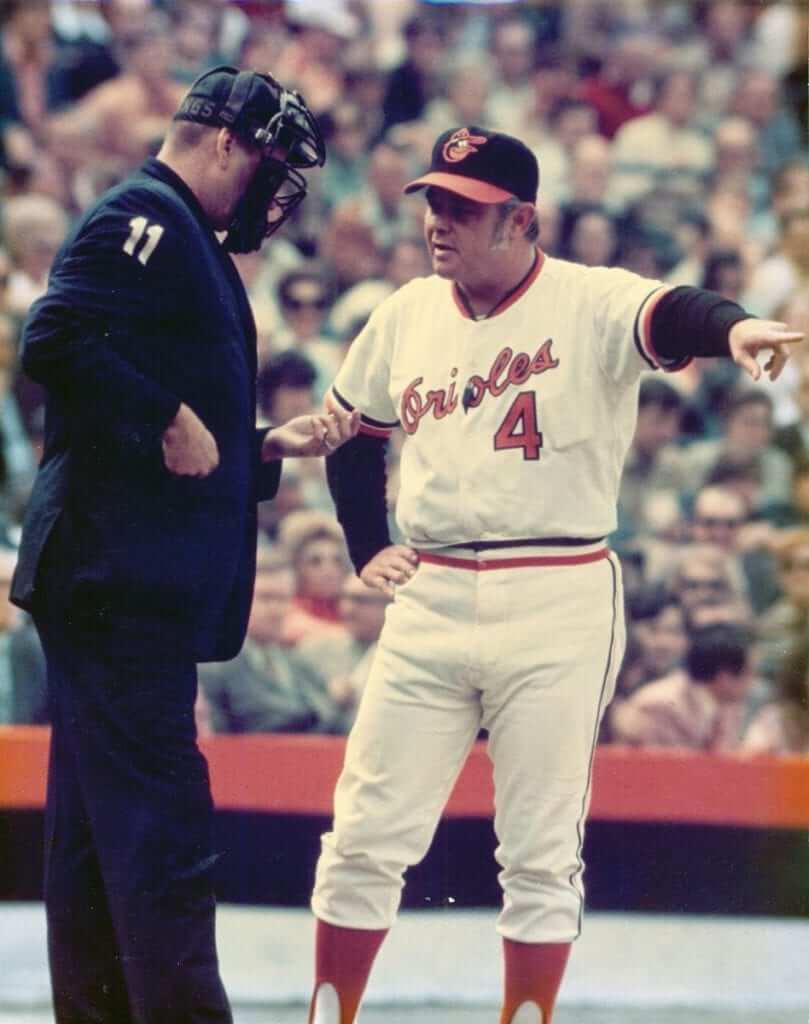 Click to enlarge
Rockets in his pocket: Former Orioles skipper Earl Weaver famously had a little cigarette pocket sewn into the inside of his jerseys. The pocket is always shown when his game-worn jerseys come up for auction, and the Orioles even included an outline of it on their statue of Weaver. But it's rarely as evident in game photos as it is in the shot shown above (which, based on Weaver's uniform, has to have been from the early 1970s). They usually tried to hide the pocket behind his number and/or chest script, but on this jersey it was fully exposed.
(My thanks to @TwoStrikeNoise for this one.)
• • • • •
• • • • •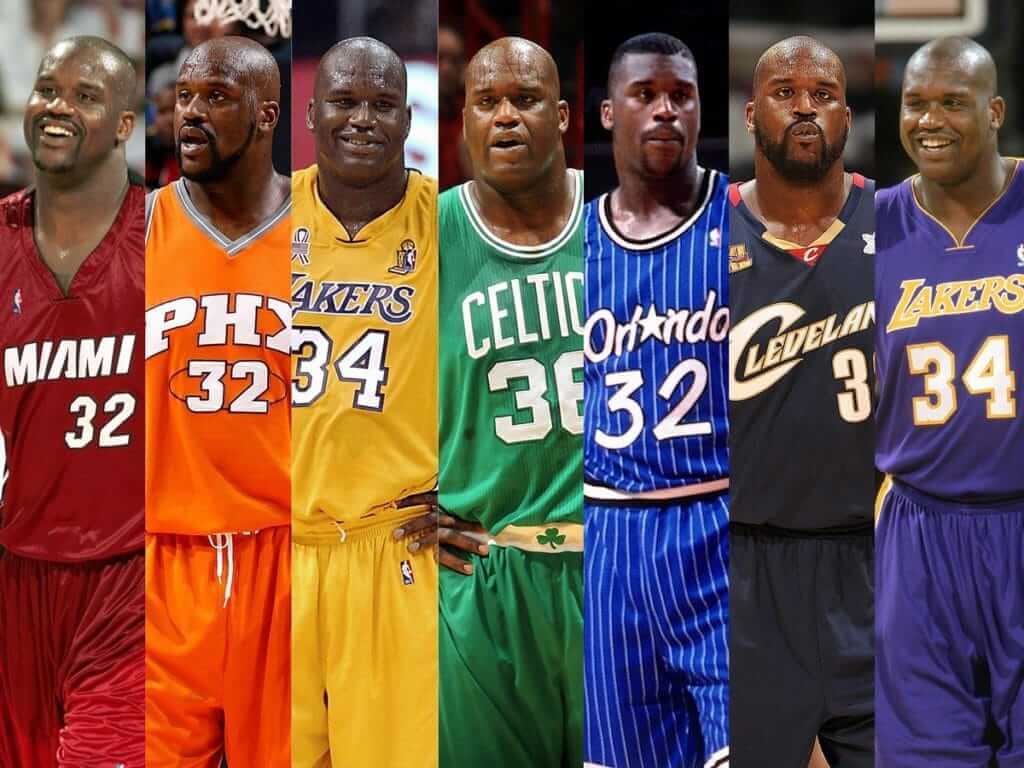 Click to enlarge
Too good for the Ticker: Let's hear it for the folks at @SportsNation, who created this Shaq uni rainbow — and in the proper color sequence to boot!
Are there any other athletes who've worn the full rainbow spectrum of uniform colors during their careers? Hmmmmmm…..
(My thanks to @CLEVELOVE1 for the tip.)
• • • • •
• • • • •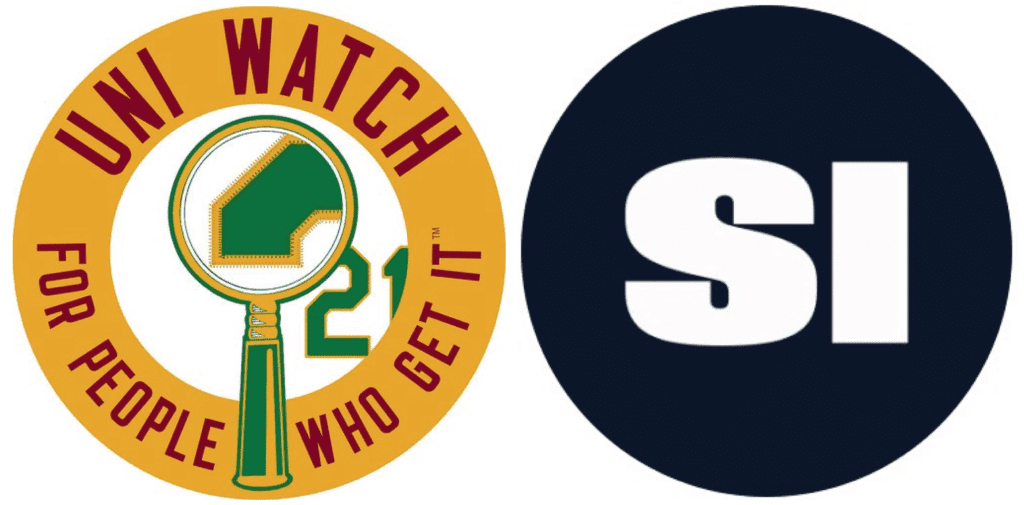 Two great tastes that taste great together: In case you missed it yesterday, this year's Uni Watch MLB Season Preview — the 21st annual edition! — will be appearing on the Sports Illustrated website, plus there'll probably be an abbreviated version in the printed magazine. Full details here (and thanks to everyone for the positive response yesterday).
• • • • •
• • • • •
Click to enlarge
LAST CALL for the socks: In case you missed it earlier this week, Harrison Hall, the NBA armband collector who I interviewed last month, got his employer, Rock 'Em Socks, to make me a pair of Uni Watch socks. A lot of you have expressed interest in purchasing a pair, so I've talked to Harrison about that.
Based on the price quote he gave me, it looks like I'll charge $12.99 a pair, or possibly $13.99, plus $3 for shipping. If you want in, please let me know today, because I'll be placing the order with Harrison and need to know roughly how many to order. Thanks.
• • • • •
• • • • •
The Ticker
By Paul

Baseball News: Some great bullpen buggy footage in this 1971 documentary about MLB relief pitchers — recommended viewing (from Bob Gassel). … Here's a look at 1990s high school softball unis from Staten Island. … Mets 1B Dom Smith is the latest player to go C-Flapped. … Very nice 1959 throwbacks for Oklahoma State. … Here's some footage of the 1970s British prog-rock band Gentle Giant with the drummer wearing a full A's uniform (from @ballskwok). … Gotta like those striped Tulane stirrups (from Jim Howicz). … The AHL's Milwaukee Admirals will wear Brewers-themed jerseys this Saturday. … Buried within this article is the news that the Double-A Jacksonville Jumbo Shrimp will wear Miami Vice-themed uniforms on May 11. … Rock star Jack White has donated $10K to help restore a Negro Leagues ballpark near Detroit (from Eric Kissel). … New BP cap for the Fayetteville Woodpeckers (from J. Doubleday). … The teams at La Mirada High School in L.A. are called the Matadores, but they're going by "Mats" for short, and using a Mets-like script (from Dave Sikula). … Here's a piece about Phillies P Vince Velasquez changing his uni number from 28 to 21.

NFL News: Reader Don Schauf was watching footage of a 1974 Colts/Steelers game and was surprised to see the Colts' nameplates riding very low. … Some local chapters of the Browns fan club Browns Backers Worldwide have made some pretty amusing logos for themselves.

College Football News: Whoa, look how the school name appeared on Cornell's helmets in 1978 (from Griffin Smith). … Clint Richardson's ongoing decade-by-decade look at Auburn's uniforms has reached the 1980s.

Hockey News: For many girls, figure skating is now losing out to hockey (paywalled link). … Purple anti-cancer jerseys this Friday for the Grand Rapids Griffins (from John Elbertson). … Check it out: the Blackhawks' Winter Classic jersey as a bowling shirt (from Griffin Smith). … Cross-listed from the baseball section: The AHL's Milwaukee Admirals will wear Milwaukee Brewers-themed jerseys this Saturday. … Superhero jerseys upcoming for the Hartford Wolfpack (from Mike Lucia). … Really good article on how the NHL trade deadline can be very hectic for a team's equipment staff (from Corey Buck).

Basketball News: Warriors G Quinn Cook was wearing Duke sneakers on Tuesday night. "Good thing the color (kinda) matches!" says @5th_Factor. … Reader Scott Novosel's proposed T-shirt design for the WNBA's Chicago Sky has moved into the Elite Eight in the team's design contest. You can vote for his design starting at 10am Eastern today on the Sky's Twitter page. … The official Mr. Peanut Twitter account posted a Planters Peanuts basketball uniform. The shorts aren't bad, but someone needs to teach them about proper positioning of jersey graphics (from @Throwback_Sport). … Andrew Bogut, back with the Warriors, will wear his old No. 12. … Here's something I don't recall often seeing: Michael Jordan with No. 45 socks (good spot by Alex Greenbaum). … Celtics F Jayson Tatum and Kings F Harry Giles, who've been friends going back to middle school, exchanged jerseys after last night's Boston/Sacramento game.

Soccer News: New retro shirt for Granada C.F. (from Ed Zelaski). … New shirt and scarf for North Carolina FC. Here's the away version. "No ads, yet," notes Josh Hinton. … Also from Josh: New league-wide lettering/number font for USL Championship and League One. … Still more from Josh: Inaugural home kit for Memphis 901 FC. … Another inaugural home kit, this time for USL League One's Greenville Triumph (from Ed Zelaski). … "It appears Manchester United debutant Mason Greenwood had a different NOB font than his teammates during yesterday's Champions League match," notes our own Anthony Emerson.

Grab Bag: A close-up of President Trump shows that he has "45" embroidered into one of his French cuffs. … Yesterday was Ash Wednesday, so Ed Boda sent a photo of this display of nun's habits, along with an explanatory placard. … I don't think this is new, but Chris Hickey notes that all the paint schemes for JR Motorsports (Dale Earnhardt Jr.'s livery) come with faux-door handles. … The Oklahoma Dept. of Agriculture, Food and Forestry is inviting the public to submit designs for a new logo. It's not clear, at least to me, whether any compensation is being offered. … Community members in Walton, Ind., are not happy about a proposed rebranding redesign of the local high school's logo. … The new Premier Lacrosse League has announced a partnership with helmet maker Cascade (from Travis Hood). … New logo for the Virginia State Fair. … At the bottom of this article is the news that the U. of South Carolina will retire four numbers across several different sports this spring. … The Springbok Experience Rugby Museum in South Africa, home to many classic rugby jerseys, is closing.