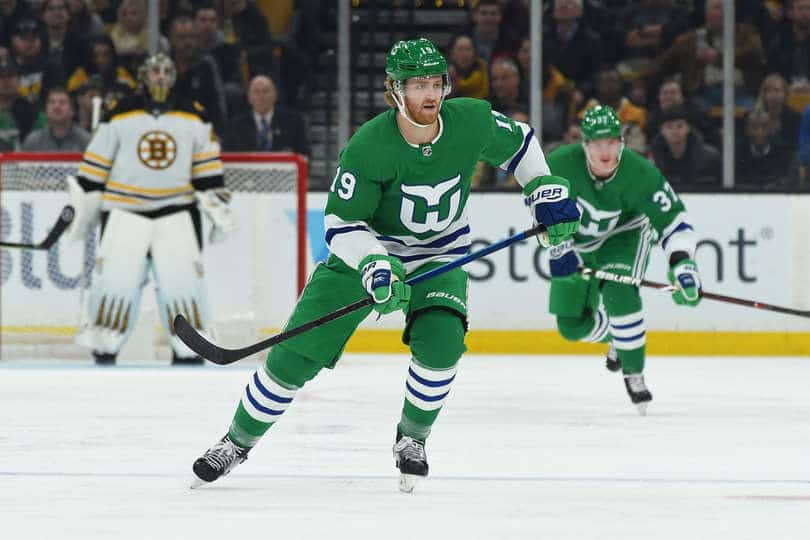 Click to enlarge
Twenty-two years after they left, the Hartford Whalers finally returned to New England last night — sort of.
That wasn't really the Whalers facing off against the Bruins last night in Boston, of course. It was the Hurricanes, wearing their much-discussed Whalers throwbacks. And since those throwbacks are green, the Bruins wore white at home, which as we all know is how every NHL game should be. (You can see a ton of additional photos from the game here.)
This wasn't the first time this season that the 'Canes broke out the Whalers throwbacks. They previously wore them, also against the Bruins, for a game in December. But that game was in Raleigh, while this one was in Boston — close to the Whalers' old home base. That had to be bittersweet for the old-guard Whalers fans, many of whom are still nursing a grudge about the team's departure. I wonder if any Hartford folks made the trip up to Boston for the game.
MiLB's Hartford Yard Goats, who in the past have run promotions featuring Whalers-themed uniforms, came to the Whalers fans' defense yesterday by taking a uni-themed potshot at the 'Canes on Twitter:
#BREAKING In defense of the honor of the Whalers legacy, Yard Goats announce they will play one game as the Hurricanes this season and lose. 🐳 pic.twitter.com/6ERnjJDBNZ

— Hartford Yard Goats (@GoYardGoats) March 5, 2019
You know it's a good day when even the childish internet trolling is uni-related!
• • • • •
• • • • •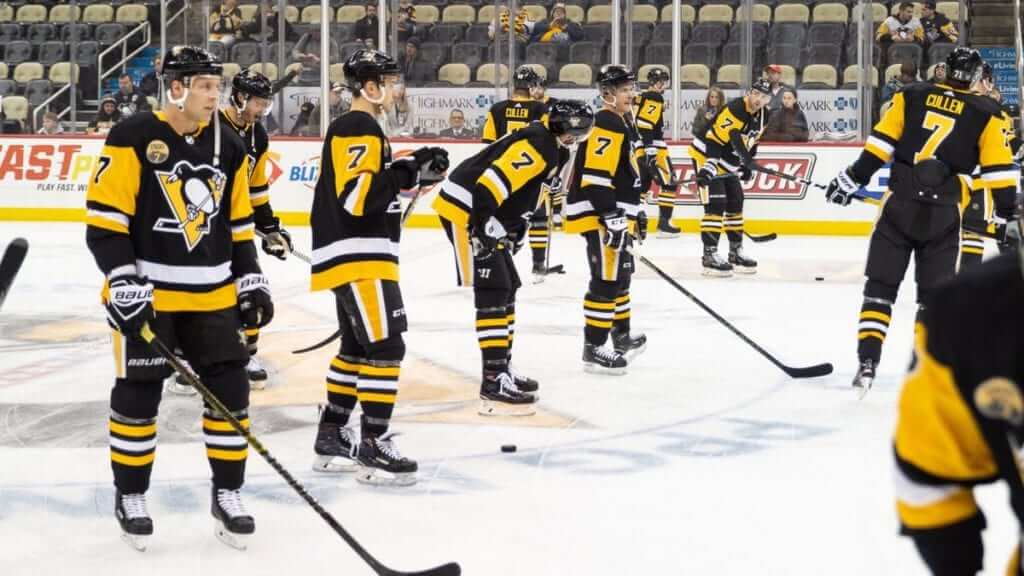 For all photos in this section, click to enlarge
And speaking of the NHL…: When an NHL team is retiring a player's number, it's now standard procedure for the entire roster to wear that player's jersey during pregame warmups. But the Penguins did that last night for an active player, as the whole squad honored center Matt Cullen's 1,500th career game (good for 20th on the all-time list) by wearing his sweater — a very nice gesture, especially considering that Cullen has only played three of his 21 seasons in Pittsburgh.
In addition:
• The pregame jerseys featured a commemorative patch: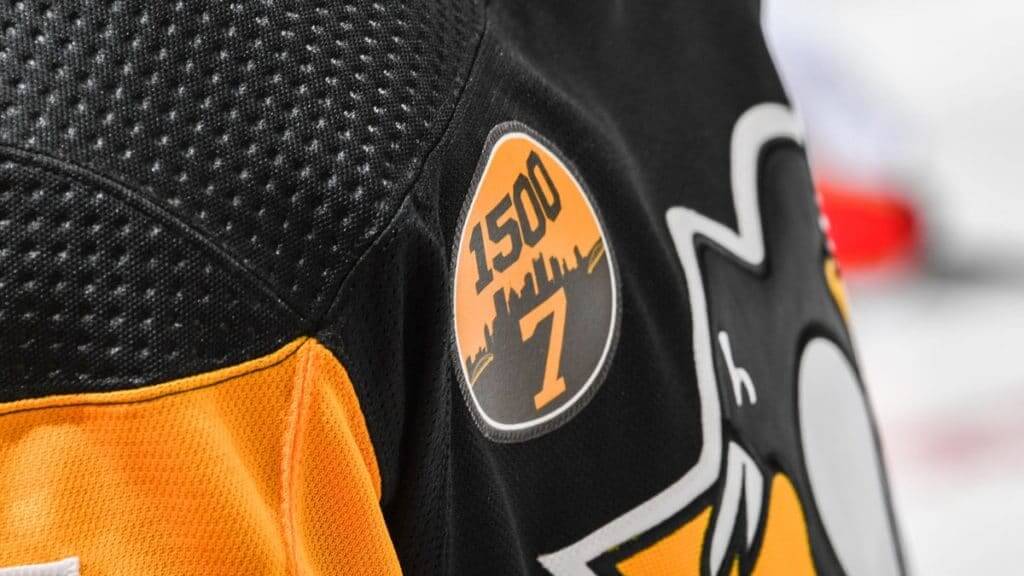 • The Penguins also presented Cullen with a plaque, which among other things featured era-appropriate logos of every team he's played for — another classy move: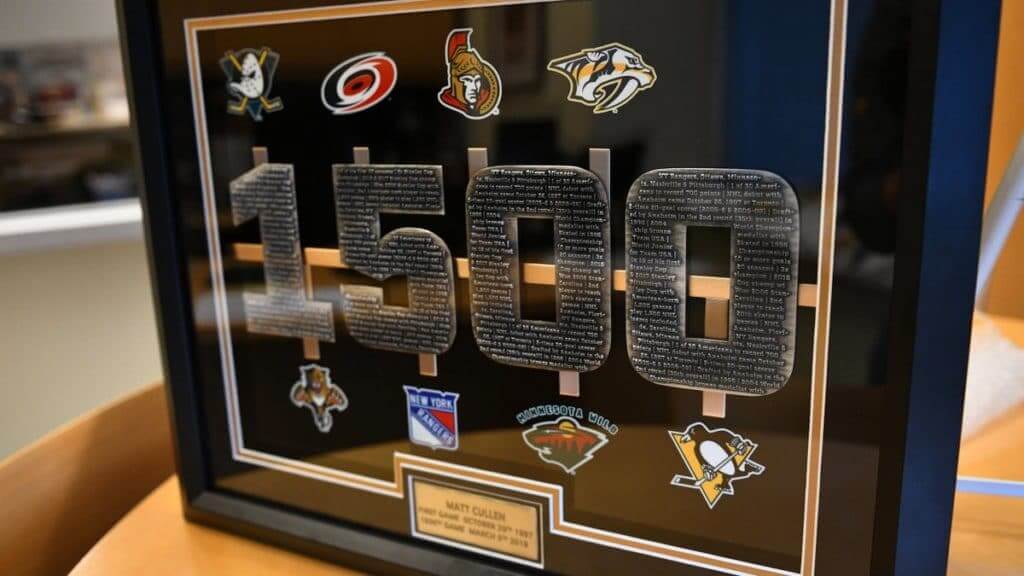 • They also gave Cullen a silver-plated stick and had his family out on the ice for the presentation. Interestingly, Cullen's three kids wore the Pens' Stadium Series jersey design instead of the primary jersey: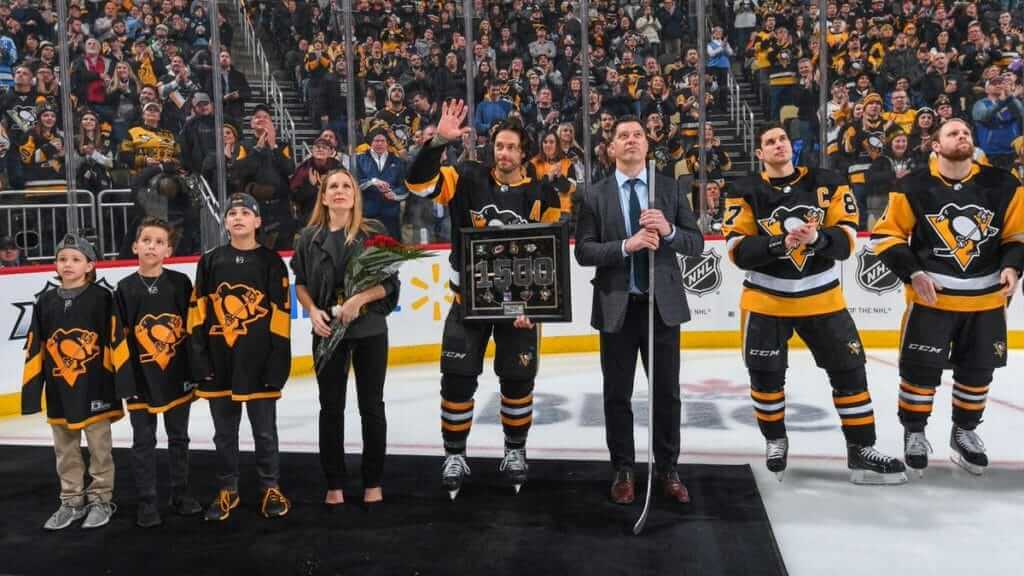 (My thanks to Jerry Wolper for letting me know about this one.)
• • • • •
• • • • •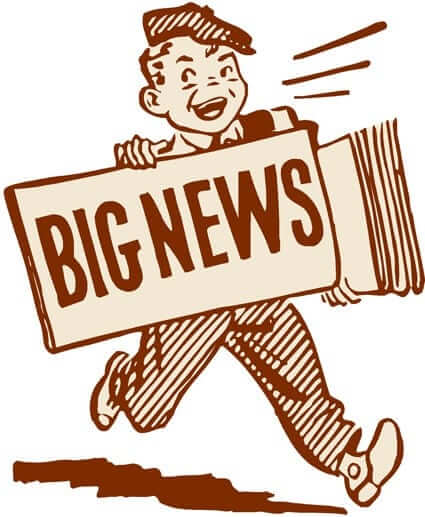 ITEM! MLB Season Preview update: As you know, my annual Uni Watch MLB Season Preview usually runs shortly before Opening Day on ESPN. But due to the recent unpleasantness, I'll be parting ways with ESPN about 10 days before the MLB preview would normally run. Since I haven't yet struck a deal to move the Uni Watch column to a new media outlet, I've been figuring that the MLB preview would run here on the blog.
But now I'm happy to announce that this year's MLB preview will appear on the Sports Illustrated website, with some related content possibly appearing in the printed magazine.
This is the part where I say that it's a thrill to write for SI because I grew up reading it (I couldn't afford a subscription when I was a little kid, so I'd read it at our local library) and have so much respect for its place in sports media history. All of which is true! I'm really excited to be writing for them.
You probably have some questions. Allow me to anticipate some of them:
When will the MLB preview be published?
That's a tricky question, because there are two Opening Days this season. The A's and Mariners are playing in Japan on March 20-21, and then the "normal" Opening Day for everyone else is on March 28. The SI editors and I have decided that the preview will run on March 25 or 26. Since the A's/M's games will already have taken place, I'll include a quick recap of the uni-notable aspects of those games (i.e., the uni ads).
Will you be doing more for SI after this MLB preview?
I'm not sure yet. I hope so — and I think they hope so as well — but there are some complicating factors. We'll see.
So SI isn't hiring you like ESPN did?
No. Again, both sides are hoping to continue working together, but we'll see.
Is there still a chance you could end up partnering with another media company besides SI?
Yes. I've had talks with most of the obvious places, and a few of the non-obvious ones. I was hoping to have a new deal in place by the time my ESPN contract runs out next week, but that now seems highly unlikely. Some places politely declined my overtures, others want to work with me but have their hands tied by hiring freezes, one told me to check back in April, another offered me a ridiculously low freelance rate, blah-blah-blah — it's been quite a slog.
For now, I'm very happy about the MLB preview appearing on SI, where I'm hoping to reach a new batch of readers. The editors I'm working with definitely Get It™, and they're committing some serious internal resources to this piece, so it should look great and get lots of promotion, whoop-whoop.
Thanks for listening. I'll keep you posted on additional developments as they occur.
• • • • •
• • • • •
Spring is in the air, but Ted appears to have caught a cold (from the BW Vintage Collection of the Flagstaff Films baseball archive) pic.twitter.com/2CPgSQxD4L

— Flagstaff Films (@Flagstafffilms) March 5, 2019
White handkerchiefs and black armbands: Flagstaff Films continues to post sensational old MLB footage on Twitter. If you skip ahead to the 0:37 mark of the clip shown above, you'll see Ted Williams pulling a handkerchief out of his uniform pants pocket and blowing his nose while walking through the outfield during a spring training game. Not sure I've ever see a player do that before!
Also, Teddy Ballgame was wearing a black armband in that sequence. What was that about? According to Dressed to the Nines' historical rundown of memorial patches and armbands, the 1951 Red Sox wore a black band during spring training for team vice president Eddie Collins, so there you go.
(My thanks to @NCSox for this one.)
• • • • •
• • • • •
Click to enlarge
Sock update/reminder: In case you missed it on Tuesday, Harrison Hall, the NBA armband collector who I interviewed last month, got his employer, Rock 'Em Socks, to make me a pair of Uni Watch socks. I was surprised by how many of you expressed an interest in purchasing a pair of these yesterday, so let's keep that channel open: If you want a pair, let me know and I'll see about having a batch made. Thanks.
• • • • •
• • • • •
The Ticker
By Lloyd Alaban

Baseball News: Reprinted from yesterday's comments: Demand for Bryce Harper jerseys has been so high that the Phillies' team store ran out of the letter "R." … Harper himself was seen yesterday still sporting a No. 34 compression sleeve despite being issued No. 3 with Philadelphia (from Joseph Giordano). … Speaking of the Phillies: Subtle changes to the Phillies alternate blue hats for this year. White outline on the "P" looks thinner, and the shades of blue and red appear to be darker. New Era maker's mark was white, now red (from Quin Patterson). … The Rays had spring training matchups against USF and the Twins yesterday, so equipment staff took some notes to keep track of the uni changes (from Marc Topkin). … The Phillies and Cardinals went red versus red yesterday (from multiple readers). … Also from that game: Cards P Dominic Leone wore some excellent stirrups, but apparently Keith Olbermann didn't think so (from multiple readers). … The Reds have lined 2nd and 3rd Streets in downtown Cincinnati with light pole banners showing the 15 throwback uniforms they plan to wear this season (from our own Alex Hider). … The Indians and Reds, who share a spring training ballpark, placed a Frank Robinson memorial behind the fence in left field. Robinson, who died last month, played for both clubs during his career. … A dinner menu and business card from Yankees HOF CF Mickey Mantle's Joplin, Mo., motel is up for grabs (from @JunkWaxTwins). … The Pawtucket Red Sox, Triple-A affiliate of the Red Sox, aren't set to move to Worcester for another two years, but the club has already revealed their upcoming new uniforms (from our own Phil Hecken). … Color vs. color yesterday for UAB (green) versus Alabama (crimson) (from Griffin Smith). … Mississippi State will wear teal uniforms today against Arkansas-Pine Bluff in honor of late MSU softball student-athlete Alex Wilcox and in support of the fight against ovarian cancer (from Joel Mathwig). … LSU softball added green belts to their yellow and purple uniforms yesterday to create a Mardi Gras look (from Chris Mycoskie). … Preston Feiler saw a T-Mobile commercial yesterday and noticed something familiar: "The kids [in the commercial] are wearing hats with the old Savannah Sand Gnats Logo on them. The Sand Gnats were the Mets' Single-A team here until four years ago when they moved to Columbia, S.C., and became the Fireflies." … Men's formalwear company Indochino and the Red Sox signed an advertising deal (from Tom Turner). … The starting pitchers for yesterday's Yanks/Jays Grapefruit League game were Domingo German and Matt Shoemaker, which invited an amusing uni-related observation. … The Triple-A Rochester Red Wings will have a Deaf Culture Day promotion, with jerseys and caps featuring American Sign Language. "The significance of this for Rochester is that we have a large deaf population thanks to the National Technical Institute for the Deaf at Rochester Institute of Technology, which is a partner in this event," explains Joe Werner. … WVU is the latest college team to go with raised helmet logos.

NFL News: A couple of unique uni notes from this photo from a 1974 Saints/Rams matchup: Look at the clean and simple fleur-de-lis ringer tee the man in the background is wearing, and note Rams QB John Hadl wearing an unusually high No. 21 (from Pro Football Journal). … More Saints news: Russell, who didn't give his last name, found this photo of a Saints helmet cart. Notice the fleur-de-lis, which looks like it's from before the team updated their logo in 2000. … An NFL exec speaks on what the league is doing to make helmets safer (from our own Phil Hecken). … The major sportswear brands go all-out to get players' attention at the NFL combine. According to that article, the Under Armour logo even appears on the players' hotel key cards (from Jason Hillyer).

College/High School Football News: Oklahoma QB and NFL Draft prospect Kyler Murray has signed with Panini America Trading Cards (from Darren Evans). … North Carolina's equipment staff has placed player names on the front of their helmets, in the team's font, for spring practices (from James Gilbert). … Reader Gilbert Lee writes: "For my taste, [Cal football head coach] Justin Wilcox's camp logo is too similar to [Oklahoma City Thunder G Russell] Westbrook's logo.

Hockey News: The Red Wings honored the late F Ted Lindsay with a No. 7 commemorative patch on their sweaters last night against the Avalanche. Here's a closeup. Lindsay, who played for the Red Wings from 1944-1957, died on Monday (from multiple readers). … In what might seem as a no-brainer decision (pun fully intended), NHL owners are mulling over a rule change that would require any player who loses his helmet during play to immediately return to the bench. Currently, players who lose their helmets are allowed to continue playing until the next stoppage (from our own Phil Hecken). … The Greenville Swamp Rabbits of the ECHL will wear St. Paddy's Day uniforms on March 17 (from Mike Lucia).

Basketball News: Cross-listed from the college football section: Reader Gilbert Lee writes: "For my taste, [Cal football head coach] Justin Wilcox's camp logo is too similar to [Oklahoma City Thunder G Russell] Westbrook's logo. … Both Wake Forest and Duke wore jerseys with a "ghost" wordmark on the front (from @ACCTracker). … Michigan State and Nebraska went color versus color last night (from multiple readers). … Three men who had been convicted of illegal pay-for-play schemes in the recent Adidas recruiting scandal were sentenced to short prison terms yesterday. … Here's a breakdown of the Magic's record this season by uniform (from @noslraCNevets).

Soccer News: Argentina's kit for the 2019 Copa America has leaked (from Josh Hinton). … Also from Josh: Here are Austin Bold FC's new shirts. … Borussia Dortmund released their starting XI against Tottenham Hotspur yesterday in a Harry Potter-themed tweet (from Kyle Dawson).

Grab Bag: First Moneyball, now curling: A data analytics revolution (WaPo) link is taking over curling (from Tom Turner). … Speaking of curling: Green vs. green yesterday in a Brier matchup between Northern Ontario and Saskatchewan (from @phigers). … Investment bank giant Goldman Sachs will now allow its bankers to wear khakis. … Ferrari's Formula 1 team has dropped its Mission Winnow advertising (from @Nichola55372165). … Snack brand Hy-Vee has released green and yellow tortilla chips in honor of Uni Watch for St. Patrick's Day (from Kyle Eilts).
• • • • •
[adrotate group="2″]
• • • • •
Click to enlarge

What Paul did last night: I had quite a day yesterday. Between noon and 5pm, I had two work meetings, an appointment with an eye doctor, "research" for that article about pepperoni (read: a square slice at Prince St. Pizza), and scoped out a potential venue for my birthday party. Then I went home, caught up on a few things, and went back out to see the very awesome Mike Krol, who is an absolute hoot. Fun capper to a fun day.
And in a nice uni-related development, Krol's merch offerings included a T-shirt with some very nice radially arched lettering:
I have a lot of thoughts about Krol (short version: uses lots of emotional distancing effects — some technical, some theatrical — that somewhat undercut his chosen theme of suburban angst), but it's late as I'm typing this and I want to go to bed, so instead I'll just link to his excellent new album, Power Chords. Enjoy.
(Doubleplusthanks to readers Nelson Lopez and Jason Rezvan, whose advice and assistance helped me score a ticket for this show.)