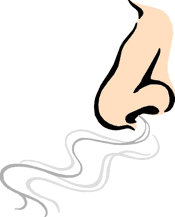 I watched the Super Bowl at the home of my friend Sujan, who was having a party. So I was eating, drinking, and yakking with various people while trying to keep one eye on the game — you know how it is. At one point I glanced up at the TV and saw Patriots kicker Stephen Gostkowski fiddling with something under his facemask before kicking off. I thought he might have been inhaling smelling salts, but I didn't get a good look at it and it all happened very quickly, so I wasn't sure. I wanted to type out a note to myself on my phone so I could follow up on it later (as I did regarding several other things that I spotted during the game), but I was in the middle of a conversation, so the whole thing got lost in the shuffle and I forgot about it.
Until yesterday, that is, when Twitter-er Mark Palczewski posted this bit of video:
Hey @UniWatch #smellingsalts for Gostkowski after his FG to make it 3-0 NE over LA. pic.twitter.com/xtS13hyWUX

— Mark Palczewski (@Mark22Photos) February 4, 2019
It was smelling salts! Gostkowski inhaled them while preparing to kick off after booting a field goal in the second quarter.
Smelling salts, which are basically ammonia capsules, are designed to help revive someone who's fainted, but more and more athletes seem to be using them to get themselves amped up before or during a game (even though there's zero scientific evidence that the salts enhance performance, and some concerns that they can mask the effects of a concussion). Lots of NFL players swear by the stuff, as do many NHL players. There's even a video compilation of various NHL players huffing:
The thing is, the usual routine is for players to huff on the bench or on the sidelines, but Gostkowski did it on the field — and at a Super Bowl, no less! I'd never seen that before, but it turns out that Lions kicker Matt Prater has done the same thing (and apparently does it routinely):
Even coaches use smelling salts — or at least former Bengals coach Marvin Lewis did:
It's probably not a coincidence that smelling salts are most prevalent in football and hockey — two high-contact, rough-and-tumble sports. I don't think I've ever seen a baseball or basketball player using the salts. What about soccer — can anyone fill us in?
(My thanks to Mark Palczewski and Andrew Clark for their contributions to this entry.)
• • • • •
• • • • •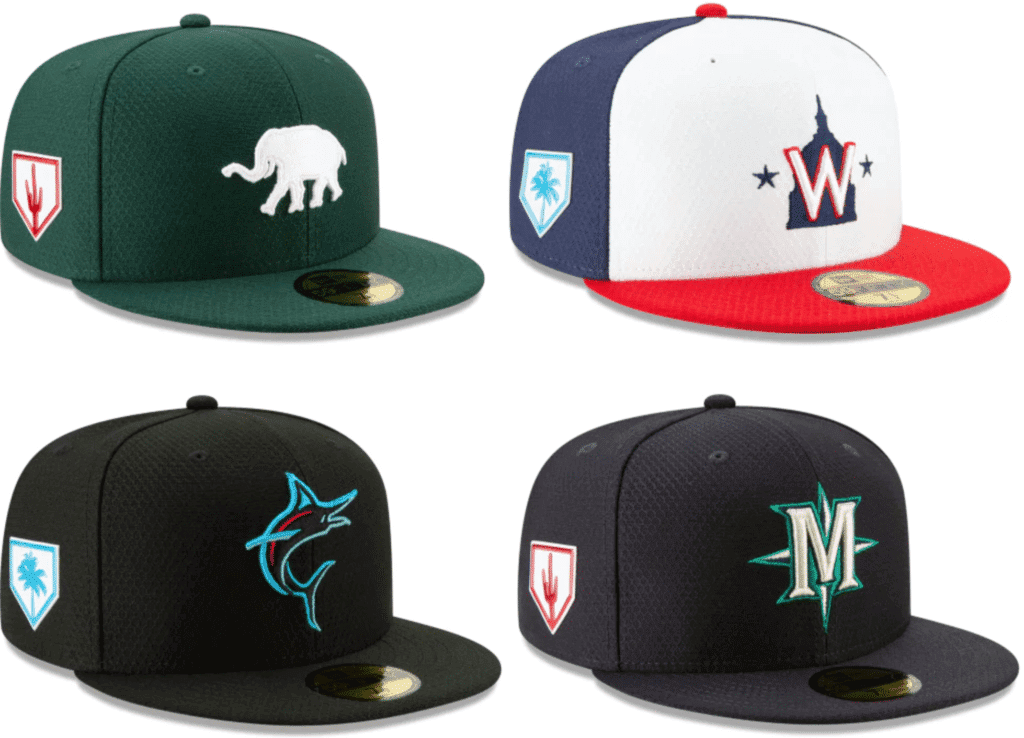 Click to enlarge
MLB spring training caps: People, I'm gonna be honest: I don't give a rat's keister about spring training caps, which are basically just glorified fan merch. But I know a lot of you care about them, and the full batch of them was released yesterday, so here's the skinny:
1. Four teams — the A's, Nats, Mariners, and Marlins — have new designs this season. As you can see above, they're all pretty good, especially that Nats lid. If they made that an alternate cap for games that count instead of restricting it to spring training, I might actually get to care about it!
2. The other 26 teams are sticking with pretty much the same designs they had last season.
3. That said, there are nonetheless some changes, even for teams that have kept the same basic design. For starters, last year the logos were rubberized, but this year they're embroidered (old version on the left, new on the right; click to enlarge):

4. As you can also see in that photo comparison, the fabric has changed. Last year the fabric had some sort of cringe-worthy name that I can't bring myself to spell out but it kinda looked like normal cap fabric. This year there's a new fabric with an even more embarrassing name and it looks kinda like a paper towel, which I can't believe anyone actually likes but apparently some people do.
5. As you can also see in that photo comparison, the annoying "FL" and "AZ" side patches have been replaced by new annoying side patches depicting a cactus for teams training in Arizona (which makes sense because that's called the Cactus League) and a palm tree for teams training in Florida (which makes no sense because that's called the Grapefruit League, not the Palm League). Someone should tell MLB that there's a simple solution to annoying side patches: Eliminate them.
I think that covers it. You can buy — er, see — all of the caps here. Play ball!
• • • • •
• • • • •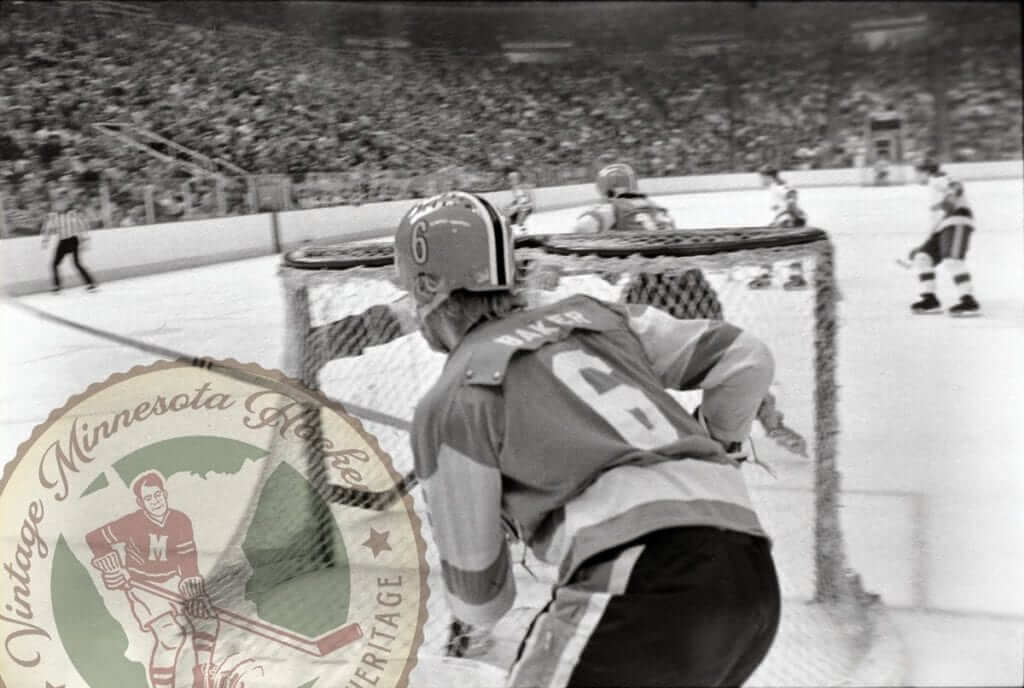 Photo from @VintageMNhockey; click to enlarge
Too good for the Ticker: The Vintage Minnesota Hockey Twitter account posted some great photos yesterday of the Grand Rapids High School hockey team playing in the 1975 Minnesota state tournament. As you can see in the shot above, their nameplates were either snapped on or buttoned on — I've never seen that before! (It's also pretty amazing that a high school team had NOBs in 1975, buttoned on or otherwise, when most NHL teams didn't yet have them.)
Also of note: those helmets! They almost look more like football shells without facemasks. Here's a better look at them (click to enlarge):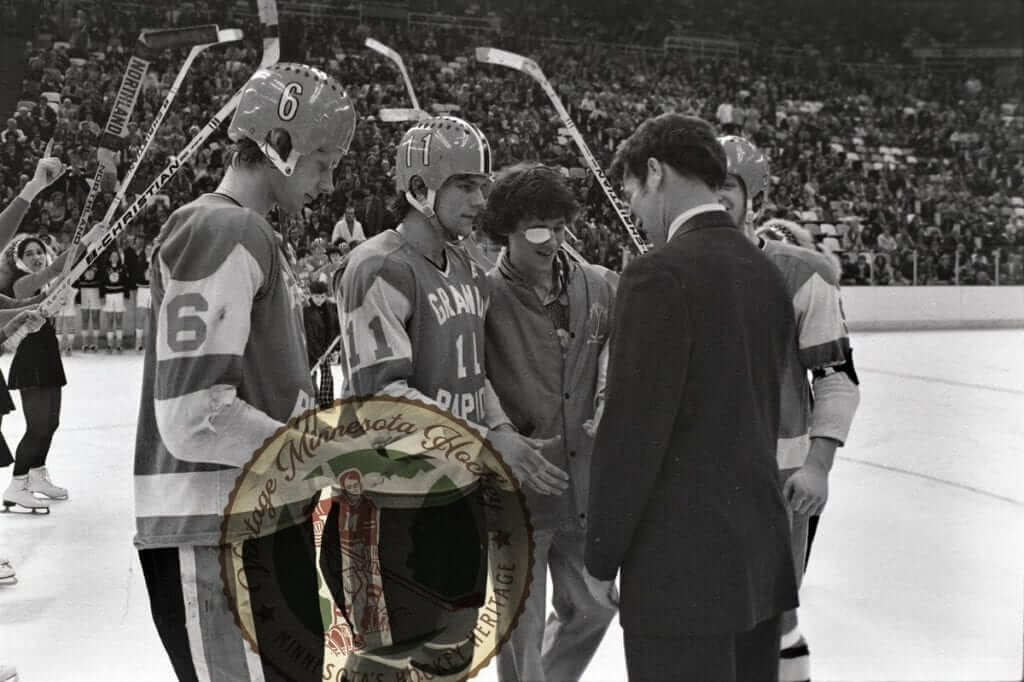 Pretty wild stuff. Can anyone tell us more about that helmet model?
(My thanks to DJ Bellefly for bringing this one to my attention.)
• • • • •
• • • • •
Click to enlarge
Comic book update: Yesterday I showed the cover of a 1970 NFL comic book and said I'd been unable to find any of the interior pages. Happily, last night reader/commenter Bill Moss found a PDF of the entire thing.
It's pretty great! It has several pages on every then-current NFL team (the Falcons spread shown above is a pretty representative example) along with coverage of Super Bowl III. Here's a spread from that section (click to enlarge):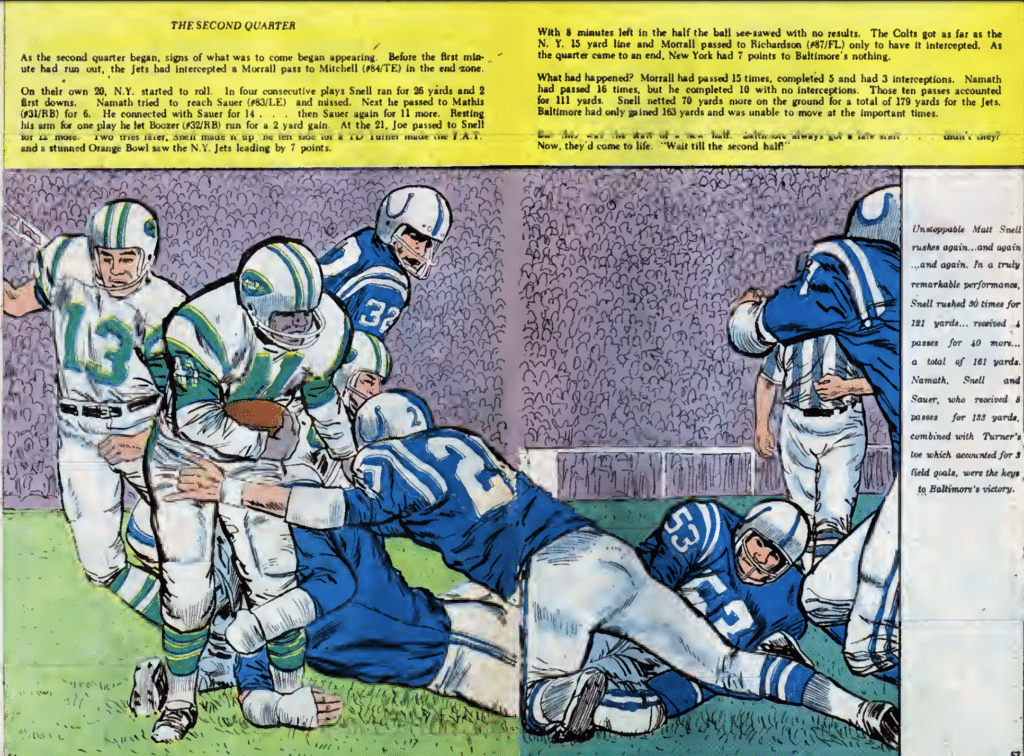 Interestingly, there's no coverage of AFL teams (the merger was still one season away), so the appearance of the Jets in the Super Bowl section is the only acknowledgment of the AFL's existence.
The text is pretty hilarious. "A team of many exteriors — at times much like a mature veteran, other times a brash youngster, still another day an awkward apprentice — that was the Atlanta Falcons in 1968." It's like an NFL Films sequence without the music, the beautifully edited slow-mo footage, or the Voice of God.
Anyway: Big thanks to Bill for finding this, and repeated thanks to my friend Nate Clesowich for bringing the cover to my attention and sending us down this rabbit hole.
• • • • •
• • • • •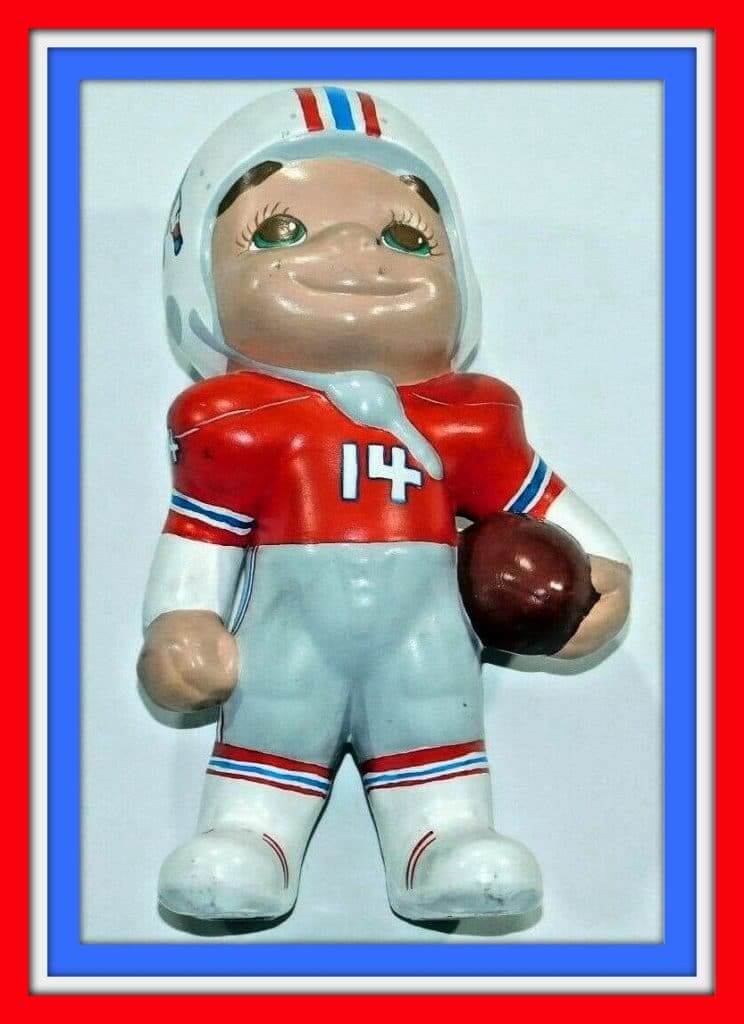 Click to enlarge
Collector's Corner
By Brinke Guthrie
Congrats to the New England Patriots, who defeated the Los Angeles Rams to win Super Bowl 53. Sorry, no Roman numerals here. In honor of their win, how about this 1970s hand-painted Steve Grogan ceramic figure, which includes GROGAN 14 on the back.
And now for the rest of this week's picks:
• From across the Big Pond, reader Ciarán O'Sullivan spotted these items on eBay UK: a Dolphins/Niners cap from the 1988 American Bowl; an "American Football" NFL cap and stationery set; an NFL quilt cover featuring a quarterback who looks a lot like Dan Marino; and an Oakland Raiders tape dispenser.
• Wanna dress like an NHL player, at least on the team plane? An ad for Curlee blazers says this is the same blazer the pros wear — just $65. We're talking double-knit Dacron™ and wool! If you want the team patch, that's gonna run you an extra 12 bucks.
• This 1970s Detroit Tigers "jersey T" features a heat-pressed DETROIT on the front.
• Here's a 1970s NFL helmet watch made by Jubilee. The seller says "most likely an NFL Alumni watch."
• Keep your skates razor-sharp with this Bobby Hull skate sharpener!
• This 1970s Monday Night Football T-shirt takes you back to one of the great TV sports intros ever.
• Someone is auctioning off a set of six pairs of 1992 Philadelphia Eagles autographed cleats — for $75K, if you can believe it.
• Fans of the retro Expos look will like this 1970s-80s pillbox cap.
• Show your friends you're a Mets "Super Fan" with this pennant that proclaims, "Catch the Rising Stars!"
• Reader P. Sharon sent in this football helmet clock spotted on Goodwill.com.
Seen an item on eBay that would be good for Collector's Corner? Send any submissions here.
• • • • •
• • • • •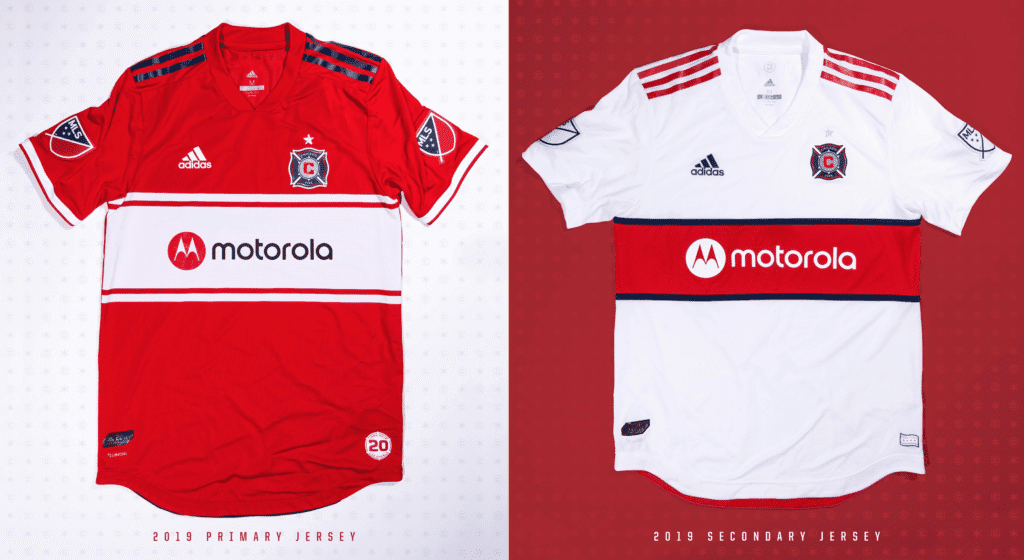 Click to enlarge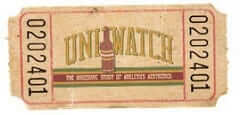 ITEM! Raffle reminder: In case you missed it on Monday, the Chicago Fire are generously offering one of their new jerseys for a Uni Watch raffle. The lucky winner will be able to choose either the primary red design or the secondary white design, both shown above. You'll also get your choice of size, from S to XXL.
To enter, send an email to the raffle address by this Thursday, Feb. 9, 7pm Eastern. One entry per person. I'll announce the winner on Friday. Good luck!
• • • • •
• • • • •
The Ticker
By Alex Hider

Baseball News: The Nationals' promotional schedule includes a Star Wars bobblehead (WaPo link) of P Sean Doolittle (from Tommy Turner). … This story about the Tigers' equipment staff moving stuff to Lakeland, Fla., for spring training makes note of a "mechanical hat stretcher" the team has used for "decades" — a machine that was gifted to the Tigers from the president of New Era (from Paul Weisner). … Schutt has released new batting helmet models (from Michael Princip). … New softball uniforms for Alabama (from Wade Harder and Griffin Smith). … New baseball uniforms for Texas (from Jake Tilley). … Check out this fantastic 1981 shot of the NHL's Montreal Canadiens' baseball team (from Moe Khan).

NFL News: Late-breaking item from the Super Bowl: Pats CB Jason McCourty wore some colorful cleats featuring Pat Patriot (from Charles Noerenberg). … Pat Patriot also appears on a uniform patch worn by Boston police commissioner William G. Gross during a press conference yesterday (from Ted). … New Dolphins head coach Brian Flores wore a Dolphins-colored necktie at yesterday's introductory presser. … Reader Joe Bailey was speaking for many of us when he responded to an NFL fan survey with his critique of the league's decidedly blah 100th-anniversary logo. … Don Diaz was watching Super Bowl IV highlights and noticed that Vikings RB Bill Brown, WR Gene Washington, and RB Dave Osborne all wore jerseys with thinner UCLA stripes than those of their teammates.

College and High School Football News: For any Texas high school football fans, this website is putting together an archive of helmets for every school in the state (from Ignacio Salazar). … Love the stripes on this classic Cal State Long Beach football uniform (from Matt Shevin).

Hockey News: The Wisconsin men's and women's hockey teams will wear throwbacks this weekend (from Todd Milewski). … Cross-listed from the baseball section: Lots to like in this 1981 shot of the Canadiens' baseball team (from Moe Khan).

NBA News: The Heat have announced that they will retire Chris Bosh's No. 1 (from Mike Chamernik). … Also from Mike: Oregon state legislator E. Werner Rescke introduced legislation yesterday that would urge the Portland Trail Blazers to change their name to the Oregon Trail Blazers. … New numbers following the Cavs/Blazers trade: F Rodney Hood will wear No. 5 for the Blazers, and new Cavs guards Nik Stauskas and Wade Baldwin IV will wear No. 1 and No. 6, respectively. … With Mardi Gras approaching, the Pelicans debuted their Mardi Gras-themed alternates. Also, Pelicans G Jrue Holiday and his brother, Pacers G Aaron Holiday, swapped jerseys after the game (from Zeke Perez Jr.).

College Hoops News: Virginia Tech went BFBS and Louisville wore white on the road last night in Blacksburg (from Andrew Cosentino). … Here are upcoming throwback designs for Arkansas, Michigan State and Florida (from Brock Brames). … New throwback for Michigan, too.

Soccer News: Sporting Kansas City has unveiled its new home kits for the upcoming MLS season (thanks to all who shared). … Columbus Crew SC also unveiled its new home jersey (from Alan Elwood and Ed Zelaski). … Louisville City FC of the USL has new training uniforms that include two stars for the team's two league championships (from Josh Hinton). … FC Schalke 04 of the German Bundesliga has a new sleeve advertiser (from Josh Hinton). … Max Weintraub notes that Manchester United's red gradient kits make the players look like they're wearing fanny packs. … This season, Liverpool has been wearing light grey socks with their grey third kit. But yesterday, they wore dark grey socks (from our own Jamie Rathjen). … Also from Jamie: The Aberdeen FC Women have a new jersey advertiser — different from the men's advertiser. … The same goes for Celtic FC Women, who will also have a unique jersey advertiser (from Ed Zelaski). … New "carnival" jerseys for Mainz 05 of Bundesliga (from Scott Moomaw). …

Grab Bag: This BBC article is a deep dive on some wild-looking sports trophies (from Brinke). … Penn State wrestler Anthony Cassar was wearing what appeared to be a gold-leaf (temporary?) tattoo around his neck during a match on Friday, to make it appear as if he was wearing a necklace. Obviously, he would not have been allowed to wear a real necklace during a match (from Max Weintraub). … We have a hurling note from  — who else — Dennis Hurley: Tyrone and Louth played each other on Saturday. Tyrone usually wears red jerseys and white shorts, while Louth usually wears white jerseys and red shorts. However, both wore their alternate uniforms on Saturday, meaning the two clubs were dressed as each other. … Staying in Ireland: The country's main airline, Aer Lingus, has a new logo (from Kenneth Traisman). … Bridie Kennedy, who plays for Carlton in the women's Aussie football league, wears a large pink ribbon on her ponytail so that her grandfather can easily identify her on the field (from Graham Clayton).