NFL helmets — is there anything they can't do?
Over the years we've seen helmet phones, helmet snack bowls, helmet pencil toppers, helmet chairs, and a lot more. But I don't think we've ever seen an NFL helmet Ferris wheel — until now.
The Ferris wheel in question is SkyView Atlanta, whose 42 climate-controlled cars have been spinning in downtown Atlanta since 2013. With the Super Bowl taking place in Atlanta this Sunday, 32 of those cars have been vinyl-wrapped to look like NFL team helmets. (I don't know why they didn't just use throwbacks whatever to fill out the remaining 10 cars.)
You can see some of the helmet-themed designs in the video above, and there are additional views in this next video clip (skip ahead to the 22-second mark):
And here's yet another short clip:
I kinda love this — in part because I like Ferris wheels (here in Brooklyn, we have the magnificent Wonder Wheel out at Coney Island) but mainly because I love how football helmets can represent, or be represented by, almost anything. If they haven't shot a helmet-themed satellite into space yet, that must surely be coming soon, right?
One thing I don't think I've seen: a bowling ball that looks like a football helmet. I've seen bowling balls with helmets depicted on them, but not bowling balls that mimic a helmet's design. Come on, people, that's a natural!
Anyway, where were we? Oh, right: the Ferris wheel in Atlanta. A ticket costs nearly $14, which seems a bit steep (the Wonder Wheel is only $8, and you get a view of the beach and the ocean instead of a bunch of buildings), but maybe you can just stand nearby and watch the helmet-y cars as they go around, because that's the real attraction here anyway.
Interestingly, they made one big mistake: The Rams car is based on the team's white-horned helmet, not the yellow-horned design that they'll be wearing in the Super Bowl: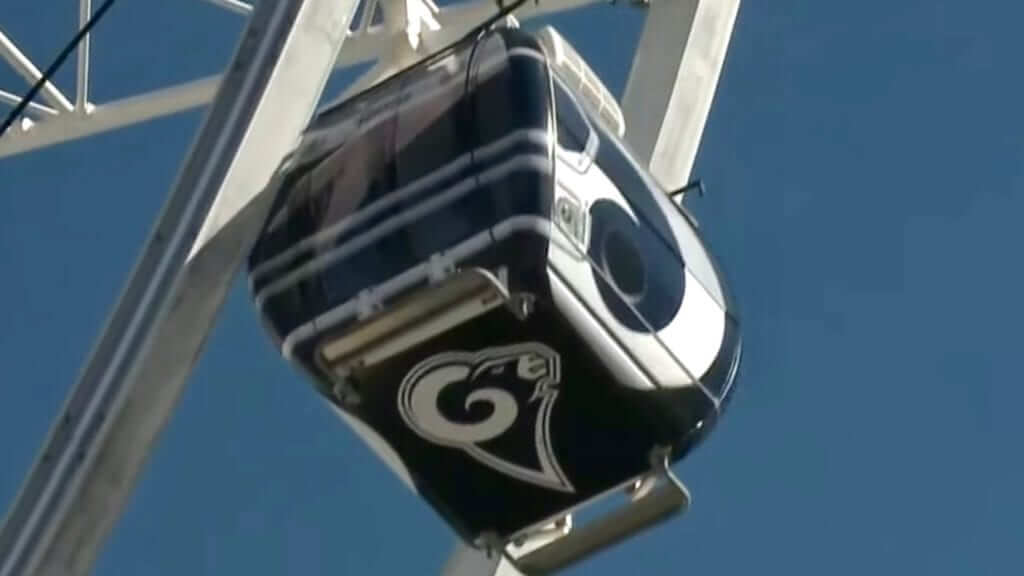 • • • • •
• • • • •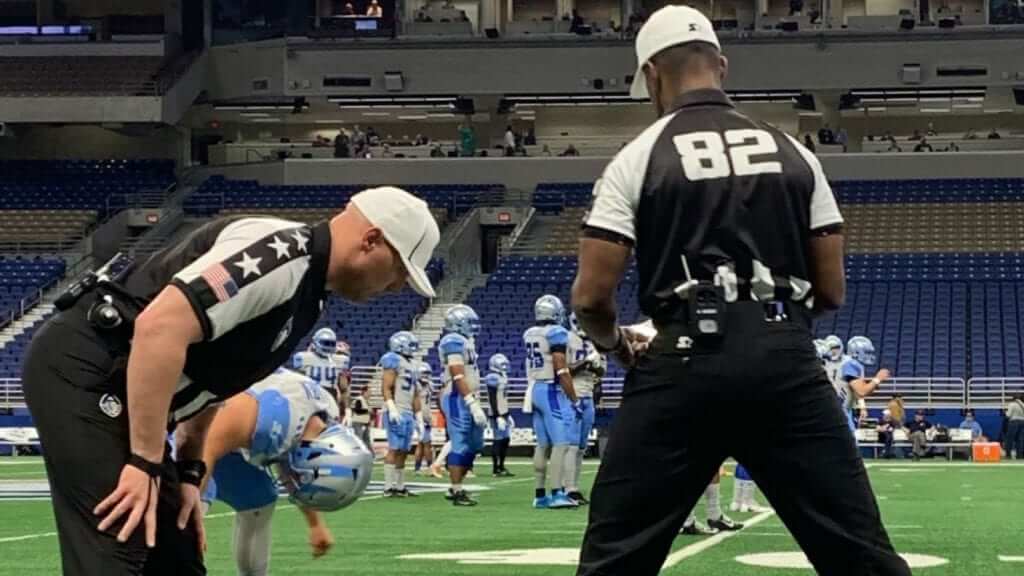 Click to enlarge
Can a zebra change its stripes stars?: Remember, the Super Bowl isn't the end of the football season — the NFL is just the glorified preseason for the start of the real football league, the AAF, whee! And yesterday we got our first look at the uniforms for the AAF officiating crews (see above).

That photo isn't great, but there's enough visual information there for me to offer the following reactions:
• Stars on jersey shoulders? Seriously? When's the last time a ref or ump in any sport wore stars? Looks seriously rinky-dink.
• That American flag patch is a mistake. Technically, of course, it's properly oriented, but lots and lots of people don't know that, and you know a bunch of them are going to say, "Wait, that flag is backwards" (two such people have already asked me about it), or even, "Ha-ha, moronic amateur league has its refs wearing a backwards flag!" Look, if you insist on making your officials wear a flag patch to prove how patriotic you are, or to emphasize the second word in your league's name, or whatever, just put the patch on the left sleeve, so people won't mistakenly think it's backwards.
• What is the deal with those jerseys? It almost looks like they're wearing black pinnies over their zebra stripes, but I'm pretty sure it's a one-piece design because of the raglan sleeves. Looks seriously weird, but maybe we'll see a method to the madness once we get a look at the front view. But having the officials wear black pants and mostly black jerseys is going to cause problems for any game involving the Birmingham Iron.
• That striping on the brim and crown of the cap (which is presumably matched by a corresponding stripe on the other side) looks like a textbook example of trying to reinvent the wheel. Just let it be a white cap without the gewgaws.
• Speaking of the caps: At least two guys on the crew wearing white! In the NFL, the ref wears white and everyone else wears black. Ditto for the NCAA.
• On the plus side, the maker's mark is on the back of the cap, instead of the side. Back of the pants, too. (Yes, that's the Starter logo. They're also making the players' uniforms.)
That's a lot of bang for one photo's worth of buck, right? And hey, while we're at it, here's what the AAF's football will look like (click to enlarge):
Take a good look at all of this, because it probably won't be around very long.
(My thanks to Jim Polacek for pointing me toward the photo of the officials.)
• • • • •
• • • • •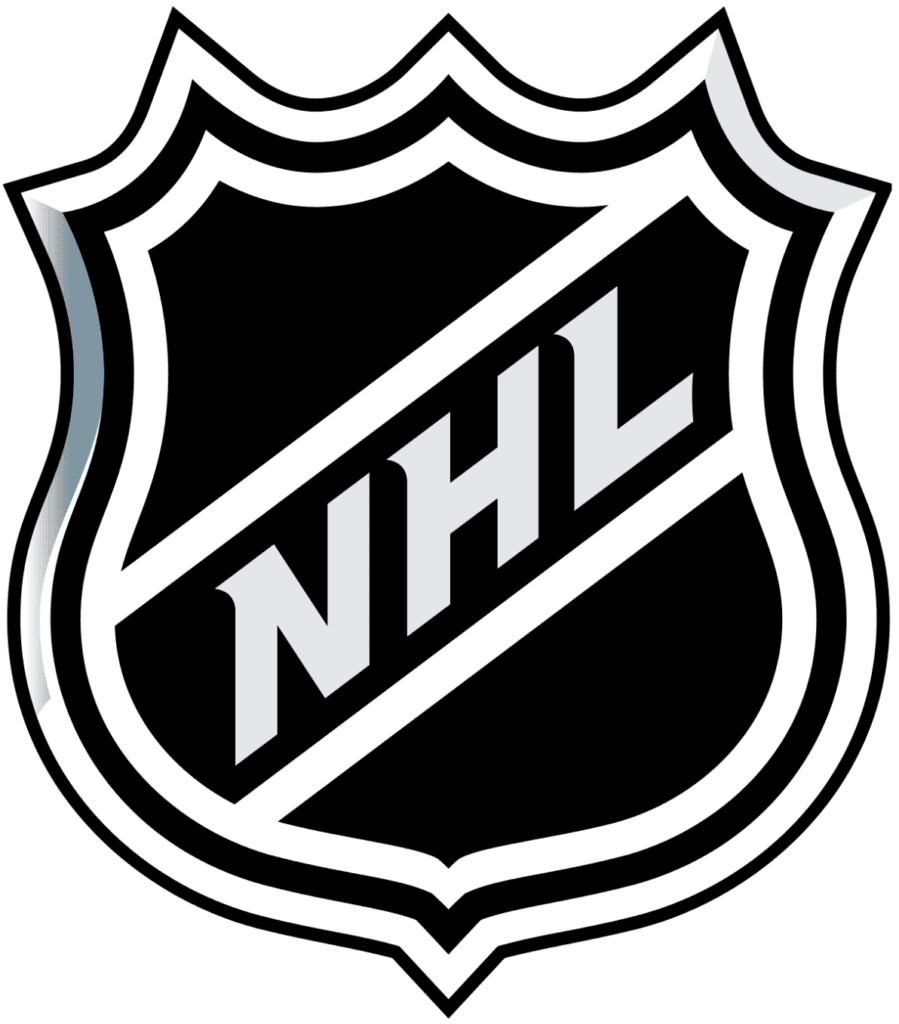 EXCLUSIVE! NHL 2019-20 news: Last month I had some info from a Chicago-based source who said the Blackhawks would be changing the collar on their red jersey next season. I can now confirm, via another source, that the Blackhawks will have new home and road jersey designs for 2019-20. I don't have any details on what the changes will be, but I think it's fairly safe to assume that they're changing the collars (because really, what other changes could they possibly be making to a jersey as iconic as this one?).
Also:
• One team — I'm not yet ready to say which one — will have new home, road, and alternate uniforms next season.
• One team will have a new road uniform.
• Seven teams will add new alternates. That group includes the Golden Knights, who'll be expanding their wardrobe for the first time.
That is all, at least for now.
• • • • •
• • • • •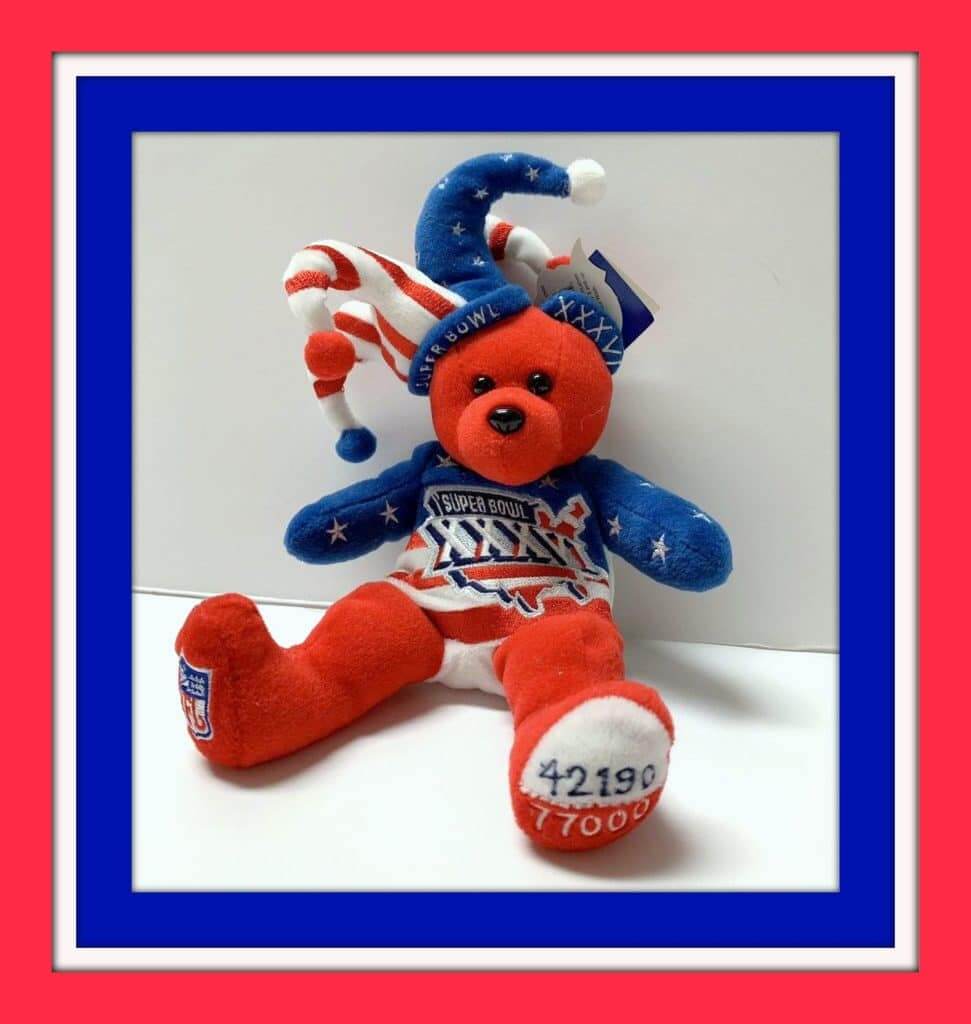 Collector's Corner
By Brinke Guthrie
The last time the Pats and Rams faced off for all the marbles was in Super Bowl XXXVI, so we have a few items from that game to lead off this week's Collector's Corner. First up, this Jester Beanie Baby (remember when Beanie Babies were all the rage?). This little fellow comes complete with the official game logo. There's also this T-shirt, this denim shirt, and this official Supe XXXVI jacket.
Now for the rest of this week's picks:
• This 1960s POS (that's "point of sale," kids) NBA sign for Colt 45 malt liquor was designed so that "Colt" and "45" looked like the team name and player jersey number — clever!
• Late-1960s NHL Oakland Seals fans would bundle up for a chilly night with this scarf/muffler. The team was founded in 1967, and Wikipedia says "the team was renamed Oakland Seals partway through the 1967–68 season," after originally being named the California Seals.
• Here's a terrific-looking 1970s Packers pom hat from Sears. (But you knew that.)
• WIth the Padres bringin' back the brown in 2020, here's a Wilson-made brown jacket from 1969, their first season.
• Also from 1969, a pair of pillows featuring the 24 then-current MLB teams.
• Nice artwork on the cover of this January 1968 Pro Bowl game program.
• This NBA Bas-Ket game promises "Real Basketball in Miniature" for "Fast Action Sports Fun!" Obviously not 1960s, more like 1990s, right?
• These 1973 NFL placemats featured generic football teams.
• Someone stuck a bunch of 1970s NFL Chiquita team stickers on a football-shaped piece of wood.
• It looks like this 1970s Atlanta Falcons helmet radio has been in the trenches a time or two. Still works, though. (Maybe you'd prefer a Miami Dolphins football phone?)
Seen an item on eBay that would be good for Collector's Corner? Send any submissions here.
• • • • •
• • • • •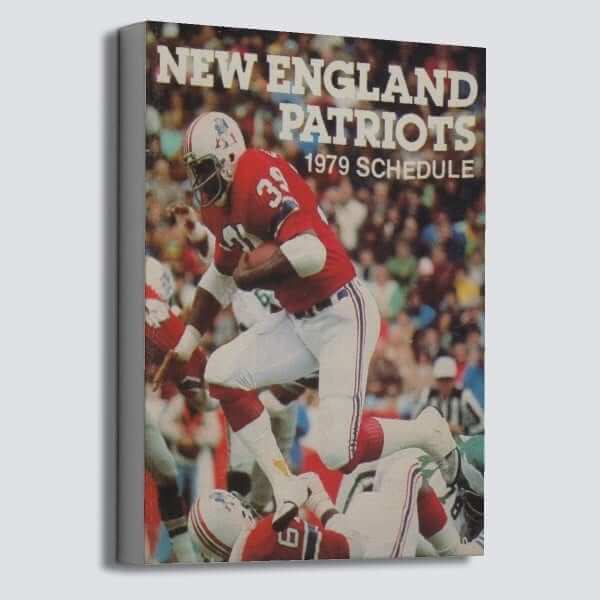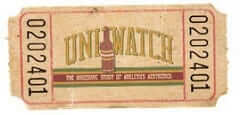 Raffle reminder: The good folks at Vintage Brand are using the week leading up to the Super Bowl to run another raffle. The lucky winner will get to choose any item from the Vintage Brand site (like the cool Patriots canvas shown above, for example).
To enter, send an email to the raffle address by this Thursday, Jan. 31, 7pm Eastern. One entry per person. I'll announce the winner on Friday. Good luck!
• • • • •
• • • • •
The Ticker
By Anthony Matthew Emerson

Baseball News: We already know that Adam Ottavino will be the first Yankee ever to wear No. 0. But according to Quentin Ellis, he'll also be the first Yanks pitcher to wear a single-digit number since 1930. The last to do so? None other than George Herman Ruth. … The Missoula Osprey of the Pioneer League are rebranding and are asking the public to help choose their new name (from Clark Barnier). … USF has unveiled new all-black unis (from Cedric Padilla). … This Twitter thread shows off Arizona softball's 2019 unis. Note that there are no visible buttons (from Rocky De La Rosa). … Toledo softball also released their 2019 unis (from Josh Claywell). … New batting helmets for Mizzou softball (from Steve Johnston). … Can you tell the difference between New Era caps made domestically and made overseas? This guy can (from Andrew Primeau). … A tequila sunrise-based design really loses something when it's plastered with ads (from Travis Peterson). … Anyone know what these extra numbers on the Pirates' vests would be for? (From Jerry Wolper.) … New 70th-anniversary logo for the Yokohama DeNA BayStars. "The design uses elements from uniforms in each era," explains @BigDaddy45.

NFL News: We got our first full view of the Super Bowl field all decked out for the big game (from @christmasinatra). Note that the Rams end zone has the team's helmet, not the team's logo. @Keyvon212 points out this is the first time a Super Bowl end zone has had a helmet design since SB XXXIX, 14 years ago. … Speaking of helmets, it appears the Rams are making heavy use of their helmet logo, which is even appearing on the "interview sweatshirts." Also note that the sweatshirts have team font uni numbers (from Alan Kreit). … The Patriots have posted a video on their Facebook page showing the work being done by their equipment manager (from Nick Jones). … When you put "pats rams" in the Instagram .gif search bar, it gives you two helmets that look sort of like the Pats' and Rams', but are far enough away to avoid a lawsuit from the NFL (from Griffin Smith). … The Super Bowl popup store in Atlanta is selling a Rams jersey that the team even doesn't wear anymore (from Alex Barth). … Meanwhile, if you're in the market for St. Louis Rams merch — including a Rams thong — there's a shop in Missouri that can help you with that (from Tris Wykes). … Notice anything odd about this photo of Bill Parcells, Brian Griese and Joe Montana announcing the NFL's "Cholesterol Screen Team" before Super Bowl XXXV? Check above the facade — it's lined with jerseys! Perhaps those were the jerseys of other members of the Cholesterol Screen Team? (Excellent find by Mike Colvin.)

College/High School Football News: The font used in Clemson's national championship logo (gif warning) makes the "IO" in "national" and "champions" look like the number 10. That can't be intentional, can it? What would the "10" be referring to anyway? (good spot by Frank Mercogliano). … The first installment of Auburn Through the Years, a retrospective of Auburn football uniforms, has been posted (from Clint Richardson).

Hockey News: Here's our first look at the Pens' and Flyers' Stadium Series sweaters, which look pretty much like everyone expected (from @ImAnimated). … Oh my god, so many things going on in this pic of Jorma Valtonen at Leafs camp in 1972. Uni No. 100, a crest I've never seen before on a Leafs sweater, and the oddest mask I've ever seen (many thanks to Chris Mizzoni for sending this our way). … Billy Cole's mom found this old Colorado Rockies — the NHL Colorado Rockies of course — hockey puck in her basement. … Color-on-color alert in the AHL All-Star Game (from Jakob Fox). … Check-out this gorgeous 125-year-old hockey sweater, from the Rat Portage Thistles, which might be the most punk-rock-band-sounding hockey team name ever (from @mixedmediashop).

Hoops News: Here's a really interesting piece on "Ninja-style" headbands, which are slowly becoming more and more prominent throughout the NBA (from Ryan Frazer [as an aside, I wish I'd written that piece myself — PL]). … This butcher's shop in Dubrovnik, Croatia, has Bulls logos on its awning and street lamp. "Must be old Kukoc fans," says @mmmmmmboy. … Radford men are debuting these awesome throwbacks on Thursday (from Doug McKinney).

Soccer News: The Philadelphia Union released their new away kit (from Andrew Dillon and Josh Hinton). … Sporting Kansas City teased their new kit in the most frustrating way possible (also from Josh Hinton). … Argentine side Rosario Central has new kits and a new kit provider in Under Armour. The club had been using temporary kits manufactured in-house (from Ed Żelaski). … Good article about the 23-year-old designer who created a new jersey for Nigeria (from Kary Klismet). … River Plate's new away kit has leaked (Josh Hinton again).

Grab Bag: Joe Gibbs Racing will have memorial stickers on each of their cars in honor of former organization president JD Gibbs, who passed away on Jan. 11 (from Christopher Hickey). … This Atlantic article about lines from women's restrooms has a somewhat odd choice for a header image: the women's restroom line at Yankee Stadium during the 2014 NHL Stadium Series game between the Rangers and Devils (from Chris Flinn). … Jason Torban spotted a sign in Ambler, Pa., that's shaped like a Brannock Device, Paul's favorite object. … Speaking of things Paul likes, Thomas Schroeter discovered this abandoned psychiatric facility in Wingdale, N.Y., with old-timey bowling lanes and old-timey baseball fields. … New lacrosse helmets for the Washington club team (from Anthony Edwards).