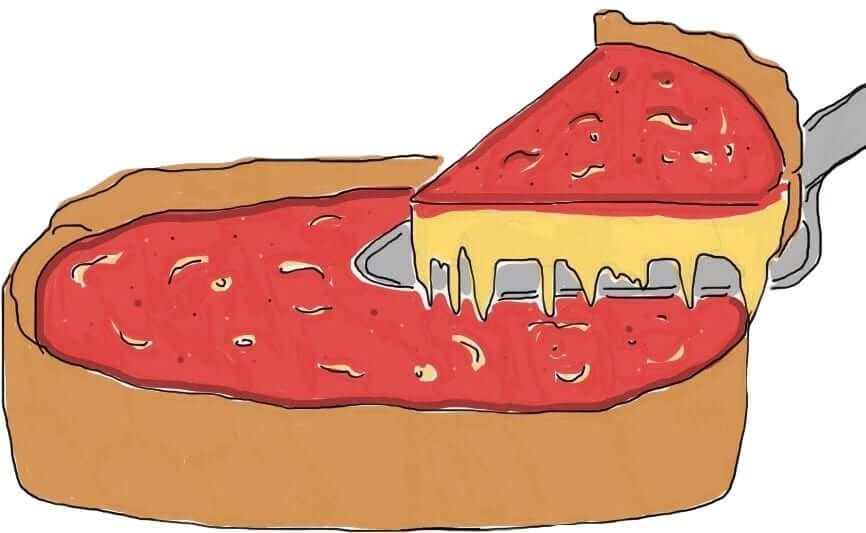 There's a Uni Watch reader out there who does some uni-related work at the Bulls' and Blackhawks' arena in Chicago. He prefers to remain anonymous, so let's call him Deep Dish — a reference to Watergate-era anonymous source Deep Throat and Chicago's famous deep-dish pizza.
Deep Dish recently shared a bunch of uni-related info with me that I think you'll find very interesting. One thing at a time:
1. "I was tasked with lettering the City Edition jersey for the Bulls' mascot, Benny," says Deep Dish. "I noticed an extra piece of fabric added to the inside under the left arm. After turning it inside out, it seems to be a pocket — too small for a phone, but about right for perhaps two Sharpie markers for autographs or something. Isn't that neat?" Indeed!
2. "Occasionally, the Blackhawks have a nice tribute to a former player, called 'One More Shift,'" says Deep Dish. He continues:
Basically the guy suits up and skates around the rink once while everybody applauds, and then they do a ceremonial puck drop and it's over. A couple weeks ago, on a cancer awareness night, they honored cancer survivor Eddie Olczyk, and I ended up lettering the sweater for him.

For many years the team has always ordered its sweaters blank from the manufacturer — no numbers or NOBs —— and sent all the lettering orders to a small shop in the city's southwest suburbs. But for Eddie's sweater, they couldn't get it there in time, so they asked me to heat-press it. That's what I always do for customers, but it's a far less professional and lower-quality presentation. And here's a wrinkle: Here at United Center we're in a weird limbo of changing suppliers, so I can't always make everything a perfect match. It's unfortunate and I feel terrible about it, but the 1s on Eddie's sleeve had a prominent thick black border (this is correct, as they came from the little shop I mentioned), but the 6s had an incorrect thin border that's barely visible.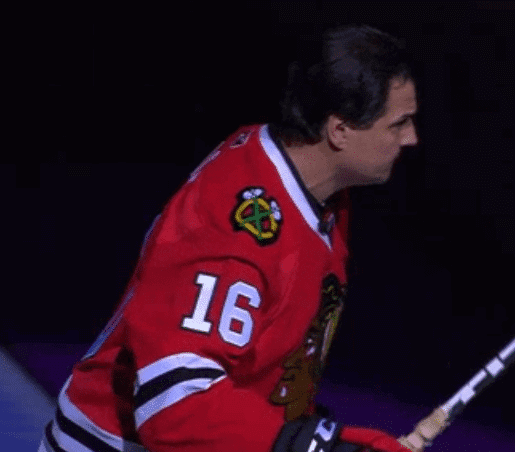 Also, the NOB letters had the twill going in different directions, so they reflected the light differently. The 'O' seemed to be brighter, for example.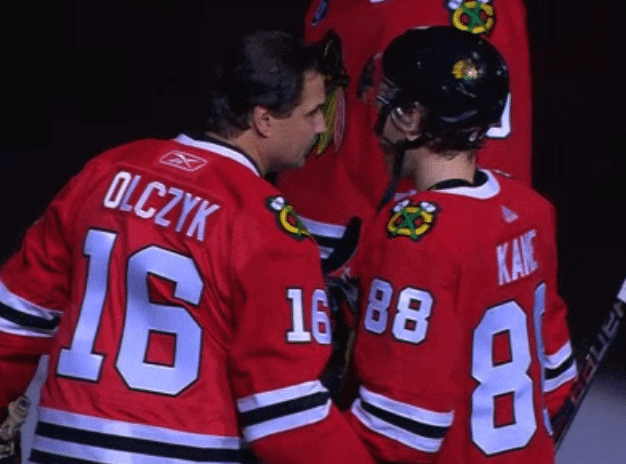 3. "A Winter Classic Zamboni has been lurking around the loading dock area here," says Deep Dish. "In the photo it looks like it's tucked away or hidden, but it's really out there for many employees to walk by every day, so it must not be a great secret."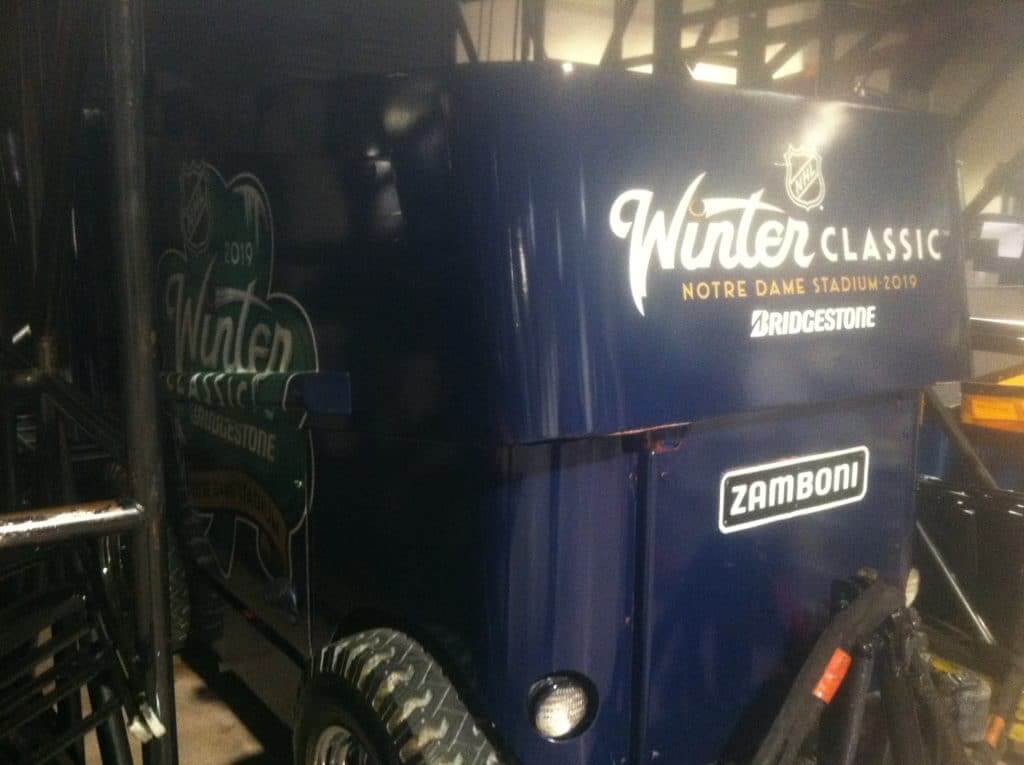 4. "I know you don't care so much about retail merchandise, but here's piece of news that shows how the retail world can give indicators for upcoming changes," says Deep Dish. He continues:
We are completely sold out of red Blackhawks replica jerseys in size large. This is probably the best-selling size/color/style jersey sold here, so it would make sense to order more, but the buyers aren't ordering any more. When I asked why, the response was something about the collar being set to change. It stands to reason that this will be a significant enough change that they're trying really hard to avoid having a bunch of "old" ones lying around after the new ones become a thing.

Of course this is mostly unsubstantiated, as I've seen nothing regarding new designs or anything, but I'm taking it as strong evidence for a new sweater tweak next season.
Let's hope all the NHL teams are tweaking their collars, because most of those Adidas collars are brutal.
Anyway: Lots of fun good info there. Thanks, Deep Dish!
• • • • •
• • • • •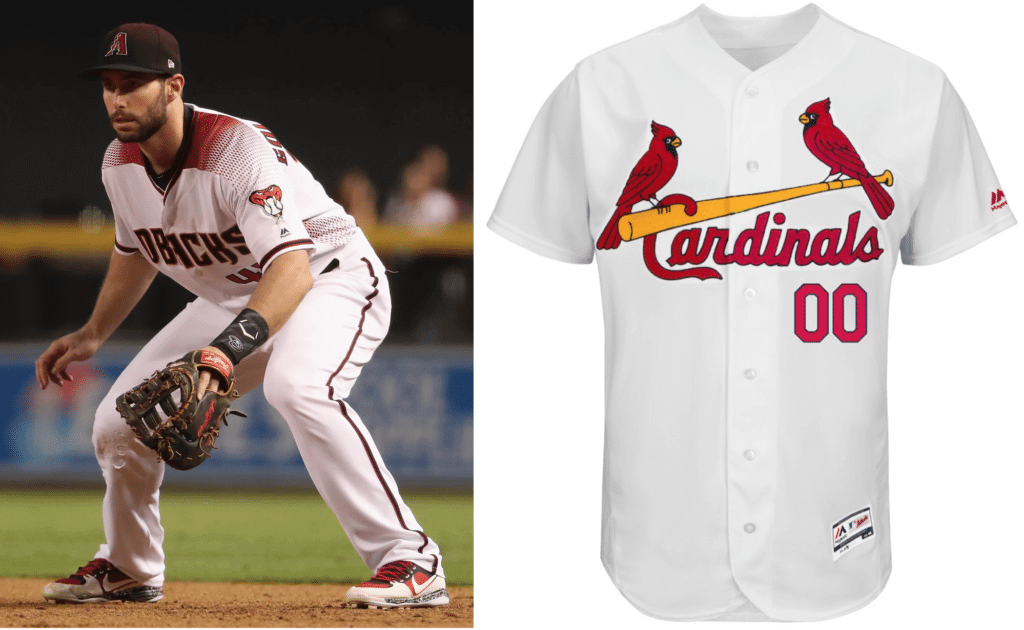 From the outhouse to the penthouse: Slugger Paul Goldschmidt got a major upgrade to his wardrobe yesterday, as the Diamondbacks traded him to the Cardinals. In uniform terms, that's like going from a perennial cellar dweller to a championship dynasty.
What would the equivalents be in the other Big Four leagues? One observer's opinion:
• NFL: Going from the Bucs to the Packers.
• NBA: From the Hawks to the Warriors (although you could argue that the Pacers and Thunder are really the best-looking NBA teams, because they're still ad-free).
• NHL: From the Avs to the Habs.
Meanwhile, let's have a moment of silence for Luke Weaver, Carson Kelly, and Andy Young — the three players who are going from the Cards to the D-backs in exchange for Goldschmidt. They have Uni Watch's deepest sympathies.
• • • • •
• • • • •
Does Jim Bouton know about this? One of the designs featured in my Seattle/NHL design contest results — Dave Sizer's Seattle Pilots concept — was featured for several minutes on a Boston sports talk radio show yesterday (see above). Pretty funny to see one of our contest designs get that much attention. Enjoy the clip, and please join me in congratulating Dave.
• • • • •
• • • • •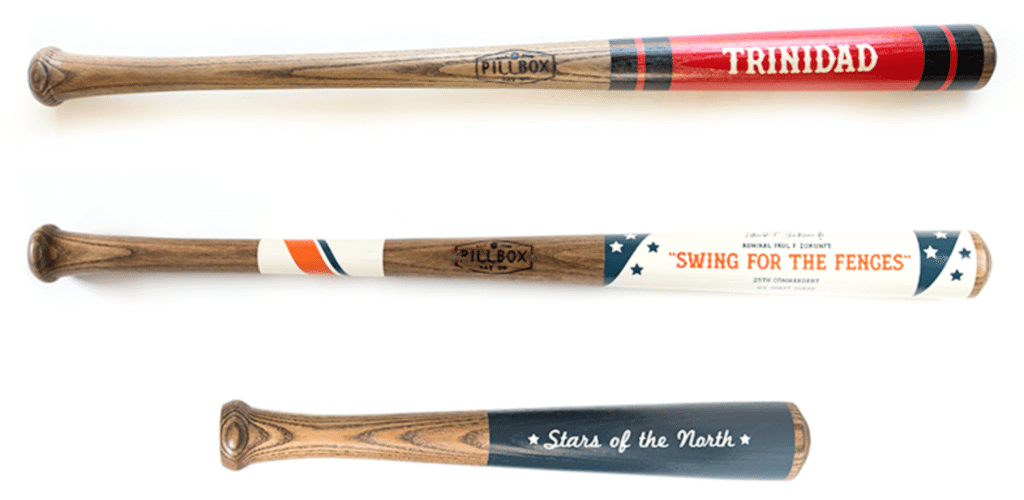 ITEM! Holiday discount: One of our longtime advertisers, the Pillbox Bat Co., which offers a cool line of custom-painted baseball bats, is currently offering a holiday discount. Use the checkout code uniwatch to get 20% off your order.
My thanks, as always, for considering our advertisers for your shopping needs.
• • • • •
• • • • •
The Ticker
By Lloyd Alaban

Baseball News: The York Revolution of the Atlantic League of Professional Baseball revealed their new alternate uniforms (from Paul Braverman). … The Gwinnett Stripers, the Triple-A affiliate of the Braves, are offering personalized smartphone wallpapers of their jerseys, complete with a number and NOB. Sounds like a familiar concept (from @freehawk). … Texas A&M's grounds crew placed a large "41" in their outfield to honor the late President George H.W. Bush (from James Gilbert). … Wichita, Kansas, is getting a new Triple-A team in 2020. According to that article, once the team's name is chosen, the logo will be designed by Todd Radom (from Trent Guyer).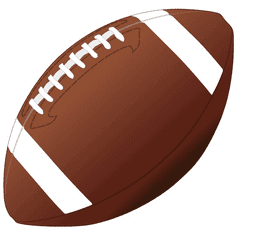 Football News: Grainy picture, but it looks like RB Charcandrick West will be wearing No. 30 for his second stint with the Chiefs. He previously wore No. 35 (from @DrSoup_MD). … Titans QB Marcus Mariota will be wearing cleats to benefit the ALS Therapy Development Institute for tonight's game against the Jaguars (from @jill777). … The new XFL, slated to begin play in early 2020, announced its eight cities and stadiums.

College Football News: Here's how the Alamo Bowl patch looks on Iowa State's jersey (from Sean Jankowski). … Here is the never-released Life cover featuring then-Navy QB Roger Staubach. The issue was never released due to the assassination of JFK (from All American Sports House). … Here's the "participation pot" Utah State received ahead of their New Mexico Bowl matchup against North Texas (from @akaggie).

Hockey News: The Fayetteville Marksmen of the SPHL will wear these sweaters for Ugly Sweater Night on Saturday. … A Mesa, Ariz., barbershop is poaching the Kings' logo (from Adam Vitcavage). … The Fairbanks Ice Dogs wore holiday-themed uniforms over the weekend. Here's a closer look at the design (from Sue Valdrow, writing from "North Pole, Alaska," which is a real town).

NBA News: The Northern Arizona Suns, the Suns' D League affiliate, will become the Northern Arizona Rodeo Clowns for one game (from Brett Swartz). … The Blazers converted their pinwheel logo into a menorah to celebrate Hanukkah (from Casey Lute). … New Pelican SG Andrew Harrison will wear No. 1 with his new club (from Etienne Catalan). … Speaking of the Pelicans, down toward the bottom of this article is the news that F Julius Randle has been playing with more energy since he began wearing a headband a few days ago (from Rob Walker).

College and High School Hoops News: Ohio State didn't expect SG Luther Muhammad to play last night against Illinois due to injury, so they didn't bring his No. 1 jersey with them for last night's game. However, team doctors cleared him, so the Buckeyes had to issue him a NNOB No. 12 jersey (from Erik Spoonmore). … Wyoming has released a teaser of their new alternate jerseys (from our own Phil Hecken). … Virginia Tech and VMI went grey vs. black last night (from Andrew Cosentino). … Nebraska wore warmup shirts that read "RIP TAYRA" to honor the mother of Minnesota G Dupree McBrayer, who passed away this week (from Steve Rausch). NC State named their basketball venue "James T. Valvano Arena" last night in honor of former head coach Jim Valvano, who led the men's program to a 1983 national championship (from James Gilbert). … Missouri State is still wearing the sleeved Adidas jerseys that were in vogue a few years back (from Alex Pacheco).

Soccer News: Liverpool went grey/grey/red yesterday against Burnley (from Josh Billman). … Part of Tottenham Hotspur's third shirt for next season has leaked (from Josh Hinton). … Also from Josh: Hartford, Conn., was set to get a USL expansion club for 2019, but stadium issues have plagued this to the point where the club may not happen, and almost certainly not for the upcoming 2019 season. The club had yet to release any details about the name (the colors were expected to be blue and green, à la the Hartford Whalers). However, this letter leaks the club name — Hartford City SC. … A Swindon Town supporter who has attended 2,000 consecutive matches since 1981 received a commemorative shirt from the club. He also has a collection of every program from every match since his streak started (from multiple readers). … Here are the new shirts of Lowcountry United, a team from the amateur United Premiere Soccer League (from @footballkitbox). … Wembley Stadium's arch was lit up in rainbow colors on Tuesday in support of England and Scotland's LGBT Rainbow Laces campaign (from our own Jamie Rathjen). … Target logo creep has made it to the hoodies of these Minnesota United players (from FK Yajj). … The Japanese J-League has asked its fans to donate old replica jerseys to be given to children in other countries to play sports. Since 2011, they have given over 5,000 to children in Asia, Oceania and Europe (from Jeremy Brahm).

Grab Bag: Here's how NC State athletes in various sports got to choose their jersey numbers (from @ACC_Tracker). … The South Africa men's rugby 7s team will wear these shirts in honor of the centennial of Nelson Mandela's birth (from Jay Blake). … The International Association of Athletic Federations (IAAF) will now allow national track teams to display the logo of a sponsor advertiser on their kits at the IAAF World Championships (from Anthony Gonsalves). … Google Maps now displays brand logos on some businesses. Said Chris Mattox: "Now I can't browse Maps without seeing their crap." … Check out Chris Kennedy's collection of sports legends Christmas tree ornaments! … Here's how Pantone chose "living coral" to be the 2019 "Color of the Year" (NYT link). … Charles Harrison, an industrial designer who designed hundreds of consumer products, including the View-Master, has died (NYT link) (from Tom Turner).
• • • • •
• • • • •
Click to enlarge

What Paul did last night four days ago: On Sunday the Tugboat Captain and I went to see the new Andy Warhol retrospective exhibit at the Whitney. I've seen a decent amount of Warhol's work before, but never this much of it in one place. It was a lot to take in, and I'm still processing what I think of it.
Even if you don't care about Warhol, or about modern art in general, his work touches up on issues that come up pretty regularly here on Uni Watch. Por ejemplo:
1. Warhol appreciated and championed graphic design. Sure, his famous appropriations of Brillo boxes, Campbell's Soup cans, and Coke bottles were commentaries the state of various things (consumerism, capitalism, modern art, etc.), but they were also arguments for the value and beauty of graphic design, which up to that point had been treated as a poor stepchild of fine art. All contemporary graphic designers owe him a debt of gratitude.
2. All art is collectible, of course. But Warhol, with his tendency toward repetition and seriality, generated a real "Collect 'em all" feel with his work.
3. Warhol helped to create the concept of the celebrity-as-brand (a category in which he clearly included himself). Many of his subjects in this realm were pretty obvious — Elvis, Marilyn, Brando, Jackie O., etc. — but he also riffed on such unlikely figures as Mao Zedong, and even his anointing of various hangers-on at his studio (many of them talentless nobodies) as "superstars" speaks to his obsession with celebrity culture. I can't say I'm nuts about this aspect of his legacy, but I can't deny its influence. Every time we see an athlete with his own personal logo or even his own signature sneaker, that derives in part from Warhol.
My mom, who was an art major in college in the 1940s and might have had an art career, or at least a bohemian life, if she hadn't instead met my father and moved to the suburbs, has always hated Warhol. She holds him responsible for what she calls "the death of aesthetics." That's because she thinks the function of art is to be beautiful, while I think the function of art is to make people think (although those two goals aren't mutually exclusive, obviously).
Personally, I love Warhol's work (Mom and I often disagree about art), but here's a confession: If I had been around when Warhol came on the scene in the late 1950s and early '60s, I think I might have hated him too, or at least dismissed him. I would probably have viewed his work strictly as an example of creeping consumerism and the plasticity of American culture, rather than as a commentary on those tropes. Even now, I wonder how much of my affection for Warhol is due to his connection to the Velvet Underground, the band he took under his wing and featured in his performance productions in the 1960s while also designing their first LP cover. (He also dressed them up in black clothing and sunglasses — a uniform!) Like many geeky male teens who were more into music than visual art, I had my first real exposure to Warhol via the Velvets, and it made him instantly cool to me, so I learned more about him, sought out some of his art, and so on. Without the Velvets connection, would I have embraced his work as readily as I did? I wonder.
Anyway: I really liked the exhibit, which included drawings, paintings, sculpture, and more. I took way too many photos and don't have time to annotate them, but you can see a few dozen of them here. Enjoy — and if you're in the NYC area, see the show while you can. It's great!