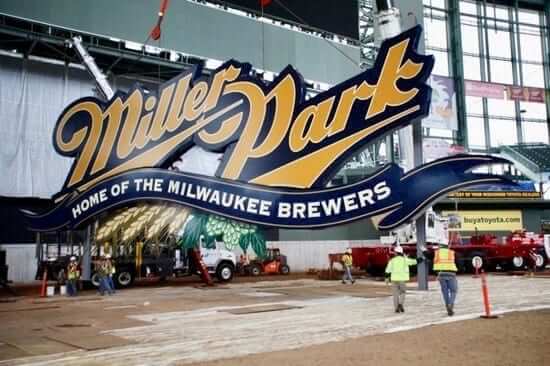 News broke yesterday that the name of the Brewers' stadium, which for the past two decades has been an ad for a brewery, will soon become an ad for an insurance company. The change will become effective at the end of 2020.
This news led dozens of people to contact me via social media and email to ask how soon I'd be producing an "I Still Call It Miller Park" T-shirt as part of our Naming Wrongs project. Several people even offered to pay for a shirt immediately, so they could have it shipped as soon as it was designed.
I completely understand why people are upset about the name changing. But as I explained to everyone who asked, we don't do shirts that honor corporate stadium names — only non-corporate names — so we won't be doing a Miller Park shirt. It was interesting (and, frankly, depressing) to see that there are so many people out there who are aware of Naming Wrongs but don't understand the idea behind it. But even more interestingly, several people then responded by saying (I'm paraphrasing here), "You should make an exception for Miller Park, because the team is called the Brewers and because Miller is a beloved hometown brand."
I understand what those people were trying to say, but nuh-uh. Leaving aside Miller's rather dubious "hometown" status (over the past 17 years, Miller has been purchased by a South African conglomerate and then spun off as the property of several different subsidiaries; it's currently owned by a joint-brewery subsidiary headquartered in Chicago, which in turn is owned by an American/Canadian multinational headquartered in Denver, all of which may explain why they felt no particular need to extend their naming rights deal), my decision not to do a Miller Park shirt isn't just about the name itself. It's about the whole system of teams selling off their stadium and arena identities to advertisers, which is bad for fans and bad for cities. If the Brewers had called their building Brewers Ballpark or Milwaukee Stadium to begin with, like they should have, we wouldn't need to be having this discussion. This is just another example of how corporate-advertised stadium and arena names suck, no matter how "appropriate" the advertiser may seem. You end up with no consistent identity and no civic equity. You're just in the billboard business.
One person who I explained this to responded, with no apparent irony, "Yeah, I see what you mean, but you should really do the shirt anyway, because of all the money you'll make!" — which, of course, is precisely the mindset that has now resulted in the name of the Brewers' ballpark changing from a brewery advertisement to an insurance company advertisement. Sigh.
Over the years, many people — knowing that I hate naming rights but love Wisconsin and Milwaukee — have said to me, "Sure, naming rights deals aren't ideal, but don't you think Miller Park isn't so bad? You know — beer, the Brewers, Wisconsin's brewery heritage. It's one of those partnerships that makes sense for everyone involved!" And sure, I totally get that on some level Miller Park seems less objectionable than a lot of the other more cringe-worthy stadium and arena names. But if there's anything we can learn from yesterday's announcement, it's that the Miller Park name never "made sense" for anyone on any deep cultural level. If the deal truly made sense for Miller, why are they letting the deal expire instead of renewing it? If it truly made sense for the Brewers, why didn't they offer to lower the price for Miller instead of accepting a higher bid from the insurance company? The reality is that it never "made sense" anywhere except on a balance sheet, and pretending otherwise is just a romantic fantasy.
Miller beer will still be sold at the stadium. The company issued this statement, which perhaps says more than it means to:
While the name on the stadium will change after the 2020 season, we fully expect Brewers fans inside and outside the stadium will continue to celebrate every home run and every strikeout with one of our beloved brands.
Not "our beloved beers" — "our beloved brands." That's really sad.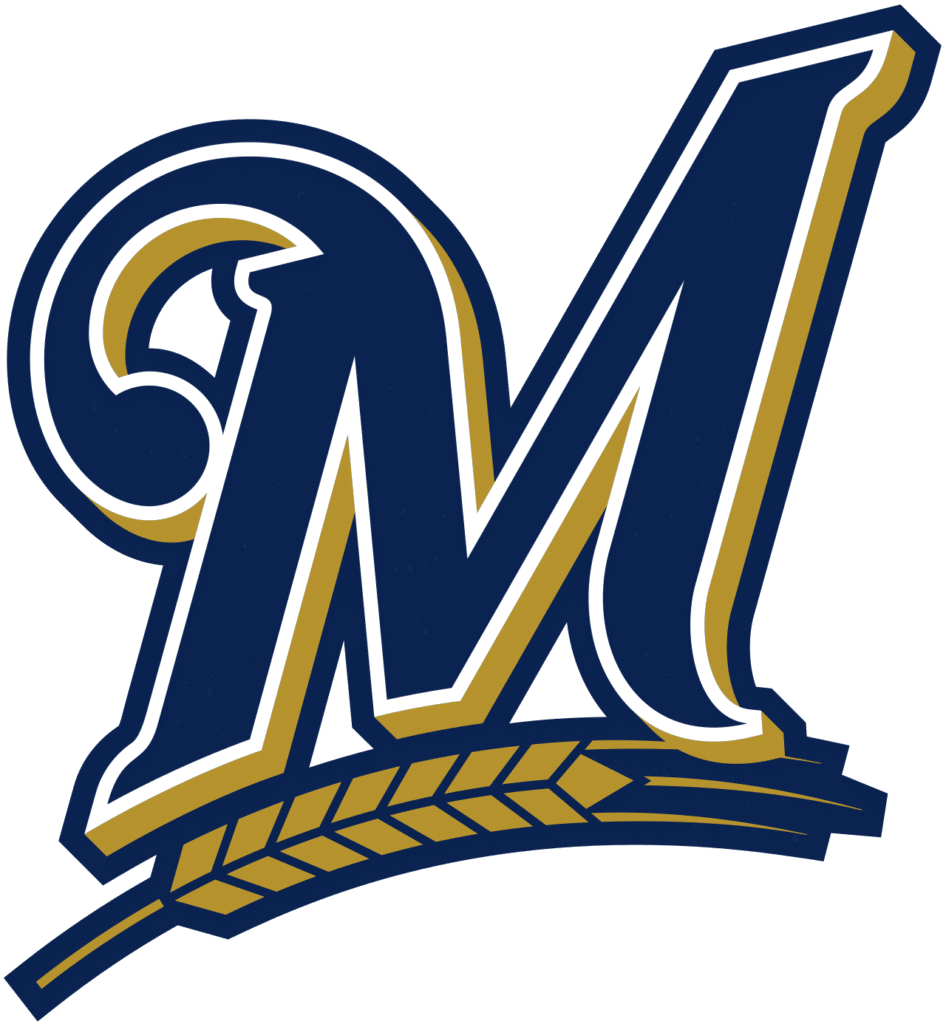 Meanwhile: The first thing I thought of when I heard about the new stadium name was, "Hmmm, I wonder if they'll change their primary logo," which has always seemed transparently evocative of the Miller script. Given the unrelenting clamor for a return to the ball-in-glove "mb" logo (or, really, any change from the current design, which has been snoozeville from the moment of its launch), it wouldn't surprise me to see them make a change in 2021. But if they do, that would pretty much confirm that the current design was always just a Miller tie-in, which is pretty gross. Doesn't seem like they'll be able to do that with their new stadium-name advertiser's logo, though, which is perhaps the best thing we can say about the new naming rights deal.
• • • • •
• • • • •
Click to enlarge
Lunch angle: How much do I miss baseball? This much: The Tugboat Captain and I had lunch yesterday at the venerable Manhattan sandwich joint Eisenberg's, where I ordered a pastrami on rye. When our platters arrived, I took one look at mine and immediately thought, "Hmmm, blue and orange toothpicks — Mets colors!"
How long until pitchers and catchers?
• • • • •
• • • • •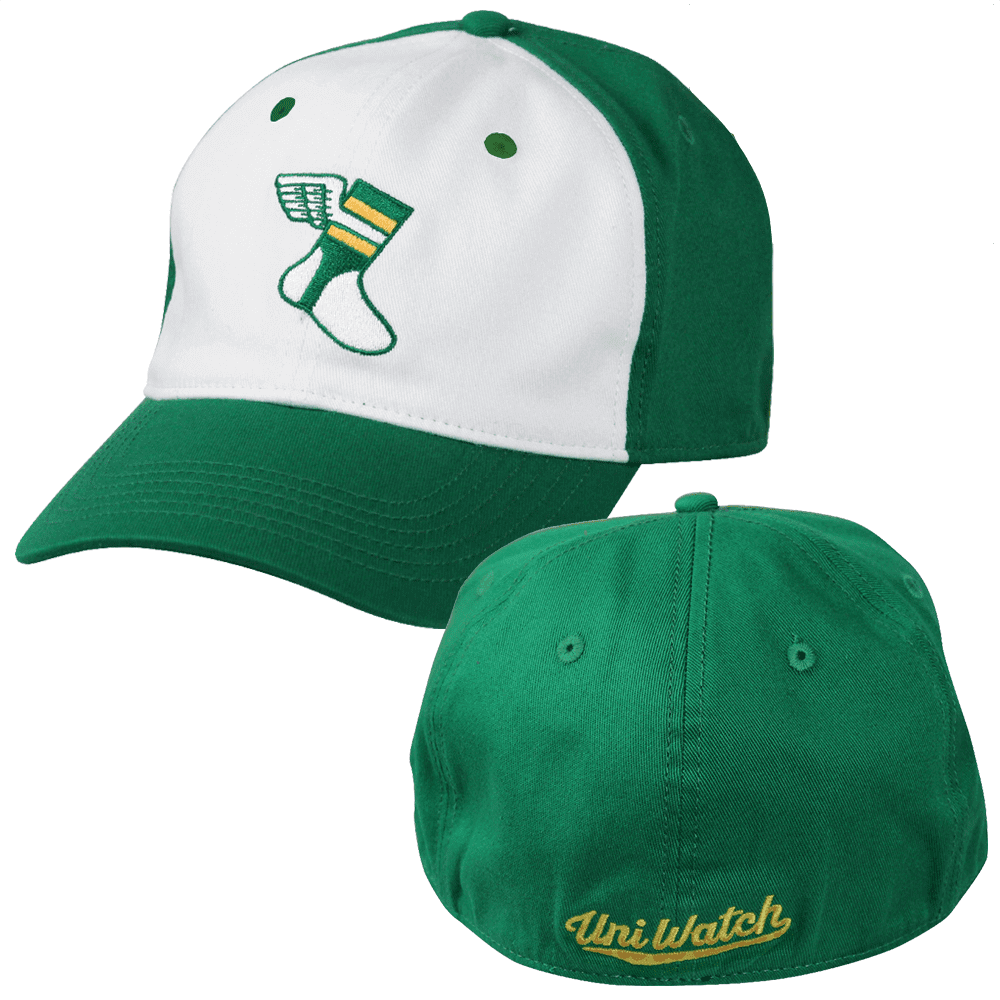 ITEM! Cap reminder: In case you missed it earlier this week, on Monday I asked how many of you would be willing to order a flex-fit Uni Watch Alternate Cap in size S/M for the cut-rate price of $10.99 plus $4 for shipping (further details here), and yesterday I asked those of you who responded affirmatively to put your money where your mouths are by going ahead and pre-ordering the cap.
Without going into specific numbers, it would be fair to say that the number of people who said they'd pre-order was a lot higher than the number of people who actually did pre-order. So I'm asking again — if you want one of these caps, please do one of the following:
1. Send me $14.99 via Venmo, using @Paul-Lukas-2 as the payee. (This is my preferred payment method, because there are no fees.)
2. Send me $14.99 via Zelle, using plukas64@gmail.com as the payee. (Again, no fees.)
3. Send me $14.99 with this Amazon Payments button (if you don't see the button, refresh the page):
Whichever payment method you choose, please email me and give me your shipping address after making your payment.
Sorry, American customers only for this deal.
I should be able to ship the caps in early February. Thanks for helping me move this inventory.
• • • • •
• • • • •
The Ticker
By Lloyd Alaban

Baseball News: Yesterday — Jan. 22 — has been a momentous date in the uni-verse. In 1929, the Yankees announced that they'd be adding numbers to their uniforms, and in 1960 the White Sox announced that they'd be adding NOBs (from @BSmile). … Adam Vitcavage found these vintage MLB mini-pennants in his aunt's house. … Orioles C Mickey Tettleton is wearing an interesting double-striped mock-neck collar in this card (from Hovan Patey). … Someone set out to find a minor league cap for every letter in the alphabet. Turns out 24 of the 26 letters are accounted for. … Pirates Double-A affiliate Altoona Curve will become the Allegheny Yinzers for select home games this season. A Yinzer is a person who hails from the Pittsburgh area (from Darien Somers). … The Phillies are adding a beer garden to their ballpark, complete with the Liberty Bell that topped their previous home, Veterans Stadium (from Arthur Savokinas). … Newly elected Hall of Famer Mike Mussina says he isn't sure whether he wants to be depicted in an Orioles cap or a Yankees cap on his Cooperstown plaque. … Deadspin did a ranking of newly elected Hall of Famer Roy Halladay's caps (from Mike Chamernik).

Pro Football News: The Rams will apparently be the first team in NFL history to wear different helmet designs in the conference championship and the Super Bowl. They wore white horns last Sunday and will wear yellow horns for the Super Bowl (from Andy Zare). … The grounds crew in Atlanta is getting to work on the Rams end zone for the Super Bowl. This will be the fourth different end zone design the Rams will use in the Supe (from Jon Anker and Joe H.). … Still mad about how the refs handled the NFC Championship Game? Now you can buy a shirt featuring the New Orleans Times-Picayune's headline about the game (from John Stinson). … About two seconds into this video, you can see the Browns using their interlocking "CB" logo at midfield at Cleveland Stadium (from @The_Real_Cub). … The 1968 Jets have some crazy stories about their Super Bowl rings (from Mike Chamernik). … It looks like the Montreal Alouettes of the CFL found a quick solution to changing facemask colors: Just dip them in white paint (from Pro Football Journal).

College Football News: Following up on yesterday lede about a 1960 photo of a Clemson player getting ready for a game, Douglas Ford dug deeper into Clemson football history and found this orange-cleated photo gem. … Tim Dunn found this list of Clemson media guides, a couple of game programs, and a video of the team storming down "The Hill."

Hockey News: Everyone's familiar with Islanders C Butch Goring's Jofa helmet, but was anyone aware of these strap-tied skates? (From Steve Helldorfer.) … It looks like helmets at this Saturday's NHL All-Star Game will have decals with division names on them (from Rick, who didn't give his last name). … Here are the sweaters for this year's CHL/NHL Top Prospects Game (from Wade Heidt). … The Cleveland Monsters of the American Hockey League will be wearing astronaut-themed uniforms for Moon Landing Night on March 23 (from DJ Morvay).

NBA News: PF/C Kenneth Faried is wearing No. 35 with the Rockets (from Etienne Catalan). … Mavericks G Luka Doncic took his frustrations out on his jersey last night, ripping it apart in anger (from our own Anthony Emerson).

College/High School Hoops News: New alternates for Clemson men's (from @DaveGH2P). … The University of South Carolina Upstate debuted new uniforms this season with white on white numbers. Perhaps due to visibility issues, they've updated their numbers to black (from James Lightsey). … The University of Kentucky men's coaches will wear these sneakers for their annual Coaches vs. Cancer Week (from Josh Hinton). … Indiana and Northwestern went black vs. red last night (from Kenneth Traisman). … In that same game, Indiana Assistant Athletic Director for Basketball Administration Bill Comar wore tennis shoes on the sideline last night in support of Princess Lacy's Legacy, a child cancer charity (from Eric Farrell).

Soccer News: The following three items are from Josh Hinton: Brazil's new home shirt has leaked. … LAFC's away shirt has leaked. Newell's Old Boys has released their new home shirt. … The Chicago Fire have a new shirt advertiser. Here's how it looks like on their new alternate shirt (from multiple readers). … The El Paso Locomotive of the USL Championship have revealed their shirts.

Grab Bag: Even though Florida wears Jordan brand and Nike, their lacrosse team is outfitted with Under Armour. The lacrosse squad is just a club team, so they're not under the same outfitting rules as the official school teams (from Hunter G and Mark M). … Jeremy Brahm observes that the Norway men's national handball team looks like they're wearing sweaters at this year's Handball World Men's Handball Championship. … The WWE has inked a new deal with New Era. … New uniforms for Liberty lacrosse. … Here's a profile on the laundry man for many of the world's top musicians (NYT link) (from Tommy Turner). … This writer has a theory as to why 2020 presidential campaign logos are straying away from blue and red. … President Trump's social media team has apparently been digitally altering photos of him to make him look thinner and longer-fingered (from Ted Arnold). … Here's a shot of every Florida license plate design from about 1911 to about 1980.
• • • • •
I have to vist my mom today. See you back here tomorrow. — Paul