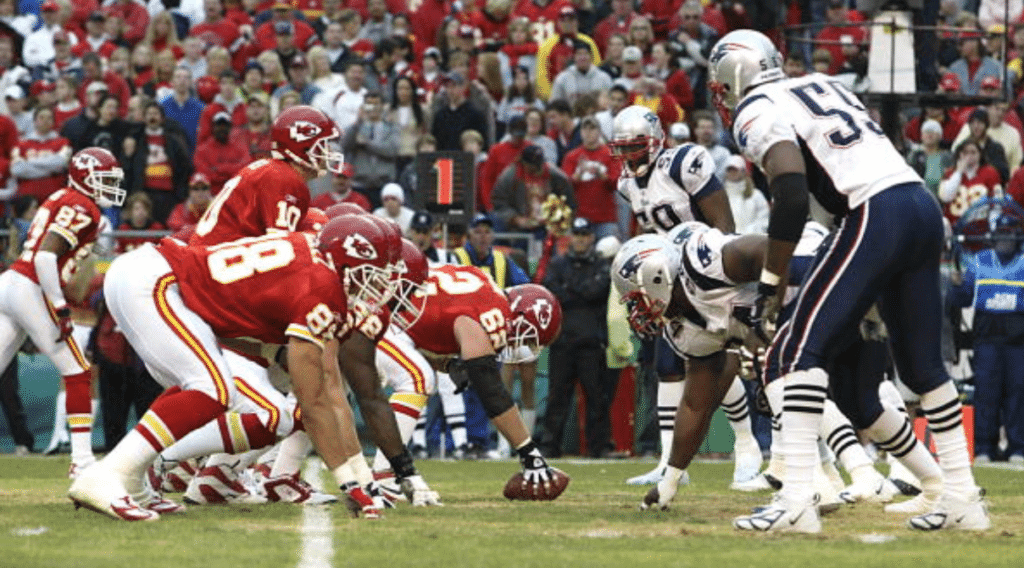 The photo above is from a 2005 Chiefs/Pats game. The two teams' uniforms have barely changed in the intervening 13 seasons, so this is roughly how this Sunday's AFC Championship Game in Kansas City will look. Not a bad-looking matchup, aside from the Pats' side panels, right?
Unless, that is, the Chiefs choose to do what they did the last time these two teams played at Arrowhead, in 2014: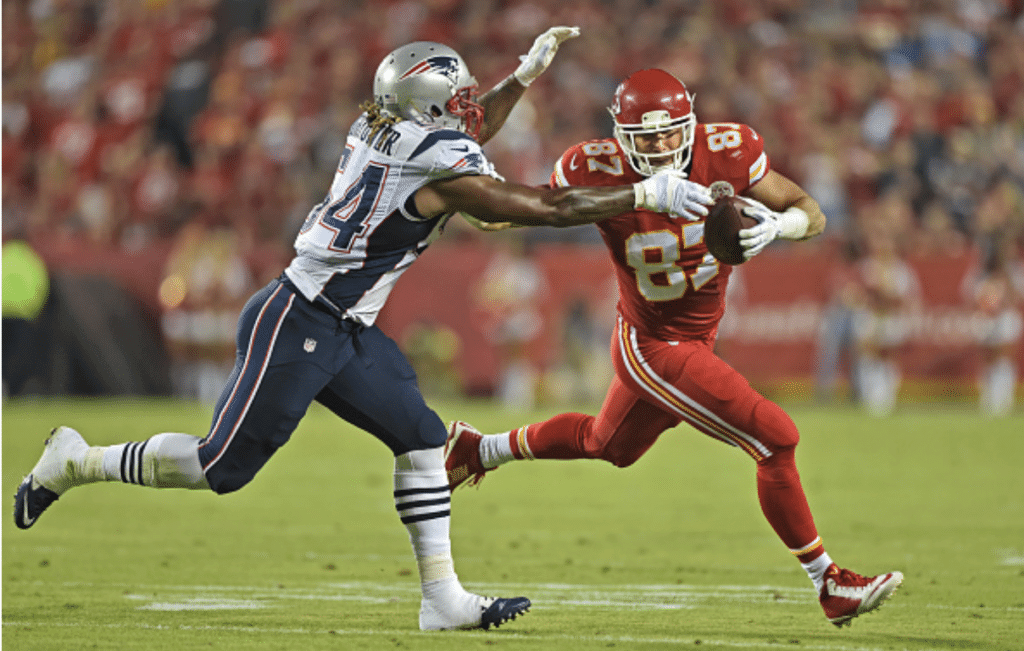 That was the second time the Chiefs ever went mono-red. I certainly don't expect them to do it this Sunday (jeez, let's hope not), but I never would have expected them to do it in the first place either.
As for the NFC Championship Game, the Saints and Rams played in New Orleans just two months ago (the Saints won, 45-35). Here's how it looked:
I'm assuming that the Saints will once again go mono-black (sigh). The Rams could go with white pants, instead of blue. Either way, it'll be a grim-looking game. I hope everyone will be rooting for the Rams, because (a) we don't want to see a mono-black team in the Super Bowl, and (b) if the Rams win, they'll presumably wear their throwbacks in the big game.
A few other notes:
• Saints running backs Alvin Kamara and Mark Ingram II wore gold visor clips yesterday (click to enlarge):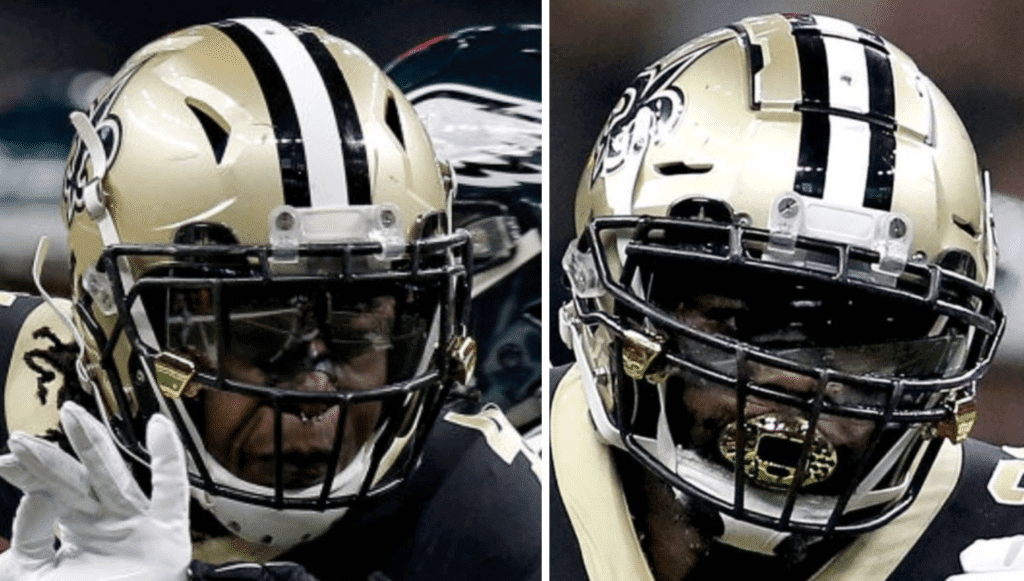 That was new — they had previously gone with black.
• Speaking of Kamara: As you can see in that last photo (he's the one on the left), he has a septum piercing and wears it on the field. If the Saints win on Sunday, would he be the first such player to appear in a Supe? I'm not aware of anyone else having done so.
• Saints quarterback Drew Brees has been wearing an unusually large number of jersey patches this season: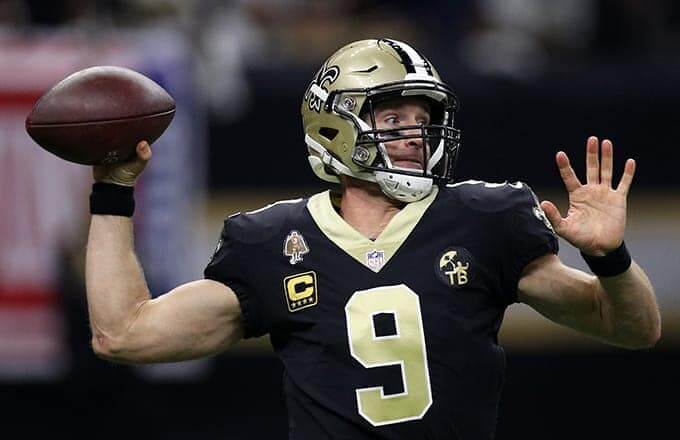 If the Saints beat the Rams, how will they fit the Super Bowl patch on his jersey? Will they scrap one of the other patches (maybe the "C") to make room?
• After all four of the winners in the Wild Card round wore white jerseys, all four winners in the Divisional round wore colored jerseys.
• If the Saints and Chiefs win this Sunday, we'll have the unlikely spectacle of both Super Bowl teams wearing blank nose bumpers. There are only three blank-bumpered teams in the league (the other one is Washington), so the odds of two of them meeting in the Supe are pretty long.
• All four teams in the conference championship games have two-word geographic locators: New England, Kansas City, New Orleans, Los Angeles. The last time that happened was in 2008: New England, San Diego, New York, Green Bay.
(My thanks to Adam Triesler, Joey Harvey, Robbie Margason, and @HelmetStalker for their contributions to this section.)
• • • • •
• • • • •
Click to enlarge
Too good for the Ticker: There are bowling pins, and then there are bowling-themed pins! DIY genius Wafflebored recently scored one of the latter. Is that spectacular or what? Looks like it was presented to someone who tossed a 232 — one pin more than my high game. So this pin is something for me to aspire to, in more ways than one.
It was particularly nice of Wafflebored, who's Canadian, to use an American dime for scale. Thanks, man!
• • • • •
• • • • •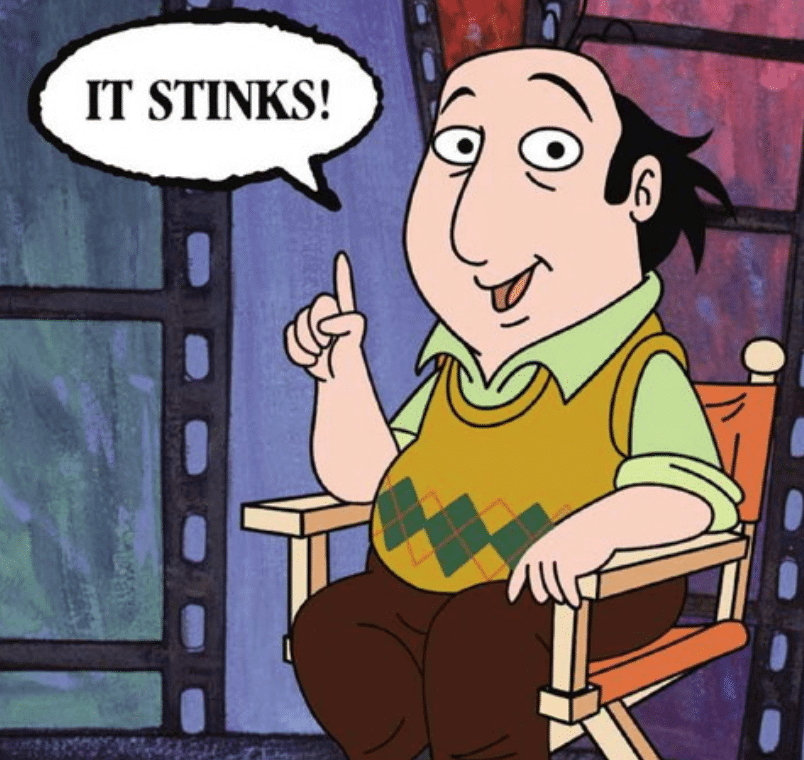 The state of criticism, continued: I've written before about the role of cultural criticism and my own role within that world. Now movie and music critic Rob Harvilla has written a good piece for the Ringer about the role of the pan (i.e., the negative review). Lots of interesting stuff here — worth reading.
To my surprise, though, Harvilla's piece does not mention what I consider to be ur-pan of the past decade or so: New York Times restaurant critic Pete Wells's controversial 2012 takedown of Guy Fieri's restaurant in Times Square, which went viral and is probably the thing for which Wells is best known. I like and respect Wells, but I've always thought it was a huge mistake for him to have written that review (among other issues, nobody who goes to Guy Fieri's tourist trap cares what the NYT's food critic thinks of it, and nobody who reads NYT food criticism would ever go to Fieri's tourist trap in the first place, so the whole exercise seemed masturbatory). Seems like a big omission in Harvilla's otherwise solid Ringer piece.
While we're at it: New York Times film critic Manohla Dargis recently ran a very interesting piece on what it's like to be a female film critic. Also recommended.
(My thanks to longtime reader Jason Hillyer for bringing Harvilla's piece to my attention.)
• • • • •
• • • • •
The Ticker
By Jamie Rathjen

Baseball News: Looks like the Braves' "Chop Fest" event, which takes place this Saturday, will feature a uniform unveiling (from David Welch). … Also posted in hockey: The ECHL's Worcester Railers wore Red Sox-themed uniforms, because the Triple-A Pawtucket Red Sox are planning to move to Worcester in 2021 (from MB Whitehead and Zach Pearce).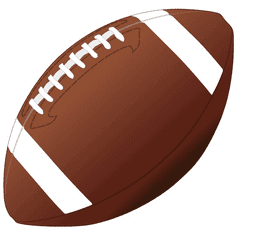 Football News: Reader Art Savokinas found a website that uploads original broadcasts of old Steelers games and sent us an example picture showing the Browns' one-off orange numerals from the 1984 preseason. … FNOB alert! That's Falcons OL Brent Adams in a 1977 game against the Bills. Interestingly, he was the only Adams on Atlanta's roster that year, but the roster also included Bob Adams in 1976. So this jersey was apparently a holdover from the previous season and they didn't bother to update the nameplate (from Dave Buchanan).

Hockey News: The OHL's London Knights wore throwbacks — with a different shoulder yoke — to the 1994-2002 "Spiderknight" era, when they wore the same purple and teal as the then-Mighty Ducks and had a cartoonish logo. The Knights' colors have otherwise always been green and gold, and in the '80s they wore these helmets with a frontal stripe and logo (from Wade Heidt). … More from Wade: The QMJHL's Shawinigan Cataractes have also been wearing throwbacks (white and blue). … The ECHL's Wheeling Nailers and Indy Fuel dressed up like SpongeBob and Mr. Krabs, respectively, even using the show's font for their numbers (from Yancy Yeater). … Cross-listed from the baseball section: The ECHL's Worcester Railers wore Red Sox-themed jerseys, because the Triple-A Pawtucket Red Sox are planned to move to Worcester in 2021 (from MB Whitehead and Zach Pearce). … Tris Wykes sent us this picture of a New Hampshire youth team using the old Thrashers template.

Basketball News: A huge Jazz fan who passed away this summer got his entire family Donovan Mitchell jerseys, which they received at Christmas (from Mike Chamernik). … In this 1960-61 team picture of now-Division II Elizabeth City State, they're wearing jerseys with names-on-front (from Jerry Pemberton). … Here are the uniforms from yesterday's Chinese Basketball Association All-Star Game.(from Jeremy Brahm).

Soccer News: An English amateur team in Leeds believes it's the first to wear an anti-gambling shirt "ad". … West Ham United's women's team have been wearing a proprietary, but plain, number font this season that I believe hasn't appeared on the men's team. … Japanese top-tier teams to have released kits or shirts recently include Shonan Bellmare, Sanfrecce Hiroshima, and Yokohama F. Marinos (first, second, and a local cities-based sleeve patch). … Two of the great shirt numbering-style idiosyncrasies of the past can be seen in this picture from Scotland: Celtic's no-numbers-on-back and Airdrieonians' tiny numbers shrunken to fit inside their trademark red chevron.

Grab Bag: Loud curling pants are now becoming a thing outside the Norwegian national team (from Ted Arnold and @ohhhsourry). … The NLL's Colorado Mammoth wore solid black alternates (from Wade Heidt). … There's a company that's promoting mental health awareness by creating caps for a "sports league" with "teams" representing different disorders, such as anxiety or bipolar disorder, with "expansion teams" to come (from @bryant_rf).