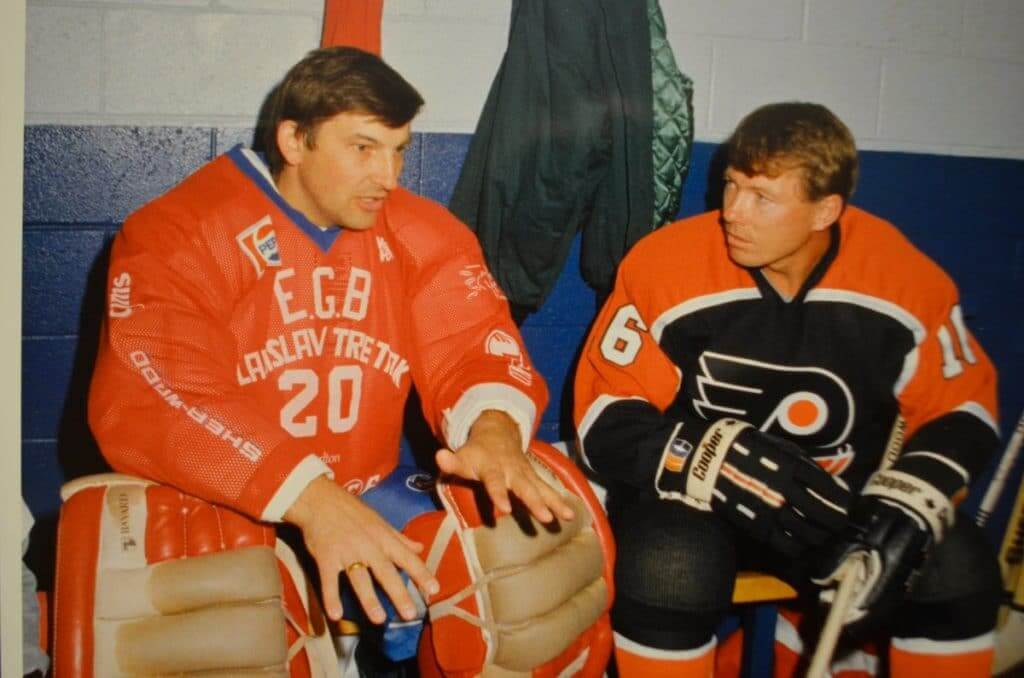 Click to enlarge
Sometimes you come across an old photo that's so mind-blowing, and is packed with so much uni-related goodness, that it merits its own blog entry all by itself.
That's the case with this 1980s shot of former Flyers great Bobby Clarke and Soviet goaltending legend Vladislav Tretiak hanging out at some sort of alumni/old-timer's event, which was posted on Twitter yesterday on the @FlyersAlumni and brought to my attention by one of my followers, @BeeTEE15. How cool is this photo? Let us count the ways:
• Clarke is wearing a Flyers Alumni uniform. That design — black with orange trim — has never been used by the Flyers. It's not bad, right? If you look closely you can see part of the word "Alumni" peeking out from behind Clarke's right glove. Here's how it looks unobstructed.
• Tretiak has his full name on his jersey!
• Above Tretiak's name are the initials "E.G.B" — but there's no period after the third letter (or maybe it's just hidden behind a fold of the fabric).
• I grew up watching Tretiak in various Olympics and NHL/Russia series, but it never occurred to me until now that it was a bit odd for him, as a goalie, to wear No. 20.
• There's something odd about a Pepsi ad patch on a Soviet player's jersey, no? Capitalist imperialism!
• There's a lot of activity on Tretiak's sleeves. "Sher-Wood" is obvious enough, but I don't recognize any of the other markings. Anyone..?
• Note the unusual wraparound inner-knee padding on Tretiak's leg guards.
• Tretiak appears to be wearing a wedding band — on his right hand. (Update: Several commenters have now informed me that in many countries, including Russia, it's common to wear the wedding ring on the right hand.)
• See that jacket in hanging in the background? I'm a sucker for any garment with a quilted green lining. (Okay, I don't expect anyone besides me to care about that.)
That's a lot of mileage from one photo! Did I miss any details?
• • • • •
• • • • •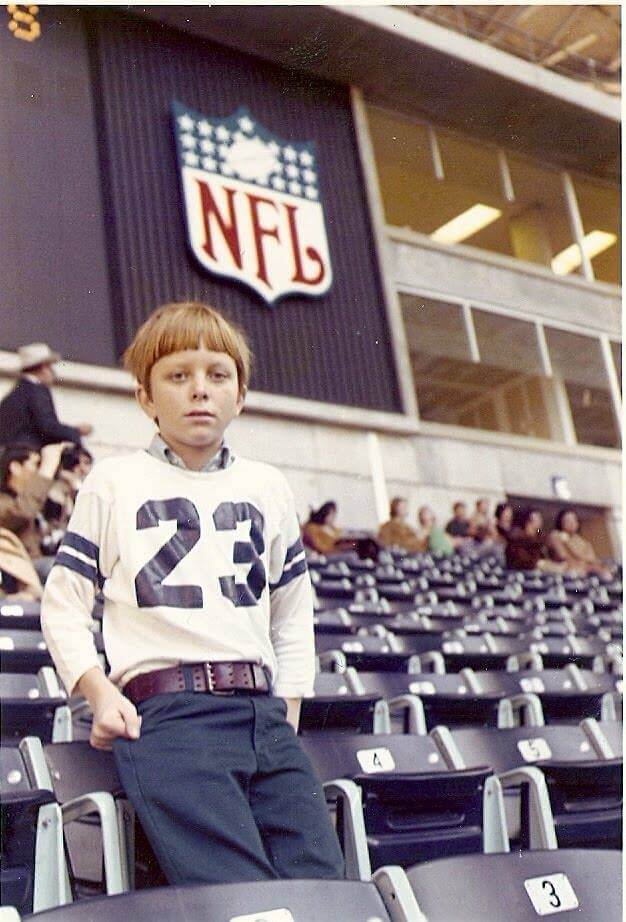 Portrait of the artist as a young Cowboys fan: Who was that posing at Texas Stadium exactly 47 years ago yesterday? None other than our own Collector's Corner columnist, Brinke Guthrie, who was getting ready to take in the 1972 NFC Championship Game (Cowboys 14, 49ers 3, grrrr).
Much like the Clarke/Tretiak photo, this shot has a lot going on. There's something really perfect about it — the various shades of blue, the three-quarter-length sleeves, the triple-pronged belt buckle, the bowl cut, the NFL logo perched above Brinke's head. And look, Brinke's jersey number sequences perfectly with the seat numbers in his row! Love it.
And as long as we're talking about Brinke, he wrote the next two sections of today's post. So without further ado…
• • • • •
• • • • •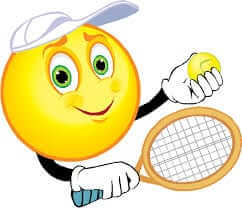 Pro Tennis Roundup

By Brinke Guthrie
The turning of the calendar is always a busy time for pro tennis, where players tend to switch their apparel endorsement contracts at the start of a new year. Here's a rundown of some of the latest activity:
• Tomas Berdych (ex-Adidas) and Francisco Lopez (ex-Ellesse) are now with the Italian clothing line Hydrogen, famous for its skull logo.
• Fabio Fognini has moved from Hydrogen to Emporio Armani (to my knowledge, the brand's first foray into tennis).
• British No. 1 player Johanna Konta (ex-Asics) is now with Ellesse, but still wearing Asics shoes.
• Monica Puig (ex-Ellesse, but previously wore Asics shoes) is now head-to-toe with Yonex. She also uses a Yonex racquet.
• Under Armour has dumped any pretensions of a specific tennis line (they never had one) after five years with Andy Murray. His badly mismanaged deal ended Dec. 31. To start the year, he's still wearing UA clothes but now Nike shoes rather than UA, which were never made available to the public since they were actually reverse-engineered Adidas Barricades that he used to wear. Great work by UA — sign a top-10 guy but never sell his shoes!
• Roger Federer is still wearing Nike shoes even though he has no deal (at least that anyone knows about) and his "RF" logo still being used by Nike at retail. But one fan in Australia says they saw a Uniqlo T-shirt with the "RF" on the front. No photo, though.
• This last item isn't about endorsement deals but is still worth noting: Caroline Wozniacki's Australian Open apparel will be made from recycled plastic waste.
• • • • •
• • • • •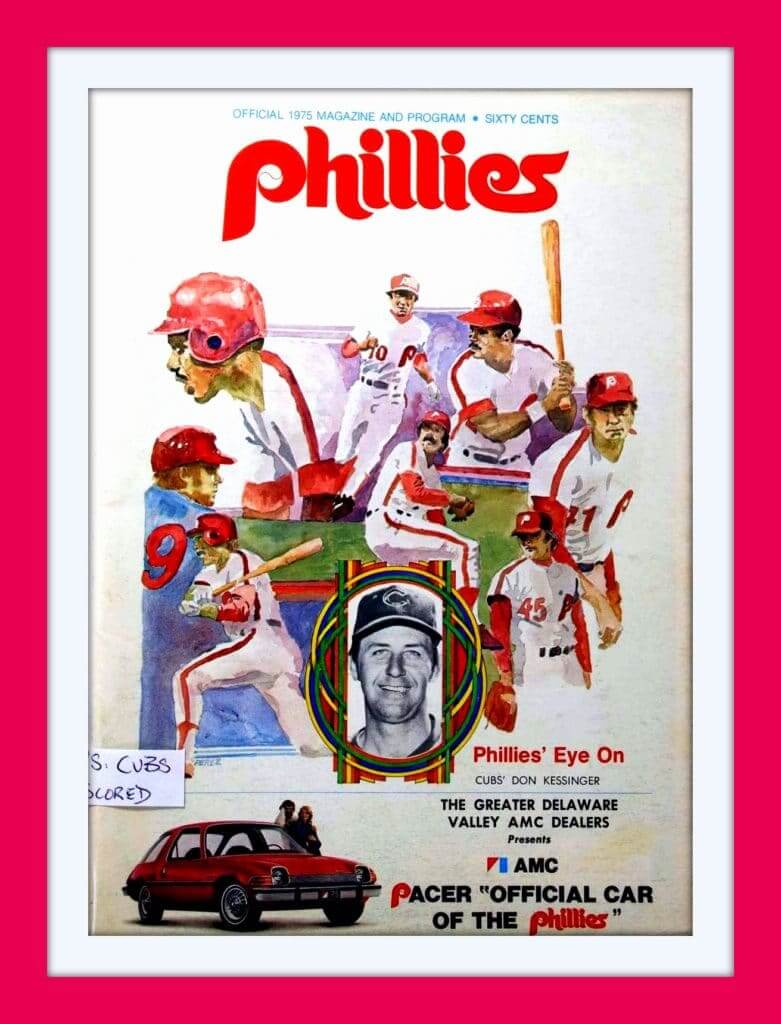 Click to enlarge
Collector's Corner
By Brinke Guthrie
And we're off with the first Collector's Corner of 2019. First off, how about this cover of a 1975 Phillies game program. Nice-looking artwork, looks to be Schmidt, Tug, and Luzinski, among others. What caught my eye was the ad at the bottom: The AMC Pacer was the official car of the Philadelphia Phillies, and some bright art director said "Hey! Let's use the team logo for the 'P' in 'Pacer'!" You can bet he got some free box seats out of that idea!
Now for the rest of this week's picks:
• Let me state for the record that those yellow ABC Sports blazers from the 1970s were totally cool. And nobody wore that blazer better than the effortlessly cool sports announcer Chris Schenkel. Lock your hair down with hairspray and pair the blazer with some tinted Ray-Bans and a turtleneck for that classic 1970s "You are looking live…" sports announcer look! Anyway, here is Mr. Schenkel narrating the NBA record album 25 Action Years You get "exciting play-by-play action, stories and interviews." (Turntable not included!)
• This lot of 1970s NFL stickers includes of pair of New York Giants items with the "disco" NY logo. (Along with the Atlanta Flames and Cincinnati Stingers, that's my favorite defunct logo.)
• Okay, here's another defunct logo worthy of "best in class" consideration: You could make a strong argument that the 1970s San Diego Clippers logo as shown on these pennants is much cooler than what the franchise has now.
• More nice 1970s artwork on these 1974-75 Sixers skeds! This lot of pro basketball schedules also includes the New Orleans Jazz and Baltimore Bullets.
• This 1960s Detroit Lions bobblehead is in mint condition, in the original box.
• If you're going to knock off the Steelers logo for a DIY sticker, be smart enough not to include the city name. Or if you must include it, at least spell it correctly!
• The ticket stub from the 1969 MLB All-Star Game included a representation of RFK Stadium, where the game was held. And look at the price- $12 bucks for a lower-level box seat! (That was a big week — the first moon landing was just a few days prior.)
• Here's a 1960s Cincinnati Bengals Pendleton stadium blanket, for those chilly fall Sundays at Nippert Stadium.
• The Cowboys helmet is well represented on this 1960s Acrometal copper plaque.
We'll resume our usual Tuesday schedule next week. See you then!
Seen an item on eBay that would be good for Collector's Corner? Send any submissions here.
• • • • •
• • • • •
The Ticker
By Paul

Baseball News: A big stash of sports memorabilia, including 40 autographed Twins jerseys, was stolen from a Minnesota collector's home last month. … Good article on lots of new MiLB secondary logos. … Interesting new cap for the Miami Hurricanes (from Adam Apatoff) … @MYantz made an infographic honoring every jersey Edgar Martinez wore during his MLB career.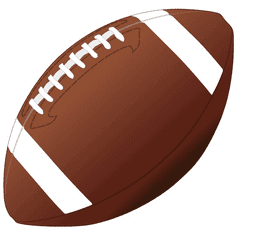 Football News: Here's a graphic showing a week-by-week look at what the Titans wore during the first season of their new uniform set (from @titansuni). … Did you know Clemson once had a tiger-striped collar? "Those need to be worn as throwbacks next year," says Darren Stoltzfus.

Hockey News: Star Wars jerseys for the Hershey Bears. … Pink in the Rink upcoming for the U. of Arizona. … Penguins C Evgeni Malkin wrote a message on his skates last night in support of building explosion victims in his native Magnitogorsk. Here's a close-up (from Jerry Wolper).

Basketball News: Jarnell Stokes, newly signed by the Grizzlies, will wear No. 2. … Pretty cool cartoon mascot cap for Northwestern. … Tulane F Kevin Zhang wore mismatched shoe colors last night. … It's one thing to roll the waistband on your shorts. It's another to leave the inner tag flapping in the breeze, as was the case last night with Iowa State G Tyrese Haliburton (from Kary Klismet).

Grab Bag: Buried within this article is the following: "Another big event at American [Airlines] slated for the very end of 2019 will be the rollout of new uniforms for frontline employees from Lands' End. They will replace uniforms from supplier Twin Hill that are alleged to have caused symptomatic reactions among thousands of AA frontline employees." … Ohio State is considering legal action against a weight-loss company that's been using a trademarked OSU logo. … In a related item, the band Nirvana — or what's left of it as a legal entity — has sued the clothing brand Marc Jacobs over alleged misuse of the band's copyrighted "smiley face" design. … Reader Kevin Moore has a pretty cool display for his ticket stubs. … Here's a podcast featuring a Nike rep talking about the company's uniform design process. "There's some Nikespeak, but also some more down-to-earth stuff," says Dale Alison. … New combat uniform in the works for the U.S. Air Force. … The West Virginia city of Moundsville is trying to decide upon a new city logo. … Penn State is trying to trademark the term "Happy Valley" (from William Yurasko). … New uniforms for the Chennai Spartans, a team in the new Pro Volleyball League in India.
• • • • •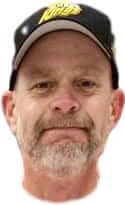 Please join me in wishing the happiest of birthdays to the guy who steers the Uni Watch ship on the weekends — as well as a great friend and a great guy — deputy editor Phil Hecken, who's turning 39 yet again (he's really good at it by this point). Have a great day, buddy! Here's hoping you get everything you wish for when you blow out the candles. — Paul