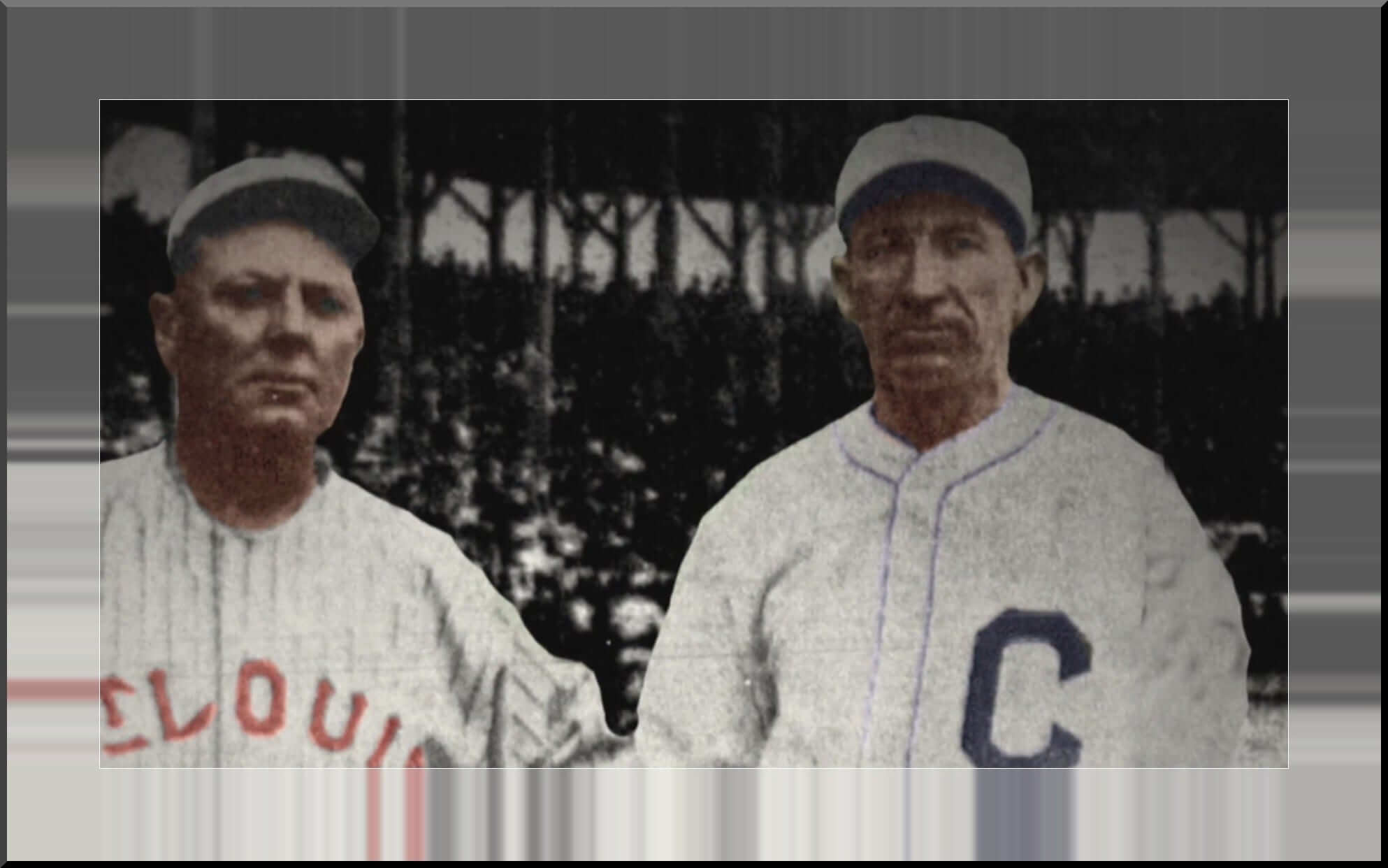 By Phil Hecken, with Cam Miller
Follow @PhilHecken

A few months back, I featured Cam Miller, a film maker, composer, motion graphics editor, baseball historian and freelance writer, in an introductory article outlining the man and his work. In that article, Cam shared numerous projects he'd done in connection with the Cincinnati Reds Hallof Fame Museum. One of those was a documentary film on the Covington Blue Sox, a Federal League baseball club in based in Covington, Kentucky, and which played about one half of one season in 1913. Prior to that interview with Cam, I'd actually heard of the Blue Sox, as last year the Florence Freedom (a minor league club) had a "Covington Blue Sox Night" at their park, and dressed in uniforms that have a special place in my heart: vertical placket lettering (one of my first ever articles on Uni Watch looked at that particular uni-style).
It turns out the club was taking a bit of poetic license — the Blue Sox only wore those cadet collar jerseys with the vertical lettering for photos and parades — but still, it's a gorgeous uni and one I was happy to see resurrected (even if not quite historically correct). But it wasn't just the unis that fascinated me — I later found out that stadium in which the Blue Sox played was one of (if not the) smallest ballparks ever built for a professional baseball club, with crazy-short dimensions (218 down the left-field line, 267 to center and 194 in the right-field corner). With dimensions like these you'd figure that park would give up a ton of home runs, right? Nope — only ONE home run was hit in the short history of the ballpark, and that was an inside-the-park home run. Turns out the club established ground rules that stipulated that balls hit over the fences would be DOUBLES.
In researching the team a bit more, I chanced upon a great article which detailed Cam's film documentary on this club.
Miller first learned of the Blue Sox in 1998 when he stumbled upon a Blue Sox article while researching some family history at the public library. (He was born in Covington, raised in Latonia). After an hour of seeing Blue Sox articles pop up, he thought there might be a story there someday. He tinkered with it off and on over the next few years, then, while researching a Crosley Field film for the Reds Hall of Fame in 2009, he ran across a file folder of Blue Sox clippings, and decided, "I need to make this into a documentary."

Much of his spare time in the last five years has gone to just that.

Initially, he thought he'd be lucky to turn it into a 15-minute film, because there was nothing tangible to work with. No blueprints, no uniforms, no caps, no sweaters, no gloves, bats, cleats or balls; no programs. No photos other than the grainy images on microfilm. Not a single one of the small pennants with the blue "B" on them given out on Opening Day. No trace of the film of the parade and entire Opening Day game shot by the Rockwell and Grow Co. in Covington and shown two days later at the Colonial Theater on Madison between Fourth and Fifth, just a few blocks from the ballpark.

But Miller kept uncovering layers of backstory and subplots and — further developing his storytelling/filmmaking craft — ultimately produced a 2 ½-hour film, that he cut back to 35 minutes.
So when I asked Cam if he could share his film with us and to add to the story (he also has a book coming out!), he happily obliged. He even went so far to as to create a "directors cut" featuring a few separate minutes from the film on just the uniforms. That's below. Further down is the entire 36-ish minute film you really need to watch.
Here's Cam to tell us more about…
• • •
The Uniforms of the Covington Blue Sox
By Cam Miller
The 1913 Federal League Covington Blue Sox are a footnote in the history of baseball. They were formed in haste, played in a ballpark built in 24 days, and never had the chance to grow a fanbase in the shadow of the Cincinnati Reds. Their story is intriguing and the sheer fact that they even existed is a testament to the baseball-hungry fanbase on the southern side of the Ohio River who wanted nothing more than a team to call their own. Before being transferred to Kansas City in June of 1913, The 20-21-1 Blue Sox captured the hearts of Covingtonians and are perhaps one of the greatest "what-ifs" in the long and tradition-rich history of our national pastime.
In mid-April, Ben Eilerman, owner of Eilerman's Department Store on Madison Ave., went to the Blue Sox ownership with a proposal to provide the uniforms as a donation to the new Federal League team. Eilerman wished to display the uniforms in storefronts across the city leading up to Opening Day. The Blue Sox brass loved the idea. President Sam Long was thrilled with the proposition of having one less expense to worry about.
St. Louis Terriers mgr. Jack O'Conner and Covington Blue Sox mgr. Sam Leever pose before Blue Sox home opener on May 9, 1913
A few weeks later, 30 brand new uniforms and sweaters were delivered to Long. The home uniforms were white with blue trim, blue stockings, blue belt, and a white hat with a blue brim. A felt patch "C" with 45-degree angle cuts on ends was sewn on left side of the top. The away uniforms had the same blue trim, stockings, "C" patch and belt, but consisted of gray tops and bottoms and all gray hats. The blue sweaters also had a "C" felt patch on the left side. Both the home and away uniforms came with a Cadet Collar with felt lettering that spelled COVINGTON vertically down the collar. The removable collar was only used for photos and parades. There is no evidence that the collar was used in a game.
Blue Sox players posing with Cadet Collars in Cincinnati Enquirer in May of 1913
• • •
Thanks, Cam! That short bit above (plus the documentary short) get us into the unis of the club, but it's a fascinating story of a team that almost made it to the Major Leagues — the Federal League played its first season in 1913 and operated as a "third major league", in competition with the established National and American Leagues, from 1914 to 1915. The Blue Sox didn't make it to 1914 — one of the great "what ifs" as Cam noted above.
I recommend you check out the entire film below. Cam has done an outstanding job on the film and it's well worth your time. Enjoy!
And just for some shits and giggles, here's a photo of Cam in a replica Covington Blue Sox uniform!
Thanks, Cam!
[adrotate group="2″]

Kreindler's Korner
I had the distinct pleasure of featuring the wonderful artwork of artist Graig Kriendler on two occasions over the summer and fall of 2017.
For those who don't wish to click the links, Graig paints baseball heroes (and regular guys) from the past, and is an immense talent.
Occasionally, I will be featuring his work on Uni Watch.
Here's today's offering (click to enlarge):
• • •
Title: "A Learned Lemon"
Subject: Rube Marquard, 1912
Medium: Oil on linen
Size: 24″ x 20″

Rube Marquard remains a controversial subject when baseball historians talk about borderline Hall of Famers. Sabermetricians will usually side with the fact that his Adjusted ERA+ was only slightly better than the league average, making him an unlikely candidate for such an honor. His contribution to the Lawrence Ritter classic The Glory of Their Times may have been mostly responsible for his induction, especially considering his vaudevillian knack for storytelling. Even if it's believed that his entry was full of hyperbole, Frankie Frisch being the head of the Hall of Fame veteran's committee in the late 1960s and early 1970s didn't hurt either. Many of the players who were inducted into Cooperstown during that era had only moderate careers, but also happened to overlap with Frisch's – who apparently wasn't shy to claim that baseball was at its best in his day.

Nonetheless, Marquard is in the Hall of Fame. That's not going to change. And I would have painted him regardless – he just had a handsome face. What might have put it over the edge for me was that he's wearing one of my favorite New York Giants jerseys of all time, the home 1912 model. Those thick bluish pinstripes with that black 'NY' were such a nice combination here, especially with Rube seemingly showing off the team insignia with his bent arm. The tobacco and/or licorice stains also provide a nice touch, both as a break for the eyes and also to paint.

For what it's worth, Rube had a pretty good year in 1912. Aside from helping his ballclub get back to the World Series, he won 26 games. Astonishingly 19 of those wins came in succession, a clip from April to July win which he posted a 1.63 ERA. While that doesn't necessarily make for a Hall of Fame career, it doesn't hurt it. And it certainly helped his chances of being painting by me.
• • •
Thanks, Graig! You can (and should!) follow Graig on Twitter.
[adrotate group="2″]
Uni Watch News Ticker
By Phil

Baseball News: Last evening, to honor their first season in the bigs (1969), the Kansas City Royals wore throwbacks, complete with NNOB (from David Cummings). … The Trenton Thunder became the Trenton Pork Rolls (shoulda gone with Taylor Hams…) and of course, they had specialty unis (from OT Sports). … Would you like to win this SWEET A's retro t-shirt? Just follow the rules in the tweet (from Ignacio Salazar). … Does anyone else thing the Hillsboro Hops have a few too many uniform options (from Iain McHugh). … Bad matchup #1: "Michigan and Purdue going color vs. color, both teams in white pants. Without graphic, couldn't tell who was home or road team," says Steve Vibert. … Bad matchup #2: I can't even tell who is playing here (it's USC vs. OSU, btw). At least the Beavers are in school colors (from Ryan Osborn). … You always wanted to see a photo of Pete Rose in a bicentennial pillbox cap right? Of course you did (from GOAT Jerseys). … Plano resident Paakow Essandoh wanted to give Africans a way to show pride in their countries of origin. So he got Marvel's blessing to create sports jerseys inspired by Wakanda, the fictional country that is the setting for the blockbuster film 'Black Panther.'

NFL/CFL/Arena Football News: "I was searching ebay today and came across this Jaguars replica jersey for sale," writes Joseph Bublitz. "Looks like a mix between the jags uniform from the early 2000's and the number font of after they re-designed the uniform in the late 2000's." … The 2017 Toronto Argonauts Grey Cup championship ring is massive and features 17 diamonds for each Grey Cup title the team has won (from Wade Heidt). … Shoutout to Paul's Favorite Player! "In case you didn't have this before, San Francisco's Ken Willard wore an NNOB jersey in the second half of the 1971 NFC championship game (1/2/72)," says David Steinle. "The first half picture is of the infamous screen pass which George Andrie intercepted deep inside 49ers territory to set up the first Cowboy touchdown." … Ti cats font madness for Manziel! In case you missed it, Johnny Football signed with the Hamilton Tiger Cats of the CFL yesterday, and already there are differences between the photo jersey for sale model (both number and letter fonts are different). Spotted and sent in by Justin Sabol. It ain't cheap either. … "I noticed that Mason Rudolph was wearing the old tailoring Nike Jersey at the Rookie premier while James Washington was wearing the Vapor Untouchable Jersey," writes Nicholas Rath. "Check it out!" … Speaking of the rookie premier, "Every other player wore normal home jerseys except Kerryon Johnson. Throw back uni with normal pants and helmet," says Detroit Sports Debate. This was also noticed by Robert Hayes and Dan Kennedy and many others in the team photo. Also notice DJ Chark is wearing last year's Jaguars jersey. Also Mayfield and Chubb are wearing different Browns jerseys (from Alex Giobbi). … Ah, as a Giants fan those Norwood wide right jokes never get old (from Drew). … The San Francisco 49ers will be unveiling new, alternate unis this week and a lot of people hope they go back to the unis they threwback to in 1994. … The Carolina Cobras of the National Arena League had Star Wars Night special jerseys on Saturday, 5/19/18. Here's how they looked on the field (from Scott Turney).

Hockey News: As their drive to the Stanley Cup Finals heats up, they're everywhere! "Saw this Vegas Golden Knights logo made out of stickers in a Costco in Appleton, Wisconsin," says Nate Meihak> APPLETON WISCONSIN People!

Soccer News: Serbian club Red Star Belgrade have released their 2018-19 third kit (from Josh Hinton). … Also from Josh, the following items: FC Barcelona's 2018-19 home kit was released, along with the home goalkeeper kit; and, Liverpool's 2018-19 third kit has been leaked. … FC Cincinnati had a blackout last night and the team wore black kits (from Brian Henke). … One more from Josh Hinton: "I've never noticed this before (and I watch a lot of soccer) but Louisville City FC has a Toyota ad on 'whatever the thing is that covers the substitutes'. I'm gonna assume that's the technical term." … New Zealand has a new away jersey and it's really nice.
[adrotate group="2″]