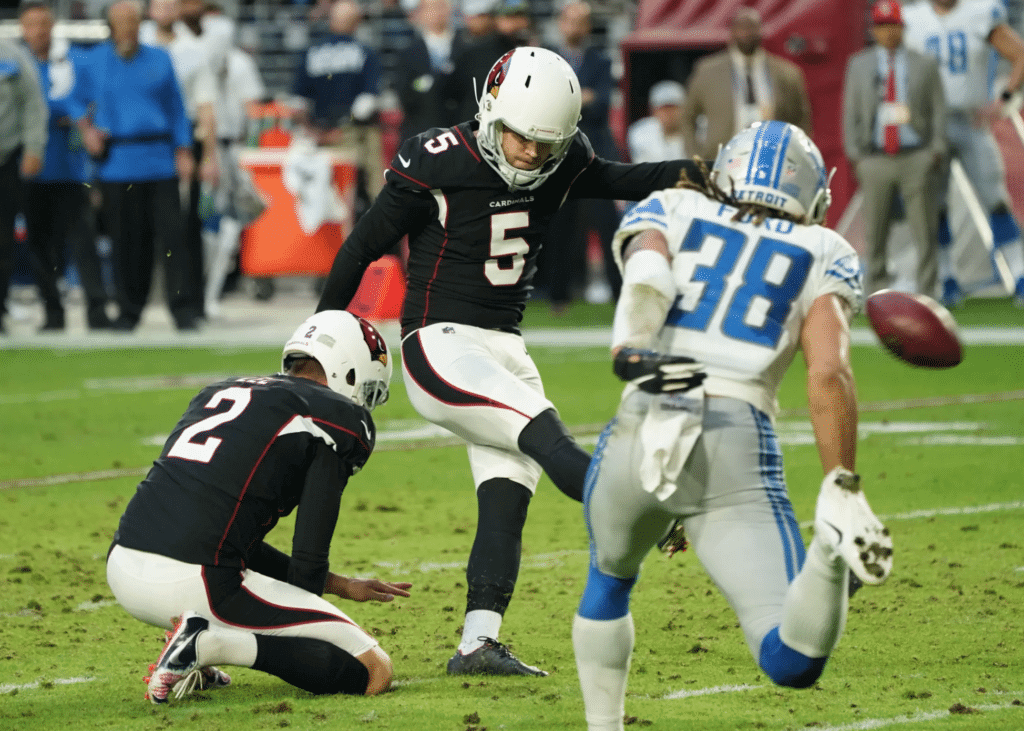 Click to enlarge
It was a lovely day for one of the NFL's worst uniforms, as the Cardinals broke out their BFBS alternates, a design that's so wrong in so many ways. Lots of additional photos here, if you dare.
In other news from around the league yesterday:
• For the second straight week, the Dolphins wore their throwbacks (and running back Brandon Bolden doubled up on his sock stripes):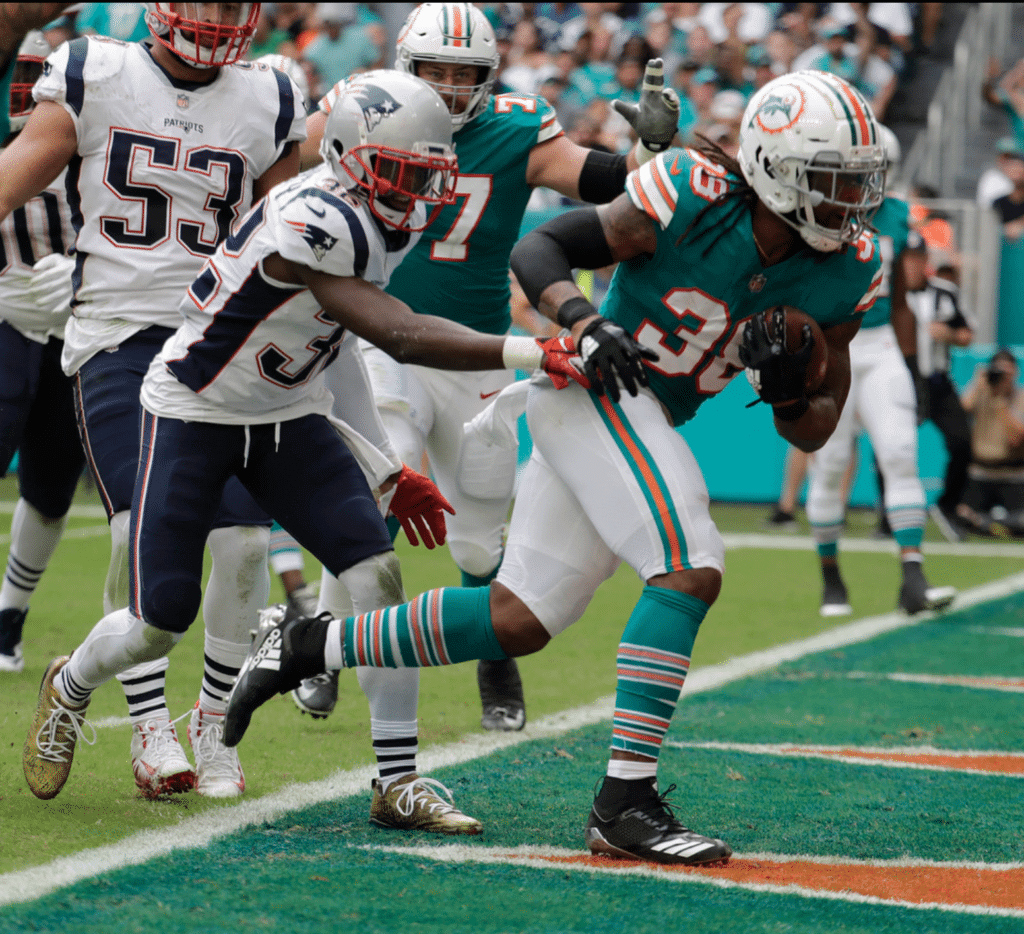 • Speaking of the Dolphins, linebacker Kiko Alonso was showing some serious male side boob, and also appeared to be wearing a crop-top jersey:
@UniWatch Not even sure where to start with this… pic.twitter.com/LcGYZN8Q9m

— Matt Bessette (@MattBsette22) December 9, 2018
• The Chargers went mono-navy, which is clearly the worst look of all their possible combinations: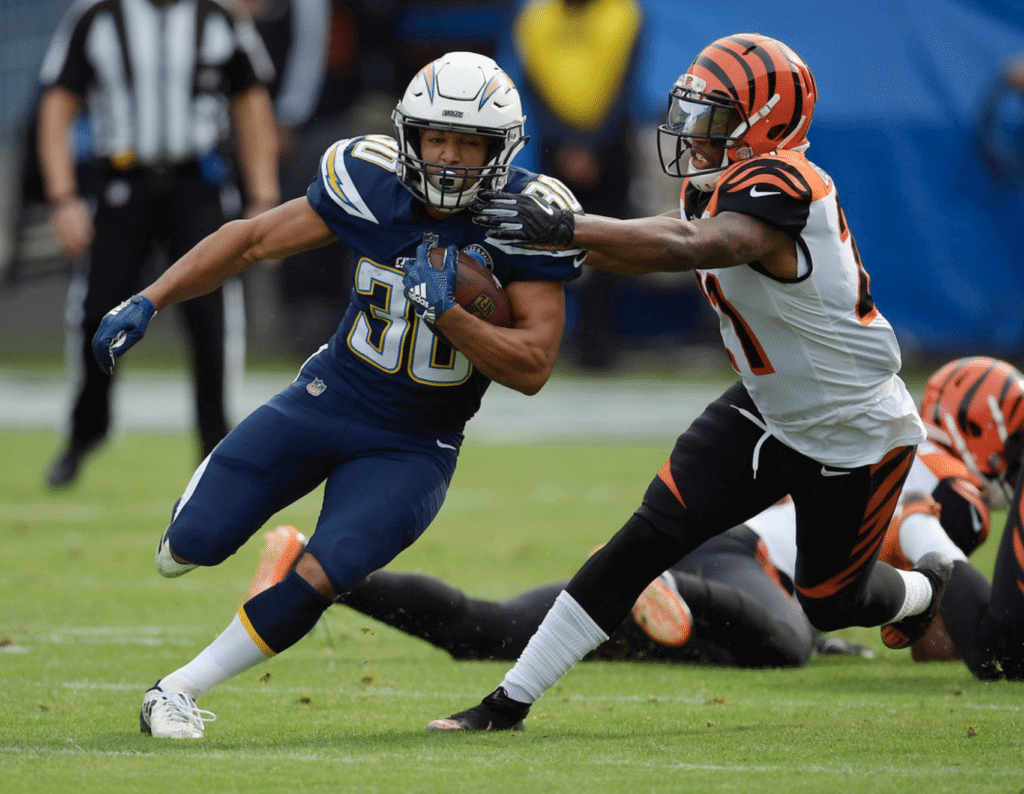 • The Panthers went mono-black — this time with black socks: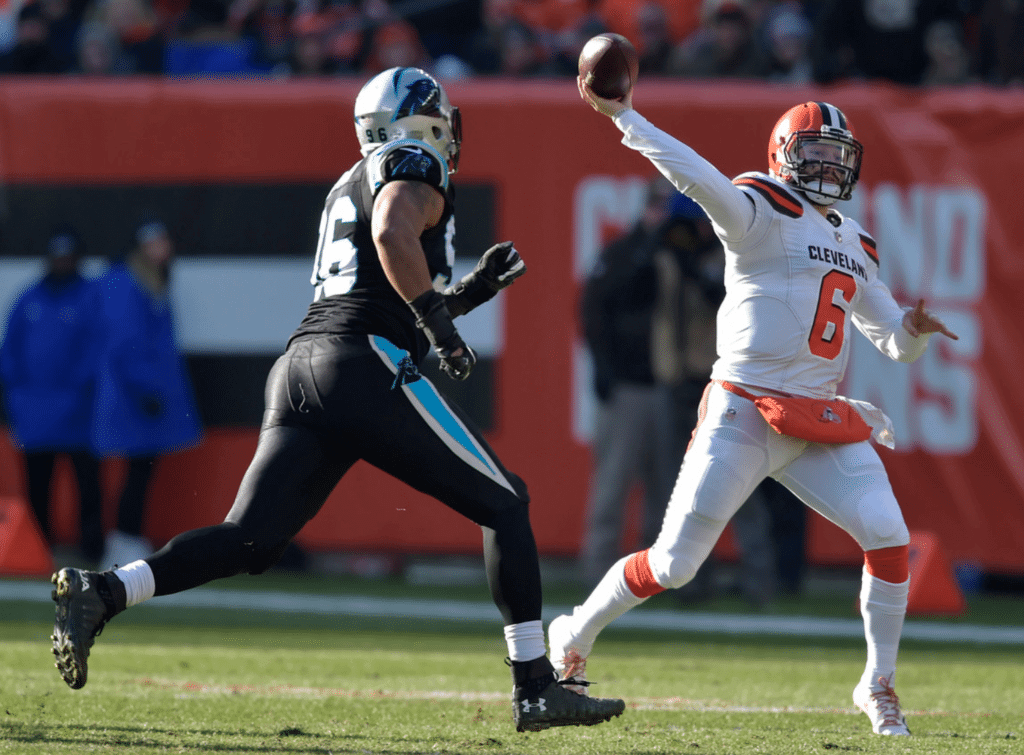 • For the second straight week, the Bucs suffered from the Rash: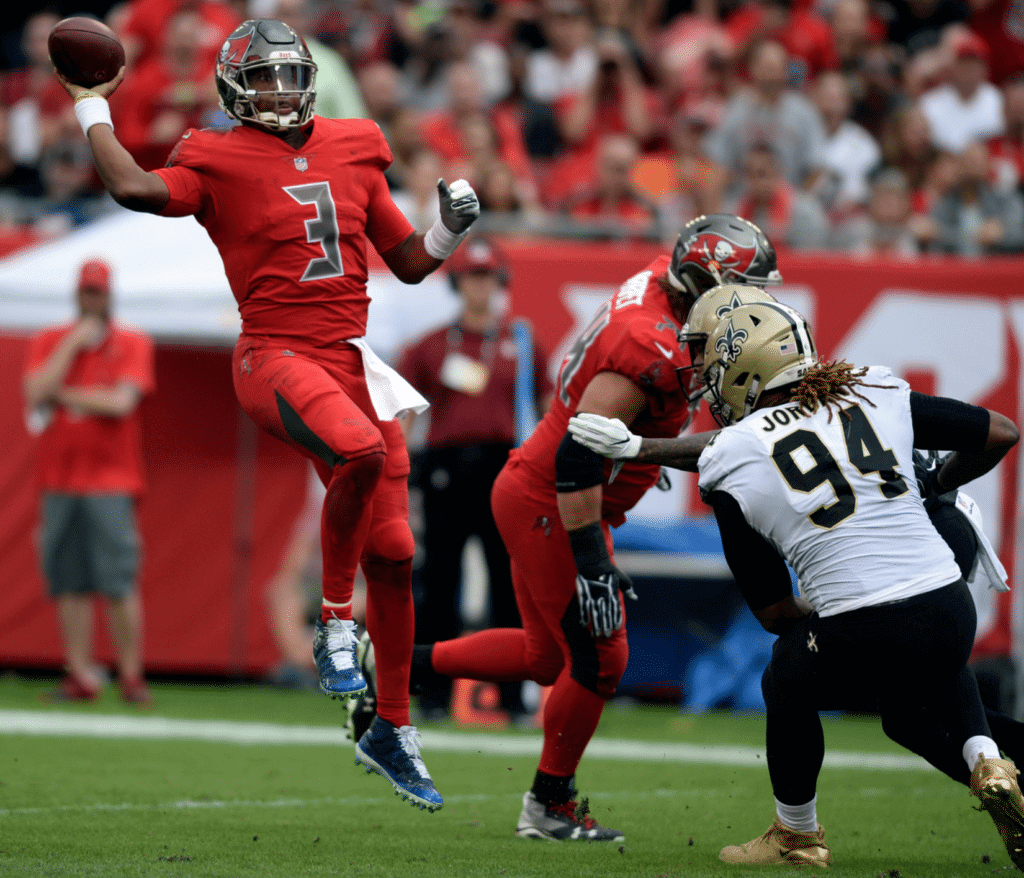 • It looks like one of Bills cornerback Tre'Davious White's numbers was peeling off:
@UniWatch Tre'Davious White #27 Sublimated Twill? #NFL #Nike #ThatNumberisComingOff #vs #Jets #Uniwatch pic.twitter.com/dK1rhEvWNI

— Miguel Rodriguez (@_TheNational) December 9, 2018
• All 32 teams announced their nominees for the Walter Payton Man of the Year Award last week. That page says, "All 2018 nominees will wear a Man of the Year helmet decal beginning Week 14 and continuing through the end of the season." It was hard to find rear-view photos of all the nominees, but at least seven of them — Cowboys quarterback Dak Prescott, Lions quarterback Matthew Stafford, Saints running back Mark Ingram, Rams offensive lineman Andrew Whitworth, Patriots defensive back Devin McCourty, Packers defensive lineman Kenny Clark, and Ravens defensive back Brandon Carr — did indeed wear the decal. Some had it on the back-left side of their helmets and some on the back-right (click first six photos to enlarge):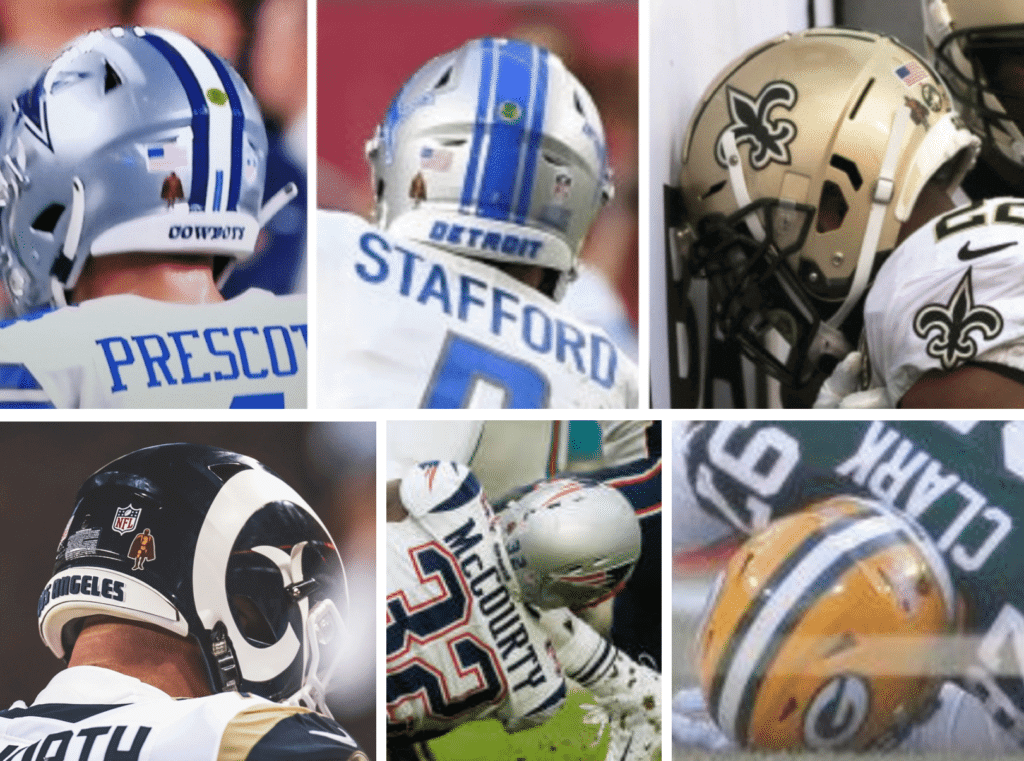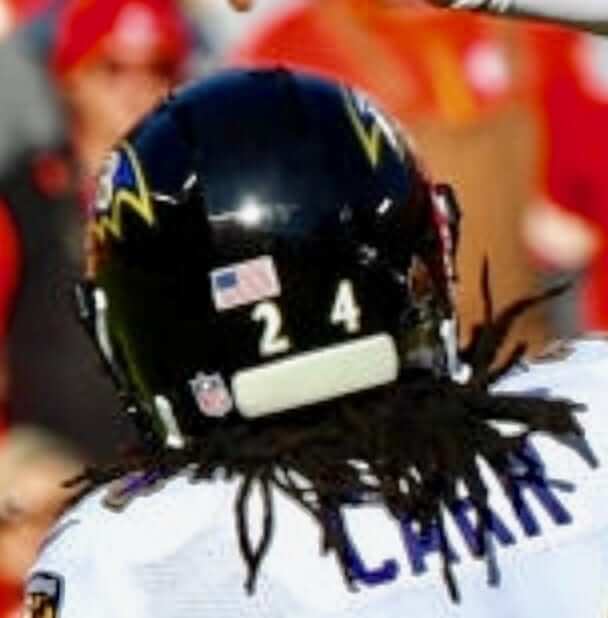 Two other nominees — Bills linebacker Lorenzo Alexander and Bears tight end Trey Burton — didn't have the decal on the back-left side. I couldn't find any views of them from the other side.
If you want to go through the list of nominees and try to find rear-view photos of any of the ones I wasn't able to account for, feel free to post the results of your sleuthing in today's comments.
• Now that the weather's getting cold, we have our first torn helmet decal of the season. Although the tweet identified the player as Rams defensive lineman Ndamukong Suh, it's actually his teammate Dante Fowler Jr.:
@UniWatch cold enough that decal is chipping on Suh's lid pic.twitter.com/2NmhaVwcM5

— (@NFL_Journal) December 10, 2018
• The Browns made some tweaks to their field design. The numbers are now outlined in orange and the 50- and 20-yard lines are now bordered with brown striping (but still no midfield logo):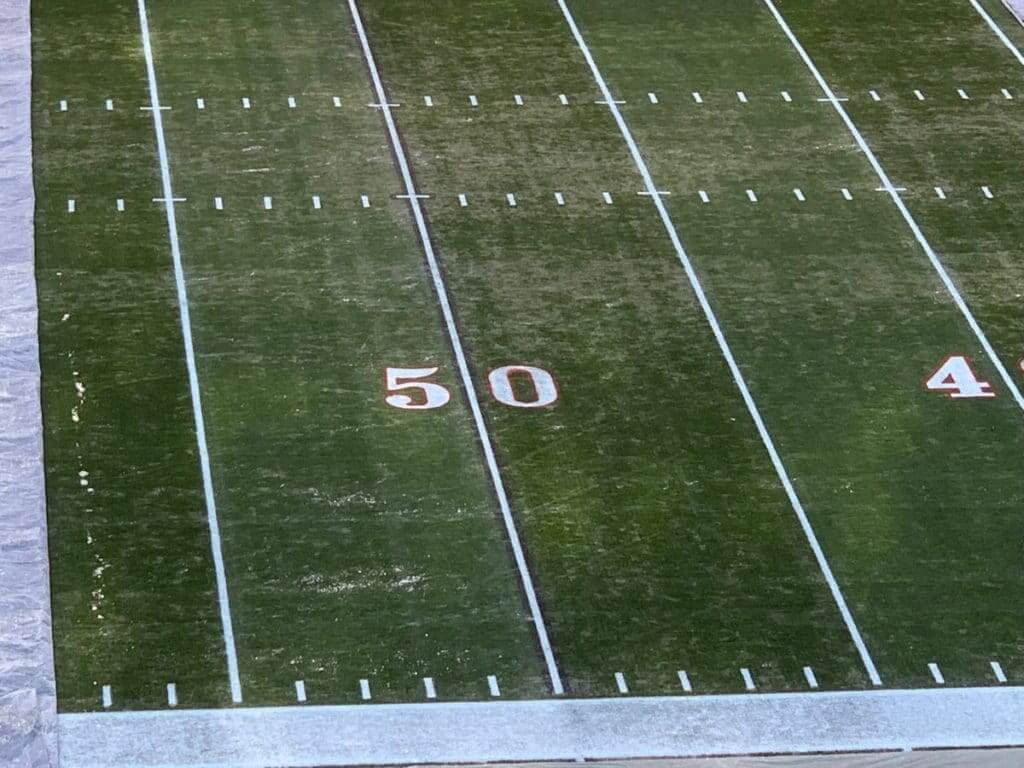 • Two teams wore white at home: the Browns and, of course, the Cowboys.
(My thanks to Robert Loeper and Jonathan Diesfor their contributions to this section.)
• • • • •
• • • • •
Click to enlarge
'Tis the season: One of the best holiday traditions here at Uni Watch HQ is the annual arrival of a package from longtime reader Elena Elms, who always sends a batch of baseball uni-themed cookies (a few of which cracked in transit this year, but that's okay).
Elena's theme for 2018 is minor league teams with edible team names. In the top row, from left to right, we have the New Orleans Baby Cakes, the Chicago Dogs, the Hickory Crawdads, and the Kansas City T-Bones.
Middle row, left to right: Cedar Rapids Kernels, Charlotte Stone Crabs, and Toledo Mud Hens.
Bottom row, left to right: Carolina Mudcats, Modesto Nuts, and Montgomery Biscuits.
How awesome is that?! It is super-duper-special that Elena continues to do this each year. I can't even begin to fully express my appreciation and gratitude to her. Big hugs and big love, Elena — you're the best!
• • • • •
• • • • •
Culinary Corner: We had a lot of shrimps in the freezer, so we decided to put some of them to good use on Saturday night. I wanted to try something new instead of one of our usual recipes, so I did a bit of googling and came across something called Shrimp Veracruz, which I'd never heard of before. It sounded weird but interesting, so we decided to try it, like so:
1. We chopped up two bell peppers and sautéed them in two tablespoons of olive oil for about seven minutes. Then we added a pint of halved grape tomatoes, two cloves of minced garlic, two tablespoons of minced pickled jalapeños, and two tablespoons of capers (some recipes call for olives instead) and cooked everything for another seven or eight minutes: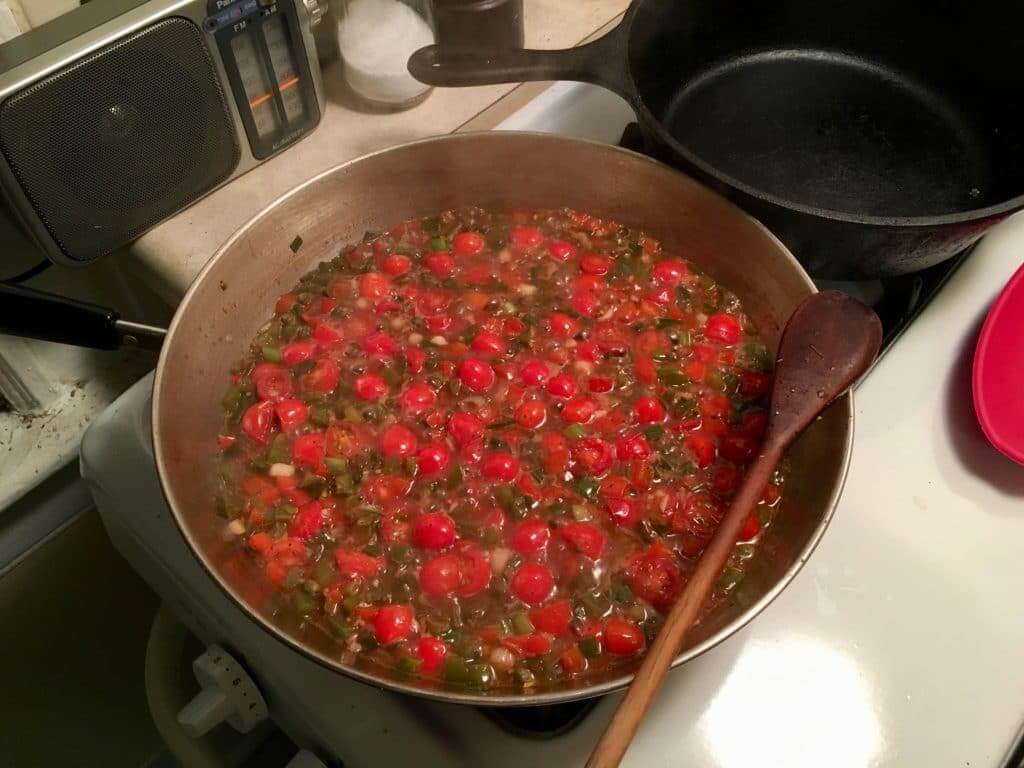 2. We added two tablespoons of red wine and about half a cup of seafood stock (you could also use water instead of stock) and cooked for another five minutes.
3. We added about two dozen shrimps and cooked them four minutes on one side and then one minute on the other side.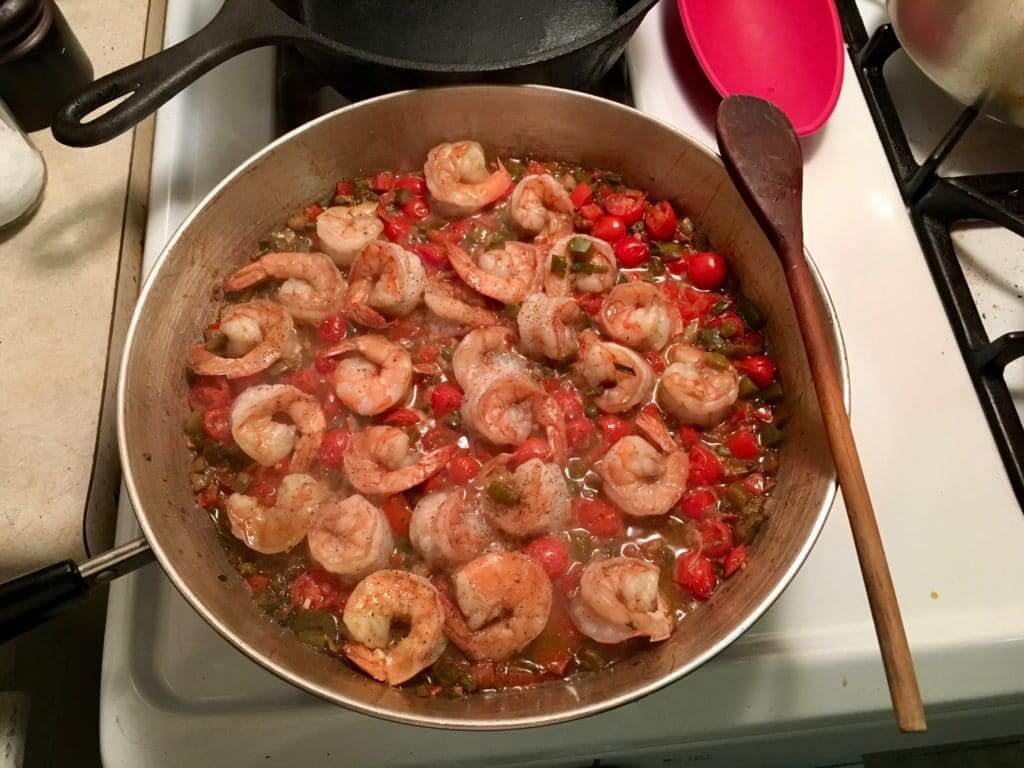 That's it! We served it over rice. Not very visually impressive on the plate, but mighty tasty: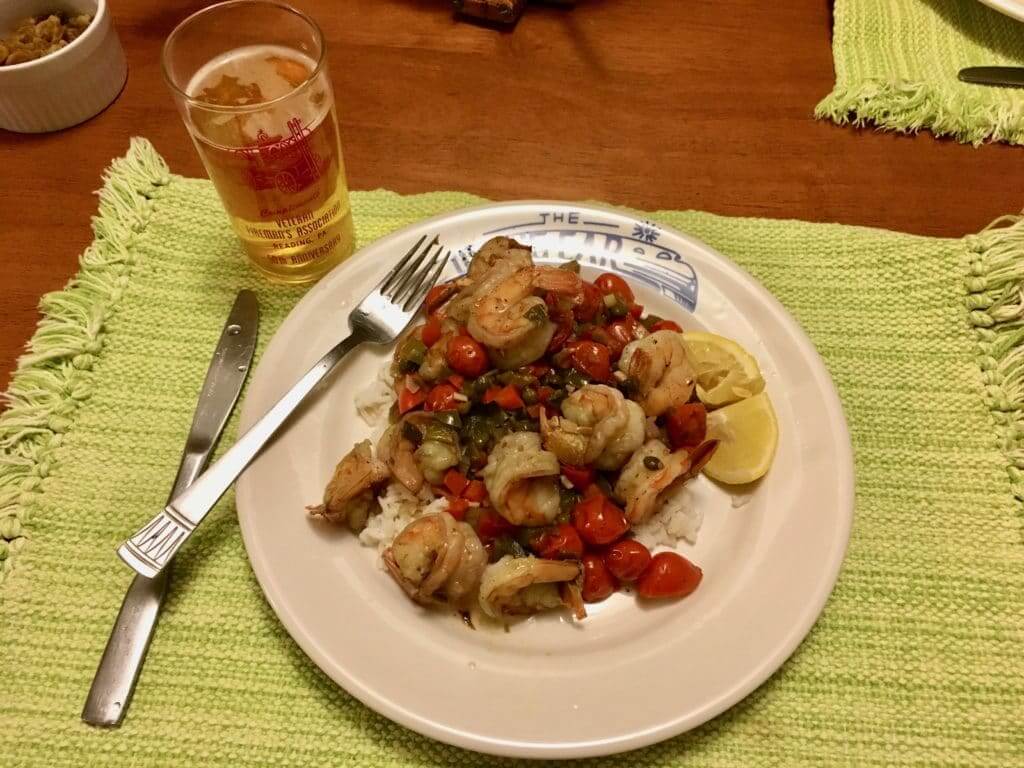 The Captain thought it was just okay, but I thought it was great! Recommended.
• • • • •
• • • • •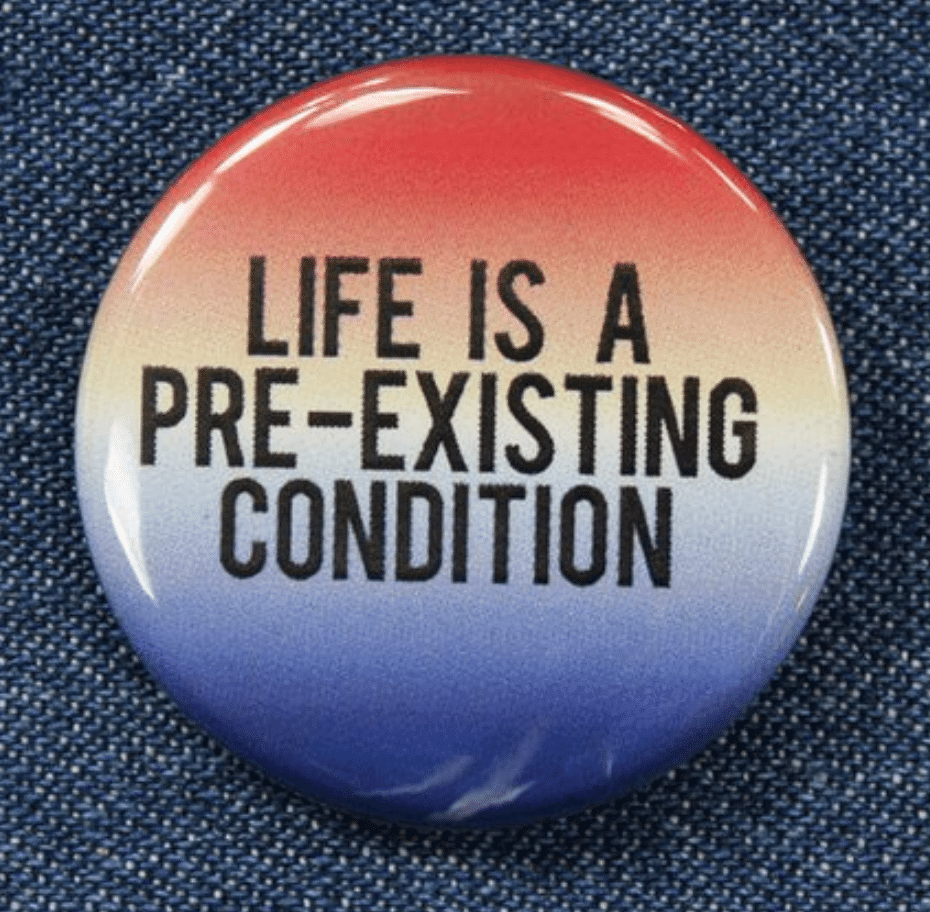 Health insurance update: Back in October, I wrote about how my health insurance, which cost me almost $800 a month this year, was due to go up to $949 a month next year and that I'd therefore probably have to choose a different plan. Now that we're nearing the end of the open enrollment period, a few of you have checked in to ask how that turned out for me.
The good news is that after a lot of stress and research and talking to friends and colleagues and looking at websites and poring over drug formularies and talking to English-as-a-third-language customer "service" reps, I've chosen a plan for 2019 that gives me a similar level of coverage as before, with the same deductible, for $700 a month. So I'll actually be saving money over 2018.
The first item of bad news is that my current primary care doctor doesn't take this insurance I've chosen, so I'll have to find a new doctor. This will be the third new primary doc I've had in five years, which is fucking nuts and makes it impossible to maintain any consistency in my medical care. (As it turns out, even if I had stayed with my current insurance — the one that's going up to $949 a month — that insurer is changing its network parameters so that my current doc is no longer in-network. In order to keep my current doc, I'd have to choose a plan that's — get this — $1300 a month.)
The second bit of bad news is that since I'm once again changing insurers, I'll once again have to go through a cumbersome pre-approval process for the specialty drug that I take for a chronic condition. This will be the third consecutive year I've had to go through this process, which involves going to a lab for a TB test, filling out lots of paperwork, and wasting lots of time on the phone dealing with bureaucratic nonsense. Even after all of that, there's no guarantee they'll approve the drug for me — they could say no. (I'm not sure what I'll do if that happens.)
The big unknown is that this new insurer I've chosen seems maybe a wee bit sketchy. It's a new-ish company, and there are some horror stories about it from people on Yelp (although the same is probably true of every insurance company). Two of my friends, both of whom have pretty low bullshit tolerances, have been with this company for a couple of years now and say that there have been some growing pains but that it's mostly been okay for them, so I'm keeping my fingers crossed.
So that's where I'm at. I'll say this again: It's insane that health insurance is treated as an employment "benefit" in this country, so that self-employed people like me are forced to fend for ourselves. Health insurance is a necessity, not a benefit, and it's embarrassing that our country hasn't figured that out while the rest of the modern world has. Fortunately, in the wake of last month's elections, there's some hope that my state — New York — may adopt a single-payer insurance system. Here's hoping that happens From my perspective, it can't come soon enough.
Speaking of New York State and health insurance: When I got the notice in October about my plan going up to $949, there was an "Public Comment" address where I could have sent feedback. I didn't bother to do that, but lots of other people did, and the new episode of This American Life has a really entertaining and instructive segment about those people. Recommended listening, even if you don't live in New York or have to buy your own health insurance — check it out here.
• • • • •
• • • • •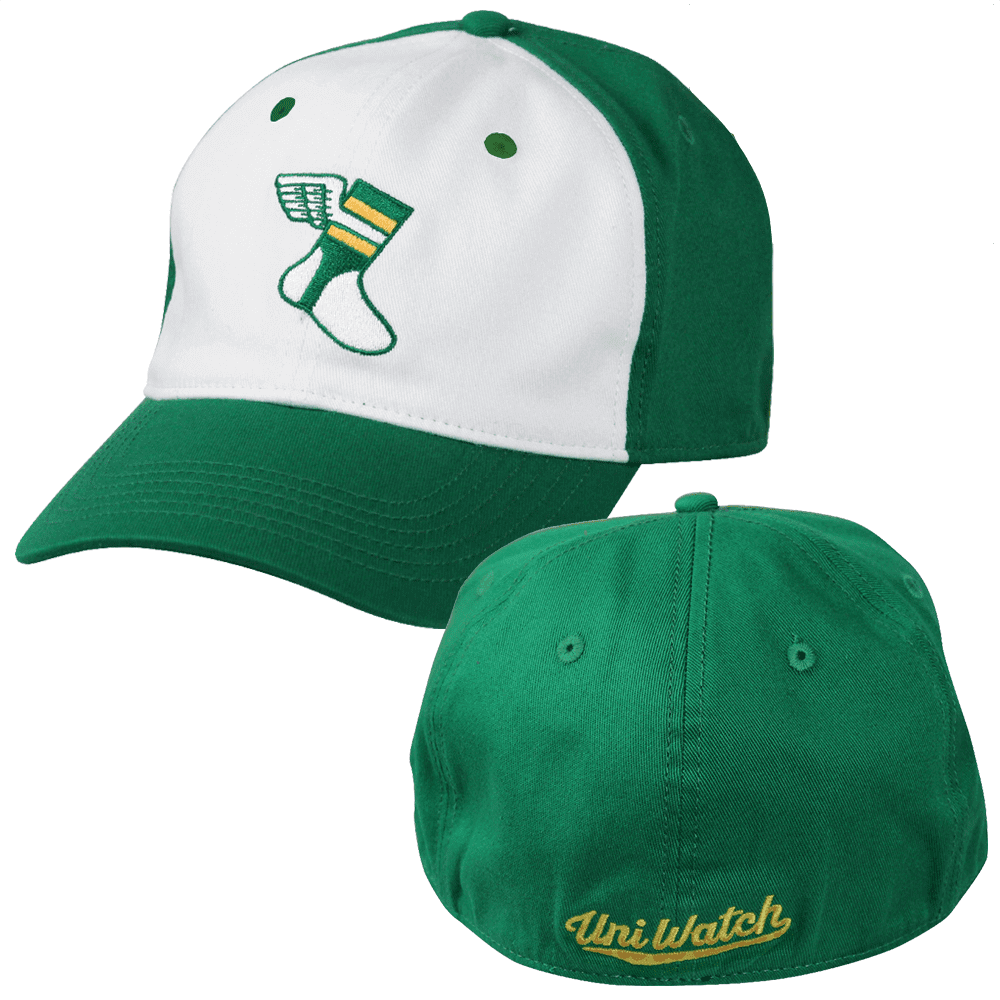 Price drop reminder: In case you missed it on Friday, we've brought the price of our flex-fit Uni Watch alternate cap — which was originally $29.99, then $24.99, then $19.99, then back to $24.99 — back down to $19.99. And there it will stay!
We have fewer than 20 only 10 of the L/XL size left. So if you want one, move fast.
While we're at it: All of our fine Uni Watch products, including a few that you may have forgotten about, are listed on this one handy page.
• • • • •
• • • • •
The Ticker
By Jamie Rathjen

Baseball News: Harold Baines, who was elected to the Baseball Hall of Fame last night, has an interesting uni-related distinction: The White Sox retired his No. 3 in 1989, while he was still an active player, after they traded him to the Rangers. He later returned to the Sox in 1996, was traded away again, and returned to the Sox yet again in 2000. A bizarre history.

NFL News: Reader Brad Eenhuis was watching the A Football Life documentary on Washington QB Doug Williams and noticed that there were some number font variations on the team in Super Bowl XXII. … Some Falcons and Saints players ended up in the Tulane Stadium hedges during a 1970 game (from Mike Selock). … Here's our worst uni nightmare: every NFL team dressed in black (from Dan Schwanger).

Hockey News: Goalie Mike DiPietro was traded from the OHL's Windsor Spitfires to the Ottawa 67s last week, and played his first game for Ottawa wearing his Windsor mask and pads (from Wade Heidt). … Also from Wade: The QMJHL's Sherbrooke Phoenix wore Christmas sweater-themed uniforms.

Basketball News: Julius Erving once appeared on the late-'80s TV show My Two Dads wearing an orange jersey with his last name on the front, just like a team or city name (from Willard Kovacs). … Speaking of Dr. J, here's a shot of him wearing a very mod 76ers warmup top (from Bruce Margulies). … Check out this shot of the St Louis Hawks' Bob Pettit playing with full cast on wrist (from Mike Selock).

Soccer News: Scottish Premiership team Dundee debuted at home a third kit, which for the second year in a row is military-themed, and this time is white and features a giant version of the insignia of the Royal Scots Dragoon Guards military regiment. The kit supports the SSAFA armed-forces charity (also from Ed Żelaski). … English second-tier women's teams Durham and Manchester United played each other twice last week. Neither team changed for the game in Manchester, but Man U changed to pink/black/black in Durham.

Grab Bag: Women's cycling team Boels-Dolmans revealed their kit for next season, including variations for the team's Dutch and Danish national champions. Men's team Katusha-Alpecin revealed a sky blue and red kit with tiny NOBs. … Yesterday's edition of the comic strip Stone Soup Classics lamented the spread of advertising (from Paul Dillon).