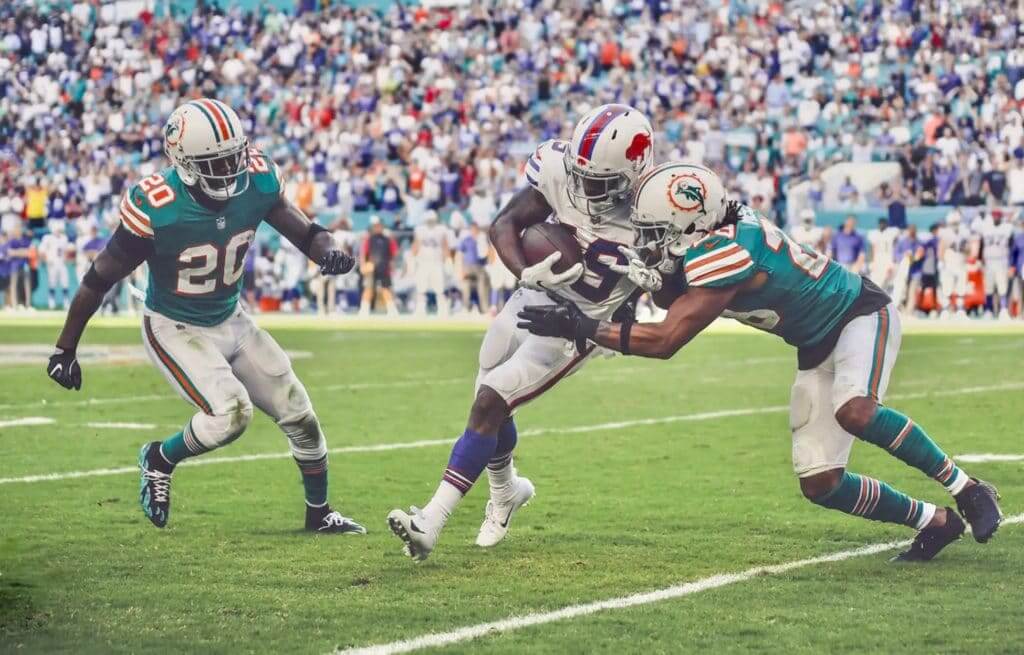 Click to enlarge
It was throwback vs. throwback yesterday in Miami, as the Dolphins and Bills both went retro, re-creating an old-school AFL matchup. Yes, yes — they should both go back to wearing those uniforms full-time, especially the Dolphins. We know, we know. Lots of additional photos here and here.
In other news from around the league yesterday:
• The Bucs went mono-red: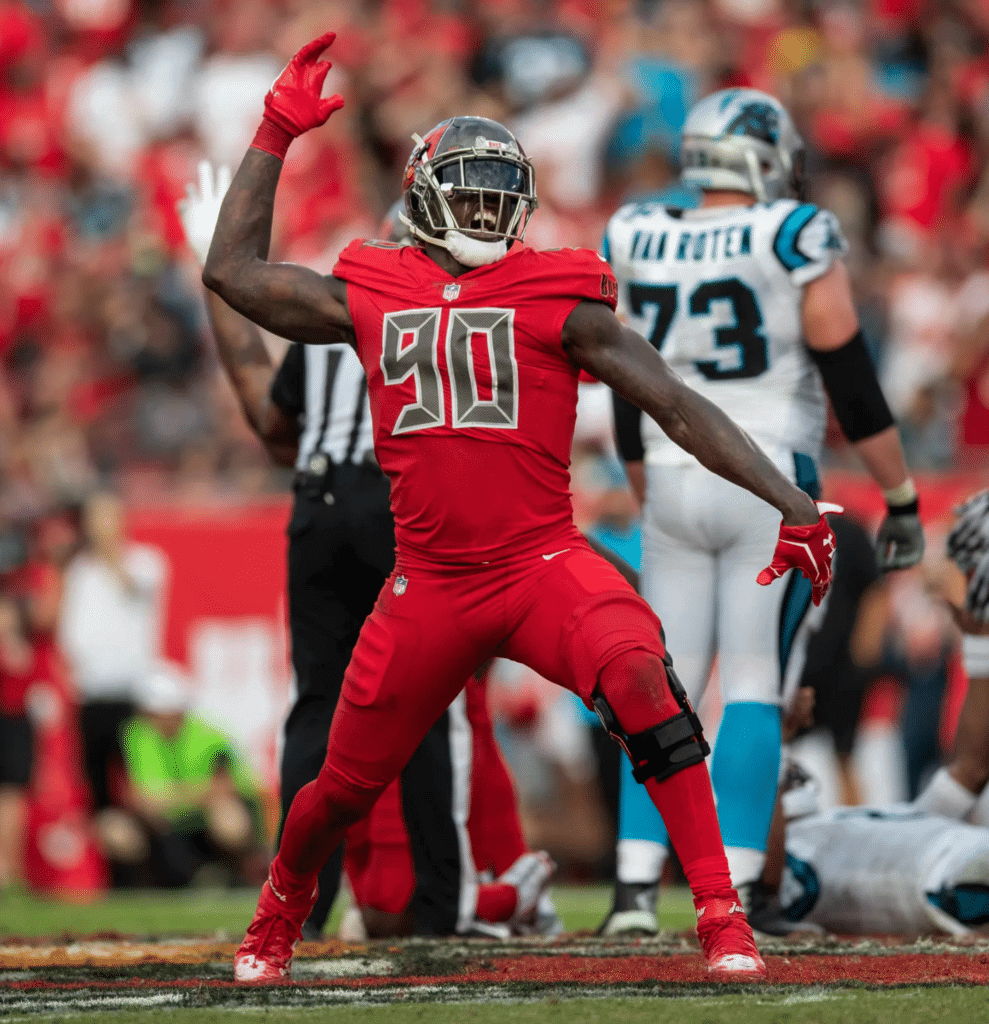 • The Bengals went mono-black: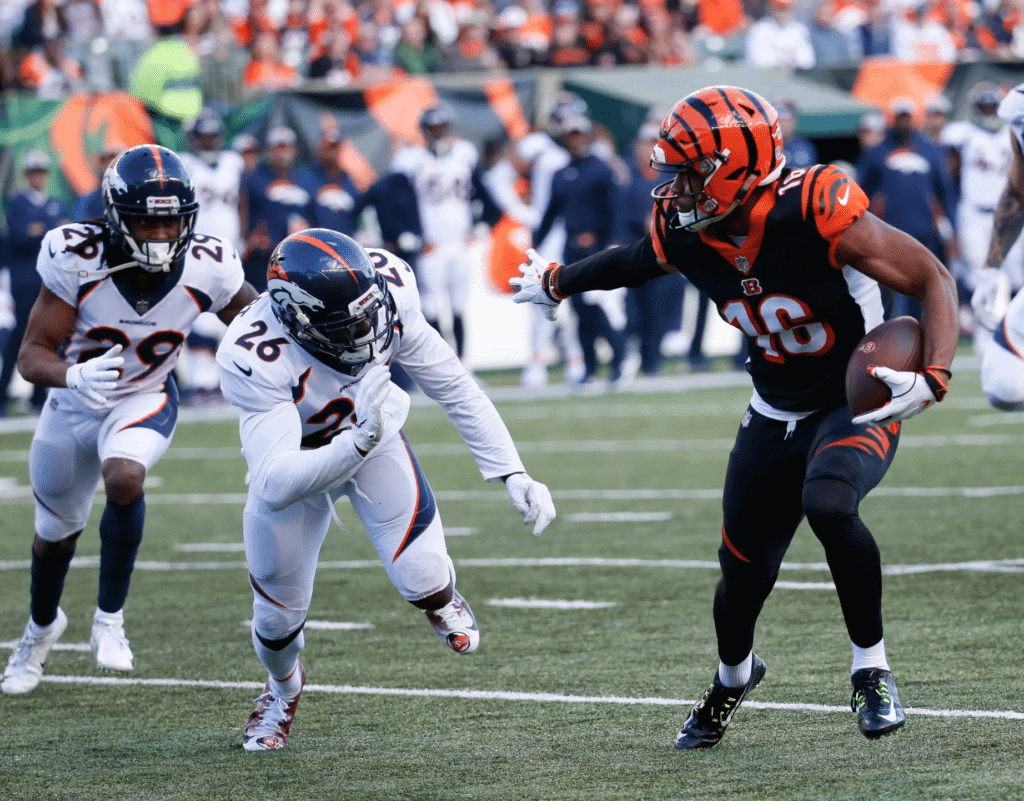 • The Texans went mono-navy. They also added an "RCM" memorial patch for owner Bob McNair. Last week they only had a helmet decal for him (which they kept this week while adding the patch):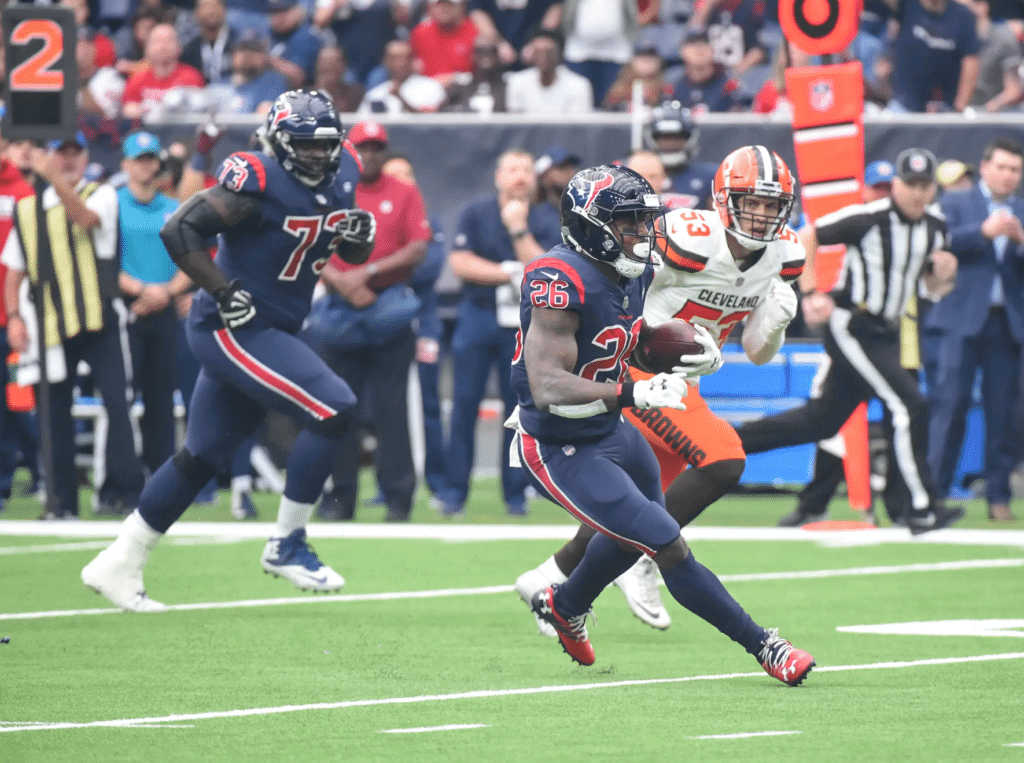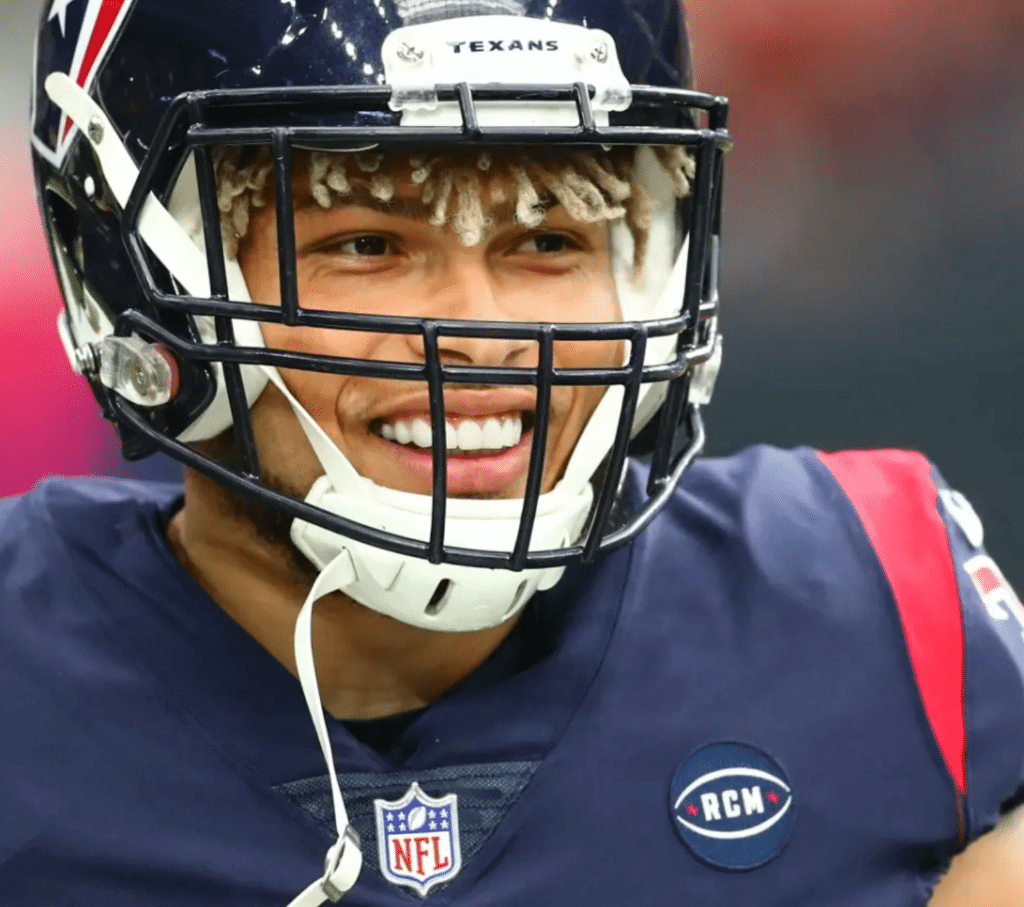 • The Jets usually wear their green pants with white socks, which is as it should be. But yesterday they went with green socks, producing the dreaded leotard effect: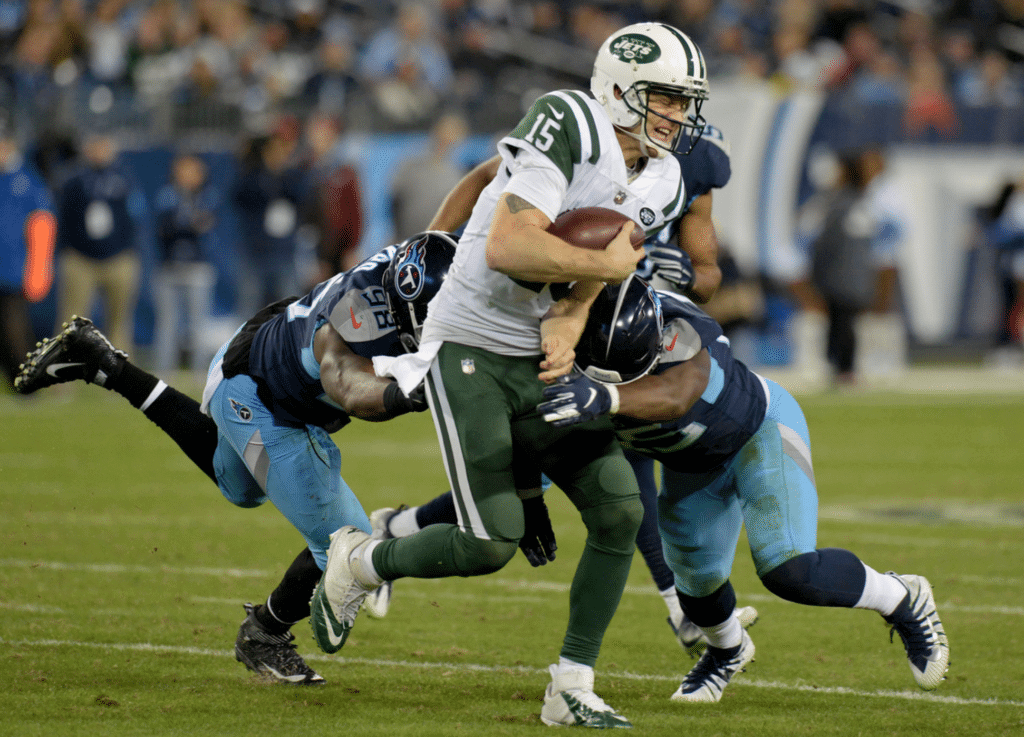 • Nothing uni-notable about the Chiefs/Raiders game, except that it was, as usual, one of the best-looking uniform matchups the league has to offer: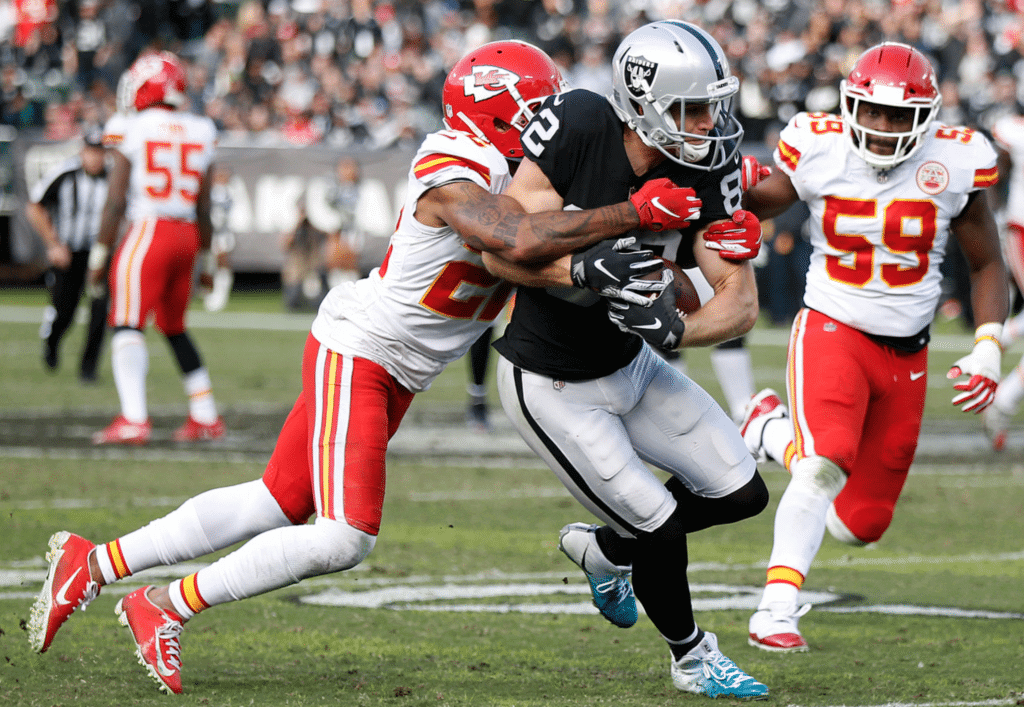 • The Vikings have matte-finish helmets — or do they? Two different readers got in touch to say that some of the Vikes' helmets appeared to be going glossy in the Foxboro rain. I didn't watch this game, but I looked at several dozen photos and it appears that it was just a combination of the rain and the lighting: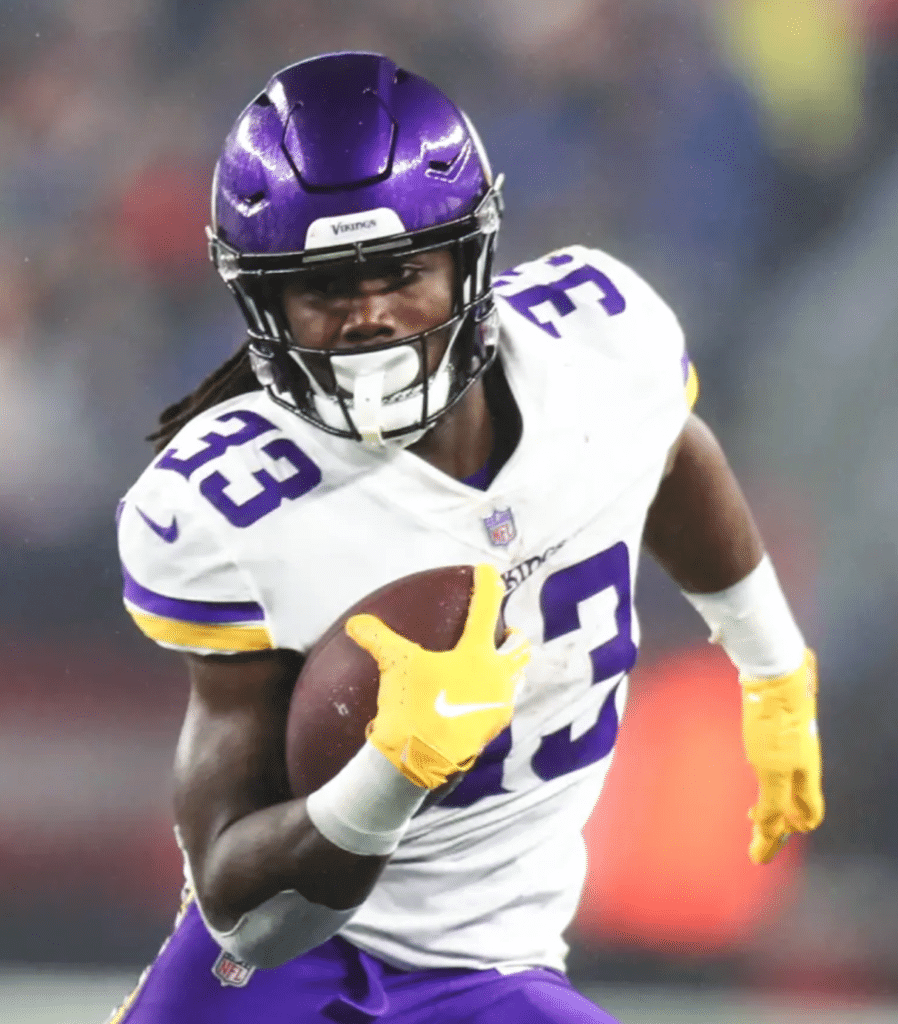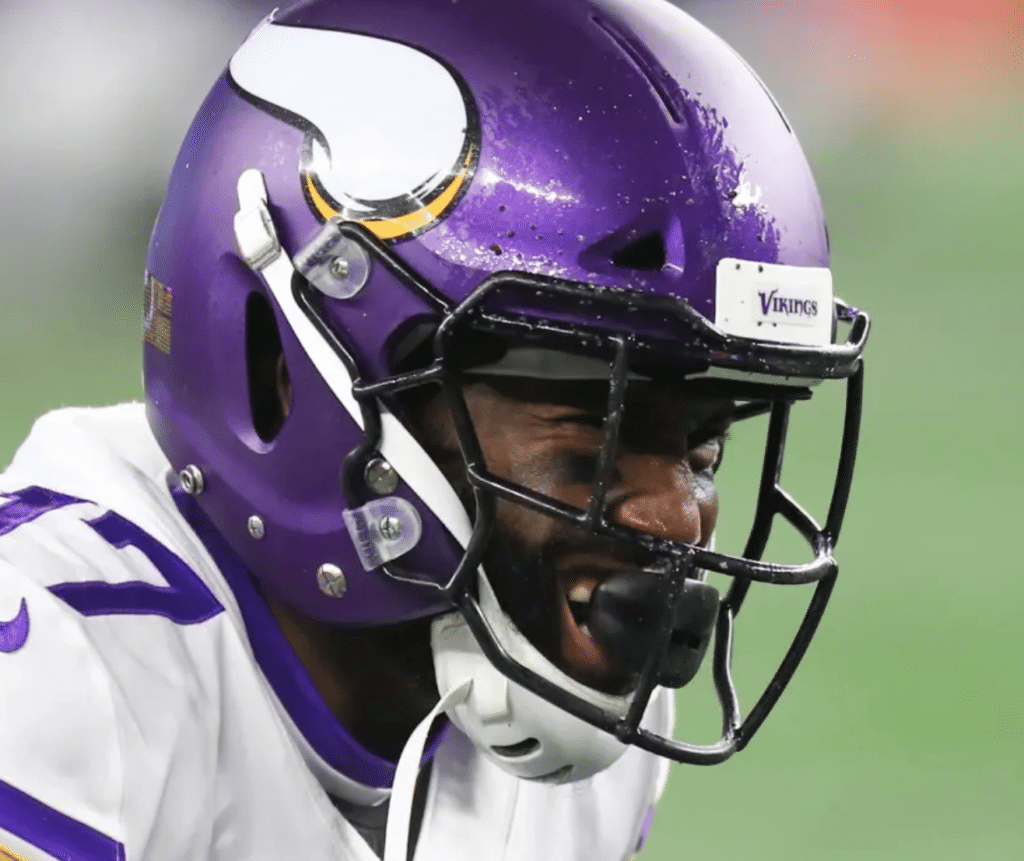 • At least two Jaguars players — defensive back Jalen Ramsey and running back T.J. Yeldon — wore white tights, without any black: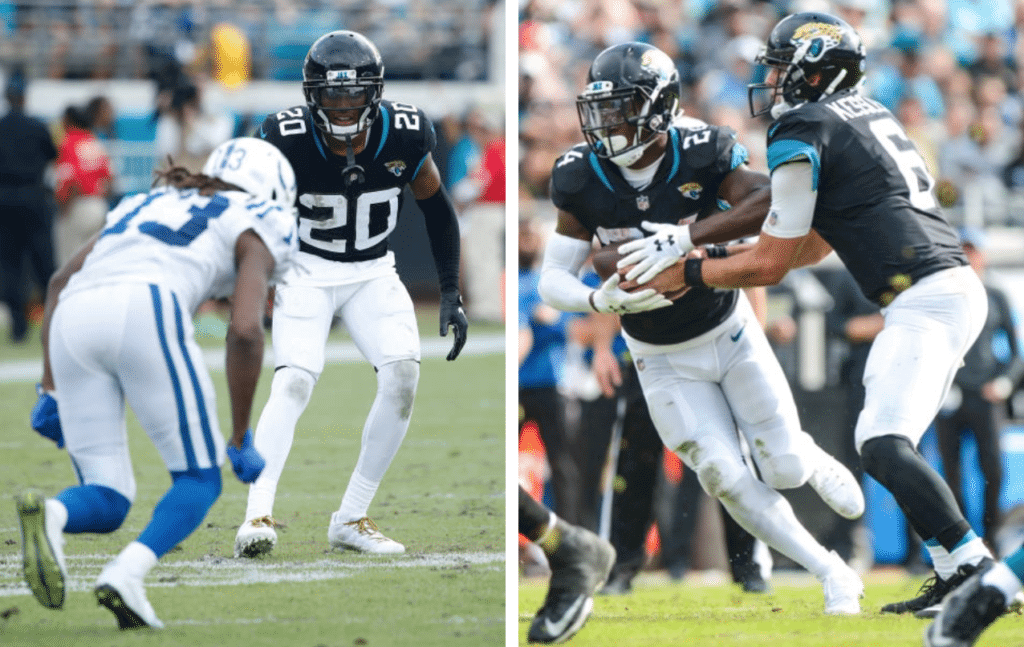 • Falcons kicker Matt Bryant's left-side helmet logo seemed to have been rotated too far counterclockwise:
Who was in charge of putting the sticker on Matt Bryant's helmet? #BALvsATL pic.twitter.com/H1Qbrc0CSz

— Derek Wagner (@wagski7) December 2, 2018
• The Nike logos on Cardinals cornerback Patrick Peterson's jersey are still facing the wrong way:
@UniWatch once again the Nike logo on Patrick Peterson's jersey is pointing in the wrong direction. pic.twitter.com/fbogrEuQ53

— Moe Khan (@MoeKhan19) December 2, 2018
• Colts offensive lineman Quenton Nelson had a bit of striping tape malfunction:
• Not a single home team wore white.
• Finally, this was the "My Cleats, My Cause" week, but there was very little fuss or hype about it this year.
(My thanks to Braden Claassen, Justin Hicks, Mark Howell, Jacob Martin, Rob Petsch, Chris Roberts, and @True2Atlanta for their contributions.)
• • • • •
• • • • •
Click to enlarge
NHL Seattle contest results: The results of my latest Uni Watch design challenge, to create an identity for the new NHL franchise in Seattle, will be posted on ESPN.com today (or possibly tomorrow, but I'm pretty sure it'll be today). We got a lot of really excellent entries for this one, including Diego Yanez's concept for the Seattle Sushi, shown above.
Link coming soon. Meanwhile, you can see all the entries we received here.
Update: I'm now being told that it'll be published tomorrow.
• • • • •
• • • • •
Photo by Tom Quinn; click to enlarge
Back on the chain gang: I was out at the Meadowlands on Friday to interview Tom Quinn, longtime head of the Giants' chain crew, for an ESPN story I'm working on. While I was there, I decided to pose with one of the sticks — they're surprisingly enormous! Also surprisingly light (except for the one with Dial-a-Down — that one's heavy).
Anyway: Fun stuff, and Quinn had all sorts of interesting tidbits to share about his job. More soon.
• • • • •
• • • • •
A powerful win for UNI & Joel Rosario in the G1 Matriarch Stakes @DelMarRacing! pic.twitter.com/ubFIeJ6vXS

— TVG (@TVG) December 2, 2018
A new kind of Uni Watch: It was brought to my attention yesterday by Twitter-er @QuantCoach that there's a thoroughbred horse out there named Uni! Not only that, but she's really good — she won yesterday's Matriarch Stakes Del Mar, Cal., capping off a perfect 2018 in which she won all four races she entered. Listen to the race call in the embedded video above to hear her name repeatedly invoked with gusto by the announcer — sounds great!
Even better, Uni was wearing a prime number (13). Too bad her jockey, Joel Rosario, had neon-toned silks, but I can live with it.
I hereby declare Uni to be the official thoroughbred horse of Uni Watch. We'll have to keep our eye on her — after all, it's right there in our name.
• • • • •
• • • • •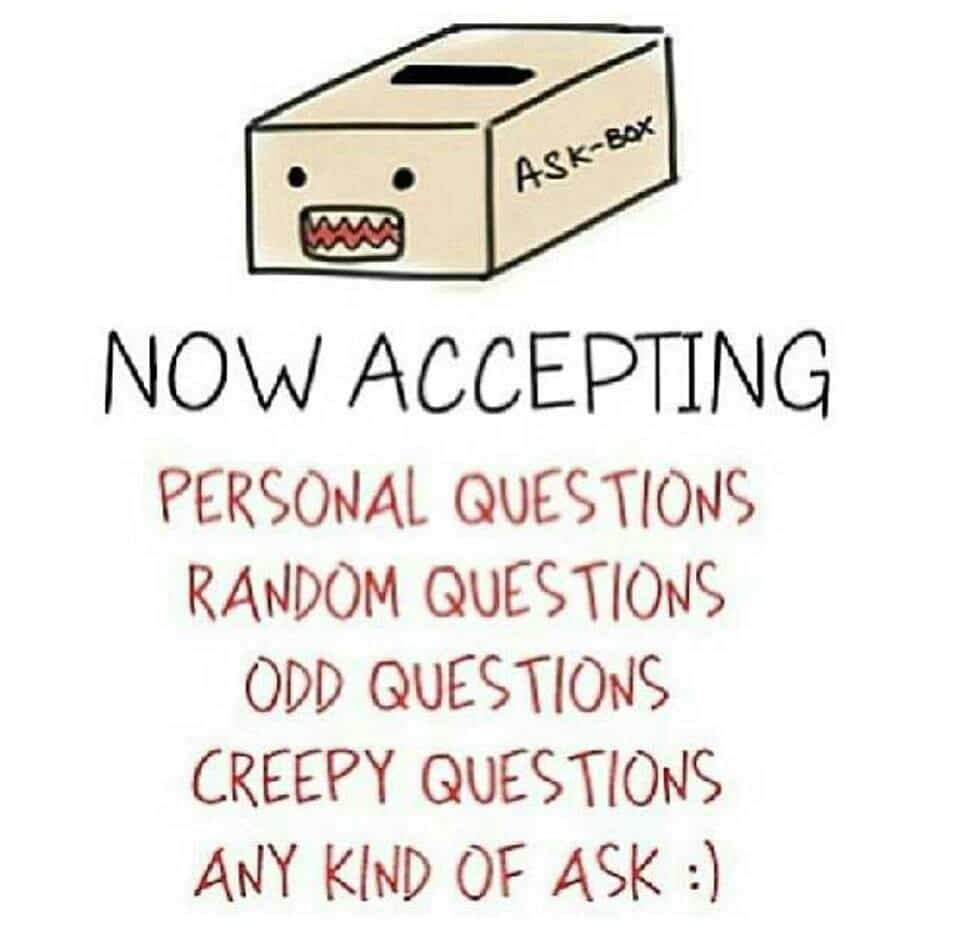 Ask me anything: It's been a long time — almost a year and a half — since our last round of Question Time, the AMA-style forum where you can submit questions about whatever you like and I'll do my best to answer them. So let's do that again.
In case you've forgotten, here's how it works: Send one question to the Question Time address (please note that this is not the usual Uni Watch email address). Your question can be about uniforms, sports, or anything else, although I reserve the right not to answer questions that are too personal. One question per person — this rule will be strictly enforced! And if you want to see which questions I've already answered, you can see the previous eight installments of Question Time here.
I'll answer this latest round of questions either later this month or in early January. Thanks!
• • • • •
• • • • •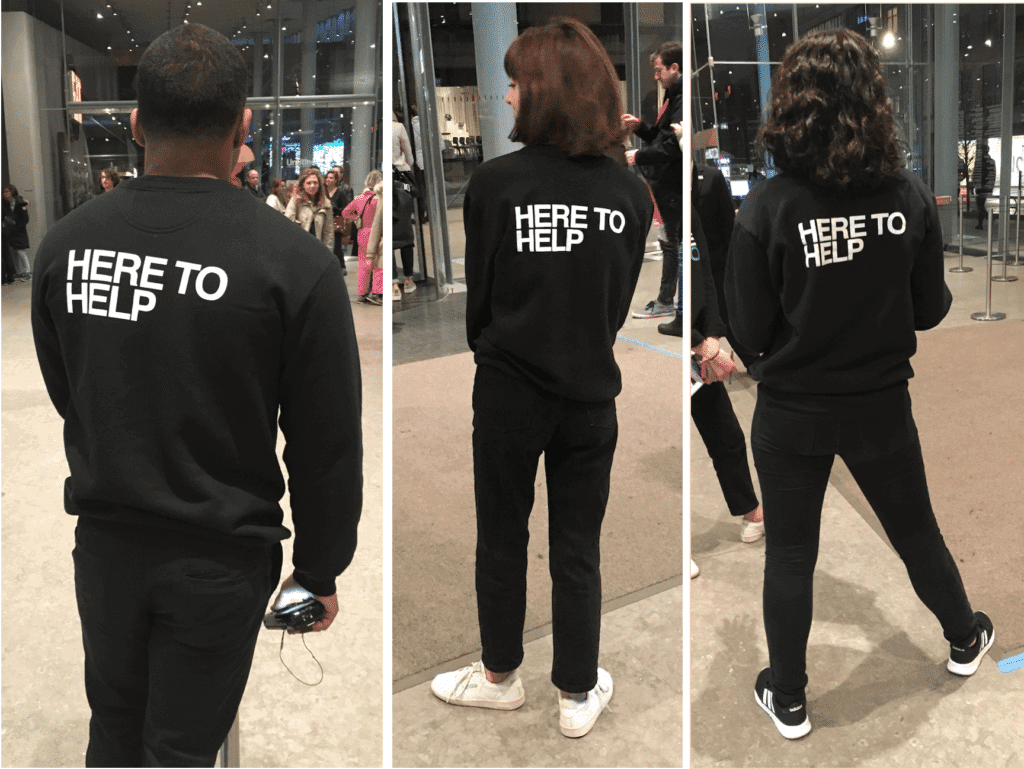 Uniforms in the wild: Yesterday we went to the Whitney to see the new Andy Warhol exhibit (I'll have more to say about that in a day or two). I love that the guides at the museum wear shirts that say, "Here to Help" — such a simple, friendly, welcoming message. It seems to me that every institution should dress its service staffers this way, don't you think?
• • • • •
• • • • •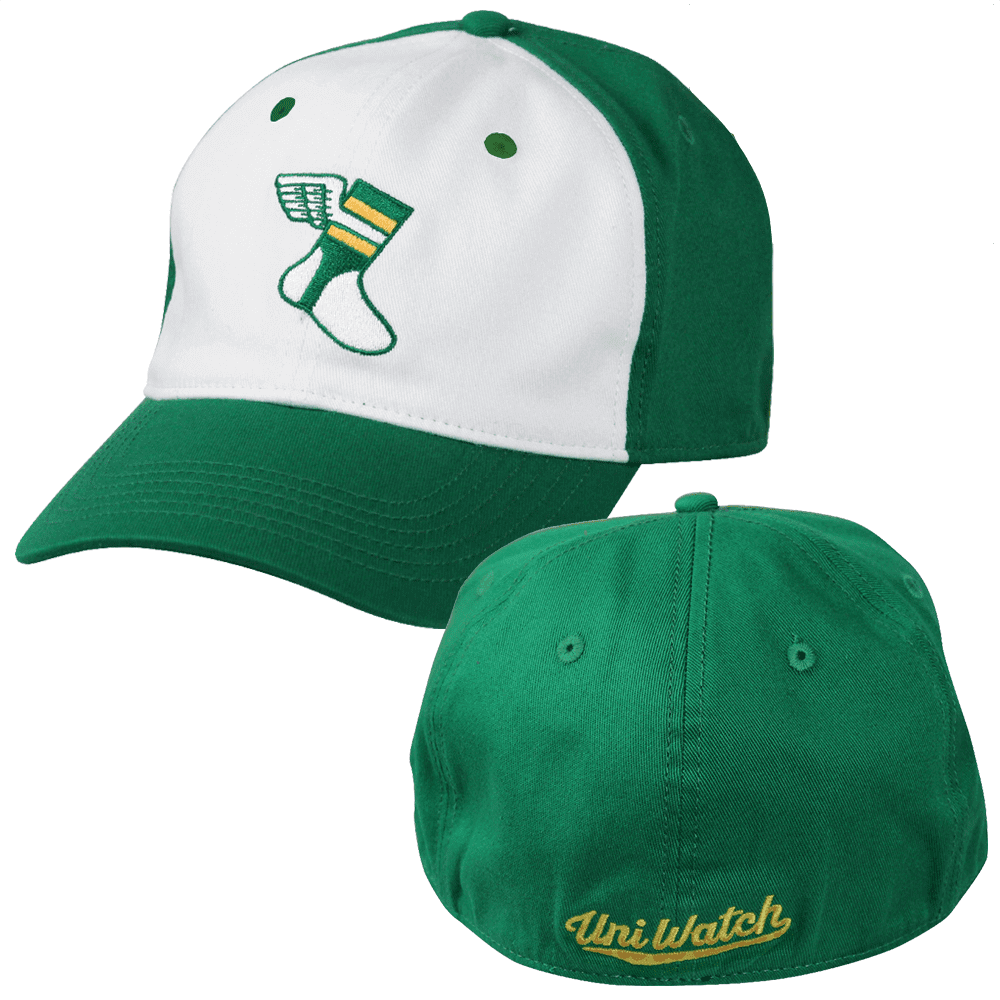 Free shipping reminder: In case you missed it last Friday: We recently offered a one-week additional $5 price break on our flex-fit Uni Watch Alternate Cap, knocking the price down to $19.99. While the price has now gone back to $24.99 (still cheaper than the original $29.99), we've decided to offer free shipping, which is more or less the same thing as maintaining the price break. If you're thinking, "Wow, he must really have a lot of unsold caps that he's trying to move," you're right! Get yours here.
Meanwhile: All of our fine Uni Watch products, including a few that you may have forgotten about, are listed on this one handy page.
• • • • •
• • • • •
Keypad chronicles: Have you ever noticed that the 10 numbered keys on a phone and on a calculator are laid out differently? I recently came across a video that explains how the phone keypad design was developed, and it's faaaaascinating — really interesting design story. Definitely worth the seven minutes of your time.
• • • • •
• • • • •
Rookie of the year: In 2008, when Tavi Gevinson (that's her at right) was 11 years old, she started a fashion blog called Style Rookie that got tons of media attention and made her into something of a child media celebrity. At 15 she launched an online magazine, called Rookie, which was less about fashion and more about teenage girl culture. It had a staff, advertisers, and so on.
Gevinson, who's now 22, announced on Friday that Rookie is closing. The short version is that online advertising was no longer enough to pay the bills; the longer version (and it's quite long, but still worth reading, because Gevinson's an absolutely fantastic writer) touches upon, among other things, the larger media economy, the line between art and commerce, the line between reader and consumer, how to grow a personal project you love without turning it (or yourself) into something you hate, how to balance dedication to something you love with the need to grow in other directions, and so on — subjects that I think about all the fucking time. Here are a few excerpts from Gevinson's farewell announcement:
In one way, this is not my decision [to shut down Rookie], because digital media has become an increasingly difficult business, and Rookie in its current form is no longer financially sustainable. And in another way, it is my decision—to not do the things that might make it financially sustainable, like selling it to new owners, taking money from investors, or asking readers for donations or subscriptions.

[…]

It has sometimes felt like there are two Rookies: There's the publication that you read, that I also love reading, writing for, and editing; and then there is the company that I own and am responsible for. The former is an art project; the latter is a business. Each one needs and feeds the other, but when I started Rookie at age 15, I saw the two as mutually exclusive. Rookie had been founded, in part, as a response to feeling constantly marketed to in almost all forms of media; to being seen as a consumer rather than a reader or person. In my black-and-white view of the world, the idea of capitalizing on an audience seemed cynical, selfish, and something only evil adults do. It would be misleading to say I was a total purist, though, because I also thought Rookie was really good, and that it should reach people rather than be small and struggling.

[…]

[Early on,] it was possible for Rookie's audience to grow organically, which means not without any luck/hustling/strategy whatsoever, but without spending money on jobs or services that most companies do for very obvious reasons: audience growth, business development, reader engagement, marketing. Now that I know what those jobs entail, I would not call them devil's work or even necessary evils. They require understanding people in ways that I do not and using your brain in ways that I can't. But from ages 15 to probably 20, I bristled at any mention of those words, at the idea of hiring someone to do any of them, of a five- or even two-year plan, of meeting with investors or possible buyers, of crowdfunding or asking for donations. … I didn't want Rookie to become a source of stress, or to feel like I was doing it more for a money-minded partner or owner than I was for myself and its readers. I needed time and space to grow up. I feared waking up in my 20s and finding that I'd produced 1,000 corny videos for a website that was once my baby and was now under the control of a guy named, I don't know, Bryce.

[…]

Nowadays, social media gets more of people's eyeballs than publications do. Publications can use social media to promote their content but it is rare to get people to actually click out of an app and look at it. Also, Twitter, Instagram, YouTube, etc., now exert more control over what you see, based on which accounts are best at posting according to those platforms' ever-changing algorithms. Maybe [this doesn't describe] your internet habits. But it describes those of enough people that most, if not all, digital media companies have suffered in the last few years trying to keep up. According to the Bureau of Labor Statistics, half the jobs in the information industry ceased to exist from January 2001 to September 2016. Some companies have rearranged themselves around social media algorithms, even when they were based on very flimsy understandings of the kinds of content people want to see. And, in the midst of all this, digital ad sales—Rookie's main source of income—became less valuable.

[…]

We started meeting with venture capitalists and pitching them on Rookie in fall 2017. My Bryce problem had calmed down; now, I even wanted their money, and was ready to channel my inner Bryce to get it. If some clickbait-y website could raise tons of money from investors and then eventually sell for tons more money, why not something that's actually good? (In most cases, this question answers itself.) We had put in the work, Rookie was already influential; if this was what we could do organically, imagine what we could do with more resources.

Younger-me would be skeptical and then relieved to hear that we didn't encounter that many Evil Bryces. We met a lot of Good ones, and Good Hayleys, and hell, even a Good Spike. (My idea of Good and Evil also got a little more nuanced.) A bunch of founders and investors were enthusiastic, happy to give advice or introduce us to other people who could help. I did not have to make Rookie sound like something it wasn't and I didn't feel gross telling people they should fund it.

[…]

But one problem with thinking you know what you want, with being good at locating words, and with being praised a lot for both of these things, is that it is hard to notice when you are evading the truth. It is hard for the people around you to notice, too, because it seems you have never been wrong before. Even if I knew that I would eventually need to not be as responsible for Rookie-the-business, I was still the person who'd started Rookie-the-art-project, and I was ready to compartmentalize my anxiety/stress until the art project and business were both where I wanted them. I wasn't a Bryce at heart, but I thought I could pretend for a few meetings or years in order to keep the art project alive and get myself some financial reward. I thought I could make my essential qualities malleable. I didn't see that the life one truly wants probably wouldn't require such shapeshifting.

Then, one week this summer, after sending our financial modeling to an angel investor who had already expressed interest, I couldn't get out of bed for days. I couldn't stop crying. I couldn't keep my food down. I threw out all the old explanations for how I was feeling until it could no longer be denied: I was worried she'd say yes, not no.
Okay, I'll stop there. Sorry for the long scroll that you probably don't even care about, but Gevinson is such a self-aware and interesting writer, and so much of what she's describing is stuff that I think about all the fucking time, that I wanted to share.
No, I've never had investors who wanted to buy Uni Watch, but these issues come up in other ways. A year or two ago, for example, there was a TV producer guy — really nice, really smart, a regular reader of the site (hi, Dan!) — who wanted to pitch a TV version of Uni Watch. I had a lot of misgivings, mainly because a TV version of Uni Watch would entail a lot of corner-cutting and dumbing-down and compromises, but I was also excited by the possibilities. So we worked for months on a pitch deck, I hired an attorney to review and negotiate my contract with the producer guy's company, blah-blah-blah. In the end, for a variety of reasons, we weren't able to sell the show — and I felt equal parts disappointment and relief.
Anyway: Gevinson is a much better writer than I am. Her entire farewell note is worth reading even if you don't care about fashion or teenage girl culture or 22-year-old media phenoms, because it touches on issues that affect everything we read online, and also touches on issues that creative people wrestle with every day. Check it out here.
• • • • •
• • • • •
The Ticker
By Jamie Rathjen

Baseball News: Here's the front of a blue alternate for the Auckland Tuatara, a New Zealand expansion team in the Australian Baseball League (from @tuatarabaseball). … New grey jersey for Stephen F. Austin (from Chris Mycoskie). … New jersey for Edison (Minn.) HS, whose nickname is the Tommies (from Jason Sellers). … New uniforms for Texas A&M (from @atxaggie07). … Here's some tremendous color footage of some 1938 White Sox pregame activities.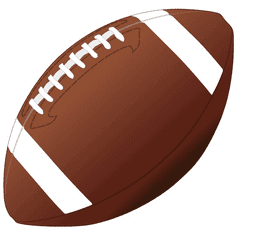 Football News: Army revealed their uniforms for the Army/Navy Game, and they're based off the insignia of the 1st Infantry Division. Phil will have a more in-depth look at this uni design, and also Navy's uniform, this Saturday. … Reader/painter Gene Sanny did a painting of '70s-era Raiders DL Otis Sistrunk. … The Sun Belt championship game between Appalachian State and Louisiana-Lafayette was color-vs.-color (from multiple readers). … A junior college bowl game between Iowa Western (whose nickname is the Reivers) and Snow (Utah) College was also color-vs.-color (from Scott Nuzum). … Here's longtime reader Marty Hick wearing a helmet with the logo of a St. Louis record store.

Hockey News: The Rangers retired No. 11 a second time for winger Vic Hadfield and the team wore a patch for the occasion. The team had previously retired No. 11 for Mark Messier (from Alan Kreit). … The Hurricanes are wearing their red uniforms for all three games of an upcoming California road trip, including a color-vs.-color game against the Ducks (from multiple readers). … Michigan/Michigan State was also color-vs.-color (from Patrick Flynn). … Notre Dame wore 50th-anniversary uniforms this weekend (from multiple readers). … The ECHL's Kansas City Mavericks wore Iron Man-themed uniforms (from Adam Stilley).

Basketball News: Arizona wore red uniforms with metallic golden numbers against UConn (from @TodayInSports3). … Color-vs.-color college games from the past few days included Iowa/Wisconsin, Minnesota/Oklahoma State (from Chris Lather), and Ole Miss/Louisiana-Monroe (from Archie Breland). … There was also grey-vs.-grey between junior colleges Western Wyoming CC and Rexburg (Idaho) United (from Jeff Atkinson). … New mascot costumes for Houston.

Soccer News: Former Liverpool midfielder Steven Gerrard wore No. 08, a variation of his usual No. 8, for at least one game in 2005-06 (from Moe Khan). … On the same subject, Scottish striker Derek Riordan wore No. 01 – which was supposed to be No. 10 backwards – for Hibernian in 2008-09. … English amateur team Caversham United, of the Reading and District Sunday League, are having a choose-a-kit contest with some very good choices (from @CrystalPalaceDC). … Not to be outdone by the Panthers, this weekend the Premier League's Fulham wore their eighth different combination, including four shirts, of this season. … New USL League One team Greenville (S.C.) Triumph signed a kit deal with Nike (from Josh Hinton and Ed Żelaski).

Grab Bag: BYU and Utah's women's volleyball teams normally play color-vs.-color, says Jim Vilk, but BYU wore white for an NCAA tournament game Saturday. … Cycling's Team Sky revealed their kit for next season, which is a return to dark colors after they wore white last season (from Cody Dannen). … Barbarian F.C., an invitational rugby union team assembled a few times a year, got new shirts with each number featuring the names of players to have worn the number for the team. The Barbarians' traditional uni-related quirk is that players wear the socks from their club team. … The Netherlands and Malaysia both wear orange in field hockey, but changed to black and white, respectively, when meeting at the men's World Cup in India. Additionally, Australia are the only team there wearing sleeveless shirts. … Ed Hahn was out with a friend who was wearing a ca. 1940s wool cloak that was part of her grandmother's nursing uniform at Emory University.