When I was a kid, I spent hours poring over the book The Pros, which one of my brothers had purchased years earlier and left behind in our house after he went off to college. It featured tons of great NFL photos from the late 1950s (and also lots of great illustrations and tons of fascinating info — highly recommended). Naturally, I paid close attention to the uniforms, and I was particularly intrigued by a shot of Giants linebacker Bill Svoboda, who wore two single-bar facemasks in an odd configuration:
So I've known about that mask since I was a little kid. But it turns out that the 1950s Giants had another player with an unusual mask — one that I've never seen until now, and that the good folks at Helmet Hut have brought to light.
The player in question is offensive lineman Bill Austin. Check out what he wore in 1955: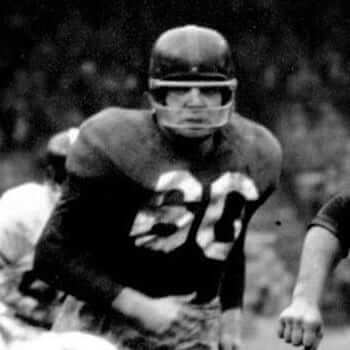 As you can see, he had a Lucite bar down at his jaw (lots of NFLers wore this accessory in 1954 and '55, after which the NFL banned them because they tended to shatter during cold weather) and a traditional single-bar attachment up around his eyes — bizarre! The Helmet Hut crew has put together a reproduction of this design, so we can get a better look at it: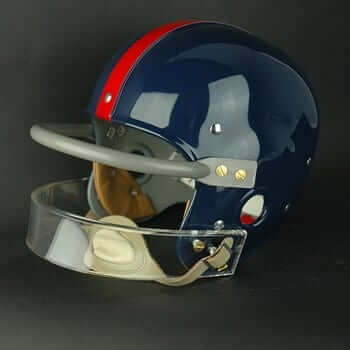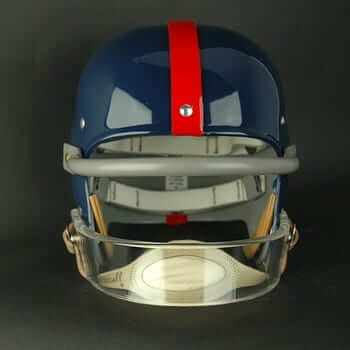 It's hard to imagine how you could play with that setup. Wouldn't the upper bar interfere with your vision? I've never seen anything like it. Has anyone else?
Incidentally, Helmet Hut also created a reproduction of Svoboda's helmet — the one I obsessed over after seeing it in that book when I was a kid. (And if you don't know it already, the Helmet Hut site is full of great photos and info — definitely worth exploring.
(My thanks to reader Bill Kellick for letting me know that the Austin design had recently been added to the Helmet Hut site.)
• • • • •
• • • • •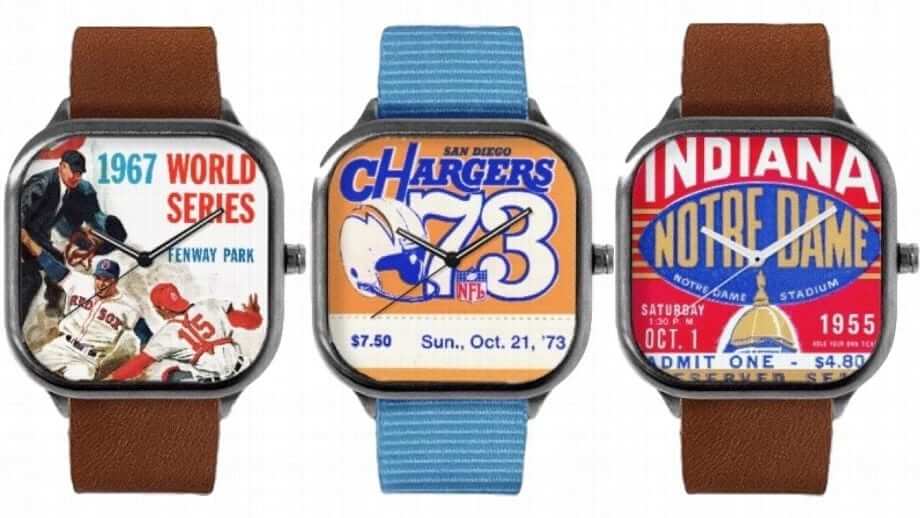 Gift Guide reminder: In case you missed it on Monday, my annual Uni Watch Holiday Gift Guide, filled with all sorts of cool uni-related gift items (including the retro-styled wristwatches shown above), is now available. Check it out here.
• • • • •
• • • • •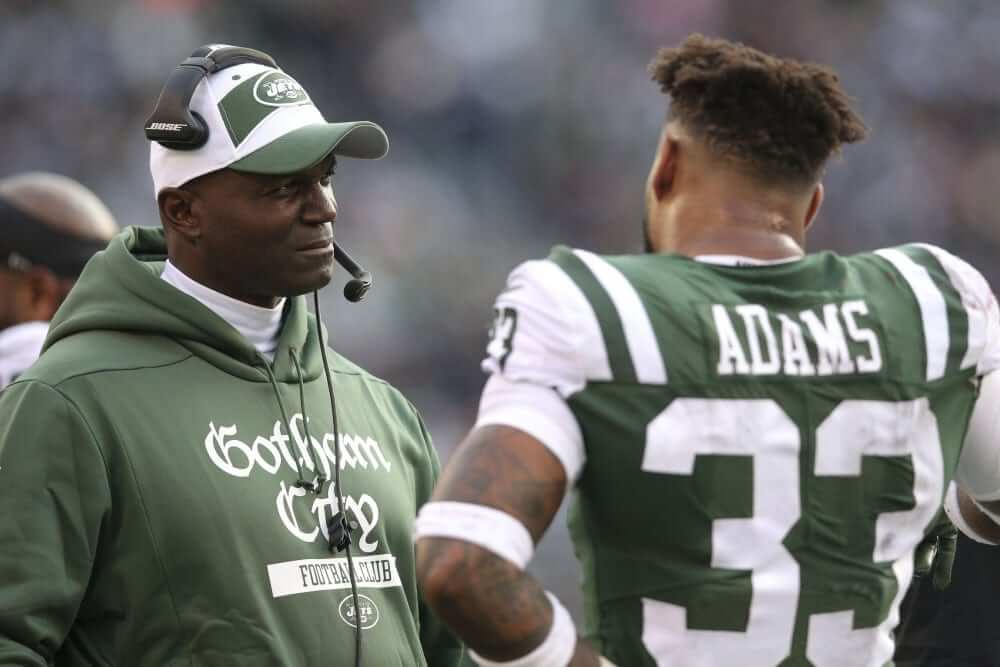 Click to enlarge
Holy lame-o merchandise, Batman! I neglected to mention in yesterday's MMUW report that Jets sideline personnel (including coach-for-now Todd Bowles, shown above) were wearing "Gotham City" pullovers. My first thought when I saw this on Sunday was, "Okaaaaay — the Jets, who don't actually play in New York, are repping a fictitious city that's supposed to be New York, only it's in a comic book. Yeah, that sounds about right."
Later in the day I learned that there's a Jets fan club called the Gotham City Crew, so I guess that's the connection. But what I didn't realize until yesterday, when reader Kevin McLaughlin pointed it out to me, is that the typeface on the sideline pullovers is modeled on — but is not an exact match for — a sign that appeared in the old 1960s Batman TV show (click to enlarge):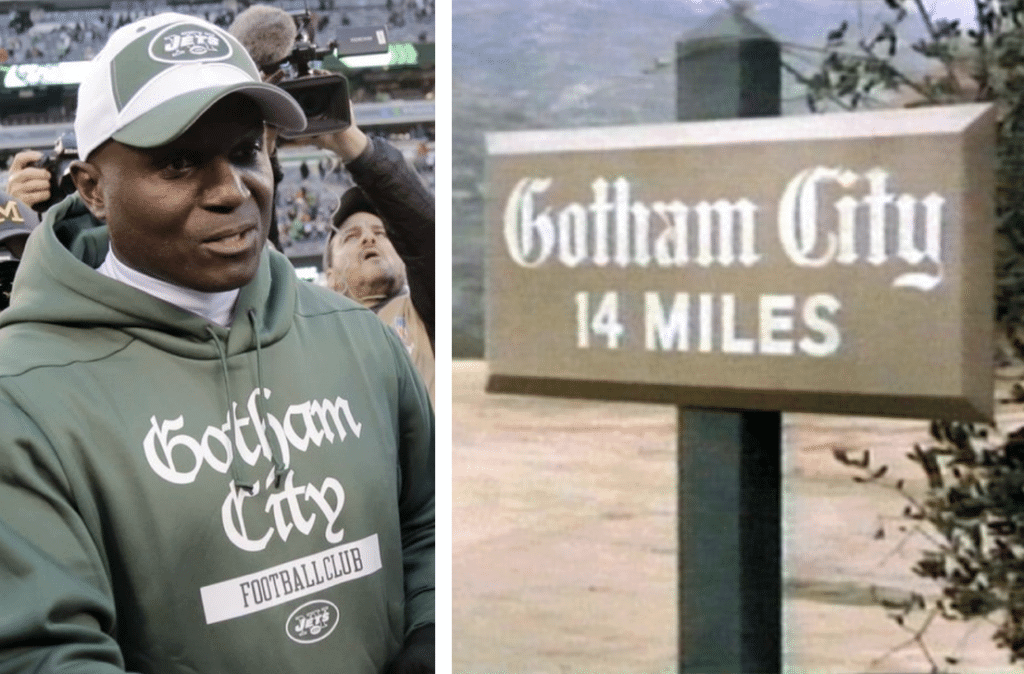 It's usually pointless to try to apply any kind of rational thinking to the Jets, so I'm just gonna leave this out here and let everyone else figure out what, if anything, to say about it.
(This is the part where I have to say that at least this pullover is better than the nonsense they wore for their previous game, but that's almost too obvious, right?)
• • • • •
• • • • •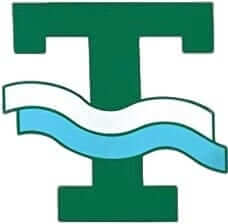 [Editor's Note: Two weeks ago, reader Bryan West-Whitman showed off the Pittsburgh-colored socks that his wife had knit him. Now he's back with his own DIY project. Enjoy. — PL]
My DIY Tulane Cap
By Bryan West-Whitman
When I was a freshman at Tulane, they had a block "T" logo with two waves washing over the stem of the letter. I used to have a green cap with that logo, which I wore until it basically fell apart. By that time, the school had changed logos, so a replacement cap was hard to find.
My wife, in addition to being a great knitter, is an accomplished embroiderer. Watching her gave me the idea to just make my own retro logo hat. I found a nice plain green hat and then plundered my wife's supplies to get the job done.
My original cap — the one that fell apart — had a white "T" with green and blue waves that were outlined in white. I knew I wouldn't have the talent or patience for that, so I decided to go with white and blue waves over a black "T." I think the black looks good on the green, and it also hides my mistakes. Here are some photos showing various stages of the cap [for all of these, you can click to enlarge]:
This was my first time embroidering. It was difficult, and it shows — the quality is not perfect. But it was fun, and the effort I devoted to it makes me appreciate it even more.
• • • • •
• • • • •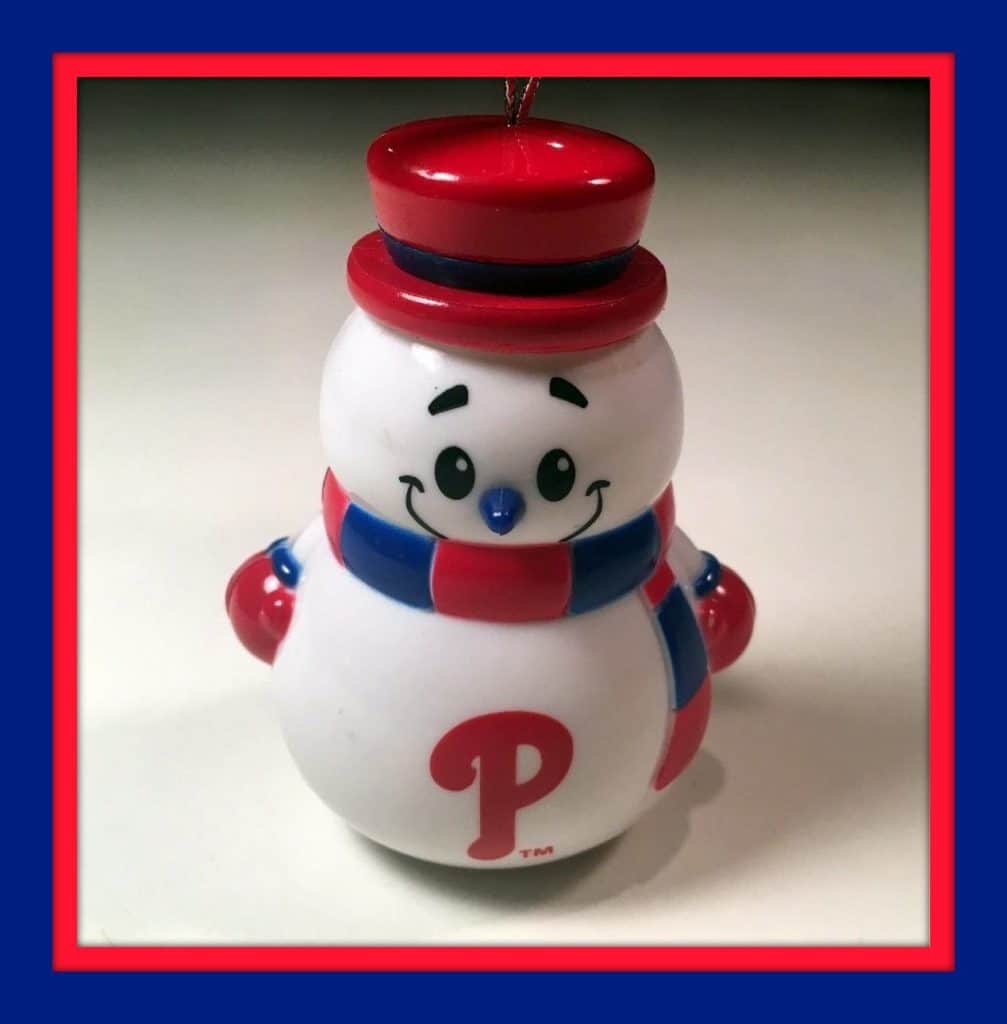 Collector's Corner
By Brinke Guthrie
'Tis the season to start decorating your Christmas tree. Phillies fans will love seeing this little snowman dude on their tree, no? See more ornaments for the NFL, NBA, NHL and MLB.
Now for the rest of this week's picks:
• This 1960s Boston Celtics hand fan (green on one side, white on the other) says, "The Celtics Are Fan-tastic."
• Put these 1970s "puffy stickers" in your favorite Dodgers fan's Christmas stocking.
• This 1970s Baltimore Orioles ski cap is perfect for freezing O's fans counting the winter days until spring camp.
• This 1970s Raiders helmet bank is still in its original box.
• This set of eight vintage 49ers drink coasters also comes with a 49ers/BMW keychain.
• Registration on the Steelers logo is just a tad off on this 1970s key case.
• Wendy's Hamburgers gave away these 1970s "I'm Colt Proud" caps.
• Here's a great-looking late-1970s or (more probably) 1980s Cincinnati Reds Starter jacket.
• Take your pick from this variety of 1970s NFL helmet tie tacks. Eleven to pick from.
• Check out this complete set of 1971 Chiquita NFL helmet stickers.
Seen an item on eBay that would be good for Collector's Corner? Send any submissions here.
• • • • •
• • • • •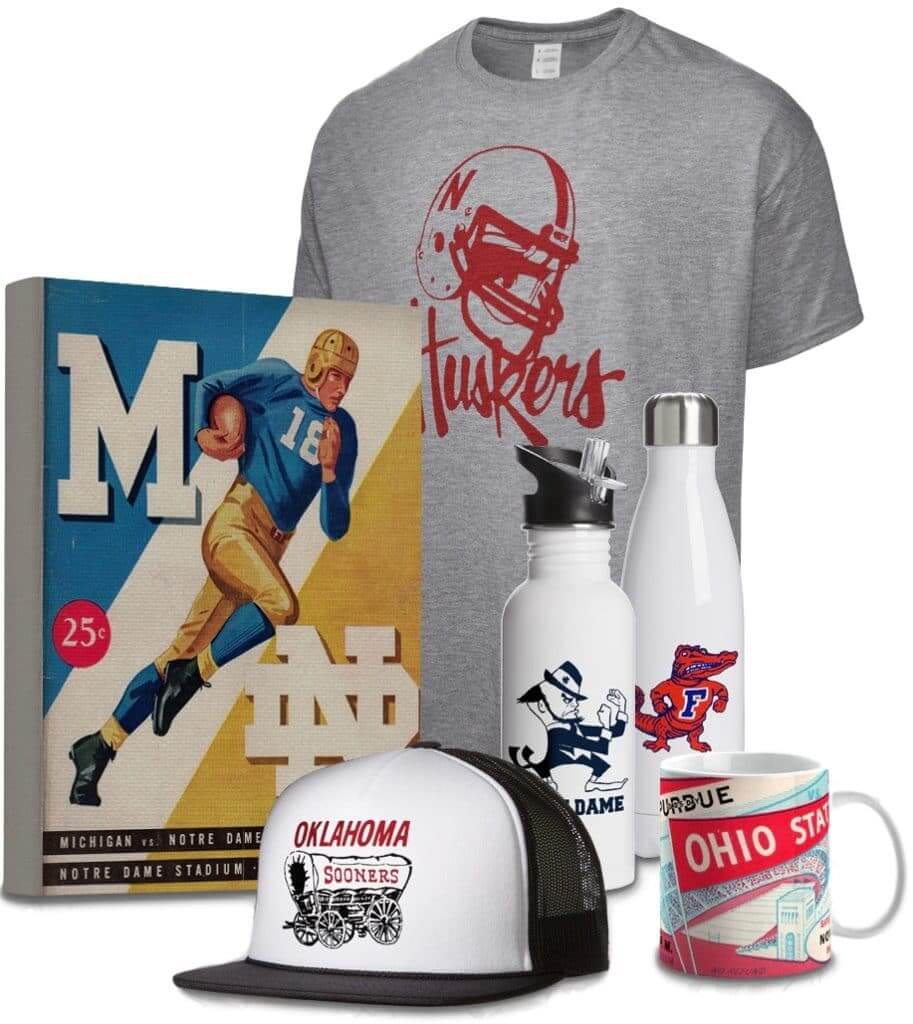 Raffle reminder: In case you missed it yesterday, we're doing another raffle with the folks from Vintage Brand, who specialize in retro-styled sports stuff (like the items shown at right; click to enlarge). The winner will get to choose anything from the Vintage Brand site.
To enter the raffle, send an email to the raffle address by this Thursday, Nov. 29, 7pm Eastern. One entry per person. I'll announce the winner on Friday.
In addition, Vintage Brand is offering a site-wide 30%-off sale. The discount will automatically be applied to your order at checkout — not bad!
• • • • •
• • • • •
The Ticker
By Alex Hider

Baseball News: Reader Andy Connelly DIY'd this awesome early-1900s Red Sox bench sweater. Great stuff! … New uniforms for Transylvania University, an NCAA D-III school in Lexington, Ky. … Back on April 3, 1998, Expos 1B Brad Fullmer was wearing an NFL-style hand-warmer pouch for a cold game at Wrigley Field (from @MBDChicago).

NFL News: The Texans debuted their "RCM" memorial decals for team owner Bob McNair last night. In addition, team employees wore ribbons and the memorial logo also appeared on the 25-yard line (from Ignacio Salazar). … Texans WR DeAndre Hopkins tore his glove during last night's game (from Chris Perrenot). … Staying with Monday Night Football, ESPN used the wrong Titans helmet in a graphic. I may be wrong, but I think ESPN did the same thing earlier this year during another MNF game involving Tennessee (from Matt Shevin). … Reader Tyler Evans was watching Monday Night Football previews and noted this shot of former Oilers WR Ken Burrough wearing No. 00. For those wondering, the only other person to wear that number was former Raiders C Jim "Aught-O" Otto. … We may have ticked this before, but Robert Morris University in Chicago is basically poaching the Philadelphia Eagles' logo (from Michael Kinney). … 

College Football News: Red River Rivals Oklahoma and Texas will square off in the Big XII Championship game this weekend. However, the Golden Hat, the teams' rivalry trophy, will not be on the line.

Hockey News: Rangers players wore purple chinstraps for Hockey Fights Cancer last night. In addition, the ads on the boards at Madison Square Garden went purple (from Alan Kreit). … Remember the jerseys the Jets wore during the 2016 Heritage Classic? They'll wear those sweaters again on Dec. 31 and Feb. 26. … This Bruins' Patrice Bergeron bobblehead possibly gives us a first look at Boston's full Winter Classic uniform. We had previously seen just the jersey (from Okie). … Cross-sport tribute alert: The Calgary Hitmen of the WHL wore helmet decals to support the CFL's Calgary Stampeders, who won the Grey Cup Sunday (from Moe Khan). … Goalie Colin Dunne of Allan Cup Hockey's Hamilton Steelhawks has an awesome Gerry Cheevers-style paint job on his new mask (from Ross Taylor). … The rock band Metallica sold Golden Knights-themed T-shirts for last night's shown in Las Vegas.

College Hoops News: San Diego State will wear turquoise jerseys for Native American heritage month and Nike's N7 program on Nov. 27 (from Phil Hecken).

Soccer News: After an outcry from fans, Bayern Munich has announced that it is sticking with red and white and dropping the navy shorts from its home kit rotation (from Josh Hinton and Phil). … Cool move by Ekstraklasa, Poland's top soccer league, which is partnering with the Warsaw Museum of Sport and Tourism to make a retro soccer league, complete with era-appropriate uniforms (from Ed Zelaski). … Here's a deep dive on Forward Madison FC's new logo. The team will begin play in USL League One next season (from JM Fisher).

Grab Bag: Aaron Bold, a goalie for the Vancouver Warriors of the National Lacrosse League, has a new mask (from Wade Heidt). … Coca-Cola published a Q&A with Justine Fletcher, a historian with the company who was recently named the company's chief archivist (from Ted Arnold). … These are the uniforms Italian volleyball club Diatec Trentino will wear at the FIVB Men's Club World Championship (from Jeremy Brahm).