Click to enlarge
Paul here, checking in from Virginia, where I'm spending the weekend. Phil is also traveling this weekend, and the rest of the Uni Watch crew has the weekend off, so we're filling the gap with a weekend post from the past — a really good one that originally ran in 2015. Some of the links no longer work, but you'll still get the gist. Enjoy.
The Greatest Uni Year in Baseball
By Phil Hecken
Ahhh…1969. Woodstock, the Moon Landing, the Beatles were still together. The Manson Murders, the Stonewall Riots. Lots of things were happening in that eventful year.
It was also, in my humble opinion, the absolute apex for baseball uniforms — the best year, bar none, of all the years in baseball. Baseball had just expanded (for the third time in less than 10 years) to include four new cities, three of which never had major league teams before, and spread out across the USA and into Canada (San Diego, Montreal and Seattle, plus Kansas City). Teams still wore flannel, but the uniforms were tailored and fit a bit snugly. Stirrups were (of course) still worn, but slightly higher than they had been for decades. Only two or three clubs (technically) had an alternate uniform, but not everyone wore only white or gray. Almost every club wore the Jerry Dior patch. We still hadn't witnessed the scourge of pullovers and sansabelt polyester.
In short, it was perfection on the diamond. Sure, not every team would be wearing the "best" uniform in their history during this year, but many were. I only wish I weren't three years old when it took place.
Lets take a quick look at the uniforms each team wore in 1969. I think you'll agree with me that you'd be hard-pressed to find another year when baseball uniforms looked so good. Click any photo below to enlarge.
+ + + + + + + + + +
Not their greatest uni, but still solid. Pinstripes at home, gray on the road, classic "A" on the cap.
+ + + + + + + + + +
Dressed to the Nines shows the O's with a vest (and with all clubs who wore one this season, it was a true vest, not the sleeveless shirt of recent vintage, like the Rockies
still wear
). Other than the thicker font, this is definitely one of the O's best ever unis. And the roads said "Baltimore."
+ + + + + + + + + +
Classic home uni, basically their best look ever. I'm not as big a fan of the block outline "BOSTON" for the road grays (in a non-Tuscan font), but still a good look. Almost perfect.
+ + + + + + + + + +
Not their greatest uni (that would be what they were born in), but still a good looking set nonetheless. The caps
still had the "halo" on them
— probably the second greatest cap in history — and second only to another cap worn in 1969. The contrasting sleeves and stirrups bring it down just a smidge, as does the "ANGELS" on the roadie.
+ + + + + + + + + +
This is just a gorgeous set — probably the second best set in their uniform history (I prefer the
zipper-front, non-pin
just slightly more), but as a home and road combo, it's probably their best historically. They may have had a bad year in 1969 (as well as 1909 thru present), but uni-wise, they were great.
+ + + + + + + + + +
OK. Not the best ChiSox home uni by any means (but they've had plenty worse over the years), but that road uni is beautiful, and (I'm sure some will disagree with me), one of only two seasons where a MLB club wore darker sanis than stirrups — a unique look they quickly jettisoned. But those roads were awesome.
+ + + + + + + + + +
It doesn't get much better than this. Seriously, it doesn't. When you think of the quintessential Reds uniform, this is it.
+ + + + + + + + + +
While this isn't one of my personal favorite sets, there's no denying this one is still pretty good looking. The zipper-front vest (!), the stirrups — that would look good today, and was still one of the better sets in the Indians history.
+ + + + + + + + + +
Best uni set in Tigers history. Classic. The block "DETROIT" on the roads should be brought back.
+ + + + + + + + + +
I've often said the 1965 (first "Astros" uni) set was their best, and they were still wearing that look in 1969 (they'd keep this until 1970, before swapping in the orange cap and uni elements). Still a beautiful uniform today, I was hoping they'd
bring it back
on a full-time basis.
+ + + + + + + + + +
A beautiful set, and
almost
their best look ever — for that, they'd need to wear their
button-front powder blue
roads, but it's pretty close. The Royals don't look bad in gray…they just look better in light blue.
+ + + + + + + + + +
Lets face it — the Dodgers have looked great for decades, and this uni is great looking, just adding to the uni awesomeness that was 1969.
+ + + + + + + + + +
Their best set was probably their first uni set in 1961, but this is still stellar. Their 1969 roadie is still their best road uniform ever.
+ + + + + + + + + +
Without question, this was the best uni the Expos ever wore. A new team, a new country — that crazy cap. Fantastic.
+ + + + + + + + + +
Lots of incredible stuff happened in 1969. The Mets taking down the mighty 109-win Baltimore Orioles to win the World Series was just one of those things. And those are certainly the greatest uniforms ever worn by the Amazin's.
+ + + + + + + + + +
The Yankees have pretty much been wearing the same set since the 1930s. It looked great then, it looks great now, and it looked great in 1969.
+ + + + + + + + + +
A white, a gray
and
a gold (the horror!). I kid, of course, but the A's were always one of the more progressive clubs when it came to uniform design (or at least they used to be, now they're just like everyone else). But that vest set in 1969 was still gorgeous. Not their best ever (yes, I liked their next set — with the polyester pullovers and multiple caps/tops — because they basically invented it) but still a fine, fine uniform for 1969.
+ + + + + + + + +
This was basically the set the "Whiz Kids" wore more than a decade previously, and it was a great set. Maybe not as great as when their red became maroon in the next decade, but a great set nevertheless.
+ + + + + + + + + +
Easily one of the best sets the Pirates ever wore (yes, I have a soft spot for the mustard Pirates set that would follow — again, because it was the first polyester uni in the bigs, although it led to mayhem when almost everyone followed suit). But this one was an all time classic. For some reason, the Pirates did
not
wear the Jerry Dior patch this year.
+ + + + + + + + + +
Another new club for 1969, I've always felt the Padres homes were their best home uni ever. I confess to liking their all gold road unis introduced a few years later a bit better than the '69 roads, but this was still a fine set.
+ + + + + + + + + +
McCovey, Mays and Marichal all wore this uniform and looked damn good doing it. Just a great looking set.
+ + + + + + + + + +
This was one of the greatest uniforms of all time, and it's a shame the Pilots only lasted one year (although the team the Pilots would become, the Brewers, basically used the shells of these uniforms in early 1970). The road uniform was perfection, and
the scrambled eggs cap
remains (IMHO) the greatest cap in MLB history.
+ + + + + + + + + +
This is basically (and arguably) the greatest uniform the Redbirds have ever worn (I've always loved
this particular uniform
, with the zipper-front and shoulder striping — a look that needs to return on some team). But the 1969 set, with the red cap on the road, is pretty damn close to perfection.
+ + + + + + + + + +
Once the original Washington club left for Minnesota, the Senators Part II
never really had great unis
, but this was probably the best of the bunch. It wasn't bad, but it was pretty basic — almost like they were just biding time until they moved to their next venue. Basic, but not bad by any means. The classic 'curly W' and script "Senators" was still a fine way to round out the greatest uniform year of all time.
+ + + + + + + + +
OK readers — what do you think? Clearly, opinions are just that, and I'm sure many of you will disagree with me — but if you do, what do you think was a better year for unis? Sure, we look back fondly at those crazy uniforms of the mid/late 1970s nostaglically, but there were some bad unis in the group. But hey, I'd love to hear what you think. Fire away.
• • • • •
• • • • •
NOB jobs, continued: Reader Alex Rabens has a cousin, named Simon Rosenblum-Larson, who was recently drafted by the Rays. He just received the uniform for his spring training instructional league invite — check out that NOB! Fifteen letters, plus the hypen. If he ever makes it to the bigs, that would beat out Salty for the MLB record. Of course, there have been other long-surnamed minor leaguers who never got the big league call-up, so we'll have to wait and see whether Rosenblum-Larson is a contender or a pretender.
• • • • •
• • • • •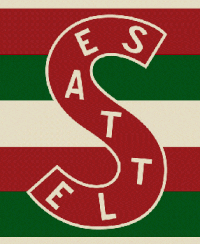 Contest reminder: In case you missed it on Friday, ESPN.com's hockey editor has asked me to have a design contest for the potential new NHL franchise in Seattle, so that's what we're going to do! Here's the skinny:
• Your entry must include a team name, a primary logo, full home and road uniforms (jerseys, pants, socks, helmets), and an inaugural-season logo that can be worn as a patch. If you like, you can also include secondary logos, an alternate uniform, and a center ice design, but those aren't required.
• You can draw upon Seattle's rich hockey history or start from scratch. Up to you!
• Your designs can be created in any digital or analog medium (Illustrator, Photoshop, crayon, whatever) and can be submitted in any standard digital format (JPG, PDF, TIFF, etc.). You can also create a video presentation, upload it to YouTube, and submit the YouTube link as your entry.
• The files you submit should be named after yourself (PaulLukas.jpg, for example). If you're submitting multiple files, please either number them (PaulLukas1.jpg, PaulLukas2.jpg, etc.) or use some other designation (PaulLukas-homeuni.jpg, PaulLukas-logo.jpg, etc.). Files that don't follow this format will not be considered.
• In keeping with longstanding Uni Watch chromatic policy, entries with even a hint of purple will not be considered.
• Email your entry to Uni Watch HQ (note that this address is just for contest submissions — please don't use the usual Uni Watch email address). If you have more than one concept, feel free to enter as many times as you like.
• Deadline: Monday, Nov. 26, 7 p.m. ET.
The best entries will be showcased in one of my upcoming ESPN columns. Good luck!