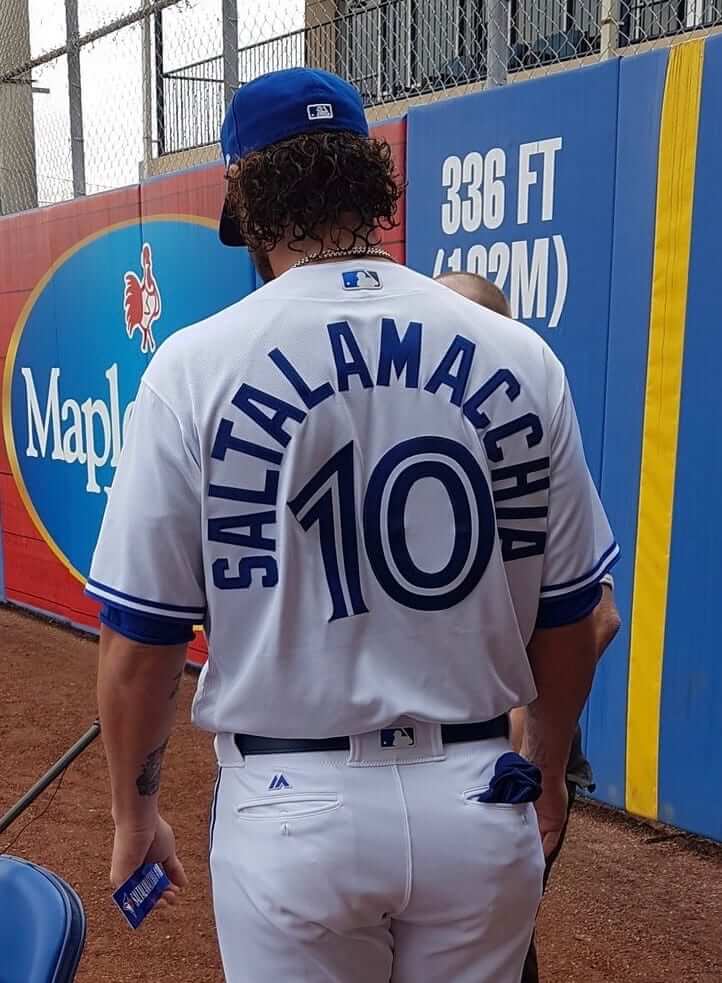 Click to enlarge
Jarrod Saltalamacchia and his MLB-record 14-letter surname are in Blue Jays camp this spring. As you can see, the Jays are taking the around-the-world approach to his NOB.
Toronto is Salty's seventh big league team. How have the other six handled his prodigious NOB? Let's take a look, going in chronological order throughout his career (for some of these, you can click to enlarge):
Braves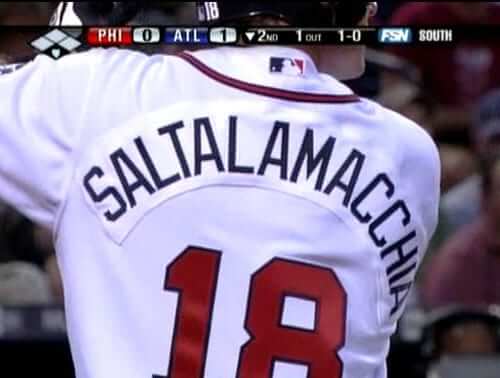 .
Rangers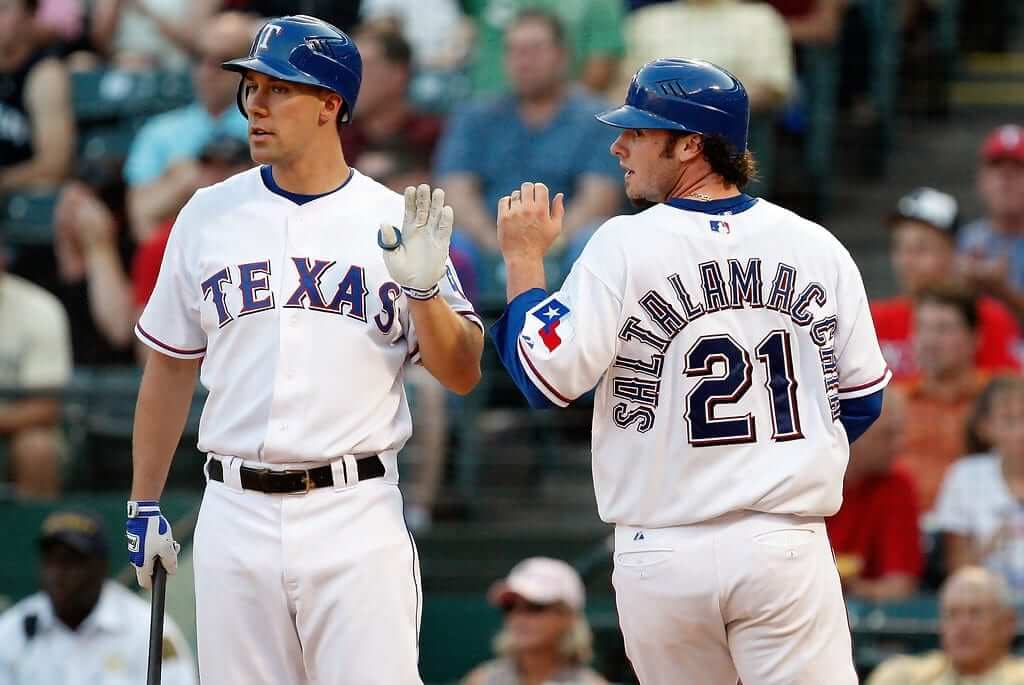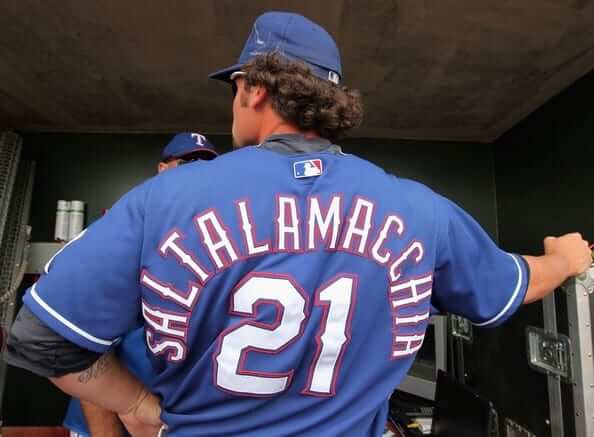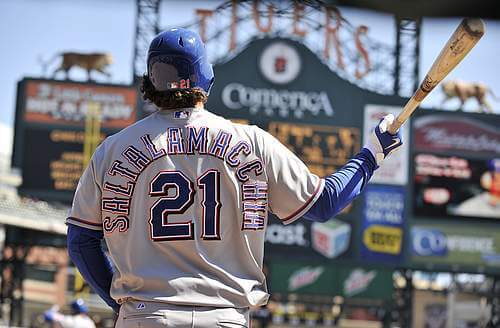 .
Red Sox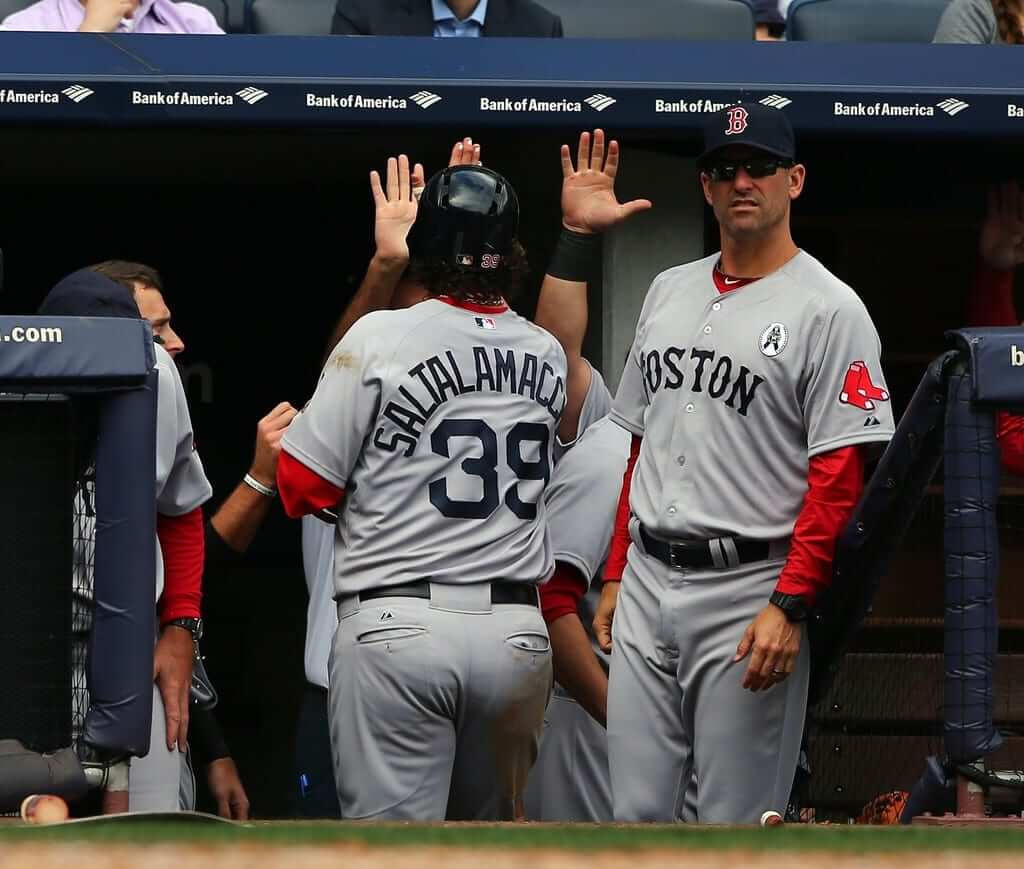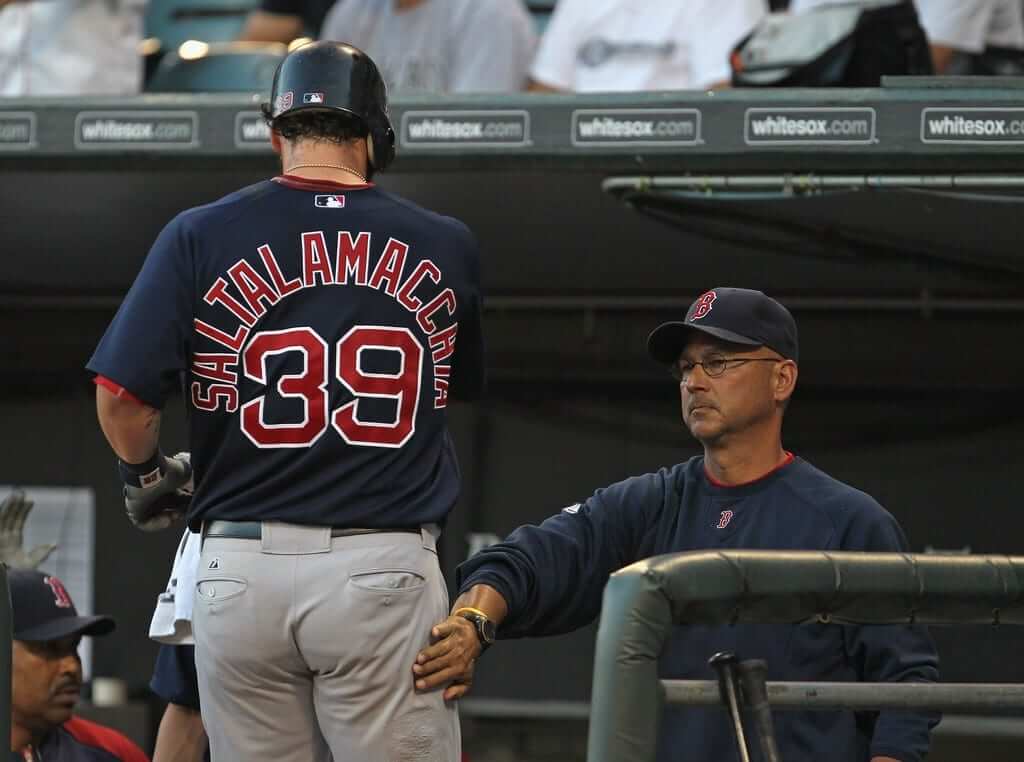 .
Marlins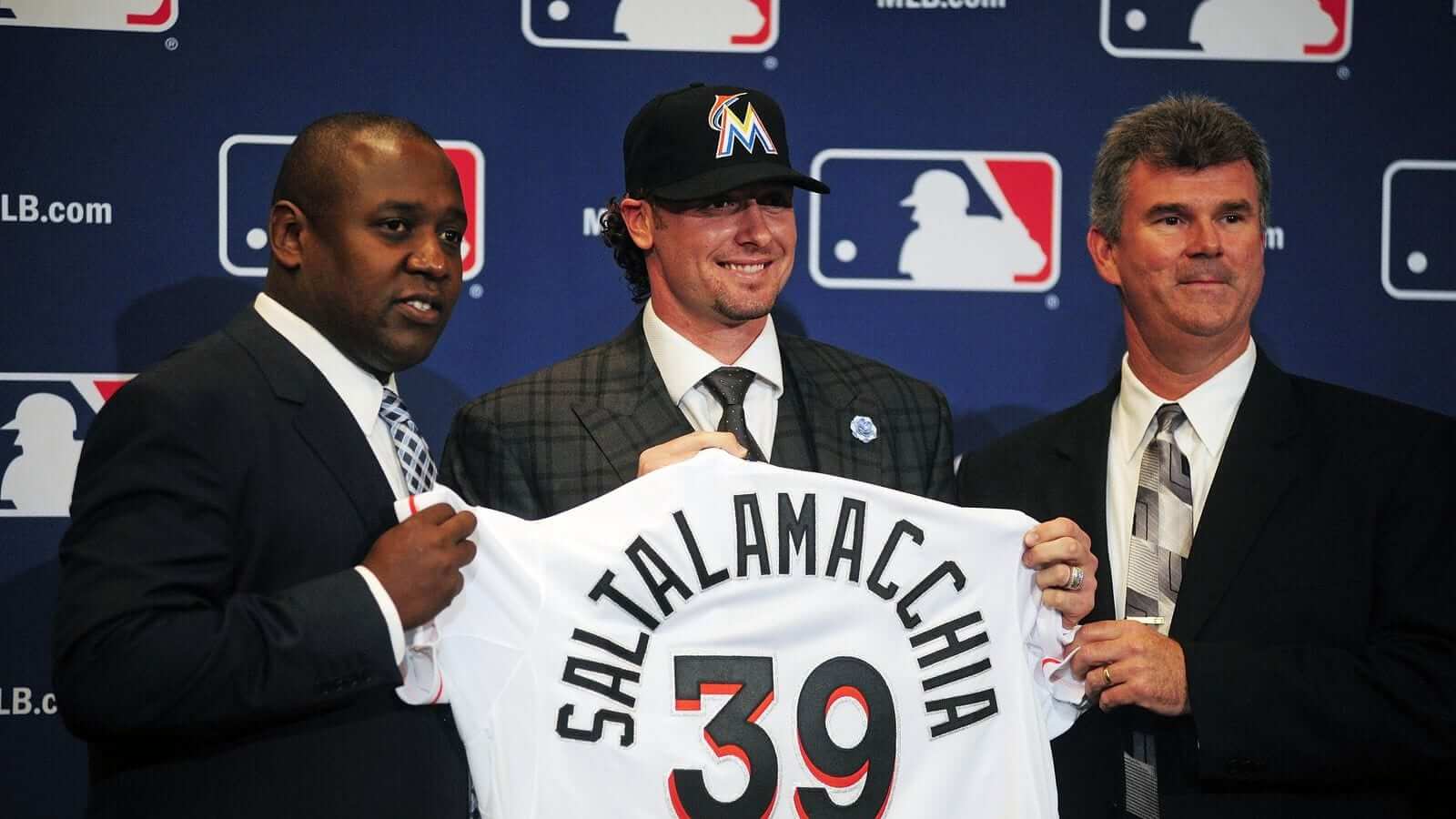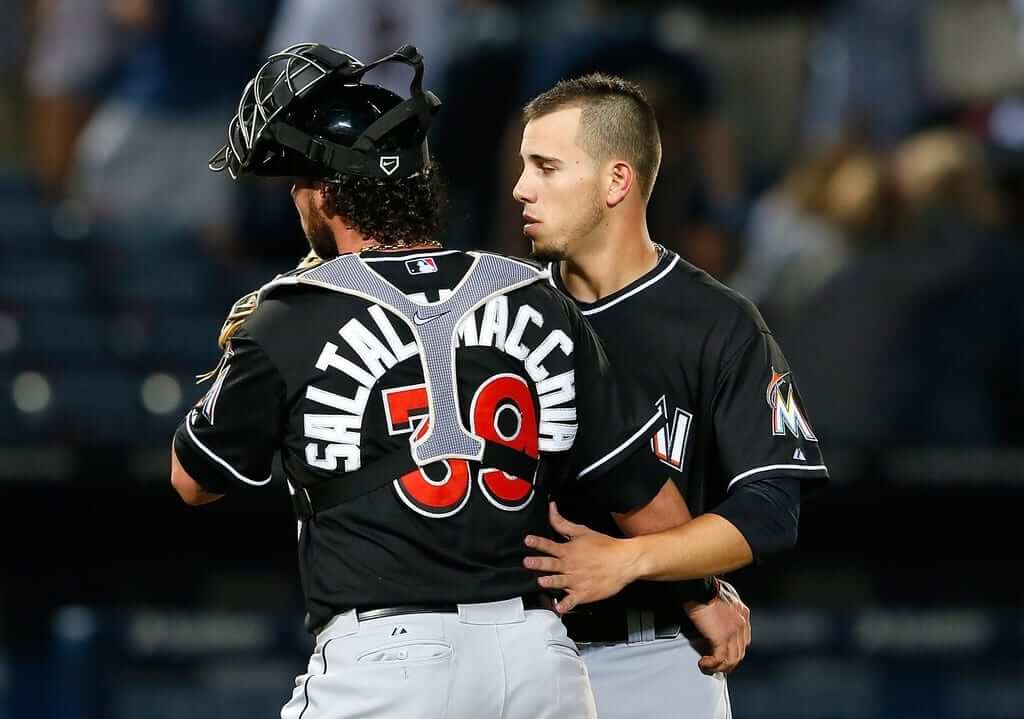 .
Diamondbacks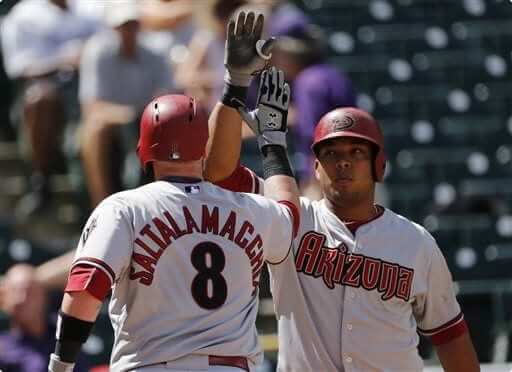 .
Tigers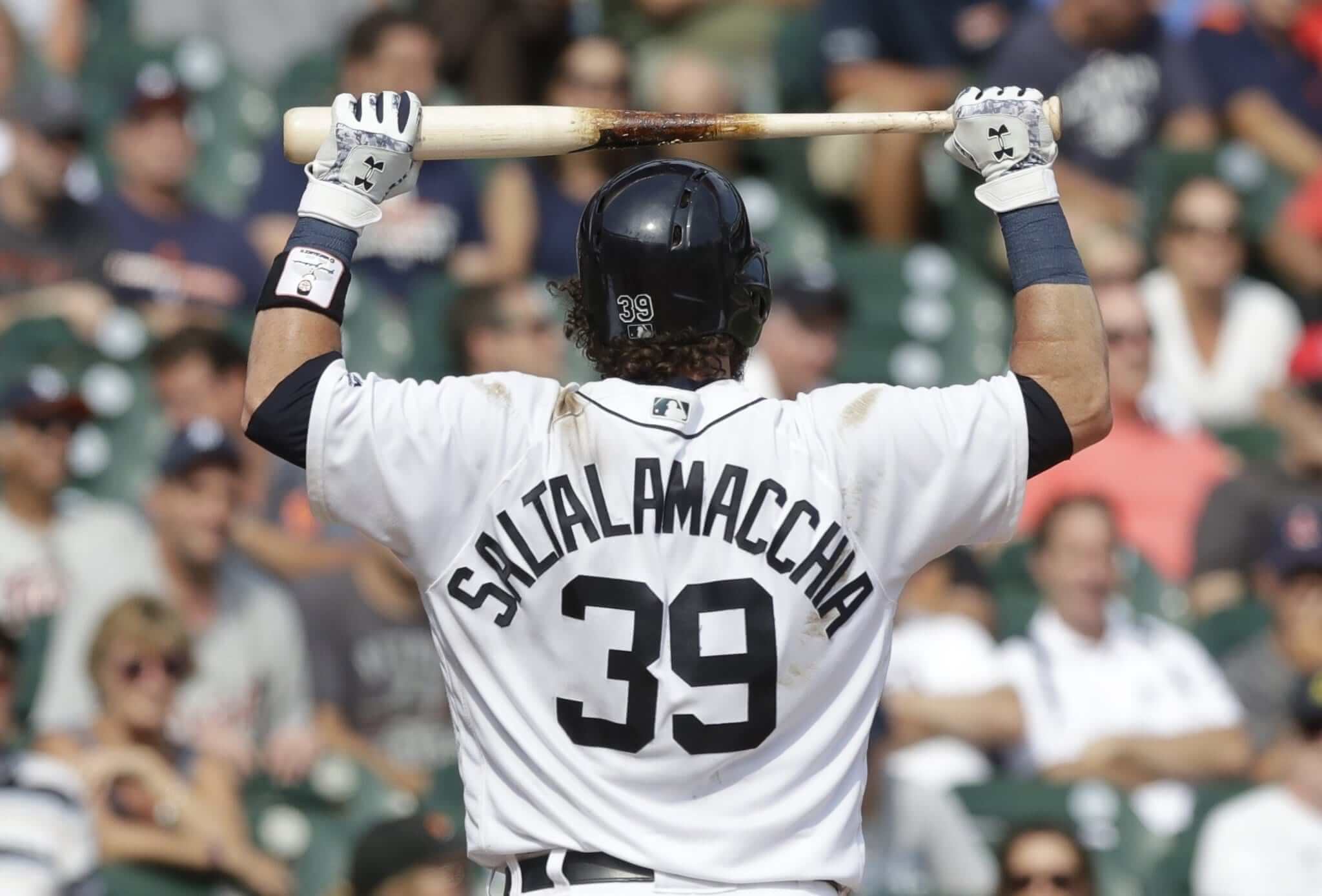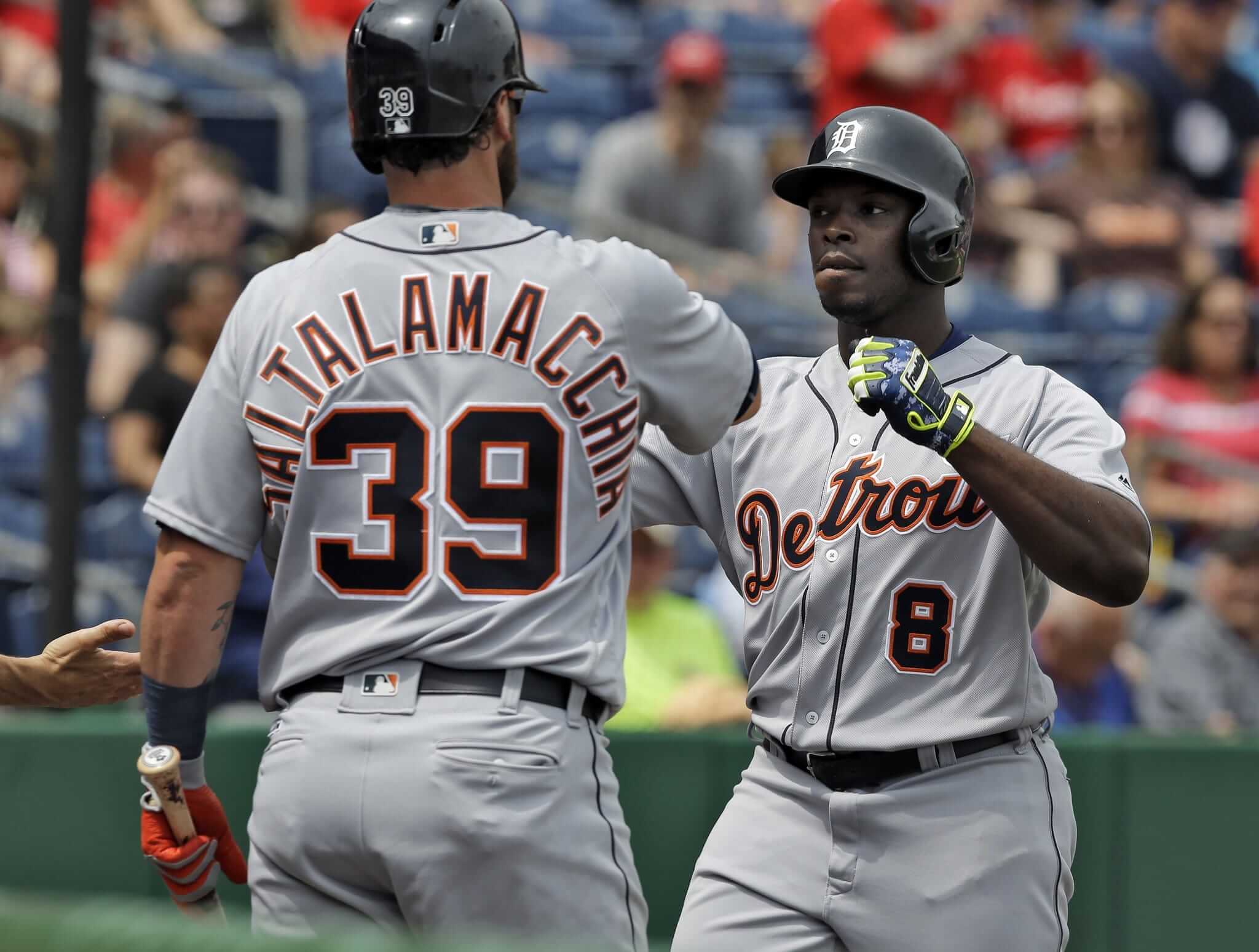 ———
It's interesting to see how some NOB fonts are more conducive to long, clunky names than others. Also, I always find it startling to see Detroit's one-color home lettering/numbering juxtaposed with the three-color road typography. It's like two completely different teams. (And as an aside, that last Tigers photo shows the road uni with the home helmet — a telltale sign of a spring training game.)
•  •  •  •  •
NBA ads — what have we learned so far? We've now seen the corporate advertising patches that will be by worn next season by five NBA teams, plus there's a reputable report of what a sixth one will be. That amounts to 20 percent of the league's teams, which is a sizable enough sample to draw some preliminary conclusions regarding the ad program. I've come up with five takeaways and written about them in a new ESPN piece. Check it out here.
•  •  •  •  •
T-shirt reminder: Our latest T-shirt, designed by the great Todd Radom, is now available. Check it out (click to enlarge):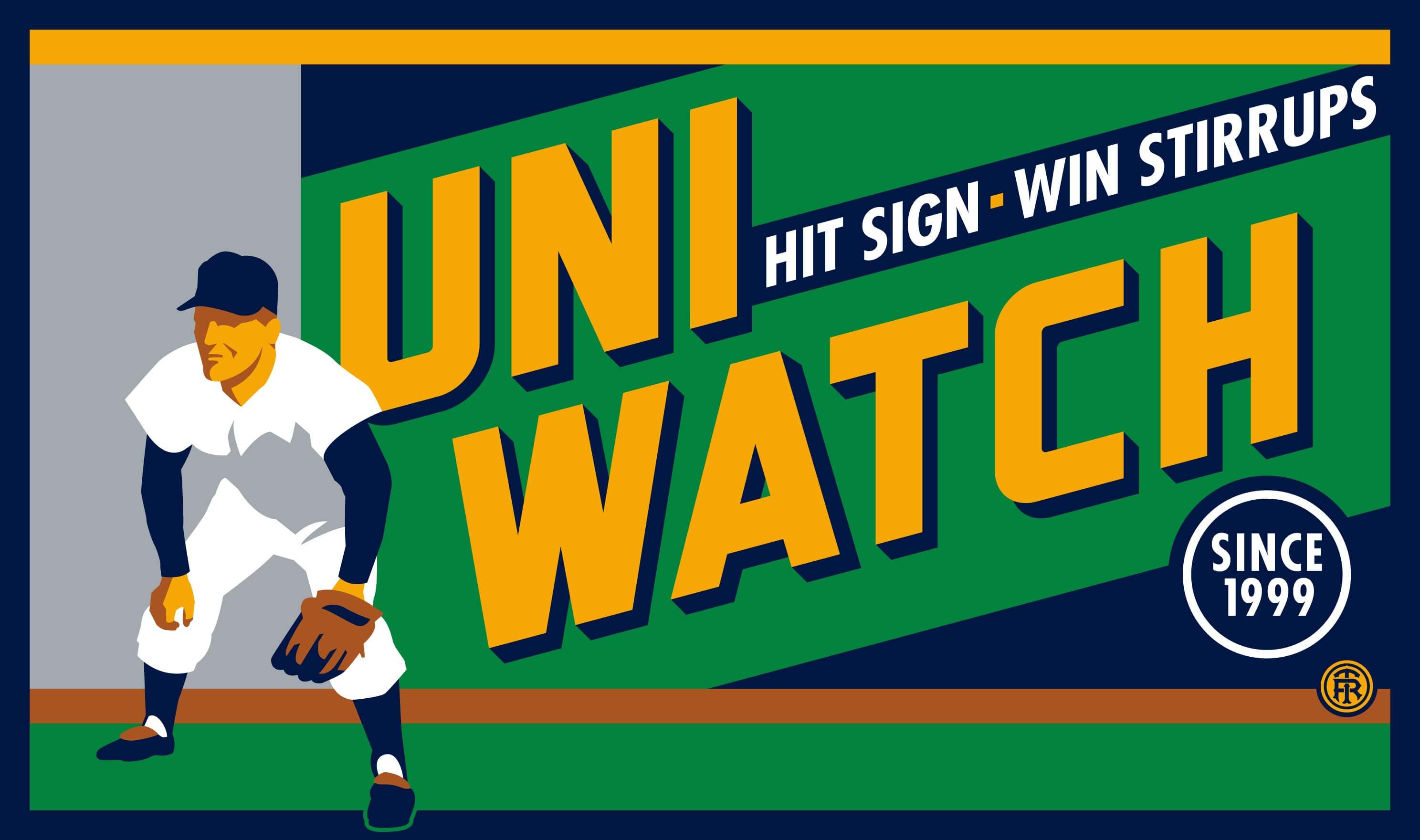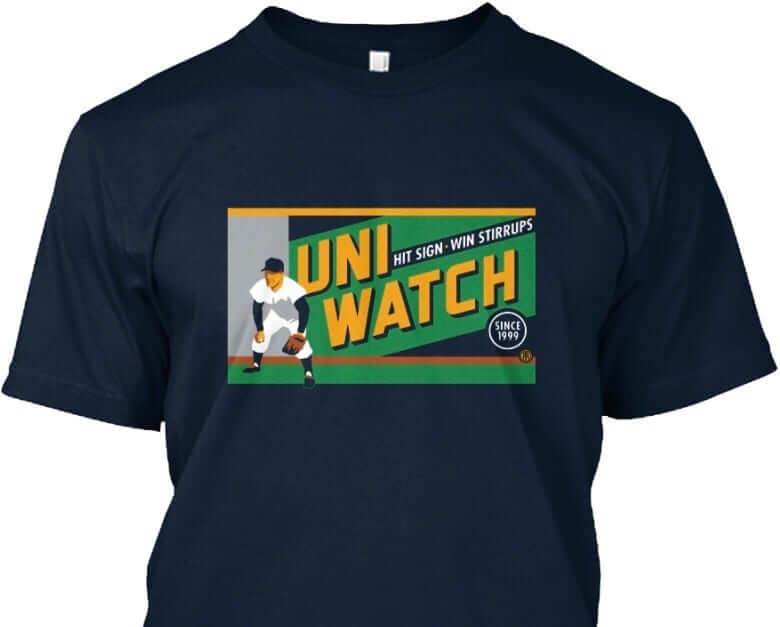 The design takes inspiration from the old Abe Stark sign at Ebbets Field, which read, "Hit Sign, Win Suit." Please note that we're using the shirt fabric color to fill in the dark portions of the design — the outfielder's cap, sleeves, stirrups, and shoes, and the dark parts of the sign behind him. We think it looks best on Teespring's dark navy shirt, which is the version shown above. But you can also order the shirt in black (yes, go ahead and make all your BFBS jokes), in which case the design will look like this: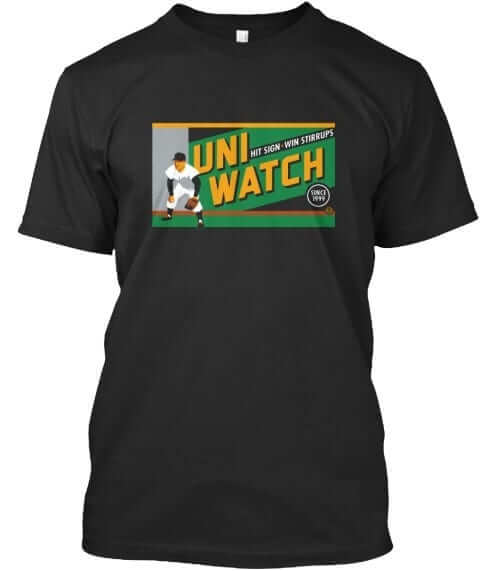 There's also an American Apparel short-sleeved version and a long-sleeved version, both of which come in a slightly lighter shade of navy. You'll be able to see all of this on the ordering page. Just make sure you choose the shirt and color you like best.
The shirt is available here through next Friday, March 3. My thanks, as always, for your consideration.
•  •  •  •  •
The Ticker
By Mike Chamernik

Baseball News: Braves great Dale Murphy is in favor of uniform ads. It's funny — or maybe sad — that he suggests "tasteful" ads and runs of an image of this monstrosity (from Patrick Lasseter). … Adam Wainwright gave an interesting interview about how he's been wearing Velcro-closure cleats since he nearly got injured covering first during a game in 2013. His shoelaces got tangled up in the baserunner's spikes, and he decided not to wear laces anymore. The kicker is that his shoe company didn't want to provide him with Velcro cleats because they said they'd never be able to sell them. Nice (from Erik Spoonmore). … A fashion designer created colorful baseball jerseys to promote equality and protest President Trump (from several readers). … Everyone can stop holding out hope: The Yankees will indeed have a New Era logo on their caps, just like everyone else (from @mike3783) … When the Rays switched to Flex Base jerseys last year, they made the sunburst in their logo slightly larger. Here is the current home jersey, and one from a few years ago (from Brian Cheung). … The Las Vegas 51 have patches for their 35th season (from @shockz81388). … Don't like those big "FL" and "AZ" patches on the spring training caps? Colin Valada removed his with a hair dryer set on high. … Texas A&M's alternate unis have matching sleeve and stirrup stripes (from Glenn Stern). … Here's something I didn't know: Softball pitchers wear toe protectors since they put so much pressure on the foot that pushes off the rubber (from Andrew Lehman). … The Royals' Drew Butera has a red, white, and green catcher's mitt for Team Italy in the upcoming World Baseball Classic. … Baseball-reference.com underwent a redesign and one of the cool new features is period-appropriate logos from SportsLogos.net. … UAB wore new road greys yesterday (from Ted Chastain). … Check out this 1980s shot of White Sox owner Eddie Einhorn wearing pullover that's basically a reverse-field version of the team's beach blanket jersey.

NFL News: I didn't see the episode so I don't know if there was a joke behind it, but an awful Jets helmet mailbox appeared on the sitcom Kevin Can Wait earlier this week (from Chris Flinn). … Reader Ryan Connelly created his own NNOB Steelers jersey. He customized it with block numbers and a 50th anniversary patch. More photos here. … A few items have caught Gene Sanny's eagle eye lately, including he goalposts and tiny Browns wordmark in this photo; Tim Rossovich of the WFL's Philadelphia Bell with a poof of hair out the back of his helmet; and a few old Wishbook Catalog pages with NFL jerseys, helmets, and T-shirts. … Cardinals kicker Jim Bakken kicked with an unbuckled chinstrap (from reader Chris T). … CNN showed a group of Guatemalan refugees arriving in America, with one of them wearing a phantom "Patriots Perfect Season 19-0" sweatshirt (from Bob C.).

Hockey News: Here's a brief history of the goalie mask (from Phil). … We saw the Maple Leafs' new St. Pats throwbacks yesterday, but now we can see the unusual back numbers (from Moe Kahn). … A junior hockey team has been accused of altering replica jerseys to make them look game-worn, and then selling them to collectors (from Tris Wykes). … A girls' team in Connecticut wears uniforms modeled on the Rangers' home design (from Josh Fisher). … The cover of a 1954 issue of Blueline magazine has a good shot of Gordie Howe with the pennants of the Red Wings' rival teams. Note Chicago's unusual hawk logo, and that Blackhawks was one word. It was Black Hawks until the mid-1980s (from Kevin Vautour and Eric Zweig). … Jerry Wolper took a bunch of photos at a Penguins history exhibition. You can see them by scrolling down through his Twitter feed. "I've always been fascinated by the ill-fated Ottawa Civics of the WHA," says Justin Mckinney. "I had read that after moving from Denver they played in the same uniforms with the Denver Spurs logo removed. I did some digging and found this nice blog that details the account of the club and includes photos from the club's two home games in Ottawa. Sure enough, they are wearing the Spurs uniforms with the logo."

Pro Basketball News: Dwight Howard's Atlanta high school will retire his No. 12. He wears 8 with the Hawks. Quick aside: I wanted to double-check his current number, so I Googled "Howard Hawks." I didn't expect the Wikipedia page of a famous filmmaker to turn up. The second sentence reads "Critic Leonard Maltin called him 'the greatest American director who is not a household name.'" Evidently! [He's definitely a household name here at Uni Watch HQ. I have three all-time favorite films, and one of them is the Hawks-directed classic His Girl Friday from 1940. "" PL] … Omri Casspi's new Pelicans jersey had an upside-down 8 yesterday. It may have only been used for the introductory press conference (from Rich Rauch). … Another BIG3 team has been announced: The Ghost Ballers. … Cavaliers F Richard Jefferson wore a Flat World Champions T-shirt, in reference to the theories teammate Kyrie Irving shared on Jefferson's podcast last week.

College Hoops News: Louisville wore black alternates last night. … NC State wore black alternates Tuesday night (from Rex Henry). … The logos for the annual ACC Tournament incorporate the host cities' tallest structures (from James Gilbert). … Kansas retired Brandon Rush's No. 25 last night. … Throwbacks last night for Maryland.

Soccer News: A designer in Manchester makes creative alternative kit concepts (from Ryan Keberly). … Gambling is much more prominent and socially accepted in the UK, but there are still some issues with betting companies advertising on pro soccer kits (from Saurel Jean). … Hertha BSC is letting fans design their 125th anniversary jersey (from Ed Å»elaski").

Grab Bag: Dale Earnhardt Jr.'s Monster patch was upside-down during a TV spot the other day (from Dave Buchanan). … Arthur Savokinas came across a coffee mug store shaped like a coffee mug. … A minute-long video shows every front page of the New York Times since 1852 (from Jon Solomonson).