As you may recall, back in March the NBA announced the existence of LockerVision, a website that shows what each team will be wearing for each game of the season, all of which, it turned out, had been scripted well in advance.
I hadn't yet gotten around to seeing if the uniform scripting for the 2018-19 season had been loaded into LockerVision, but some other folks did that yesterday, which resulted in some interesting finds that began bouncing around on Twitter.

The biggest discovery is that the Christmas Day games will feature a new kind of uniform called the "Earned Edition," which will only be worn by teams that made the playoffs last season (a classic Nike move of creating a First Class-vs.-steerage dichotomy; click to enlarge):

This confirms what I reported back in May, when I passed along this news from a source:
[T]he [previous season's] 16 playoff teams [will] get the additional uniforms. They'll debut, I believe, if the team plays on Dec. 25, but they will also be able to wear them whenever they want after that. I've seen 14 of the 16 jerseys — all except the Pacers and Jazz. Those two teams won't be available at retail till February '19, however.
So some teams will be debuting new uniforms on Dec. 25, and others — the ones that didn't make the playoffs last season — will not. (Two of last season's playoff teams — the Thunder and Trail Blazers — will not be debuting their new uniforms on Dec. 25, even though they're playing that day, due to color-contrast issues with their opponents.) Playoff teams that aren't scheduled to play on Christmas will debut their new designs at a later date.
While we don't yet know what these new uniforms will look like, we can tell from LockerVision what colors they will be. The Bucks' new design, for example, will be grey (ugh), and the Celtics' will be green.
LockerVision can be used to glean some other info. For example, Twitter-er Casey Vitelli managed to find a listing of all of the new "City Edition" colors. I'm not sure how he unlocked this (I poked around quite a bit and couldn't find a way to produce the same list), so take it with a grain of sodium chloride, but it looks legit:
Found colors for the new "City Edition" uniforms. Also found colors for a new uniform, known as the "Earned Edition" uniforms. Only 16 teams will rock the "Earned Edition." (quick glance its all the playoff teams from last year) pic.twitter.com/Wiql4emaMO

— Casey Vitelli (@caseyvitelli) October 4, 2018
Another LockerVision tidbit: Last season the Bulls wore red as their primary home uniform. Earlier this week they wore white for a home preseason game, which got me wondering if they were changing their home uni protocol for this season. I was going to contact them to ask about this, but instead I just plugged their home game schedule into LockerVision, where I found that they're sticking with red at home (plus some occasional games with their black alternates):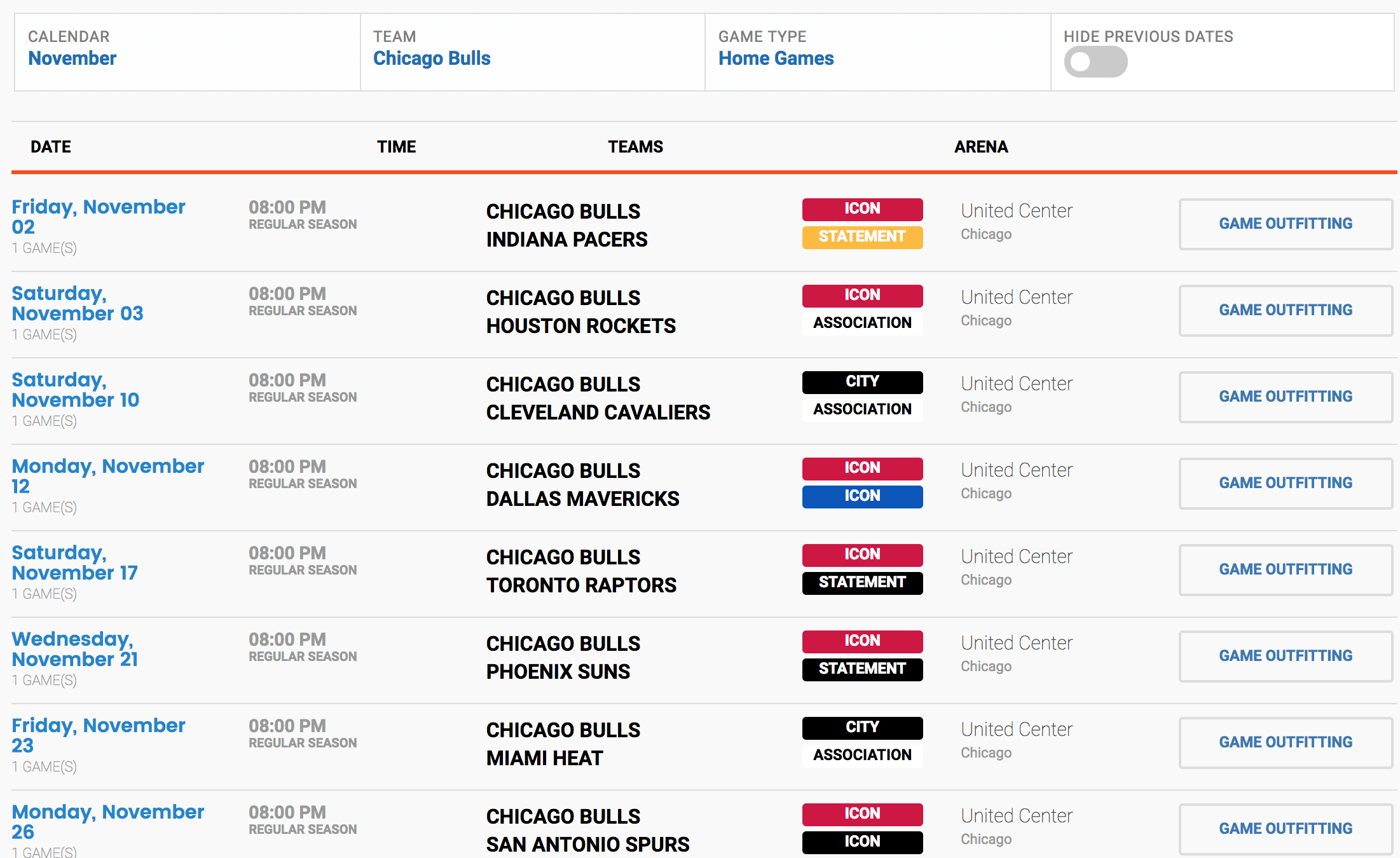 In additional NBA news:
• We now have video game confirmation of the recent Raptors leak:
Higher quality pic.twitter.com/BI7PIg3Hjf

— theRAPZKNG (@theRAPTORSKING) October 2, 2018
• And a video game has also provided our first look at Golden State's new throwback:
@conradburry @uniwatch 👀 ss from nba 2K19. seems like this will confirm the gold classic edition the warriors will don next season. with the nike and rakuten logos. pic.twitter.com/jm1fwwnuDq

— Carl L M Jacla (@CLJacla) October 3, 2018
• And then there are the Heat leaks that have been floating around for a few days (click to enlarge):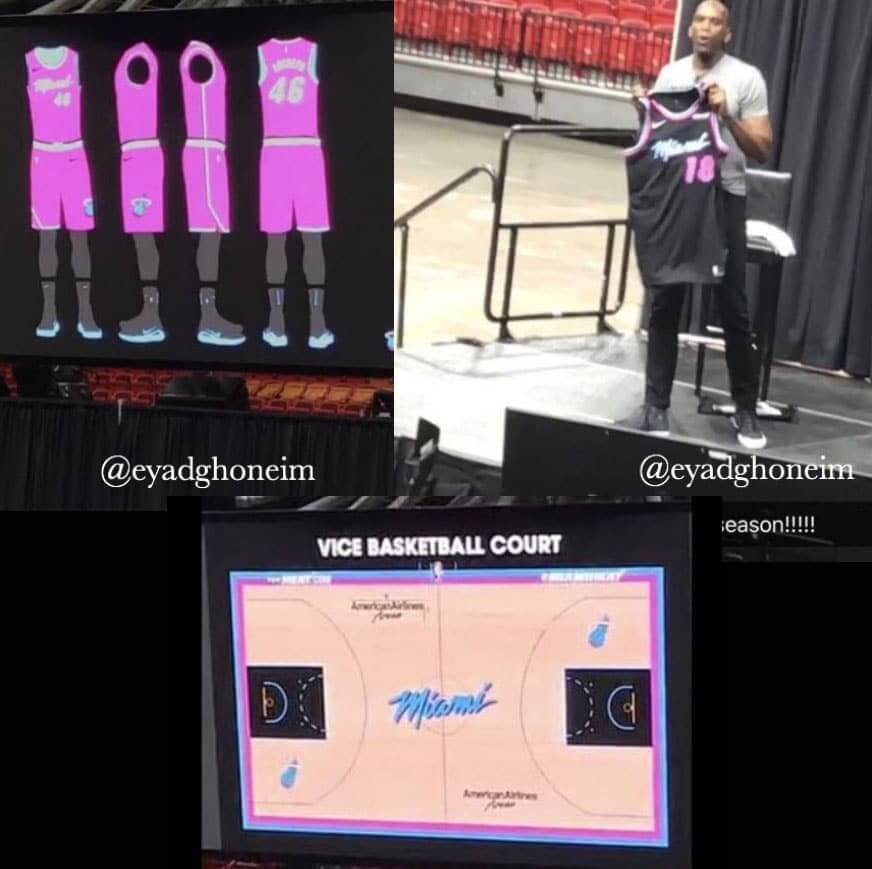 We had this in the Ticker late last week, but I didn't have more to say about it because I couldn't confirm its legitimacy. Now, however, we can see that the colors of the two uniforms shown in the leaked photos — pink and black — match up with the LockerVision-indicated colors for Miami's new "Earned" and "City" designs.
I'll have my annual Uni Watch NBA Season Preview next Friday, Oct. 12. The season tips off on Oct. 16.
Update: Shortly after today's entry was posted, longtime reader/commenter R. Scott Rogers posted a devastatingly effective comment that neatly sums up the problems with the "Earned Edition" uniforms. I wish I'd had the time and clarity of thought to include something like this in today's entry, but I didn't. Fortunately, Scott did:
"Earned." The real problem is not so much the winners/losers imposition of artificial class structure and privilege, but the more basic notion that making the NBA playoffs is A) A mark of merit, and B) Relevant to the following season. Half the league makes the playoffs! Making the playoffs in the NBA is a participation trophy for playing .500 ball. There's no particular honor or achievement in merely making the NBA playoffs. An NBA team "earns" a spot in the playoff about like how a citizen "earns" a summons to jury duty. Congratulations — you voted or registered to vote in the last decade and you haven't died yet!

But even if making the NBA playoffs were a sign of merit, it means nothing the following season. The one team that wins the championship is welcome to go hog-wild with their uniforms, since they are the reigning champions for the duration of the following season. And it's actually kind of fun for opposing fans to think of regular-season games in giant-killing terms of playing against the best. But every other team that made the playoffs is just a random team that lost when it counted at the end of the last season. That's why records start at 0-0 for the new season instead of carrying over cumulatively. If you didn't win the championship, last season doesn't matter. It's a closed book. Players should be embarrassed, even a little ashamed, to be told to wear special uniforms celebrating the fact that their team lost in the playoffs last season.
• • • • •
[adrotate group="2″]
• • • • •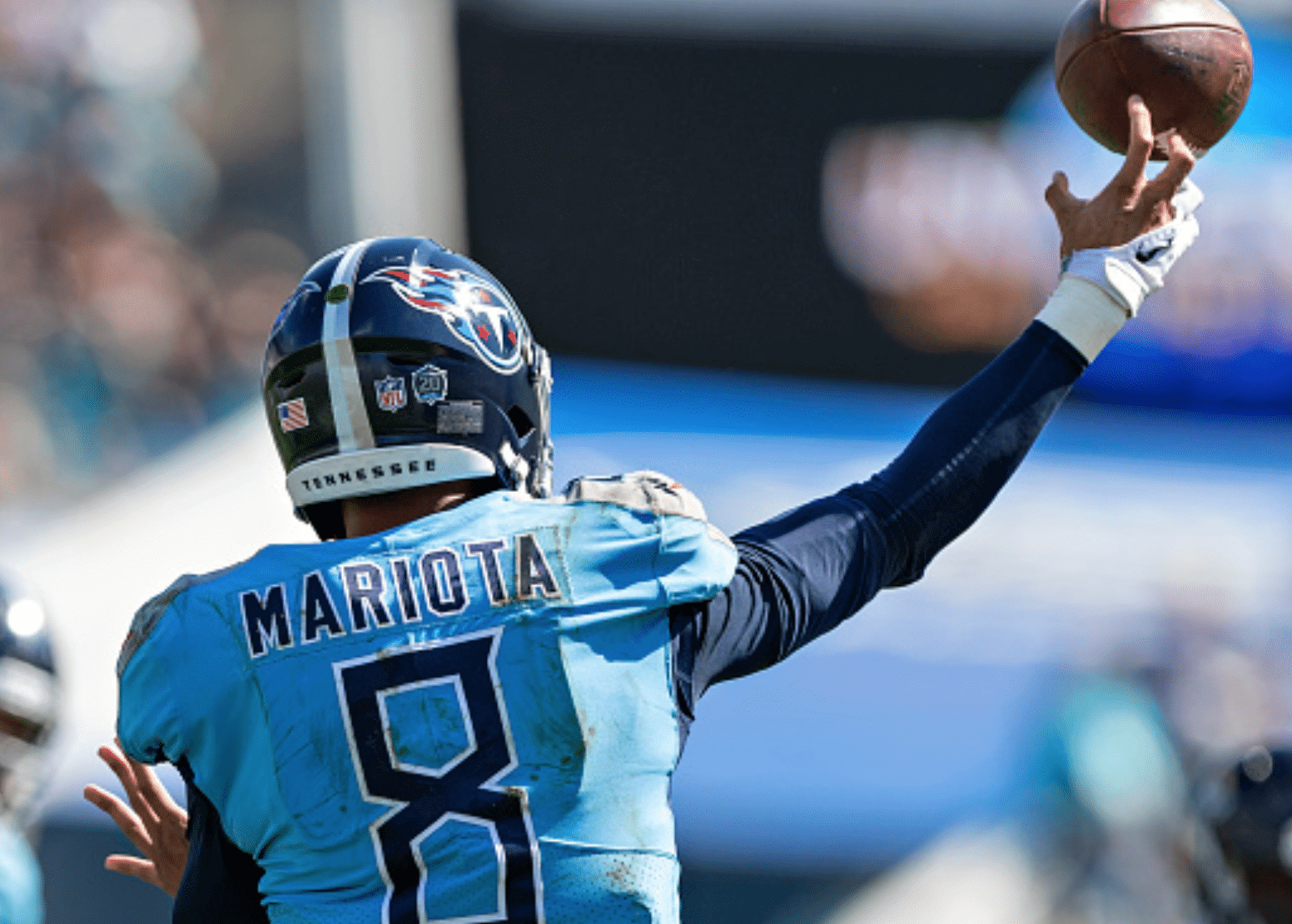 Glove story, continuned: We've talked about NFL quarterbacks wearing gloves, placekick holders wearing gloves, receivers not wearing gloves, and more. But reader Derek Linn has noticed yet another glove-related variation: Titans quarterback Marcus Mariota has been wearing a partial glove on his throwing hand. It covers his ring finger and pinkie, but the part that would normally cover his thumb, index finger, and middle finger has been cut away.
Here it is from a few other angles (for all of these shots, you can click to enlarge):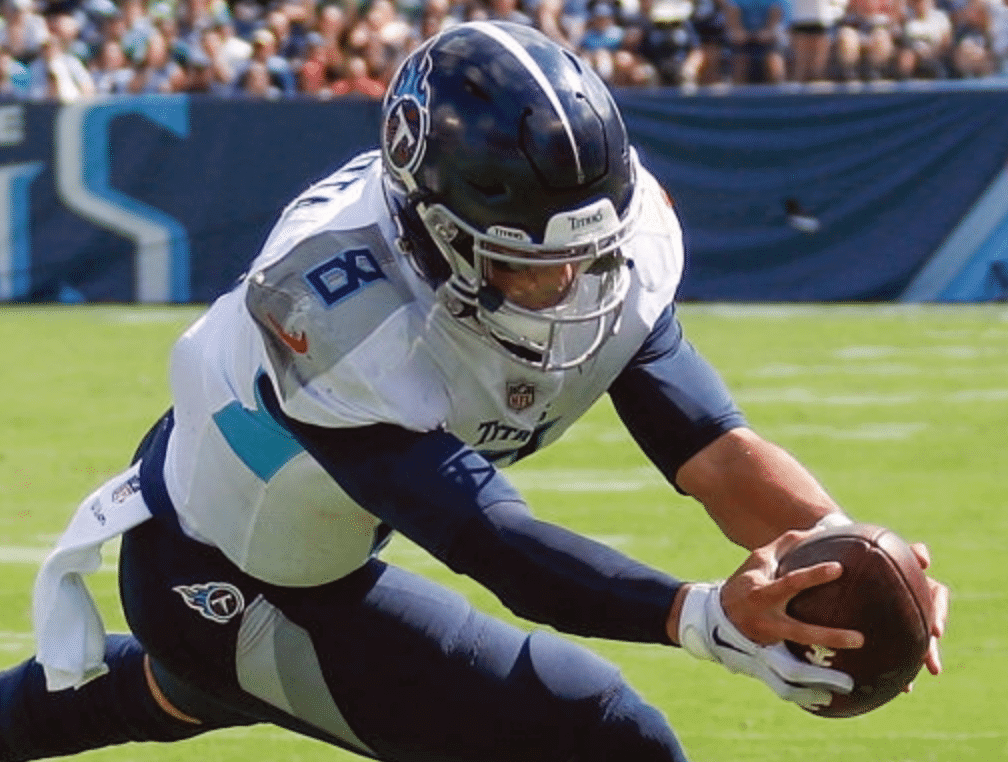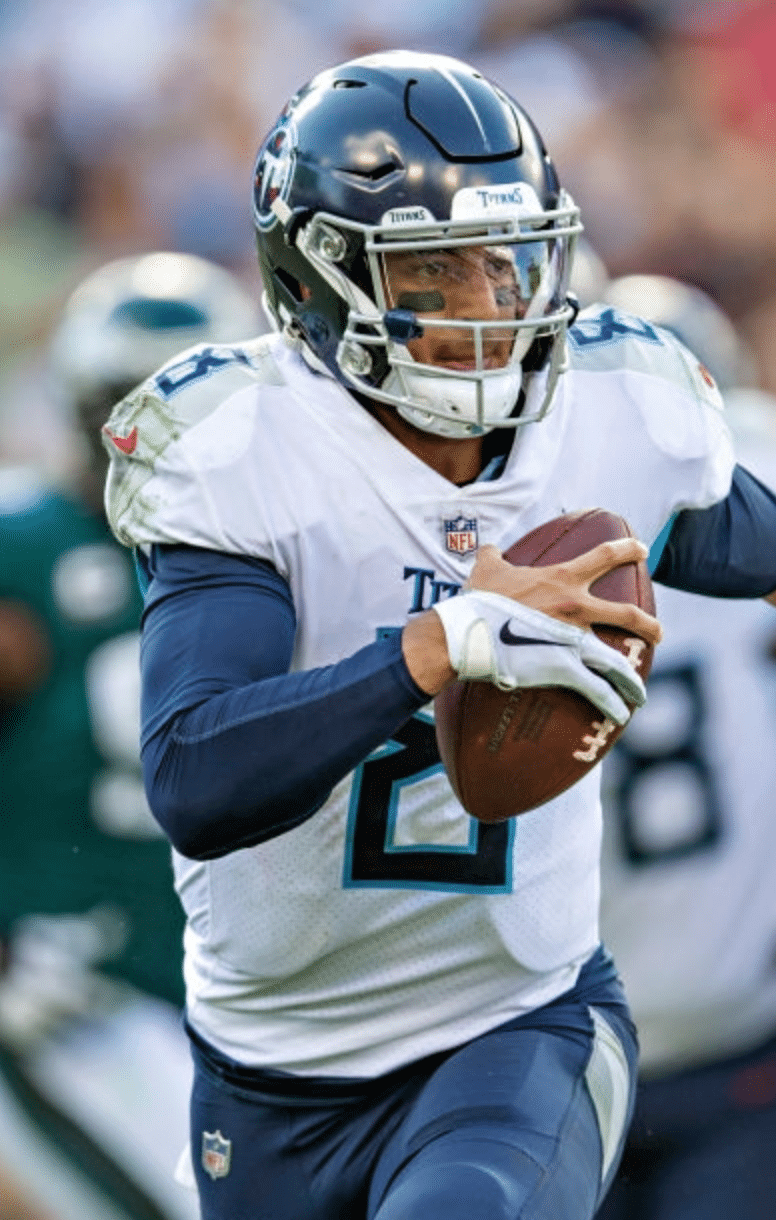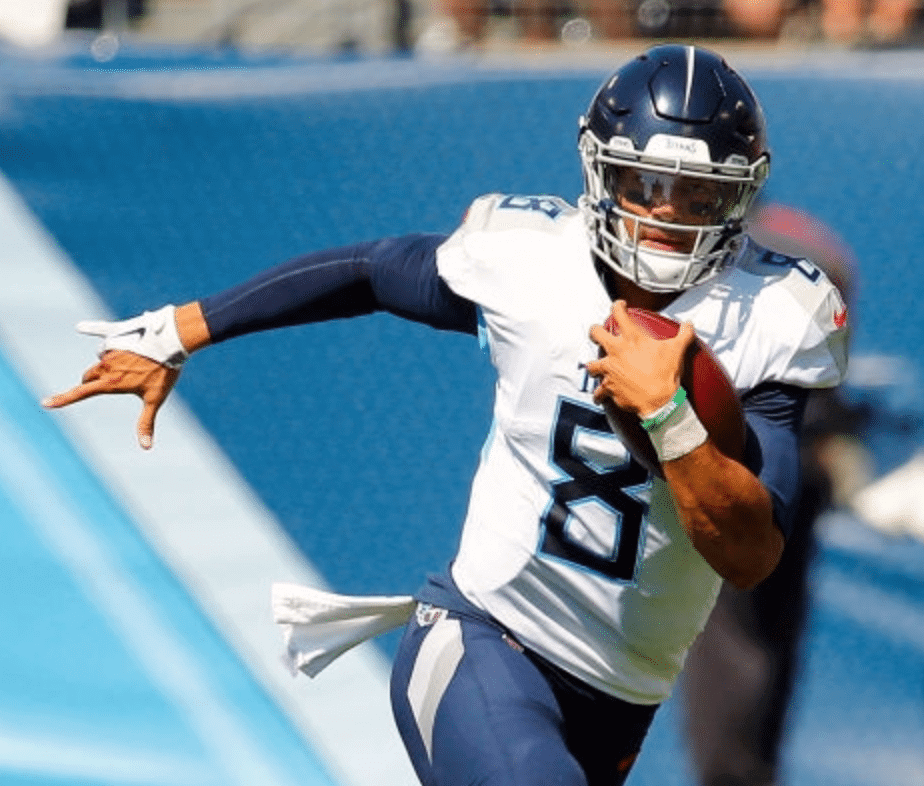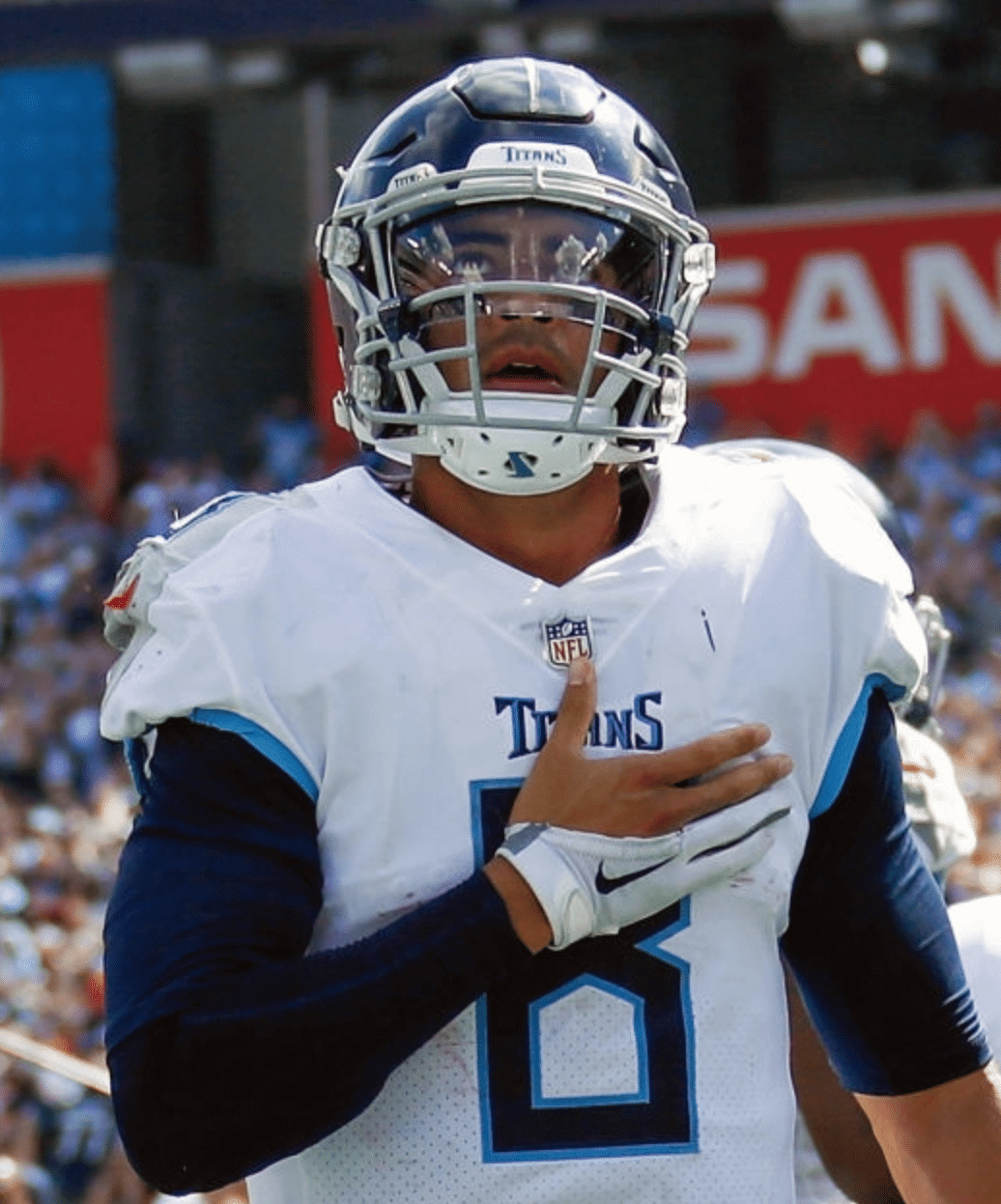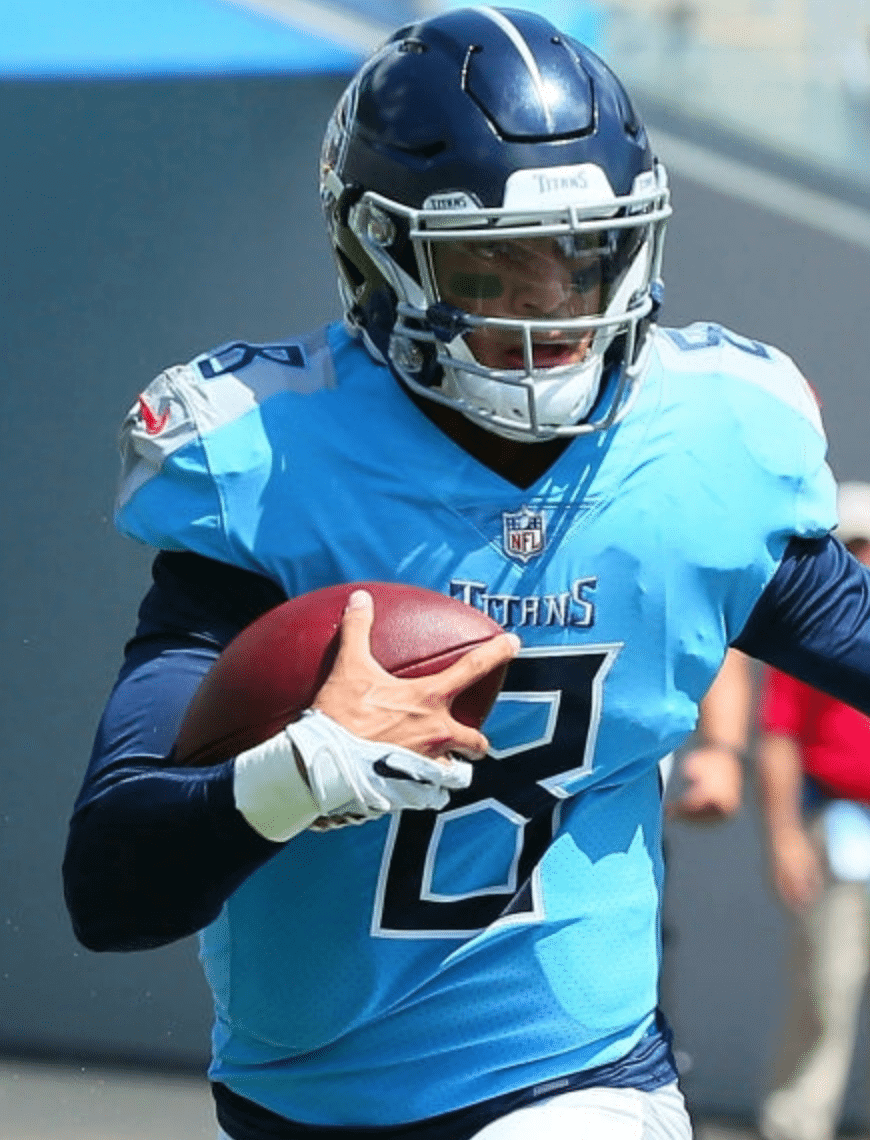 Some preliminary photo research indicates that Mariota has only been wearing this modified glove for the past two weeks. Prior to that, he went bare-handed.
Also, depressingly, of note: Look where the maker's mark is on that glove. If you look at the full range of Nike football gloves, they never put the maker's mark in that spot (at least not that I could find). So the Titans equipment staff didn't take an existing glove and modify it — they had a special glove made, and Nike repositioned their logo for maximum visibility. Sigh.
• • • • •
[adrotate group="2″]
• • • • •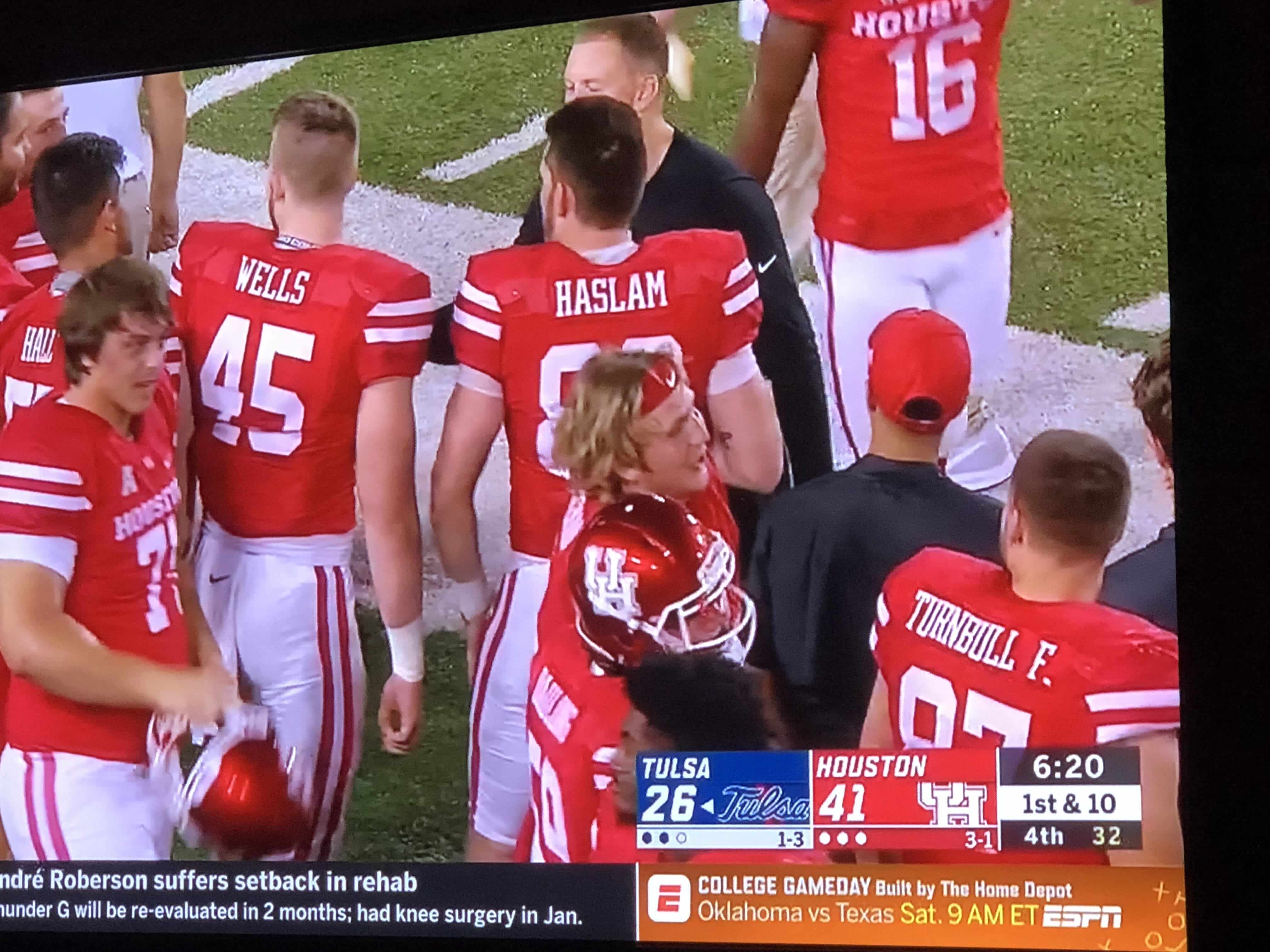 Name game, continued: Check out the player at lower-right in the screen shot shown above, which is from last night's Houston/Tulsa college football game. At first I thought it was an unusual FIOB format — like, the guy's name was probably Frank Turnbull, or Fred Turnbull, or whatever. This has been done before by the Chargers and Browns, among others, but it's still pretty rare.
But then I checked the Houston roster to find out what the player's name actually is. Turns out it's Sid Turnbull-Frazier. So this isn't a FIOB at all — he's just wearing a shortened version of his hyphenated surname (which is confusing), and the shortened version doesn't include the hyphen (which is doubly-confusing!).
(My thanks to Tyler Evans for the screen shot.)
• • • • •
[adrotate group="2″]
• • • • •
Click to enlarge
Jets contest reminder: In case you missed it yesterday, the results of our Jets-redesign contest (including Tim Fesmire's entry, shown above) are now available for your enjoyment over on ESPN.
• • • • •
[adrotate group="2″]
• • • • •
The Ticker
By Yianni Varonis

Baseball News: According to this Milwaukee-based sports-radio host, the Brewers will wear their blue jerseys for most of the playoffs and won't wear their pinstripe uniforms again until next season (from the show's producer and co-host, Armen Saryan, and multiple others). … Former MLB P and Texas alum Roger Clemens tweeted a rear-view photo of what Texas will wear against Oklahoma during the 2018 Red River Celebrity Softball Game (from Ignacio Salazar). … In partnership with MLB, Louisville Slugger is auctioning off autographed and gold-commemorative bats to raise awareness and funds for pediatric cancer. … While the Rockies and A's put the Postseason sleeve patch above their anniversary logos, the Dodgers have chosen to put it below their anniversary patch (from Michael Olguin).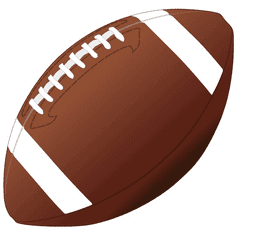 Pro Football News: Pats QB Tom Brady took Color Rash to a new level last night by wearing a colored waistband towel. … ESPN accidently put the new University of Wisconsin-Green Bay logo on its Packers homepage (from Taylor Warntjes). … Speaking of ESPN, a recent episode of Pardon the Interruption used this outdated graphic of a Browns helmet with a white facemask — something the Browns haven't worn since 2005. … Ottawa's major-junior hockey club, the 67's, will show support for the local CFL team by wearing alternate Redblacks-inspired uniforms later this month (from Matthew Walthert).

College Football News: This is pretty great — in anticipation for this week's Red River Shootout between Oklahoma and Texas, an Oklahoma-grocery store built a soda-pop display that spells "Boomer Sooner" and features an upside-down-Longhorns logo. … Florida presented rapper Pitbull with football and basketball jerseys with the No. 305, which is both his nickname and the area code of Miami, where he's from (from Dan Wunderlich). … Professional golfer Josh Teater is showing his Wildcats fandom by engraving "SNELLYEAH#26" to his wedge in reference to Kentucky RB Benny Snell. … This article reviews what Arizona State wore last week and previews the maroon-heavy uniforms the team will wear this week. … Minnesota will wear "golden" helmets vs. Iowa … South Carolina will go mono-garnet vs. Missouri. … Wearing No. 25 for Virginia Tech this week will be DB Kalil Ladler (from Andrew Cosentino). … This is what Stony Brook is wearing this week. … A really nice tribute to friends and family battling breast cancer by the Pearl River Community College football team in Poplarville, Miss. (from Wil Bailey).

Hockey News: Many NHL arenas have new boards this season. The move was done to cut down on player injuries but it's also leading to lots of unpredictable puck bounces, which the players are having a hard time adjusting to (from Joe Werner). … Flames G Mike Smith will wear this unique mask in honor of former Flames G Mike Vernon, who won a Stanley Cup with the franchise in 1989 (from Moe Khan). … This article details how Blackhawks players came to wear their sweater numbers (from Charles Noerenberg). … As was mentioned in the NFL ticker, Ottawa's major-junior-hockey club, the 67's, will show support for the local CFL team by wearing alternate Redblacks-inspired uniforms later this month (from Matthew Walthert). … A Uni Watch reader has made a helpful graphic of every alternate uniform that will be worn this upcoming NHL season (from @Nas).

NBA News: With Lakers SF LeBron James and Hornets PG Tony Parker beginning a new season in new uniforms, this article shares other examples of iconic NBA players looking odd in uniforms we might not remember them wearing (from Mike Chamernik). … Well, this is interesting: Spotted in a German bathroom is a tattoo-parlor logo that mashes together the original Hornets logo, the Wu Tang Clan logo, a record, and that guy from The Simpsons who wears a bee costume.

College Hoops News: In a study, psychology researchers sought to determine if uniform colors affected the performance of recent NCAA tournament participants. Their conclusion (paywalled) is that they didn't (from Rolf Degan). … As was mentioned in the college football ticker, Florida presented rapper Pitbull with football and basketball jerseys with the No. 305, which is both his nickname and the area code of Miami, where he's from (from Dan Wunderlich).

Soccer News: Two items from Josh Hinton: Boca Junior's new third kit may have leaked, and the new USL club in El Paso, Texas, will be called El Paso Locomotive FC and will wear this badge. … This isn't seen often in soccer: During Europa League play, Rapid Vienna goalie Richard Strebinger wore eye black as well as protective headgear (from our own Jamie Rathjen). … The San Diego Sockers of the Major Arena Soccer League unveiled this 40th-anniversary logo.

Grab Bag: Uni Watch shared earlier that Pitt would wear retro-blue-and-yellow uniforms across all sports this week. This article asks if this is a precursor to a permanent change in color scheme (from Chris Weber). … A good interview with apparel brand Canada Goose CEO Dani Reiss, on his "love-hate relationship with counterfeiting." … As was mentioned in the college football ticker, pro golfer Josh Teater is showing his Wildcat fandom by engraving "SNELLYEAH#26" on one of his clubs in reference to Kentucky RB Benny Snell. … Well-researched piece from Vox that asks: "Hooters is closing restaurants. Is its offensive uniform to blame?" … A man is alleged to have robbed a Texas bank by wearing a fake security uniform. … Because a rare skin disease keeps a Georgia elementary school student from playing outside during recess, a school resource officer bought the child his own "police uniform" so the two can walk together on patrol during that period. … This is fun: a Declaration of Independence diagram that "combines U.S. history with graphic design" (from Dark Wahlberg). … In Colorado, "the thin-blue line is turning bright-pink" as a local police force will wear modified uniform patches in honor of breast-cancer-awareness month (visual of the patch is in the adjoining video). … Speaking of Pinktober, the Iowa State women's volleyball team recently wore pink jerseys in its match vs. Oklahoma (from Kary Klismet). … While eating lunch at a Baltimore restaurant, Brandon Sillaman noticed that the restaurant's logo was rather Uni Watch-esque. … Mount View High School in Welch, W.V., has cleverly modified the Mountaineers logo (from Brice Wallace).