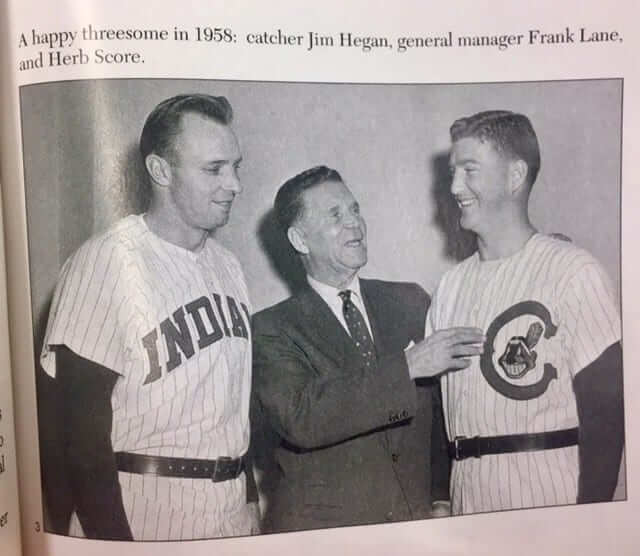 I recently received a communique from longtime reader Marc Viquez, who sent along the photo shown above (which he said was from this book). As you can see, it appears to show the Indians unveiling two uniforms for 1958, including a design with an unusual-looking "C." I'd never seen that one before. Was it a prototype that never made it onto the field?
I asked uniform designer/historian Todd Radom if he'd seen this one before. He said yes — and provided a slightly higher-res version of the photo, along with the caption that accompanied it in The Cleveland Plain Dealer (click to enlarge):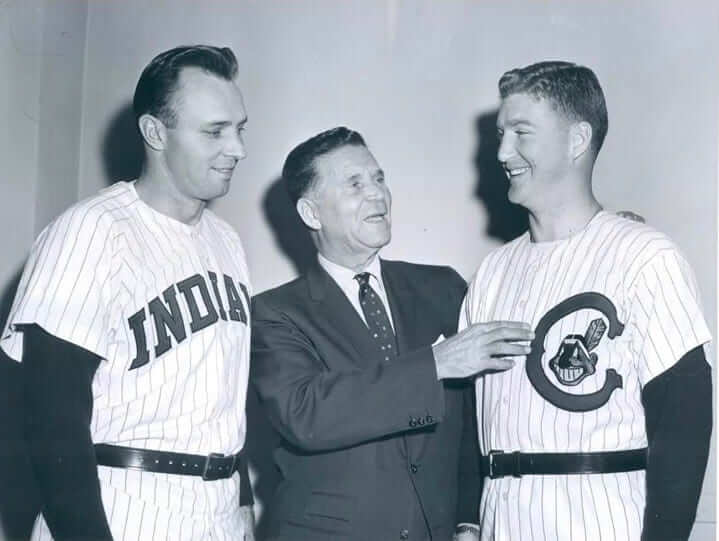 Here's a transcription of that caption:
The Indians will have a "new look" all around next year. In addition to a new general manager — Frank Lane — and field boss — Bobby Bragan — the Tribe will change the style of uniforms for the first time in 20 years. Lane, who introduced new-type uniforms when he was with the White Sox and Cardinals, inspects proposed changes in the Cleveland livery, with Jim Hegan (left) modeling a red pin-stripe suit and Herb Score (right) a more sedate blue pin-stripe uniform. The lettering on both uniforms is red. The blue pin-stripe job is similar to that worn by the Yankees.
Let's back up for a second and take a look at the uniforms that the team was moving away from. According to Dressed to the Nines, here's what Cleveland wore in 1957 — the season before this unveiling photo was taken: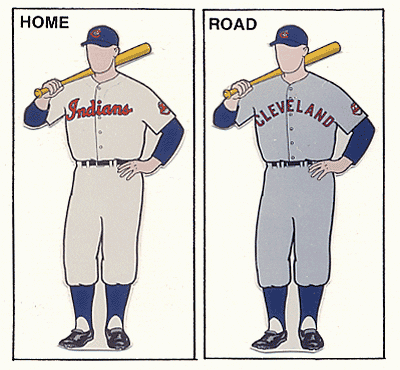 And what did they end up wearing in 1958? Let's take a look: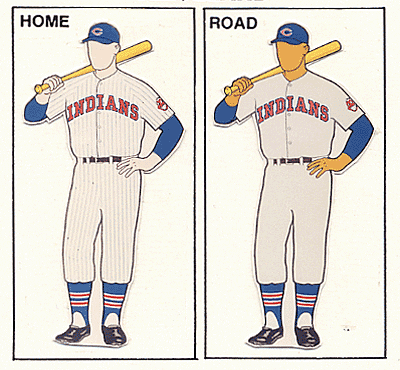 At first glance, it appears that the home uni is the design worn by Jim Hegan in the unveiling photo, and then they used a modified version of that for the road uni.
But not so fast! The photo caption said that Hegan's uni had red pinstripes, while the Dressed to the Nines mockup has blue pins. Of course, uniform databases can sometimes be wrong, but here's a game-used 1958 jersey that clearly has blue pins: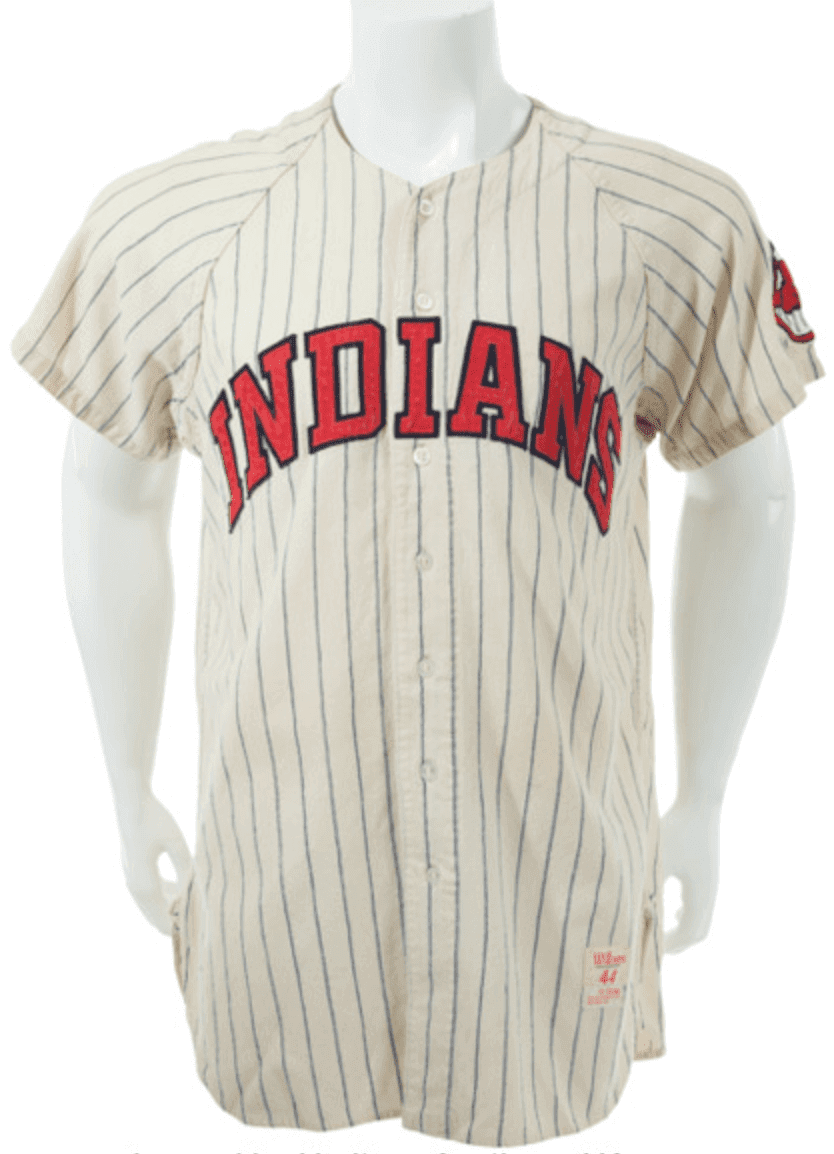 So it turns out that the Indians didn't use either of the designs shown in that 1958 unveiling photo — although they retained the essence of one of them. They ended up wearing these home and road uniforms for five seasons.
A few other notes:
• If you look closely at the photo, it appears that the players wore their belts over their untucked jerseys, presumably to simulate the look of uniform pants.
• An even subtler detail: Hegan's jersey had raglan sleeves, while Score's had set-in sleeves. Perhaps they were from two different manufacturers..? (The 1958 gamer shown above is raglan, and additional photo research indicates that that's definitely the route they took.)
• I'm intrigued by the caption's mention of GM Frank Lane introducing "new-type uniforms" during his stints with the White Sox and Cardinals. Let's take a closer look at that, shall we?
Lane was GM for the White Sox from 1948 through 1955. Here's what the team wore from the year before he arrived through the end of his time as GM: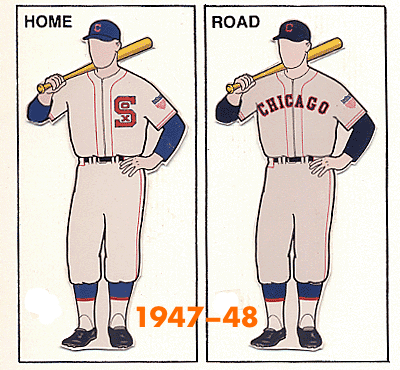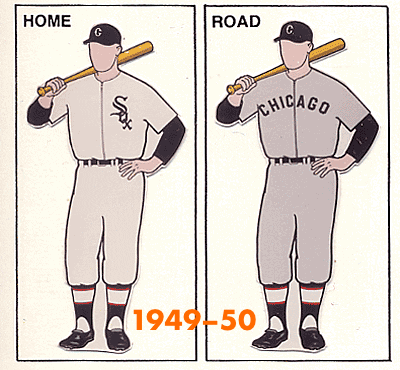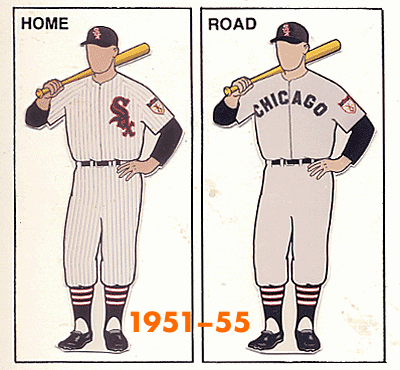 So the Sox underwent two uni changes during the Lane era. (Interestingly, they were using zippered jerseys, rather than button-fronts, before he arrived and kept zipping up throughout his tenure.)
And what about the Cardinals? Lane was GM in St. Louis in 1956 and '57. Here's what they wore in those two seasons, plus they year prior to his arrival: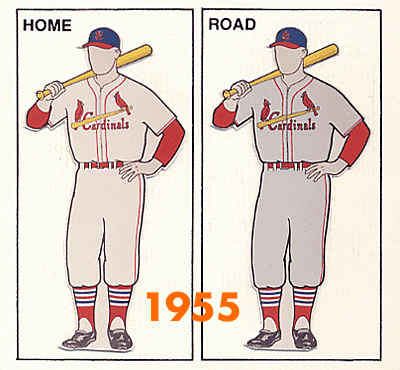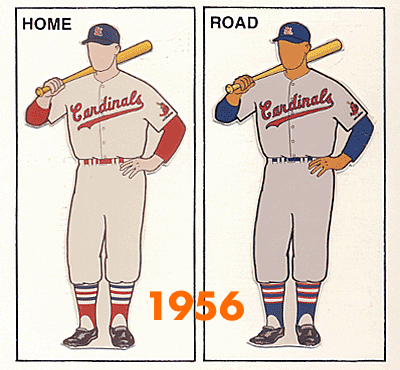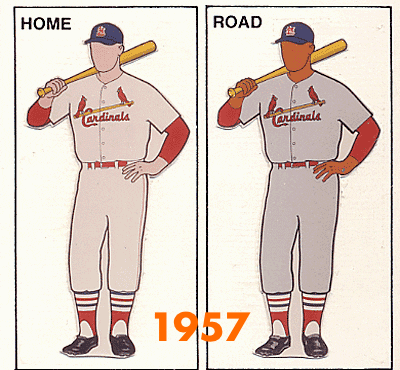 Ah, so it was under Lane's watch that the Cards wore their infamous one-year style in 1956! As you may recall, they also exhibited a prototype road design for that season, which never made it onto the field. So between the Cards and then the Indians, Lane had a habit of unveiling prototypes that didn't end up coming to on-field fruition. (Also worth noting: The Cards used zippers the year before Lane arrived but switched to buttons once he came on board. He apparently had his fill of zippers from his time with the White Sox.)
I'll admit that I was completely unfamiliar with Lane until now. There's no direct evidence indicating that he was the prime mover behind any of these uniform changes, but that's clearly the implication of the Plain Dealer caption. He may have been a major but largely unacknowledged force in midcentury MLB uniform changes.
All of which makes me wonder if there were other GMs who left a trail of uni changes in their wakes. Anyone..?
(Big thanks to Marc Viquez and Todd Radom for their key roles in leading me down this new rabbit hole.)
• • • • •
[adrotate group="2″]
• • • • •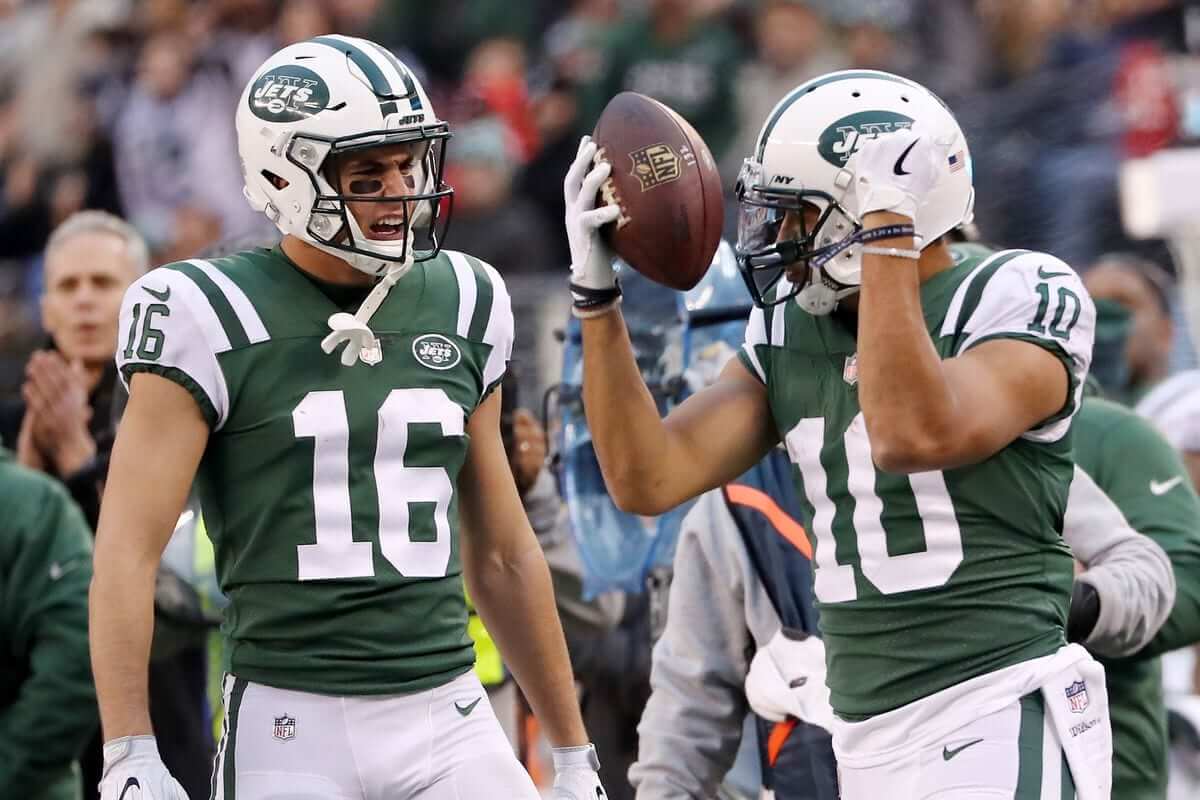 Jets-redesign reminder: Remember, I'm currently running a Jets-redesign contest. Full details here.
• • • • •
[adrotate group="2″]
• • • • •
The Ticker
By Paul

Baseball News: Giants OF Gorkys Hernandez got an infield hit the other night when a piece of his broken bat distracted Braves SS Dansby Swanson (from Mike Chamernik). … Captain America jerseys yesterday for the Somerset Patriots (from Michael Romero). … Here's a 1952 shot of two Pirates players examining the then-new batting helmets (from Jerry Wolper). … Some misguided Tigers players somehow decided that Sept. 11 was a good day to wear the Independence Day socks (from Chris Huff). … Here's a weird one: Everyone knows that the ball-in-glove logo on the Brewers' 1980s caps had a white baseball in the center. But longtime reader Kurt Rozek found several shots of Brewers P Pete Vuckovich with a blue baseball, not white. Vuckovich didn't always do this, but it shows up in enough game photos to make me wonder if he went through a stretch where he superstitiously colored in the ball with a blue marker or something like that. … Bruce Broderson spotted a 1980 shot of Mets OF Claudell Washington without an NOB. I know that moment well — it was June 11, 1980 — Washington's first game with the team, and they hadn't yet bothered to get him a nameplate. I was at that game and still have the stub! A 10-inning complete game by Craig Swan, ended by a Mike Jorgensen walk-off grand slam.

NFL/CFL News: New Era is branching out beyond caps. The company will become the official uniform outfitter of the CFL in 2019 (from Joel Horn). … Whittier High School in California poaches the Cardinals' helmet logo (from James Noone). … The Charlotte airport has Panthers-themed baggage carousels (from Don Muret). … Dolphins coach Adam Gase wore a throwback-logo cap and a current-logo shirt at his presser yesterday (from Trey Meadows). … No photo, but this article says 'Skins CB Josh Norman exchanged jerseys with Washington Capitals star Alex Ovechkin. … The Bills will wear mono-white for their home opener (from @bonesJ0nes). … The Jags will wear their teal alts against the Pats this weekend, and they announced it with a really nice watercolor illustration. Anyone know if they did something similar for Week 1? (From Phil.)

College Football News: Here are this week's uni combos for Arizona State, North Texas, Washington State, Utah State, Vanderbilt, Arkansas, and Missouri State. … The head coach at Alma College, a DIII school in Michigan whose teams are called the Scots, wore a kilt for the team's home opener (from @famousneckbeard). … New gloves for Nevada (from Damon Hirschensohn). … James Madison is adding a memorial helmet decal for Darius Minor, the UMaine freshman player who died during summer workouts. JMU coach Mike Houston got to know Minor during the recruiting process (from Phil). … Arizona State coach Herm Edwards had some interesting footwear habits when he played for San Diego State.

Hockey News: The Blackhawks are adding memorial patches and ice logos for Stan Mikita (from many people). … The Red Wings have "refreshed" their Hockeytown logo. The new version will not appear at center ice (from Mike Cole). … A photo of what might be the Sharks' new third jersey leaked yesterday, and SportsLogos.net quickly confirmed its legitimacy. … New uniforms for the USHL's Omaha Lancers (from @PensChronicles). … Cross-listed from the NFL section: No photo, but this item says Caps star Alex Ovechkin exchanged jerseys with Washington 'Skins CB Josh Norman. … Very cool retro-themed mask for Ducks G John Gibson. … New uni number assignments for the Predators (from Lee Wilds). … New uniforms for the AHL's Colorado Eagles (from Kristopher Sharpe).

College Hoops News: New uniforms for Miami, and they're a big upgrade over last season's set (from @Vec18). … New uniforms for Colorado (from @SodaPopinskiCU).

Soccer News: Police in Eagan, Minn., are looking for the owners of three dozen stolen soccer jerseys that they recovered during a recent incident. … New G.I. Joke jersey for D.C. United — with two corporate "presented by" advertisers to boot. A lose-lose (from Darian Somers). … Here's 1860 Munich's annual Oktoberfest kit. … Paris-Saint Germain has a new partnership with Jordan, which includes PSG's new Champions League kits. Additional info here and here.

Grab Bag: New cabin crew uniforms for Turkish Airlines. … Adam Childs got a sticker of the University of Nebraska-Omaha's "O" logo, with a logo explainer on the back. … New logo for Uber. … I still call it Memorial Gardens. … New championship logo for MLL's Denver Outlaws (from Zeke Perez Jr.). … There's some debate about whether sheriff's deputies in Brown County, Wis., should change their uniforms from polyester to something less flammable (from Jeff Ash). … North Central, a DIII school in Illinois, has some crazy striped cross country uniforms (from Paul Friedmann). … Cars that qualified for the NASCAR Cup playoffs will be trimmed in series-sponsor green and will feature driver emoji/hashtag decals (from Chris Hickey). … Johnny Strike, frontman of the important San Francisco punk band Crime, died on Monday. The band was notable for, among other things, wearing police uniforms onstage.
• • • • •
As I mentioned yesterday, the Uni Watch team's thoughts are with our readers and everyone else in the Carolinas and the surrounding regions. Be safe. — Paul