By Mike Chamernik
An NBA team may have just pulled off the subtlest name change we've ever seen.
The Los Angeles Clippers not only changed their name, but they did it a year ago. No one has seemed to notice. Yes, they are still known as the Clippers. The L.A. Clippers.
L.A.
As in, that's their location name. Not just an abbreviation.
The proof is everywhere. The Clippers refer to themselves as the L.A. (or, sometimes LA) Clippers on their own website, and on their various social media accounts, including Twitter, Facebook and Instagram. NBA.com refers to them as the L.A. Clippers in stories, transactions listings and site menus, even when mentioning the Los Angeles Lakers (who still go by the full city name). And now, ESPN.com has all references to the city name as LA, both on the team's page and in standings and schedules.
One of my key pieces of evidence is the team's media guide (PDF), which says copyright L.A. Clippers. For comparison, the Knicks' media guide (also PDF) is copyrighted by their full name, the New York Knickerbockers.
As you can see, that's the Clippers' 2015-16 media guide, which is from one whole year ago. Save the NBA.com and ESPN references, the Clippers refered to themselves as L.A. last year, too.
Here's the Clips' rough timeline: Steve Ballmer bought the team during the spring of 2014, and the Clippers rolled out new uniforms and logos last summer. They still went by the Los Angeles Clippers as late as the 2015 Playoffs and started to go by just L.A. after the redesign.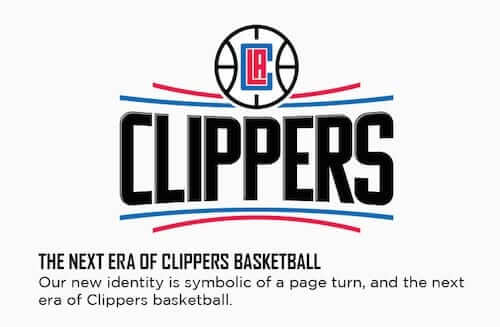 As far as I can tell, the Clippers never formally announced a name change. In fact, they said were not changing their name. The mixed messages are odd.
This is the era of storytelling design, where every aspect of a team's presentation is supposed to represent something. The Clippers could've easily created a narrative around a name change, even such a simple tweak. It could've been thought of a cool, informal rebirth, distancing themselves from the reign of Donald Sterling and years and years of losing.
Why hasn't anyone noticed? The Clippers are known as the Los Angeles Clippers everywhere else: Yahoo, Fox Sports, Bleacher Report, SB Nation, different team blogs, Basketball Reference, and Wikipedia.
It's easy to not make the distinction. "L.A." is such a common way to refer to Los Angeles that the name could hide in plain sight.
All of this raises a bunch of questions. I put in a bunch of emails and phone calls to the Clippers and, unfortunately, I have yet to hear back.
Whether it's an official name change or not, it's clear that the Clippers want a new identity. After so much talk about the new logos and uniforms, though, the coyness around "L.A." is a mystery to me.
• • • • •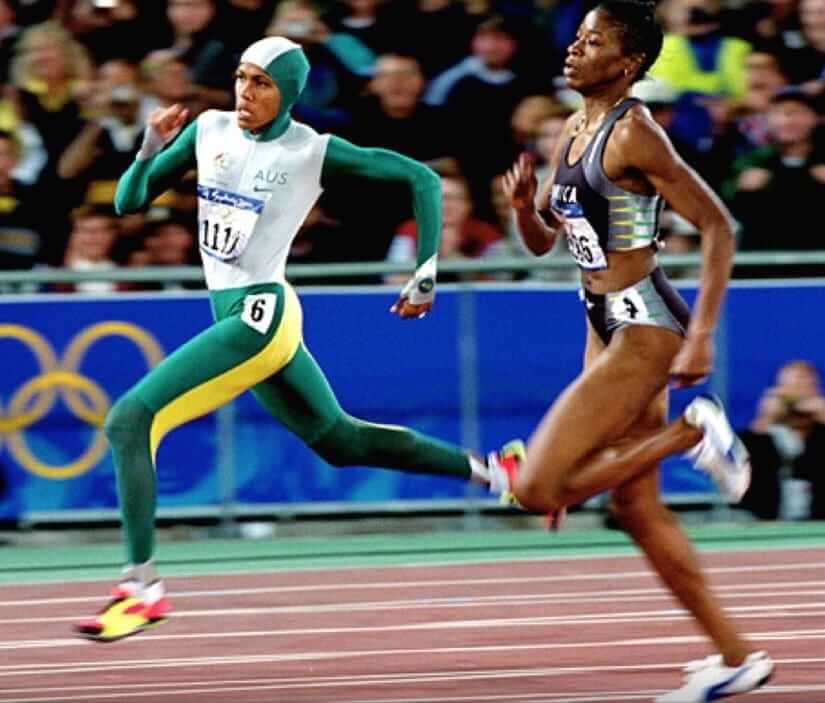 Click to enlarge
Friday Flashback: Hi, folks — Paul here, making a rare August appearance. After an excellent vacation out west (more on that when I return to the site next month), I'm once again turning out ESPN content, including my latest Friday Flashback, which looks back at a dozen notable moments in the history of Olympic uniforms (including Cathy Freeman's "swift suit" at the 2000 Games in Sydney, shown above). Check it out here.
I'm also working on my annual college football season preview, which is always one of my biggest and most popular columns of the year. Look for that to be publish on or around Aug. 30.
Meanwhile: We should have the new Uni Watch T-Shirt Club installment ready to go early next week — stay tuned.
Okay, that's it for me. Big thanks to Phil, Mike, Alex, and John, along with all the contributors, for keeping the site going while I recharge my batteries.
• • • • •
Chamernik-knacks: It's Mike again. Over the last year, I've written down a bunch of ideas for ledes, but for a variety of reasons, I haven't been able to flesh them out into coherent stand-alone posts. But, they're a little too wordy for the Ticker. Since I have the keys to the site today, I may as well clean out my notebook right now.
• The Washington Wizards played in Chicago during their first two years in the NBA. In 1961-62 they were known as the Packers, and in 1962-63, they were nicknamed the Zephyrs. I always wondered, how did they arrive at those names?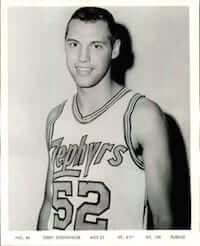 I dug through old issues of the Chicago Tribune and learned that they changed their name to the Zephyrs because the franchise wanted a new start. After that first year, the Packers moved from the International Amphitheater to the Chicago Coliseum, and they hired Frank Lane, the wheeling and dealing baseball exec, as the general manager. Team owner Dave Trager held a name contest, and a fan named Richard L. Jakubauskas submitted Zephyrs, which is derived from both Latin and Greek, meaning the god of the west wind. Chicago is, yep, the Windy City. Here's a photo of Lane and Jakubauskas.
OK cool, but why were they named the Packers in the first place? One, the International Amphitheater was located in the Chicago stockyards. Two? According to a December 1962 column by Tribune writer David Condon, Trager originally wanted to name the team the Bruins, in the same vein as the Cubs and Bears. But, Bears owner George Halas owned a local hoops team that was named the Chicago Bruins from 1939 to 1942, so Trager chose Packers instead. I guess he didn't want to encroach on Halas's turf (yet he had no qualms about naming the team after the Bears' biggest rival).
• This will always boggle my mind. Before 1954, MLB players left their gloves on the field when they went to bat. While first and third basemen placed their gloves in foul ground, second basemen, shortstops and outfielders dropped their gloves in fair territory. Middle infielders left their gloves at the edge of the outfield grass, and outfielders left them near their positions.
Was a glove too cumbersome to keep the glove on for the jog back to the dugout? Apparently. To be fair, gloves were much different back then. More importantly, couldn't a discarded glove disrupt a game? Oh yes "" many times!
• How many Big Four teams have changed their name during a season? I know of just one. The California Seals of the NHL changed their name early in their inaugural 1967-68 season, switching to the Oakland Seals. Then, after Charles O. Finley bought the team, they changed their name to the California Golden Seals two games into the 1970-71 season.
Also, how many Big Four teams changed their home stadium during a season, not counting relocations for disasters, or splits between two homes? I could only think of only one instance for that, too. The Mariners moved into Safeco Field in July of 1999. Are there any more examples?
• When was this Cubs logo used? I can't tell if it was ever used in any official capacity. It's not on Chris Creamer's sports logo database. The earliest I saw it was in a 1982 Cubs commercial; this site says it was used in the 1960s.
• In May, a gorilla named Harambe was shot to death after a small child entered his sanctuary at the Cincinnati Zoo. Three months later, young twenty-somethings on the internet have taken it upon themselves to honor Harambe and keep his memory alive. Of course, this is all done in a tongue-in-cheek way. Harambe is now a popular meme.
The tributes have now reached the sports world, as fans are customizing shirts and jerseys, and bringing signs to games. He got a mention on the leaderboard at the PGA Championship. A few players on the Stony Brook football team even wore Harambe shirts under their jerseys during a team function. Harambe would've wanted it this way.
Harambe Baseball Jerseys available for preorder!https://t.co/PTqjqyWQSN#harambe #Harambe2020 #HarambeLives pic.twitter.com/7FvqP8VeP5

— Jersey Champs LLC (@JerseyChampsLLC) August 11, 2016
• Have you ever gotten a feeling of jamais vu, where a common word sounds completely unfamiliar when you really think about it? I had it recently. I noticed that I really liked the sound of the Baltimore Orioles. Orioles. It's a strong name.
• Lastly, Sports Illustrated writer Steve Rushin wrote a book a few years back called The 34-Ton Bat. It is absolutely loaded with tidbits and stories behind the history of baseball objects and equipment: bats, uniforms, baseballs, gloves, etc.
I'd give it a full write-up, but… I didn't like the book.
The content was interesting and the book was very well researched. My issue was with Rushin, who I find to be a wonderful writer. His style, marked with wordplay, clever callbacks, and paragraphs that lead to punchlines, is great for magazine articles but way too much to handle for a 352-page book. It would be like listening to Henny Youngman do stand-up comedy for five straight hours. Timely reference, I know.
• • • • •
The Ticker
By Mike Chamernik

Baseball News: The San Jose Giants will wear luau jerseys tonight (from OT Sports). … The Fort Wayne TinCaps will wear Friends jerseys this evening. … The Harrisburg Senators will wear pink jerseys on September 3 (from OT Sports). … The Mets and Giants lineups were flip-flopped on the scoreboard at AT&T Park yesterday (from Stephen Krupin).

NFL News: The Bills' Ralph Wilson Stadium will now be known as New Era Field, as the team announced a seven-year naming rights deal with the baseball hat manufacturer. In an ironic twist, the stadium was actually one of the first to explore corporate naming rights. Before it took the name of Wilson, the team's founder, it was known as Rich Stadium. The Buffalo-based food products company Rich Products had a 25-year contract with the Bills, from 1973, when the stadium opened, through 1998. … The Lions will have blue endzones this year. … Adidas outfits the entire CFL. B.C. Lions cornerback Ronnie Yell has been fined twice for a total of $3,000 this year for wearing Nike cleats. Both times he tried blacking on the swooshes on his shoes (from Wade Heidt).

College Football News: New uniforms for Tulsa. Here's a better look at the all-white set (from Kelly Hines). … Cincinnati unveiled new red uniforms for football, soccer and volleyball. More photos of the football set here. … Fans will decide Baylor's uniform combination for its opener. … A Northwestern writer thinks that the Wildcats' array of uniform combinations over the last few years is good for attracting recruits.
Olympics News: Michael Phelps, a long-time Under Armour endorser, is wearing Nike sweatpants on the cover of the latest issue of Sports Illustrated (from Brinke). … Canadian track and field athletes wear one uniform for multiple events at the Olympics.

Soccer News: Even with kicked balls reaching speeds of nearly 100 mph, soccer players, particularly those on the Columbus Crew, do not wear protective cups. The players said that getting hit in the groin is rare, and it's not worth the discomfort, especially when having to run several miles over the course of every game (from Jason Hillyer). … Swansea, an Illinois suburb of St. Louis, borrowed its logo from the Welsh soccer club of the same name (from Ryan Madden). … Last month, New York City FC's David Villa received a personalized Yankees home jersey. This is interesting for three reasons: The Yankees go NNOB, No. 7 is retired for Mickey Mantle, and Villa plays in a FNOB jersey (from Ferdinand Cesarano).

Grab Bag: Glamorous, and comfortable, sneakers are now in fashion (from Tommy Turner). … Mozilla is open-sourcing a logo redesign. Seven finalists were announced yesterday, and the winning concept will be named in late September.