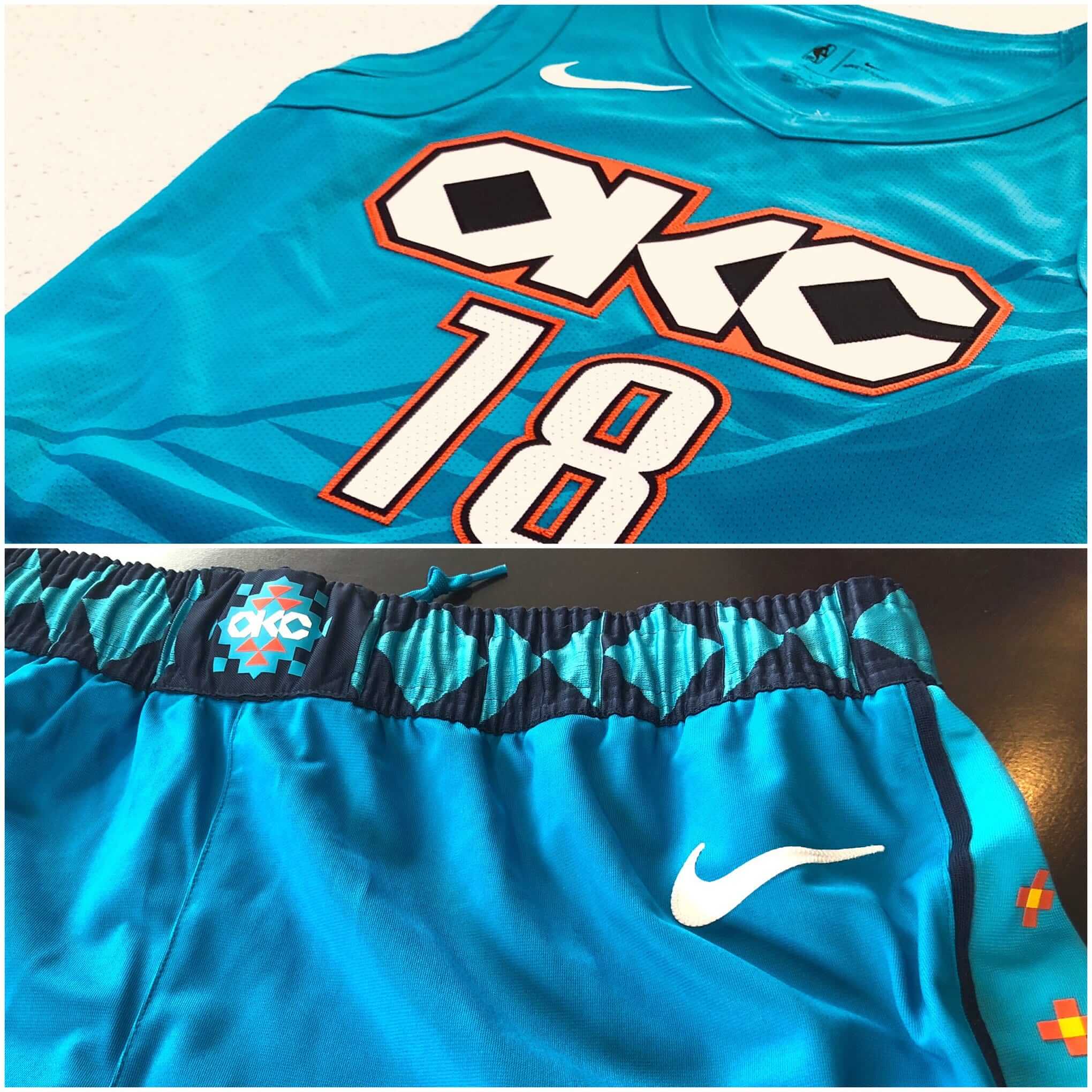 Click to enlarge
Back in early August, I received an email from a reader who prefers to remain anonymous, as follows:
I was given a tip this week about what the Oklahoma City Thunder are planning for this year's City Edition uniforms. They are going with a Native American-inspired look. The uniforms will be teal. I believe they will fade to blue at the bottom. I was also told that they will have "OKC" on the chest, I believe in blue and orange.

I was given this info by [redacted].
I asked if he knew when these uniforms would be unveiled, to which he replied:
Not sure on announcement timing. I would guess somewhat soon. They are planning to do some events in November tied to Native American Month. The [person who provided the info] also mentioned that there are small Native-inspired details on the uniforms.
Ordinarily, I would have put out some feelers to see if I could substantiate this information. But as I think most of you know by now, my life was pretty crazy in early August, so I put this on the back burner until the end of last week, when I circled back to my source. He in turn went back to his source, who told him, "I have a feeling the jersey will get out pretty soon, maybe even next week. [The team] sent invitational letters to all 39 tribes in Oklahoma for a private preview event."
Sure enough, yesterday afternoon the Red Earth Art Center — that's a Native American museum in Oklahoma City — posted two photos on its Twitter and Facebook pages of a uniform that fit my source's description. A few hours later, The Oklahoman confirmed the photos' legitimacy.
The turquoise base color matches what Nike has used for its N7 college basketball uniforms, which the company trots out each November for Native American Heritage Month. The N7 uniforms help promote Nike's N7 Fund, which encourages Native participation in sports while celebrating Native culture. It's not clear if the new Thunder uni will be part of the N7 program, but the overall thrust and message are likely to be similar in any case.
It's impossible to assess the design until we see the entire uniform (although I think we can safely say it'll be better than last year's City uni). In general, though, I applaud the Thunder's attempt to engage with Oklahoma's Native American population — good for them.
• • • • •
[adrotate group="2″]
• • • • •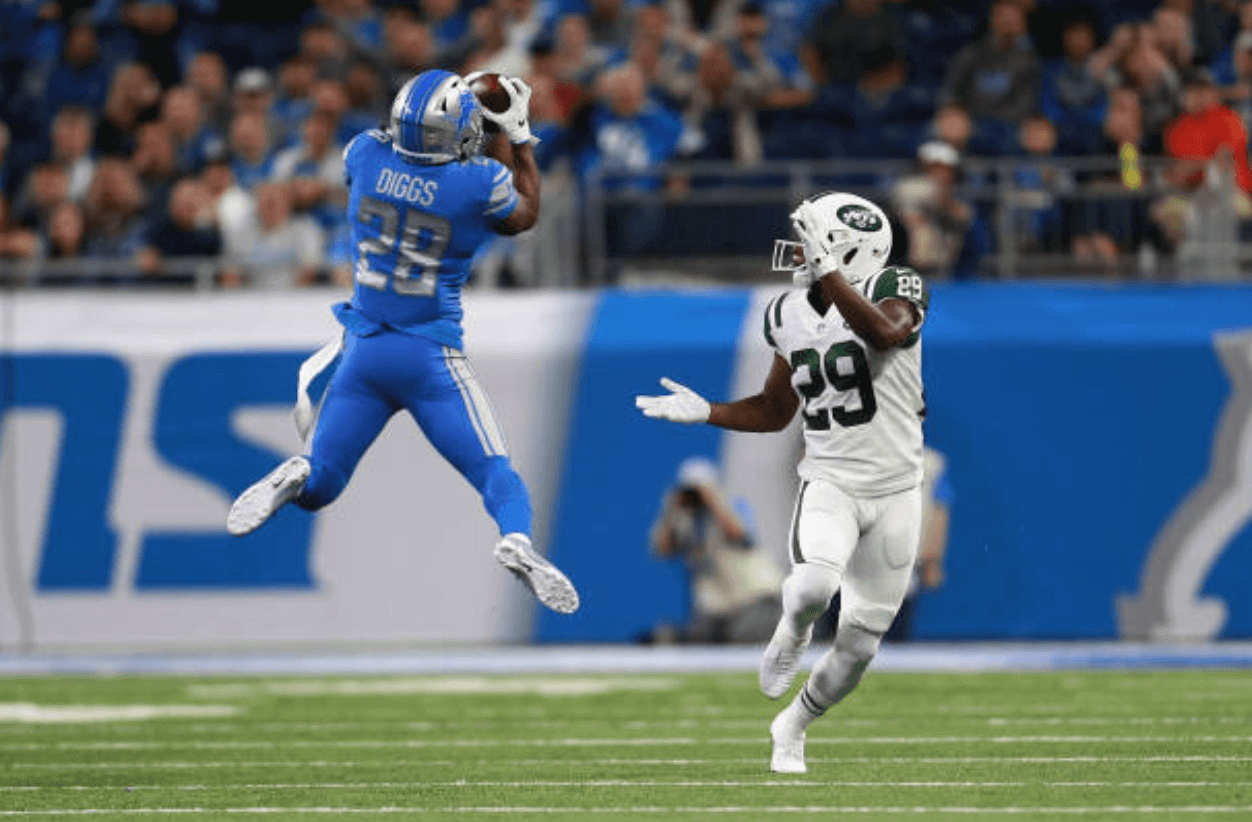 Feeling blue: Brutal-looking game last night in Detroit, mainly because the Lions foolishly opted to open the season by going mono-blue. Woof!
More interestingly, the Jets accented their mono-white look with white facemasks, instead of their usual green. I like it!
Speaking of the Jets, don't forget that I'm currently accepting submissions for a Jets-redesign contest. Full details here.
• • • • •
[adrotate group="2″]
• • • • •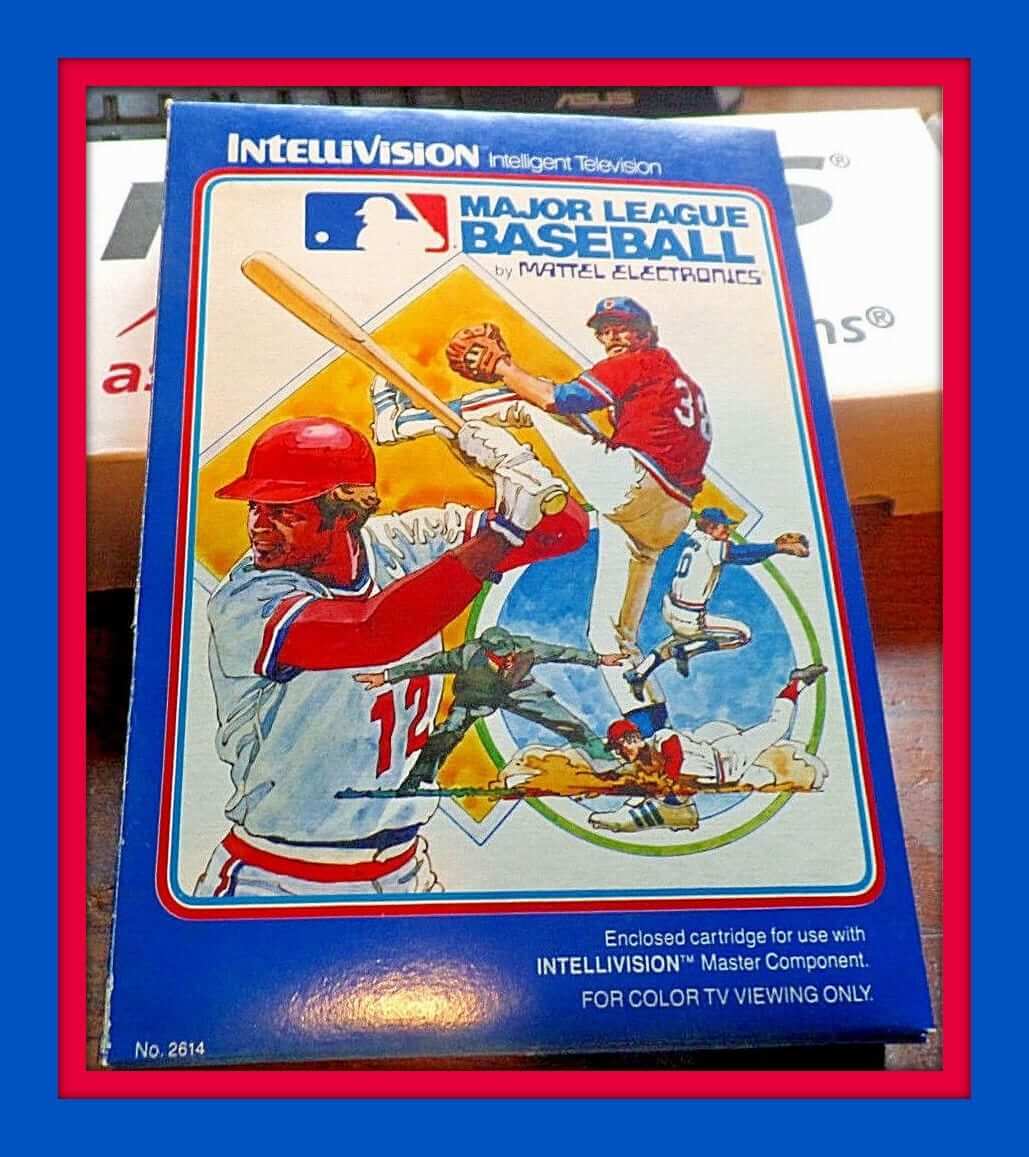 Click to enlarge
Collector's Corner
By Brinke Guthrie
Long before Madden, NBA 2K19, or any of the other sports video games, there was … Intellivision. That's short for "Intelligent Television," from Mattel Electronics. So you shove this Major League Baseball cartridge into a game player that's connected to your color TV (had to be color) and you'd get a very primitive baseball game. But not just any baseball game. The box says, "You control all the action! It's all there, from the crack of the bat to the simulated roar of the crowd!" Nice illustrations on the cover — I'd swear that's Bill Russell of the Dodgers turning the double play, and Rollie Fingers on the mound.
Now for the rest of this week's picks:
• San Diego put all then-current MLB team logos on the 1978 All-Star Game ticket.
• Wow, this seller has several of the great 1970s NFL helmet medallions available, all still sealed in their packaging.
• Here's that very same type of medallion — a Steelers version — but this time it's part of a men's belt.
• Excellent 1970s NFL helmet lineup on this pair of Tasco binoculars!
• This men's vintage Green Bay Packers zip-front sweater is from the Sears Put-On Shop.
• If you're an old-school St. Louis Blues fan, you've got to love this 1970s Garry Unger wristwatch.
• New York Football Giants fans! Ever seen this type of bold stripe design on a Cliff Engle NFL Pro Line sweater before?
• Here's a nice-looking 1980s 76ers jacket from Starter. Unlike their NFL line with the league patch on the sleeve, I always liked how they stuck the NBA patch down on the pocket.
• Is it just me, or were the 1990s Chalk Line jacket designs (like this one for the Vikes) a little … over the top? Then again, maybe that was the point.
• This 1970s ceramic football bank features the Buffalo Bills' helmet logo.
Seen an item on eBay that would be good for Collector's Corner? Send any submissions here.
• • • • •
[adrotate group="2″]
• • • • •
The Ticker
By Alex Hider

Baseball News: MLB teams will observe today's anniversary of the Sept. 11 attacks by wearing commemorative cap patches. In addition, the Mets will wear first responder caps during BP. … The Brewers played the Cubs in Chicago last night. Prior to the game, one of the Brewers outfielders took off his jersey to reveal an Aaron Rodgers Packers jersey underneath. Bears fans in the stands were not amused (from Mike Chamernik). … A Redditor came up with a set of pretty radical alternate jerseys for every MLB team (from Josh Claywell). … The Staten Island Yankees say they've seen a huge jump in merch sales thanks to their Pizza Rats rebrand — even though they only wore the uniforms for four games (from John). 

NFL News: ESPN used an old Lions logo in the scorebug last night. They also used an old helmet in an online graphic (from Kenneth Dittenber and Aidan). … The Michigan Department of Transportation is selling the old highway signs marking the exits to the Pontiac Silverdome (from Burrill Strong). … The Browns' end zone wordmark is now white. It was orange last season. … Speaking of the Browns, they posted a photo of their Color Rash jerseys on Snapchat yesterday. We already know they're wearing them twice this season, including on Sept. 20 — could they be wearing them in New Orleans on Sunday? Or are they just teasing them since they'll wear them a week from Thursday? (From Ben.) … Rob Butt, the father of Broncos TE Jake Butt, has a pretty funny customized jersey (from Phil). … Last night's Rams/Raiders game provided something we won't be seeing for much longer: NFL football being played across a baseball infield. … Another field-related note from that game: The sidelines weren't filled in with white the way they usually are. Here's another view (from Billy King).

College Football News: Florida State will wear white over gold this weekend at Syracuse (from Phil). … SB Nation has updated its college football Empires Map, for week 2.

Hockey News: The Jets have a nice new wordmark that they'll be wearing on their helmets — at the very least. Could the new logo be part of their forthcoming alternate jersey? We'll find out this Friday, when the jersey is scheduled to be unveiled (from Phil). … The painstaking work of painting the Blackhawks' center ice logo has begun in Chicago. … The Hamilton Steelhawks, a senior team in Allan Cup Hockey, revised its logo (from Ross Taylor).

NBA News: A Mavs blog is calling on the team to redesign its uniforms (from Phil). … Last season, when the T-Wolves signed former Bulls coach Tom Thibodeau and traded with Chicago for Jimmy Butler, some fans joked they should be renamed the Timberbulls. But now, with the signing of Luol Deng, 25% of the Wolves' roster is made up of players from the 2010-2015 Bulls (from Alex S.).

Soccer News: TSV 1860 München, a third division team in Germany, has new uniforms for Oktoberfest (from Josh Hinton). … Also from Josh: Here's a review of all the kits that will be worn in the Champions' League this year. … France has played two matches since winning the World Cup earlier this summer, but Nike has not added a new star to the tiny crest squeezed into the back numbers (from Florian McGill). … England wore "Kick Out Racism" shirts during training yesterday (from Moe Khan). … Milano FC, a new soccer club set to begin play in Italy's fourth division this year, unveiled their new uniforms yesterday (from Moe Khan).

Grab Bag: More corporate ad creep: NASA is reportedly looking into selling ad space on its rockets. Embarrassing (from Andy Garms). … Couple of NASCAR notes from Christopher Hickey: JJ Yeley paid tribute to the late Burt Reynolds with a Smokey and the Bandits paint scheme at the Brickyard 400 yesterday. He also found this shot of Rick Wilson driving an Indianapolis Colts-sponsored Ford during the 1997 Brickyard. … Clint Richardson has a detailed breakdown of Auburn's new band uniforms. … The CTA in Chicago is releasing a commemorative transit card for the upcoming Chicago Marathon (from Griffin Smith). … Coin collectors and historians will appreciate this fascinating story about the wooden coins minted in North Bend, Oregon during the Depression. They're still legal tender in the town today!
• • • • •
I'll be visiting a design firm for a good chunk of today (reporting for an upcoming ESPN story). Play nice while I'm away, yes? Thanks. — Paul