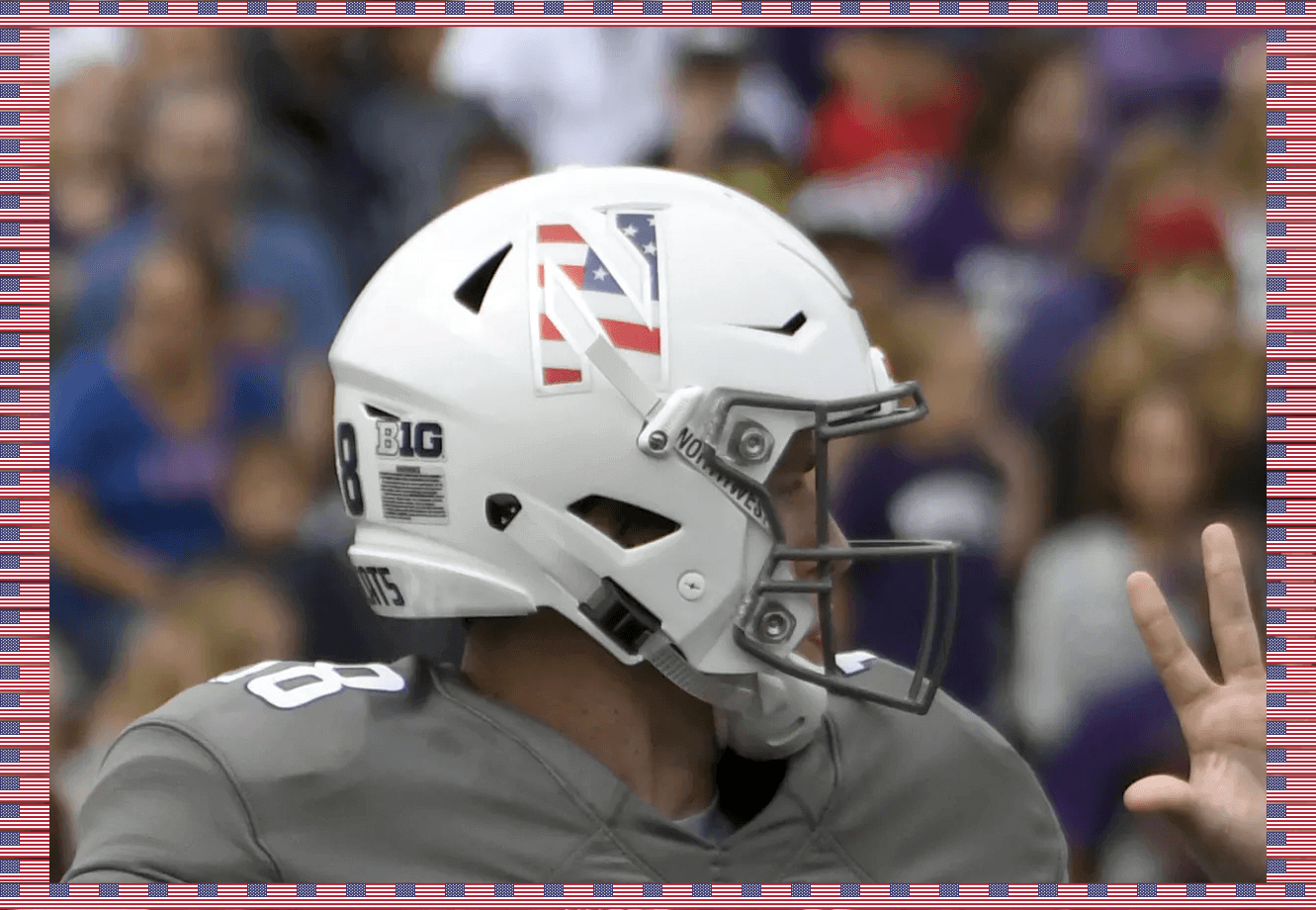 By Phil Hecken and the SMUW Crew
Follow @PhilHecken

If it weren't for Northwestern, I'd say the terrorists have won.
That's right. Yesterday, the Northwestern Wildcats were the only Power 5 school, and I'm fairly certain the only FBS school, to wear a flag desecration stars & stripes helmet decal. Remember, when it seemed like every school wore a s&s logo decal, or wore some other kind of USA flag-based 9/11 remembrance? It wasn't that long ago. Now? We're down to one team who loves America. And we all know Northwestern loves America.
It used to be stuff like this was a one-way ratchet. Apparently, it turns both ways — I'm quite frankly (and pleasantly) surprised teams are toning it down. That's not to say we won't have flag decals for Veterans Day (which is on a Sunday this year, with the holiday observed on Monday, November 12th). But we used to see a lot of teams "remembering" (or is it never forgetting) 9/11. Now, it's just Northwestern who isn't with the terrorists, it seems.
As far as the rest of Northwestern's getup (and matchup vs. Duke) yesterday: it was pretty brutal. Gray and white don't go together all that well. Some found the uni matchup "terribly confusing", although it was certainly easy enough to tell the unis apart (thankfully Duke went with blue hats & britches). But a light gray like that (or Oregon's yellow, for that matter) really should serve as a "white" jersey, not a dark one. We'd also get a lot of nice (hopefully) color vs. color games that way.
So, flag desecration helmet logo and GFGS jersey. Well played NU. As long as you're keeping America safe from the terrorists, we're all winning.
Here's TJ Duroncelet with your…
• • • • •
Sunday Morning Uni Watch
By Terry Duroncelet
Week 2 proved to be one for the books, with Kentucky and Colorado State pulling out upset victories back-to-back! And now we turn our attention to the aesthetics. All news is from Saturday.
• Out of all of Iowa State's new looks for 2018, their road uniform is easily their best look.
• Memphis wore a new grey/white/grey look against Navy. Because who needs blue, am I right? Color? Vibrancy? Fun? What are you, someone who likes to be able to tell who's playing who? No, we play collegiate handegg around these parts. Yes, I understand that grey is technically one of their school colors, but this is a hard pass for me, Tigers.
• Speaking of fun: you can't beat a good old-fashioned helmet cart (h/t to Ignacio).
• Michael Abromowitz spotted a Rutgers player with no name (usually for either player number eligibility, or even a blood jersey).
• It seems as though Mississippi State is one of the latest schools to implement merit decals, although they could've been doing this for a while and we only just now noticed (h/t to @__joeplusv on Twitter).
• From that same game above: K-State seems to still be using the old Flywire-collared jersey tops (photo cred to Matthew Skipper). Didn't Nike mothball that two or three templates ago? Speaking of old hat, the Wildcats were also spotted using equipment chests that still have the old BCS logo on them (photo cred to Matt Brown).
• Louisville's forward-facing TV numbers are… weird. Simply weird. Furthermore, I'm not sure how practical they are. I would figure that the spotters would prefer the conventional sideways positioning, so they can identify a player from the side, or when one is down on the ground.
• Duke QB Daniel Jones has a fun moustache mouthguard (h/t to Michael Alper). That's a fun word: moose-stauch.
• Colorado State has a "bone" to pick with Arkansas. …N- no one? Well, at any rate, the bone horn helmets are nice, and while they look good with the green tops and white pants, I'd much prefer them with the mono-white unis.
• I'm not sure if UCLA'S take on 3D helmet decals is all that well-thought out (h/t to Michael Cooperman)
• I don't normally cover too much D1-AA, but when I was made hip to what Austin Peay was doing for Saturday, my first thought was "Okay, it's… Oregon State. Is there something that I'm missing?", but then I took a closer look and realized that it was the Governors football team, not the Beavers. Once again, we're treated to some real moustache hours. Here's the hype video, if that's your thing.
• Louisiana Tech brought back the white 'T' on the helmets for the first time in 5 years (closer look, and the video).
• …At least it's spelled the way it's pronounced now (h/t to Abby Luker Fitzpatrick).
• Is this gonna be known as the season of weird captain's 'C' placements? (h/t to James Keith Clowers)
• These trademark stamps are starting to get out of hand (h/t to Griffin Smith).
• So the Akron Zips were supposed to be blue-topped for their home opener, but said blue tops hit a logistics snag, so Akron had to call an audible and wear white/black/white (as opposed to the gold pants that were mentioned here. H/T to Matt Fortuna)
• BYU wore all-white at home against all-navy Cal.
• I've said it a million times, but out of all of the whiteout that I've seen over the years, Michigan State's are among some of the best-looking that I've ever seen.
• Chris Perrenot sends this in: "The "T" is hanging on for dear life."
That'll do it for Week 2. Tune in next week to Week 3 for more bad puns and DBZ Abridged snippets. See you next week!
• • • • •
Thanks, TJ! OK, now on to the rest of the SMUW crew!
[adrotate group="2″]
Joe Ringham's 5 & 1
Following in the footsteps of the original "5 & 1," Jim Vilk, and Catherine Ryan after him, Joe Ringham returns for 2018 to make his "5 & 1" (five good looking and one stinker) uni-vs-uni matchups. Sometimes he'll have some "honorable mentions" and sometimes there will be more than one "bad" game. You may agree and you may disagree — these are, after all, just opinions and everyone has one. Feel free to let him know what you think in the comments section.
Here's Joe:
. . .
Good Sunday, everyone. Now that we're back in our usual Sunday slot, let's get down to business.
5) Kansas at Central Michigan — Ok, I've really bagged on these two teams (CMU, in particular) every year I've had this space. But, this week, they both actually look really good against one another. The blue/white/blue of the Jayhawks really clashes excellently against the maroon/maroon/gold of the Chips. Surprised the hell out of me that this game would look this great.
4) Southeastern Louisiana at LSU — This game stopped me dead in my tracks, when channel surfing during the early evening block of games. LSU's usual gold/white/gold look has long been a favorite of mine, but it pairs up excellently against the white/green/white of the Lions.
3) Southern Cal at Stanford — Such a beauty of a game out in Palo Alto. With the classic road look of the Trojans and the sheer, simplistic awesomeness of the Cardinal's home set, I almost feel bad for even having this game ranked this low this week.
2) Iowa State at Iowa — Saw this one on the schedule earlier in the week and secretly hoped this one would look good. Boy, did it ever. Loved how the Cyclones went red/white/red on the road, and it matched perfectly against the Hawkeyes' damn near perfect home unis. A beauty of a game in Iowa City.
1) UCLA at Oklahoma — I know it's very early in the season, but this, to me, was hands down the best looking game of the season. The usual gold/white/gold road unis of the Bruins looked sparkling against the always sharp looking home unis of the Sooners.
And, finally…
+1) Albany at Rhode Island — On a week where the pickings for this side of the list was slim (at least, by my standards, they were slim), this gets put on here. Why, you ask? Because there's something about purple and gold matching up against navy and light blue that just looks… unappealing.
Enjoy the rest of your Sunday, and I'll see you right back here next week!
• • •
Thanks Joe! You can follow Joe on the Twitter and let him know what you think of his choices or make a 5 & 1 suggestion of your own!
[adrotate group="2″]
NCAA Uni Tracking
Uni Watch will again track the uniform combinations worn by the "Power 5" conferences. All of the 2017 trackers are back!
We've got Rex Henry (tracking the ACC), Dennis Bolt (tracking the PAC-12), Kyle Acker (tracking the Big XII), and Ethan Dimitroff (tracking the B1G AND the SEC). Rex, Dennis, and Kyle and are all returning from 2015, and Ethan is back after joining the NCAA Uni Tracking a couple seasons ago. Ethan continues his dual role of tracking both the B1G and the SEC.
Here are the Uni Trackers for the Power 5 Conferences:
+ + + + + + + + + +
Rex is up first today (ACC):
• • •
ACC

More Here.
Follow Rex on Twitter here.
• • •
And now, here's Dennis with the PAC-12:
PAC-12

More here.
Follow Dennis on Twitter here.
• • •
And here is Ethan, with the SEC:
SEC

And be sure to check out Ethan's WVU Mountaineer Tracker.
Follow Ethan on Twitter here.
• • •
And here is Kyle with the Big XII:
Big XII

Follow Kyle on Twitter here.
• • •
And here's Ethan with the B1G:
B1G

[adrotate group="2″]
Welcome to the 2018 Oregon Ducks Uni Tracker. This little project was originally begun way back in 2008-09 by Michael Princip, who retired after several seasons, whereupon the project was continued by Tim E. O'Brien. He, too, retired from the tracking, but the project has been ably kept up by the man who also tracks the Pac12, Dennis Bolt.
Here's this week's Uniform Combo for the Ducks (you can click to enlarge):
You can read about this uniform, and MUCH MORE, by checking out the Duck Tracker here!
Thanks Dennis!
[adrotate group="2″]

And now a few words from Paul: Hi! In case you missed it during the past week, here's some stuff you should be aware of:
• Ticker intern Kris Gross will soon be leaving us, so I'm in the market for a new intern. The job involves being on Ticker duty on Thursdays, to create the Tickers that will appear on Fridays. Full details here.
• My latest team-redesign contest for ESPN is for the New York Jets. The official ESPN announcement won't run until Tuesday, but blog readers can get a head start now. Full details here.
• Membership sign-ups always slow down during my August break from the site (understandably). But now that I'm back, feel free to help support that site by signing up for your own custom-designed card. Or you can get yourself a flex-fit cap, a Naming Wrongs T-shirt, a Uni Watch shirt or mug, some StripeRite socks, or some Uni Watch stickers or magnets. My thanks for your support and consideration.
We now return you to your regularly scheduled weekend content.
[adrotate group="2″]
Uni Watch News Ticker
By Phil

Baseball News: Yesterday was "Hispanic Heritage Day" in Arizona, so the Diamondbacks wore their Los Diamondbacks softball tops (from Ed Kendrick). … I've always loved the 1968 Detroit Tigers road uni. And yesterday, in a throwback game, the Cards and Tigers threwback to 1968, the year they met in one of the more epic World Series of the past century-plus. Also, it was a home game for the Tigers, so it was odd to see them break out road throwbacks. Here's an article and more photos/videos, and some good Getty Images. … This is pretty cool. Check out both sides of the now famous Al-Tuna Rally cap (from Noah Kastroll). … "Haven't seen this one yet on the site: the Nationals have a skittles infield tarp ad," says Josh Hinton. … Tweeter Kevin Gahalla thinks the spacing is off on these Brewers throwbacks. I simply think it's an optical illusion caused by one player NOB being arched at about 180 degrees, while the other has like a 30 degree arch. … Oops! Mallex Smith was wearing the wrong cap on one of the Tampa Rays 20 year anniversary days (from Ryan).

NFL/CFL News: Bit of a long one from Wade Heidt: "Roughriders head coach Chris Jones is known to just always wear black on the sideline since becoming a head coach. Does it with the green and white clad Roughriders. Did it at his previous job with the green and gold clad Edmonton Eskimos. The head coaches in the league had to wear "Diversity is Strength" T-shirts a few weeks back. So we got to see Chris Jones in green. Since that game, he has continued to wear the green T-shirt on the sidelines. The Roughriders are 3-0 since he started to wear the shirt and have turned their season around." … This may be a first…but the Panthers have actually released a hype video for the midfield logo (from Dan Tarrant).

College Football News: Another domino? After "ashamed" College of the Ozarks decided to jettison Nike after Nike's new ad featuring Colin Kaepernick, Liberty University (run by Jerry Falwell, Jr.) said it is considering a new jersey "sponsor". Falwell "says the school wants to find a supplier that supports veterans, the U.S. flag, American values and law enforcement." … "Trinity Christian has co-opted Texas Tech's logo," says Eric Wright. "This is where Deion Sanders' son is a sophomore QB and Deion is the O coord." … Russell Westbrook, Buddy Hield, and Trae Young (who's rocking a Baker Mayfield Browns jersey) were at yesterday's UCLA-Oklahoma tryst. Ryan Hinderliter points out the Pac-12 logo patch was moved to cover the Under Armour logo for Westbrook. … The Washington Huskies have some kind of "Throwback Series" this season at which throwback caps will be available (from Jorge Cruz). … Check out some of these great Houston auction items for football and hoops (also posted in College Hoops section). From Ignacio Salazar. … Yesterday's game program cover for La Tech/Southern was a throwback to the one from the very first game in the 50-year history of Joe Aillet Stadium (vs. East Carolina, 1968). It featured La Tech's Top 50 Bulldogs and a look back at the very first game in stadium history (from James Poisso). … The NCAA is tightening restrictions on uniforms and player dress code for the 2018 college football season. The rule has four points of emphasis.

Hockey News: Hockey Milano Rossoblu has unveiled its away jersey for the 2018-19 season, their first in the Alps Hockey League; however, they played their first preseason match on Thursday in Asiago but were forced to wear their junior team's away jerseys because the new ones couldn't be produced in time (from Matthew rossoblu & orange). … The CJHL will honor the Humboldt Broncos with special banners at upcoming home games for all 133 Junior A CJHL teams (from Wade Heidt). … Also from Wade, the BCHL Wenatchee Wild have new uniforms. Their prior secondary mark and shoulder patch have become the primary mark. Here is the new white jersey. … More from Wade: "Junior "A" hockey kicked off on September 7 in the BCHL. Some new uniforms in the league. The Salmon Arm Silverbacks have been wearing black and silver. Have worn a similar look to the Los Angeles Kings for a long time. They do have a prior history of wearing purple with the black and silver. They have introduced two uniforms. There is a grey one. They also introduced a white one which celebrates purple big time and the return of their vintage logo and is just purple and silver. Complete with purple helmets, pants and gloves." … The Washington Capitals and Nashville Predators had a scrimmage yesterday and it was Color v Color. Ketchup vs Mustard (from Evan Knode).

College Hoops News: Like most schools, Gonzaga has worn a number of different unis over the years. Some are good, some…not so much. Here's a look back some of the good and bad. … Check out some of these great Houston auction items for football and hoops (also posted in College Football section). From Ignacio Salazar.

Soccer News: The new Nike home kit for Brazilian club Internacional has been released. Internacional return to the Brasileirao after one season in the second division (from Josh Hinton).

Grab Bag: I'm not 100% even sure what sport these are for, but judging from the bib, I'm gonna say it's Williams College Track and Field (from Paul Friedmann). Love the Eph's cow spots! … College of the Ozarks, the "private Christian college of about 1,500 students announced in a news release Wednesday that student-athletes will no longer wear the brand in response to the company's 30th-anniversary ad campaign featuring former San Francisco 49ers quarterback Colin Kaepernick," have traded in their Nike Women's Volleyball uniforms for plain gray t-shirts.
[adrotate group="2″]