Click to enlarge
By Phil Hecken
The parade of new uniforms costumes for college football teams seems endless, and this week is no exception. Many of them look like clown suits — others are just bad — and some of them are actually quite good (if alternate uniforms is your thing). Week Six of the NCAA season brings us a plethora of new (and old) looks — the good, the bad and the ugly.
Let's start with the school that has a new combination every week — and sometimes an entirely new uniform altogether — Oregon. Today, the Ducks will be wearing their "Webfoots" uniforms. These are new, or technially they're new — they actually wore the jerseys before — in their Spring Game. I wrote about them back in April. The only difference is those uniforms (besides being home and away), had tan helmets and pants, which more closely approximated the 1916 uniforms they were fauxing back to. Today's uniforms will feature black helmets and pants, which doesn't approximate anything worn back then. Have I mentioned yet this year that Oregon has jumped the shark? No?
You can read more about those here:
Ducks to face Huskies in throwback Webfoot uniforms inspired by 1916 Rose Bowl team https://t.co/vbDLeT6d3w

— Phil Hecken (@PhilHecken) October 6, 2016
Let's see what else is on tap for today.
Indiana:
The Hoosiers are breaking out a new jersey with "candy stripe" sleeves

Check out Hoosiers' awesome new retro uniforms to be worn vs. Huskers https://t.co/PVEp7MA5Pn

— Phil Hecken (@PhilHecken) October 5, 2016
.@HoosierFootball's "Candy Stripe" uniform for Homecoming on 10/15.#GoIU #teamadidas pic.twitter.com/bhW1KK6ypm

— adidasUSPRGuy (@adidasUSPRGuy) October 5, 2016
SUNY Albany:
The Great Danes will be breaking out throwback helmets. These are actually quite nice:

.@UAlbany football wearing white throwback helmets vs. Richmond on Sat. w/ Bob Ford being inducted into Hall of Fame. pic.twitter.com/N42D5bQY0r

— Mark Singelais (@MarkSingelais) October 4, 2016
Nicholls:
The Colonels have an, um, interesting uniform inspired by the Thibodaux Volunteer Fire Department:

Take a closer 👀 at our Thibodaux Volunteer Fire Department inspired uniform for Saturday. #GeauxColonels 🔴🔥🚒 pic.twitter.com/geAC8esf1O

— Nicholls Football (@Nicholls_FB) October 4, 2016
Pitt:
I'm really looking forward to this one. Pitt will throwback a couple decades, and go with their royal and gold unis. They should have made these their permanent unis (maybe they will again?), but for now, we can enjoy these beauties!

@PhilHecken Pitt unveiled their throwbacks this weekend pic.twitter.com/OdHBjwK0Z1

— Samuel (@Sturg_23) October 5, 2016
@PhilHecken here's the helmet close up thanks to @HelmetAddict pic.twitter.com/LL8zdWjrUn

— Samuel (@Sturg_23) October 5, 2016
Central Missouri:
OK, camo-pander shouldn't really be happening for another month, but that didn't stop the Mules from busting it out early:

The Mules will be sporting the red, white and blue logo this weekend with camouflage uniforms for Military Appreciation Day. #teamUCM pic.twitter.com/1wSaB91UtN

— UCM Football (@UCMFootballTeam) October 6, 2016
Eastern Washington:
Also going semi-pander are the Eastern Washington Eagles, who will be wearing "military appreciation" unis today against the Northern Colorado Bears.

Military appreciation unis on Saturday for Eastern Washington. Additional photos here: https://t.co/KD2pwa9QaC pic.twitter.com/nF03r1mkK4

— Paul Lukas (@UniWatch) October 6, 2016
Thanks to @EWUequipment for the updated helmet logos! Looking sharp for our annual Military Appreciation Game gear this weekend! #GoEags!!! pic.twitter.com/iAHPKAE2bt

— Cherokee Valeria (@CoachCherokee) October 7, 2016
Akron
Jimmer Vilk's alma mater will be honoring the 1976 team this weekend, and breaking out a really nice throwback hat.

On their HOF induction weekend @ZipsFB will be honoring the 1976 Akron Football Team with a throwback helmet! #HallofFame #Throwback pic.twitter.com/QJczJunL7z

— Akron Zips Equipment (@ZipsEquipment) October 6, 2016
Miami:
After many years in the wilderness, spanning both the Nike and adidas reigns, Miami will finally return to a classic (and gorgeous) look this weekend against Florida State

@PhilHecken you forgot one, Phil pic.twitter.com/cTj1KLMyLn

— Phil Primato (@philprimato) October 6, 2016
Eastern Michigan:
The Eagles will be donning a throwback look today that is VERY reminiscent of the New York Jets. I believe this was actually intentional:

EMU Football To Wear Throwback Uniforms on Saturday https://t.co/YwoW1xsKpM

— Phil Hecken (@PhilHecken) October 7, 2016
Arizona State:
The Sun Devils have worn a copper and gray uniform for the past two years, first under Nike, and then last year under adidas. I liked both of those. This one…meh.

Sun Devils back in copper (h/t @ASU_Uniformity) https://t.co/s81h5bhrlu pic.twitter.com/T2UOgHtbiD

— Phil Hecken (@PhilHecken) October 7, 2016
ASU uniforms include copper jerseys, desert ice helmets for UCLA https://t.co/azf0TmxEo0

— Phil Hecken (@PhilHecken) October 7, 2016
North Carolina State:
OK — now these I really like. Beautiful throwbacks for the Wolfpack today!

N.C. State throwback uniforms coming for the Notre Dame game this Saturday https://t.co/yTW05DXEcJ pic.twitter.com/i9QeTYUvuc

— Phil Hecken (@PhilHecken) October 7, 2016
@PhilHecken definitely a classic pic.twitter.com/YUnAosj0dy

— Alan Brenneman (@alanb2124) October 7, 2016
Other, non-new uni stuff:
Tomorrow, we're going with the #TrueMaroon look at 11 am CT on ESPN#HailState pic.twitter.com/SbEdVDn3an

— MSU Football (@HailStateFB) October 7, 2016
Wake Forest to honor Arnold Palmer with logo on field, helmets https://t.co/T44rqUyp8e

— Phil Hecken (@PhilHecken) October 7, 2016
🔶🔷🔶 vs. Purdue 👌#Illini pic.twitter.com/IZXGVYeDxZ

— Illini Football (@IlliniFootball) October 7, 2016
@UniWatch @PhilHecken UNC going with pink outlined 20-yd lines and Tar Heel/Ribbons on field this week. pic.twitter.com/iePMc5HAU7

— James Ghoulbert (@jamesleegilbert) October 6, 2016
Vanderbilt going black/white/gold Saturday vs. UK pic.twitter.com/8A0NQk47ih

— Phil Hecken (@PhilHecken) October 4, 2016
The #Bearcats will sport the all black uniform combo when they travel to UConn this weekend. #BeatUConn pic.twitter.com/Jj22ZFKk0j

— Cincinnati Football (@GoBearcatsFB) October 4, 2016
Maryland's game against Michigan State on Oct. 22 will be its annual blackout game. Did the same vs. MSU in 2014, Michigan in 2015. pic.twitter.com/RJpMcAAqbM

— Jake Russell (@_JakeRussell) October 4, 2016
WHITE OUT – Saturday the Huskies are wearing WHITE, and so should you! Get to The Rent early this week (11:30 a.m. kickoff) and wear white. pic.twitter.com/b0L9BYWRum

— UConn Huskies (@UConnHuskies) October 3, 2016
@PhilHecken @UniWatch Montana's new threads. A return to a classic look. pic.twitter.com/eFSlh9hZyx

— Benjamin B. Goble (@MT_Grizzle_Bear) October 3, 2016
Phew. There's probably a bunch of unis I missed (not new ones, but new combos), and I'm sure there are a few that we'll see today that will surprise us. But of the new uniforms being worn today, I'd have to say I am pleasantly surprised with most of them. Of course, how good they look depends on how they look on the field, the conditions, and (in some cases) what the opponent is wearing. But from the previews we've gotten so far…this could be a very good day of NCAA Football uni watching.
Leo's World
"Leo's World" is a new, semi-recurring feature here on Uni Watch weekends, featuring some excellent uni-related finds from Leo Strawn, Jr.. Each installment will feature a new, unique or just very cool collection of related uniform observations and research. You can click most of the images below to enlarge. — PH
Familiar Players in Unfamiliar Uniforms, v 7.0 World Series Edition
By Leo Strawn, Jr.
We're all familiar with those odd photos of our favorite players either just starting or finishing out their careers in unfamiliar uniforms. Rather than just post a bunch of photos, I thought it would be fun to let readers guess who these legends are.
Today's edition of FPiUU consists of MLB players and managers who won at least one Fall Classic. (Number of MLB World Series championships celebrated in parentheses.)
Ready? No Googling"¦
++++++++++
1. This MLB legend looks rather odd wearing a Phillies uniform. (3)

++++++++++
2. It is equally odd to see this MLB legend in a Braves uniform. (5)

++++++++++
3. This PCL Oakland Oaks manager, shown in this 1952 photo, is best known for his home run hitting. (1)

++++++++++
4. This player was a winner in the dugout as well as on the field, shown here as manager of the 1942 PCL champion Sacramento Solons. (2)

++++++++++
5. This player came out of retirement during WWII to fill in with the PCL San Francisco Seals in 1941, hitting .248 in 102 games. (5)

++++++++++
6. This player/manager also achieved success in the short-lived Federal League, winning the 1915 FL pennant. (2)

++++++++++
Extra point if you know which two of these six are not in the Hall of Fame at Cooperstown.
==========
Answers:
++++++++++
How did you do on this World Series Edition?
Till next time…
Cheers!
+ + + + + + + + + +
Thanks, Leo!
Tough one today. Great stuff as always.
Colorize This!
Occasionally, I will be featuring wonderful, high-quality black and white photographs that are just begging to be colorized.
I have colorizations, or should I say "colourizations" today, from the suddenly (and awesomely) prolific George Chilvers.
George is best known for his football (soccer) colorizations, and today he's back with a couple of those, which is fantastic
Here's George…
~ ~ ~ ~ ~
Two for you today, Phil.

The first is a team group of a team called Bradford (Park Avenue), dating from 1931-32. They had a long history (never quite breaking through to great success), but went into a long period of decline before finally folding in 1974, having left the Football League in 1970. A phoenix club was set up in 1988 and play in the lower reaches of English football outside the Football League.

What I love about this picture are the colours (that's what UW is all about, isn't it?). Bradford clubs (two football teams, a rugby league club and a rugby union club) have all toyed through the years with combinations of red, amber and black. In this one the team are wearing amber with red and black trim, but of "uni-note" is the fact that two different sleeves are shown – amber (with black reverse, just visible at the top left) and black. Exactly why or how is unclear.
. . . . .
The second picture is of one of the all-time greats of English football, William Ralph "Dixie" Dean. He earned his nickname in less PC times because of his slightly dark skin, and he hated it, always preferring to be called Bill. However Dixie Dean is the name he is always recognised by. He has a probably never to be equalled record in English football – he scored 60 goals in the 1927-28 season. If I say that last season's Premier League top scorer was Harry Kane with 26, and the highest in any recent season was 31 by Luis Suarez in 2013-14 you can see that he is way out ahead of modern goal-scorers.

The picture is taken as he leads the Everton team out in the early 30s at Highbury, home of Arsenal. Highbury was a magnificent Art Deco ground, and the cage around the managers' benches is beautiful. Highbury opened in 1913, and stayed as a football stadium until 2006. The last game Arsenal played there was against Wigan and I was privileged to be in the crowd that day. One nice touch by Arsenal was that on every seat for the Arsenal supporters was a red or a white T-shirt which gave a great effect of stripes.
. . . . .
Now it would have been easy enough to just fit Wigan fans into the scheme by giving us white T-shirts, and hope we wore them. But they actually gave us blue T-shirts (emblazoned "I was there" — you can see the Wigan fans to the right).
Two of the main stands were "listed" (I don't know if you have a similar building control – buildings of historic inteerst are "listed"officially, and cannot be altered in any way without major consent. So those stands have been turned into luxury apartments, with the exterior retaining exactly the look they had.

George (hopefully having eliminated any "teh"s)

PS Hopefully you're feeling better. I've been unwell too with a chest infection that has been slow to shift :(
. . .
Thanks, George. Great stuff as always! I'm feeling much better, thanks — hopefully you're feeling better now as well. Wonderful colorizations, and great backstories!

Paul's Latest on ESPN
In case you missed it on Friday, the NHL's regular season begins next Wednesday, which means it's time for Paul's annual Uni Watch NHL Season Preview, which runs down all of the new uniforms, patches, and related news for 2016-17 (including the Panthers' new uniforms, shown here).
It's a great read, so check it out here.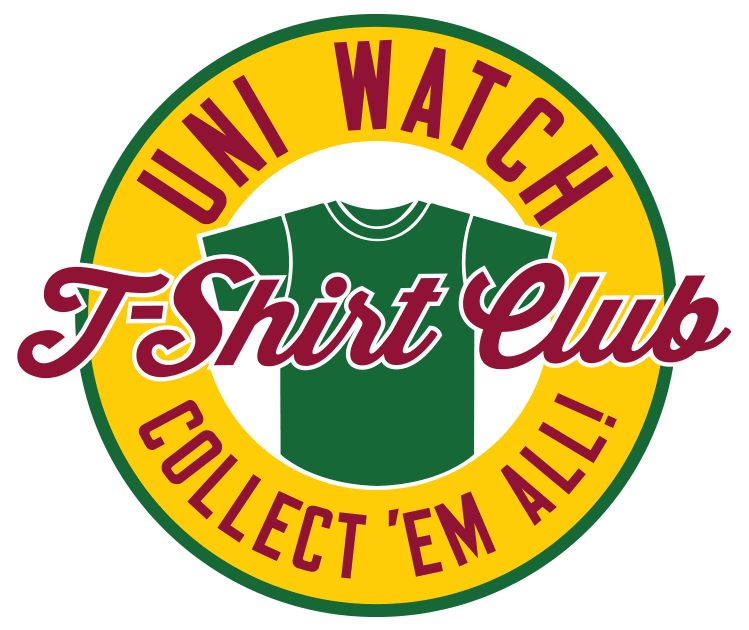 Important T-Shirt Club update: Paul here. It's been brought to my attention that the Uni Watch T-Shirt Club's most recent offering — the soccer shirt — has some problems. First, the orders took way too long to ship. And now that the shirts are finally arriving, most of them — maybe all of them — don't have the jock tag graphic.
All of this is embarrassing and unacceptable. We will make it right.
As most of you know, this was our first shirt with a company called Represent. We switched from Teespring to Represent because my designer and creative partner on the T-Shirt Club, Bryan Molloy, who used to work for Teespring, recently took a job with Represent. He assured me that Represent was a first-rate company and that the product and service would be better than Teespring's.
Brian, who's as surprised and disappointed by all of this as I am, has explained to me why the jock tag wasn't included. It's too technical to explain here (having a graphic at the base of the shirt requires a different kind of screen, which in turn requires a different design file, which has to be prepared a certain way, blah-blah-blah), but the short version is that Represent messed up. We're still trying to get a good explanation for why the orders took so long to ship.
I've been told that Represent will reprint and reship all of the shirts — this time with the jock tag — and their expense. If for some reason they do not follow through on this, I will have it done myself, at my expense.
It is mortifying to have our first shirt with a new supplier go so badly. We're currently finalizing the design for the next shirt, which will have a football motif, and are assessing our options for how to get it produced. I promise that we'll choose the option that's best for you, not the one that's easiest for us. (If those two things turn out to be one and the same, so much the better. But I'm not assuming that that will be the case.)
For what it's worth (which I admit isn't much), several of you have told me, "It's a great shirt — good quality, crisp printing. It just took too long and one of the elements is missing." So at least there's that.
My apologies to all our customers, and my thanks for your patience. Hang in there — we'll get it fixed.
Uni Watch News Ticker
By Phil

Baseball News: Did you ever want to learn the "art" of pitching the "slow ball"? Well, there was a time you could (thanks to Bruce Menard). … Also from Bruce: check out this great photo of Pepper Martin teaching "little Bobby Wilson" about hitting at the World Series (that photo is from October 7, 1931). … With the NBA season starting shortly, and the Cubs in the playoffs, here's a look at some Bulls-themed Cubs & White Sox jerseys (from Chris Overholt). … The University of Kentucky men's baseball team will have lots of leather choices next season (from Reece Wallace). Wonder if they'll base each choice on individual player comfort or uni combo. … 'MURICA? Seven of the eight remaining teams in MLB's playoffs have a red, white and blue colorscheme (from Corey Richards). Of course, the tweet that brought up the "which one is not like the other" devolved into a discussion about Wahoo (read down for some comments). … Prior to yesterday's Indians/Red Sox game, LeBron James pumped up the crowd wearing a blue "Caveman" jersey (good spot by Robert Hayes). Here's an even better look. … Due to wearing "volt" bat handle tape, David Ortiz' bat handle became invisible yesterday against the green screen (from Not A Playoff Team). … Several people mentioned/tweeted this: no New Era logo creep for Kenley Jansen last night.

NFL News: "Here is a 1955 program for a Washington at Baltimore game where the Colts are wearing white helmets. 1955 was their last season in blue helmets," says William Yurasko. "DC Sports Bog has a good write-up on that game, the last time the burgundy and gold won in Baltimore." … Here is a recent article about the first NFL game between the Dayton Triangles and Columbus Panhandlers on October 3, 1920. The video imbedded in the article is also worth a view (from Patrick O'Neill). … As you're all (hopefully) aware, on Sunday the Steelers will wear their throwback "Bumblebee" uniforms for the final time last time. Contained within that article is a key quote about the future from Dan Rooney (emphasis mine): "This will be the last time we wear them," said Steelers President Art Rooney II. "Next year, we will not have a throwback jersey to wear. We are evaluating what we will do in the future. We have some ideas and plans, but we're really not ready to reveal those yet in terms of what the next throwback will look like. This throwback has been a success from a lot of different standpoints. Even though some people didn't like it, the majority of our fans did like it and a lot of them bought the jersey. It's been a fun uniform to have." … Looks like the Clintons (or at least former — and future — First Daughter Chelsea) are the proud owners of a Carson Wentz jersey. … The color rash unis so far have completely sucked, but that's going to change when San Diego wears theirs. Here's a look at the beautiful royal jerseys and pants they'll wear next Thursday (October 13th) against the Broncos (from Chitty2Bang2). … "I was at the Chargers game Sunday and up had my picture take with Boltman, which I've tried to attach," writes Derek Sandoz. "Boltman's uniform game is not strong. Problems include: 1) Outdated Reebok jersey; 2) totally outdated pre 2007 pants; 3) Under Armour gloves; 4) Wrong socks (no gold stripe); and 5) Carolina Panthers colored shoes of unknown brand." He continues, "I realize the poor guy probably makes $40 a game (as a long suffering Bolt fan I have witnessed how tight fisted the Spanos family can be), but my goodness hook him up with some new gear Chargers!" … The New York Jets will wear their white shirts and green pantaloons vs. the Stillers tomorrow. … Not shockingly, the New York Football Giants will wear their white jerseys and gray trou vs. the Packers tomorrow night. … Looks like Antonio Brown will have Muhammad Ali tribute cleats Sunday against the Jets (from Mark Kaboly via Paul). … The Jets will have lots of pink. There will be lots of pink tomorrow, but we're guaranteed it from the Browns and the Rams (you can thank/blame Mike Chamernik for all those). … Here are the BCA cleats Jerick Mickinnon will wear Sunday (from Ryan Rhody). … Several folks tweeted this at me from Josh McCown: "When your daughter has jersey day at school and she doesn't have enough friends to wear all the teams." … The Bears will wear white jerseys with blue pants against the Colts.

College/High School Football News: Here's a nice lookback at the shoulder patches worn during the 2003 Gator Bowl, graphically (from our ACC Tracker Rex Henry). … Looks like Youngstown State University will be introducing a throwback uni of some sorts next week (h/t Robert Hayes). … Here's a cool video showing the amount of work that goes into cleaning an preparing a helmet before a "new" design (new decals, facemask, etc.) can be worn (h/t Sun Devil Equipment). … Great uni tracking by Brad Denny who has compiled a spreadsheet of Arizona State's record by uniform combo since the 2011 rebrand. … The Oklahoma State fan site "Cowboys Ride For Free" has made a prediction for the helmet the Cowboys will wear today against Iowa State. … Today, Florida State and Miami will wear stickers honoring Hurricane Matthew victims. … Central HS in Baton Rouge were "backing the blue" to support police. Maroon is their school color (from Benji King). … Under Armour has college football "˜zebras' on its side (from Frank McGuigan).

Hockey News: The "Saskatoon Blades wore their throwback alternate uniforms Thursday night," writes Wade Heidt. "Love these uniforms compared to the regular look. They need to consider going back to these blue and yellow classics full time." … Sublimated corporate sponsor advertiser on UMASS hockey jerseys. Says submitter Mike Diodati, "Lazy D Landscaping!" … The AHL's Roadrunners will be unveiling new jerseys on Monday (h/t Fred Stillman).

NBA News: Here's "one that got away" if you care about what uni/sneaker/lifestyle/branding companies *sponsor* athletes: How Adidas's Lowball Offer Sent LeBron James to Nike — Sonny Vaccaro recounts how Adidas let the NBA's most important player slip through its fingers (thanks, Paul). … This is a shame: NBA uniform ad sales are facing all kinds of complications.

College Hoops News: Not sure if this has already been covered (it wasn't in yesterday's ticker), so apologies in advance if this is a repeat: new hoops uniforms for Middle Tennessee State University (h/t Lee Wilds). … The Kansas Jayhawks have unveiled some "Pearl Harbor" uniforms (from Fried) — no other information available. … Wow — here's a beautiful historic photo of Iowa state and Nebraska basketball uniforms. Note the "U of N" on the side of the shorts (nice spot by Mitchell General). … The St. Bonaventure men's hoops team will have some new uniforms for the 2016-17 season (from Bill Kenney). … New uniforms for Siena Basketball (from John Dougherty). … Also revealing new uniforms: Marquette. Here's a short video (from Peter Aksamit). Here's an additional look (from Robby Burmeister). And you can read a bit more about that here. … Check out the retro unis FSU revealed (from Jeff).

Soccer News: More Pinktober comes to soccer: The University of Massachusetts (Lowell) River Hawks Men's team will be wearing these pink jerseys next Wednesday (October 12th) against Vermont, and they will then auction them off for charity. … Here's an animation that shows the various hairstyles sported by Paul Pogba, who plays for the French national team and Manchester United (from Mike Chamernik).

Grab Bag: Pinktober never stops giving. Here's a look at more police and firefighter badges [dipped?] in pink (from jStevenO). … Star Trek (The Original Series) recently celebrated its 50th Anniversary, and here's an article taking a look back at the uniforms worn by the crew of the Starship Enterprise (and other ships/locations), over its many sequels and incarnations (thanks, Paul). … An American Chess player is boycotting a Championship that would require her to wear a hijab (from Paul).
And that's going to do it for today. Lots of college action, and of course, the MLB playoffs are also in full swing, so enjoy those National League games today.
Thanks, of course, go to Leo Strawn and George Chilvers for their fantastic contributions!
Back tomorrow with the full Sunday Morning Uni Watch Crew.
Until then, you can follow me on Twitter @PhilHecken
Peace.
.. … ..
"The Pluto symbol is OK, but I've never identified with it. Too compressed/compact/etc. Or maybe I just don't like the idea of my initials being associated with the god who ruled hell."
— Paul Lukas