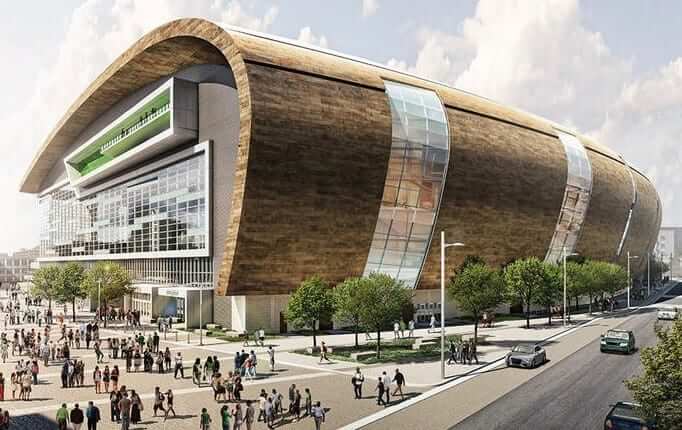 Word came down last week that the Milwaukee Bucks' new arena, set to open next month, will be named after an annoyingly spelled financial services company. That was disappointing, but now a new, more alarming wrinkle has emerged.
As The Milwaukee Journal Sentinel reported yesterday, the Wisconsin state legislature voted last year to give Fiserv — that's the company that bought the naming rights — up to $12.5 million to keep its headquarters in the state. Or to put it another way, Wisconsin taxpayers, who already subsidized the arena's construction via a quarter of a billion dollars in public financing, are now on the hook for subsidizing the naming rights to boot. That's a pretty neat trick.
One might reasonably point out that if doing business in Wisconsin was so financially arduous for Fiserv that they essentially needed a bribe in order to stay there, it's a bit surprising that they just happen to have enough spare change in their pockets to ink a 25-year naming rights deal, no? Hmmmm.
This is similar to the situation nearly a decade ago, when Citi bought the naming rights to the Mets' new ballpark just as the company was being bailed out by the federal government as part of the fallout from the 2008 financial crisis. That led to people here in New York saying things like, "They should call the stadium Bailout Park!" and "They should call it Taxpayer Stadium!" and "They should call it Debits Field!" (that was always my favorite), which in turn led the Rev. Vince Anderson to say, "Eh, fuck it — I'm calling it Shea," which in turn led to his catch-phrase being turned into a T-shirt, which in turn led to Naming Wrongs.
But I digress. Look, the corporate interests here are doing what corporate interests always do — privatizing the profits, socializing the expenses — but this is a particularly scummy example of it. With that in mind, we should come up with our own name for the Bucks' arena, a name that isn't tainted by this nonsense. If we come up with something good enough, maybe I'll even do a new Naming Wrongs T-shirt for it. Feel free to post your suggestions in today's comments.
• • • • •
[adrotate group="2″]
• • • • •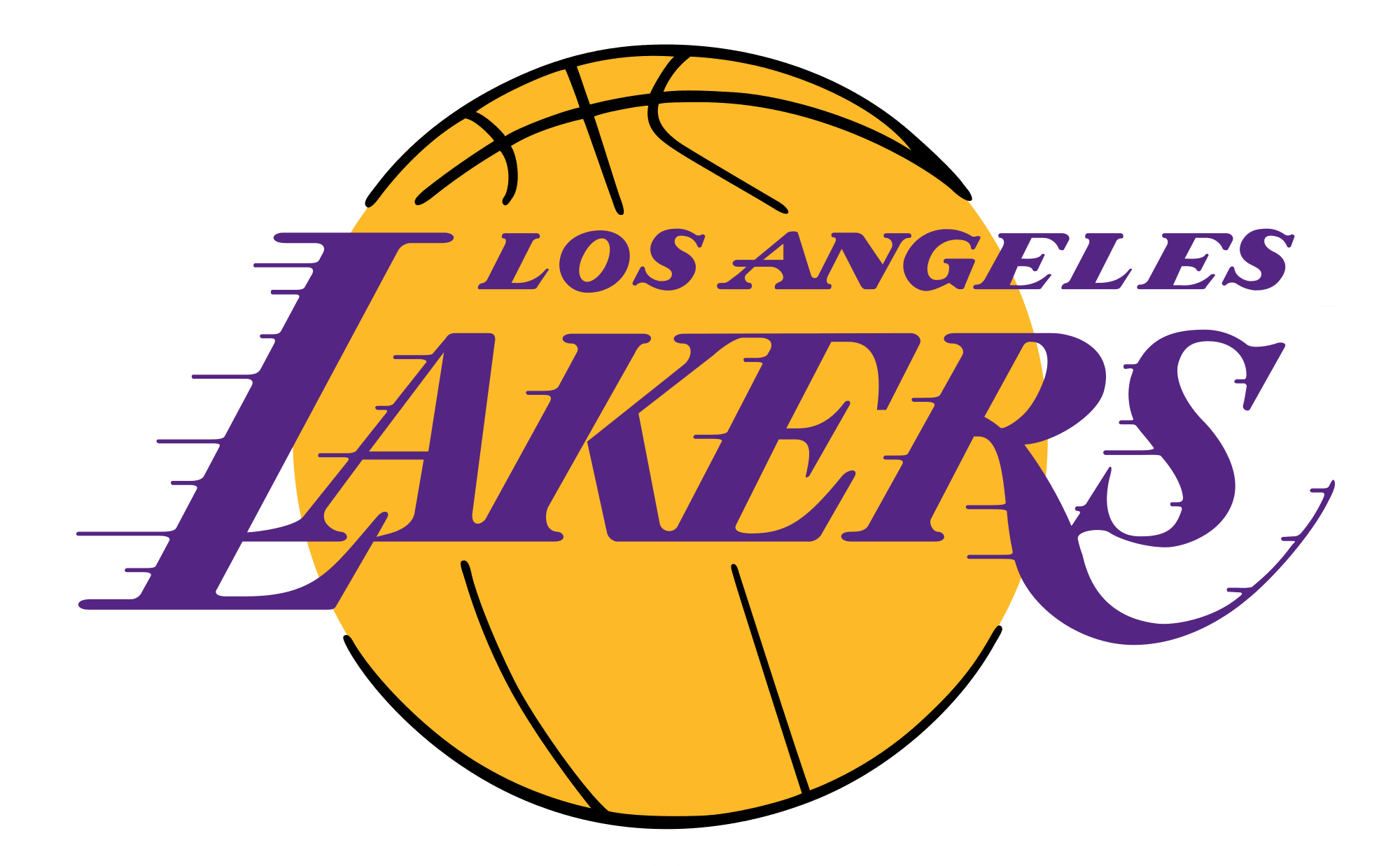 ITEM! Lakers update: Everyone, myself included, thought the Lakers were going to unveil their new uniforms yesterday. But as the day moved along, there was nary a uni-centric peep coming out of L.A., and then the team's retail shop tweeted the news that the jerseys would be available today at 1pm Eastern, and then the team's Facebook page announced that the new look will be introduced via a video today at noon Eastern.
But here's the thing: When viewed on desktop, the Facebook announcement's preview image just shows the Lakers' logo. But when viewed on mobile, the preview image shows the team's new yellow jersey, which confirms the retail leak we had previously seen last week: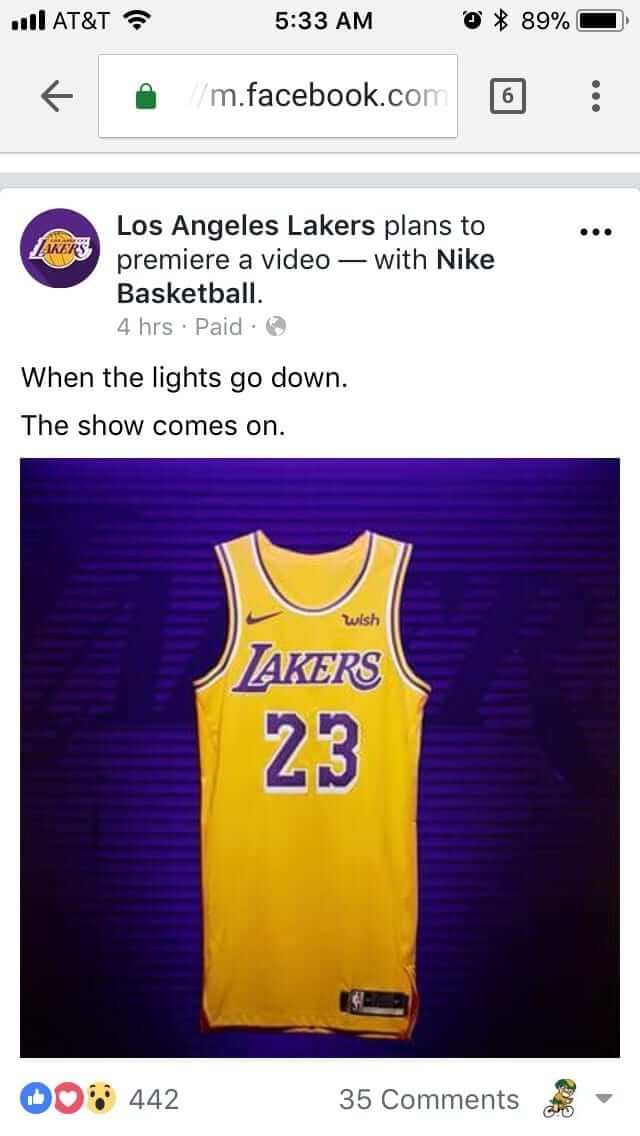 So that pretty well eliminates whatever modicum of suspense was still remaining. Oh, and speaking of retail leaks, there was another one yesterday. So this is a lot of buildup for what is likely to be very little payoff. But whatever — I'll have an assessment over at ESPN in the early afternoon.
• • • • •
[adrotate group="2″]
• • • • •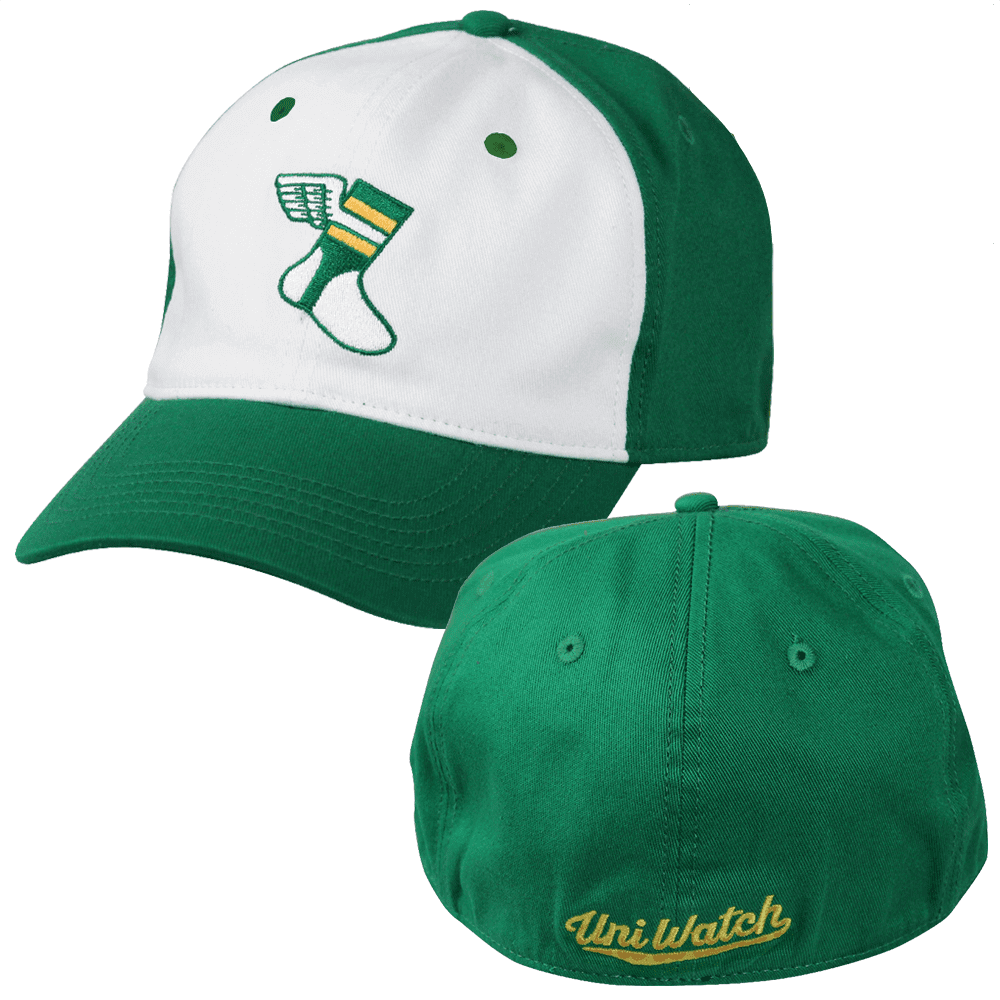 ITEM! Alternate cap now available: I'm happy to report that the Uni Watch alternate cap (shown at right; click to enlarge) is now available for ordering.
This cap was built for us from scratch by the good folks at Golden Sombrero (run by Bart Silberman, honcho of the fondly remembered nostalgia brand Moonlight Graham). Here are the details:
• The cap features Bryan Molloy's awesome winged stirrup design on the front and the Uni Watch script on the back.
• No maker's mark, of course.
• The cap has a flex-fit design and is available in two sizes: S/M (roughly equivalent to fitted sizes 6-5/8 through 7) and M/L (roughly equivalent to 7 through 7-1/2). Unfortunately, we do not have XXL at this time.
• The price is $29.99.
• Here's a really cool detail that Golden Sombrero suggested: custom Uni Watch inner seam taping. Check this out (click to enlarge):
I think that covers it! Again, the cap is available for purchase here.
Meanwhile, a few sizes of our Uni Watch classic cap are still available at Ebbets Field Flannels (with a $10 price break currently in effect), plus we have plenty of inventory on the adjustable version. The sold-out sizes should be back in stock around the end of August.
• • • • •
[adrotate group="2″]
• • • • •
ITEM! Amazing Brannock find: People who know of my fondness for the Brannock Device often assume that I have a large collection of them. I always tell them, "Nah, I just have one — that's enough for me."
But I had to rethink that position two days ago, when longtime Uni Watch reader Ben Traxel emailed me to say that he was at an antiques mall in Illinois and had come across something he thought might interest me (click to enlarge):
How amazing is that?! Note the sock size gauge in the center with the distinct pointer design — I've never seen that before! The two Brannocks are both stamped "U.S.A.F.," so this was apparently used by the Air Force.
Ben even shot a little video of the item:
I'm currently in "get rid of stuff" mode, not "accumulate more stuff" mode, but I had to make an exception for this spectacular find. Ben purchased the item for me, and he'll send it to my new address after I move in a few weeks. It'll make a nice housewarming present to myself. As longtime reader/pal Jeff Ash commented when I posted a few photos on Facebook yesterday, this is peak Brannock!
Ben, I can't thank you enough for thinking of me — greatly appreciated.
• • • • •
[adrotate group="2″]
• • • • •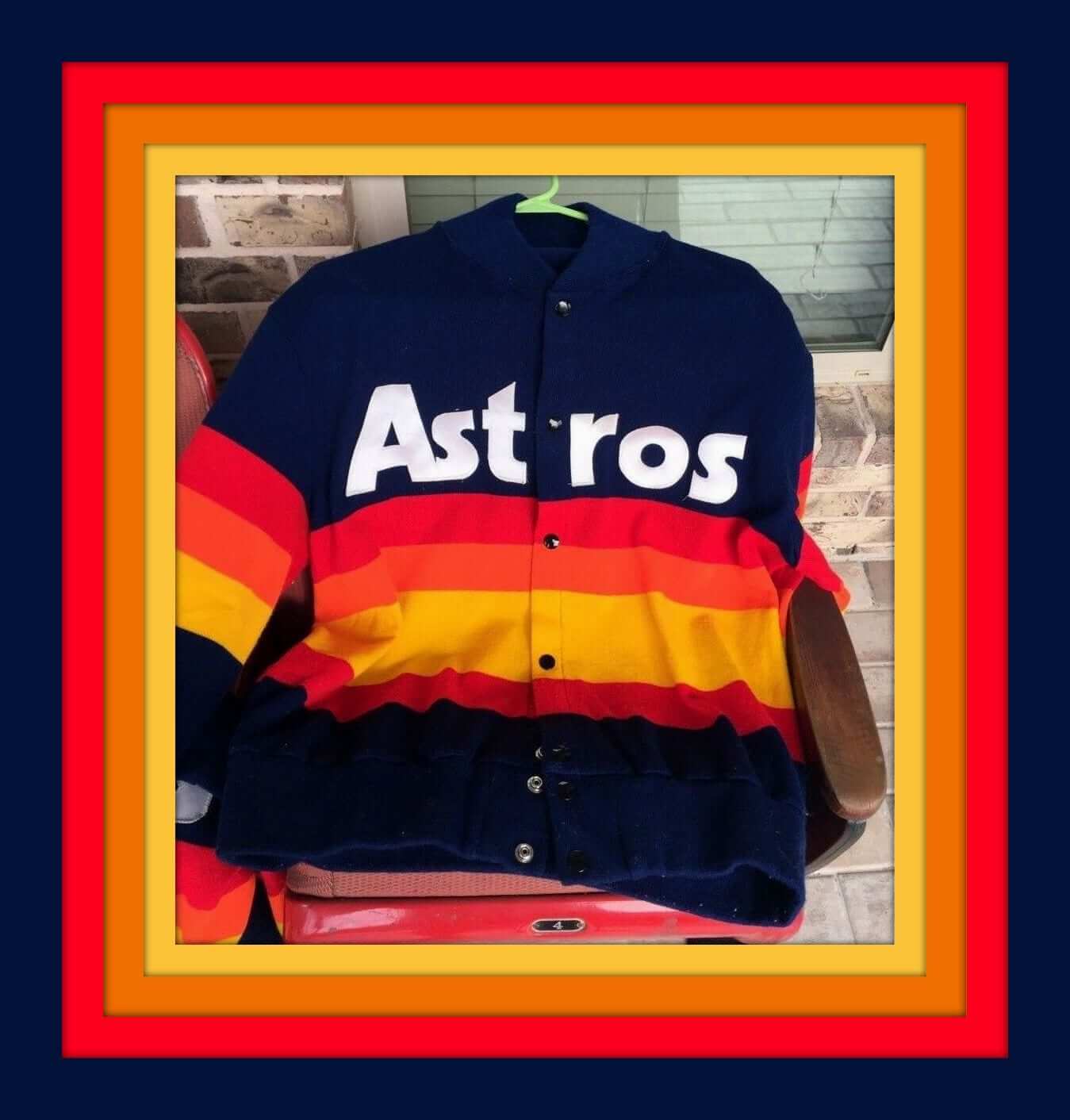 Click to enlarge
Collector's Corner

By Brinke Guthrie
Astros fans, jump all over this: How about a fantastic-looking retro (1975) tequila sunrise warmup jacket! The seller notes he/she is selling it for a friend: "Joe Niekro (Astros pitcher) gave warmup jackets to my friend's family." Here's one more — Astros manager Bill Virdon (1975-1982) posed for this photo wearing the full tequila sunrise look, which also debuted in 1975. Wonder what he was thinking? "In my day, we used to wear white or grey."
Now for the rest of this week's picks:
• Nice artwork on this classic 1981 Chuck Ren-created Cincinnati Bengals poster. That would be quarterback Ken Anderson, wide receiver Cris Collinsworth (yes kids, the announcer played some ball), and running back Archie Griffin.
• Check out this pair of 1970s Chicago Blackhawks bumper stickers. I particularly like that bottom one with the black-and-white player launching a slapshot. Here's one more sticker for the Blackhawks — this one's colors are a bit different, and the name is spelled "Black Hawks."
• The Dallas Doomsday Defense led by Bob Lilly and Cliff Harris is closing in on the ball-carrier on the cover of this 1970s football board game from Sports Illustrated, titled "Paydirt!" Never seen this one before, but it looks quite similar to the other SI game I had back then.
• This bumper sticker reads, "If God's Not A Broncos Fan, Why Are Sunsets Orange?"
• In the 1970s, Falcons player Don Hansen knew he had made it when his profile ended up on a Burger King ice milk cup. Ice milk? At a BK? "A Whopper and … an ice milk, please."
• Ever seen this logo before? This one is for the 1970s World Football League team, the Chicago Fire. Very unique, I'd say.
• Here's a 1970s L.A. Lakers gear bag done up in grey, red, and white. Wait, what?
• This one takes me back. I'd order Tudor NFL Electric Football teams from their Brooklyn HQ (176 Johnson Street) and they'd ship team sets like this. You get the Chiefs, Raiders, and Seahawks in this set, along with dark and white numbers. (The dark numbers were always easy to apply, but the white numbers sometimes had a tendency to get kind of powdery and thus rub off easily. A 77 would end up as a 7_.)
• Look at this cover of SI from January of 1964. It features commish Pete Rozelle and a nice selection of period NFL helmets. The Bears helmet uses that white facemask that shows up in a lot of their photos of that era. That must be the Washington helmet top right, too.
• You tend to see a bit of facemask inconsistency in these 1970s NFL helmet plaques we feature here from time to time. In this case, notice the Cowboys facemask — the top bar is longer than the bottom, and they both appear to be angled upwards just a touch.
• One more for the Cowboys, this nice-looking 1970s serving tray.
• In this package of 1970s "Twinsignias," you got an embroidered patch (in this case, the MLB Giants) along with the matching decal. "An emblem to wear and a decal to show."
Seen an item on eBay that would be good for Collector's Corner? Send any submissions here.
• • • • •
[adrotate group="2″]
• • • • •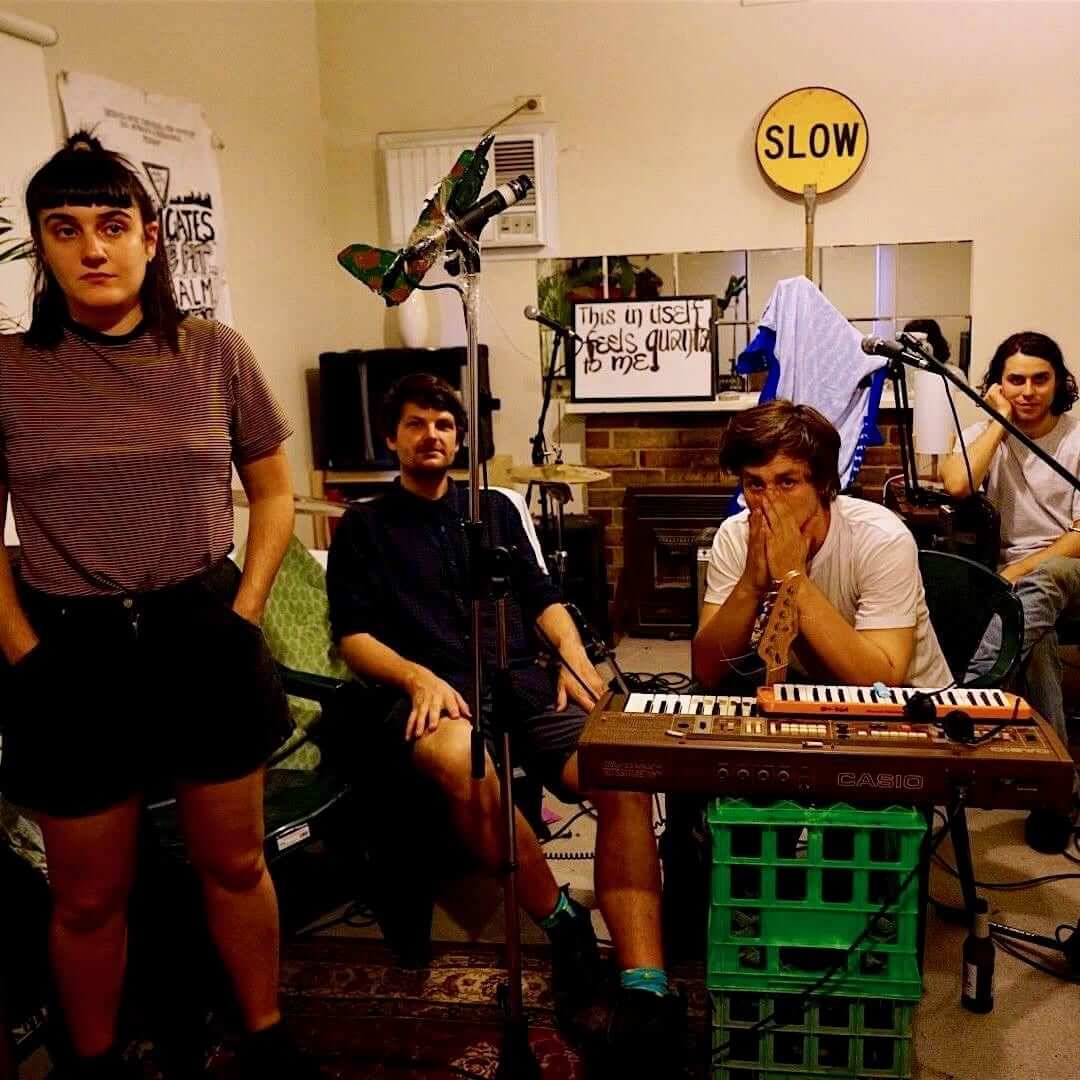 Uni Watch Hit Parade: My friend Bela recently turned me on to the self-titled 2017 EP by the Australian indie band the Stroppies (that's them at right; click to enlarge). It sounds a lot like the best stuff from Flying Nun, the great New Zealand indie label that I fell in love with back in the 1980s and '90s. I hear echoes of the Clean, the Great Unwashed, Bailter Space, the Jean-Paul Sartre Experience, and more. (Yes, I realize most of you have never heard of those old New Zealand bands, but they were all awesome and, for me, life-changing. I actually traveled to NZ twice in the 1990s, mainly to see bands that I would never have had a chance to see otherwise.)
Anyway: Even if you have no idea what I'm talking about, The Stroppies is an excellent little recording, full of shimmering pop hooks, infectious sing-along harmonies, and an understated intelligence. Only seven songs, but they're all keepers. Don't miss.
• • • • •
[adrotate group="2″]
• • • • •
Click to enlarge
Nice color scheme: On Sunday I went over to my friend Nicole's house for dinner. I've known her for a million years and have been to her house countless times. But somehow I never noticed until now that the tiles in her front-door vestibule have a very attractive and familiar-looking color scheme.
For the record, Nicole is not a sports fan and does not read Uni Watch. But I've nonetheless decided that her vestibule will henceforth be known as the Official Uni Watch Vestibule.
• • • • •
[adrotate group="2″]
• • • • •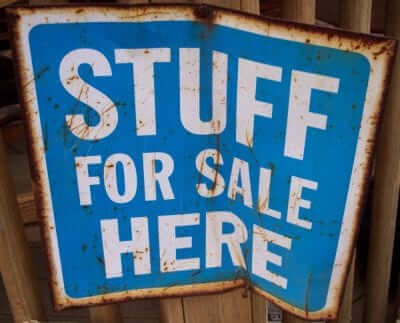 Even more cool stuff for sale: I've continued to add more photos of stuff that I'm trying to sell before I move in late August. You can see everything that's currently available in this Flickr set, and I'll continue to add a few more each day. I'm also removing items as they sell.
Please click on the thumbnails to see larger versions and, more importantly, to read the descriptions of the items, which among other things indicate whether the item is something I'm willing to ship or if I'm only offering in-person pickup. (You can see even larger versions of each photo by clicking the download icon and choosing "View all sizes" from the resulting popup menu.)
If you're interested in any of this stuff, please get in touch and make me an offer. I'll continue to add more items to this photo set each day, so stay tuned. Thanks for listening.
• • • • •
[adrotate group="2″]
• • • • •
The Ticker
By Alex Hider

Baseball News: Phillies CF Odubel Herrera hit a foul ball so hard yesterday that he broke a seat at Fenway Park (from Blake Fox). … The Astros and Mariners will wear 1979 throwbacks on Aug. 10 (from Ignacio Salazar). … Winners of the Iowa high school baseball tournament get championship caps. Any other states give out caps for high school championships? (From Kary Klismet.) … I'm sure this has been ticked before, but Hard Rock Casino has Elton John's sequined Dodgers jersey on display (from Andy Rivkin).

Pro Football News: The Rams have changed their practice jerseys from the royal they wore last year to navy. Weird, since their game jerseys are going in the opposite direction (from Chris Cruz). … With the Jets set to change their uniforms in 2019, here's a review of Gang Green's looks over the years (from Phil). … Speaking of the Jets, David Peltz found this Jets-inspired New York City Carpenters Union No. 157 sticker. …  One of the Bengals' practice fields isn't quite big enough to be a full field, so they skip the 20-yard line. They skip the 20 instead of the 50 to allow at least one side of the field to have complete yard markers. … The friends and family of Bengals DE (and native Cincinnatian) Sam Hubbard have set a team pro shop record for the largest custom jersey order. … Last week, Dolphins QB Ryan Tannehill had "Tannehill 2.0" on his knee brace. Just to make sure people didn't read too much into it, he changed the label to read "Tannehill 27.3" (from Preston Feiler). … Johnny Garfield found this photo of a bunch of old Dungard facemasks before they were dipped in vinyl paint. … Looks like the Montreal Alouettes will begin using their third logo of the year, their '70s throwback logo, starting this Friday (from Moe Khan).

College Football News: Just like the jersey sleeves, Indiana's football pants will also have a sublimated candy stripe pattern (from Ryan Cotter). … An Ohio State QB had an unusual biker-shorts-over-tights look at Buckeye training camp (from Mike Raymer). … Per this Reddit thread, the 1962 Mizzou football team played all 10 of its games in stadiums called "Memorial Stadium." … Has anyone seen this Vanderbilt logo before? It's painted on a chair given to Benji King's father when he completed a medical internship in 1972. … A Dallas-area auction house recently came into possession of a game-worn Billy Cannon LSU jersey that was used as a "dust rag to a pajama top" for years (from Richard Green).

Hockey News: The Hurricanes have released their third jersey schedule for the upcoming season (from William Wells). … Listicle: The worst alternate jerseys in NHL history (from Phil). … The 1984-85 Northern Alberta Institute of Technology Ooks took their team photo in a gymnasium, but they still wore their full uniform — including skates and Cooperalls (from Wade Heidt). … Ohio University hockey has another uniform concept based on the school's baseball uniforms.

Basketball News: Puma has signed a league-wide footwear deal with the WNBA (from Phil). … The Pacers Photoshopped some of their former players into the team's new uniforms. … Kentucky will wear three new uniforms during their preseason trip to the Bahamas (from Josh Hinton and Martin Ballou).

Soccer News: Lots of stuff from soccer fanatic Josh Hinton: Barcelona is on the verge of selling the naming rights to its stadium, Camp Nou. The 2018-19 official game ball for the Champions League has leaked. Finally, new home jerseys for Greek club Olympiacos. … Forest Green Rovers of England's League 2 is the first carbon-neutral soccer team, according to the UN. … New uniforms for the Auburn women (from Clint Richardson). … All uni ads are bad, but this piece explains why the rising number of teams with ads for gambling services is particularly disturbing (from our own Jamie Rathjen). … Swedish women's team Linköping FC has maybe a few too many jersey ads.

Grab Bag: Anyone remember the 1980s animated series Hulk Hogan's Rock 'n' Wrestling? Here's a gallery of some of the original development sketches from the series (from Jeff Stark). … The subway station near the stadiums in Philadelphia is going from one corporate-advertised name to another (from Bernie). … Mozilla is redesigning the Firefox logo and wants users to pick between two design systems (from Brinke). … Volleyball captains usually wear a line under the uni number. But in the 1984 LA Olympics, Japan's Yumi Egami had her captaincy line off to the side (from Jeremy Brahm). … Clint Richardson has some wild concepts for all Auburn sports over on the Auburn Uniform Database. … The Powerhouse Museum in Australia has the largest collection of Speedos in the world. But in 2012, some of the swimsuits started oozing. Yes, oozing (from Anthony Nuccio). … A Japanese company is selling ad space on the armpits of models.
• • • • •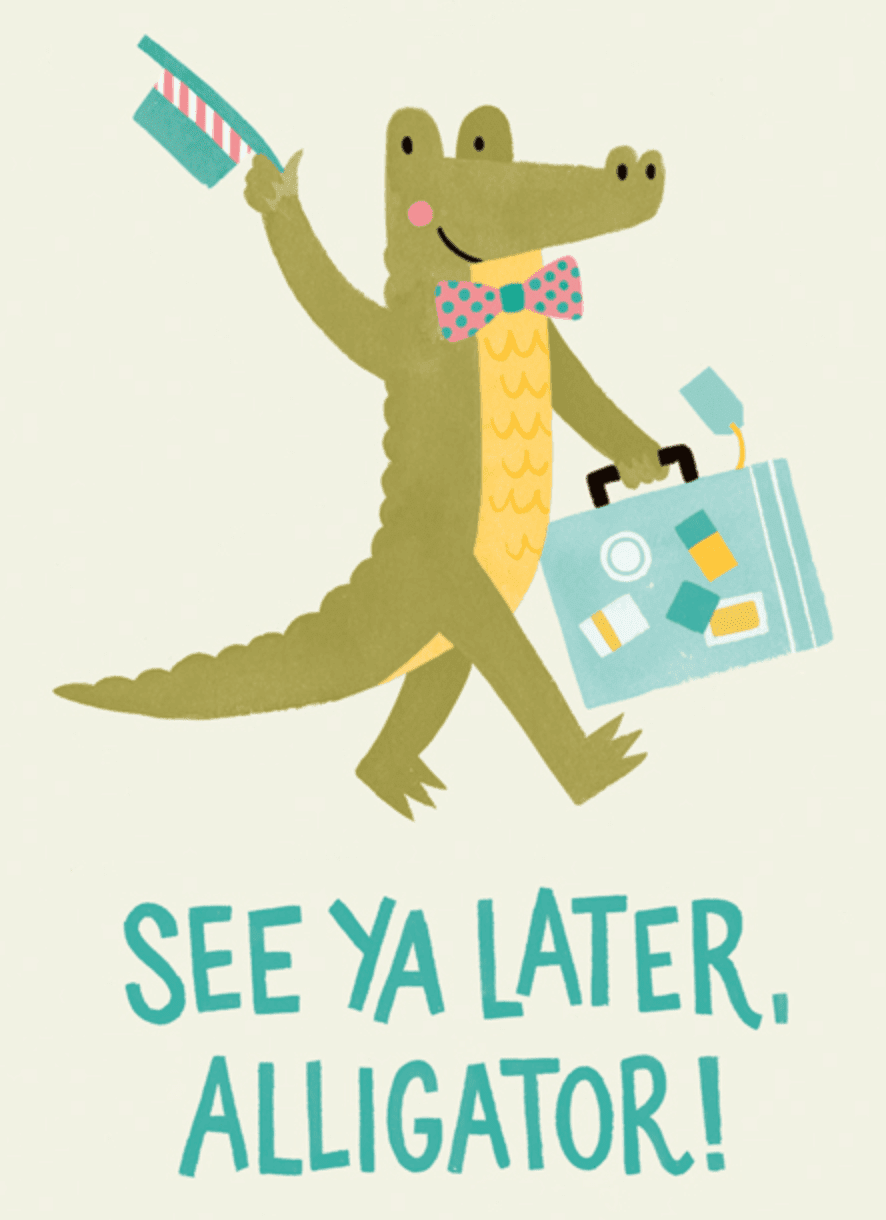 Today is the last day of July, which means tomorrow I begin my annual August break from this website. But the site will continue operating without me — Phil will be running the show on weekdays, webmaster John Ekdahl will be handling the weekends, and the Ticker Brigade will be doing their thing as per usual.
As for me, I'll still be on the clock over at ESPN (among other things, I'll be working on my annual college football and NFL season preview columns), plus I'll be packing for my late-August move and helping to coordinate my mom's care as she recovers from her recent hospitalization. In short, it'll be a busy month for me, even though I won't be here on the blog every day.
I'll make cameo appearances now and then to let you know when I have a new ESPN piece, or to announce this or that, or to cover for one of the Ticker-ers (case in point: I'll be doing tomorrow's Ticker, because I gave Alex the day off for his birthday). For the most part, though, I plan to minimize my presence on the site and get out of Phil's way so he can run the show however he wants.
I'll be back in September. By that time, Uni Watch HQ will have a new address! Have a great August, and I'll see you in a month. — Paul