Click to enlarge
I got a note the other day from reader Taylor Workman, who had noticed this banner hanging in a park in Portland, Ore. He soon realized that it referred to Jefferson High School, a Portland school whose teams are called the Democrats.
I've never seen or heard of a team named after a political party until now. Of course, a "democrat" could also be construed, in the strictest sense of the term, to simply be someone who believes in democracy. But as you can see on the banner, the school's cartoon mascot is a righteous-looking donkey, which is the symbol of the national Democratic Party, so the partisan association seems unmistakable. Here's a closer look at the mascot logo (click to enlarge):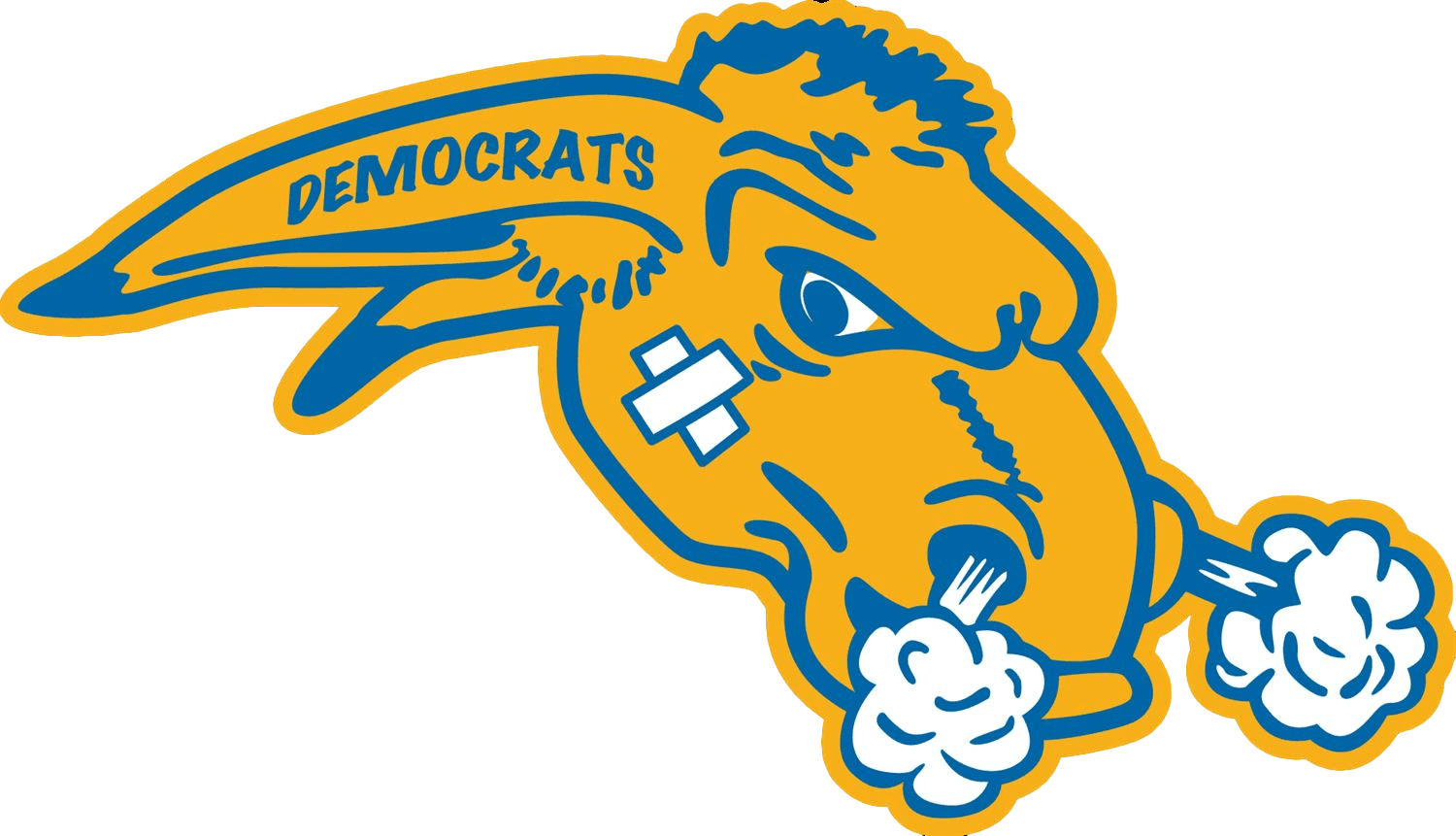 That logo is apparently an updated version of this more old-timey rendering, which the school used several decades ago: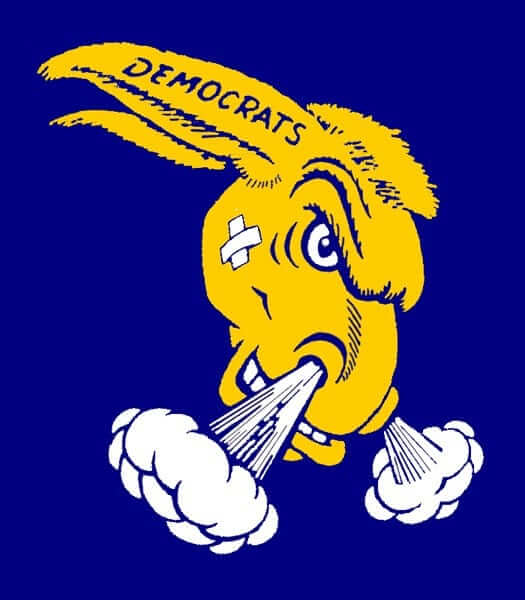 And there's another, more classic-looking but nonetheless donkey-centric logo that the school also uses here and there: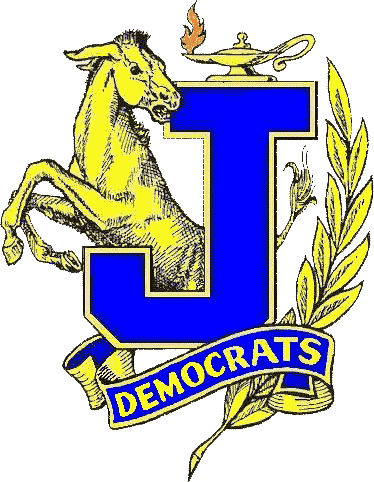 Of course, not-so-subtle political overtones can be found in lots of team names ("Rebels") and school names ("Barack Obama Junior High School"), but naming your team after one of our country's two major political parties seems like an unusually partisan move. One could easily argue that it serves as a de facto form of indoctrinating young minds toward one end of the political spectrum. Even the slogan on the banner — "Proud to Be a Democrat" — seems fraught. If a student's parents happened to be Republicans (or independents, or just opposed to commingling education and politics), it's not hard to imagine them objecting to all of this.
As of eight years ago, Jefferson High was the only school in the entire state of Oregon to have a majority of black students. Given that blacks overwhelmingly identify with the Democratic Party, most parents in the school district may be fine with the team name. Still, it seems like a really questionable approach to team naming. (The school, which is over 100 years old, presumably had different student demographics at one time, and it's not clear when or why the team name was selected, although it's worth noting that Thomas Jefferson co-founded the Democratic-Republican Party, which was an early forerunner of today's Democratic Party, so that probably explains how a school named after Jefferson had its teams named after the Democrats.)
In light of the school's demographics and the growing reassessment of some aspects of Jefferson's life, I wondered if the school name — Jefferson High — might be more controversial than the team name. And sure enough, it turns out that the school name has recently been the subject of some community debate.
As for uniforms, the cartoon donkey appears on the school's football helmets, with "Demos" written on one of the donkey's ears:
Aside from that, I couldn't find any photos showing the word "Democrats" being worn by any of the school's teams. Most of the uniforms just have "Jefferson" on the chest, although I did find one shot of the basketball team wearing "Demos":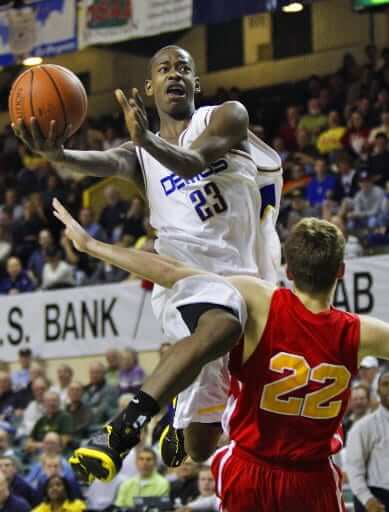 I wanted to learn more about all of this, so I emailed the school's principal and athletic director. Unsurprisingly, I received auto-replies informing me that they're both on vacation now that the school year has ended (the principal's auto-reply concluded with the words "Go Demos!"), but I hope to catch up with them when they return — stay tuned.
Meanwhile, is anyone aware of any other schools whose teams are called the Democrats, Republicans, Whigs, or anything else along those lines?
Finally, I'd hope this goes without saying, but just in case: Let's please discuss this without any partisan mud-slinging. The issue here isn't about Democrats vs. Republicans; it's about naming a team after a political party, of any stripe. Thanks.
(Big thanks to Taylor Workman for getting me started down this rabbit hole.)
• • • • •
[adrotate group="2″]
• • • • •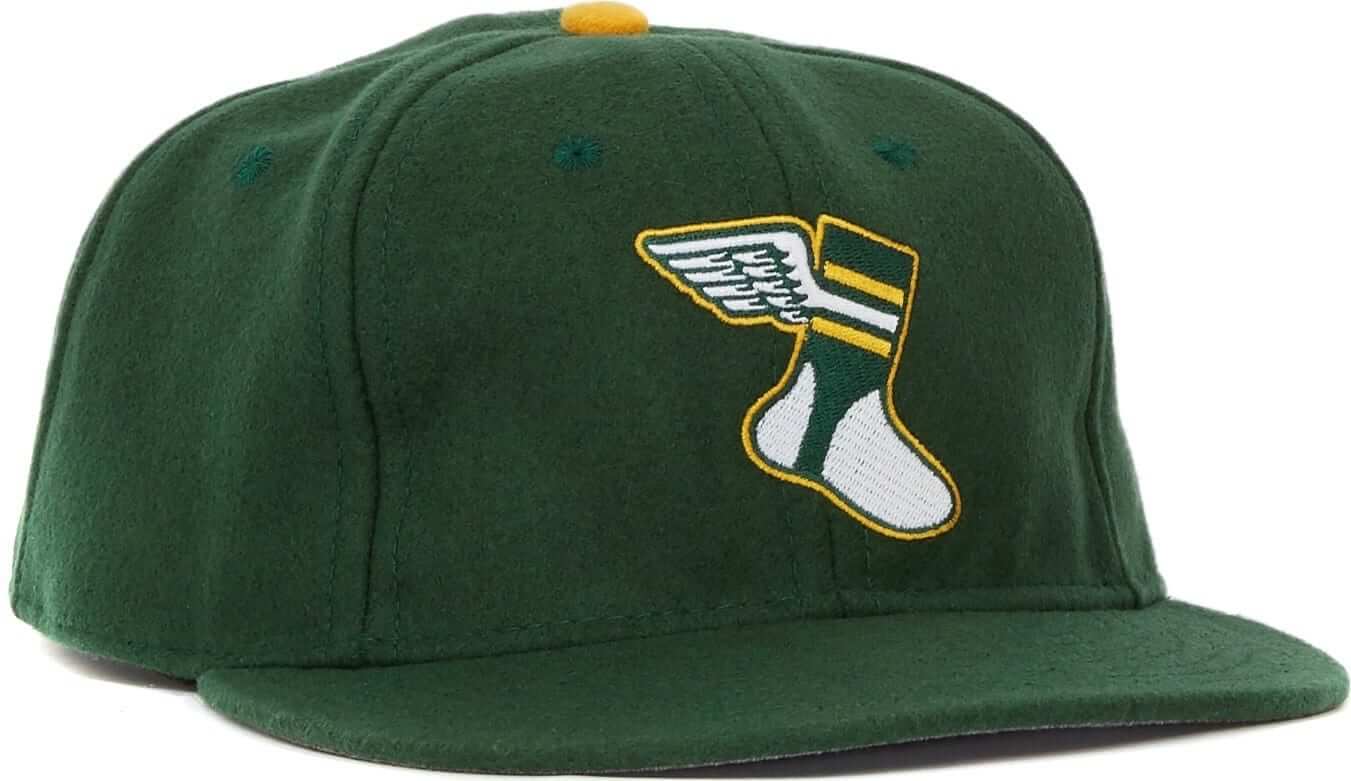 Cap reminder: In case you missed it earlier this week, fitted sizes of the Uni Watch "classic" cap have finally been restocked and are be available for purchase from Ebbets Field Flannels — although one size has already sold out again, and two other sizes are close to doing so.
So it seems like I've once again underestimated the demand. I'll order another round of inventory today, and in the meantime order quickly before more sizes sell out.
• • • • •
[adrotate group="2″]
• • • • •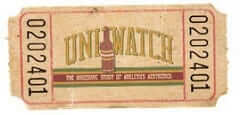 Raffle reminder: Today is the final day to enter the raffle for a bunch of old Kansas City Chiefs nameplates, which are being generously provided by a Uni Watch reader.
Full details on the raffle, including photos of the nameplates, are available here. I'll announce the winner on Monday.
• • • • •
[adrotate group="2″]
• • • • •
The Ticker
By Kris Gross

Baseball News: Blue Jays SS Lourdes Gurriel Jr had a belt malfunction in last night's game (from Ted). … Red Sox C Christian Vazquez and INF Rafael Devers, both of whom are on the DL, were in the dugout last night in batting practice jerseys (from Tim Kraus). … Good spot by Denver Gregg, who noticed that the D-backs used two pitchers with single-digit numbers in Wednesday night's game. Both were position players who were brought in after the Rockies took a huge lead. … Wow, check out the gorgeous program from the 1955 All-Star Game (from BSmile). … Houston Texans DE JJ Watt presented the Astros All-Stars with their jerseys at last night's game (from Ignacio Salazar). … Speaking of All-Star uniforms, Anthony Bram submitted a potential new uni design via mail to commissioner Bowie Kuhn ahead of the 1975 ASG. Unfortunately, Kuhn turned down the design, but he did respond with an autographed photo. … Not sure how I feel about this White Sox hat designed around the flag of Chicago (from Maximiliano). … This T-Mobile ad is all sorts of wrong. It features the NL vs AL, which was done away with beginning with the 2015 Home Run Derby (from Alex). … The Orioles will give away Maryland flag script jerseys tomorrow (from Andrew Cosentino). … It was Star Wars night for the South Bend Cubs last night (from Terry Mark). … Here are the Cosmo Kramer jerseys the Potomac Nationals will wear tonight (from Eric Postlethwait). … The Fresno Grizzlies will wear "80s-style" taco uniforms on July 19. … The Down East Wood Ducks celebrate Christmas in July with ugly sweater jerseys tomorrow. … The Montgomery Biscuits will host Millennial Night next weekend (from @walbergLines). … The Iowa Cubs are giving away replica rings from their 1993 American Association title (from Lee Wilds). … The new Atlantic League team coming in 2019 has a name and logo: the High Point Rockers (from William A Gentry). … These kids Get It™ (from Jordan Mayblum). … The Pirates will wear Pittsburgh Crawfords Negro League throwbacks tonight. It's not clear whether their opponents, the Brewers, will also wear throwbacks (from Jerry Wolper).

NFL News: In honor of the World Cup, the Dolphins designed their own team-branded soccer kit (from Eric Todoroff). … Pro Football Journal spotted an old-school helmet oopsie. … The Ravens are completely moving away from paper tickets, instead using only digital tickets (from Andrew Cosentino). … Also listed in the baseball section: Texas DE JJ Watt presented the Houston Astros All-Stars with their jerseys at last night's game (from Ignacio).

College Football News: We finally get our official look at Temple's new unis (from Sean McGady). … Tennessee is reportedly moving on from the checkerboard pattern on their unis (from Josh Hinton). … Florida will unveil their Jordan uniforms on July 17 (from George Mangrum). … It looks like Florida State will be wearing black on Labor Day against Virginia Tech (from @broc1984). … In the wake of the latest scandal involving pizza magnate "Papa" John Schnatter, Louisville players have asked for a stadium name change (thanks, Brinke). … New uniforms for Pearl River Community College. … I'm not huge into the world of DII football, but I'm being told this is a new helmet for Washburn (from Ryan Atkinson).

Hockey News: Thoughts on these beer league sweaters? I think these are very well done, bravo! (From Bobby Kasimis.) … Adidas is the new jersey provider of the Da Beauty League, a summer four-on-four league featuring players with Minnesota connections (from Eric).

Soccer News: We've got this weekend's World Cup kit matchups. … FIFA has fined England for wearing "unauthorized" socks at the World Cup (from Normcore Rockwell). … Also listed in the NFL section: In honor of the World Cup, the Miami Dolphins designed their own team-branded kit (from Eric Todoroff). … Here's a look at Liverpool FC's new third kit (from Moe Khan). … Speaking of, all of your Premier League kit news can be found right here. … DC United has a trademarked logo for their soon-to-be USL team Loudoun United (from Stan). … New kits for NK Maribor and S.S. Lazio (from Rok Grilec, Luigi). … Canadian Premier League has a new team, Hamilton Forge FC. You can read about the design behind their colors and logos here (from Wade Heidt). … Semi-pro team Lowcountry United has some pretty sweet shirts (from @aracauna_man). … We missed this last week, but Georgia State unveiled their third kit (from Doug Hazard). … Everton's new kits have leaked (from Casey Hart).

Grab Bag: The Langley Thunder of the Western Lacrosse Association wore purple jerseys on Wednesday night, in honor of a cancer victim (from Wade Heidt). … Captain American almost went BFBS in Civil War (from Mike Chaldu). … The U.S. Navy is getting new PT uniforms (from Scott Rogers). … President Trump wants to update the livery design of Air Force One. USA Today has gathered some reader-submitted design possibilities (from Yancy Yeater). … This apartment complex logo looks familiar (from Brandon Bays). … If you like Panton color swatches, you'll love these Pantone placemats and coasters (from B.S. Brewer). … What's that patch on British Prime Minister Theresa May's arm? Answer: It's a diabetes monitoring patch, which tracks her blood sugar levels and lets her know when she needs to inject insulin.
• • • • •
On a serious note, my thanks to everyone who sent supportive emails about yesterday's "Sorry, We're Closed" post. The short version is that my mom has been facing some medical challenges, so I've been devoting a lot of time to that. The situation is very much in flux, and it's possible that the site will be closed again for a day or two in the coming weeks, although I'm hoping to avoid that. Thanks in advance for your patience and understanding. — Paul