Click to enlarge
SportsLogos.net poobah Chris Creamer attended Tuesday night's Mets/Jays game in Toronto and noticed that Mets outfielder Jose Bautista had something that looked an awful lot like a smart phone in the back-right pocket of his uniform pants. I've never heard of a player having his phone with him on the field (and I believe phones are specifically forbidden in the dugout). Hmmmm.
Speaking of the Mets, the addition of the American flag patch on the right sleeve prompted them to move their Rusty Staub memorial patch to the upper-left chest for the past two days: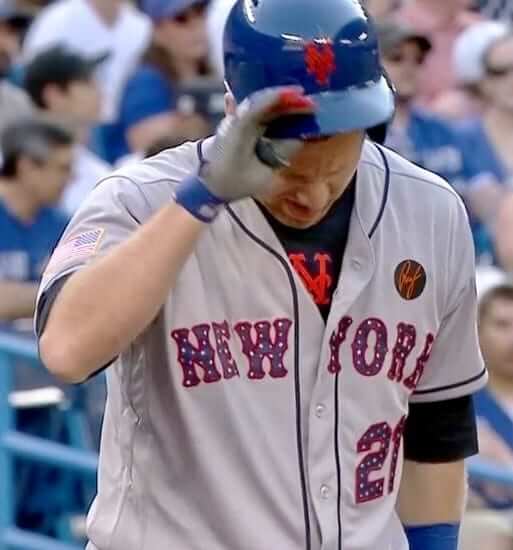 The Mets will likely do the same thing with the Staub patch for the All-Star Game, although that will probably affect only one player, who will probably be pitcher Jacob deGrom.
I believe the Mets are the only team that retained their memorial or commemorative patch for the stars/stripes costumes. The Cardinals, for example, did not wear the Red Schoendienst memorial patch, and the A's, Marlins, D-backs, Rockies, Giants, and Dodgers all scrapped their anniversary patches.
Interesting that the Mets went the extra mile while everyone else chose not to bother. But hey, the Mets have to lead the league in something other than bullpen implosions, and I guess patch attentiveness will have to suffice.
Other notes regarding the stars/stripes designs:
• As many readers noted, the Angels' jerseys were particularly bad, because the letters and numbers were nearly illegible (click to enlarge; additional photos here):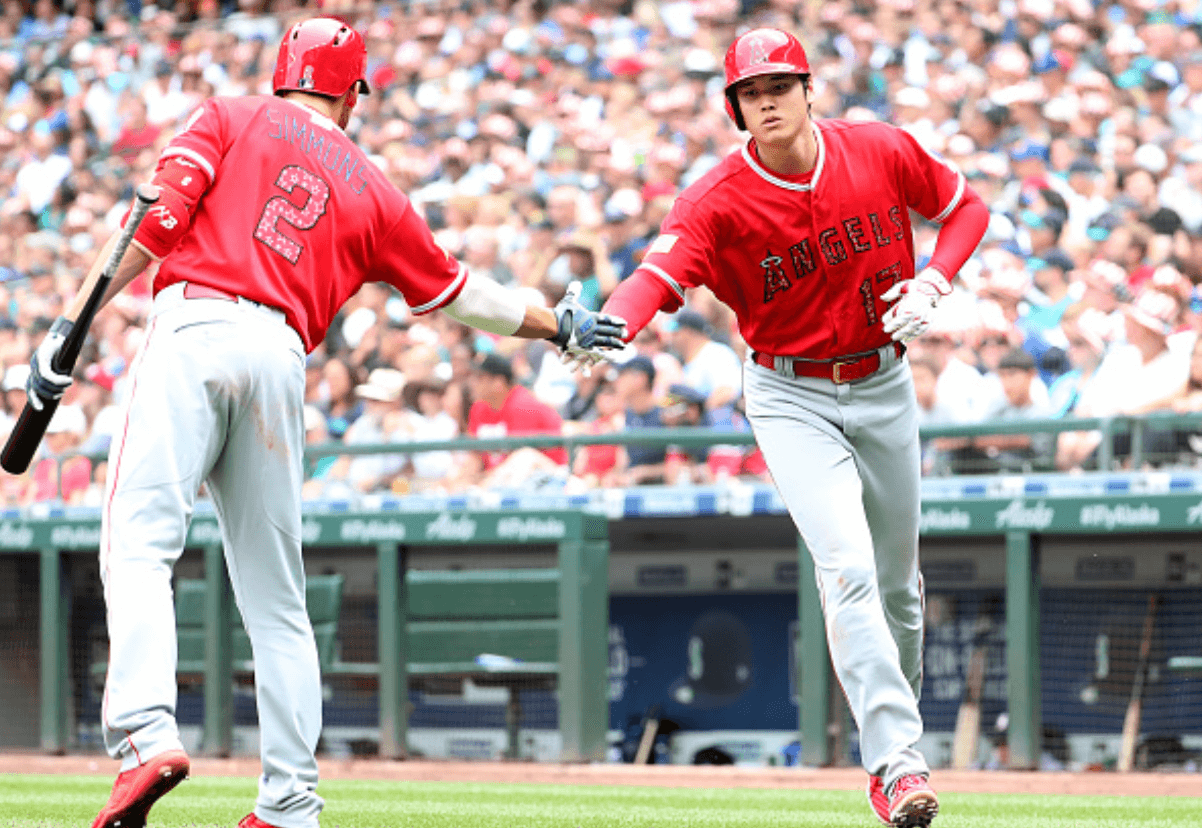 • Umpire Chad Fairchild, who worked the plate in yesterday's Yanks/Braves game, had a stars/stripes mask (click to enlarge):
• And speaking of the Yanks, Tuesday's game marked the first time all season that skipper Aaron Boone wore a jersey, instead of a pullover.
(My thanks to Ryan Bower, Andrew Lavan, and Mike McLaughlin for their contributions to this section.)
• • • • •
[adrotate group="2″]
• • • • •
Membership update: Four new designs have been added to the membership card gallery (including Erik Gamborg's tequila sunrise treatment, shown at right). I expect to send the current sheet to the printer next Monday or Tuesday, and I currently have four slots open on that sheet, which means you'll get your card very quickly if you sign up now.
Remember, a Uni Watch membership card entitles you to a 15% discount on any of the merchandise in our Teespring shop. (If you're an existing member and would like to have the discount code, email me.) As always, you can sign up for your own custom-designed card here, you can see all the cards we've designed so far here, and you can see how we produce the cards here.
• • • • •
[adrotate group="2″]
• • • • •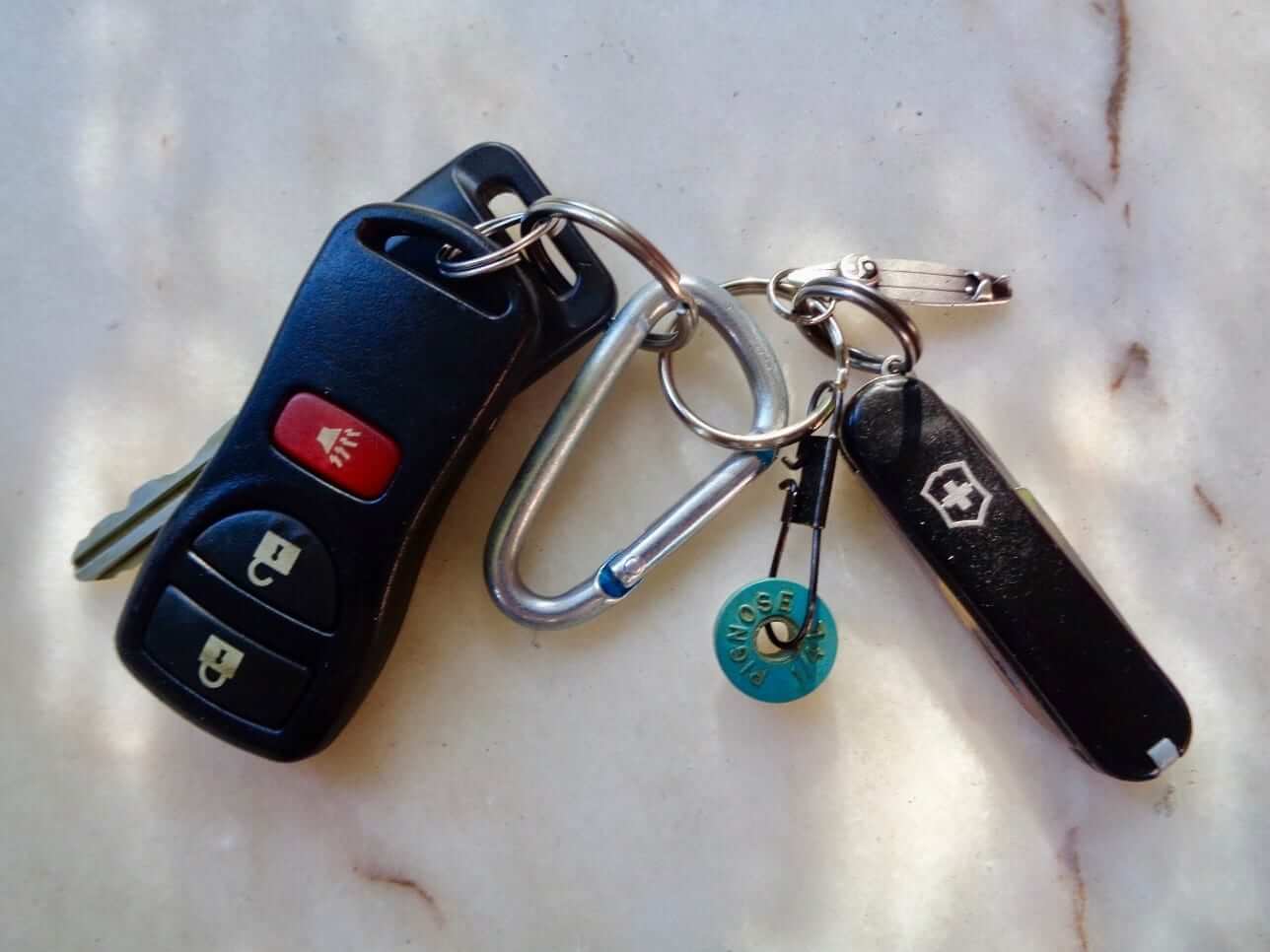 Click to enlarge
KRC update: The latest installment of Key Ring Chronicles is about a washer with the word "Pignose" imprinted on it. Check it out here.
• • • • •
[adrotate group="2″]
• • • • •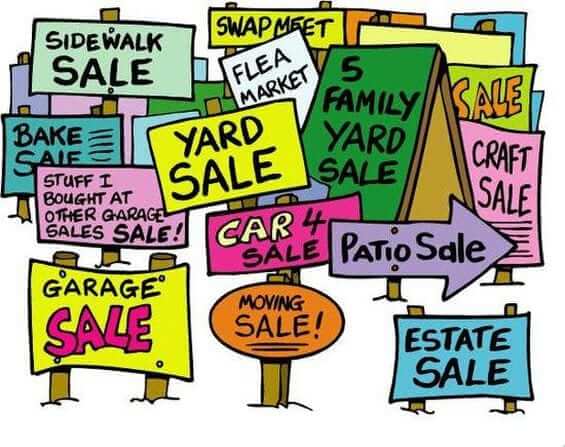 Your chance to own a piece of Uni Watch HQ: I need to lighten my load prior to moving in with the Tugboat Captain later this summer, so I'll be holding a stoop sale and open house sale on Saturday, July 21, commencing at 10am and continuing throughout the day. I'll have a lot of stuff available for sale out in front of my house, and I'll also be selling some stuff literally off the walls of my apartment.
I'll be selling books (including a decent number of sports-related books), footballs, some kitchen-y stuff (including a really good ice cream maker), some hardware/tools-y stuff, the cat if she doesn't stop mewling at 4am, lots of collectibles (and I mean real collectibles, not the crap that shows up at most yard sales), and a whole lot more. It's gonna be epic, so mark your calendars.
The address is 671 DeGraw St. in Brooklyn. See you there/then.
• • • • •
[adrotate group="2″]
• • • • •
The Ticker
By Alex Hider

Baseball News: The Nationals are holding "Cat-urday" on Saturday, but unlike their "Pups in the Park" day, the team is not allowing fans to bring their cats to the ballpark (WaPo link) (from Tom Turner). … Speaking of the Nats, these are the cleats that RF Bryce Harper wore for the July 4th holiday. … Ryan Braun celebrated the Fourth with these cleats (from Megan Brown). … The Reds launched their Fourth of July fireworks from a team-branded barge on the Ohio River. … Tigers P Michael Fulmer had a visitor on the mound last Friday: a butterfly (from Paul DeMay). … Devin Johnson spotted fans wearing Rockies/Avalanche frankenjerseys at Coors Field on Monday. … The Cubs gave away Hawaiian shirts before their game on Tuesday (from BSmile). … The logo in the Johnnie Walker ad at Yankee Stadium is carrying a baseball bat and a ball (from Tyler Johnson). … The Trenton Thunder, a Double-A affiliate of the Yankees, wore 1994 throwback jerseys and caps on June 30 (from John Cerone). …The Lakewood BlueClaws, the Class A affiliate of the Phillies, will play as the BruceClaws on July 28 for Bruce Springsteen appreciation night (also from John Cerone). … The Dayton Dragons, the Class A affiliate of the Reds, wore stars-and-stripes unis on Wednesday. … Same for the Lansing Lugnuts, the Class A affiliates of the Blue Jays. … The Buffalo Bisons, the Triple-A affiliates of the Jays, dressed up their field for Independence Day (from Chris Ostrander). … The Potomac Nationals will wear these jerseys for "Art in the Park" night on Saturday. … Marc Viquez found this advertisement for a contest to design the St. Paul Saints cap logo from the early '90s. Great find! … A youth baseball team from Seabrook, Texas uses the old Houston Colt .45s logo (from Ignacio Salazar). … The Mariners recently had a streak of wearing six different uniforms over the course of six games: June 27 (road grey), June 28 (blue road alternate), June 29 (green alternate), June 30 (TATC), July 1 (cream throwback), and July 3 (stars/stripes) (from Tim Dunn).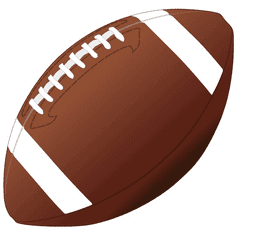 Football News: The folks over at Pro Football Journal looked at the different shades of blue used for the Broncos helmets in 1976 and 1977. … The Montreal Alouettes will begin wearing the second of four helmet designs they'll wear this season — the "French horn" logo — beginning on Friday. That means no more wing helmets (from Wade Heidt and Moe Khan). … Temple will unveil its new uniforms on July 12 (from @UntilTheNight). … Penn State dressed up the Beaver Stadium field for the July 4 holiday (from @PS977 and William F. Yurasko). … New number assignments for the Florida Gators (from Moe Khan). … We all know the Steelers don't use front helmet numbers during preseason games. Turns out they also didn't use them during 1987 strike games (great spot by Adam Prince).

Hockey News: Blues C Ryan O'Reilly will wear No. 90 with his new team, meaning RW Nikita Soshnikov needed to change numbers. He'll now wear No. 86 (from Jake). … Cross-listed from the baseball section: Devin Johnson spotted fans wearing Avalanche/Rockies frankenjerseys at Denver's Coors Field on Monday. … The Chicago Wolves have a page on their website dedicated to the evolution of their team logo (from Steve Johnston). … Disco Beaver from Outer Space was a National Lampoon movie that was released on HBO in 1978. During one scene from the movie, a vampire shows up at a "hockey game" — or a very campy version of a hockey game. The movie uses game footage of a Leafs/Islanders game, but one of the players interviewed after the game is wearing a Rangers jersey (from David Firestone). … Back in the early 2000s, the Milwaukee Bucks' staff had their own beer league hockey team. Check out their logo (from @cooperjd88). … Monday's Ticker had an item about the uniform numbers for new Penguins Matt Cullen and Jack Johnson. This article delves a little deeper into how they ended up with those numbers.

NBA News: In their story about Boogie Cousins signing with Golden State, The Daily Beast photoshopped Cousins into a reverse-imaged Warriors jersey (from Rob Krosley and Jim Bob). … The Jazz are hosting some Summer League games, and are getting some more use out of the alternate court (from Luke). … The Today Show used an Adidas-era Lakers jersey in a graphic about LeBron James on Tuesday (from Shawn Baker). … Looks like the Mavs will, in fact, add the appropriate accent marks to Luka Dončić's NOB (from Everett Corder). … Cross-listed from the hockey section: Back in the early 2000s, the Bucks' staff had their own beer league hockey team. Check out their logo (from @cooperjd88).

Soccer News: Croatia's keeper has been honoring a late friend by wearing a shirt with his friend's photo under his uniform (from Mark Coale). … This graphic gets into the chemical makeup of the World Cup balls, jerseys and more (from James Gilbert). … Another World Cup graphic; this one breaks down the cleat matchup between Tuesday's England/Colombia matchup (from Josh Billman). … This may have been Ticked before, but Manchester United's new jerseys have reportedly leaked (from Charles George). … Fleetwood Town of English League One released their new home kit on Tuesday (from Mark Gillingham). … Couple of kit releases from Josh Hinton: New home uniform for West Brom of the English Championship, and San Antonio FC of the USL's new third jersey. … New away kits for Dundee FC of the Scottish Premiership (from Ed Zelaski). … New keeper kit for Wycombe Wanderers (from Gabriel Hurl). … New kits for the Scottish Premiership team Rangers (from our own Jamie Rathjen). … Watford's away kit has leaked (from Josh Hinton).

Grab Bag: Here's a listicle that ranks the "15 most patriotic jerseys" (from Phil). … Also from Phil: Here's a good video that explains the meaning behind the jersey colors at the Tour de France. … Want a super extensive ranking of Wisconsin sports logos? You got it (from Joe Westphal). … Wimbledon still insists on referring to female players by their marital status (NYT link).